The S6300 is very similar in design to the rest of Nikon's 2012 point-and-shoot lineup: small raised bumps on the back for grip, rounded edges, and compact zoom lenses that protrude slightly from the body on the front, telescoping when the camera is activated.
The S6300 features a rear control dial for menu navigation, along with dedicated keys for recording video, deleting images, accessing the menu, and shooting mode and playback mode buttons. The rear control dial is also functions as a four-way directional pad, with each direction corresponding to a particular shooting control, including: self-timer/drive, exposure compensation, macro focus mode, and flash control.
The designs are slightly modernized from previous Nikon efforts, with more angular corners that actually make holding onto the camera slightly easier. We're disconcerted to see a complete lack of front grip on the camera (a small grid of raised plastic bumps gives the thumb a place to grasp the camera), but with a camera this light it's not a major issue. The top plate of the camera includes the typical power/shutter/zoom combination, with a shutter button that provides just enough resistance when you're shooting, letting you lock in focus before firing a shot.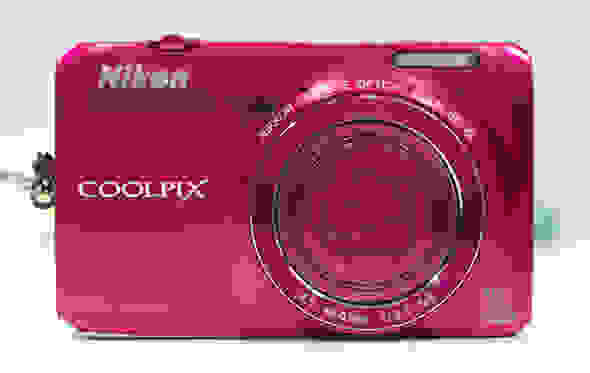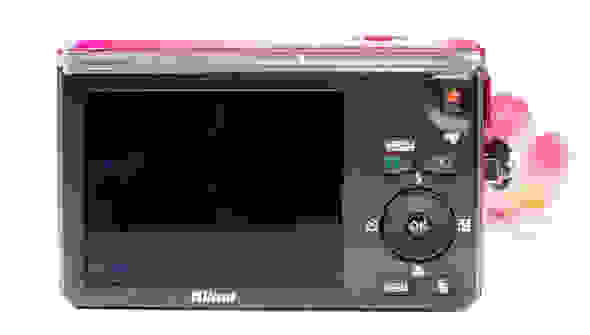 The menu on the S6300 is a straightforward setup of lists of options organized under tabs for playback, system, and shooting settings. The tabs do not have specific pages, so you'll have to know what category the option you want is under and then scroll through the whole list to find it. This is especially frustrating if you want to get at an option that's at the bottom of the menu, because there's no easy way to know it's there without scrolling.
The menu otherwise provides a small measure of control over your shots, with options for drive mode, ISO, white balance, color mode, image size and quality, and other settings right on the first page of shooting settings. Altogether the S6300's menu isn't anything revolutionary or fantastic, but it gets the job done with a minimal of fuss or effort required.
The Nikon S6300 is very simple to use, with a straightforward, legible menu system that doesn't do much that might confuse novice shooters. The one area that can be a little bit of a pain is the scene mode menu, which merely shows a group of symbols, rather than symbols with accompanying text, in a grid on the screen. This can make finding a particular scene mode (or the most apt scene mode) tough, unless it's something obvious and specific such as fireworks.
If you're looking to take a portrait, the S6300's smart portrait mode helps aid this dramatically. The smart portrait mode is a separate mode form the scene settings and utilizes face detection, blink detection, a skin softening filter, and a smile timer in order to take portraits as simply as possible.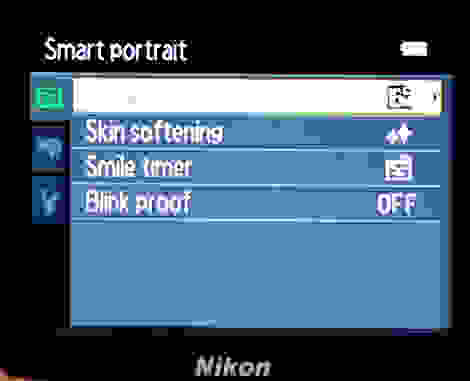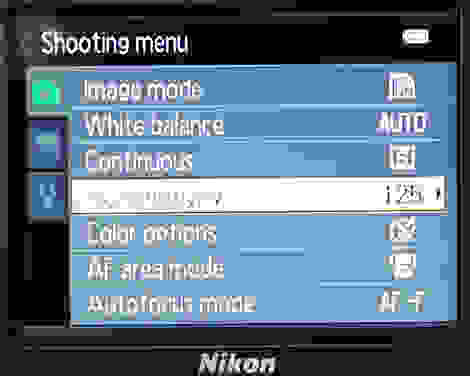 The S6300 is very compact for a 10x optical zoom camera. It can easily fit into the pocket of a pair of jeans, not to mention a small jacket or purse. The curved nature of the edges fit the contours of the hand more comfortably, though there's no specific inlay for grip, nor is there any kind of rubberized coating on the body to help hold onto the body.
The camera's size and light weight (with battery and card it only weighs a paltry 5.7oz) are great for handling, but beware that with such a long zoom range, there's not much ballast to the camera to help balance against your hand's natural shaking. Despite the camera's built-in vibration reduction, you'll want to steady yourself against something when utilizing the full 10x optical zoom, or utilize the camera's best shot selector burst mode, which will take multiple images and try and record what it thinks the sharpest one is.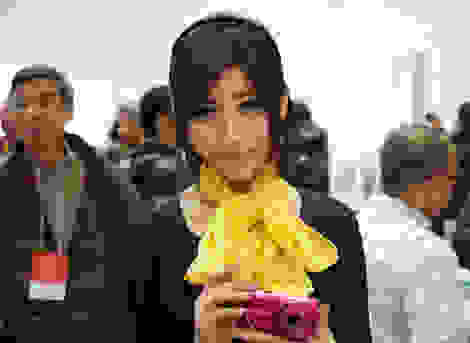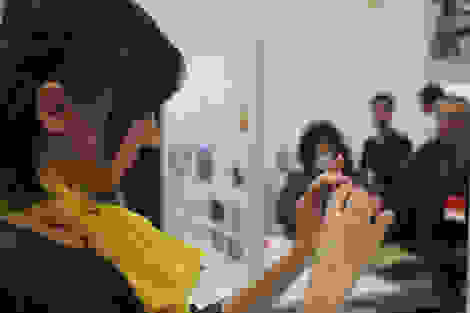 As Nikon has done with previous compacts, the S6300 eschews the common shooting mode dial, instead featuring a mode button (the green camera symbol) that brings up the mode menu. The user can then select whatever shooting mode they want, including auto, program auto, scene, and video modes.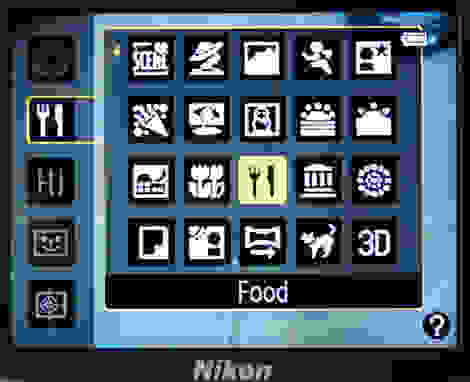 There are no true manual shooting modes on the S6300, with just about every mode on the camera taking nearly universal control over the camera's main settings. The main automatic mode is the most common, which attempts to expose a scene evenly as much as possible, while reducing camera shake while keeping shutter speeds above 1/30th as much as possible. The camera also features a program automatic mode that does the same, but offers more control over other shooting settings.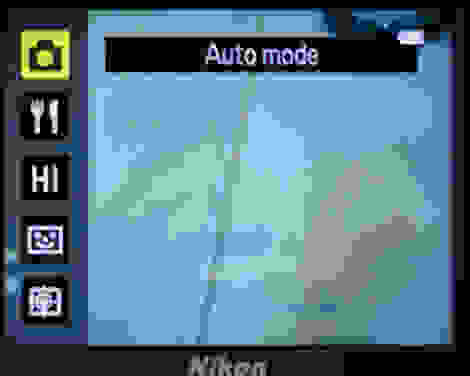 The Nikon S6300 isn't designed primarily for video capture, but it does have the ability to shoot full HD 1080/30p video. Video is captured in a .MOV container, compressed using MPEG-4/AVC HD with AAC audio. The camera also features the ability to shoot videos in a 720/24p resolution, which is a little odd (most cameras up that to 720/60p, but 720/24 offers a more filmic look) The camera also supports the iFrame compression, capturing 960x540 videos at 30fps, though we're not particularly impressed with the results of iFrame, though it should aid those who want to do heavy editing of videos on Mac computers with IMovie '09 and later.
The S6300 features the same drive and burst options as the higher-end S9300, with a single shot mode, continuous shooting mode, 7fps burst mode, and a number of high-speed reduced resolution options. Users can take a full-resolution burst of up to seven shots in around one second, or opt for 60 or even 120fps reduced resolution shooting. Users can also do a 16-shot multi-image index, or shoot with a "pre-capture cache" that helps capture fast action more accurately. We'll have to get the camera into our labs to get a better idea of the speed capabilities of the S6300, but we found it was much more responsive than older Nikons, especially regarding the camera's power on to first shot time.
Playback on the S6300 is pretty standard, though Nikon has provided more creative in-camera editing effects. Users can access playback with the blue "play" button on the back of the camera. From there you can zoom in on an image, pull back to view a grid of shots on the memory card, or edit the photos. Shots can be cropped, resized, rotated, have brightness altered slightly (D-lighting), or users can apply a soft touch filter, one of a number of other in-camera digital filters, or apply a "quick retouch" that fixes minor issues.
The maximum resolution on the S6300 is 16 megapixels, with the option to shoot at reduced resolutions of 14, 12, 10, or 3 megapixels along with VGA stills to fit more shots on the memory card. The camera captures images in a .JPEG format, though the 3D photography scene mode captures standard 3D .MPO files. The S6300 provides the option to also reduce the quality of JPEG compression to maintain resolution but save space, though this results in significant image quality degradation.
The S6300 makes use of through-the-lens contrast detection autofocus, utilizing the image sensor as a de facto autofocus sensor. As with most contrast detection systems the camera struggle to find a peak contrast in low light, resulting in focus hunting. The camera features a built-in AF lamp to combat this, but it has limited success. The camera has 99 focus points that it can focus on, with the option to utilize center, face-detection, manual, or subject tracking AF methods. There's also a macro mode for use when focusing close in on subjects.
The S6300 uses a 256-segment matrix metering system, with camera focusing on center-weighted brightness. There's not much control over exposure methods, though the camera does account for subject movement to keep shutter speed higher. The camera doesn't have much ability to compensate for extremes in brightness, with a limited shutter speed range of 1 to 1/2000th of a second (4 second max in fireworks mode).
The camera has a maximum aperture range of f/3.2-5.8, though the only way the camera limits brightness is with an electronically controlled ND filter that blocks off light, resulting in a difference of only -2 EV at most. The camera does feature an exposure compensation function that offers some measure of control, though it's a standard +/- 2 stop compensation in 1/3-step increments.
ISO is primarily control automatically on the S6300, though users can select a whole-stop value within the camera's ISO range of 125-3200. The user can also simply let the camera select an appropriate ISO setting automatically, with the option to set a fixed range auto setting that sets a maximum ISO of 400 or 800 in-camera.
The S6300 includes five preset white balance values that the user can select, with the option to capture a white balance value manually or let the camera detect color temperature automatically. The in-camera presets are very standard, with options for daylight, cloudy, shade, incandescent, fluorescent, and flash.
The 10x optical zoom lens on the S6300 features Nikon's vibration reduction technology, utilizing a shifting lens element that compensates for camera shake. That's very important with a 10x optical zoom lens (though not as crucial as with the S9300's 18x optical zoom), though Nikon does not release information on the system's efficacy. We'll have to get the S6300 back into our labs before we can make any pronouncements on its capability to handle camera shake.
As with other sub-$200 point-and-shoots, the S6300 comes with a number of in-camera image effects and scene modes for the user to choose from. The camera has a grand total of 20 in-camera scene modes (in addition to full automatic and program auto exposure modes), including: back light, bech, close up, copy, dusk/dawn, fireworks show, food, landscape, museum, night landscape, night portrait, panorama assist, party/indoor, pet portrait, portrait, scene auto selector, snow, sports, sunset, and 3D photography.
The S6300 also has a number of in-camera editing effects, including soft shot, nostalgia sepia, high contrast monochrome, high key, low key, and selective color. These effects can also be applied at image capture, if you know what effect you want beforehand.
The image sensor on the S9300 is a 16-megapixel CMOS iteration, identical to the company's $350 S9300 model. It provides enough sensitivity for an ISO range of 125-3200, with the option for a fixed range auto that limits that to a max of 400 or 800. Like with the S9300, light is controlled with a combination of mechanical and CMOS electronic shutter, depending on the speed being captured.
The S6300 comes with a collapsible 10x optical zoom Nikkor lens, with ED (extra low dispersion) coated glass, to help reduce the effects of glare and incident light. The lens is the major difference between the S9300 and S6300, as those wanting the most zoom in a compact form factor will have to consider the 18x optical zoom range on the S9300. If they opt for the S6300 instead they'll get a 35mm equivalent zoom range of 25-250mm, which is considerably less telephoto power than the S9300.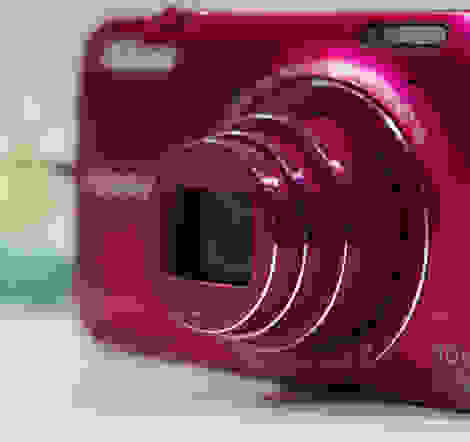 One of the main cost-cutting areas Nikon skimped in order to get the S6300 under the $200 threshold is in the rear LCD, which replaces the high-resolution LCD on the 9300 with a 230k-dot resolution 2.7-inch version. It's as basic as point-and-shoot LCDs get, but to be honest it's unlikely most users will really notice the difference in the long term between the two screens. The screen is bright enough to detect image detail and focus accuracy, renders the menu text legibly, and operates as it should. It's unlikely you'll be able to see much on the screen outside during a bright sunny day, but that's true of pretty much every camera LCD, even the high-resolution ones.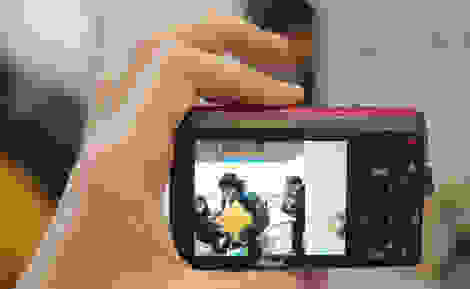 The built-in flash on the S6300 is slightly different from the higher-end S9300, but it actually is slightly more powerful. The S6300's flash has an effective range of 1ft18'' up to 18ft when shooting at the widest angle of view, though that shrinks to just 3ft4'' to 10ft when zoomed all the way in. It produces a harsh white light that tends to wash out images and produce undersaturated images. As with most point-and-shoots we'd recommend only using the flash as a last resort when there's not enough light to produce a sharp image otherwise.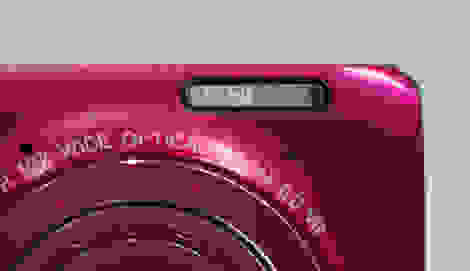 The S6300 includes a USB/AV input/output port, along with a mini-HDMI terminal for playing back images and videos on an HDTV. The connector is proprietary, with Nikon providing a cable for connecting the camera to a computer, model number UC-E6. Nikon also provides an A/V cable with the S6300, though like their competitors they don't include an HDMI cable.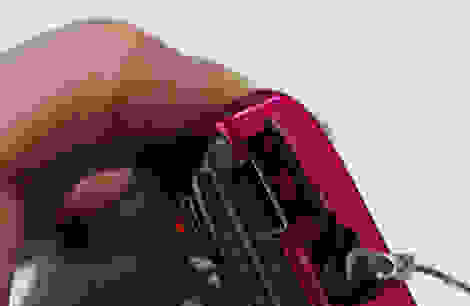 The S6300 utilizes a Nikon EN-EL12 removable rechargeable Lithium-ion battery pack, same as the S9300. The CIPA rating with the S6300 is approximately 230 shots, which is standard for a point-and-shoot of this type. It's a fairly standard battery from Nikon that's been around for awhile, so those upgrading from one of several Nikon models will find that they've already got an extra battery. For a list of all 22 (current) compatible models, please go to Nikon's USA website here.
The Nikon S6300 makes use of SD/SDHC/SDXC memory cards to store its images, with the cards slotting into a dedicated slot in the bottom of the camera alongside the battery. When shooting at the camera's maximum resolution of 16 megapixels, you should be able to fit approximately 1200-1300 shots on a standard 8GB SDHC memory card. The camera also features about 25MB of internal memory, which is enough to hold maybe four or five images, so a memory card is essential.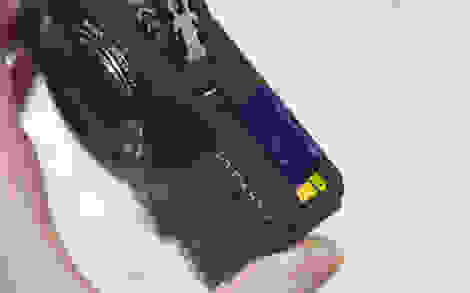 The Nikon S6300 is an exercise in just how quickly the industry has embraced the long zoom compact movement, featuring a 10x optical zoom body and 16-megapixel image sensor in a body that, a few years ago, might have only features a 3 or 4x zoom range.
The crushing ubiquity of smartphone cameras has made point-and-shoot manufacturers certainly sweat, with reports that the compact camera industry saw nearly quarter of their sales drop off in just 2011. That has led to a rush to stick bigger and better optics in pocketable cameras, and the S6300 is the benefactor of that.
That isn't to say the S6300 is a cheap cash grab with a pumped-up spec sheet; it's a fine compact camera, that is light, easy to use, has enough zoom range to cover most shots, and can slot into your pocket with ease. We felt the handling could have been better, but an effective 10x optical zoom for under $200 certainly piques our interest.
The S6300 is a long shot from is 18x optical zoom-toting cousin, the S9300, but at a suggested retail price of $200—$150 less than the S9300—it represents a significant value. It skimps on many of the comforts that you get with the S9300, rubberized grip and high-resolution screen chief among them, but its combination of lens and sensor should provide nearly identical image quality. We'll have to gauge the differences with a full battery of performance tests, but we'll have a full report as soon as we can.
The S9300 will obviously still have its place for those shoppers looking for as much zoom as possible in a compact, but the S6300 is sure to present an alluring alternative for the price-conscious shopper. The compact point-and-shoot market is certainly eroding, but with companies like Nikon presenting the kind of zoom-to-price ratio that the S6300 provides, it's hard for anyone but the companies to complain.
Meet the tester TJ Donegan
Executive Editor
@TJDonegan
TJ is the Executive Editor of Reviewed.com. He is a Massachusetts native and has covered electronics, cameras, TVs, smartphones, parenting, and more for Reviewed. He is from the self-styled "Cranberry Capitol of the World," which is, in fact, a real thing.
Checking our work.
Our team is here for one purpose: to help you buy the best stuff and love what you own. Our writers, editors, and lab technicians obsess over the products we cover to make sure you're confident and satisfied. Have a different opinion about something we recommend? Email us and we'll compare notes.
Shoot us an email