cameras
Olympus OM-D E-M1 Digital Camera Review
The new OM-D is a bold bet for Olympus.
In 2012, Olympus made a statement with the OM-D E-M5. The company's flagship Micro Four Thirds camera rode a wave of retro good looks, ample controls, weather-resistant design, and superb image quality straight into the hearts of enthusiast photographers. For many, it was a dream come true.
The new OM-D E-M1(MSRP $1,399.99 body-only) is based on the same formula and, like the E-M5, the new standard-bearer is aimed at a specific demographic. This time around, Olympus has put aside the E-M5's enthusiast-courting retro looks and decided to target pros tired of lugging around massive kits. Alongside the weather-proofed E-M1, Olympus has also announced its first wide-aperture M43 zoom lenses, aimed squarely at—yep, you guessed it—pros. Ready for action rain or shine, the M. Zuiko 12-40mm f/2.8 Pro is a constant-aperture zoom with a premium build, designed to hang with similar lenses from Canon and Nikon. A 40-150mm f/2.8 lens is also in the pipeline for release next year.
With these offerings, Olympus is hoping to catch the attention of working photographers—those whose necks and backs have paid the price in the quest for the perfect shot. Lightweight and built for serious photography, the E-M1 breezed through our performance tests as one of the best mirrorless cameras we've tested yet.
Note: Olympus has not yet announced a kit option for the OM-D E-M1 as of this writing. We tested the E-M1 with Olympus's 12-40mm f/2.8. We fully expect Olympus to offer a kit later on in the product's lifecycle.
Video Review
Design & Handling
The E-M1's impeccable build and design make a strong first impression.
Not only is the OM-D E-M1 a bold expansion of a highly regarded camera line, it's a new high-water mark for Micro Four Thirds ergonomics. Not just a bulked-up E-M5, this new OM-D is as sculpted and toned as a Hollywood star. With the E-M1's 2X2 control setup, improved ergonomics, and vastly better buttons, Olympus has left us with very few complaints.
Fashioned from magnesium alloy, the E-M1 feels like it could easily withstand the rigors of pro use. Its large, curved grip is big enough to securely support the camera, even with a large Four Thirds lens attached. It's also worth noting that the E-M1 is fully weather-sealed—we've seen it survive everything from a light spritz to sitting in standing water under a shower head. Yet, it's still small enough that the E-M1 remains reasonably compact.
In the scheme of things, the E-M1 is slightly bigger than its predecessor, the E-M5, but smaller than the beefy Panasonic GH3. If you're comparing the E-M1 to a full-frame rival like Canon's EOS 6D, the Olympus looks downright diminutive.
Olympus has wisely decided to apply its innovative 2X2 control dial scheme (first seen earlier this year in the PEN E-P5) to this latest OM-D. On the camera's body are two large control wheels with a special toggle positioned by your thumb. Flick the toggle and the dials can change from one custom function setup to another. No other camera maker features such an inspired, yet simple, bit of control magic.
Arguably, the 2X2 control dials work better on the E-M1 than on the E-P5 due to the camera's bigger frame. Both dials are satisfyingly chunky and offer up reassuring feedback when clicked back and forth. The metal toggle that switches between control schemes is conveniently placed right under your thumb, but on the other hand it's also precariously close to the large, top-mounted mode dial. More than once we accidentally tripped the toggle when we reached for the mode dial. But, it's easy to look out for—after all, if you find you're suddenly changing ISO instead of exposure compensation, all it takes is a quick click and you're back where you wanted to be.
The designers at Olympus have paid particular attention to the E-M1's overall layout and size of the buttons, a huge change from the gummy, small buttons featured on the E-M5. It quickly becomes second nature to control the camera by touch alone. This aspect of the design is particularly important, since you'll want to have your eye on the brilliant new EVF as much as possible—the less time the camera spends away from your face, the less likely you are to miss a crucial moment.
While it's easy to get caught up in the big changes, but there are lots of little things that do a lot to make the E-M1 stand out. Two new function buttons on the front (one domed, one indented à la Canon EOS 1D X) of the camera bring the customizable button count to a whopping nine, and that's before you factor in the 2X2 control system. While there aren't any custom modes on the mode dial, there's the Myset option, which is just as flexible, if not quite as easy to access.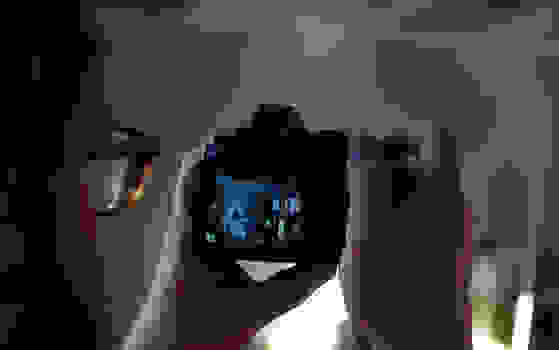 It might seem obvious, but perhaps the main selling point of the E-M1 is its lack of bulk. A pro-class full-frame camera like Canon's EOS 5D Mark III can be incredibly heavy when you account for other gear you might want to bring with you. The Canon, when armed with the EF 24-70mm f/2.8 lens weighs nearly 3.5 pounds. The E-M1 and the M. Zuiko 12-40mm f/2.8? Just a hair over two pounds. It might not seem like a dramatic weight difference, but tell that to a pro photographer after a hard day's work.
Features
Great Olympus features, same kludgy Olympus menus
While the OM-D E-M1 is a pro-centric camera, it leaves out none of the fun creative features we've come to expect from Olympus. There's also enough brand new features to be of great interest to current Olympus owners looking to upgrade from their PENs or OM-D E-M5s.
The E-M1's EVF isn't just an upgrade over what Olympus shipped in the E-M5. It's a big, bright panel so well executed it just might change your opinion on the viability of EVFs compared to optical finders. Similarly, the 3-inch rear touchscreen is much sharper than the OLED display on the E-M5—text is crisp, and your photos pop off the screen. Current OM-D owners will have a hard time going back to using the displays on their E-M5s after spending time with the E-M1.
But all the pixels in the world can't save the E-M1 from its bafflingly complex menu system. We've previously described the Olympus-designed menus as "byzantine," "confusing," and "frustrating." Even though all those adjectives still apply to the E-M1's menus, there's a silver lining: You may never love using them, but our experience shows that one can learn to tolerate the Olympus software.
Speaking of software, the E-M1 uses new JPEG algorithms to fight aliasing. The new 16-megapixel sensor in the E-M1 doesn't have an optical low pass filter, ideally providing the best possible sharpness from each pixel. But the lack of a physical filter leaves repeating patterns susceptible to moiré. Olympus's JPEG processing system has a profile for each M43 lens, and uses it to automatically apply the right amount of anti-aliasing to your shots. This way, you theoretically get the best of both worlds—protection from ugly moiré and unadulterated image sharpness.
Since this is a thoroughly modern compact system camera, the OM-D E-M1 can connect wirelessly to Android and iOS devices. The Olympus Image Share app connects to the camera and can act as a remote control or be used to wirelessly transfer images. Unfortunately, the iOS app won't support the E-M1 until next month, though the updated Android version is already hitting the Google Play Store. Olympus also opted to give the E-M1 the photo collage mode, all the art filters, and other niceties we've come to expect from the marque.
Focus
Dual Fast AF isn't quite what we were hoping for
The feature Olympus has stressed most in E-M1 promotional materials is the integrated phase detection autofocus. Micro Four Thirds has long promised complete compatibility with Four Thirds lenses, but the older glass couldn't achieve peak autofocus performance on cameras limited to contrast-detect AF. With the E-M1's hybrid contrast/phase-detect AF system, Olympus users should theoretically get the best of both worlds: Current M43 lenses work as expected, and adapted 43 lenses finally produce usable AF speed. It's effectively the last nail in the coffin for Four Thirds DSLRs, but all the great Zuiko Four Thirds glass can live on through the OM-D E-M1.
The E-M1's sensor uses 37 dedicated phase-detect pixels actively compare two points of an image. Depending on how the light reaches both points, the AF computer can estimate if focus needs to move forward or back, and sends a signal to the AF motor accordingly.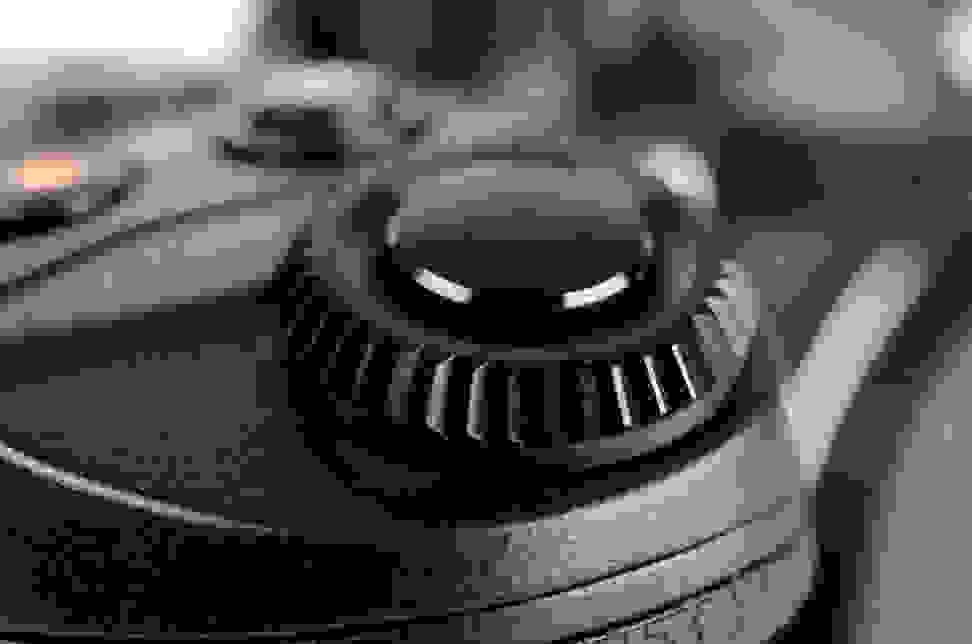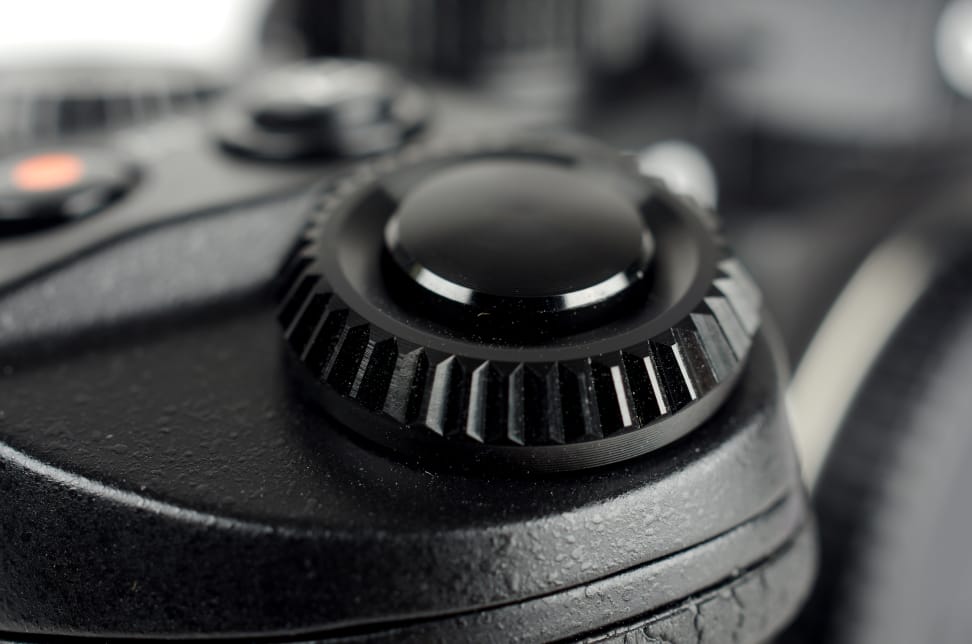 With this so-called Dual Fast AF system you get lickety-split contrast detection-based autofocus paired with the faster subject tracking that phase detection provides. Sounds good at first, but there's a serious limitation. With M43 lenses, you can only use phase detection with continuous autofocus, and not at all in video. Only adapted Four Thirds lenses are able to use PDAF when in S-AF mode. The rest of the time, you'll only be able to use contrast detection autofocus, which isn't a bad thing.
Our experience with Dual Fast AF in the field was mostly positive, with PDAF keeping moving subjects in focus relatively well, only losing focus for a few milliseconds while panning. The E-M1's contrast-detect S-AF continues to be among the best in the business, hunting for and nailing focus with little fuss.
We noticed the frame rate of live view dropped when we used focus peaking.
Manual focus aficionados will be happy to know that the OM-D E-M1 features focus peaking, just like the E-P5. It's not the most robust implementation we've seen—there's not a lot of customization, and it's not available at all in video mode—but it's still an improvement over the E-M5. The biggest problem with the E-M1's focus peaking is that engaging it causes the live view frame rate to dip dramatically. While it doesn't render the feature wholly unusable, it's frustrating that Olympus can't pull it off as well as Panasonic did with the Lumix GX7. While we hold out hope the jittery live view could be smoothed out with a firmware update, as of now it's a less-than-ideal execution of an essential feature.
Performance
Olympus still struggles with video, but delivers the goods in every other regard
With a packed field of great sub-$2,000 APS-C and full-frame cameras to compete with, Olympus had to come out swinging with the E-M1. So it's no surprise that the company's engineers equipped it with one of the best M43 sensors we've seen yet—a chip that narrowly beats out the one in the Panasonic GX7.
Olympus is known for its bright, vibrant colors, and the E-M1 didn't disappoint in that regard. Even though this camera's color accuracy couldn't match the near-perfection of titans like the Nikon D4 and Canon 1D X, the color tuning is very deliberate and the straight-out-of-camera JPEG results can be stunning. In the OM-D E-M1's Muted color mode, we measured saturation of 100.5% and a ∆C 00 saturation-corrected color error of just 2.35—both impressive numbers.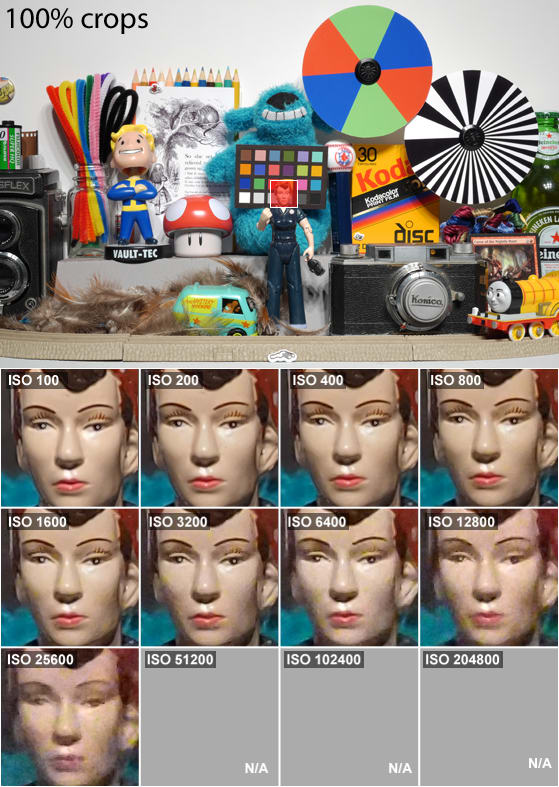 Controlling noise without destroying fine detail is a tricky challenge for smaller sensors. In our standard lab test, the OM-D E-M1 showed a clear edge over the E-M5 in high ISO shots, presumably thanks to its new 16-megapixel Live MOS sensor and accompanying software. When shooting JPEG, noise was finely controlled up to ISO 6400, and splotchy chroma noise only became a real issue at ISO 12800 and higher.
While the OM-D E-M1 has wide dynamic range for a Micro Four Thirds camera, it pales in comparison to the biggest and best sensors on the market today. At base ISO, we measured roughly 10.5 stops, which is darn close to what we saw out of Panasonic's GX7. For reference, most modern full-frame cameras get around 12 stops of DR at base ISO, giving you a bit more flexibility when it comes to post processing.
We measured a rate of 10 fps continuous, capturing 43 JPEGs until the camera slowed to around 1 fps.
One area where the Olympus holds its own is when it comes to continuous shooting. The E-M1 takes that legacy to the next level, upping the buffer while maintaining a burst shooting rate of 10 fps. In a controlled test, we were able to capture 43 JPEGs at top speed before the E-M1 slowed to around 1 fps. RAW files filled the buffer faster—we topped out at around 34 images before slow-down.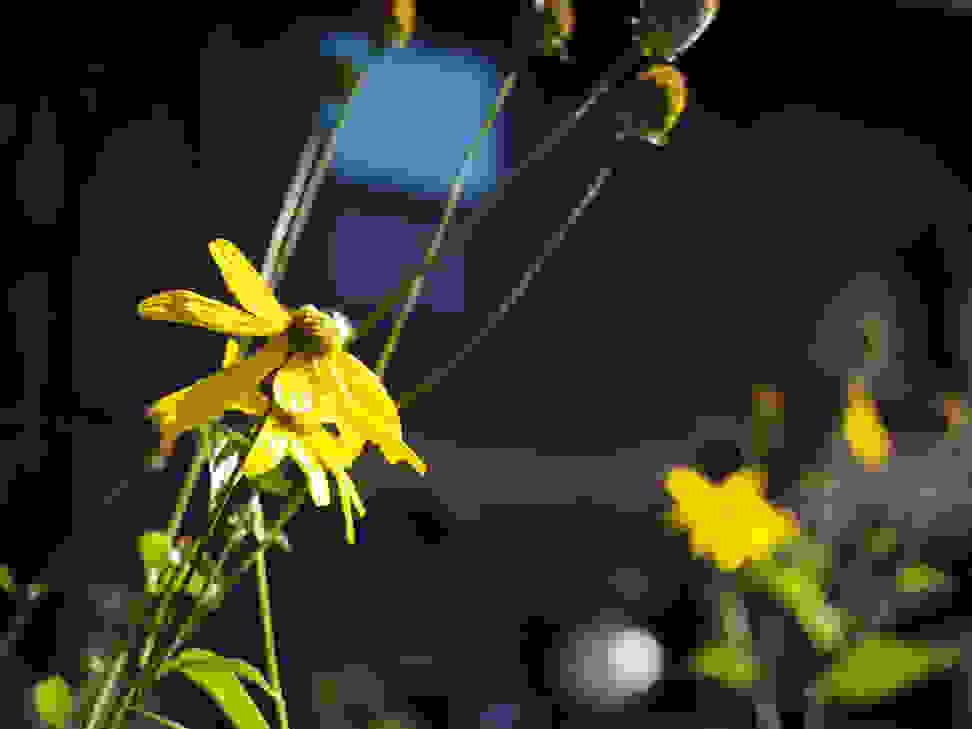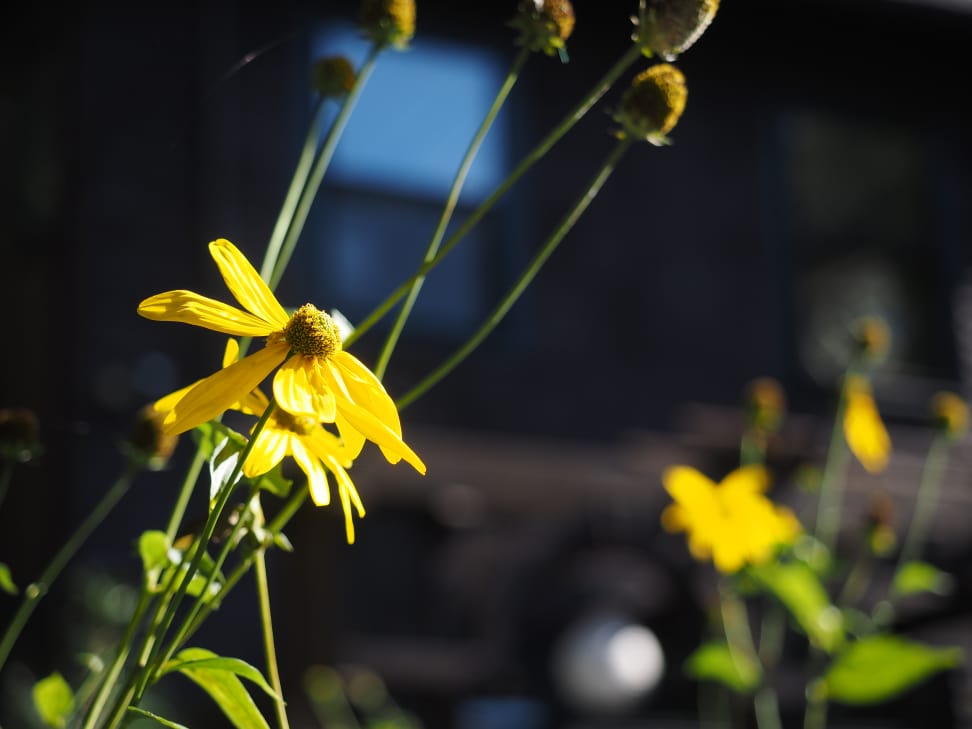 Given how good every other facet of this camera is, Olympus still needs to improve its HD video software. Even though the E-M1 is priced right up against Panasonic's now-legendary GH3, it just can't keep up. Poor pixel binning caused noticeable loss of detail in our test videos, especially when recording objects in motion. Even though videos were plenty sharp, excessive noise made for poor overall performance in our standard motion test.
As with previous Olympus M43 cameras, the E-M1's top recording mode is 1080/30p, and at a constrained bit rate of 24 Mbps. There's no 60p option, and no 24p for those of you who prefer a cinematic look. Forget about higher bit rate options or AVCHD compression. And yeah, there's a mic jack, but it's just a box Olympus decided to tick on the spec sheet. There's no real meaningful improvement to video quality in the E-M1—for the moment, the GH3's video throne is quite secure.
For the whole story on the E-M1's performance, click over to the Science Page.
Conclusion
Olympus has set a course for the future with the E-M1.
Not only is the OM-D E-M1 a brilliant move from Olympus, it's a strong contender for our camera of the year. We think pros—at least those who are fed up with the weight and bulk of modern DSLRs—are going to love this camera. Matching pro build quality with the best Micro Four Thirds sensor we've seen yet, the E-M1 states its case and backs it up time and time again. The matching M. Zuiko 12-40mm f/2.8 Pro lens is also a big win for Olympus. It's a promise to pros penned in metal and glass—switch to Olympus, and expect more first-class equipment to come (starting with the complementary 40-150mm f/2.8).
Matching pro build quality with the best Micro Four Thirds sensor we've seen yet, the E-M1 makes its case and backs it up time and time again.
More than the E-M1 alone, those pros are going to fall in love with the system Olympus is building. Though the idea of a "pro" M43 system is still very much in its infancy, the E-M1 and 12-40mm f/2.8 are a strong down payment toward a bright future. We don't expect many deeply entrenched Canon and Nikon users to jump ship just yet, but newcomers will certainly be more likely to consider Olympus. The E-M1 makes Micro Four Thirds an option that's too enticing for pros to ignore.
Our one reservation is due to the E-M1's poor handling of HD video. Even though we feel that this camera wasn't designed as an all-in-one solution, the limited feature set and less-than-stellar output makes video shooting feel like an afterthought. We still recommend Panasonic's GH3 or Canon's 6D if you need professional-quality video in addition to great stills.
That said, the OM-D E-M1 is bar-none the best stills-shooting experience within the Micro Four Thirds system, with image quality good enough for the working photographer. This camera is a loud and clear statement of intent from Olympus—Micro Four Thirds can be for pros, too.
Our editors review and recommend products to help you buy the stuff you need. If you make a purchase by clicking one of our links, we may earn a small share of the revenue. Our picks and opinions are independent from any business incentives.
Our editors review and recommend products to help you buy the stuff you need. If you make a purchase by clicking one of our links, we may earn a small share of the revenue. Our picks and opinions are independent from any business incentives.
Advertisement - Continue Reading Below
Compare Prices
Our editors review and recommend products to help you buy the stuff you need. If you make a purchase by clicking one of our links, we may earn a small share of the revenue. Our picks and opinions are independent from any business incentives.
Advertisement - Continue Reading Below
Advertisement - Continue Reading Below
Advertisement - Continue Reading Below
Advertisement - Continue Reading Below
Advertisement - Continue Reading Below
Get Our Newsletter
Real advice from real experts. Sign up for our newsletter
Thanks for signing up!