Front
---
Back
---
Sides
---
Bottom
---
Top
---
**Size Comparisons **
---
**In the Box **
---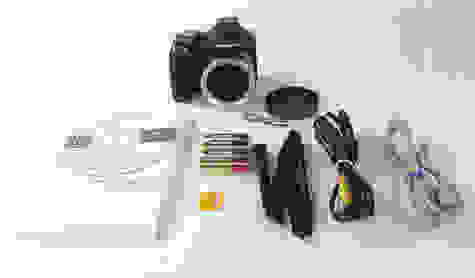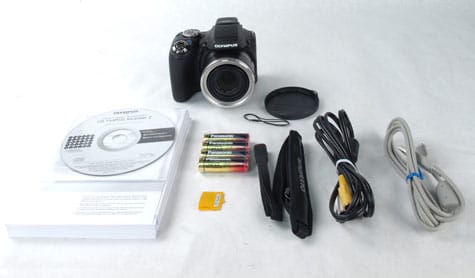 • Camera
• Manual
• 4xAA batteries
• Lens cap and tether
• Software CD
• Neck strap
• AV cable
• USB cable
• MicroSD adapter
**Color Accuracy ***(12.58) *
---
In our color accuracy test, the Olympus SP-590UZ performed well, but had the odd performance blip of being more accurate in its Vivid mode than in Natural. We test color accuracy under 3000 lux illumination, shooting the X-Rite ColorChecker chart. We then analyze the photos using Imatest software, comparing the known chart values to the actual test photo results. Click here for more on how we test color
The chart below shows the color reproduction results for the Olympus and our crop of comparison cameras in their most accurate color modes, compared to the ideal chart values (shown in the leftmost column). The SP-590UZ had some trouble with cyan and yellow, but otherwise was accurate.
NOTE: Because of the way computer monitors reproduce colors, the images above do not exactly match the originals found on the chart or in the captured images. The chart should be used to judge the relative color shift, not the absolute captured colors.
Compared to the other cameras of this batch, the Olympus held its own, but didn't blow our socks off in any meaningful manner.
Color Modes*(3.00)*
---
On this particular camera, there are only two color modes - Normal and Vivid. Usually we would expect Normal to be the more accurate of the two, but for this model Vivid, with better saturation and generally more accurate hues, produced superior results. Normal had less accurate yellow, cyan and red reproduction when compared to the Vivid mode.
Noise*(7.52)*
---
In the image noise test, the SP-590UZ came out worse for wear  compared to the other cameras. It had consistently higher noise than the competition, even though noise reduction kicked in noticeably at ISO 400. Performance under bright light was slightly worse than under the low 60-lux illumination. Click here for more on how we test noise.
Compared to the other cameras, you can see that at all but the highest setting, the Olympus has more image noise.
The table below shows just how much noise you can expect to see, under both tested levels of illumination. With the bright lighting of 3000 lux, the noise was on the high side.
Compared to the other cameras in this batch, the Olympus fell behind for image noise levels.
ISO*(9.00)*
---
At full resolution, the ISO levels run 64-1600, with ISO 3200 and 6400 available at reduced res. One of the nice features of many ultrazoom cameras, is that they contain many of the same controls as SLRs, including noise reduction. The SP-590UZ allows users to control whether or not noise reduction processing is used (the processing lowers noise but hurts image detail).
The images below are 100% crops of photos taken at every available ISO.
NOTE: The images above are not used in our testing or scoring, but are included here to show real-world examples of the differences between cameras at the various ISO settings.
Resolution*(9.96)*
---
In our three-pronged resolution testing (sharpness, distortion and chromatic aberration), the Olympus had some good results and some poor ones. This test involves shooting along various points along the rather substantial zoom range of the lens. Click here for more on how we test resolution.
Distortion (4.67)
Distortion is one of the areas where the 590UZ didn't perform very well. At the widest setting (equivalent to 26mm), the camera had a whopping 3.4% barelling, more than any of the other cameras we compared it to. At the mid and tele end of the zoom, it stayed around 1% of pincushioning, which is significantly better but still a touch on the high side.
Sharpness (14.34)
While the Olympus stumbled in our distortion test, it scored a bit better for sharpness. Unsurprisingly, the camera produced the sharpest possible images at the smallest zoom, with sharpness decreasing with higher magnification. Across the three focal lengths we analyzed, there was a uniform pattern of the image being sharpest at the center of the lens, getting softer moving outwards, then improving again at the edges.
Chromatic Aberration (6.94)
Chromatic aberration is a sore spot for ultrazoom cameras, as at their maximum zoom the color fringing can be significant. As with sharpness, the chromatic aberration was at its best at the short end of the zoom, and then progressively worsened. Likewise, it was at its lowest at the center of the lens, then worsened outwards before improving at the corners.
Of this batch of ultrazooms, only the Sony performed well in this test, as the rest struggled with distortion and chromatic aberration. The Olympus managed to pick up a few points due to a good sharpness performance, but compared to cameras with smaller zooms, these four haven't done particularly well.
Picture Quality & Size Options*(8.00)*
---
A wide variety of sizes is available, which can all be set to either Fine or Normal quality. Unfortunately for those who love post-processing, there's no RAW option.
Image Stabilization*(0.00)*
---
Under our stabilization test conditions, the Olympus system had no distinguishable effect. We look at how well the IS system can cope with 1/30 of a second exposures, about what you'd encounter shooting handheld indoors. The 590UZ fell short, failing to offer any improvement when the system was turned on.  Click here for more on how we test image stabilization.
The crops below show crops from our resolution testing, with stabilization turned on and off for multiple cameras.
Movie Mode*(11.25)*
---
We were surprised that the SP-590UZ doesn't offer HD video, as this is an increasingly common feature, and a deal-breaker for a lot of people. The Olympus is limited to 640x480 or 320x240 at 30 or 15 fps, has mono sound, and uses the motion JPEG file format. It retains a fair degree of control in video mode, letting you access white balance, metering, focus mode, and the like. Another nice touch is the ability to use the optical zoom while recording, so you can get nice and close to your subject.
Video Color*(7.42)*
---
Under the bright light of 3000 lux incandescent bulbs, the Olympus SP-590UZ didn't capture color as accurately as the competition in video mode. It was less accurate than the Canon SX1 and Sony HX1, only beating the Nikon P90 which massively under-performed in our video section.  Click here for more on how we test video color.
Video Sharpness*(0.86)*
---
The chart below shows something very clearly: two of these cameras are HD, and two are standard definition. Care to wager which is which? The Olympus and Nikon, while both less expensive than the Sony and Canon, come up short on sharpness due to their SD resolution. Click here for more on how we test video sharpness.
Sample Photos
---
In the following sample images, clicking on the larger image will download the full resolution original. Each photo is accompanied by three actual-size crops.
Still Life Examples
---
Click on the images below to see full size version of our still life.
NOTE: The images above are not used in our testing or scoring, but are included here to show real-world examples of the differences between cameras at the various ISO settings.
Playback Mode*(10.50)*
---
There are two ways of entering Playback mode: while shooting, you can hit the Playback button on the rear of the camera, or alternatively you can change the mode dial to Playback. The advantage to using the dial, one supposes, is that you won't accidentally return to shooting. Another interesting feature is the Expand button. When you take a series of images in burst mode, they're stored as a cluster for playback, and when you browse images, they're treated as one file. Hitting the Expand button lets you view those images one at a time.
In-Camera Editing*(5.75)*
---
The editing controls on the 590UZ are expansive, but disparate. The Playback Menu system splits them into three areas: Edit, Perfect Fix and Beauty Fix. Edit gives you Resize, Crop, Color Edit (black and white, sepia, etc), Calendar (saves the image as a calendar) and Face Focus (detects a face and blurs everything but that). Perfect Fix is where the Redeye Reduction and Shadow Adjust (dynamic range boost) options are found. Finally, the oddest edits are filed under Beauty Fix. Clear Skin applies an overbearing amount of smoothing to the face, Sparkle Eye enhances contrast in the eye, and Dramatic Eye enlarges the person's eyes, for the anime enthusiast in your life.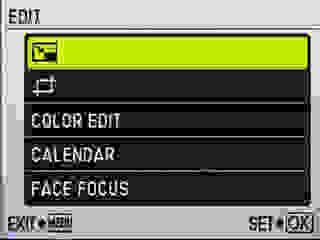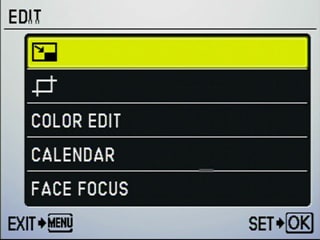 The primary editing menu
Direct Print Options*(4.00)*
---
For people who don't want to go through the process of putting their files on a computer before printing, two options are provided. One is PictBridge, which lets you plug your camera straight into a printer and from there choose print size, number of prints, whether you want to add a border, create an index print, append name and date to your prints or even crop an image down. The other option is to earmark files on your memory card with the number of copies you want, and whether you want the date imprinted using the DPOF protocol, which allows you to order output from a printing service bureau. Compared to the bevy of choices for PictBridge, the DPOF system is a little underwhelming.
Viewfinder*(4.50)*
---
The electronic viewfinder (EVF) shows the same view as the LCD, just writ small. You toggle between the two displays using the Monitor button on the top right of LCD. The EVF was a bit slow on the refresh, and had an odd green tint, which left us less than enthused.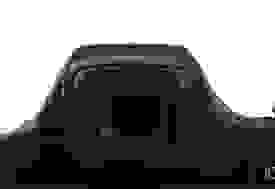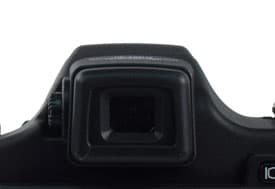 The viewfinder
LCD*(4.65)*
---
The LCD measures 2.7-inches diagonally, with 230,000-dots squeezed into that space. This is neither particularly large, nor especially high res, but has a very wide viewing angle, which is a nice touch. The Olympus HyperCrystal system of LCDs are better than most at handling sunlight, and the screen is actually usable in the bright outdoors.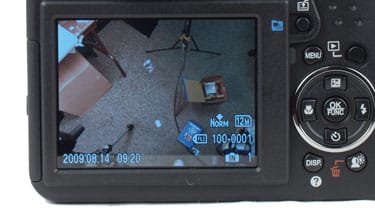 The LCD handles the outdoors well
Flash*(7.50)*
---
The flash is deployed mechanically rather than electronically, so the camera can't raise it on its own. This can be an advantage if you don't want the flash going off at inopportune times, or a pain because you have to push the button whenever you want to use it. One advantage to having a pop-up rather than on-camera flash is that it distances the strobe from the lens, which helps prevent redeye. Of course, ultrazooms can block flash output when you have the zoom set long, but the height of the pop-up here was fairly effective on that front.
The flash is very bright, and has almost no light drop off, even at the wide-angle end of the lens. Likewise, the autofocus assist bulb is strong enough to blind passersby. However, even with this powerful bulb, the camera was slow to focus in low light.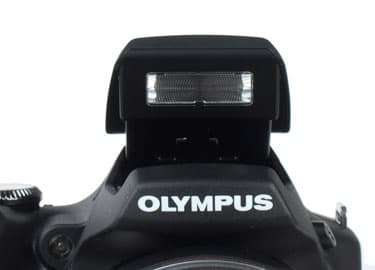 The flash pops up, giving much needed distance
Lens*(16.50)*
---
The 26x zoom lens on this Olympus is officially the longest zoom on the market. For those keeping score at home, it's the 35mm equivalent of 26-676mm, so it has an impressive wide-angle on it too. The downside, with this particular model at least, is at 26mm you get substantial distortion. As you zoom, a small bar appears on the screen, showing your progress from wide to telephoto. It's a small thing, but we would have liked there to be a numerical accompaniment, so we can see what focal length we were at.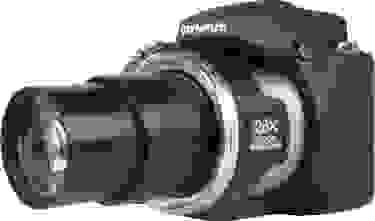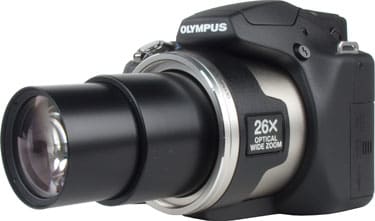 The fully extended lens is very long.
Of course, the question is what sort of magnification will 26x zoom actually get you? Have a gander below, for a feel of just how much you can invade someone's personal space.
The maximum aperture is f/2.8 wideangle and f/5 at the telephoto, but the minimum aperture is only f/8.
Battery*(5.00)*
---
The SP-590UZ uses AA batteries, which have some advantages. While they don't hold a charge as long as the Li-ion batteries you find in many other cameras, they have the distinct advantage of being able to be purchased at any store on the planet. When in the middle of India without a plug converter, you can bet which one you'd want. And of course, you can always buy an inexpensive set of rechargeable AAs as well.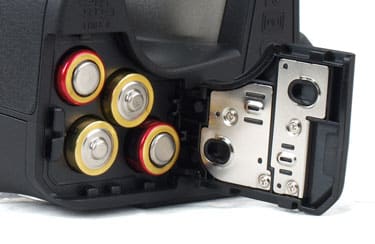 AA are cheap and easy to come by
Memory*(1.00)*
---
Olympus remains steadfastly behind the curve, forcing users to stay with their outdated, low-capacity and expensive xD cards. As you probably gleaned, we're not fans. It does come with an adapter for using MicroSD cards, which is a small improvement.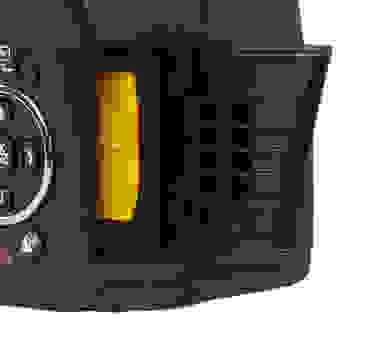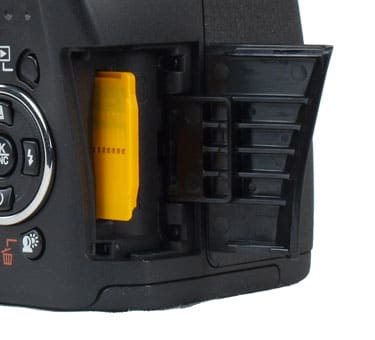 The MicroSD adapter
Jacks, Ports & Plugs*(3.50)*
---
There are three ports on the SP-590UZ, one proprietary USB/AV, one HDMI (even though the camera doesn't shoot HD video) and one for DC in. You have to buy the cables for the latter two separately.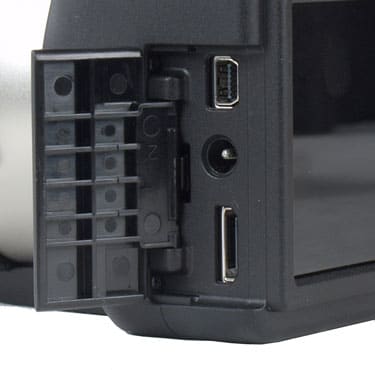 The three ports
Shooting Modes*(19.50)*
---
The breadth of shooting modes brings us no end of pleasure on this sort of camera. You have automatic, program, aperture-priority, shutter-priority and full manual modes. There's also a shooting mode called My Mode, where you can save the current shooting settings to one of four banks of presets. This is incredibly handy if you have a favorite settings array for a particular shooting situation.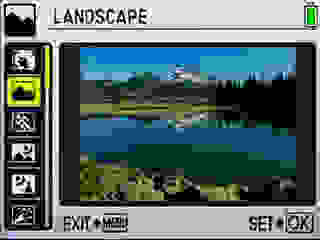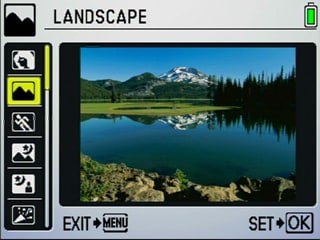 Scene Modes menu
If you're a fan of scene modes, you're in luck. There are 20 scene modes, if you include the Beauty mode that's found in a separate location on the mode dial. Unfortunately, the manual does a poor job of explaining them, and the in-camera descriptions are brief. For instance, the Bird Watching mode is for 'photographing birds in the wild'. And then there are the Multi Fireworks and Multiple Exposure modes, which have almost exactly the same on-screen descriptions, yet presumably function differently.
Picture Effects*(4.00)*
---
There aren't any real Picture Effects to speak of on this camera. What it can do, on the other hand, is adjust sharpness, contrast and saturation on a 10 step scale for each.
Focus*(9.00)*
---
For auto focus, there are four options; Face detect, iESP (full frame), spot and area (a movable focusing rectangle). There's also an option called AF Predict, which tries to follow a moving object once you've focused on it. If Manual Focus is more your cup of tea, the 590UZ does have a Manual mode, but it requires using the left and right button to fine adjust. When tweaking this setting, the center of the image is enlarged to help you get a better focus. However, on this model, this enlarged area lags considerably, making it very difficult to set properly.
Exposure*(4.00)*
---
While the exposure compensation range isn't too wide, the inclusion of exposure bracketing is a welcome feature, especially given the large number of options in that mode.
Metering*(7.50)*
---
Spot, center-weighted and ESP (full frame) are the options here. Nothing particularly exciting, but should serve most situations.
White Balance*(6.00)*
---
The white balance presets for the SP-590UZ are sunny, cloudy, incandescent and three types of fluorescent. Beyond that there's also auto and manual, but the latter is frustratingly implemented. While you can access the white balance choices from the quick menu, you can't take a manual white balance from here. Rather, you have to navigate to the main menu, find the white balance menu there, and then take the reading. It's an extra step, for a feature we use frequently.
If you're unhappy with the presets, you can adjust any white balance setting along a blue-red axis to match your preferences.
Aperture*(9.50)*
---
The camera has a good maximum aperture of f/2.8 at wide-angle, which drops down to f/5 at maximum zoom. However, the minimum aperture is only f/8, which means you won't be able to create a huge depth of field. It does have an aperture priority shooting mode, which is a big plus in our book.
Shutter Speed*(11.00)*
---
In shutter priority mode, the speed can be set from 1/2-1/1000, but in manual exposure mode this can be extended to 15-seconds, or Bulb, for up to eight minutes. This is great at the long end of things, but 1/1000 isn't particularly fast for the highest speed.
Self-Timer*(2.00)*
---
12 or 2 seconds, whichever takes your fancy.
Drive/Burst Mode*(7.00)*
---
While the Olympus didn't wow us with its speed at full resolution (see below), we did appreciate the sheer breadth of ways to shoot in high speed, and if you don't need huge images, you can shoot pretty quickly. Sequential mode shoots off full size images at one frame per second; Hi-1 knocks the res down to 5-megapixels, but gets the speed up to six frames per second; and Hi-2 takes 10 frames per second at 3-megapixels. Also available at Hi-2 speed is pre-capture mode, which caches 10 images starting when you press the shutter halfway down. Autofocus Sequential takes a series of full resolution images, at slightly different focal points, good if you're having trouble focusing. Finally, there's also autoexposure bracketing, which runs three or five shots at ±0.3, ±0.7 or ±1 EV.
Shot to Shot (1.00)
Some people are all about speed, and to them we'd recommend any of the other cameras apart from the Olympus. It managed one frame per second, at full resolution. If you want really fast, the Sony HX1 can shoot 10 frames per second at its maximum resolution, which blows most other cameras out of the water.
Handling*(6.00)*
---
We're of two minds about the handling of this Olympus. It's light and doesn't feel as sturdy as many of the other ultrazooms we've tested. The grip on the right side is decently large, and lets you get a solid hold on the camera. That said, the left side of the camera doesn't have a good area to put your hand, which makes two-handed shooting awkward. This is especially frustrating, as when shooting at 26x zoom, you really need to use both hands to keep the camera stable.
Buttons & Dials*(9.50)*
---
While we were pleased with the placement and resiliency of most of the buttons on the 590UZ, the one thing missing is a control dial of some sort. A dial is much faster than using the four-way controller buttons for changing aperture and shutter speed, browsing in playback and entering manual focus adjustments. One addition we did appreciate is the Custom button, which can be bound to a number of features. Any amount of personalization is a plus, especially if it lets us cut down on scrolling through menus.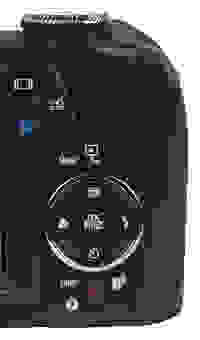 A control dial is sorely missing
Menu*(5.00)*
---
The menu system for the 590UZ was a real letdown. While legible and easy to see, thanks to large icons, it was slow to navigate, and scattered options around willy nilly, making it hard to find the settings you want. A more logical arrangement of menu items would have been greatly appreciated.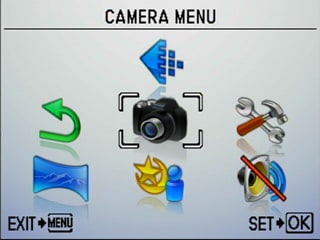 *The Main Menu is easy on the eyes
but a pain to get around

*
Manual & Learning*(4.00)*
---
Given how complex ultrazoom cameras like this tend to be, we are disappointed by the manual for the SP-590UZ. There are a huge number of options and modes on this camera, and almost none of them are dealt with effectively. The Scene Modes are glossed over, concepts aren't dealt with effectively, and both the table of contents and index are underwhelming. The illustrations are good, though. The manual can be downloaded from here.
On the surface, the Olympus looks like a substantially better camera than the Canon. For $150 less, you get 26x zoom over 20x, 12-megapixels instead of 10, and a wider wide-angle. However, the Canon outdid the Olympus in just about every section of our review. The most notable improvements were the substantially better image stabilization, faster full resolution burst rate, and the mammoth improvements of HD video over standard definition. In performance testing, the Canon trounced the Olympus, to put it mildly.
Additionally, the SX1 just feels better in the hand. It's more substantial, a touch heavier, and is designed to be easily gripped by two hands, which the 590UZ make difficult. It also records stereo sound, has a fully articulated LCD (which is great for shooting from awkward angles), a significantly higher maximum shutter speed, and more color modes. If you can afford the extra $150, the Canon is a superior camera in just about every measurable way. While you might miss a few notches on the zoom, you'll probably not notice the difference, and the performance and feature gap is well worth it.
The Nikon and Olympus offer an interesting comparison, as they are very similar. Both are priced at the less expensive end of ultrazoom spectrum, with the Nikon shaving $50 off the price of the Olympus. Both shoot 12-megapixel photos, with very similar lenses, and both lack high definition video. The only significant hardware difference is that the Nikon has a semi-articulated LCD (it can pivot up and down). While this hinge on the LCD isn't a huge deal, it's a nice little feature.
Performance wise, there's not that much difference between the two. Noise and shot-to-shot speed were a bit better on the Nikon, and resolution a bit worse. Neither had very effective image stabilization systems, and both were plagued by the flaws of their standard definition video modes. The Nikon fared worse in video testing, as it lost all controls in video mode, and had trouble dealing with incandescent light sources. That said, if you don't need video, and you want to save a bit of money, the Nikon is just as good a camera as the Olympus.
What does the extra $50 for the Sony get you over the Olympus? While it has less zoom, and fewer megapixels, it offers significantl better performance overall plus a couple of cool that we really liked.
The big selling points of the HX1 are tied to its ludicrous speed in sequential photos. In addition to the blistering 10-shots per second at full resolution in burst mode, the Sony also has a fantastic panorama function. To use this you just hold down the shutter and slowly turn around. The HX1 automatically takes a rapid-fire image sequence and stitches them together in-camera. Magnificently (and miraculously), it just works. On top of that, the Sony has a lens which doesn't distort nearly as much at the wide-angle, a much better image stabilization system, and a far superior video mode. While it did underperform slightly for color accuracy and image noise, the additional features more than make up for it.
So, for $50 more, you get an overall better performance, cool features, much higher speeds, high definition, and a semi-articulated screen. It strikes us as well worth the extra half-Benjamin.
Meet the tester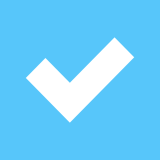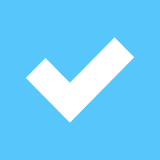 Tim Barribeau
Contributor
@
Tim Barribeau is a valued contributor to the Reviewed.com family of sites.
Checking our work.
We use standardized and scientific testing methods to scrutinize every product and provide you with objectively accurate results. If you've found different results in your own research, email us and we'll compare notes. If it looks substantial, we'll gladly re-test a product to try and reproduce these results. After all, peer reviews are a critical part of any scientific process.
Shoot us an email