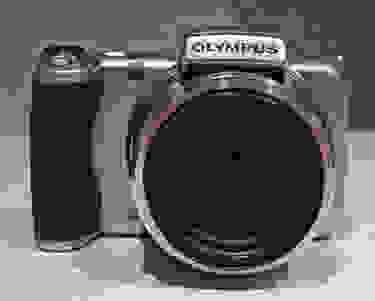 Looking at this fearsome lens from the front, it's important to remember that the camera body is only 4.2 inches wide. The three holes to the lower left of the lens cover the speaker, the two to the upper right of the lens shield the mono mic.
My, what a big nose you have, SP-800UZ.
Back
All of the back controls are found in a panel to the right of the 3-inch, 230,000-dot LCD. The top red button triggers movie recording directly, without fiddling with mode dials and such. There's an activity indicator lamp below that. The dial with an OK button in middle works two ways: as a control dial that turns, and as a push control providing access to the info display toggle and image delete function. Below that is the menu button, and beside it the question mark, which accesses the built-in user manual.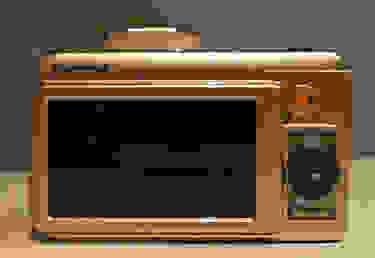 The red button provides instant video recording.
Sides
The left side simply shows off your zoomin' human potential to jealous passersby, and provides a spot for attaching the shoulder strap. On the right are the AV/date and HDMI ports.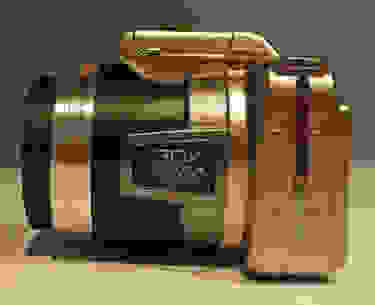 The camera's left side.
The AV ports are inside the door at top right.
Top
From the top we see the pop-up flash, on-off button, zoom control and shutter, conveniently placed on the top of the right hand grip.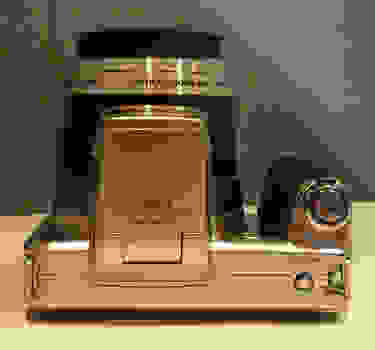 The right hand grip is fairly deep and nicely textured.
Bottom
The placement of the tripod socket is a bit odd, and using plastic rather than metal here seems to be a mistake for a camera which, given the zoom ratio, practically begs to be tripod-mounted.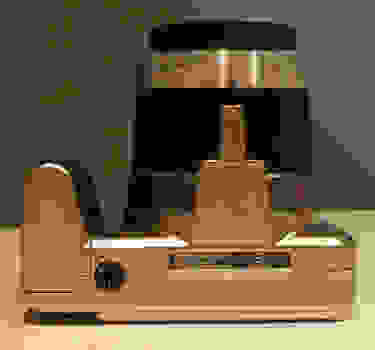 The off-center tripod socket is problematic.
Viewfinder
Unlike many ultrazooms, the SP-800UZ does not offer an electronic viewfinder for eye-level shooting. This has implications beyond simply seeing what you're shooting: holding the camera up to your eye helps steady a shot far more effectively than holding the camera at arm's length and peering at the LCD.
LCD
The LCD screen is a routine 3-inch display with 230,000-dot resolution. Screen brightness is adjustable.
Flash
We like the substantial elevation of the pop-up flash; it has to blast light past a long lens, after all, and appears to do so successfully. The flash won't fire unless you manually raise it, which is also fine with us. Cameras that automatically pop the flash up when the autoexposure system demands it can too easily lead to a blast of light in a baby's face, or angry museum guards.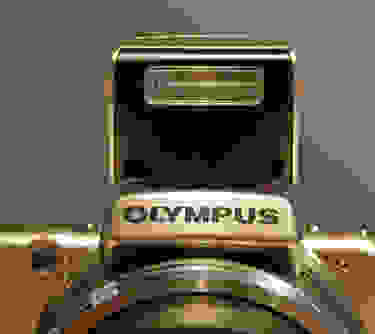 The flash rises high above the long lens.
Flash options include forced flash, red-eye reduction and slow sync, which flashes to capture subjects in the foreground while using a slow shutter speed to achieve acceptable background illumination.
Lens
The 30x lens is the equivalent of a 28-840mm in 35mm photography, if such a thing were possible, meaning you don't lose wide angle capabilities to achieve insane zoom power. The maximum aperture doesn't suffer either, maintaining f/2.8 at the widest setting and 5.6 at full telephoto.
The 30x zoom provides lots of photo composition
freedom without taking a step.
Image stabilization is crucial if an ultrazoom this powerful is going to have practical handheld shooting benefits, and the SP-800UZ combines sensor-shift physical stabilization with a digital image stabilization system. While formal image stabilization testing will require a trip to the lab, we were pleased with the results we were getting shooting at the PMA show. In addition to the stabilization system, the design of the camera helps maintain reasonably shake-free shooting; the lightweight body is easy to maneuver, and the grip is deep and well textured. On the other hand, holding the camera up at eye level would have provided an even steadier result.
Jacks, Ports & Plugs
There are two I/O ports protected by a snug-fitting cover on the right side of the camera. The top takes Olympus proprietary cables for USB data connection and standard-def video output. Below that is a micro HDMI connector, which allows you to output stills or 720p video directly to a high-def TV. Unfortunately, the hard-to-find cable is not included.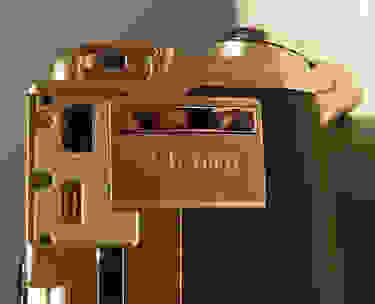 Micro HDMI is still an uncommon cable connection.
Battery
The SP-800UZ uses an LI-50 Lithium-ion rechargeable battery, which Olympus says should provide about 200 shots between charges. That's not a particularly impressive battery life; we'd be inclined to invest in a spare.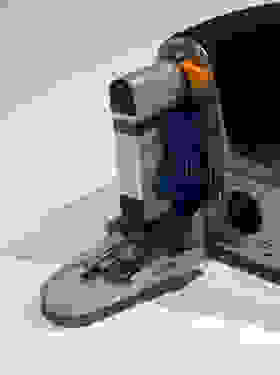 The shared battery / memory compartment,
Memory
The SP-800UZ supports SD and SDHC memory cards; Olympus hasn't jumped on the even higher-capacity SDXC memory card bandwagon yet.
Design & Appearance
---
Compared to past ultrazoom cameras in this series, the 800UZ looks like it's been to a health spa and slimmed down substantially. Without a grip full of AA batteries, the camera's lines look positively svelte, particularly from an angle.
Size & Handling
---
The SP-800UZ measures 4.2 x 2.9 x 3.3 inches (107.3 x 73.4 x 84.7 mm) and weighs 14.7oz. (416g) without batteries and memory card. While it certainly isn't going to fit in your pocket, it's surprisingly portable for a camera with this much zoom capability. By way of comparison, the 26x--zoom SP-590 we reviewed last year is taller and deeper, at 4.3 x 3.5 x 3.6 inches (110.1 x 89.7 x 91.0 mm) and, while the older camera is just half an ounce heavier empty, adding four AA batteries makes it much heftier than the Lithium-ion-powered SP-800UZ. 
Menu
---
There is both a quick menu and full menu system, though the two are linked in an unintuitive way. Pressing MENU brings up the quick menu on the right side of the screen. To access the full menu system, you have to scroll to the bottom of the quick menu and select the icon there.
The quick menu offers helpful text describing your options.
Ease of Use
---
With no manual exposure modes available, a straightforward menu system and only a few buttons to master, the SP-800UZ is a point-and-shoot simple camera, made exceptional by the length of its zoom rather than a potentially intimidating depth of features.
Auto Mode
---
The iAuto mode is a fully idiot-proof, scene-recognition-based system, which locks out manual user settings. The camera attempts to match the shooting situation with a recognized scene and adjust the camera settings accordingly. If no match is found, it defaults back to program mode, which sets shutter speed and aperture based purely on lighting conditions.
Movie Mode
---
The SP-800UZ supports 720p movie recording in MPEG4 format. The alluring red direct-access movie recording button on the back of the camera makes it easy to jump into video mode if an opportunity arises. As for movie playback, there's a micro HDMI out jack for connecting the camera directly to a high-def television, though micro HDMI cables are even harder to find than the more common mini HDMI cables on store shelves, and not included with the camera.
Drive/Burst Mode
---
There are several burst mode settings, providing faster shooting speeds if you'll accept lower resolution images. While we couldn't clock the camera performance (and wouldn't want to judge a pre-production model anyway), Olympus provides three reduced-rez options, the fastest of which promises 15 frames per second at a resolution of '2M or lower.'
There are two self-timer settings, for 2-second and 12-second delays. Interval shooting for time-lapse photography is also available.
Playback Mode
---
The image playback mode offers three display options, one with the image shown full-screen and no information display, another with a bare-bones info overlay, and the third with a smaller version of the photo and a full info readout, plus histogram, to the right. The scrolling wheel around the four-way controller is ideal for moving through images at different rates. Turn it aggressively and the display switches to several shots on the screen at once, which works surprisingly well in moving through a full memory card.
Pushing the zoom lever right magnifies the image in stages, up to 10x. Moving in the other direction offers two levels of thumbnail views followed by an 'event index' that organizes photos based on time and date taken.
There is a slideshow utility with a choice of background music and transitions. Images can be cropped, resized, turned to black and white or sepia, have saturation boosted or reduced, and turned into photo calendars. In-camera red-eye reduction is available, and heavily backlit images can be tweaked using shadow adjustment. An audio annotation can also be added to an existing photo.
Scene Modes
---
Olympus provides a generous assortment of preset scene modes, for those who want to tailor their shooting to a given situation in a camera that lacks manual adjustment capabilities. These scene modes include portrait, landscape, sport, night scene, night portrait, indoor, candle, sunset, fireworks, multi-fireworks, multiple exposure, cuisine, documents, beach & snow, bird watching, soft background shot and pet.
Manual Controls
---
This is not the camera for those who crave precise control over their photographic efforts, Basic shooting modes are the fully camera-controlled iAuto and Program, which allows settings for white balance, ISO etc., but lacks program shift for adjusting the balance between aperture and shutter speed./ Exposure compensation is available, but that's about as sophisticated as it gets.
Focus
---
Auto, spot, face detection and area AF (where the user select the on-screen region for focusing) are supported, along with autofocus tracking. 
ISO
---
The SP-800UZ offers an exceptionally wide ISO range, from ISO 50-6400.
White Balance
---
In addition to auto white balance there are presets for sunshine, cloudy and tungsten lighting and three kinds of fluorescent bulbs. What's strangely lacking, though, is the ability to take a custom white balance reading. Considering the fact that this is a software-only feature that would be perfectly simple to include at no added cost, we're disappointed that Olympus chose to intentionally remove a useful feature from a $350 camera.
Metering
---
Metering options include ESP (the Olympus term for full-frame metering), center-weighted and spot metering. One of the few available manual controls is exposure compensation, which can be set in a ±2 EV range, in 1/3 EV increments.
Shutter Speed
---
Available shutter speeds range from 1/2000 second to 1/2 second. In the Night Scene mode, this can be extended up to 4 seconds. There is no direct user control over shutter speed, though.
Aperture
---
The 30x lens has a maximum aperture of f/2.8 at the widest setting and f/5.6 at full zoom,
Image Stabilization
---
The SP-800UZ supports both sensor-shift and digital image stabilization to maximum long-zoom shake reduction.
Picture Quality & Size Options
---
With a 14-megapixel maximum resolution, there is no shortage of available image size options: 14M (4,288 x 3216), 12M (3,968 x 2,976), 5M (2,560 x 1,920), 3M (2,048 x 1,536), 2M (1,600 x 1,200), 1M (1,280 x 960), VGA (640 x 480), 16:9 (3,968 x 2,232).
There are two JPEG image compression settings, fine and normal. RAW files are not supported.
Picture Effects
---
Olympus has a fondness for filter effects, and the SP-U800UZ continues this tradition, with four 'Magic Filters': Pop Art (intense vibrant colors) Pin Hole, Fish Eye and Drawing.  There is also a Beauty Mode to improve skin tone and texture. And the panorama mode works two ways: you can stitch together three images right in the camera, or shoot up to 10 to be combined using the software provided.
Meet the tester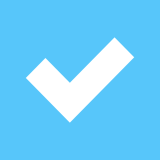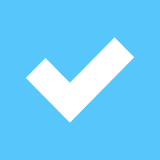 Steve Morgenstern
Editor
Steve Morgenstern is a valued contributor to the Reviewed.com family of sites.
Checking our work.
We use standardized and scientific testing methods to scrutinize every product and provide you with objectively accurate results. If you've found different results in your own research, email us and we'll compare notes. If it looks substantial, we'll gladly re-test a product to try and reproduce these results. After all, peer reviews are a critical part of any scientific process.
Shoot us an email