Olympus's Stylus 1 (MSRP $699.99) has another take on what camera buyers might want. Using its successful OM-D models as a jumping-off point, Olympus has put together an intriguing advanced fixed-lens camera. 10.7x optical zoom and a fast, constant f/2.8 aperture add unique appeal to what might have been yet another small-sensor compact.
While it stands on the shoulders of Olympus's excellent compact system PENs and OM-Ds that came before it, the Stylus 1 seems like a great camera with a burdensome price. That high price tag loudly begs the question: who would rather own a Stylus 1 instead of one of Olympus's Micro Four Thirds offerings?
Design & Handling
Pure Olympus
The Stylus 1 isn't a camera solely for basic users. Its handling and design are aimed at people who want to really dig in and get more control. Like other advanced Olympus cameras, the Stylus 1 provides a frustrating, complex first-blush experience that gets less irritating the more you learn how to use it. If you take the time of learn how to operate the Stylus 1, you'll be rewarded in kind.
Handling-wise, the Stylus 1 will seem familiar to PEN and OM-D users. This Stylus offers user friendliness, but its compact chassis is best wielded by someone who knows something about photography. In particular, the Stylus 1 isn't great for single-handed operation. Not only will you get the best experience when using this camera with two hands, you'll be able to hold the Stylus 1 without worrying about losing your grip. We found that anything longer than brief one-handed stints made operating the rear controls a tedious balancing act.
The Stylus 1's controls are responsive and laid out in a logical fashion.
Thankfully, the Stylus 1's controls are responsive and laid out in a logical fashion. We immediately took a liking to the dual-mode lens ring. You can use the front toggle (which is part of the Fn2 button) to change the mode and feedback of the dial. For instance, if you're shooting in aperture priority mode, the ring clicks and adjusts the aperture setting. Move that front toggle, and you'll be in manual focus mode and the ring instead turns smoothly from side to side.
Even though Olympus loaded up the Stylus 1 with parts from its OM-D cameras, it wasn't a cost-cutting measure. Sharing the excellent EVF from the OM-D E-M5 was a great idea, since it's a quick, sharp little display in there. The Stylus 1 also inherits its rear touch display that first appeared on the OM-D E-M1. While this panel isn't an OLED like the rear screen the E-M5 shipped with, this display is extremely sharp, thanks to its much higher pixel density.
Features
Meat and potatoes for the experienced photographers
Drawing from the best of Olympus, the Stylus 1 presents a pretty compelling feature set. Even though the company's best tech, like its proprietary 5-axis image stabilization, is still exclusive to the high-end OM-Ds, you get just about everything else that we've loved about recent Olympus cameras.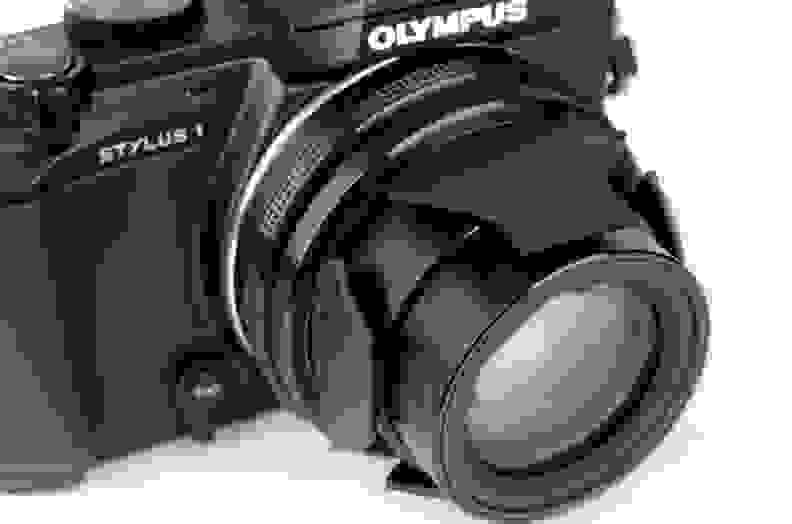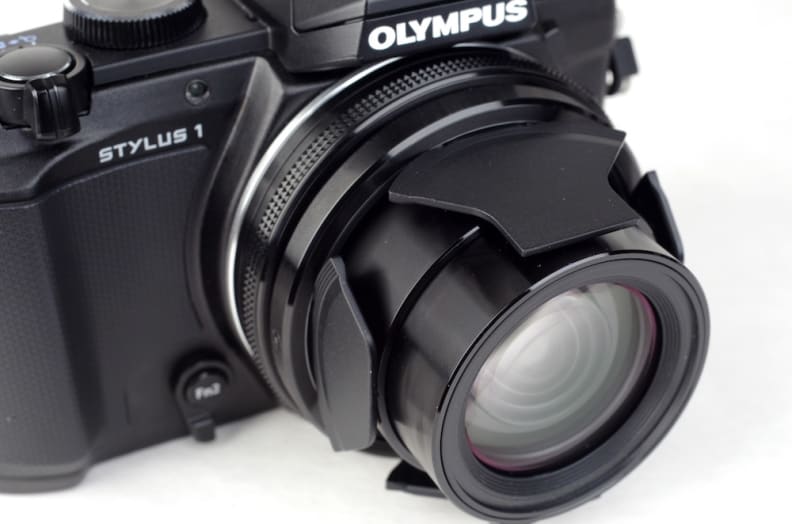 The main draw to the Stylus 1 for most will be its 10.7x, f/2.8 constant optical zoom lens. A similar lens on an interchangeable camera would be extremely bulky, while the Stylus 1 collapses to almost nothing when the camera is turned off. Even though it's not as expandable as any of the compact system cameras available, the Stylus 1 easily makes up for that shortcoming by coming equipped with such a versatile lens. If you have to be stuck with a lens on your camera, this one isn't bad at all.
WiFi is built-in and it's the same solid implementation Olympus has used on its more recent cameras. With the Olympus Share App, it's fairly straightforward to transfer your pictures from your Stylus 1 to the social network of your choice without having to remove your SD card. The app is available for both iOS and Android-based devices.
Olympus continues to struggle with video, and the Stylus 1's heritage unfortunately leaves it at a disadvantage. The other premium all-rounder bridge camera on the market, Sony's RX10, prides itself on taking 1080/60p footage good enough for professional use. The Stylus 1 performed decently in our video tests, but we weren't blown away. The lack of a mic and headphone jack means the Stylus 1 won't be garnering plaudits from videographers any time soon.
Art filters, a built-in collage mode, and a gaggle of scene modes mean that even less-experienced users will find more than enough to sink their teeth into.
Art filters, a built-in collage mode, and a gaggle of scene modes mean that even less-experienced users will find more than enough to sink their teeth into. These features are way more useful and intuitive than when used on a DSLR. The Stylus 1's EVF lets you see the digital filters applied in near real-time when composing your shot.
An advanced feature we really missed is focus peaking. This feature lets you manually focus with confidence, highlighting the sharpest part of a picture so it's easy to tell what's in focus. It's become standard on Micro Four Thirds cameras in the past year, and even other enthusiast compacts like the Fujifilm X20 and Sony RX100 have it built-in. No such luck here. Even though the Stylus 1's control ring would make it an ideal candidate for focus peaking, you'll have to make do with a focus assist mode that simply magnifies part of the image.
Performance
Competitive in the segment
Given this camera's $699 price tag, we expected good performance. Thankfully, the Stylus 1 put in a very decent turn when in our labs and in the real world. While the Stylus 1 is no slouch, we've seen similar and better numbers performance from other, cheaper cameras in the same category.
As we alluded to earlier in the review, video continues to be a mixed bag for Olympus. We weren't impressed by the footage we captured—it looked a little soft and exhibited some frequency interference. We think that the RX10 will be tough to beat if you're shopping for a fixed-lens camera for both video and stills, but we'll reserve final judgment until we get it into our labs. Where the Stylus 1 turned in an unexpected result was in our low light sensitivity test—exactly where that fast f/2.8 constant aperture really comes in handy.
We were able to eke a little more than 6.5 fps when using burst mode.
We were relatively happy with the continuous shooting speed we saw from the Stylus 1, which is good for short bursts. We were able to eke a little more than 6.5 fps when shooting JPEGs. The down side is that even though you get a high shooting rate, we found that you'll fill the camera's small buffer after 20 shots. Once you hit that cap, shooting slows down to 1 fps.
The Stylus 1's noise performance was about as good as we expected. As you crank up the sensitivity, more noise reduction is applied which has the side effect of destroying visible detail. Thankfully, the noise reduction engine used by the Stylus 1 keeps a decent amount of detail intact all the way up to ISO 3200, which is a useful range for such a small sensor.
See our Science Page for more of our lab test results.
Conclusion
A tough sell even within Olympus' own stable
Olympus has created a niche camera in the Stylus 1, perhaps by design. It's too big to appeal to pocketable point-and-shoot shoppers, while its sensor is too small to really please the enthusiasts it seems aimed at. The difficult question of this camera's raison d'être is compounded by its price—$700 is a heck of a lot to ask for a camera with a 1/1.7" image sensor.
We haven't yet tested the RX10, but on paper, it certainly looks like it'll be a tough camera to beat.
If we think of the Stylus 1 as a bridge camera, it goes up against Sony's formidable RX10. Even though it's almost half again as expensive as the Stylus 1 (its MSRP is $1299.99), it's fully weather sealed, and it features a big 1-inch sensor. Even though you lose out on the long 10.7x zoom of the Stylus 1, you get 8.3x and the same f/2.8 constant aperture. We haven't yet tested the RX10, but on paper, it certainly looks like it'll be a tough camera to beat.
If zoom isn't as important to you, there are a few noteworthy advanced compacts worth checking out. On the low end, the Pentax MX-1 provides enough zoom and features to please the control freaks out there, while also offering the retro design appeal of a truly brass-topped camera. While it might not feature a constant aperture, it's brighter on the wide end with an f/1.8 max setting. The price is pretty sweet, too, ringing the till at around $300, while it lasts.
The undisputed champ of compact cameras is still the Sony RX100. Its large 1-inch sensor is the same as what you'll find in the RX10, but with less optical reach and in a pocketable package. Even though the RX100's interface isn't nearly as deep as the Stylus 1's, what you lose in control you gain in outright stunning image quality. You'll also be paying considerably less for an RX100, which sell for $549 these days.
Since the Stylus 1 shares so many parts with Olympus's Micro Four Thirds cameras, we think that those who consider this also give those cameras a long, hard look. You'll get a much larger sensor, higher image quality, and a compelling lens family supported by Olympus and Panasonic. The E-PM2 kit starts at under $400. If you're sold on the OM-D look, why not jump right in and get the terrific OM-D E-M10 which, is only $100 more than the Stylus 1 with a 14-42mm kit lens.
The stiff competition and steep MSRP aside, the Stylus 1 offers a unique package.
The stiff competition and steep MSRP aside, the Stylus 1 offers a unique package. It handles well and many excellent control options and it even features a useful EVF. A DSLR or interchangeable camera with a 10.7x, f/2.8 constant aperture zoom will always be substantially bigger than the Stylus 1, which you can easily stow in a jacket pocket. And, for some, that'll be the only selling point they need to hear.
By the Numbers
The Olympus Stylus 1 is a point-and-shoot with a long zoom lens aimed at advanced shooters. Even though it has plenty of features to appeal to that crowd, its small sensor is a major limiting factor. Instead of mopping the floor with Sony's RX100 cameras, the Stylus 1 has to be content with sitting back in the pack, alongside the Olympus ZX-2 and Canon PowerShot S120 in terms of image quality. While the performance we saw in our labs was more than good enough, it still didn't help the overall value proposition this $700 camera presents in an ultra-competitive compact camera field.
Color
The Stylus 1's most accurate color mode was Muted, with a ∆C00 color error of 2.76 and a saturation of 96.75%. Keep in mind that Olympus doesn't really target perfectly, clinically accurate colors in its JPEG color modes, preferring to offer a number of pleasing-looking settings to users. All things considered, the Stylus 1 can shoot some great-looking JPEGs, easily matching the signature looks of Olympus's Micro Four Thirds cameras.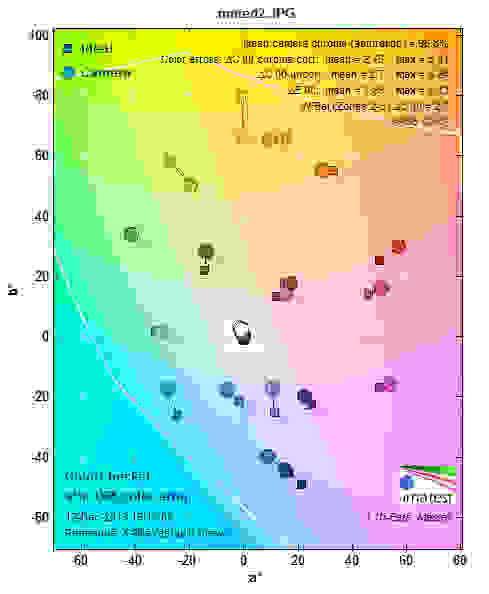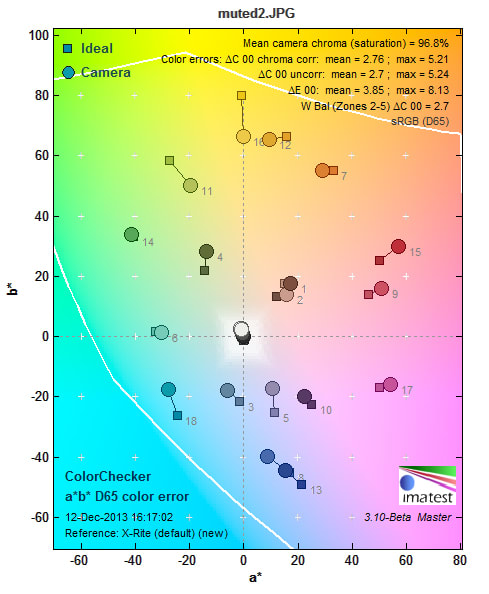 Noise
In our batch of noise tests, the Stylus 1 really showed its point-and-shoot side. The smaller sensor may have an ISO sensitivity range of 100 to 12800, but the higher ISOs available are virtually unusable. With standard noise reduction on, you get to around 2% noise (a benchmark for printability of images) as early as ISO 3200. That tells us that the sensor is really having to struggle to reach those ISOs, with more noise reduction kicking in to try to cover up the shortcomings of the 1/1.7" CMOS chip inside the Stylus 1. Under normal conditions, you'll want to keep Auto ISO limited to a range of 100 to 800, reserving 1600 for emergencies and 3200 for low-light edge cases.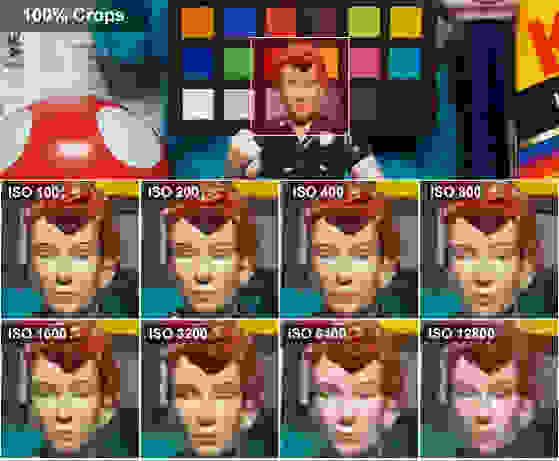 Video
Continuing a long tradition of just-okay video performance, the Stylus 1 turned in less-than-stellar numbers in our labs. While the lens's bright f/2.8 aperture helped it in our minimum illumination test (requiring only 7 lux to create an image at 50 IRE), the camera's pixel binning and compression did the camera a bit of a disservice. In bright light, the Stylus 1 scored 615 lw/ph horizontal and 600 lw/ph vertical. With our low light scenario, the Stylus 1's scores plummeted to 575 lw/ph horizontal and 500 lw/ph vertical. Overall, taking into consideration our motion video test (which you can see below) and the Stylus 1's limited set of video features, we'd say that you'd best look elsewhere (ahem, RX100) if you demand killer HD footage from your premium compact camera.
Resolution
The Olympus Stylus 1 performed well enough considering its zoom range, constant aperture diaphragm, and small sensor size. When shooting full wide, we noticed some softness and exacerbated chromatic aberration, both of which clear up when you zoom in a bit. For best results, zoom in just a tad to get much better sharpness. We were fairly impressed by the lens's bright f/2.8 aperture, which gave us decently sharp images. For all of our results with that max aperture, see the crop comparison chart below.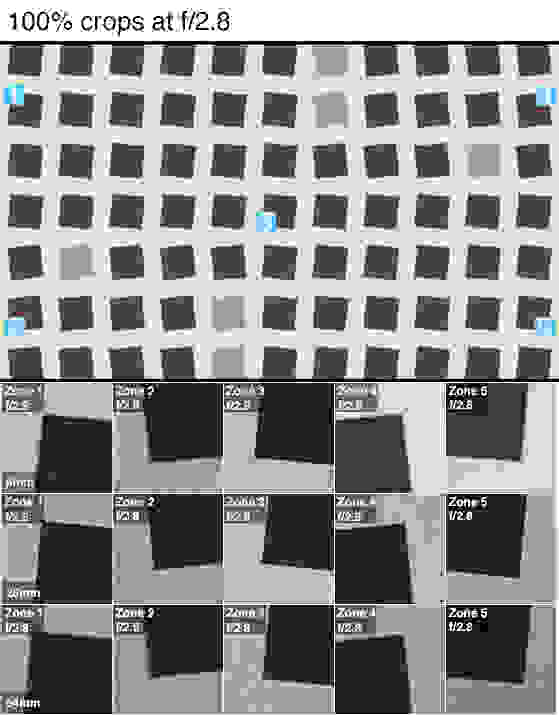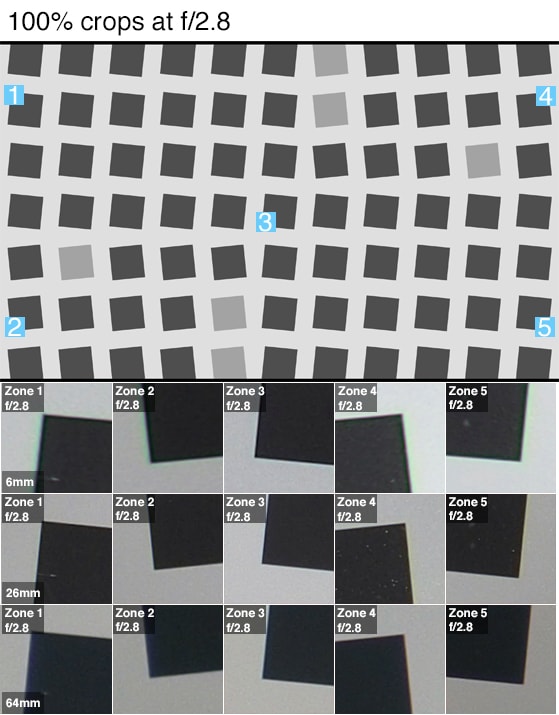 Meet the tester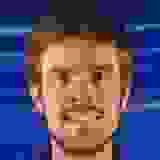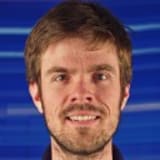 Brendan Nystedt
Contributor
@bnystedt
Brendan is originally from California. Prior to writing for Reviewed.com, he graduated from UC Santa Cruz and did IT support and wrote for a technology blog in the mythical Silicon Valley. Brendan enjoys history, Marx Brothers films, Vietnamese food, cars, and laughing loudly.
Checking our work.
Our team is here for one purpose: to help you buy the best stuff and love what you own. Our writers, editors, and lab technicians obsess over the products we cover to make sure you're confident and satisfied. Have a different opinion about something we recommend? Email us and we'll compare notes.
Shoot us an email