The Stylus-7040 will be available in titanium, pink and light blue, with silver panels on top and bottom. The pink color, which is more a champagne pink than a Hello Kitty pink, is shown here. There's a self-timer indicator lamp between the flash and the lens, and a mono mic to the right of the lens.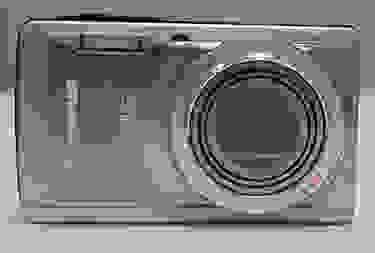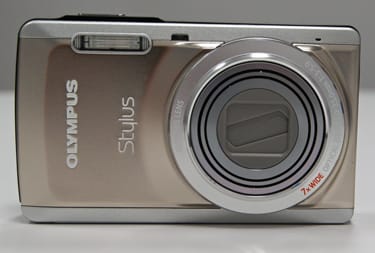 The Stylus-7040 has a distinctive visual style that we like.
Back
The back of the camera has a very clean design, with plenty of room for your thumb. The red button is a dedicated video recording control. The wheel surrounding the OK button does double duty: you can press it like a four-way controller, or spin it when you want to move through a menu quickly, or browse through your photos in playbck mode. Pressing the top this controller cycles through different screen displays, pressing the bottom of the wheel brings up the image erase menu. There's a small button above the wheel to access playback mode, a Menu button, and a question mark button that takes you to the built-in user manual – more oin that later.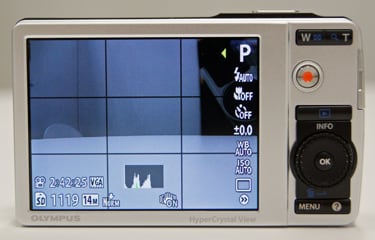 The back of the camera is uncluttered, with easy to use controls.
Sides
The left side of the camerq has no functional features, but looks good with its multicolored sandwiched panels.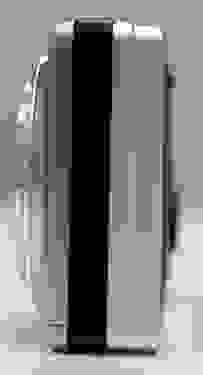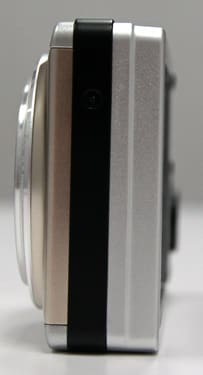 Here again, the camera looks surprisingly sophisticated.
The right side of the camera has a hinged panel covering the USB/AV and HDMI ports, and a nook for attaching the wrist strap.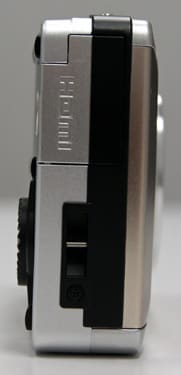 I/O ports on the right side
Top
The camera top is home to the on/off switch and the shutter.
The shutter is far enough to the left for a comfortable shooting position.
Bottom
On the bottom is the latched compartment for the rechargeable battery and SD card, and a plastic tripod mount. There's also a barely there speaker behind the two dots on the right side.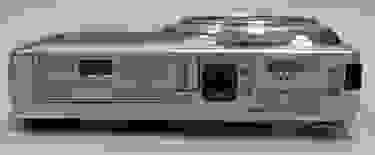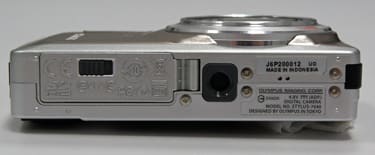 The battery, SD card and speaker
Viewfinder
No surprise, there's no viewfinder.
LCD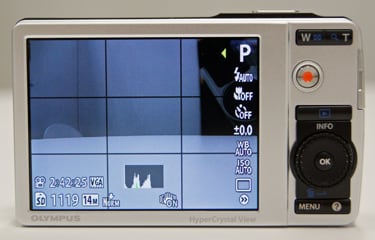 The 3-inch LCD 230,000-dot LCD doesn't look like anything special indoors, but it does offer Olympus' HyperCrystal II technology, which reflects light from behind the panel and back to the viewer, making it a good choice for shooting on sunny days.
When in record mode, you can choose between three displays by pressing the Info button. There's a clean screen, a display with shooting information and a live histogram at the bottom and a quick menu along the right side, and a version of that same screen (seen below) with a nine-box grid overlay.
Flash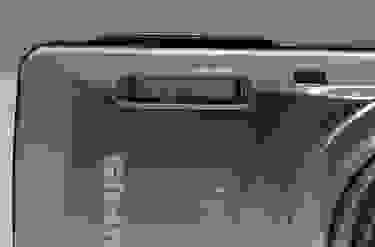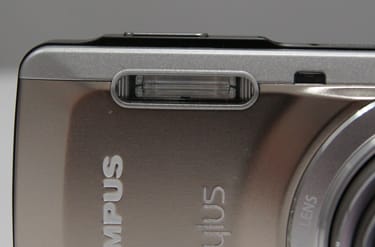 The flash is small but seemed powerful enough, and positioned far from the center of the lens, which should help minimize red-eye/ There are three flash modes: auto, fill-flash, and red-eye, plus flash off.
Lens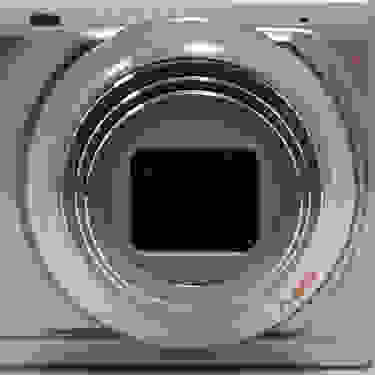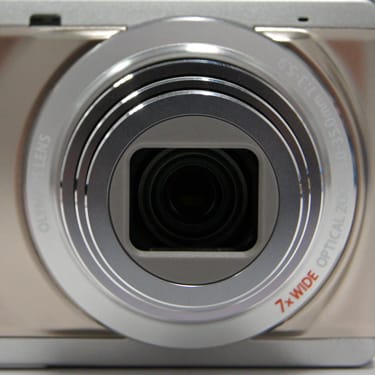 The 7x lens is a key feature of this small camera, providing the equivalent of a 28-196mm lens on a 35mm camera. Maximum aperture at the widest lens setting is f/3.0. At full telephoto it's f/5.9, both reasonably fast for this class of camera.
Close-up shooting is another strength of this camera.  Macro mode lets you shoot from just 3.9 inches from your subject, and super macro mode further reduces the distance to a an intimidate 0.79 inches.
Jacks, Ports & Plugs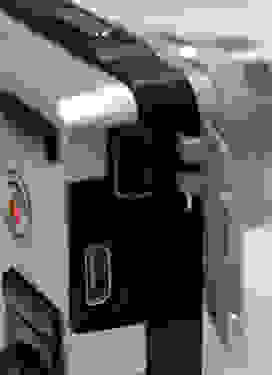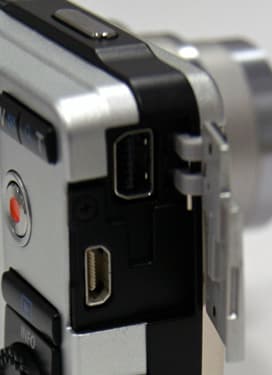 The Stylus-7040 uses the Olympus proprietary jack for standard AV and USB 2.0 connections, and a mini HDMI port for connecting to a high-definition TV.
Battery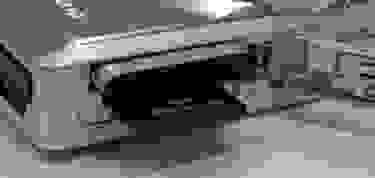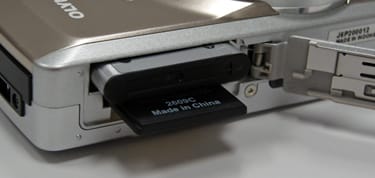 The camera runs on an LI-42B Lithium ion rechargeable battery.
Memory
The camera accepts SD/SDHC memory cards. There is also 2 gigabytes of built-in memory.
Other Features**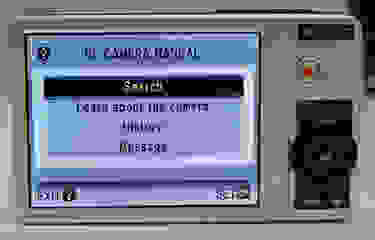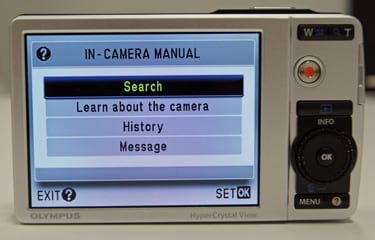 Built-in Camera Manual: There a win and a loss in this unusual feature. Olympus has including a digital version of the entire camera manual in internal memory, meaning it's always at your fingertips, and searchable. On the flip side, trumpeting it's 'ongoing environmental commitment to conserve natural resources and reduce its carbon footprint', the company has decided to stop shipping printed manuals with its cameras. As far as we're concerned, paper manuals are important: they're browsable, they can be annotated, bookmarked and read conveniently in a full-page format.
Design & Appearance
We like the look of the Stylus-7040. Some may find it a little busy, with its three-tone design, but to our eyes that provides some style without looking too busy.
Size & Handling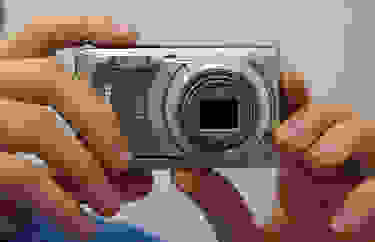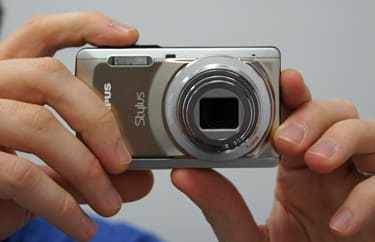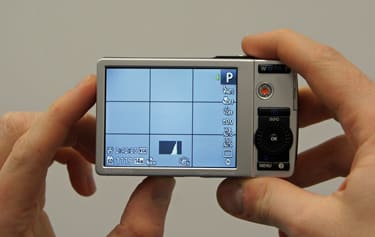 The camera measures 3.7' x 2.2' x 1.0' (94.5mm x 55.5mm x 25.9mm), and weighs 5.1 oz. (144g); not the kind of ultraslim form factor you'll find on some premium cameras, but still pocket-friendly. The width feels just right in your hands, and none of the buttons or dials are positioned to be accidentally moved. The microphone is also far from roving fingers, not always the case in compact cameras.
The 1-inch depth gives you index finer a nice resting place on the top, and the right side is subtly sloped upward to create a bit of extra grip.
We particularly liked working with the combination four-way controller/spinning dial when accessing the quick menu system.. You press up or down on the control to highlight the menu item you want to change, then press the OK button. A fly-out menu appears, and you can then turn the dial to make a selection. And during image playback, being able to zip through your files imstead of repeatedly pressing right or left is very efficient.
Menu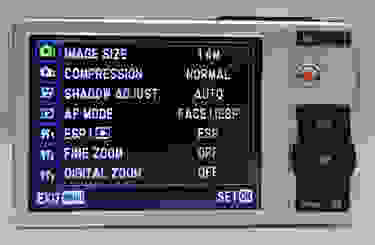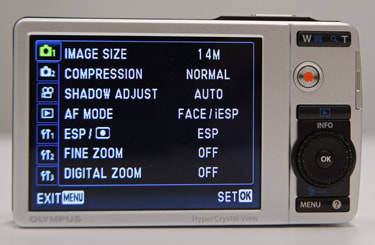 The camera uses a two-tier menu system that's a significant improvement over previous Olympus compact cameras. As shown above, the quick menu puts all the key record settings at your fingertips, with good on-screen text explaining your options and without obscuring the view of your subject entirely.
The main menu presents the rest of your camera setting options in a tabbed arrangement, with clearly legible text and a reasonable organization scheme.
Ease of Use
---
With clear on-screen prompts, controls that are clearly labeled and well positioned, and a built-in user manual in case you get stuck for an answer while traveling, we give the Stylus-7040 high marks for ease of use.
Auto Mode
---
There's a single iAuto mode, which locks out all your choices except flash on or off, self-timer and scene mode selection. The 'i' stands for intelligent: the camera attempts to recognize the scene at hand (portrait, landscape, night portrait, macro, or sport)  and adjust exposure settings accordingly.
Movie Mode
---
The Stylus-7040 records 720p high-def video, stored in MPEG4 format. There's an HDMI out port for playing back your movies directly to an HDTV set, and a one-step button on the camera back to jump instantly into video recording mode, without fussing with dials or menus and potentially missing a great moment..
Drive/Burst Mode
---
The camera supports multiple continuous shooting modes, though working with a pre-production camera it's unfair to judge how speedily it performs.
The self-timer has two available settings, 12 seconds and 2 seconds. 
Playback Mode
---
There are three playback mode screens: one with no overlay, one with the basic file number, date and time information, and a third displaying a smaller view of the imagre on the left and full file informaton on the right. It would be better if the full-screen picture view was more informative, but it's not a major problem.
In addition to the single image display, you can view 12 or 30 thumbnail images on a single screen. Move the zoom control to the right when in full-screen mode and you can magnify the photo up to 10 times.
Image edting options include red-eye fix, shadow adjustment, Beauty Fix (to smooth complexions and add a twinkle to the eye). Photos vcan be resized, cropped and rotated, turned black and white or sepia, and made into a calendar you can print out. All in all, there's a reasonable level of fun features here, though not a whole lot of fine image tweaking capability.
When watchiung movies, you can fast-forward or reverse, and move frame by frame.
Custom Image Presets
---
There are 14 scene modes in all, a generous collection that includes portrait, landscape, night scnee, night portrait, sport, indoor, candle, self-portrait, sunset fireworks cuisine, documents, beach & snow and pet.
Olympus has made a big deal of the Art Filters in its recent digital SLRs, that produce dramatic effects with no particular effort or expertise. A version of this feature has been ported over the compact camera line with Magic Filters, used while shooting. These include Pop Art, Pinhole, Fisheye and Drawing (creates an empty pencil outline of the subject). The trick here is remembering that these filters are used in record mode, not as editing effects later on, so you don't have an unaltered version of the shot if you want one. That said, we do kind of like the Pop Art mode for souping up the vibrance and saturation of flat-looking subjects.
Another interesting feature is in-camera panorama shooting. This system can combine three images: you take the first and the camera superimposes a marker and a target point on the screen. When you line these two up, it automatically takes the second shot, and so on. It's fun and it's easy, a nice change from the systems that make you try painstakingly matching up shadowed images of your previous shot with your current position. And if three photos don't give you the wide-angle wonder you seek, you can also combine up to 10 images on your computer, using provided software.
Manual Controls
---
Program mode provides access to key image settings, including exposure compensation, white balance, and ISO. One nice feature here is the live on-screen preview when dialing in exposure comp and white balance changes, so you can preview the effect. Manual focus isn't provided, you can't take a custom white balance reading, or directly control aperture or shutter speed..
Focus
---
The autofocus system can be set to full-frame auto or spot. There's also a face detection system that can track up to 16 individual simultaneously. As for more advanced capabilities, there is an autofocus tracking system that follows a moving subject around the screen once you've established a focus lock.
ISO
---
The available ISO settings range from 64 to 1600. There are also two versions of Auto ISO, the standard setting and a High setting that can be handy when trying to maintain a higher shutter speed.
White Balance
---
There are six white balance presets (daylight, overcast, tungsten and three flavors of fluorescent), along with the auto white balance system. 
Metering
---
You can choose between full-frame or spot metering. Face detection and autofocus tracking adjust the meter reading back on the focus point.
Exposure compensation is easy to set using th quick menu, in a ±2 EV range, in 1/3 EV increments.
Shutter Speed
---
Available shutter speeds range from 1/2000 second to 1/4 second. Using the Night Scene mode, that exposure can be stretched out ot 4 seconds.
Aperture
---
Maximum aperture is f/f3.0 at the widest lens setting, and f/5.9 at maximum telephoto.
Image Stabilization
---
The camera provides sensor-shift image stabilization, along with optional digital image stabilization to deal with particularly shaky shooting situations.
Picture Quality & Size Options
---
There is no shortage of image size options at your disposal: 14M (4,288 x 3216) 12M (3,968 x 2,976), 5M (2,560 x 1,920), 3M (2,048 x 1,536), 2M (1,600 x 1,200), 1M (1,280 x 960), VGA (640 x 480) and 16:9 (4,288 x 2,416). Two JPEG compression levels are available; shooting RAW files isn't supported.
Picture Effects
---
As outlined above, there are four Magic Filters to create vibrant Pop Art, Fish-Eye, Pinhole and Line Drawing effects.
Meet the tester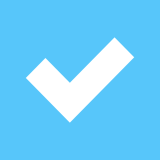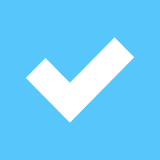 Steve Morgenstern
Editor
Steve Morgenstern is a valued contributor to the Reviewed.com family of sites.
Checking our work.
We use standardized and scientific testing methods to scrutinize every product and provide you with objectively accurate results. If you've found different results in your own research, email us and we'll compare notes. If it looks substantial, we'll gladly re-test a product to try and reproduce these results. After all, peer reviews are a critical part of any scientific process.
Shoot us an email