Front
As you can see from the photo below, the front of the camera is built to last, with metal plates attached to the body with rivets. The lens is placed in the upper right corner of the body, which makes it very easy to block with your finger.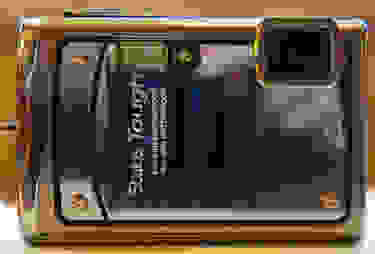 All those rivets speak for its toughness.
Back
In keeping with the overall ruggedness of the camera, the buttons and dials are all incredibly tough, though definitely on the small side. On this area of the camera, you have zoom controls at the top, then the mode dial, a four-way pad (with the directional keys serving double duty for the commonly used features of exposure compensation, macro, flash and timer). There are also four diagonal buttons. Top left is Menu, top right is Playback, bottom left is Display, and bottom right is OR (Olympus Recommends, which takes you to a few otherwise difficult-to-access options).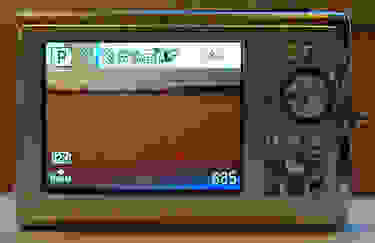 The buttons are small but sturdy.
Sides*

The sides are relatively barren. The left side has only the microphone, and the right has the large lanyard loop, speaker and the heavily reinforced port access.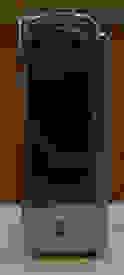 The left and right sides.

*Top**
The top has two buttons, the rectangular shutter control, and the small, circular power button.





The aren't many controls on the top
Bottom
The bottom is where you'll find the centrally placed tripod mount, and the cover for battery and memory card.

Battery and memory card are well protected
LCD Screen
The 2.7-inch screen, with 230,000-pixel resolution,m can be set to five levels of brightness. The screen seemed to resist solarization at all appreciable angles. Pressing the Display button changes the amount of information displayed on the LCD. While shooting it toggles between blank screen, shooting information, grid or histogram. In playback you get basic information (shot number and time), EXIF data, clean screen or histogram.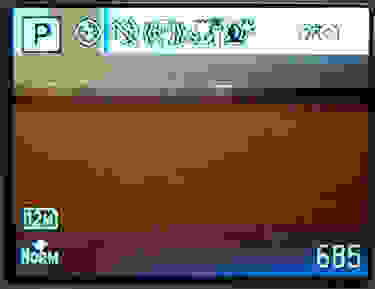 The LCD is a bit on the small side, but very bright
**Flash

The flash is very small, as is necessitated by the form factor of the camera. It can be controlled by tapping the right side of the camera, or through the four-way pad.

**
 **Lens**
The lens offers a 3.6x zoom (5.0mm-18.2mm, equivalent to 28-102mm in 35mm photography), and is placed in the top right corner in a spot where it's very easy to get blocked by your fingers. It offers an aperture range of f/3.5 to f/5 tele, and a fixed aperture of f/5.1 while zoomed in all the way.

The lens and flash.
Connections

The Olympus uses an extremely well protected proprietary port for all data transfer and DC power needs.
The jack is very well protected

Battery

The Tough-8000's battery is a small, rechargeable lithium ion, similar to the one we've seen in Olympus' other point-and-shoot cameras.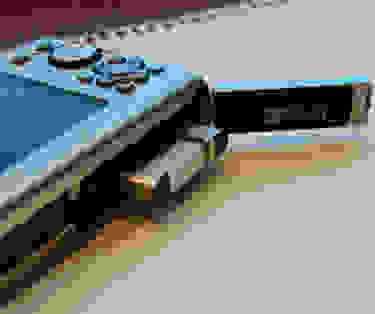 You can just see the xD poking out above the battery.**Memory**

Olympus supports only the company's proprietary memory format, the xD card, in its compact cameeras. These cards are only available to a maximum of 2GB, and are significantly more expensive than SDHC cards.
Other Features

*Ruggedness *–The camera is rated to 33 feet of water, 14°F in temperature, six feet of falling, and 220 pounds of crushing force. Unfortunately (or, perhaps, fortunately) we have no way of testing this at CES, so we'll take Olympus' word for it.
*Manometer - *This tool on the camera measure how far under water you are, or your height above sea level. If you're venturing too deep into the briny sea, it'll warn you that you're getting below the 10 yard limit. It can also tag your photos with EXIF data for later reference.
Model Design / Appearance
The Tough-8000 lives up to its name. It's  covered in a protective layer of metal, and really does feel like you could hit it with a golf club and it would survive absolutely fine.
Size and Handling
The Olympus is quite small, and has disturbingly small buttons for a camera meant to be taken to the slopes, where you would be wearing gloves. It has a pleasant heft to it, and doesn't feel overly light. Said heft comes with a warning, though. This camera may be water-proof, but it doesn't float. Drop it while diving, and it's heading to the bottom if you don't catch it. The Tough-8000 clocks in at 3.7'W x 2.4'H x 0.85'D (95mm x 61.7mm x 21.5mm), and weighs 6.4oz (182g).
The Tough-8000 has inherited the 1050SW's 'tap control' scheme, where you can tap on different areas of the camera to access certain options, if you happen to be wearing gloves or can't use the buttons for some reason. You can tap on the left side of the camera for macro, the right for flash or the back for playback. In any of these, you then tap the side of the camera in the direction you want to scroll, and tap the top twice to okay your selection.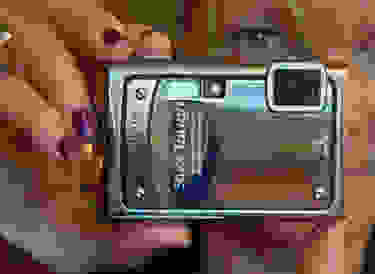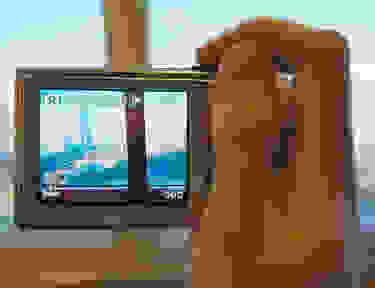 The Tough-8000 is small but sturdy.
Menu
Olympus' menu system for the Tough-8000 seems to take a cue from cellphones, with a series of large icons in a grid that lead on to sub-menus. This certainly differentiates it from the competition, and makes for a more graphically interesting setup. It's a bit hard to get used to for those of us who are accustomed to tabs and lists, but it's easy to read, and allows for a touch of visual flair (as you can see in the image below).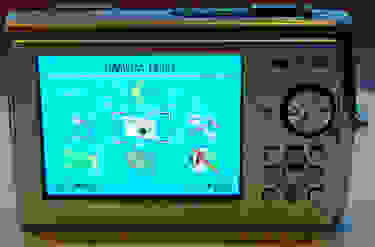 There are a number of different menus that you can access. You can press the Okay button to get to the most commonly changed settings: white balance, ISO, drive/burst, image size and image quality. Pressing Menu takes you to the primary menu system, and the OR button (which stands for Olympus Recommends), gives you access to some settings that Olympus feels the user would miss out on if they weren't told about. These are panorama, tap controls, shadow adjustment and multi-window. Shadow adjustment is for situations where you need a dynamic range bump, and multi-window shows multiple versions of what's the camera's pointing at with slightly different settings previewed. It can be set to zoom, exposure compensation or white balancing, and will show four variations on screen at once, and let you chose the one you want.
Ease of Use
The menus are all written with clear fonts and large icons, as well as a built-in help system to inform you about the options, all of which make the Tough-8000's menu system very easy to use.
Auto Mode

Manual controls on the Tough-8000 are limited; basically there are only automatic modes. You get iAuto mode, which tries to judge the best scene mode for you, standard Auto mode, Scene mode (discussed in the Custom Image Presets section below) and Beauty, which touches up faces.
Movie Mode

Movies are recorded in AVI format, at 640x480 and 320x240 resolution, 30 or 15 fps.
Drive / Burst Mode

Burst modes and timers are activated using the down button on the four way pad. Unfortunately, we weren't able to judge the speed of the bursts, but we'll analyze this when we get the camera in for review..
Playback Mode

In Playback, you can zoom up to 10x, and pull back to thumbnail view of 4, 9, 16 or 25 images. For editing there's Red-Eye Fix, Shadow Adjustment Edit, Beauty Fix, Resize, Cropping, Black & White, Sepia, Calendar and Saturation. Most of these are fairly self explanatory, Beauty Fix smears over your skin in orderto repair your apparent flaws, Shadow Adjustment tries to bump up your dynamic range in situations where an area is under exposed, and Calendar sticks your image into one of a number of different calendars for printing.
Custom Image Presets

The Tough-8000 has a wide-ranging 19 scene modes, a number of which are designed for use underwater. There is: portrait, landscape, night scene, night+portrait, sport, indoor, candle, self portrait, sunset, fireworks, cuisine, documents, beach & snow, snow, pre-capture movie, underwater snapshot, underwater wide1, underwater wide2 and underwater macro. 
Manual Control Options

There is scant manual control on the Stylus Tough-8000, though we assume you're too busy paragliding or snorkeling to really mind that you won't be able to chose metering or manually set the white balance.
Focus

Auto Focus

Auto focus can be set to auto, spot or face detection.
ISO

The ISO sensitivity is slightly weighed to the low-end, which means you'll be able to get crystal-clear images under very good lighting, but it'll struggle in the dark. It runs from ISO 64 to 1600, with Auto and High Auto as well, which favors higher ISO settings to enable faster shutter speeds..
White Balance

Sans any sort of manual white balance control, there is auto white balance, and manual presets for daylight, cloudy, tungsten and three types of fluorescent light.
Exposure
The exposure compensation range on the Tough-8000 is identical to what you see on most cameras, ±2 EV in 1/3 stops. A nice feature is that you can use the multi window to preview four different variations of exposure compensation at once, and then chose whichever looks best.
Metering

Metering modes include auto, spot and face detection.
Shutter Speed

The shutter speeds run a pretty standard range, 1/2000 of a second to a maximum of four seconds, though sadly without any manual controls.
Aperture

The aperture range is pretty underwhelming, and noticeably on the slow side. It runs f/3.5 to f/5 tele, and a fixed aperture of f/5.1 at maximum zoom.
**Image Stabilization

**A new feature for Olympus' point-and-shoots is a sensor-based image stabilization system, which will certainly help with camera shake in active settings.
Picture Quality / Size Options

Images can be set to normal or fine quality, at resolutions of:
12MP (3,968 x 2,976)
5MP (2,560 x 1,920)
3MP (2,048 x 1,536)
2MP (1,600 x 1,200)
1MP (1,280 x 960)
VGA (640 x 480)
16:9 (1,920 x 1,080)
Picture Effects Mode

The closest thing the Tough-8000 has to effects are a few editing tools, where an image can be changed to black and white, sepia, or incorporated into a calendar page with one of a number of templates.
**
Conclusion**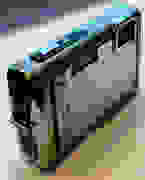 The Olympus Stylus Tough-8000 has a few features we really like, such as the ability to preview variations of an image at different settings and its extremely rugged exterior. On the other hand, complete lack of manual controls and a slow lens are less than impressive. We will be able to give you a clearer idea of the camera's capabilities once we get one in house, and put it through the lab test wringer.
**Specs Table

**
Meet the tester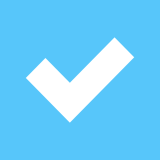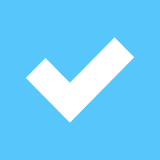 Tim Barribeau
Contributor
@
Checking our work.
We use standardized and scientific testing methods to scrutinize every product and provide you with objectively accurate results. If you've found different results in your own research, email us and we'll compare notes. If it looks substantial, we'll gladly re-test a product to try and reproduce these results. After all, peer reviews are a critical part of any scientific process.
Shoot us an email