The ZX-1 is available in black or white for an MSRP of $499.99.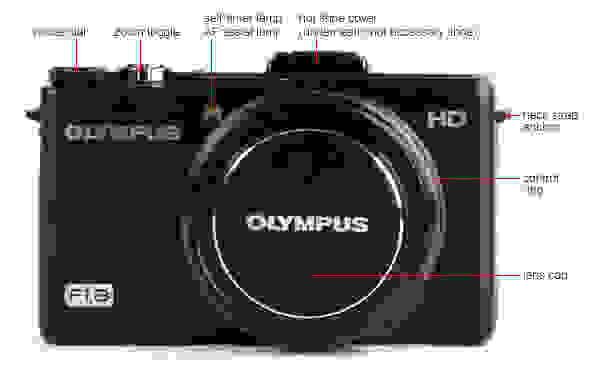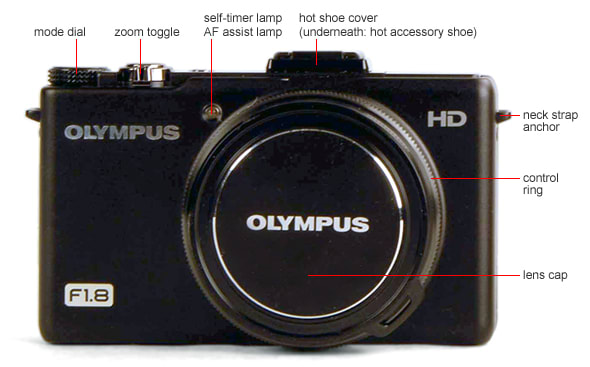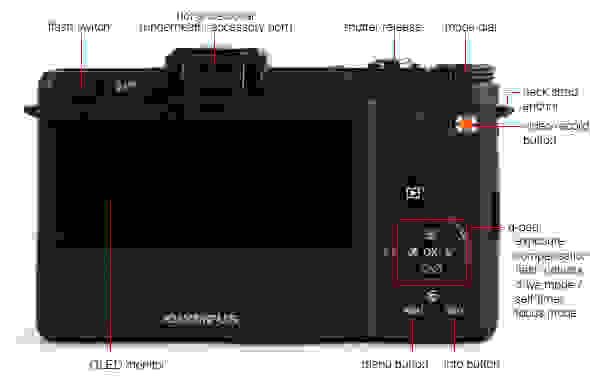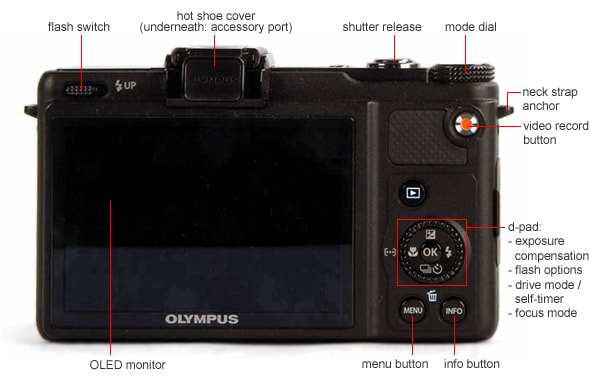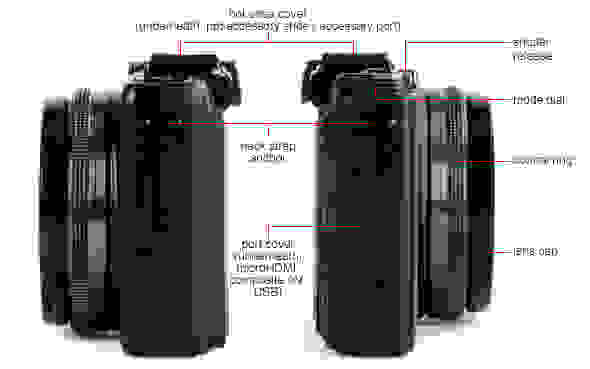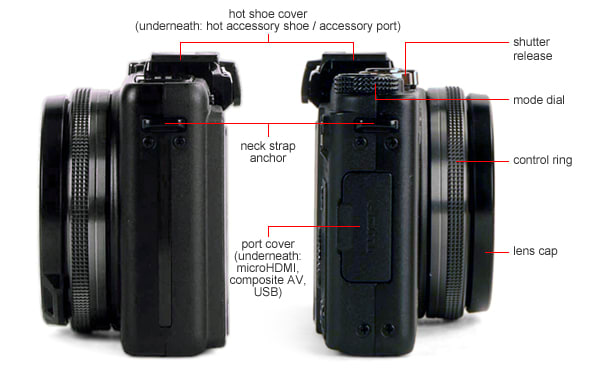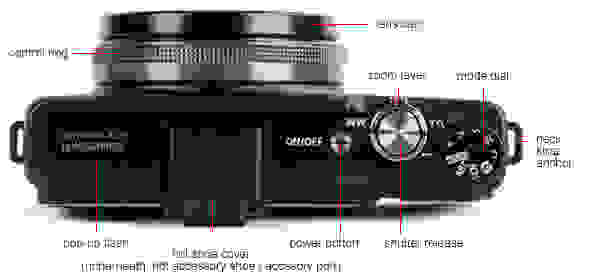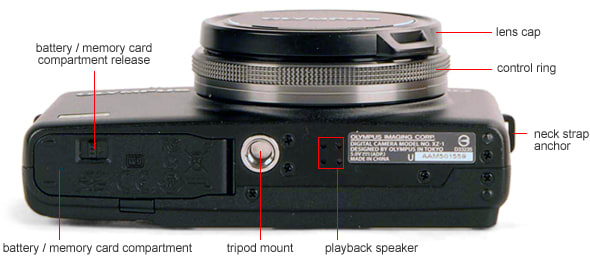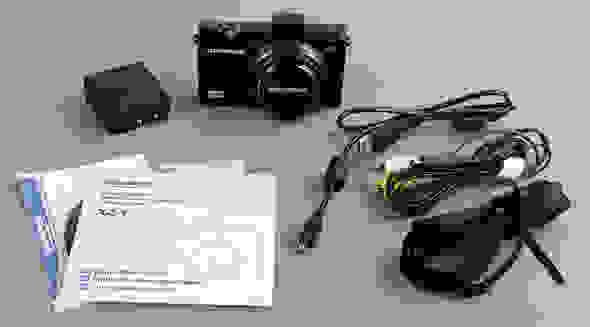 Olympus XZ-1 digital camera

lens cap and lens cap strap

neck strap

LI-50B lithium-ion battery

USB cable

composite AV cable

USB-AC adapter

CD-ROM
The Olympus XZ-1 performed well in our color tests—unsurprising, given the camera's high-end demographic and high-end price tag. We tested the XZ-1 across all picture modes and found that the Muted picture mode produced the most accurate colors. (Color error in Muted mode was 3.68, with a saturation of 104.7%.) This wasn't far off from the camera's Natural mode, so you should have no trouble achieving accurate colors if you choose either picture modes. More on how we test color.
The models we chose for comparison are all top-notch performers, so the differences you see in this score comparison chart are nit-picky at best. Technically, the G11 did have the least accurate colors, but even that camera is quite good. The XZ-1 definitely comes out among the head of the class on this test—one of the many advantages of shelling out for a high-end compact.
The XZ-1 has a picture mode option that allows the user to choose between Vivid, Natural, Muted, Portrait, and Monochrome. These options are available in most shooting modes, giving you an easy way to tweak colors without in-depth manual control. In testing, we found that the Muted mode produced the most accurate colors, with Natural coming in just behind. Vivid and Portrait were unsurprisingly skewed—making for a nice effect, but a less-than-perfect reproduction of the scene you're shooting.
There is also a separate Art mode, which features more dramatic digital filters: pop art, soft focus, grainy film, pin hole, diorama, and dramatic tone. These filters are discussed in a bit more detail on our Controls page.
The Olympus XZ-1 exhibited excellent performance in our noise testing—at both 3000 lux (bright light) and 60 lux (low light). We were happy to see that the camera was able to produce clear, relatively noise-free photos across most ISO options. There is a marked increase in noise at ISO 800, but that's not out of the ordinary for a camera in this price range. More on how we test noise.
What we found to be most impressive was the XZ-1's noise performance in low light, which was nearly identical to its performance in bright light. Usually point-and-shoot cameras capture much noisier photos in low light, especially at the higher ISOs. We found that the XZ-1 excelled across the board, with only a minor bump in noise at 60 lux. It's rare to find a camera with such reliable noise performance across ISOs and light levels; if you find yourself shooting in a wide variety of lighting, the XZ-1 will produce low noise photos that you can really count on.
Even compared to the other cameras in our comparison group, the Olympus XZ-1 is among the cream of the crop. These are all cameras that perform very well—whether you're comparing them to other point-and-shoot cameras or even low-end SLRs. The XZ-1 is one of the very best we've seen, turning in a noise performance that was exceeded only by the surprising Samsung TL500. Entries from Panasonic and Canon fared less well: the LX5 was noisier across the board and the G11 saw a sharper increase in noise in low light.
The XZ-1 comes with the wealth of ISO levels that you've come to expect with a high-end point-and-shoot camera. In ISO Auto mode, the camera limits its ISO selection to ISO 100-800, expanding that range to ISO 3200 in the camera's low light mode.
When shooting in manual mode, however, the range increases to include ISO 6400 and the user is able to select ISOs in 1/3-EV increments. It's great to have more options (you can select from a total of 19 ISO settings), but it can be annoying to scroll past so many options when you'd rather limit yourself to the standard ISOs. Most cameras that offer 1/3 EV ISO increments also offer the ability to turn that option off.
We were also disappointed to see that there is no ISO limiter setting. If you want to shoot on auto ISO, you'll have to be content with a maximum ISO of 800.
NOTE: The images above are not used in our testing or scoring, but are included here to show real-world examples of the differences between cameras at the various ISO settings.
The Olympus XZ-1 boasted high resolution scores, performing well in our distortion, sharpness, and chromatic aberration tests. While most cameras seem to have an Achilles' heel in this department, the XZ-1 did well across the board. More on how we test resolution.
Distortion ()
The XZ-1 displayed negligible distortion through most of the lens' focal range, causing only some mild barrel distortion at the widest angle. Even at that focal length (6mm), distortion was just 1.73%—just about average for this type of lens. With 4x optical zoom (24mm), we didn't see much distortion at the telephoto end. The XZ-1 was bested only by the LX5, which had virtually no distortion at any focal length. Of course, it may be that the LX5 is employing the same in-camera distortion correction that we saw on the GF2.
Sharpness ()
The Olympus XZ-1 performed extremely well in our sharpness test, registering an average sharpness of 1653 lw/ph: over 1800 lw/ph at wide angle, about 1550 lw/ph at other focal lengths). The discrepancy between sharpness at wide angle and at telephoto is common—especially in point-and-shoot cameras. When compared to other cameras in this category, the XZ-1's performance is excellent.
We should make special note of the Canon G11, which easily turned in the best sharpness scores of any point-and-shoot we've seen. Canon consistently scores well in this test, though sometimes at the cost of distortion and chromatic aberration.
Chromatic Aberration ()
Chromatic aberration was the only area in which the XZ-1 disappointed. Compared to all point-and-shoots, the scores are quite good, but cameras in this price range tend to perform a bit better. In the crops below (especially at 24mm), you can really see the increase in discoloration along the outside edges of the photo. Though most point-and-shoots show some signs of chromatic aberration, the Samsung TL500 proved itself the best of this group.
The Olympus XZ-1 allows you to shoot in both RAW and JPEG, with a number of options for picture size and quality. There are fifteen options in total, ranging from a 17MB RAW file (3648 x 2736) to a 0.2MB JPEG (640 x 480). The largest available JPEG is also 3648 x 2736, but comes in a more manageable file size of about 5.5MB.
We appreciate the ability to record in RAW, but it's also something that's come to be expected on high-end point-and-shoot cameras.
As is usually the case with compact cameras with high-resolution sensors, the XZ-1 did not do well in our stabilization testing. The camera does come equipped with a built-in sensor shift stabilizer, which Olympus claims is effective at shutter speeds between 1/2000 and 2 seconds. Unfortunately, we found that stabilization improved image sharpness by only about 22%. More on how we test image stabilization.
We find a wide range of stabilization scores in point-and-shoot testing; the effectiveness of a camera's stabilization system depends greatly upon the maximum zoom ratio and sensor resolution. All the cameras in this comparison group fared pretty poorly, with the Samsung TL500 heading the charge with an unimpressive 34% improvement.
For lovers of compact camera video, the XZ-1 offers a couple of nifty features. For starters, you can shoot in both HD and SD, which we recommend for anyone that plans to throw videos straight onto YouTube. There's a dedicated video record button, which means that you can capture videos in just about any mode. Most image adjustments you make will apply to video mode as well.
Handling during video recording is pretty good, with the record button nestled in a protective ridge on the back of the camera. The button is off to the side and next to a textured grip, so you aren't likely to activate the feature accidentally. The full optical zoom range is available during video recording and the zoom is surprisingly quiet (so it doesn't interfere with audio recording). Audio is recorded using the camera's built-in stereo microphone.
The bit of bad news is that the XZ-1 maxes out at 720/30p. Of course, we don't have much love for point-and-shoot video recording anyway, so this doesn't seem like much of a loss.
Point-and-shoot cameras are never strong performers during our video testing, and the Olympus ZX-1 is no exception. Color accuracy during video was 9.16 (not a strong showing) and saturation was just 86.22%. These results aren't nearly as good as what the camera managed with its still photos, but that's often the case with cameras that aren't focused on video recording. More on how we test video color.
Video sharpness was equally unimpressive, with a horizontal sharpness of just about 450 lw/ph and a vertical sharpness of about 500 lw/ph. Considering that many point-and-shoot cameras manage better—and high-end consumer camcorders are usually twice that—we wouldn't recommend using the XZ-1's video capabilities unless you're in a pinch. More on how we test video sharpness.
Playback mode on the Olympus XZ-1 is a straightforward affair. The zoom lever toggles between thumbnail and full-screen view, while also allowing the user to zoom in on playback images up to 10x. The Info button can bring up an optional display that's crammed full of photo info, including RGB histograms, exposure details, and other shooting options.
There aren't a lot of extra bells and whistles in playback mode, but you can have fun with the camera's slideshow feature, which includes background music with titles like Cosmic, Breeze, and Urban.
In-camera editing options can be applied to only to JPEGs, so if you're shooting in RAW, you'll have to first create a JPEG version of your photo in order to access the effects. (Fortunately, you can do this right inside the editing menu.) You can do an automatic shadow adjust, automatic red-eye fix, cropping, aspect ratio alteration, change the photo to black and white or sepia, adjust saturation along an eleven-point scale, re-size to 1280 x 960 or smaller, or use the camera's face detection to create an "e-Portrait." E-portrait is like a post-processing smooth skin function, similar to the camera's e-Portrait scene mode.
You can add a voice memo to your photos too, if that's your thing.
The XZ-1 has the usual compatibility with DPOF and PictBridge, just in case there are still people out there that like to print photos directly from the camera.
The Olympus XZ-1 does not come with a built-in viewfinder, but you can purchase an EVF separately and use the nifty accessory port and hot shoe to add magical EVF functionality to your camera. The Olympus VF-2 comes in black or silver and retails for $249.99, but it's a lot more versatile than the EVF that typically comes with this kind of camera.
If you don't spring for the extra accessory, you'll have to rely on the XZ-1's 3-inch OLED. Fortunately, this is a great display. The resolution is 614k and the color depth and accuracy is excellent. You should have no problem viewing your image in all but the most difficult lighting situations. The setup menu allows you to adjust brightness from -2 to +2, but we don't expect you'll need that unless you're trying to conserve battery.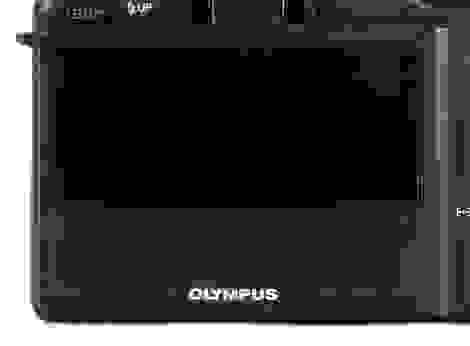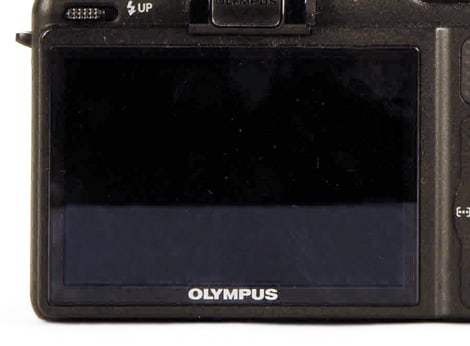 The Olympus XZ-1 comes standard with a pop-up flash that's cunningly concealed on the left side of the camera's top. Unfortunately, the design isn't as elegant as we've seen on competing cameras, but it certainly gets the job done. You can use a small switch on the back of the camera to manually pop the flash out of its hiding place. Of course, if you like to put your left index finger on the top of the camera, you might find yourself short on real estate when using the flash.
The flash has a handful of options: auto, red-eye reduction, fill-in, fill-in w/ red-eye reduction, and flash off. We were also happy to see that you could set the flash to a specific level, in case you want to limit the flash's glaring impact on your subjects. Options in this department are 1/4-flash, 1/16-flash, and and 1/64-flash. Deeper inside the menus, you can also choose between slow, sync 1, sync 2, and RC mode.
The XZ-1 is compatible with a number of external flashes that can be used in conjunction with the camera's hot accessory shoe.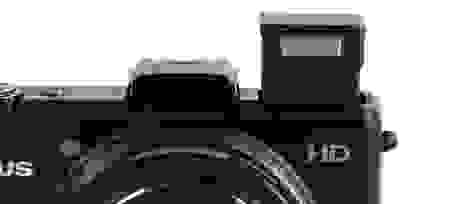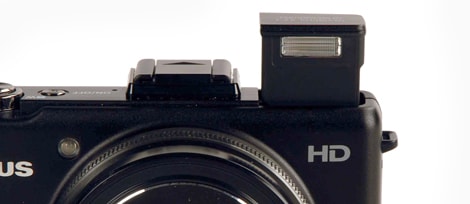 The Olympus XZ-1 features a 6-24mm Zuiko lens with 4x optical zoom. This is Olympus' first point-and-shoot camera to bear the coveted Zuiko brand on its lens—and it pays off.
The bright news—literally—is that the lens has an impressive maximum aperture of f/1.8 (f/2.5 at maximum telephoto). That makes for some excellent performance in dim lighting conditions—especially at ISOs of 400 and less. The minimum aperture is just f/8.0, which means you'll often experience a depth of field effect with background images out of focus. In most scenarios, however, we found the minimum aperture to be just fine. Even more importantly, distortion and chromatic aberration are at a minimum and, overall, photos taken with this shiny new lens look fantastic.
The lens elements are telescoping, which means it's nice and compact when the camera is turned off, but a bit more unwieldy while shooting. You can protect your lens with a removable lens cap, but we were disappointed to see how easily the cap falls off. This is not a lens cap that clicks into place as you'll see on most system cameras.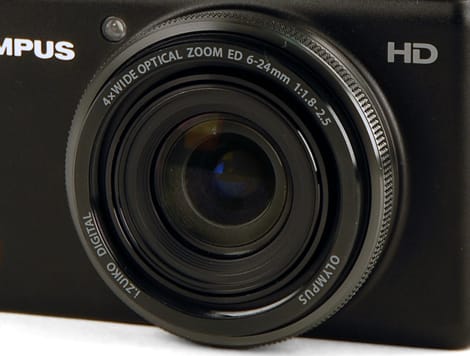 Zoom tops out at 4x optical, which is pretty standard for a high-end point-and-shoot. We were perfectly happy limiting ourselves to 4x zoom, considering the quality of the photos that were achieved with the high resolution sensor and F1.8 lens. If you really needed to spy into the neighbor's window, you can activate the 4x digital zoom, but at the cost of image quality.
To activate zoom, you simply use the camera's standard zoom level, situated by the shutter release. We had no trouble achieving variable zoom speeds. We're also happy to report that the zoom elements are surprisingly quiet, leaving virtually no trace of noise during video recording. (Though, the lens elements make plenty of noise when you first turn on the camera.)
The Olympus XZ-1 ships with a rechargeable lithium-ion battery (LI-50B). The battery nestles into a compartment on the bottom of the camera, which it shares with the memory card slot. The XZ-1 does not ship with a battery charging station, so you'll have to juice it up through USB. There is a USB-AC adapter, so you can plug the camera into your computer or a regular wall outlet.
According to Olympus, the LI-50B is rated for 320 shots, shooting with 50% flash. That's not bad, all things considered, and could be extended by using the optional EVF or dimming the brightness of your display.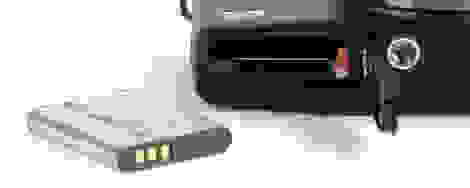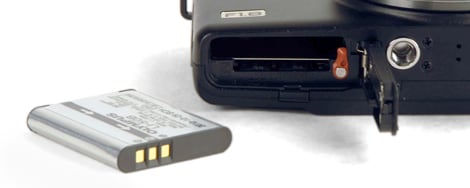 The XZ-1 is compatible with SD, SDHC, and SDXC memory cards. (Though it's only been approved for cards up to 64GB.) These cards slot in next to the battery in a compartment on the bottom of the camera. There is a modicum of internal memory, but not enough to get you more than a few photos.
Connection options are somewhat limited on the XZ-1. A small compartment on the right side of the camera houses just two ports: microHDMI and a proprietary interface that does double duty with AV and USB. The camera ships with the appropriate AV and USB cables, but if you lose them, you'll be left on a wild goose chase searching for a replacement. That's especially unfortunate since the USB allows you to connect to your computer, but also is the only means of charging the battery. (You can connect the camera to a USB port on your computer or use the USB-AC adapter, but either way, you need that USB cable or your battery will die.)
The microHDMI port is not proprietary, but it's not particularly common either. If you want to look at photos or videos on your HDTV, you'll probably have to buy the appropriate cable. (You're not likely to already own a microHDMI-to-HDMI cable or an adapter.)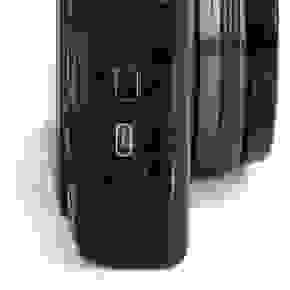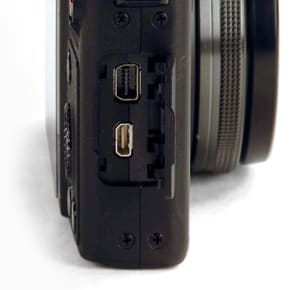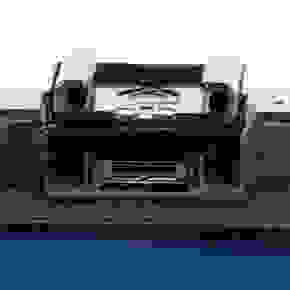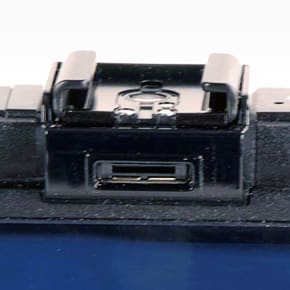 In an obvious step towards pleasing the photo-savvy crowd, Olympus has included its hot shoe and accessory port on the XZ-1, immediately making available to owners the increasingly impressive selection of Olympus accessories. That includes microphones, cables, flashes, an underwater housing, and the new arm light (MAL-1), which gives you a much-needed boost in illumination during macro photography.
We got to try out the arm light in a variety of situations, and we have to admit it's very handy, if only for a niche market. (If you photograph a lot of miniatures, the arm light can be a lifesaver.) The electronic viewfinder, on the other hand, is an extremely convenient accessory to have on-hand for anyone; we would recommend that for all XZ-1 users.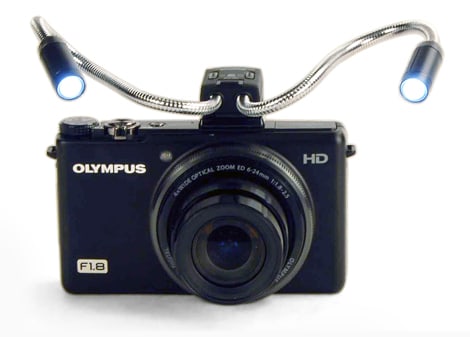 The Olympus XZ-1 has a clearly marked mode dial right on the top of the camera. This is how you choose between program, aperture priority, shutter priority, and manual modes, but it's also how you access the special auto modes—like iAuto, art filters, scene modes, and custom mode. There's one mysterious icon on the top of the camera that looks like the flame of a candle: that's not a special "fire" mode; it's the XZ-1's low light mode.
Scene mode options are pretty standard. You have: e-Portrait (basically, smooth skin), portrait, landscape, night scene, night portrait, sports, indoor, self-portrait, sunset, fireworks, cuisine, documents, beach & snow, underwater, underwater macro, and pet. There are two other scene modes that are described below under Other Controls multi-exposure and panorama.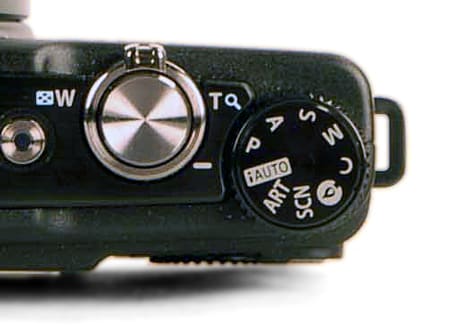 The mode dial of the XZ-1 features a special mode for shooting with special art filters. There only six filters to choose from, but Olympus seems to have narrowed the list to what users might find to be the most appealing. Choices are: Pop Art, Soft Focus, Grainy Film, Pin Hole, Diorama, and Dramatic Tone.
The filters work pretty well and we can imagine them being useful for more than just a couple novelty shots. Even better, the art filters are available for video as well, which should certainly make shooting mediocre 720/30p video a little more interesting.
Focus can be adjusted manually or left to the gods of automation, with options for macro, super macro, and AF tracking. Manual focus is not the most fun experience, as it's controlled entirely through the small scroll wheel, which just doesn't work very well for this kind of fine tuning. Though it's not particularly well labeled, the left directional button on the d-pad allows the user to adjust the AF target, which can be aimed to consider the entire screen or one of eleven target areas.
Focus aside, manual controls are a dream come true on the XZ-1. There are modes for shutter priority, aperture priority, and full manual exposure, all of which employ the camera's fantastic lens ring. We were disappointed that the lens ring couldn't be used to activate manual focus, but Olympus' choice of making the ring heavily incremented was probably the right one. The tactile response on the ring is a wonder to behold; tweaking shutter speed, aperture, or ISO feels just great.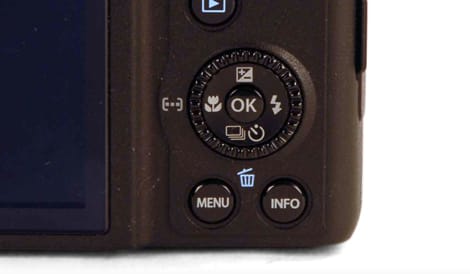 Drive mode options are pretty limited, but one full-resolution option for continuous shot and two high-speed burst modes at reduced resolutions. The camera does allow for bracketing with both white balance and exposure, plus standard self-timer options of 2- or 10-seconds.
Shot to Shot ()
Shot to Shot results weren't spectacular: the camera averaged just over two frames per second at the highest resolution. The good news is that the XZ-1 is able to maintain that rate for a long time, while most point-and-shoot cameras start to choke after about ten photos.
Multi-exposure
This mode (available in scene modes) allows you to take several sequential images, which the XZ-1 automatically combines into a single composite image. You can do some neat artistic effects, but it's not as useful as effects on other cameras that use multiple exposure to manage tricky lighting scenarios.
Panorama
Just like this feature on countless other cameras, panorama allows you to shoot a series of photos, which the cameras then knits into one big panorama shot. We begrudgingly admit its appeal to a large demographic of camera users.
Voice Memo
This is getting increasingly common on cameras, but the XZ-1 does allow you to record voice memos using the camera's built-in stereo microphone.
A lot of smart design went into the Olympus XZ-1 body; the balance, controls, and handling all suggest that designers really went out of their way to create an excellent photographic experience.
The front of the camera lacks any kind of additional grip for the right hand, but we found that the matte finish of the camera made it very easy to hold in one hand without slipping. The camera is fairly substantial (weighing a total of 275g), so it wouldn't hurt to sneak your thumb under the body for extra support. The back of the camera sports a small rubberized grip for your thumb—well-positioned away from the video record button and directional pad.
Of course, the best part of the camera's front design is the control ring that encircles the F1.8 lens. If you're shooting with two hands, we expect that your left hand will often cradle the lens, just as it does when holding an SLR.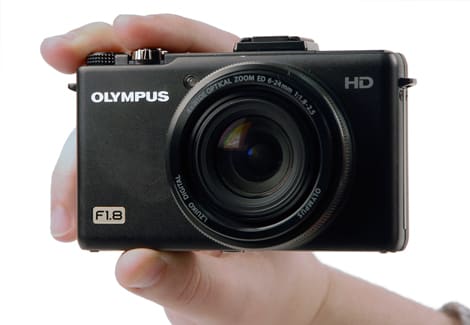 We should point out that the camera's weight, while certainly a drawback if you're carrying it in a small purse all day, is what makes the XZ-1 feel substantial. Nothing about this camera feels particularly flimsy (except perhaps the removable lens cap). It's easy to balance and easy to keep steady, but it also feels like your $500 investment will have some longevity to it. No one wants to replace a camera this expensive after one year.
Finally, there's the issue of comfort. We found the XZ-1 quite comfortable to hold in either one hand or two—though some larger hands might be a bit cramped. The camera is just large enough to give you a suitable grip... unlike many point-and-shoot cameras that cramp your hand, gaining portability but sacrificing comfort. The XZ-1 is both portable and comfortable.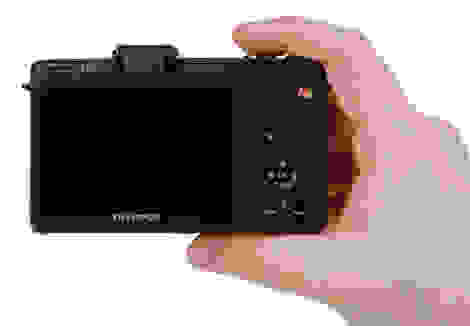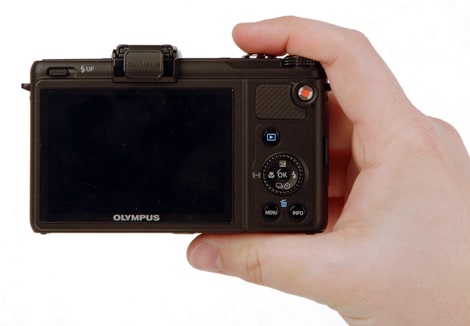 The Olympus XZ-1 does some things very well in button and control design. We love the lens ring control, which can be used to adjust exposure in various ways (depending on your selected mode). Interestingly, Olympus chose to make this control heavily incremented, which means you get an excellent tactile response moving from one aperture to the next, but the ring is not appropriate for making smooth adjustments. That means that manual focus is not controlled via the lens ring, but is instead adjusted using the small scroll wheel surrounding the d-pad.
The scroll wheel surrounding the d-pad is well designed, with just enough texture to maintain a good grip, just enough resistance to make precise selections, just enough smoothness to scroll quickly through a menu, and just enough balance to prevent you from accidentally clicking to activate some random option. It was not, however, fun to use for manual focus. We preferred the texture and action on the E-PL2's scroll wheel, but we also found ourselves accidentally activating d-pad options. Maybe there is no such thing as a perfect scroll wheel.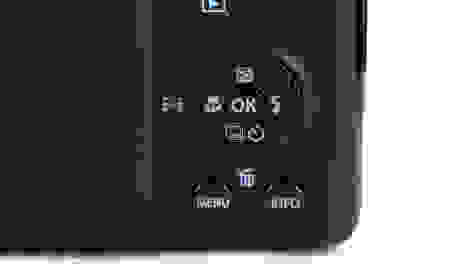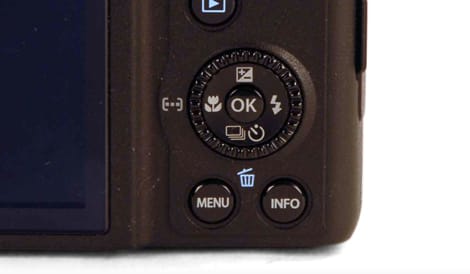 There are only a few other buttons and dials on the XZ-1: the shutter release, mode dial, power button, and a few others. The shutter release was the biggest disappointment here. The flat, brushed metal didn't have great tactile response and made for some uncertainty when it came to autofocus at the halfway point.
The zoom lever is satisfactory, giving decent variable speed control over the 4x optical zoom. The mode dial has good feedback and a great textured gripping surface. The video record button is sufficiently recessed to avoid accidental video recording, while the power, playback, menu, and info buttons are similarly well-positioned.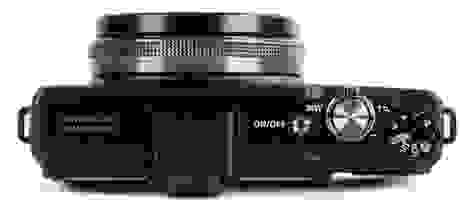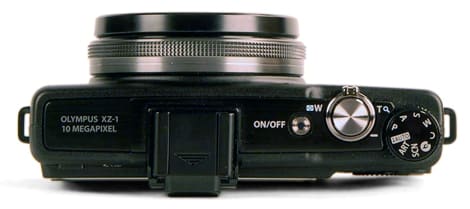 The Olympus XZ-1 features a standard tabbed menu, as well as a sort of quick menu, which can be accessed by pressing the OK button during shooting. This quick menu gives the shooter access to commonly used controls like ISO, white balance, and size/quality options. Olympus also calls this menu "live control," because all of these adjustments can be monitored in live view on the OLED display. The menu is full of sensible shortcuts that make your photographic life easier, and it's very easy to navigate using a combination of scroll wheel and d-pad controls.
The back of the XZ-1 boasts a simple Menu button for accessing the camera's standard menus. These are fairly straightforward, with tabs for camera settings, video settings, playback, and setup. Some of these tabs have more than one page, but it's still pretty easy to find what you want. Every once in a while, we would find ourselves searching through the menu with futility, only to discover our desired option was sitting in plain sight on the d-pad or the quick menu... such is the danger of a system that employs multiple menus. Virtually every option is located only in a single location; at times that location isn't always obvious.
The XZ-1 ships with a typical Quick Start Guide, which gives you just the bare bones basics of operating the camera. The more in-depth instruction manual is available on the Olympus website. This gives a more robust look at each individual camera option.
We found that even after scouring the manual there were a couple of features that remained mysterious, but these were all features that most people are probably okay skimming over. The manual will certainly give you explanations of all the XZ-1 features, but it won't necessarily tell you how best to utilize these features and it certainly won't make you a better photographer.
If you aren't the kind of person that uses instruction manuals, some of the camera's functions are explained briefly within the menus.
Panasonic's high-end Lumix is certainly a strong contender in this category, with killer low light performance and plenty of bells and whistles. For and MSRP of $499.95, however, it just can't compete with the Olympus XZ-1. The new entry from Olympus outshines the LX5 is some key areas, including sharpness and noise. The fact is, if you're going to spend this much money on a point-and-shoot camera, you want to buy the best.
We also strongly prefer the design of the XZ-1, with its 3-inch OLED and impressive F1.8 Zuiko lens. Little touches (like the control ring and accessory port) give the Olympus an additional boost. While we're eager to see Panasonic's next step in high-end compacts, we can't support buying the LX5 over Olympus' shining new star.
The Samsung TL500 is probably the strongest competition we've seen to the Olympus XZ-1. Samsung's surprise hit turned in some impressive numbers in several of our performance tests, including noise and resolution. The TL500 has its own F1.8 lens (this one from Schneider) and a similar OLED screen.
In many ways, it seems that Olympus looked at the TL500 and figured out how to make a better version of that same camera. The advantages are minor, but they start to add up. The XZ-1 has HD video (compared to the TL500's standard definition video) and far better drive mode shooting. The XZ-1 has that great control ring for making adjustments to manual controls, plus higher quality buttons and dials in general. There are more shooting modes and options in general, especially with shutter speed and ISO.
While we like the TL500 very much, the XZ-1 is certainly the better camera. Photo quality is a just a bit higher and Olympus has managed to squeeze in quite a few extra features. On the other hand, the TL500 debuted at an MSRP of just $399.99—and can probably be gotten for less these days. While the XZ-1 may be a better camera, it's certainly not a better deal.
The Canon G11 was an impressive camera when it debuted in 2009, with solid performance and tons of added features to satiate manual control enthusiasts. If you like dedicated dials, the G11 is your friend: there are dedicated dials for ISO and exposure compensation, as well as the regular old mode dial and a scroll wheel around the d-pad. And have we mentioned the swivel LCD and built-in viewfinder? (No need to purchase an extra accessory here.)
If you drool over exposure compensation dials and viewfinders (and who doesn't?), Canon's G-series is probably the way to go. For the rest of us, however, the XZ-1 comes with some significant advantages in portability and performance. While the G1 boasts great resolution scores, its color accuracy and noise performance were both bested by the little Olympus that could. And, while we loved the quick access afforded by dedicated dials, the XZ-1 is more compact and far less intimidating for novices.
Those little perks—plus the sweet F1.8 Zuiko lens and sexy OLED monitor—put the XZ-1 on top in our book. For many savvy enthusiasts, however, this one might be too close to call.
The Olympus XZ-1 (MSRP $499.99) is a spectacular addition to the high-end compact camera family. We're happy to see Olympus re-entering this market, especially with this 11-megapixel sensor and gorgeous new Zuiko lens. The hardware lets the camera churn out great photos, despite having such a portable form factor. For manual control enthusiasts, the XZ-1 has even more to offer: a slick control ring around the lens, full manual exposure options, and an accessory port that you can use for Olympus' optional EVF.
Most cameras in this price range have at least one weakness, but we're not really sure what the XZ-1's weakness is. It came out near the top in just about every test we ran: sharpness, color accuracy, and noise (in both bright light and low light). The XZ-1 also impressed us in the intangibles: it's a great-looking camera, it feels substantial, the buttons and dials are of exceptional quality, and it's even easy to use.
The only area where the XZ-1 slips up is in video performance, which was as unimpressive as we've come to expect from this category. Video recording just isn't why people buy these cameras.
Video performance aside, the XZ-1 is already one of the best cameras we've seen this year: an early contender for compact camera of the year.
Meet the tester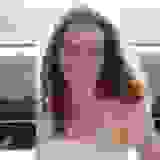 Kaitlyn Chantry
Vice President, Editorial Management
@WhyKaitlyn
Vice President of Editorial Management, Kaitlyn oversees the editorial departments of Reviewed.com's various sites. She has been writing about technology since the turn of the century. Outside of her Reviewed.com home, Kaitlyn is also a theatre director and avid gamer.
Checking our work.
Our team is here for one purpose: to help you buy the best stuff and love what you own. Our writers, editors, and lab technicians obsess over the products we cover to make sure you're confident and satisfied. Have a different opinion about something we recommend? Email us and we'll compare notes.
Shoot us an email