But for some, the GM1 and GM5 are a little too small. For people who just want a kinda compact camera, Panasonic has now introduced the new Panasonic Lumix DMC-GF7 (MSRP $599.99 w/ 12–32mm kit lens). Its slightly larger Micro Four Thirds body offers a few new features that the smaller GM cameras didn't, all without sacrificing performance.
The best new feature? The tilting LCD, which flips all the way forward for easy-as-you-like selfies. While it may seem like it isn't for "serious" photographers, don't be too quick to judge the GF7 harshly. Packing a lot of the same guts as Panasonic's high-end Lumix GX7, this is not a camera to be underestimated.
The GF7 is not a camera that many people will take too serious, but that would be a mistake. It has all the makings of a great mirrorless camera and manages to pack it into a box that you can keep in your jacket pocket. Selfies just got a lot more serious.
Panasonic is pretty well known for its color and white balance accuracy, and the GF7 follows suit. We achieved the most accurate color results by using the Standard color mode, which turned in a ∆C 00 (saturation corrected) error of 2.36 with an overall saturation of 102.1%.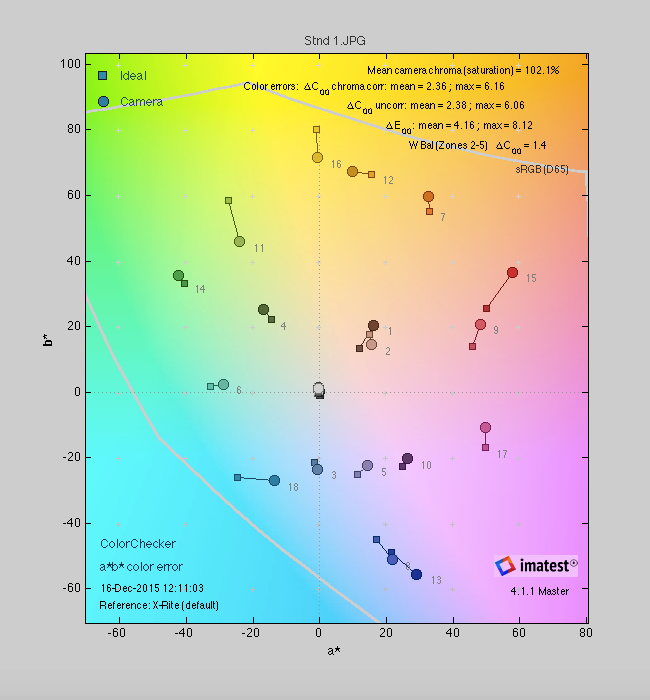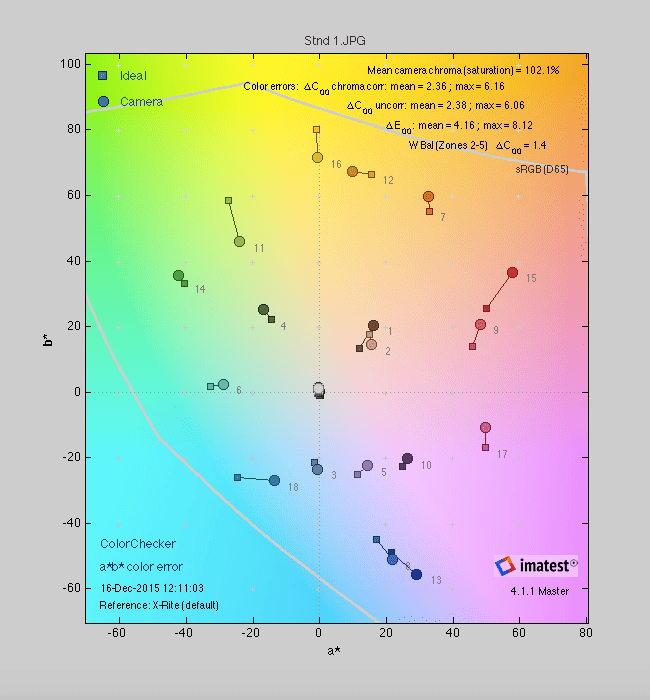 White balance is equally impressive, with even a few cases of auto white balance proving to be more reliable while shooting in daylight. However, if you want the best color in most lighting situations, I recommend shooting custom or in RAW. RAW will allow you to change the white balance in post production, giving you the most leeway.
Bigger, but still tiny.
While it's slightly larger than Panasonic's GM1 and GM5, the GF7 is still an extremely small camera. The tale of the tape puts it at just 9.4 ounces with dimensions (WxHxD) of 4.2 x 2.5 x 1.3 inches. Made of mostly plastic, it still manages to feel solid and not cheap. Coupled with the 12-32mm collapsable kit lens, you've got a well-made camera that can fit in your jacket pocket–a feat that's very rare among cameras this good.
The GF7 is just small enough that it can get away without a grip, especially because most of the Micro Four Thirds lenses that you'll be using with it are also quite small. However, with bigger lenses you may feel like it's just slick enough that it could accidentally slip out of your hand, so make sure you attach the neck strep when out and about.
For a small camera, it has no shortage of controls. The top of the camera is home to a dedicated mode dial, Panasonic's iA (Intelligent Auto) button, a function button, and a power switch / shutter release combo. Just under the mode dial there's a dedicated record button that's easily reached with your right thumb. And the rear of the camera rounds out the controls with a standard control cluster, playback, trash, and display buttons.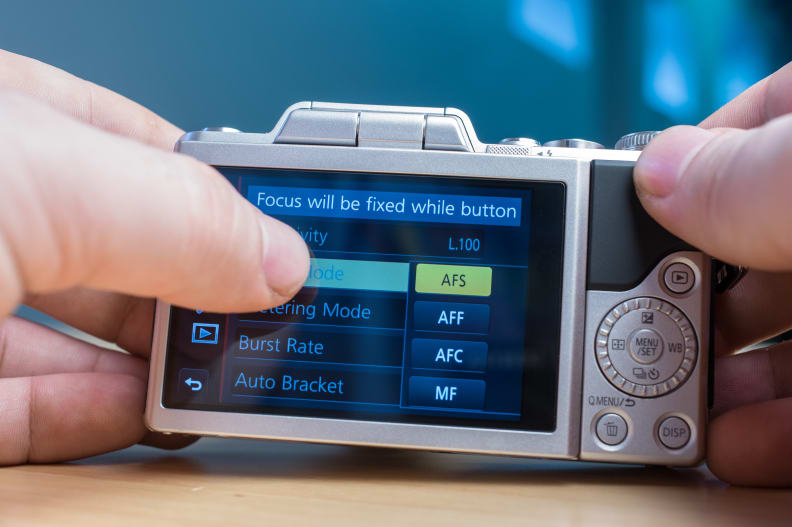 In addition to the dedicated physical controls, most of the key features can also be adjusted with just the touchscreen. Touch-to-focus, touch-to-capture, and pinch-to-zoom (playback only) are also possible using touchscreen controls. While the touchscreen isn't bad, we had mixed feelings about it. I'm a big guy with big hands, so I found the touchscreen less appealing than the physical controls since I would routinely access something I didn't mean to. However, it's still the quickest way for me to move the focal point, so I used it more while shooting than navigating menus or playback.
While it has a flip LCD and built-in flash, it's lacking a hot-shoe and EVF. The lack of a hot-shoe eliminates the option of using an accessory to get an EVF, which would be very handy on bright days. It also means you're stuck with the built-in pop-up flash that's situated on the top of the camera. It gets the job done, but don't expect it to provide flattering, soft-light that you could get from an external light.
More than meets the eye.
While it certainly looks and feels like another attempt to take advantage of the selfie trend, the GF7 has some serious imaging chops. Its 16MP Micro Four Thirds sensor inside is the same one Panasonic uses in the high-end GX7 and the bite-sized GM-series cameras. While it isn't going to stand up to pro-level cameras, it's going to blow away your smartphone and just about every compact DSLR on the market.
The 12-32mm f/3.5-5.6 collapsable kit lens is not only conveniently sized, but it's pretty sharp to boot. In our resolution testing, we saw this combination peak as high as 2100 lw/ph on our resolution chart. While it was a bit dull in the corners, that's to be expected with any kit lens. Thankfully the GF7 has a Micro Four Thirds mount, so there are dozens of great lenses you can upgrade to if the 12-32mm doesn't cut it.
Panasonic is known for extremely accurate colors and the GF7 is no exception. Color and white balance accuracy is no problem for the GF7 in most lighting conditions–with the exception of tungsten light. We achieved the most accurate color results by using the Standard color mode and using manual white balance, but in a few cases auto white balance showed it can be more reliable while shooting in daylight.
You're able to shoot through almost the entire range before seeing too much noise. However, around ISO 6400 you'll start to see the deteriorating results of the noise reduction as the image starts to rapidly lose sharpness. You can adjust this after some digging through the settings, but lowering noise reduction will not always result in a better image at higher ISO levels.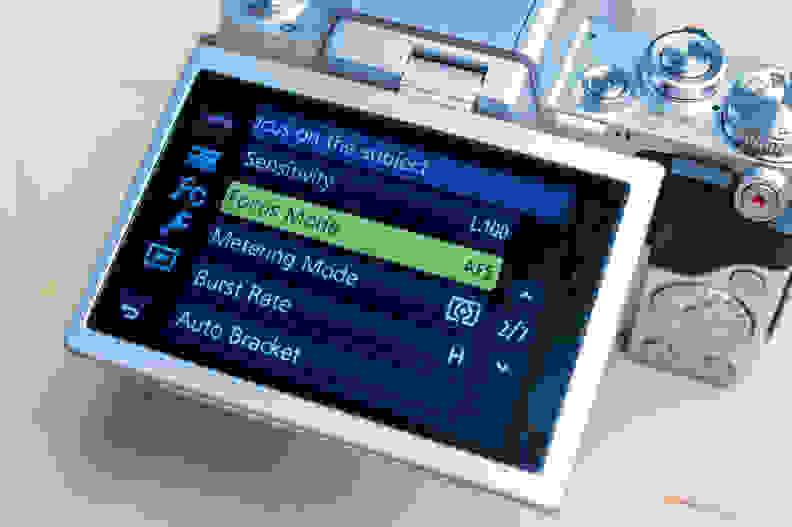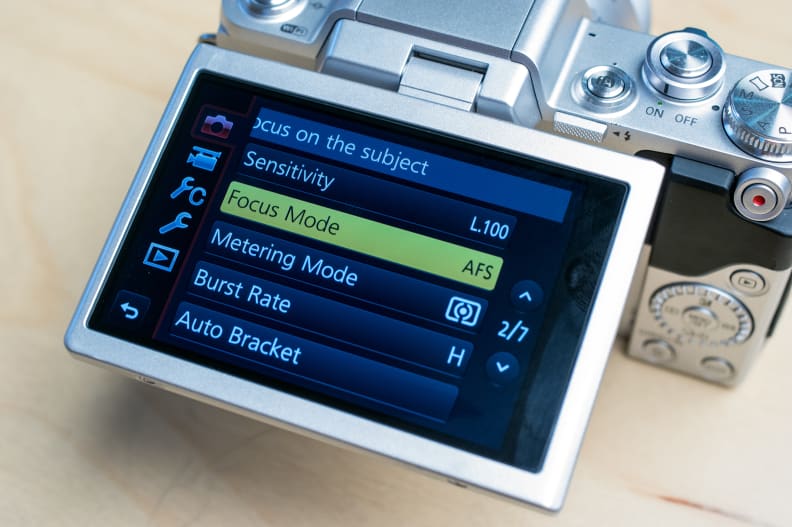 Just like the GM5, the GF7 is capable of capturing 1080/60p AVCHD video. The video quality is nothing to scoff at and it handles itself very well in low light–despite having a relatively slow kit lens. The selfie screen comes in handy when filming low angled shots and even shots up high if you simply shoot upside down. Unfortunately, it doesn't have a hot shoe or mic jack, so video accessories are not an option for improving the final product further.
The sensor on the GF7 has been tried and true on other mirrorless cameras that Panasonic has produced, so it's no surprise that it performed well in our labs. Throughout the entire focal range on the 12-32mm f/3.5-5.6 lens proved to be a competent kit lens with average sharpness of 2077 line widths per picture height.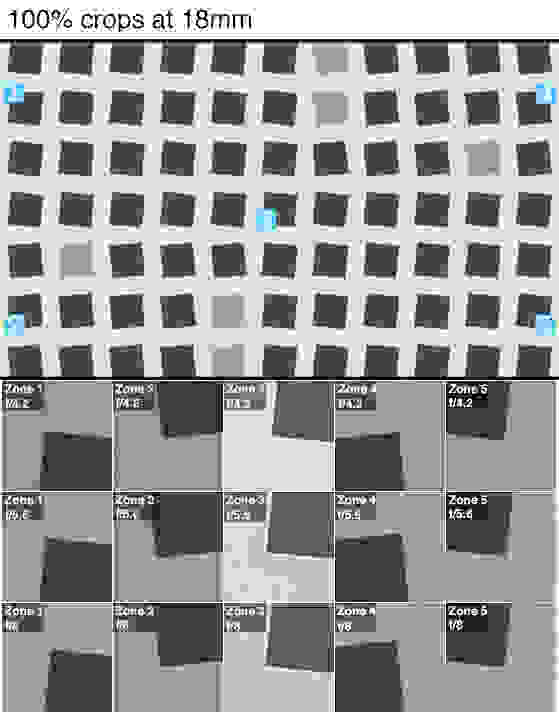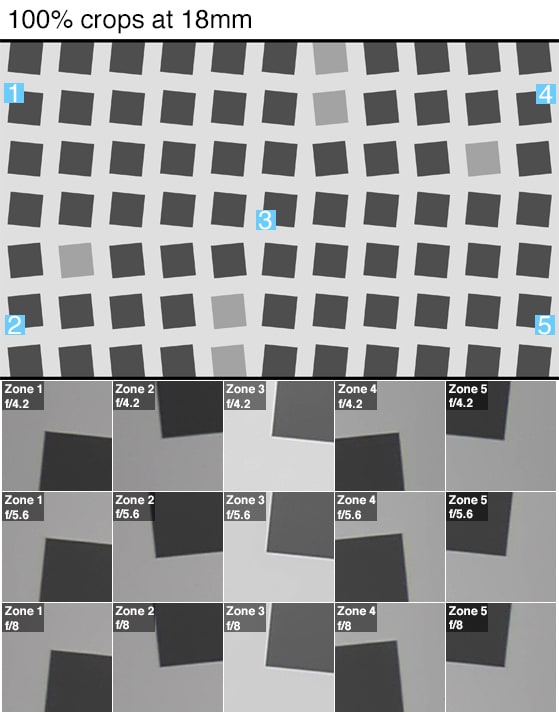 While comparing RAW images to JPEGs, you'll see that there is about 10-20% oversharpening that is taking place during the processing of JPEGs, but that's not as aggressive as many cameras in this class. Overall, the image quality was on par with what we expected from Panasonic's mirrorless lineup, we never saw any moire or other issues that would raise any flags.
On the GF7, noise reduction is not a function that you're given any control of. Even so, most of the ISO range was able to stay under our standardized mark of a 2% noise-to-signal, only peaking above it at ISO 12800 and ISO 25600.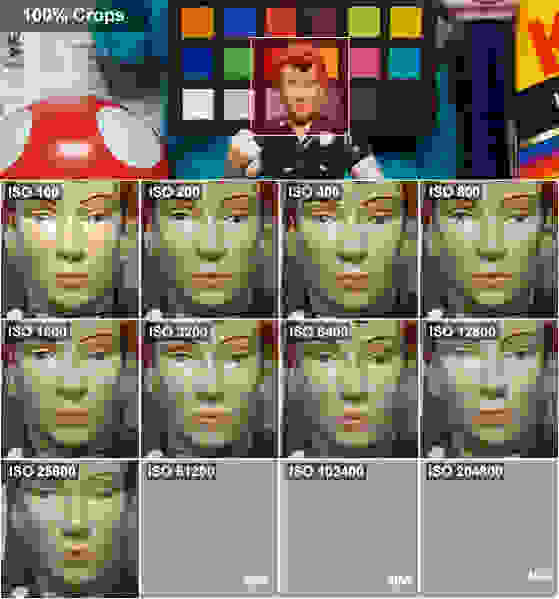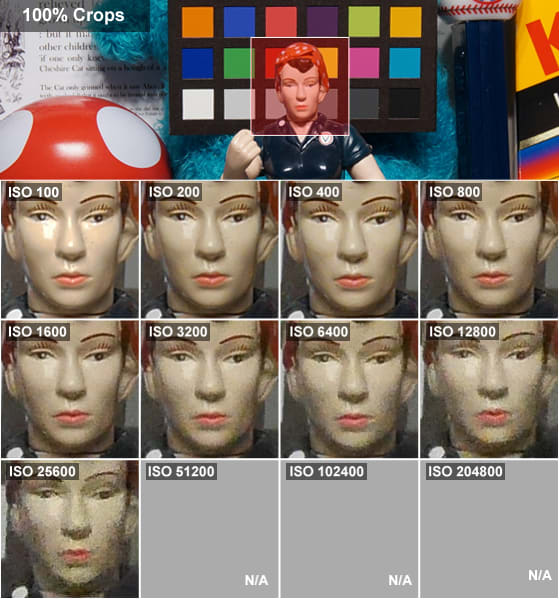 Even though the noise stays low, you begin to see deteriorating quality around ISO 6400 due to the noise reduction becoming too aggressive. In an attempt to get rid of the hard noise, the noise reduction system actually starts to blur all of the sharpness that the image would otherwise have. Sometimes this is worth it, but other it isn't–which is one reason we prefer to have control of noise reduction options.
Selfies made easy...er.
Want to take selfies? The GF7 has plenty of ways for you to do it. Once you flip the screen all the way up, it enters "selfie mode". Once in this mode, it starts tracking you and anyone else that's in the frame. You can do a few different types of trigger modes for the selfie. "Shutter: Buddy" snaps when two faces get close enough together and "Shutter: Face" takes a shot when you wave your hand in front of your face. Of course, if you're really old school, you can simply touch the screen or press the shutter release button.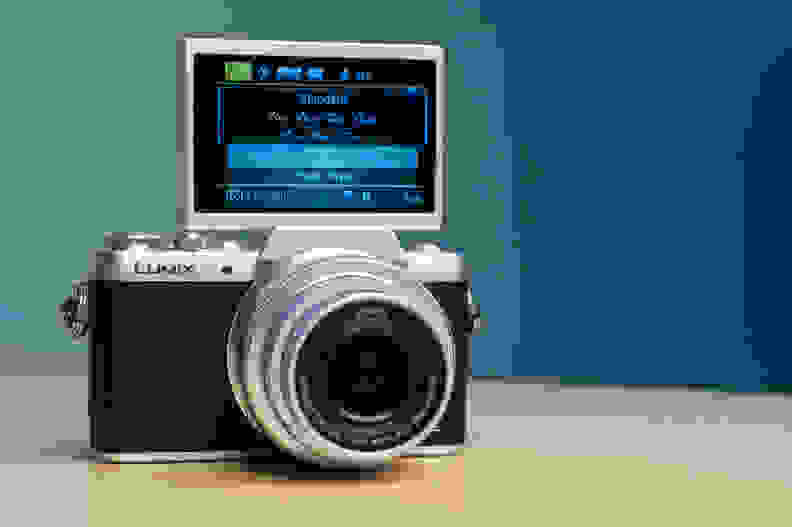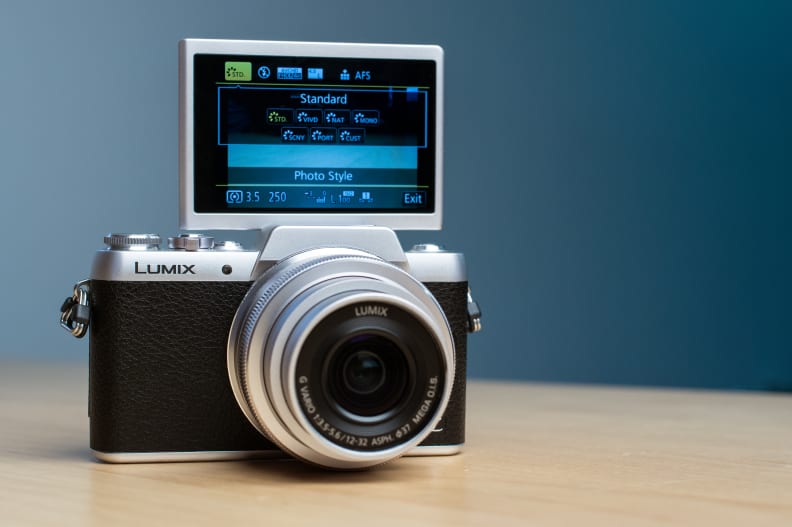 And of course, no self-respecting, selfie-friendly camera is complete without WiFi capabilities. The GF7 doesn't have NFC pairing, but you can scan a QR code with your phones camera to connect without entering a password. Once connected, the WiFi allows users to use their phone to quickly share images with the masses. Additionally, the camera will use your phone's GPS to add image locations, since it doesn't have a native GPS of its own.
While connected, you can use your phone as a remote control/viewfinder for your GF7, which eliminates the need to awkwardly ask a stranger to take a picture of your group–passersby rarely turn out to be good photographers anyway. If you're feeling extra cliché, you can use the phone to access the "jump selfie" mode. This gives the GF7 access to your phones accelerometer and once the camera detects you jumping, it snaps a mid-air photo that will likely be the only photo like it ever taken before.
Not only does the GF7 have tools for taking selfies, it can make you look better in them too–not that you need it... Panasonic's "soft skin" setting has three intensity levels (low, medium, high) of beauty-making magic. Additionally there is the interesting "slimming mode" that is intended to make you look more thin. However, it makes you look like you've come from Remulak and are stuck here for seven Zurls. You can preview the results in the viewfinder before you take the photo, which I highly recommend.
Big performance, little body.
Panasonic's GF7 combines two of the most popular camera trends worldwide: small cameras and selfies. While that might seem a little desperate, Panasonic isn't sacrificing much to accomplish those goals, pulling no punches in the performance department. The GF7 is a capable camera, whether you like littering the internet with selfies or not.
If you are looking for something to replace your smartphone and up your Instagram game, there are a few other options on the market that will also work–with Samsung's NX Mini being a prime choice. It has a slightly smaller sensor, but comes with a 9mm pancake kit lens that easily slides into your pocket. There's also a selfie mode that snaps a photo every time it detects a smile. Not to mention that the Mini comes with a free copy of Adobe Lightroom–which in itself is valued at a few hundred dollars.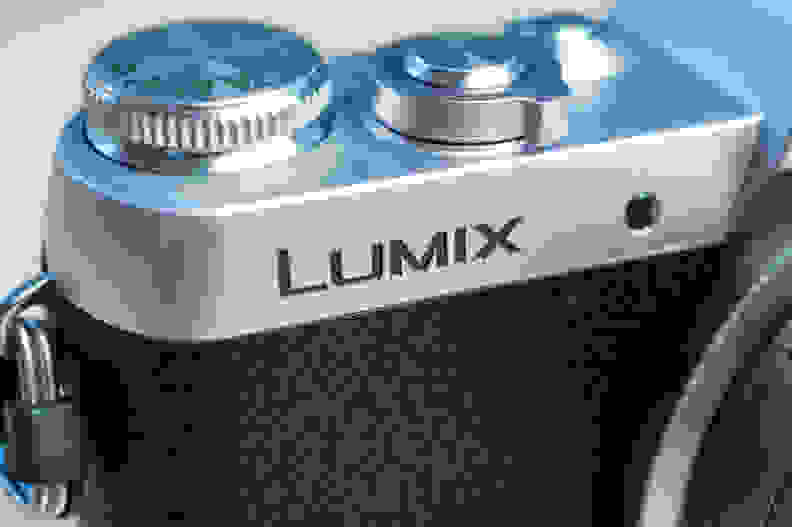 The most direct competition to the GF7 has to be the Fujifilms's X-A2, which has a very similar aesthetic design. It's equipped with a large APS-C sensor, but limits portability because of its much larger XC 16-50mm II kit lens. The X-A2 also has a EVF and hot shoe, two key features the GF7 lacks. The EVF helps shooting on bright days and gives you a more traditional camera shooting experience, while the hot shoe allows attaching more accessories to improve your final product.
Ultimately, the GF7 is an excellent example of a camera that appeals to the masses without feeling limited or patronizing. Sure, selfies feel a little outside the purview of "serious" photographers, but who cares? Photography is supposed to be fun. And if you're able to look past that, you'll find the GF7 is an enormously capable camera at a competitive price. It's not perfect, but there's a lot to love about this little camera.
Video is something that Panasonic has a rich history of–with many of their cameras being 4K capable. Although the GF7 isn't capable of 4K, the video is pretty solid and can be improved more with a new lens. While video is fairly average on the GF7, but without access to a hot shoe or mic jacks, you're rather limited in what it's useful for. I wouldn't recommend trying to shoot a production with the GF7, but if you're taking video that you would otherwise take with your phone, the GF7 is a big step up.
In the lab, we observed around 600 line pairs per picture height (lp/ph) vertically and 550 lp/ph horizontally in bright light. In low light (60 lux), we saw it drop slightly to around 500 lp/ph vertically and 475 lp/ph horizontally. And despite having a relatively slow lens (f/3.5-5.6), the low light sensitivity on the GF7 is impressive, getting as low as 3 lux before reaching what we consider to be unusable footage.
Meet the tester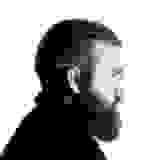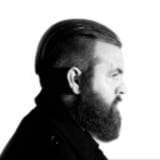 Jackson Ruckar
Photographer / Producer
@JacksonRuckar
As a photojournalist, Jackson has had stints working with bands, the military, and professional baseball teams before landing with Reviewed.com's camera team. Outside of Reviewed.com, he can be found looking for the next game to relieve his "Gamer ADD" or growing his beard.
Checking our work.
Our team is here for one purpose: to help you buy the best stuff and love what you own. Our writers, editors, and lab technicians obsess over the products we cover to make sure you're confident and satisfied. Have a different opinion about something we recommend? Email us and we'll compare notes.
Shoot us an email