The ZS10 is designed to be the ideal vacation companion: ready at a moment's notice and small enough to travel anywhere, any time. It's available in black, silver, brown, red, blue, and gold and debuts for $399.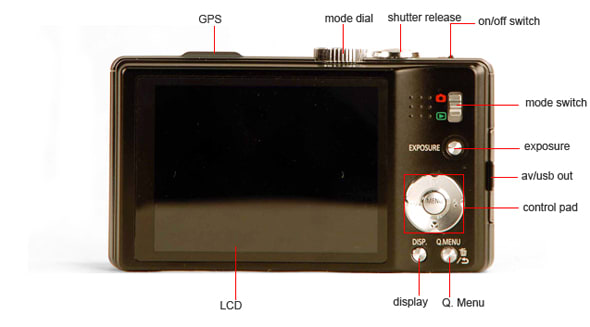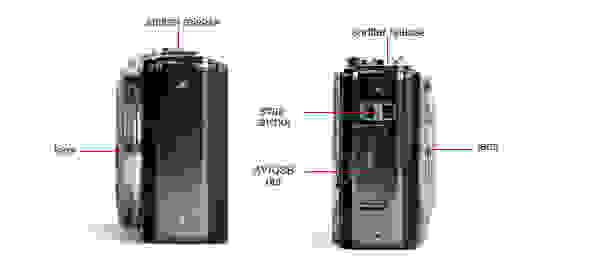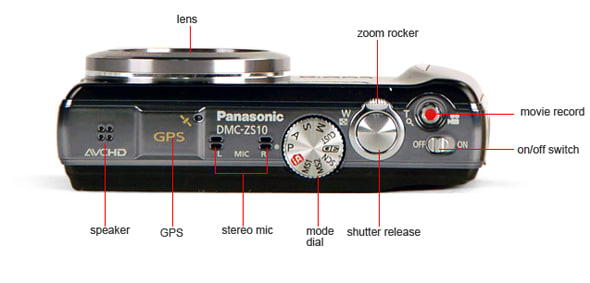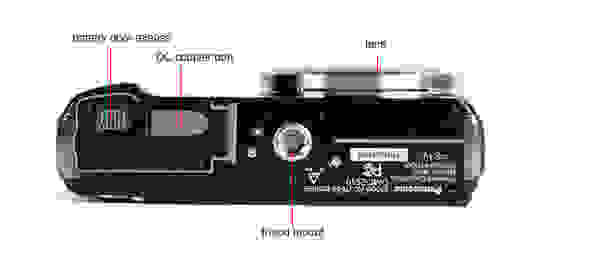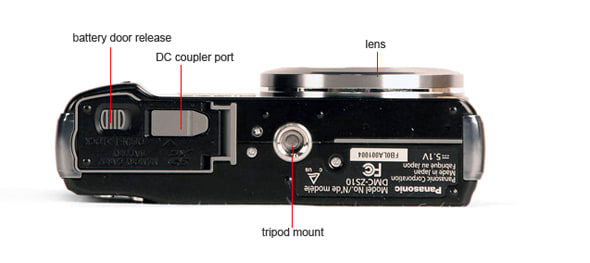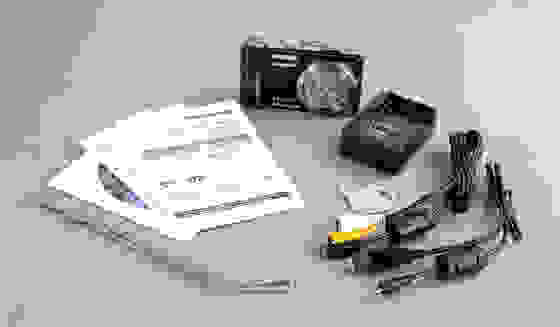 The ZS10 comes packaged with:
Basic operating instructions

DMW-BCG10PP

Battery charging station (AC plug)

USB cable

A/V cable

Touchscreen stylus

Wrist strap

The ZS10 produced a mean color error of just 2.57 in our still results when using the standard color mode. The ZS10 had the most trouble with accurately reproducing purple and magenta, but was very accurate in recording greens and browns. The ZS10 also performed very well when using the "Natural" color setting. Shooting in natural mode resulted in more muted colors that were a tad undersaturated—good for skin tones where a more even color might be desired. More on how we test color.
The ZS10 had the best color accuracy of any of the cameras in our test group. The closest competitors were the Canon SD4000 and the Panasonic LX5, but neither could quite match the ZS10 in this test. In fact, the ZS10 performed as well as any other camera we have tested recently, with only the Sony T900 and the Panasonic TS2 offering similar scores.
The ZS10 comes with seven color modes: standard, natural, vivid, black & white, sepia, cool, and warm. There are no adjustments that can be made to these modes, but they all apply a variety of effects to your final image.
Standard and natural are the two most accurate modes, as described above. Vivid applies heavy oversaturation to images, but only sacrifices minor color accuracy to get there. Black & white mode will desaturate the image, while sepia will apply a sepia-toned color cast to the image. Cool and warm apply a bluish or reddish filter, respectively, to the image.
The modes are hardly out of the ordinary, but they're solid alternatives for shooters who do not want to deal with running a camera through post-processing.
The ZS10 has a fairly limited set of ISO settings available to it, with a max of just 1600. It performs well at the settings it does have, with noise kept to a respectable level of less than 2% at ISO 1600.
It does appear that there's a pretty heavy amount of automatic noise suppression going on in post-processing (as is true with many point-and-shoots), and there's no option in the ZS10's menu to reduce it or turn it off. This is disappointing, because there is a great deal of detail lost in this process—even at the lowest ISOs. More on how we test noise.
The ZS10 yielded very similar noise results in both 3000 lux (bright light) and 60 lux (low light) testing, producing just 10% less noise while in bright light. This difference is minimal, so you won't see much noise regardless.
Of all the cameras in our comparison group, the ZS10 produced the best test results for noise. The LX5 has the benefit of a larger image sensor than the competition in this group, but its noise percentages were not as good as the ZS10.
It should be noted that the ZS10 loses a great deal of detail in its efforts to keep noise down, so it is a significant trade-off. There is less noise, but the images themselves are not necessarily more attractive for it.
The Panasonic ZS10 features an ISO range of just 100-1600, with both an auto and Intelligent Auto ISO setting. Auto ISO only takes into account the brightness of the scene, making the camera more sensitive in limited light. The Intelligent ISO setting utilizes brightness information, but also takes into account subject movement.
NOTE: The images above are not used in our testing or scoring, but are included here to show real-world examples of the differences between cameras at the various ISO settings.
The ZS10 produced mediocre sharpness results in our testing. This isn't uncommon with longer zoom cameras, but the ZS10 also smears out finer detail. More on how we test resolution.
Distortion ()
Camera lenses—especially long zoom lenses—tend to warp lines that are straight in real life. We measure the amount of this distortion in our tests, giving a numeric score based on the results.
The ZS10 produced an acceptably small amount of distortion: just 0.7% pincushion distortion at the furthest telephoto focal length (68.8mm) and 1.86% barrel distortion at the wide angle (4.3mm). We found that distortion was slightly worse in the middle of the zoom range, with a 0.87% pincushion distortion visible at 38.3mm.
Those results are about on par with what we have typically seen out of other long zoom cameras, as it is difficult to cram so much optical zoom range into a small lens without sacrificing some distortion.
Sharpness ()
The ZS10 was outclassed by its competition in the sharpness department. In the spectrum of all the point-and-shoot cameras that we have tested it was just below average. When compared to many other cameras in this price range, it is significantly worse.
This is easiest to see in the five crops below, with soft edges in the corners of every focal length. It also shows up in the sample photos, where things such as signs, license plates, and faces in the background lose much of their detail at full resolution.
Chromatic Aberration ()
There wasn't a great deal of chromatic aberration visible in our tests. The ZS10 scored about on average with the comparison group.
In the real-world examples there is some evidence of aberration, but not much more than we typically see in point-and-shoot cameras. This is easiest to see in our sample photos section, with blue fringing visible around blown-out highlights.
The ZS10 offers a number of size options, depending on what type of shooting you are doing. When shooting stills there are six resolutions offered at 4:3, from the max of 14 MP down to 0.3MP. The camera offers a 10-shot full resolution burst mode, though we found it to be more of a 14-shot burst that is closer to 6fps. The ZS10 also offers reduced-resolution modes at 40 and 60fps.
The ZS10 does not offer RAW capture and offers JPEG recording in two qualities: fine and standard.
The ZS10 performed quite well in stabilization testing, with a 57% improvement in resolution at a shutter speed of 1/30th of a second. This is certainly important in this camera's case, as it lacks an ISO above 1600. Effective stabilization provides a better chance of recording a crisp image, free of blur. More on how we test image stabilization.
This is certainly among the best we have seen, but it's not a great surprise: the Panasonic ZS3 showed a 55% improvement in sharpness in this test. As a result, the ZS10 is also tops in our comparison group.
The Panasonic ZS10's video mode is readily accessible in every shooting mode simply by pressing the red record button on top of the camera. It handles well for a still camera, but is difficult to keep perfectly steady without a tripod.
The ZS10 is all about smooth transitions during video, so it zooms in and out very smoothly. Should the subject or scene change suddenly, however, it will take a few seconds to re-meter and correct for the difference.
The focus and zoom sounds are picked up by the ZS10's built-in stereo mic, which is not uncommon at all. The ZS10 also allows the use of its built-in GPS to record location information along with each video, if you so choose.
The ZS10 produced a mean color error of 6.91, which is fairly good for a point-and-shoot camera. It's the best in our test group, but there are a few other point-and-shoots that have done better. Colors are very muted when recording video in the standard color mode, with an average saturation of just 85.4% of the ideal. The other color modes will saturate colors a little better, but at a further penalty to accuracy. More on how we test video color.
The ZS10 features unremarkable sharpness results, offering just 450 lw/ph of sharpness vertically and 550 lw/ph of sharpness horizontally. This is in keeping with our other results; the ZS10 is unable to render much fine detail throughout the images it produced. More on how we test video sharpness.
The Panasonic ZS10 features a number of playback modes. Many of them are standard fare, but the camera's category playback makes choosing specific photos a breeze. Category playback complements the ZS10's GPS and High-Speed burst settings, with the ability to play back photos from a specific location or whole blocks of burst shots with ease.
There are minimal in-camera editing options on the ZS10, with just the ability to re-size, crop, and add text to photos. There's no red eye removal option (though the camera's shooting menu allows for this before you take your image). There is a video divide button to help eliminate wasted time at the beginning or end of a video you'd like to keep.
The ZS10 features both DPOF and PictBridge direct printing options for all you snazzy direct printers out there.
The ZS10 features a 3-inch touchscreen LCD. There is no viewfinder—optical or otherwise—on this compact little camera. The touchscreen elements are similar to those found in other Panasonic cameras, with the touch-enabled elements located on the right edge of the screen.
The touchscreen is best described as unobtrusive; it is not required to operate the camera, but it's there if the user would like to take advantage of it. It's a nice extra to have, and it's good to see Panasonic not force customers to make use of it if they prefer more tactile control.
The flash is placed on the front of the camera, beside the lens and just out of the way of where you would grip the camera. It's a typical point-and-shoot flash: not terribly powerful, applying a harsh light that tends to wash out colors rather than illuminate them.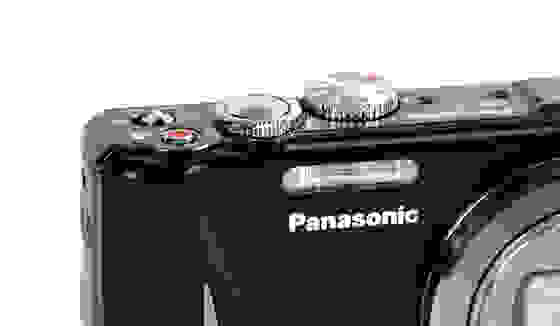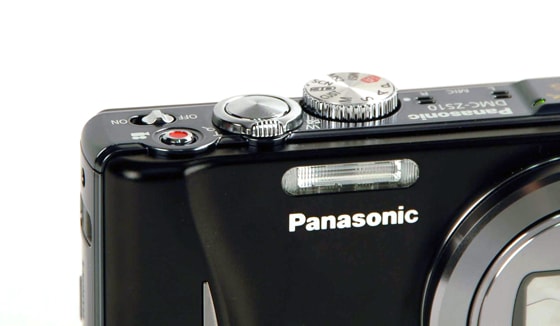 The ZS10 uses a Leica-branded 16x optical zoom lens with a maximum aperture range of f/3.3-5.9 and a focal length of 4.3mm-68.8mm. It features an automatic lens closure that is not locked in place and easily retracts to reveal the lens. You'll definitely want to keep it in some sort of case or enclosure to protect the lens from damage.
The ZS10's 16x optical zoom is expanded to a 21x Intelligent Zoom that utilizes digital zoom to bring subjects closer, sacrificing minimal image quality. For those who need to get closer at any cost, the ZS10 can blow the image up to get as close as 84.1x, but at a severe penalty to image detail.
The ZS10 utilizes a DMX-BCG10PP Lithium-Ion battery. It's rated to approximately 250 pictures by Panasonic. One thing to note: when the GPS functionality is turned on it will continue to drain the battery, even when the camera is off. It doesn't appear to have a drastic effect on battery life, but you'll want to turn the GPS off if you're storing the camera for a long while.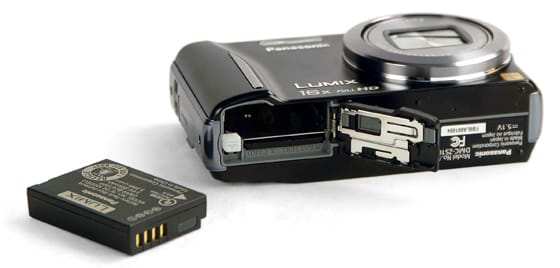 The ZS10 offers enough built-in memory for just two 14-megapixel images, supporting SD/SDHC/SDXC format cards with a maximum of 64GB. If you do accidentally take a shot on the internal memory, there is a handy copy feature that will copy it over to the memory card, or vice versa.
There are two ports on the ZS10's side: a proprietary USB/AV output and a mini-HDMI output. The full playback menu is available in video output mode, placed in one corner of the screen. Video control through the camera is not particularly responsive, but it's typical of what you see from other cameras.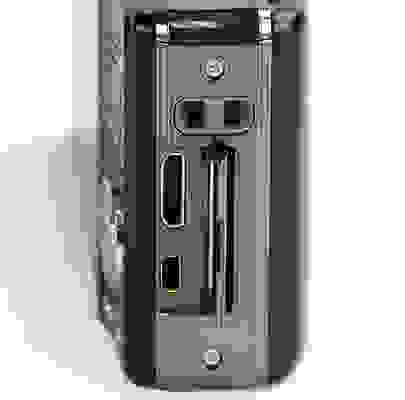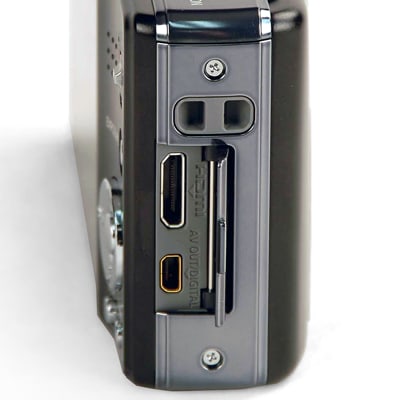 GPS
The ZS10 features a built-in GPS feature that, when functional, will record location information for photos and videos. The feature is hit-or-miss. It rarely worked indoors in our testing with the camera and it often would take quite a while to find itself if the camera was powered down for awhile and traveled with.
There are 10 settings on the ZS10's mode dial: program, shutter speed priority, aperture priority, manual, custom, 3D picture, Intelligent Auto, My Scene 1, My Scene 2, and Scene mode.
The Intelligent Auto mode offers the ability to automatically detect the scene and adjust the camera's settings. The 3D picture mode takes a stereoscopic .MPO image, viewable on 3D televisions. There's a measure of customization available, also: the My Scene modes allow the user to put two of the camera's 30 scene modes right at thumb's reach, while the custom mode allows the user to save three combinations of custom settings.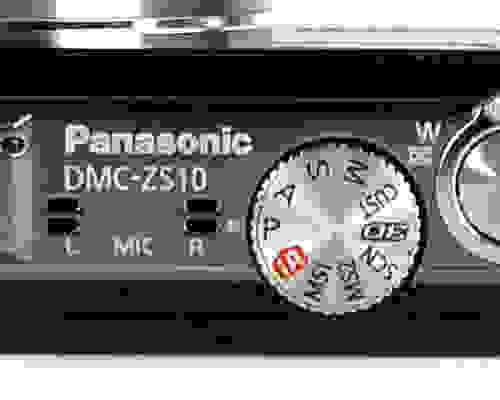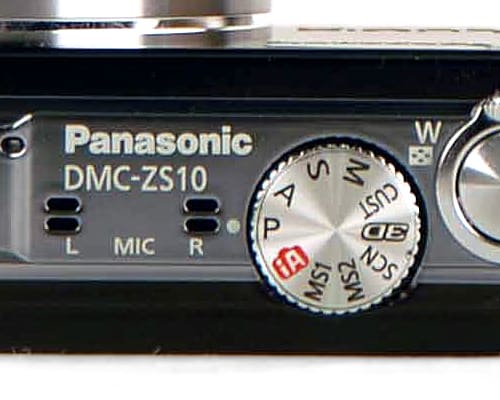 There are 30 scene modes available on the Panasonic ZS10, with everything from scenes for night skies to high-speed movie recording. There aren't any picture effects that can be applied after an image is taken, but with 30 scenes to choose from it's hard to complain about a lack of selection.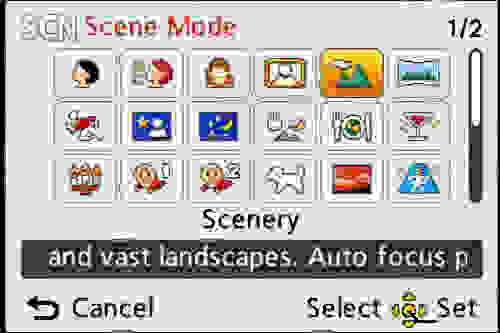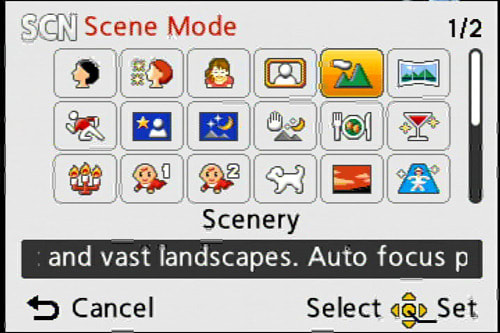 One nice feature if you're particularly fond of any particular scene modes are the two My Scene options right on the ZS10's dial. They allow users to save two scene modes that they frequently use (for example, high speed video and portrait) and switch to them easily, without having to utilize the menu.
The Panasonic ZS10 has all the manual controls one would expect from a higher end point-and-shoot: manual metering, program, aperture priority, and shutter priority. There are manual white balance and ISO controls, as well. The ZS10 does not feature manual focus, though the touchscreen can be used to select a focal point.
The main complaint to have about the manual controls on the ZS10 is the lack of a control dial for altering exposure settings on the fly. In order to alter shutter speed or aperture, you have to press the exposure button on the back of the camera and then use the d-pad to alter the setting one step at a time.
The ZS10 features a great deal of burst settings, ranging from 2fps with predictive focus up to 60 frames per second (shot at a reduced resolution of 2.5 megapixels in 4:3 or 3.5 megapixels in 16:9). The maximum full resolution burst mode is advertised at 10fps, though we found it a bit slower.
The camera has a self-timer of 10 seconds or two seconds, but it does not remember the setting from shot to shot and there's no custom option.
Shot to Shot ()
The Panasonic ZS10 is one of the faster cameras in our test group, offering an advertised 10fps burst at its full 14-megapixel resolution. There are also two reduced resolution options offering 60fps (at two megapixels) and 40fps (at five megapixels) burst shooting.
The "10fps" full-resolution mode will actually fire off 14 frames at 6fps before stopping to record all the images. There is a noticeable click at that setting: the ZS10 employs a mechanical shutter when shooting at its full resolution burst modes. In the reduced resolution modes, the ZS10 resorts to a silent electronic shutter, but it does record at the advertised speeds.
One thing to note is that the ZS10 does seem to have issues metering between burst shots, with a noticeable variation in white balance when shooting at the 10fps setting.
3D Picture Mode
The ZS10 has a 3D picture mode on its control dial that will take 20 still images and create a composite .MPO 3D image from what it deems the best two. It can play back these images onto a compatible 3D television. The images are not viewable on the camera's LCD.
The ZS10 is a nice compact little camera that fits comfortably in the hand or in a jacket pocket. It has a small tapered grip on the front of the camera, though it doesn't extend far enough out to affect portability.
The ZS10 features a few small bumps on the back of the camera designed to give more purchase for the thumb to grip. Some sort of rubber material would have been appreciated here to provide a little more comfort, given the camera's price. The ZS10 handles much the way a point-and-shoot is expected to: adequately, but not at the expense of portability.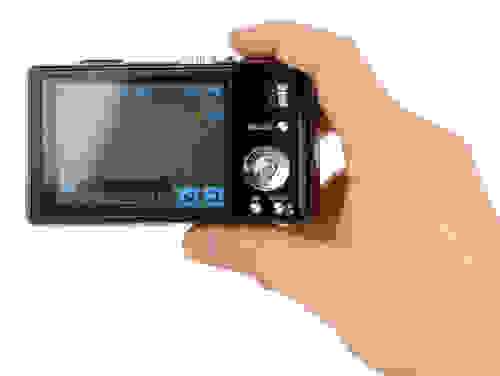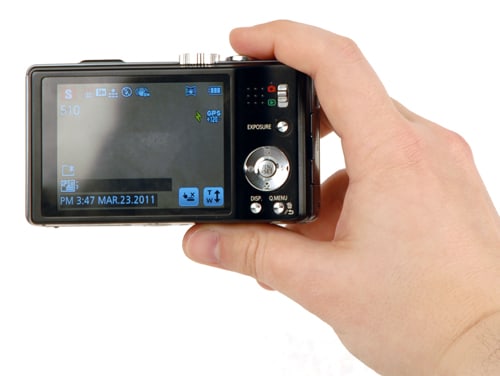 The ZS10 sports a pretty typical button layout, with a four-way control pad and shooting mode switch on back. It also has a mode dial, power switch, zoom rocker, and movie record button on top.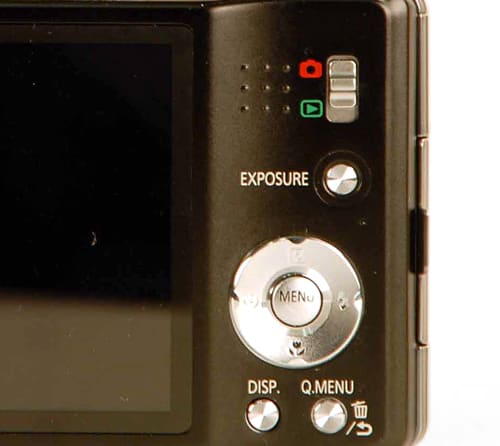 One bit of annoyance here is Panasonic's love of engraved control symbols without any sort of text, making the control pad impossible to read in poor light. The symbols shouldn't rub off the way ink might, but it is a frustrating design choice.
The ZS10's menu is pretty standard fare. Its shooting menu is organized into four parts: record settings, video settings, GPS settings, and setup. In playback mode, GPS and setup are unchanged, but there are also options for adjusting the playback method and other playback settings.
The record settings menu offers 25 settings that can be altered, generally offering the option to turn off the camera's many automatic and intelligent settings, as well as the typical size, ISO, white balance, and quality options.
The basic operating instructions don't offer much help as far as learning the more advanced features of the camera. For that, you can turn to the full operating manual, available in .pdf format on the included CD. That manual is very extensive, though the copy we received had a few errors and several images and words that had not been translated yet.
The Panasonic LX5 and ZS10 are both similarly positioned at the top of their respective lines within the Panasonic family. The LX5 represents the luxury compact camera market, offering larger image sensors that perform better in low light. The ZS10, on the other hand, is the company's latest travel zoom offering.
The ZS10 is debuting at an MSRP of $399 while the LX5 debuted at $499, so they're not that far apart in price. The LX5's larger image sensor gives it a major leg up, while the ZS10 offers a far greater zoom range with its 16x optical zoom lens.
Overall, the two cameras performed similarly in many of our tests. Neither camera was particularly sharp, but the LX5 was much sharper than the ZS10. Both cameras shot images that were relatively noise-free at all but the highest ISO settings.
The proof is in the real-world images, though. The LX5 preserves far more detail and color accuracy through the ISO range compared to the ZS10. The ZS10 produced images that were far below what we would expect from a $400 camera. The images out of the LX5 are simply more appealing, making the price more palatable.
The ZS10 might be the better option for those looking to get a little more zoom out of their cameras. The LX5—by virtue of its larger sensor—features a limited zoom range of just 5.1-19.2mm. (The ZS10 features a zoom range of 4.3-68.8mm.)
In the end, it comes down to versatility against quality: the LX5 offers more control, finer detail, and better low light performance while the ZS10 offers a wider zoom range, much better image stabilization, and a built-in GPS for travel photography.
The P100 and ZS10 both focus on delivering one key specification to their customers: exceptional zoom range. The ZS10 has a more compact body than the P100, but offers an optical zoom range of 16x (4.3-68.8mm) against the P100's impressive 26x (4.6-120mm).
In terms of size, these are two wildly different cameras. The P100 is really designed to hang around the user's neck, while the ZS10 is right at home in a jacket pocket or a small bag.
The P100 produced the worst color accuracy of any of the cameras in our test group, but it did produce images that were sharper than the ZS10's. However, the 26x optical zoom results in a pretty severe amount of chromatic aberration and distortion. This isn't unexpected given its massive zoom range, but the ZS10 strikes a better balance between quality and zoom capability.
In video testing, the P100 produced surprisingly sharp images, but less accurate colors than the ZS10. Neither camera is going to capture particularly great video.
If you're looking for as much zoom as you can get and are willing to compromise on some aspects of image quality, then the P100 and cameras of its type are a good choice. Otherwise, the ZS10 is a good option for those wanting just a bit more zoom range than a typical point-and-shoot, with some extra features thrown in.
The Canon SD4000 is a compact little shooter that offers a 3.8x optical zoom and a back-illuminated CMOS sensor. It's approximately the same size as the ZS10, though it is about $100 cheaper. Both cameras are good for anyone looking for a camera that lets you leave the weight at home when you're on the go.
The ZS10 is the better performing camera in terms of color accuracy and noise performance, but the images out of the SD4000 are sharper and retain detail better. Neither camera really suffers much from chromatic aberration or distortion, though the ZS10 does so while being able to zoom much further.
Between the two cameras, the SD4000 wins in terms of real-world image quality. There is better color gradation and much better detail retention throughout the ISO range. The ZS10 simply sacrifices too much detail in noise reduction—something the SD4000 manages to avoid while offering ISO settings as high as 3200.
If you're in the market for a compact camera you can travel with, both are good options and are not that far apart in price. The ZS10 offers a few unique features—high-speed shooting and built-in GPS functionality, especially—but the SD4000 will return better images. If you need to pull subjects closer, though, the SD4000's limited zoom range might be more frustration than it's worth.
The Panasonic ZS10 would make an adequate companion for anyone looking to travel light. However, it does come at a pretty hefty debut price of $399.
The price is not a result of the ZS10's ability to produce great images—it won't. Instead, you're paying for the built-in GPS and 3-inch touchscreen. (The ZS8 is $100 cheaper and features the same 16x optical zoom, but without the GPS and touchscreen.) Unfortunately, the photos aren't worth the price of admission.
The ZS10 didn't blow us away in any of our image quality tests, as it featured mediocre sharpness and chromatic aberration scores. The resulting images had little in the way of noise, but heavy smearing is applied at even the lowest ISOs. It does offer full HD video, but with only average results.
If you'll find greater utility in the 3-inch touchscreen and built-in GPS than we did, you may want to spring for the extra features. You would be getting a camera that is compact, offers a solid zoom range, and won't be the most obtrusive travel partner.
If you're looking for pure image quality, there are simply better options for your money.
Meet the tester TJ Donegan
Executive Editor
@TJDonegan
TJ is the Executive Editor of Reviewed.com. He is a Massachusetts native and has covered electronics, cameras, TVs, smartphones, parenting, and more for Reviewed. He is from the self-styled "Cranberry Capitol of the World," which is, in fact, a real thing.
Checking our work.
Our team is here for one purpose: to help you buy the best stuff and love what you own. Our writers, editors, and lab technicians obsess over the products we cover to make sure you're confident and satisfied. Have a different opinion about something we recommend? Email us and we'll compare notes.
Shoot us an email