The FZ100 was a bit of a misstep, sure, but with this new flagship superzoom, Panny wisely kept baby and ditched the bathwater. The FZ150 looks at a lot like its predecessor, and parts of the spec sheet are nearly identical, including the 25-600mm equivalent 24x zoom lens, articulating 3-inch LCD, and the aforementioned burst shooting and HD video modes. But crucially, it swaps out the old junker of a sensor with an updated 12.1 megapixel MOS chip.
Everyone loves a great redemption story, and the FZ150 proved itself to be the best superzoom we've tested. That title seems to change hands every week, but read on to see why we think the FZ150 will be at the top for a while.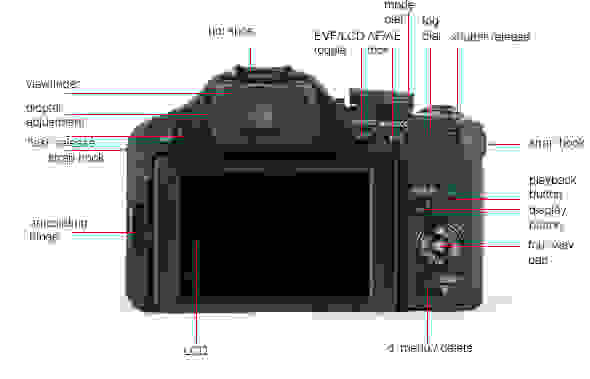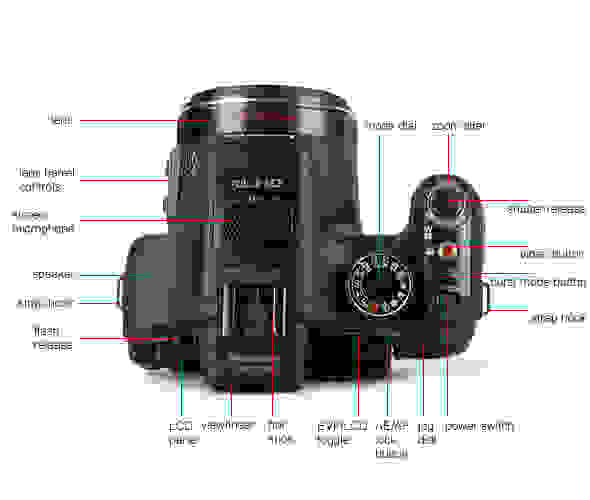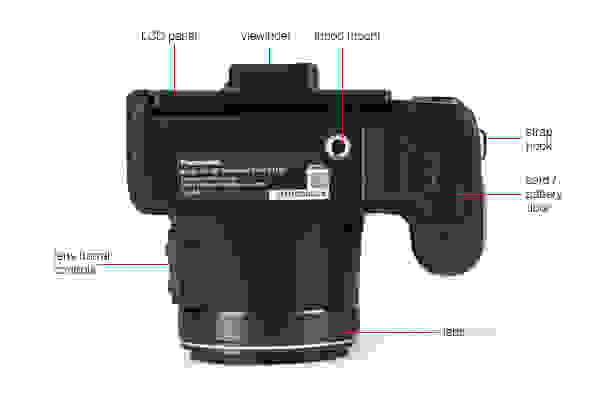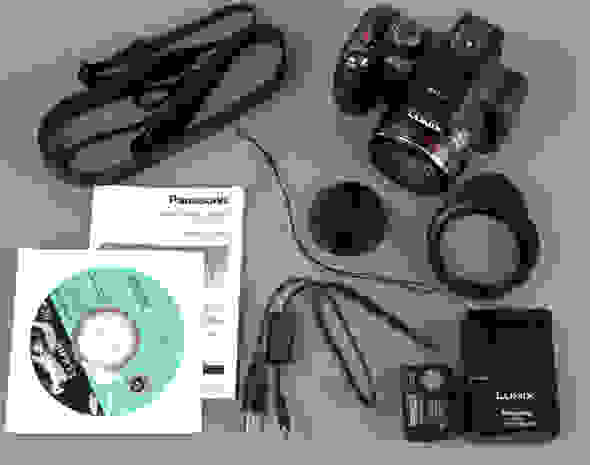 • Panasonic Lumix FZ150 digital camera

• neck strap

• lens cap

• lens cap string

• lens hood

• DMW-BMB9PP rechargeable lithium-ion battery

• DE-A83B battery charger

• mini-USB cable

• basic owner's manual

• CD-ROM with full owners' manual

• CD-ROM with photo and video software
The FZ150 performed pretty well in our color accuracy test. The Natural color mode proved to be the most accurate, scoring a 2.82 in our color test (anything under a 3.0 is good) with saturation at roughly 104% (anything between 90% and 110% is acceptable). Shades of red and green are the most accurate, while blues are somewhat exaggerated and bright yellow is a bit pale. Even so, none of the hues on our test chart were too far off the mark. More on how we test color.
Most of the top-tier superzooms we've tested over the past few years tend to struggle with color accuracy a bit, at least compared to what we expect to see from cameras that cost $400 or $500. The FZ150 is on the higher end of average, edging out the Canon SX40 HS (and most other superzooms), while totally slamming the Nikon P500.
It's actually Panasonic's second-tier superzoom, the FZ47, that takes home the color-accuracy title. It's the most color-accurate point-and-shoot we've ever tested by a huge margin. That camera is fairly similar to the FZ150, but it's built around a slower 12.1-megapixel CCD sensor instead of a speedy 12.1-megapixel CMOS sensor. The image processors seem to be slightly different as well.
The FZ150 offers a small handful of color modes, including Standard, Natural, Vivid, Scenery, Monochrome, and Portrait, as well as a user-definable Custom setting. Each of the modes allows some adjustment for sharpness, contrast, saturation, and noise reduction—much more control than the typical point-and-shoot, and even more than most superzooms.
The FZ150 earned a great score in our noise tests. On average, noise made up just 0.86% of images, but more importantly, it earned that score without a ham-fisted default noise reduction algorithm. Shots are clear and sharp and mostly free of smudged details, except at the higher ISO settings where we expect to see some software-based compensation. Everything up through ISO 800 looks great, and even ISO 1600 is still pretty clean. It's best to forget that ISO 3200 exists, though it really isn't so bad by point-and-shoot standards. More on how we test noise.
Low-light shooting is always a challenge for a small-sensor camera, but the FZ150 can snap great shots in dim settings almost as well as it can in bright settings. In both our 3000 lux (bright) and 60 lux (dim) tests, noise starts low and increases gradually throughout the ISO range. Even in our most challenging test (60 lux at ISO 3200), noise topped out at 1.32% of the shot.
Of the comparison group, the FZ150 earned the best overall noise score, and in real-world terms, it takes the best pictures, too. The Canon SX40 HS is a close second, though judging by the crops of Rosie the Riveter below, it processes its images more aggressively than the FZ150. The P500 has a significantly lower score than either, though its images are actually pretty crisp—technically noisy, but they hold detail well. The FZ47 scored low, and its shots look softer and uglier than any of the other cameras here—it's barely in the same league.
It's also worth noting that the FZ150 and P500 offer a few noise reduction settings, while the SX40 HS and FZ47 do not—we'll never scoff at extra control, and some users might prefer one of the non-default options. The FZ150 also supports RAW capture, so the hardiest of the hands-on users can process their shots however they please.
Though this website never formally reviewed the FZ150's predecessor, the FZ100, this reviewer did test it for a different publication and can say with confidence that the FZ150 is a huge improvement. The FZ100's image quality was sub-par and particularly crummy at high ISO sensitivities. But anyone put off by the older model's performance should give the FZ150 a fair shake.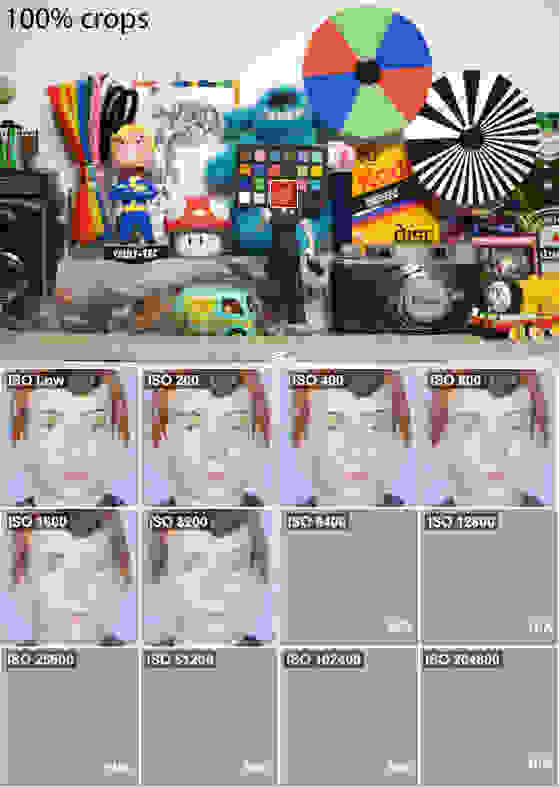 The FZ150 offers full-resolution ISO settings from 100 through 3200, which is the range that we expect to see out of a first-tier superzoom. It extends up to 6400 at a reduced resolution in the High Sensitivity scene mode, though the user has no control over which setting the camera chooses. It's an awkward mode. The FZ150 already performs very well with its full-res ISO settings, so it's best left as an afterthought.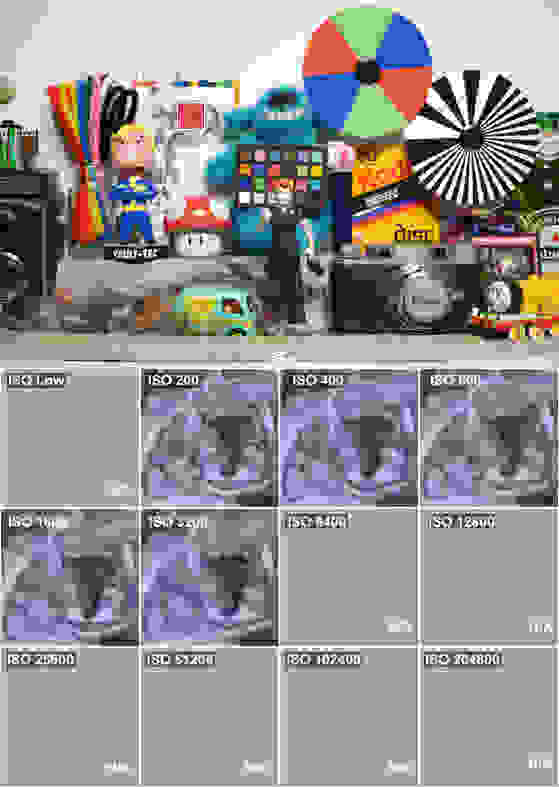 NOTE: The images above are not used in our testing or scoring, but are included here to show real-world examples of the differences between cameras at the various ISO settings.
Long zooms can magnify (hah!) resolution problems. As the zoom range increases, the margin for error shrinks. The FZ150 performed pretty well for a superzoom, but as a $500 camera and one of the shorter-reaching models in the class, its scores didn't impress us. More on how we test resolution.
Distortion ()
Distortion is an easy problem to fix with in-camera processing, and Panasonic found an algorithm that works. Each of the four models in our comparison group—the FZ150, its little-brother FZ47, the Nikon P500, and the Canon SX40 HS—earned the highest distortion score that we give. We noted some barrel distortion at the wide angle and pincushion distortion at the telephoto end, but both so subtle that our ranking system discards the results.
Sharpness ()
The FZ150 resolves an average amount of detail for a fixed-lens camera. Sharpness seems to be best in the middle of the focal range and at the center of the frame. There's some noticeable pixel sharpening applied at the wide angle, while the lines remain a bit fuzzy and un-sharpened at the telephoto end. The FZ47 shows similar, slightly better results than its big brother, while the P500 is notably softer. The SX40 HS is clearly the sharpest shooter in the category, even with its comically large 35x zoom lens.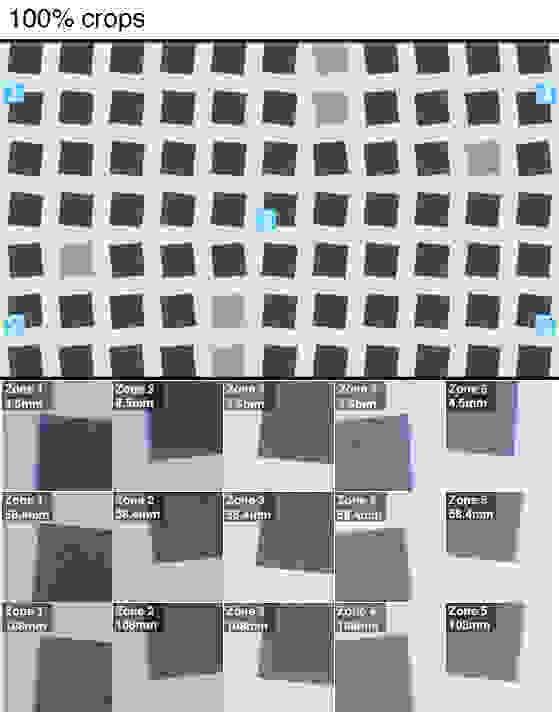 Chromatic Aberration ()
Chromatic aberration is most obvious at the wide angle, toward the edges of the frame. Blue fringing is apparent but not garish. Aberration is less of a problem at the middle and telephoto ranges. In real-world terms, this will cause some problems shooting areas with high contrast, like branches against a cloudy sky or edges of buildings.
Sure to make enthusiast shooters happy, the FZ150 can shoot RAW photos, as well as JPEGs at Normal or Fine compression settings. RAW files are uncompressed, and the extra detail is a boon for photographers who do lots of post-production work in their digital studios. But RAW files are huge, they're slow to save, and don't offer any real benefits to snap-shooters. (For those who have big and fast memory cards and want the best of both worlds, it can also shoot RAW and JPEG at the same time). The FZ150 supports several aspect ratios and image sizes, detailed in the chart below.
The FZ150 has fairly effective image stabilization, showing about a 35% improvement with IS activated. This is the best result out of our test group.
Since we test stabilization at each camera's telephoto setting, the 24x-zooming FZ150 has a built-in advantage over the 35x-zooming Canon SX40 HS and the 36x-zooming Nikon P500. Every shake and jitter gets exaggerated more and more as the focal length increases. The FZ150 just doesn't zoom as far as most of its competitors, so blurry images are inherently less of a problem. We don't test for effectiveness at the wide-angle setting, so real-world results may vary. In any case, it's always wise to use a tripod when you're shooting at long focal lengths. More on how we test image stabilization.
The Panasonic FZ150 has a great movie mode, rich enough that most owners won't need to ever use a separate, standalone camcorder again.
It's one of the few still cameras currently on the market that can shoot full 1080 x 1920 HD video at 60p using the AVCHD 2.0 standard, and as such, it produces some of the crispest videos we've ever seen out of a digital still camera. Editing the files could prove to be an epic struggle, since a) at 28mbps, they're huge, b) the bundled LoiLoScope software is a Windows-only, trial-version clunker, and c) most popular video software suites need an update to support AVCHD 2.0, while some older versions will never support it. Videographers who need to edit their clips should drop down to the 1080i AVCHD or 720p MPEG movie settings.
The level of manual control is about as good as we've seen on a point-and-shoot. It supports optical zoom while shooting, and in-film autofocus is quick and accurate. Creative Video Mode, given a dedicated slot on the mode dial, allows users to set up their videos in PASM mode, though the settings aren't adjustable during shooting. Crucially, it also has a port for an external microphone; the built-in stereo mic is all well and good, but there's no substitute for an external audio source.
As usual, the FZ150's video color isn't as accurate as still-photo color, though it's slightly better than what we've seen from the superzoom class in general. It scored notably higher than the Panasonic FZ47, about on par with the Nikon P500, and a notch below Canon's SX40 HS. Hues are flat, but not too ugly or wildly out of the ordinary. More on how we test video color.
The AVCHD 2.0 standard produces gargantuan file sizes, but helps the FZ150 shoot exceptionally crisp video. It scored 600 lw/ph in our horizontal and vertical sharpness tests, good for the best video sharpness that we've seen from a point-and-shoot. The P500 finishes in a reasonably close second, the FZ47 in third, and the SX40 HS in a surprising last place out of our test group. More on how we test video sharpness.
Once a manufacturer lands on a decent playback system, they don't mess around with it very much. Previous Panasonic users should feel right at home navigating through the FZ150's playback menu, and there's hardly any learning curve for neophytes. The four-way pad covers most of the important functions, while the zoom tilter and jog dial make it easy to zip through photos quickly. There's also plenty of on-screen info, filtered playback, and slideshow viewing options. It's all pretty straightforward, which is just fine by us—bells and whistles just tend to get in the way.
For all of its robust in-camera controls, the FZ150's in-camera editing suite is pretty sparse. It allows a small handful of basic adjustments to JPEGs, including crops, resizing, and picture rotation, as well as video trimming. Anything else has to wait until post-processing.
The FZ150 sports an electronic viewfinder with about 200,000 pixels of resolution. It's serviceable but unspectacular. The screen is bright and fairly responsive, and has a diopter adjustment for shooters with less-than-perfect eyesight. The plastic eyepiece is uncomfortable, and it has no automatic eye-level sensor. But it's great that there's a viewfinder at all: Looking through it can help to steady those long-zoom shots, and it's absolutely more comfortable than squinting at the LCD in direct sunlight.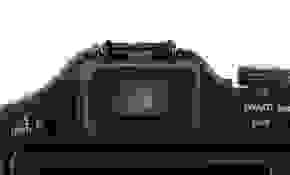 Tilt-and-swivel? Yes please. The FZ150's hinged LCD can articulate 180 degrees horizontally and rotate 270 degrees. This frees up tons of great shooting angles, from self-portraits to overhead and down-low snaps. The screen itself is a 3:2-format 3-incher with an above-average 460,000-pixel resolution. Panasonic put together a nice setup back here.
A pop-up flash sits on the crest of the FZ150. It's well placed, well elevated, and entirely user-controlled. It claims an effective distance of nearly 10 meters, which is impressive for a relatively small built-in unit.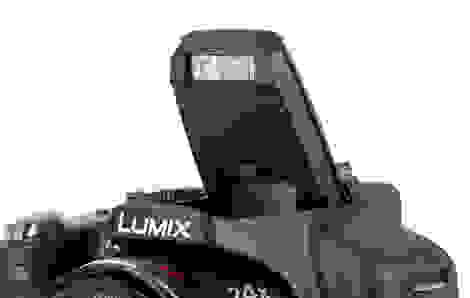 A superzoom needs a big ol' lens, and the FZ150's centerpiece is a 4.5-108mm (25-600mm equivalent), f/2.8-5.2 honker slapped on the front. It's similar to the one on this year's FZ47, as well as last year's FZ100 and FZ40, though the FZ150's apparently has a coating to reduce ghosting and light flare. It juts out about an inch from its barrel at the wide-angle setting, and about three inches at the long end. The camera ships with a pinch-style lens cap.
The 24x optical zoom ratio is a little bit on the short side, at least compared to some of the 30x, 35x, and 36x ratios on competing superzooms—some of which cost half as much as the FZ150. To close the gap, Panasonic included their Intelligent Zoom technology to extend the range out to 32x without any obvious loss in quality. Digital zoom is also available, but just forget about it.
Thanks to its large right-hand grip, the FZ150 can accommodate a large, long-lasting battery. This DMW-BMB9PP rechargeable lithium-ion unit is rated for a healthy 410 shots per charge. We didn't get quite that much juice, but it did last through most of our testing without a power-up. The battery charges in a standalone wall charger.
The FZ150 captures to SD/SDHC/SDXC memory cards. Standardization is great.
Now that most digital cameras shoot high-def video, HDMI and USB ports are all that any camera needs. The FZ150 has mini versions of both, tucked behind a stiff rubbery flap on the left of the body. Sure to excite hands-on users, it also has a separate port for an external microphone or a remote-control hookup.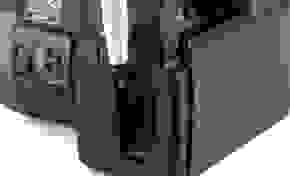 The FZ150 offers a standard mix of automatic, manual, and preset scene modes. Panasonic's usual Intelligent Auto mode gets a slot on the mode dial, as do the PASM suite of manual modes, and a handful of scene modes. There are two video modes: Intelligent Auto, and Creative Video.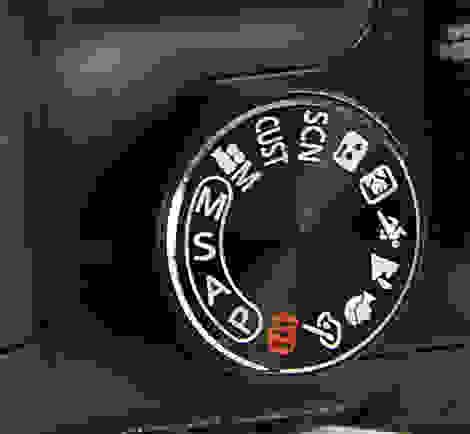 Scene Modes
By our count, the FZ150 offers a whopping 31 scene modes, including four portrait settings, three landscape presets, three sport modes, three macro scenes, and four night-oriented options. That's without getting into the "special" scene modes like high sensitivity, 3D capture, and high-speed video. There's plenty here to keep users entertained (or confused, or bemused) for a while.
The all-encompassing picture effects mode, known here as Creative Control, get a slot on the mode dial. Most of the usual fun-time effects are available, including monochrome film grain, miniature effect, super-saturated Expressive, washed-out Retro, blown-out High Key, Sepia, and a fake-HDR High Dynamic. That last one is especially odd; the FZ150 should be capable of shooting actual in-camera high dynamic range shots, so why bother faking it?
The FZ150 has standard PASM shooting modes, each with a notch on the mode dial. The jog dial makes it easy to scroll through the available aperture and shutter settings, though there's no real-time preview for how the changes will affect exposure. The left side of the lens barrel also hosts an extra zoom tilter and focus controls.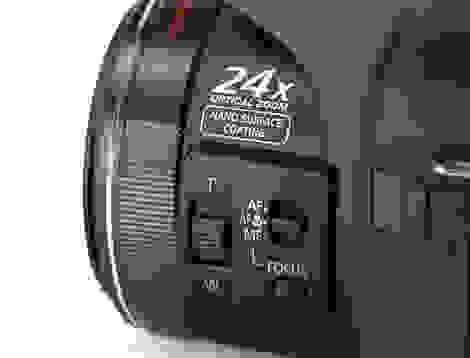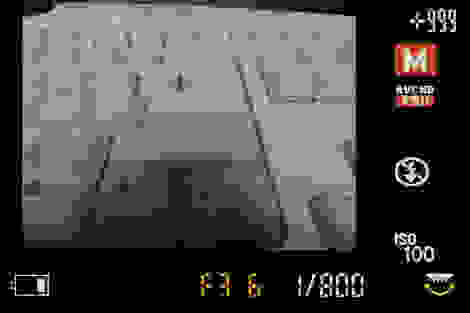 Panasonic wants you to know that the FZ150 is wicked fast, so they included a dedicated burst-mode hot key on the top panel. There are several full-res settings, starting at 2 frames per second and topping out at 12fps. The 2fps and 5.5fps options both offer full-time autofocus, and can fire indefinitely without filling up the buffer, though performance slows after a certain point. The 12fps setting is a true burst mode, blasting out 12 shots in about a second before it incapacitates the camera. There are also a few reduced-res settings, capturing up to 60fps.
Shot to Shot ()
The advertised 12fps mode is really more like a 10fps mode: that's the result we got every single time we ran our speed test, without any significant variation. This makes it the fastest camera in the test group, barely edging out the Nikon P500, and handily beating the Panasonic FZ47 and Canon SX40 HS.
Big cameras tend to handle well, and the FZ150 is no exception. The big, contoured grip and comfortable button placement make it easy to hold the camera steady while adjusting settings. The FZ150 can take up a lot of real estate with its zoom extended and screen angled outward, but it always maintains a nice balance. It's light enough to hold with one hand for prolonged periods, but large enough to fit two big hands.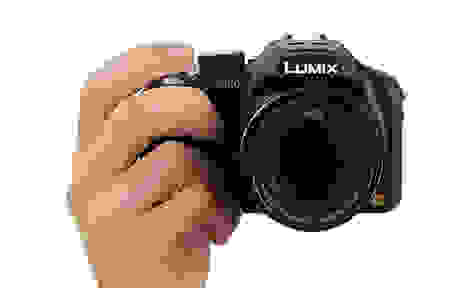 Articulated screens are always a great idea. They reduce the strain on a photographer's neck and hands, reduce the number of bungled self-portraits and odd-angle shots on a memory card, and open up so many creative shooting possibilities. The FZ150's 3-inch LCD might not be the biggest or brightest out there, but the hinge alone earned it a point in this category.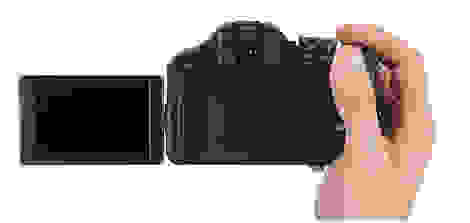 The body is plastic (no surprise there), but it feels well built, without any obvious clacky, hollow areas underneath its shell. All we could ask for in the next iteration are a twist-barrel zoom control and maybe a focus ring.
It's no DSLR, but the FZ150 offers plenty of hot keys and external controls. All of them serve a purpose and some of them are customizable.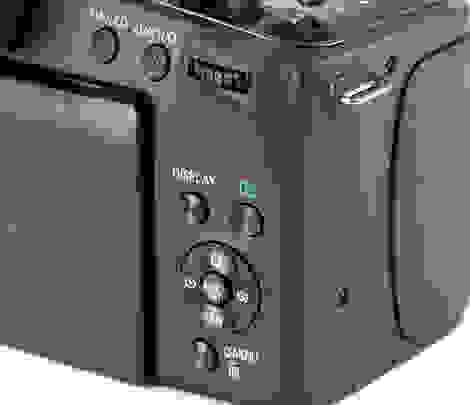 The buttons themselves could be a bit larger, though the textured finish helped us find the right keys without looking.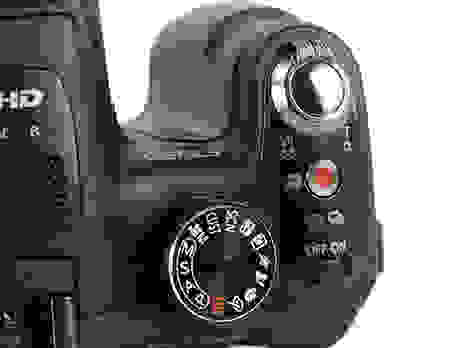 The wealth of external controls cuts down the time users will need to spend trolling the depths of the menu system, but when they do, it's logical and easy to navigate. Each setting on the four-way pad brings up a tiny sub-menu for a specific setting. The Q. Menu button brings up the most common adjustments without leaving the photo preview. The Menu button brings up a tiered system including Rec menu, with more specialized controls, as well as the Setup menu for settings that don't really concern photography. No complaints from us.
The FZ150 ships with a basic owner's manual and a CD-ROM with a PDF of the full owner's manual. That's about par for the course, but the FZ150 is a fairly advanced camera with a $500 price tag, and we're not the only ones that would like to see Panasonic suck it up and treat the users to a legitimate printed instruction manual.
The FZ47 surprised us when we reviewed it a few months ago. It's Panasonic's second-tier superzoom, but it scored remarkably well in our tests. The overall image quality is great, especially in terms of color accuracy, and the feature set is pretty solid, too, for a bit less money than most of the premium long-zoomers on the market. It was even the king of our point-and-shoot rankings for a few weeks, beating out advanced compacts and other premium superzooms.
That was before the flagship FZ150 had even been announced, however, so pardon us if our FZ47 review looks a bit bubbly in hindsight. The two models look similar, their interfaces are pretty much identical, and they both wield a 24x, 25-600mm equivalent lens. Otherwise, the FZ150 is an all-around better camera, with superior image quality, higher-res video, more fine control, an articulating screen, a hot shoe for accessories, and much, much faster overall performance. The FZ47 earned slightly better color and resolution scores in our tests than its big brother, but to human eyes, the FZ150's pictures look much clearer and sharper than the FZ47's, especially at medium and high ISO sensitivities.
The FZ150 is obviously the better choice for photo enthusiasts and amateur sports photographers. Dollar for dollar, we'd recommend it over the FZ47 every time.

/r:render
The highlight feature of the Nikon P500 is its class-leading 36x zoom ratio (tied with the Olympus SP-810UZ, which we have not reviewed), and it offers most of the key features we like to see in premium superzooms: a tilting LCD, a high level of manual control, and most importantly, a backside-illuminated CMOS sensor for speedy burst shooting, 1080p HD video, and decent low-light performance. It's fun to use, it takes good pictures, and it has a big ol' lens—bingo.
The FZ150 does all of that, and generally does all of it better. Image quality is the chief advantage, as it earned better scores than the P500 in all of our IQ tests. The FZ150 is a bit faster, touting a road-tested 10fps for about one second, compared to 9.2fps for a half-second, and parts of the hardware are more flexible, including a fully articulating LCD and a hot shoe.
It's not that the P500 is a bad camera at all, but by our measure, the FZ150 is the best superzoom we've ever tested. These two cameras should appeal to the same types of users across the board, so it's hard to find a scenario where the P500 is really a better option. The P500 does offer about a 35% longer focal range, which will appeal to more-is-better types of users, though most folks won't miss the extra reach. We're happy to give up some reach for the FZ150's superior image quality and better performance.

/r:render
Of the superzooms we've tested, the Canon SX40 HS and Panasonic FZ150 are the most serious contenders to capture the superzoom crown. We posted our SX40 HS review last week, and it ranked as the best point-and-shoot we've ever tested. Excellent image quality, an enormous 35x zoom range, plenty of features, Canon's always-friendly interface, and a slightly smaller price tag than the FZ150—for most users, there's nothing not to love.
But now, a week later, the FZ150 jumps ahead and claims the top spot from the SX40 HS. They're very evenly matched, but the FZ150 wins because of a very few extra features: a faster maximum burst rate, extra manual control including RAW capture, and a slightly higher-resolution LCD, to name the most obvious. Their image quality is very similar (scores favor the SX40, but aesthetically and unofficially, we favor the FZ150), and they handle equally well.
While the FZ150 comes out ahead in our scores, it's really too close to call, a toss-up at best. Hands-on, experienced photographers who are looking for a superzoom should side with the FZ150 for its extra manual control and, for sports photographers, the better stabilization. More casual shooters might be wooed by the SX40's longer zoom and cheaper price—it's understandable, though we'd still recommend the FZ150 most of the time.

/r:render
Panasonic hit the nail on the head with the FZ150. Its predecessor was a well designed, high-performance hobbyist camera, that, unfortunately, took grainy pictures. All they had to do was toss in a better sensor and, boom, they've built the best fixed-lens camera that's ever passed through our labs.
Image quality is plainly excellent for the class. The Canon SX40 HS scored slightly higher in our tests, but just take a look at the sample images sprinkled throughout our review—the FZ150's pictures are clearer and sharper. We didn't spot any obvious, detail-smearing noise reduction until the higher reaches of the ISO sensitivity range. The FZ150 can take good-looking shots in just about any imaginable setting, from dimly lit indoor parties and washed-out indoor gymnasiums to fast-moving sport scenes and serene landscapes. Colors could be more a bit more accurate, and we'd like to see better sharpness at the extremes of the focal range, but all things considered, these photos look great.
Performance is also excellent. Thanks to the Live MOS sensor, the FZ150 can churn out a speedy 10 full-resolution frames per second, which is one of the fastest burst modes we've ever seen. Shot-to-shot times are negligible, and autofocus is very quick and accurate. The video mode's biggest problem is that it's ahead of its time by a few months; the 1080/60p videos are so high-res that most computers are going to have a tough time processing the files.
It's tough to find much fault with this camera. It does have a shorter zoom range than just about all of its premium superzoom competitors, like the 35x Canon SX40 HS and 36x Nikon P500. But we're living in a crazy world when 24x magnification is below average.
Most of our concerns about the FZ150 have to do with the limits of the superzoom genre in general. At $500, it costs as much a handful of entry-level DSLR or mirrorless kits. Superzooms can't match their image or build quality, and they don't offer quite as much user control. Then again, superzooms are incredibly versatile right out of the box—it costs several thousand dollars to pick up a lens that can match the FZ150's native focal range. Whining about a superzoom because it's not a DSLR is missing the point entirely.
So anyone in the market for a convenient, all-in-one digital camera should give the Panasonic FZ150 a good, hard look. Enthusiasts: It shoots RAW and allows adjustments to its sharpness, saturation, and noise reduction settings. That's a leg up on the otherwise-excellent Canon SX40 HS. Every other kind of shooter: It's easy to use when you need it to be, and it takes the best pictures of all the superzoom cameras we've tested. Enough said. We still have yet to publish our upcoming Fujifilm HS20EXR and Sony HX100V reviews, but the FZ150 has a great chance to hold the top spot in our fixed-lens camera rankings for the rest of the year.
Meet the tester
Liam F McCabe
Managing Editor, News & Features
@liamfmccabe
Liam manages features and news coverage for Reviewed.com. Formerly the editor of the DigitalAdvisor network, he's covered cameras, TVs, personal electronics, and (recently) appliances. He's a native Bostonian and has played in metal bands you've never heard of.
Checking our work.
We use standardized and scientific testing methods to scrutinize every product and provide you with objectively accurate results. If you've found different results in your own research, email us and we'll compare notes. If it looks substantial, we'll gladly re-test a product to try and reproduce these results. After all, peer reviews are a critical part of any scientific process.
Shoot us an email