The G1 measures 4.88 x 3.29 x 1.78 inches (124 x 83.6 x 45.2 mm) and weighs 13.6 ounces (385 g) for the body alone. By comparison, even the smallest SLR out there, the Olympus E-420, measures 5.1 x 3.6 x 2.1 inches, though the weght's about the same at 13.4 oz., and the tale of the tape for the more typically sized Canon Digital Rebel XSi is 5.1 x 3.8 x 2.4 inches and 16.8 oz..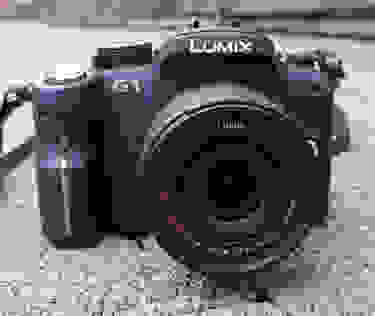 Front
Looking at the G1 from the front, the hand grips juts out on the left side, with a slim silver strip on the lower part and the camera's single control dial near the top. On the right side of the lens is the lens release button. Above this is an orange auto focus illuminator lamp.
The G1 is much smaller than a conventional SLR camera
Back
The G1 features a pivoting 3-inch LCD that folds out from the back of the camera and tilts up and down. Users can shoot with the LCD extended from the body of the camera, which offers a lot of freedom to shoot from odd angles, or leave the screen facing forward, snapped into an inset in the camera body, looking and working like a standard SLR display. When traveling, the LCD can be rotated 180 degrees and snapped back into the inset with the back facing forward (see the photo below), keeping the screen clean and protected.
Directly above the LCD is an electronic viewfinder. To the right of the viewfinder is a sensor that can automatically turn the LCD off and the viewfinder screen on as the camera approaches your eye. To the left of the viewfinder is a button that allows you to manually toggle between the displays if you prefer.
There's a dedicated playback button, with the traditional VCR-style play icon, to the right of the viewfinder and, further right still, the AE/AF lock button. A substantial rubber pad at the top right, with a raised triangular shape that provides a very secure hold whether gripping the camera horizontally or vertically.
The DISPLAY button toggles the LCD panel view through several formats (see LCD SCREEN below). Next down is a typical four-way controller, with a central MENU/SET button. The four-way buttons are labeled ISO (top), WB (right), Fn (bottom) and Focus Mode (left).
The button at the bottom right of the camera back activates depth of field preview in record mode and controls image deletion in playback.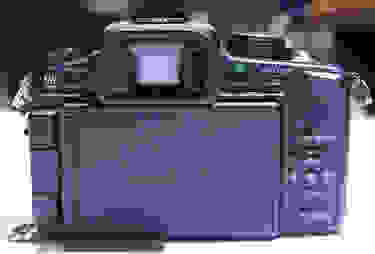 The pivoting LCD can be extended or rotated 180 degrees for shooting,
or placed back-forward for traveling safety..
Sides*

*The left side of the G1 has a swiveling metal dongle for connecting the neck strap along with two covered compartments. The small top door opens to reveal a remote control connector, the larger one below it conceals micro USB and mini HDMI ports.
Behind Door #1? A remote control connector,
and Door #2 hides the IO ports..
****The right side of the camera has the neck strap attachment dongle at the top, a door to the SD card slot compartment below that.
*The SD card door slides back and flips out.

*
****Top

****The top left end of the G1 sports a dial used exclusively for choosing between single-shot auto focus, continuous auto focus and manual focus. Beside this is a switch that can be pushed forward to raise the spring-loaded built-in flash into place. The flash itself is mounted on arms attached on either side of a hot shoe.
The mode dial offers thirteen separate choices. beginning with Panasonic's iA (Intelligent Auto), which lets the camera choose a preset scene mode automatically. Next comes the well-known PASM family (Program, Aperture-Priority, Shutter-Priority and full Manual). CUST offers easy access to a customized set of shooting parameters preset by the user, while the brush-and-palette icon opens up My Color mode, which lets users interactively adjust color, brightness and saturation settings and preview the results live on-screen. SCN brings up the full range of preset custom scene modes, while the next five icons provide direct access to five of the most popular presets: moving clockwise, these are night portrait, macro, sports, landscape and portrait.
Beside the mode dial are two switches. The first selects single-shot, continuous shot, bracketing or self-timer modes. The On/Off switch with a power indicator light is below that.
Further to the right is the silver shutter, which offers nice feedback when pushed to the half-depressed or full shutter depth. The Q MENU button stands for Quick Menu, and opens up a sequence of settings options the user can change without wading through several levels of on-screen menus.
The top of the G1 is home to the mode dial and other controls
Bottom
The tripod socket is made of metal and centered under the lens. It seemed rugged enough for regular use. To the right is the battery compartment door, with a firm sliding latch that's unlikely to be opened accidentally.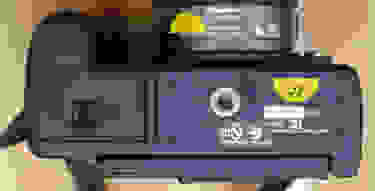 On the bottom of the G1 is the battery cavity cover
and the tripod socket
Viewfinder
The G1 includes an electronic viewfinder with approximately 100% view and 1.4x magnification. Unlike the typical LCD-based viewfinder, this one uses LCOS display technology drawn from Panasonic's professional video division. Colors were well-saturated and the image looked sharp, though not awe-inspiring. We're told that the final version will outperform the pre-production model we experienced, but we're told a lot of things; we'll wait to review the final version before we draw too many conclusions.
Sensors beside the viewfinder turn the LCD off
when you hold the camera to your eye.
LCD Screen

The LCD screen is the primary focus of your photographic efforts when shooting with the G1, and it's a handsome example, measuring 3 inches across with 460,000-dot resolution and user-adjustable brightness settings. Too often on SLR cameras with Live View mode, the image stutters when panning the camera across a scene at even moderate speed. No such problem with the G1, which proved capable of keeping up even when chasing deer racing across a field (by panning the camera, that is, not racing madly after them).
In record mode, the DISPLAY button toggles between three views:
the standard view with minimal overlaid information

a viewfinder-style screen that mimics a traditional SLR display; there's a black bar at the bottom of the screen and shooting information overlaid on top of it

a status panel view featuring a rectangular grid of information boxes showing current settings for white balance, ISO, auto focus mode, metering mode, file size and type, etc. This view is particularly useful if you then press the Quick Menu (Q MENU) button on top of the camera, which lets you adjust any of the settings shown by maneuvering to them with the four-way controller and pressing the MENU/SET button.
In playback mode, DISPLAY toggles between four modes:
clean screen with image only displayed

standard shooting information image overlaid on image

extended information display, with thumbnail photo shown at top left

thumbnail photo mode with four histograms displayed on the right
The G1 LCD can be laid flat against the camera body or extended out,
as shown here. And while this shot was taken at a German trade show,
you won't have to sprechen Deutsch to use the G1.
**Flash

According to Panasonic, the pop-up flash has a guide number of 11 at ISO 100. The flash supports auto shooting, automatic with red-eye reduction, mandatory flash (used to fill in shadows in otherwise bright environments), mandatory flash with red-eye reduction, slow sync, slow sync with red-eye reduction and flash prohibited.

**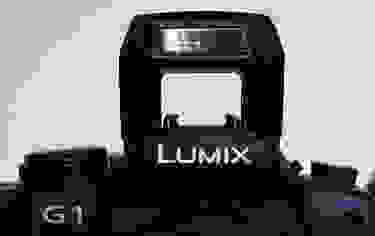 The relatively high flash position helps minimize red-eye.
******Lens Mount**

One feature of Micro Four Thirds cameras that enables their small size is a lens mount diameter that's smaller by 6 centimeters than a traditional SLR. By way of size and weight comparison, Panasonic points to the 14-50mm lens the company'sells for its L10 SLR. That lens weighs 434 grams. The kit 14-45mm lens for the G1, on the other hand, weighs 195 grams.
The Micro Four Thirds lenses and mounts also support two more electrical contact pins than standard Four Thirds lenses, to support promised future enhancements.
Initially Panasonic will ship two lenses for the G1, the kit lens (14-45mm, equivalent to 28mm - 90mm in 35mm photography) and a 45-200mm telephoto (90mm-400mm equivalent). We shot with both, and found them solidly built and comfortable to handle. Swapping between the two, which we did several times moving from cramped indoor spaces to outdoor shooting situations, proved easy to master: the relatively small size actually makes maneuvering lenses a bit easier than usual.
There is some confusion in the claims being made for backward compatibility with existing Four Thirds-standard lenses. Yes, both the older Four Thirds SLR standard and the new Micro Four Thirds format use the same size sensor, and offer the same 2x magnification factor (unlike most digital SLRs, which multiply the physical lens mm measurement by 1.5 to get the effective lens range in relation to 35mm photography). And there will be an adapter that enables mounting all, or nearly all (its unclear until we try it) Four Thirds lenses on a Micro Four Thirds body.  Only a handful of current lenses, though, will support the contrast-detection auto focus used in Micro Four Thirds cameras, and manually focusing a teeny lens is nobody's idea of a good time.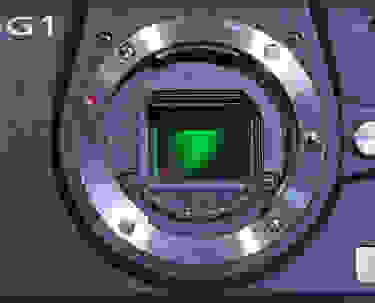 The smaller lens diameter of Micro Four Thirds lenses
contributes to the camera's diminutive design.
Connections
Two doors on the left side of the camera shield connection ports. The smaller, top cover opens to reveal a remote control connector. Below that is a larger door hiding the mini-HDMI connector and a micro USB port.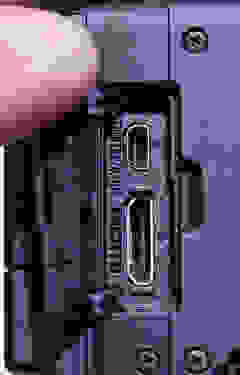 Micro USB and mini HDMI ports are provided --
that's the fact, jack.

Battery

The G1 is powered by a new lithium-ion rechargeable, rated at 7.2V 1250mAh. According to Panasonic, the battery will shoot approximately 330 images in CIPA-standard testing; we'll know more about the real world battery life when we get a production unit in for testing.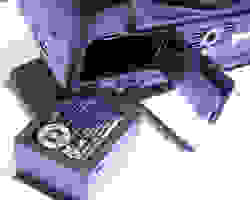 The battery is keyed to fit in properly without looking, a useful feature. Memory

The G1 accepts SD and high-capacity SDHC memory cards..
The position of the memory card slot enables quick changes.
******Other Features**

*Dust removal *– The Lumix G1 incorporates a vibrating filter that shakes off dust that would otherwise accumulate on the image sensor.
*Image stabilization *– Sensor-shift image stabilization is provided in three flavors: continuous (very responsive, but high power consumption), shutter-depressed (i.e., it kicks in when you half-press the shutter to focus) and vertical, which only stabilizes in a single direction to support smooth horizontal panning.
Model Design / Appearance

The G1 is a handsome camera, styled like a miniature SLR with a deflated viewfinder hump, with a pleasing sense of proportion and elegantly curved lines. In addition to basic black, the camera is available in red or blue. Fortunately we're not talking candy-apple red or sky blue. Instead, Panasonic has chosen sophisticated, muted tones that bring a little style to the proceedings without screaming out 'look at me, look at me!' Nicely done.
Size and Handling
This was an area of some concern for your large-handed reviewer, who's perfectly comfortable working with chunky SLR's like Nikon's D700 but often finds grasping little compact cameras like holding a delicate teacup with pinky raised and fingers cramping. Turned out, though, that the G1 grip accommodated a wide variety of shooters very comfortably indeed. We had only one major problem. The control dial mounted on the top front of the grip falls too easily under the index finger. When pressed, it enables exposure compensation by simply turning the dial. That's great if you're trying to use exposure compensation. It was less great when we found ourselves repeatedly shooting with a tweaked composure after accidentally clicking the dial. It would be better if you had to hold the dial down while changing the exposure comp setting.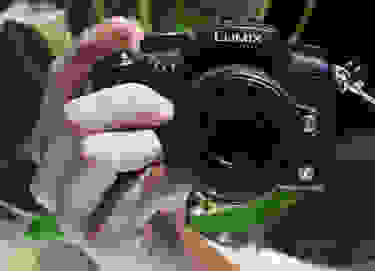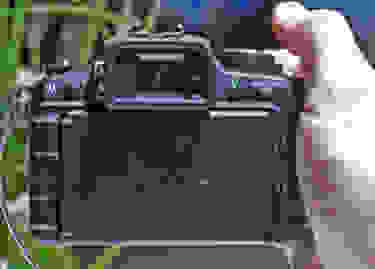 Panasonic managed to create a small body that's still comfortable for
big hands which was, frankly, a pleasant surprise.
Menu

The on-screen menu system is well organized and easy to navigate with the four-way controller. The display text is large enough to read from a distance, with good contrast between the type and the background and full-text menu item descriptions instead of cryptic icons. The Q MENU button brings up a sequence of on-screen control overlays to speed setting changes. Even better is the combination of control panel display and Quick Menu functionality, which shows all your current settings and makes them editable with a click of the MENU/SET button.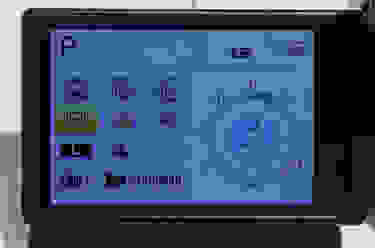 The control panel menu puts all frequently-changed
settings at your fingertips..

Ease of Use
Overall the control scheme and menu structure of the G1 were very easy to grasp, even without a user's manual (which is probably being written as you read this). 
Auto Mode**

The G1 inherits the Intelligent Auto system from its Panasonic point-and-shoot cousins. This is basically a multi-faceted automation suite that incorporates:
Shake Detection: otherwise known as optical image stabilization

Motion Detection: boosts the ISO setting when movement is detected

Scene Detection: automatically chooses a scene mode based on an analysis of composition and movement in the frame

Face Detection: sets focus and exposure to favor faces identified in the frame

Subject Detection: identifies moving subjects in the frame and focus follows them

Light Detection: what any other company would call dynamic range optimization to maintain detail in shadows and highlight areas

**

****Movie Mode**
The G1 doesn't offer a movie mode, something of a surprise considering Panasonic's stated goal of luring point-and-shoot owners into the interchangeable-lens-camera fold. And while it's tricky to incorporate movie mode into an SLR, with its mirrors and aperture mechanism ill equipped to the task, designing a movie mode for a Micro Four Thirds camera is no more difficult than it would be for a standard point-and-shoot compact. Panasonic promises a new model next year which will incorporate the movie feature: if that's important to you, the waiting game is the best approach for now.
Drive / Burst Mode**
The burst mode recording spec tops out at three frames per second and, while we were unable to time the actual performance of our pre-production sample, it felt satisfyingly fast and responsive. Exposure bracketing is supported, from 3 to 7 frames, in 1/3EV increments, and so is white balance bracketing.
Playback Mode

As explained above, images can be displayed in four different displays in playback mode. Magnification up to 16x during playback, via the front control wheel, not only allows for critical viewing of focus performance, but makes zooming in and out much faster than the repeated button-presses of the typical point-and-shoot camera. A thumbnail index view and calendar view sorting images by the date they were taken are also available.
Custom Image Presets**

So-called Advanced Scene Modes are organized in related groups, which is both logical and convenient, since it keeps the mode dial uncluttered while still providing ready access to a broad range of presets. These are:
**- Portrait: **Normal, Soft Skin, Outdoor, Indoor, Creative
**- Scenery: **Normal, Nature, Architecture, Creative
**Sports: **Normal, Outdoor, Indoor, Creative

**Close-up: **Flower, Food, Objects, Creative
**- Night Portrait: **Night Portrait, Night Scenery, Illuminations, Creative
In each case, Creative allows further manual settings adjustments in a convenient one-screen interface.
The G1 also offers separate scene modes for Sunset, Party, Baby and Pet photography.
Manual Control Options

Manual focus is available, using the elecronic viewfinder of the full-screen Live View display, and manual exposure options include full manual, shutter-priority and aperture-priority shooting.
Focus

Auto Focus
After working with various SLR Live View modes which stammer and stutter when asked to auto focus quickly and accurately, we anticipated problems with auto focus on the G1, which is basically attempting the same technically difficult feat. In the most impressive aspect of our pre-production camera shooting, we found auto focus blazing fast and rock-steady, equalling anything we've experienced with a standard SLR.
Auto focus uses 23 focal areas, either all together or via single-point selection. It can be triggered when the user half-presses the shutter button or set to continuous auto focus, sacrificing battery life for extra-fast response times.
ISO

ISO settings range from 100 to 3200.
White Balance

**In addition to automatic white balance, there are five white balance presets: daylight, cloudy, shade, halogen and flash. It is also possible to take a manual white balance setting by shooting a white or grey card, and store two settings if you plan to return to a particular shooting situation. Direct color temperature setting of white balance is also supported, along with the option to tweak any of the presets along the blue/amber and magenta/green axes.

**
Metering

The G1 uses a 144-zone multi-pattern metering system. Multiple-zone, center-weighted and spot metering are supported.
Shutter Speed

Shutter speeds range from a fast 1/4000 second to 60 seconds (most systems cut off at 30 seconds or less), plus a Bulb setting that maxes out at about four minutes..
Aperture

Available aperture will, of course, depend on the lens used. The kit 14-45mm lens offers an aperture range of f/3.5 at its widest setting to f/5.6 at full telephoto.
**Image Stabilization

**The G1 relies on optical image stabilization in the individual lens.
**Picture Quality / Size Options

**Three aspect ratios are supported: 4:3, 3:2 and widescreen 16:9. Maximum image size, in the native 4:3 format, is 4000 x 3000 pixels.There are no really small size options suitable for emailing, but it is possible to resize an image in playback mode.
The camera supports JPEG, RAW and RAW+JPEG shooting, with JPEGs stored at standard or fine quality settings.
Picture Effects Mode
Panasonic couches its image effects as different 'film modes.' These include Standard, Dynamic, Mature, Smooth, Nostalgic and Vibrant in color and Standard, Dynamic and Smooth in black and white. There are also two user-selectable film type options which instantly bring up a full set of hue, saturation and brightness parameters while shooting.
**
Conclusion**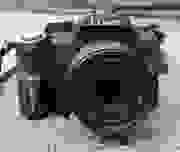 In most ways, our shooting experience with a pre-production sample of the Panasonic Lumix G1 was first-rate and often surprising. We anticipated laggy auto focus performance, based on the need to use contrast-detection auto focus instead of the well-established phase detection focus technology used in SLRs. In fact, the G1 consistently focused quickly and accurately, both indoors and out.
We expected the smaller camera body to be tough to handle, especially for a reviewer with big hands. Instead, the G1 proved perfectly comfortable and, with its light weight and well-balanced body, actually a pleasure to shoot with.
We haven't done lab tests for image quality, but we were allowed to keep the photos we shot and, while we can only reproduce them at a maximum 640 x 480 (see the image gallery here), we're impressed with the color, saturation and apparent noise performance of this pre-production model, and look forward to getting the final unit for a true performance evaluation.
And yet... we can't help but wonder who is going to buy this camera, especially if the estimated $800 price (with lens) holds up. We can't see an existing SLR customer moving in this direction -- too few available lenses, and while the camera is smaller than many traditional SLRs, a high-end compact camera makes a better addition to your shooting arsenal if the point is pocketable convenience when you don't want to lug your full-size SLR.
As for point-and-shooters thinking of moving on up, the system's stated target audience, size and cost are again factors to consider. 'Smaller than an SLR' still doesn't provide the traveling convenience these users are used to, and the size difference just isn't that radical when compared to petite SLR rigs like the Olympus E-420. Once you need to wear a neck strap or carry a camera bag, a few ounces and inches here and there won't make that much of a difference. In fact, the Micro Four Thirds concept camera Olympus displayed at Photokina (see story here) uses a shape much closer to traditional point-and-shoot (albeit in a larger size) than the G1's mini-SLR approach.
And if that $800 pricing neighborhood does prove to be accurate, there are a host of name-brand SLRs with huge selections of lenses and accessories on the market in this bracket already.
Based on the pre-production model we took for a test drive, we applaud Panasonic for trying something different in a me-too marketplace and producing a stylish camera which, at first blush, performs very well. We're just not sure that leading the parade in a bold new direction will necessarily guarantee a lot of buyers marching their way.
**Specs Table

**
Meet the tester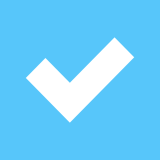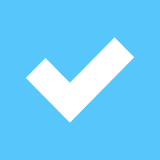 Steve Morgenstern
Editor
Checking our work.
We use standardized and scientific testing methods to scrutinize every product and provide you with objectively accurate results. If you've found different results in your own research, email us and we'll compare notes. If it looks substantial, we'll gladly re-test a product to try and reproduce these results. After all, peer reviews are a critical part of any scientific process.
Shoot us an email