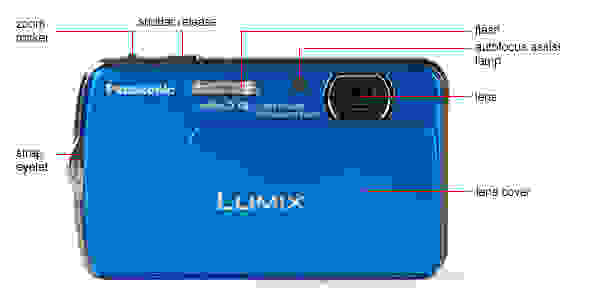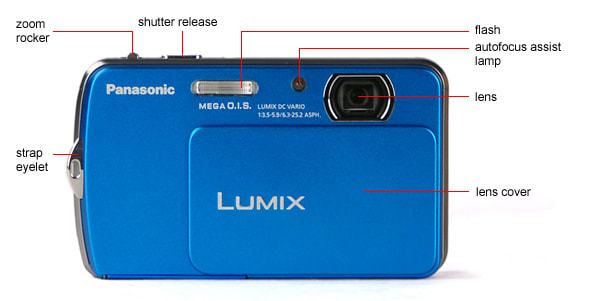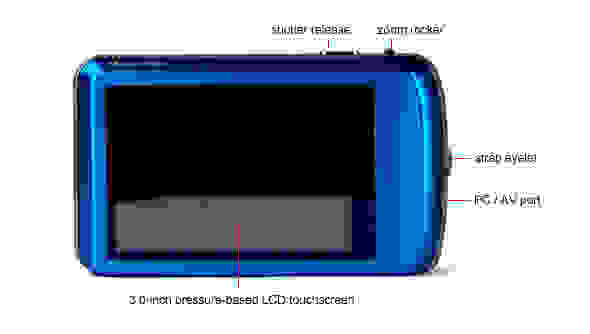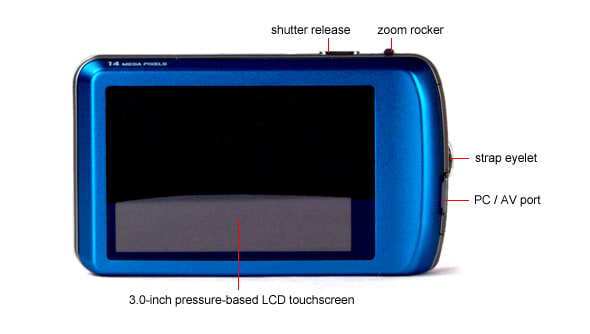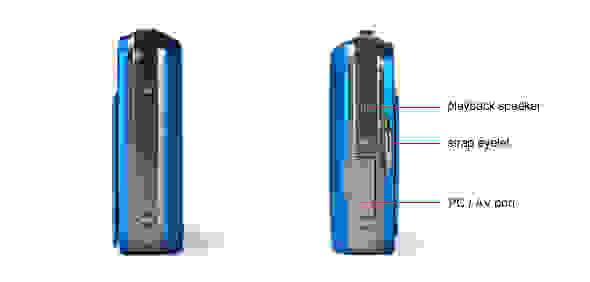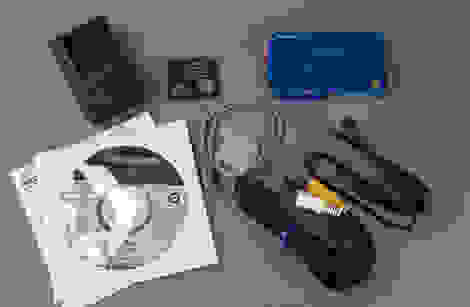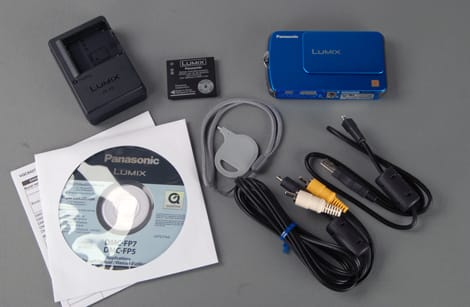 • Panasonic Lumix DMC-FP5 Digital Camera

• DE-A91 Battery Charger

• NCA-YN101G Lithium Ion Battery

• Micro-USB Cable

• A/V Cable

• PHOTOfunSTUDIO 6.0 (Windows), Super LoiLoScope (Windows), and Owner's Manual CD-ROM

• Wrist Strap

• Touchscreen Stylus
Ever get an "A" on a test you were expecting to fail? Me neither. But that's pretty much what the Lumix FP5 accomplished in our color accuracy test. With a color error value of only 2.6, the FP5's accuracy is on par with some DSLRs, believe it or not. Specifically, dark skin tones, greens, and magentas were the most accurate, while lighter skin tones lagged behind a bit. More on how we test color.
These results exceed the rest of our comparison group by a mile. This will be the most clear when taking shots of human subjects, as faces should appear much more flattering than with either the Pentax Optio RS1500, Nikon's Coolpix S4000, or the Canon PowerShot ELPH 500 HS.
Natural was the most accurate color mode, followed closely by Standard, which scored a 2.7 on average (remember, lower numbers are better in this test). Vivid, typically an inaccurate setting on many cameras, held its own with a score close to 4.0.
Natural color mode artificially softens images, while Vivid sharpens them. It is our policy to perform tests on the most accurate color setting that does not affect resolution, so the remainder of our tests were performed in the Standard mode.
The FP5's noise results were also excellent. The camera produced only 0.84% noise at ISO 100 under normal lighting conditions, and didn't cross 1.00% until ISO 400. Noise maxed out at ISO 1600, with a value of 1.46%. Very strong results for this class. More on how we test noise.
In low light, the camera's noise scores actually improved. This is theoretically impossible, so we have to assume some sort of software noise reduction algorithm is doing some work in the background. There's no setting to adjust this, however most users will be pleased with their results anyway.
All three cameras in our comparison group are strong noise performers, but again the FP5 takes first place, albeit by a closer margin. We should note this isn't a true "apples to apples" comparison, since we cannot account for varying degrees of software noise reduction. Still, we can be certain that the vast majority of customers will be happy with the FP5's lack of visual noise.
Only five manual ISO levels are available: 100, 200, 400, 800, and 1600. These days, 3200 would've been nice as well, but we can't complain given the price tag. The FP5's "Intelligent ISO" setting also seemed fairly capable of determining the proper ISO in all shooting conditions.
NOTE: The images above are not used in our testing or scoring, but are included here to show real-world examples of the differences between cameras at the various ISO settings.
Back to reality. After great noise scores and stunning color results, the FP5 finally took its first misstep: resolution. Our Lumix scored significantly lower than other comparable point-and-shoots in our resolution test. We have to guess this is mainly due to the camera's teeny-tiny lens, which just isn't capable of resolving the same definition as the competition. More on how we test resolution.
Distortion ()
Distortion, at least, was not a problem for the FP5. In such a small lens, visible distortion is a given. So we're assuming the FP5's software is correcting for this effect on the fly. We detected the least distortion at the lens' extreme. We recorded 1.27% distortion at the widest focal length, and 0.54% at 15.6mm. Yet at 25.6mm, distortion dropped to 0.11%.
Sharpness ()
The FP5 managed only one-third of the sharpness scores achieved by others in the comparison group. This will matter the most for landscape shooters, who will notice a loss of detail in far off or small objects.
Chromatic Aberration ()
The Pentax, Nikon, and Canon all do a decent job avoiding visible chromatic aberration, and the FP5 is the worst performer of the group. Green, blue, and purple color bleed seemed to be the most common symptoms during our time with the camera. Unfortunately, the problems were not limited to either the extremes of the frame or areas of high contrast, as is often the case. This small Lumix lens simply doesn't have quite the same quality as the rest.
Available shooting resolutions come in a wide variety of 4:3, 3:2, 16:9, and even 1:1 aspect ratios. Unfortunately there is no option to adjust JPEG compression quality, nor the ability to shoot in RAW instead.
The FP5's sensor-shift stabilizer has been one of the model's most heavily advertised features, and it actually performs fairly well. Our test showed a 67% jump in sharpness after activating the stabilizer. In fact, unless you're trying to save battery life or shooting from a tripod, we don't ever recommend shutting it off. More on how we test image stabilization.
The FP5 returns the best stabilization scores by a mile, but also reveals a flaw in our scoring procedure. The Canon 500 HS, for example, produced only a 10% jump in sharpness. However, despite the lower score, the resulting shot itself was of much better overall quality.
Still, a simple visual survey shows the stabilizer is doing its job. Just realize that the FP5 shake reduction equals the competition, rather than surpassing it.
Video gets its own mode in the recording menu, but the feature set is fairly limited. Adjustment of focus and zoom is not supported while a video is recording. The camera will react to exposure changes fairly quickly, but again, no manual options are available during shooting. For what it's worth, these limitations are consistent with other models in this class.
Color reproduction during video capture is just as poor as the competition, with the exception of Canon's 500HS. The FP5 produced an error value of approximately 7.4 (remember, it returned an amazing 2.6 during still shooting). Compare this to the 500HS, which produced only a 3.6 error rating during video. More on how we test video color.
Sharpness is very much the same story. The FP5 scored as poorly as the competition, registering approximately 400 lw/ph, both horizontally and vertically, in our sharpness test. All three comparison models stumbled in this test. The Nikon and Canon models were slightly better, though not enough to make a real difference. More on how we test video sharpness.
Playback mode is reminiscent of just about every point-and-shoot. Fullscreen with zoom, grid mode, and calendar view are all available. This is also one of the only areas that the touchscreen is actually useful. Images may be navigated with a simple finger swipe, and grid mode allows the user to simply touch the picture they want to see fullscreen, saving some time.
In-camera editing is limited. Copying and cropping function basically as expected, however the resize option only allows reduction from full resolution down to 3 or 0.3 megapixels, no custom sizes allowed. Batch processing is supported however.
Shots may be marked for single or multiple copies, either individually or in batches, for use by pharmacies and one-hour developers. PictBridge, a home printing interface with near-universal adoption, is fully supported.
Since the FP5 does not feature an electronic viewfinder, nor a shoe to attach an optional one, the rear LCD is your only means of framing shots. At only 230,000 dots this is not a high resolution monitor, however the color accuracy was decent and we found it to be fine for reviewing images.
Panasonic has also included a few helpful options to make better use of the LCD. High Angle mode brightens the screen and reduces contrast drastically, which is best when holding the camera above your head. Power LCD increases the luminance of the screen (at the cost of battery life) for shooting outdoors. Finally, Auto Power LCD adjusts the screen's brightness automatically, based on current lighting conditions.
Except for the power button, shutter release, and zoom rocker, this camera's interface is entirely touchscreen. While the pressure-sensitive screen is responsive enough, the plastic coating is prone to smudging.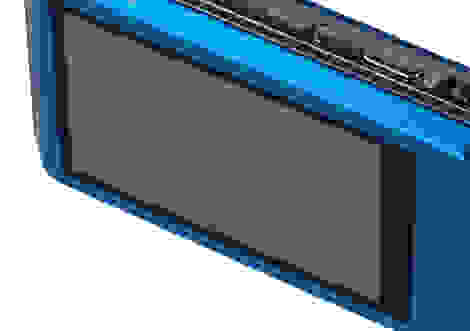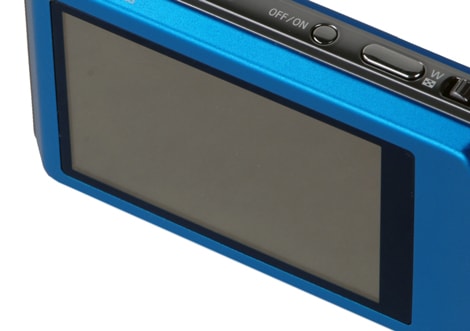 The FP5's built-in flash is located in a decent spot, mostly out of the way of the right hand. Panasonic rates this flash's effective range at 4.9 meters (about 16 feet) and we see no reason to disagree. In practice, shots with flash are too harsh for our liking. In fact we've yet to take a flash shot that didn't result in ugly, unflattering portrayals.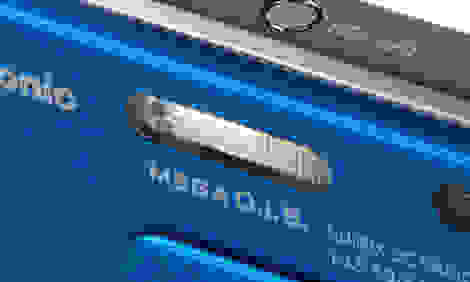 This camera's tiny lens is situated in the upper-right corner of the front panel and, despite the oversized lens cover, we still found it was in a dangerous position for errant fingerprints. Optical zoom response is pretty quick however, enabling spur-of-the-moment long distance action shots without issue.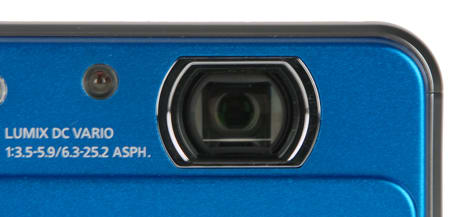 Zoom may be adjusted with either the hardware zoom rocker, or a virtual zoom dial on the touchscreen. The hardware dial is far superior, but the awkward placement can necessitate a bit of a "claw" grip if your hands aren't expecting it. The rocker has minimal travel but a nice tactile click.
The lens is capable of 4x optical zoom, though "extended" zoom allows approximately 8.4x total magnification with—according to Panasonic—no image quality deterioration. So-called "Intelligent" zoom allows 1.3x magnification over standard optical or "extended" zoom, with minimal deterioration, and digital zoom allows 4x magnification beyond that, at the cost of image quality.
The camera's battery is inserting via a locking door on the bottom of the chassis and may only be fully inserted in the correct position. Construction of this area isn't as shoddy—thankfully—as we've seen on competing models. Performance is rated at 260 shots according to CIPA standards, however we found ourselves recharging the thing pretty often.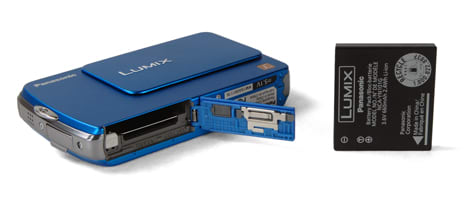 Adjacent to the battery is the memory slot. SD, SDHC, and even SDXC cards are supported and we could find no maximum size listed. The slot itself is a bit frustrating to use, poor tactility means trial and error when inserting SD cards. The compartment is a bit too shallow to insert the card without effort, and we were pretty sick of this by the time testing was finished.
70 MB of built-in memory is available for emergencies, which is enough for about 13 shots without an SD card.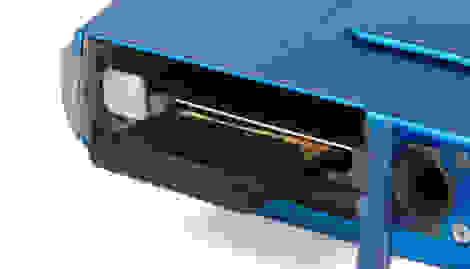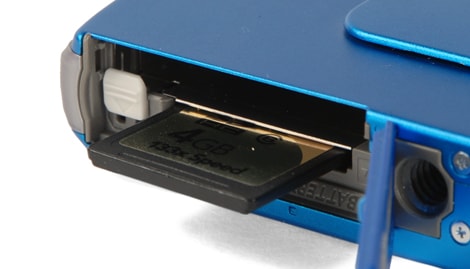 A single micro-USB port is your only connectivity option, and functions both as a PC and television output. The FP5 only ships with necessary cables for composite video output, so HD videos will need to be transferred to a computer for full resolution playback. The port is concealed behind a cover below the strap lug on the right hand side of the body, this cover held in place only by thin plastic and we think it may accidentally snap off during use.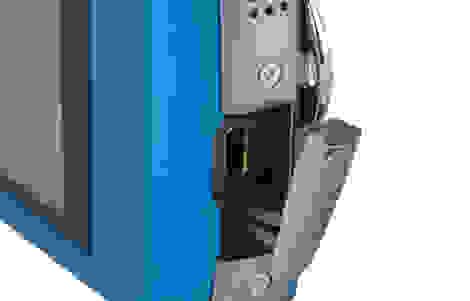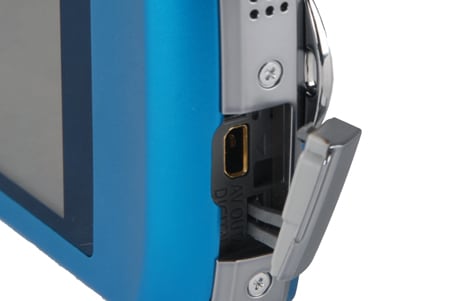 Six shooting modes may be accessed via a large red button on the right side of the touchscreen. Normal Picture will be the most commonly used for the average person. In this mode, the camera behaves according to settings adjusted in the menu. On the other hand, Intelligent Auto mode automates almost all functions and is useful for beginners. This mode automatically activates scene detection, stabilization, Intelligent ISO, face detection, Intelligent Exposure, digital red-eye correction, backlight compensation, Intelligent Resolution, and Intelligent Zoom.
Other useful modes include Cosmetic, which allows manual adjustment of skin tones, Scene Mode, which selects from the camera's 27 scene presets, and My Scene Mode, which allows the user to assign this key to their favorite. Video shooting also gets its own mode, located in this menu.
Scene Modes
A very wide variety of scene modes are programmed into the FP5, many of which are somewhat useful. Mainstays like Portrait and Scenery enhance flesh tones and earth tones respectively, Sports prioritizes a quick shutter speed, Sunset adds a strong reddish glow, and Fireworks mode would've been helpful on this upcoming Independence Day weekend. We also like the Food mode, which adds a bit of yellow and orange, making dishes seem richer.
The FP5 is not equipped with picture effects like fish-eye or color extraction. In their place, the monochrome and sepia color modes stand in. Giving the apparent target audience of this camera, it's surprising not to see some silly post-processing options available.
A manual on/off button, shutter release, and zoom rocker are the only hardware controls on the FP5. Frankly, we wish there were a lot more. For what it's worth, each of these perform their function well (better than touchscreen variants at least), save for the on/off switch, which is redundant to the lens cover.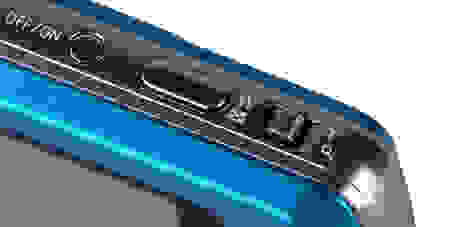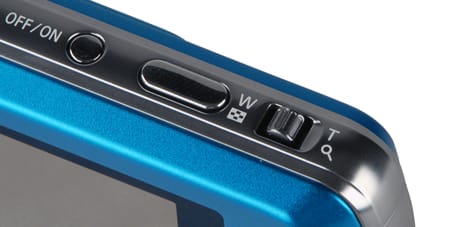 Self-timer options are limited to 10 seconds, 2 seconds, or off. No custom settings are available, and the timer will also deactivate itself automatically after every shot, every scene mode alteration, entering playback mode, or shutting off the camera. For most people this will be a welcome convenience, but it can become very annoying if you are, say, a camera critic that needs to take hundreds of shots under controlled conditions.
High speed burst is available as a scene mode. It turns over pretty quick, but all shots are limited to three megapixels or less.
Shot to Shot ()
As for full resolution continuous shooting, we found the FP5 to be capable of approximately 1.06 shots per second. This is significantly lower than Panasonic's claim of 1.7 frames per second, and we were unable to find a reason for the discrepancy.
The FP5's general handling isn't great. We noticed the first problem instantly: the oversized, powder-coated lens cover has zero grip. This is the only way to turn the camera on, and first-timers will have difficulty doing so. We found it necessary to grip the Lumix logo for some traction, and even then the process is awkward. The space between the cover and the main body is also just large enough for sand to become lodged inside. Once there, the constant manual shifting of the cover scratches the front of the body little by little, causing white vertical marks to appear above or below. If you're thinking of bringing this camera to the beach, don't.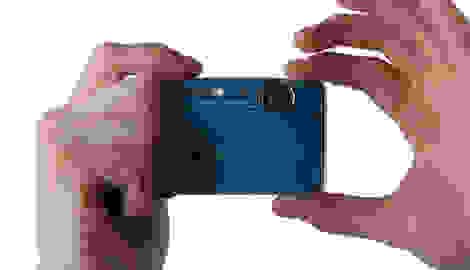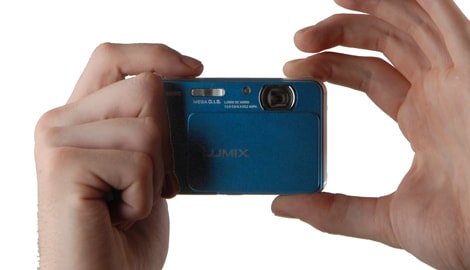 Once the unit is actually powered up, you'll realize the all-touch interface has some serious drawbacks. The interface is best with both thumbs, but holding up the unit requires at least one of them, so you'll need to keep swapping back and forth while navigating the menus. During this process, fingers will often get placed in front of the lens, directly on top of the lens, or in front of the flash. Utilizing the included stylus only exacerbates this problem. All this, plus the inherently cramped nature of ultracompact cameras, makes for an unpleasant shooting experience.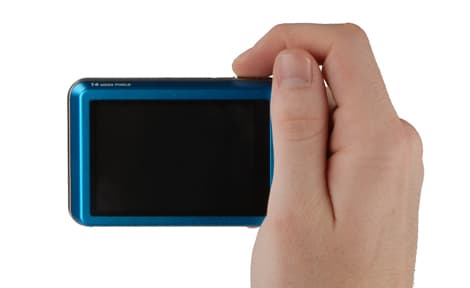 Only three tactile buttons exist on the FP5 and all three of them are redundant. The on/off button simply activates a screen that reads "please open the lens cover," so we have no idea why anyone would use this. The zoom rocker however, is much better than the touchscreen faux zoom dial, and most users will prefer it exclusively. Finally, the shutter release is shallow and imprecise. We found it difficult to take a shot while keeping the camera still. Alternatively, a Touch Shutter setting is available, allowing the camera to lock focus and shoot by touching any area in the frame.
The Lumix FP5's menu system is an ill-conceived mess. The all-touchscreen interface is designed around symbols, rather than words, so first-time users must make educated guesses as to where their desired option is located. Failing that, a user may hold down a setting, with either their finger or the stylus, to make a short description appear. The problem is, that finger now partially obstructs the screen, making further navigation, say to the left or right, blind and imprecise.
It gets worse. The UI's design is often inconsistent with itself. For example, sometimes just pressing a selection once is enough to set it. At other, randomly designated times, an additional OK button press is necessary. Which eventually means that if you were expecting that OK button, but the camera instead confirms a choice and sends you back to home screen, that's one more round trip back through the clumsy menus to fix it.
Finally, touch controls just aren't as fast as buttons, and when you compound that problem by making everything touch, well it just slows down the entire experience of using the camera. Some light customization is supported, and works fairly well, but that can't make up for an interface that is flawed from the ground up.
As mentioned above, in-camera descriptions are there, but frustrating to read and use. We would have preferred a decent printed manual, or at least a quick start guide. An electronic version of the operating manual is provided on CD-ROM, however we found important information was often omitted. The lack of a specifications section and index were missed.
Do you want to shoot people or do you want to shoot landscapes? That is the key question of this comparison and really all the others too. As far as performance is concerned, the Panasonic FP5 is defined by two things: remarkably high color accuracy, and remarkably low resolution. Color accuracy makes people look their best, resolution makes landscapes look realistic. So which is it?
If the answer is "landscapes," then you should know that the Pentax Optio RS1500 is the best resolution and sharpness performer of our entire comparison group by a wide margin, far better than we expected for a camera of its class. The Pentax is also the only model in this group with the advantage—yes, advantage—of no touchscreen. Meaning that actually shooting with the RS1500 will be far more fun than the clumsy, awful FP5 interface.
If however, you plan on shooting mostly people, and doing so without a tripod, the FP5's excellent color accuracy and image stabilizer may be the better choice.
Again, people or landscapes, which is it? Like the Pentax Optio, this Nikon's performance is opposite the FP5: good resolution, bad color accuracy. Except in this case, almost every score is worse than the Optio's. The same touchscreen annoyances are back too. Given that, we see no real reason to recommend the S4000 over the RS1500, rendering this comparison a moot point.
The only real improvement here is a slight increase in handling over the FP5, thanks to the Nikon's shaped body and smarter menu.
The ELPH 500 HS is a more expensive camera than the rest of our group, although performance is pretty similar. Again we see the same color versus resolution split, and more touchscreen functionality... for better or worse.
With such similar performance, the larger pricetag therefore results in superior features. A brighter, f/2.0 lens is chief among them. We also get more ports (including HDMI output), a hardware mode dial, and a better LCD. Best of all, the shaped, solid body allows far better handling than the awkward FP5. If these aspects are important to you, and they're certainly important to us, the ELPH 500 HS is most certainly worth some consideration.
Color accuracy that rivals some DSLRs, a highly capable image stabilizer, low noise, and no less than 27 scene modes; these are the selling points of the Panasonic Lumix DMC-FP5. Although resolution was disappointing, the rest of this camera's numbers equal performance that is hard to believe at less than $200. Enclose all this in an attractive chassis, throw on a touchscreen, and you've got what seems like an incredible bargain.
And while this is mostly true, the camera's "fun factor"—or lack thereof—holds it back. Photography is about more than capturing light beams on a tiny electronic grid. It's supposed to be a fun pastime. Using the FP5 is no fun. Clumsy physical handling, an even worse user interface, and sloppy buttons rob the experience of most of its pleasure.
If, on the other hand, you can get past all this, the FP5 offers impressive performance at a bargain price, especially the shockingly accurate colors. Our advice: don't buy this one online. Go to a brick and mortar store, hold it in your hands, see if you can deal with the UI, and then make the call.
Meet the tester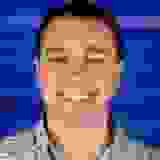 Christopher Snow
Managing Editor
@BlameSnow
Chris was born and raised less than ten miles from our editorial office, and even graduated from nearby Merrimack College. He came to Reviewed after covering the telecom industry, and has been moonlighting as a Boston area dining critic since 2008.
Checking our work.
We use standardized and scientific testing methods to scrutinize every product and provide you with objectively accurate results. If you've found different results in your own research, email us and we'll compare notes. If it looks substantial, we'll gladly re-test a product to try and reproduce these results. After all, peer reviews are a critical part of any scientific process.
Shoot us an email