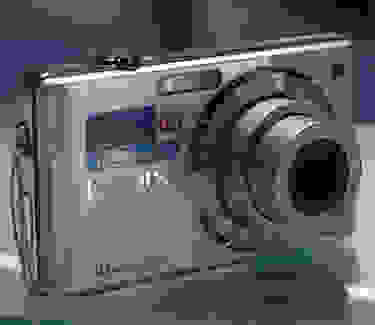 Sleek and subdued in silver
Front
Relative to the lens, the FS7's flash is at the 11 o'clock position and the auto focus assist light is at the 1 o'clock position.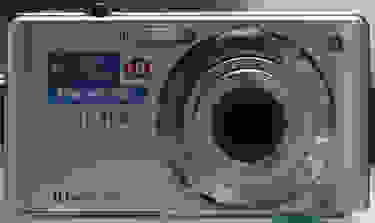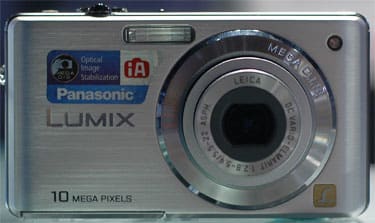 A functional and not-too-busy face
Back
The 2.7-inch display takes up most of the back of the FS7. To its right are a sliding toggle switch to change between the still image capture, video capture, and playback modes, the Mode button, 4 buttons arranged in a circular shape around a center Menu/Set button, and the display and quick menu buttons.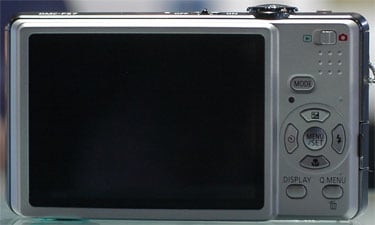 The large LCD is your viewfinder
Sides
The FS7's only port, a combined USB/AV out port, is on the left side. There is nothing on the camera's right side.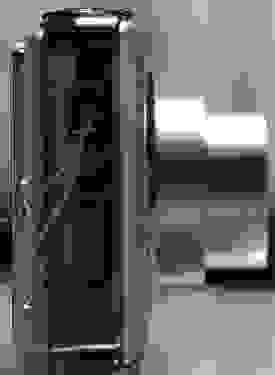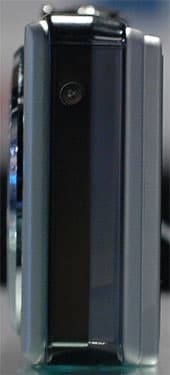 A little something on the left, nothing on the right
Top
On the top of the FS7 are the shutter button, surrounded by the rotating zoom control, the on/off switch, and a shortcut iA button to quickly access this fully-automatic mode.


The top of the FS7
Bottom
The battery and expansion card slot share a compartment on the bottom of the FS7. The tripod mount is offset to the left side.
The bottom of the FS7
Viewfinder
---
Alas, the FS7 has no optical viewfinder. Read on to find out more about the LCD that will function as your sole photo composition tool.
 **LCD**
---
The FS7 has a good-sized LCD, measuring 2.7 inches diagonally, with 230,000-dot resolution. It does have a neat feature that we haven't seen very often - a high-angle setting. Putting the display in this setting makes it almost unusable for normal use where you're holding the camera at about eye level, but if you're in a situation where you need to hold the camera over your head, the display becomes completely legible in this mode. Vertically-challenged people, rejoice!
Flash
---
The FS7 has a built-in flash that's a little too close to the lens for our comfort, since this arrangement often causes red-eye problems. The flash has 4 modes - Auto, Auto/Red-eye Reduction, Forced On, and Forced Off. According to Panasonic, it's effective out to over 20 feet with the lens at its widest angle and to just under 10 feet at full zoom.
 **Lens**
---
The 4x zoom lens has a focal length of 5.5-22.0mm, which is equivalent to 33-132mm in 35mm photography.
Jacks, Ports & Plugs
---
The FS7 has a single proprietary port that doubles as a USB connector to hook it up to your computer, as well as acting as the AV-out port. Both cable types will be included in the box.
Battery
---
The FS7 comes with a lithium-ion battery and charger. According to Panasonic, the battery is good for up to 360 pictures.
Memory
---
Thankfully, the FS7 comes with at least a little bit of internal memory so you can capture a few shots even if you don't have an expansion card handy. Approximately 50MB is on board, and the camera has a slot that will accommodate SD/SDHC and MMC cards, though MMC cards cannot save video, only still images.
**

**
Design & Appearance
---
The FS7 is an attractive camera that, despite its relatively small size, doesn't seem cramped or seem too busy. The brushed silver version we handled made for a subdued look that doesn't scream anything in particular, and though we can't judge well enough from the pictures of the other colors that will be available, it looks like the more brightly-colored versions still won't stand out too much to be annoying.
Size & Handling
---
The FS7 is 3.82 inches wide, 2.14 inches tall, and 0.85 inch thick and weighs all of 4.13 ounces. It feels solid in the hand and the controls don't feel cramped at all.
Menu
---
We found the menus on the pre-production unit we tinkered with fairly easy to navigate. Our single gripe is that backing out of sub-menus is not always clear - sometimes a cue at the bottom indicated that the Delete button would allow you to exit the menu, and other times it wasn't. However, we expect that users will quickly get used to this after owning the FS7 for a short time.
Pleasantly enough, the full-auto setting, Intelligent Auto mode, has a shortcut button on the top of the camera to the right of the shutter button to get you there quickly without needing to navigate through the menu system to find it.
Ease of Use
---
Other than the inconsistency in exiting sub-menus previously mentioned, we found the FS7 to be easy to use. All buttons are labeled with common icons and they do exactly what you expect. We didn't have any particular need to find a manual to get more information about any of the settings or features.
Auto Mode
---
The Intelligent Auto mode locks out all user control of settings except for image size and quality. This automated system lets the camera figure out appropriate settings based on recognizing the scene at hand, as opposed to the basic Full Auto setting found on less sophisticated cameras, which simply take a light reading and sets the exposure accordingly.
Movie Mode
---
The FS7 is capable of capturing videos, recording them in QuickTime format at the following resolutions and frame rates: 640 x 480 pixels at 30 fps, 320 x 240 pixels at 30 fps, and 848 x 480 pixels, at 30 fps.
Drive/Burst Mode
---
The FS7 does have a Highspeed Burst mode that will capture up to 6 frames per second at resolutions below 3 megapixels. In Standard shooting mode, it will capture up to 2.5 frames per second, with a maximum of 5 images.
Playback Mode
---
There are 3 playback modes on the FS7 that allow you to review all captured images one-by-one or as part of a slideshow, or by category. Categories are by date, scene mode, or even favorite pictures - you can tag pictures as favorites so that they subsequently appear in this category.
Custom Image Presets
---
The FS7 is loaded with custom image presets - there are 26, to be exact. Are you ready? They are: Portrait, Soft Skin, Transform, Self Portrait, Scenery, Sports, Night Portrait, Night Scenery, Food, Party, Candle, Light, Baby 1, Baby 2, Snow, Aerial photo, Film Grain, and Photo Frame.
There's even a scene mode help screen to describe each of them, making the user's guide even less essential in day-to-day use.
Manual Controls
---
Most point-and-shoots don't offer a lot of manual controls, leaving focus, aperture, and other settings to the camera to do as it sees fit. The FS7 sits firmly in this category, though there are some interesting automatic features in metering and ISO selection to make up for that a little bit.
Focus
---
The FS7's lens cannot be manually focused. In low-light conditions, there is an auto-focus assist light that will help without needing to fire the flash.
ISO
---
The FS7 will automatically apply an ISO level when in the Intelligent Auto or a scene mode between 80 and 1600. In the High-Sensitivity scene mode, it will go as high as 6400. You can choose from among the available ISO levels up to 1600 in Normal Picture mode.
White Balance
---
The FS7 has an auto white balance mode, plus presets for daylight, cloudy, shaded, and halogen lighting conditions. We're a little surprised to see that there's no fluorescent preset, though there is a White Set option available in certain scene modes where you can point the camera at a white background and it will automatically adjust the white balance accordingly.
Metering
---
The FS7 offers Intelligent Multiple exposure, measuring light across the image to produce a balanced setting. Auto Bracketing sets the camera to capture three images at different exposure levels - selected by you by choosing a 'bracket' of exposure levels from the +/- 2 levels available. You can then pick the best image out of the 3 captured. Exposure compensation is also available, with a range of ±2 EV 1/3 EV increments.
Shutter Speed
---
The FS7's shutter speed is as fast as 1/2000 of a second and as slow as 8 seconds in Intelligent Auto or a scene mode. Shutter speed can be manually selected only in the Starry Sky scene mode, with 15, 30, or 60 seconds settings available.
Aperture
---
The maximum aperture is f/2.8 at the widest lens setting and f/5.9 at maximum zoom. The aperture cannot be set manually.
Image Stabilization
---
The FS7 offers optical image stabilization to compensate for shaky hands.**

**
Picture Quality & Size Options
---
The FS7 offers a variety of picture quality and size options in various aspect ratios. At the high end, you can choose from the full 3648 x 2736 resolution at 10.1 megapixels in 4:3 aspect ratio or 3648 x 2056 at 7.5 megapixels. On the low end, you can choose 640 x 480 resolution at 4:3 or 2048 x 1360 at 3:2.
Picture Effects
---
When capturing images, you can choose from the Standard, Natural, Vivid, Black & White, Sepia, Cool, or Warm color modes to change the look of your photos as they're taken. In Playback mode, you can correct red-eye and resize or trim captured images.
Meet the tester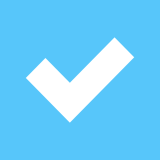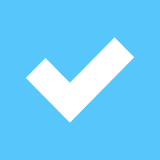 Marianne Schultz
Editor
Marianne Schultz is a valued contributor to the Reviewed.com family of sites.
Checking our work.
We use standardized and scientific testing methods to scrutinize every product and provide you with objectively accurate results. If you've found different results in your own research, email us and we'll compare notes. If it looks substantial, we'll gladly re-test a product to try and reproduce these results. After all, peer reviews are a critical part of any scientific process.
Shoot us an email