But it would appear that not everyone is a fan of the extreme downsizing. According to Panasonic executives, some users just want a bit more camera to hang onto, and it's those customers that the company hopes to serve with the new Panasonic Lumix DMC-GF7 (MSRP $599.99 w/ 12–32mm kit lens). A little bigger in every dimension than the Lumix GM5, it also adds a few unique features that help set it apart.
Most notably, it features a 180-degree flip-up touchscreen that kicks the camera into "selfie mode" when fully extended. If that sounds exciting to you, congrats! You're the target market. But even if you're a selfie-hater, you shouldn't dismiss the GF7 out of hand. After all, it includes much of the same hardware as Panasonic's high-end Lumix GX7—a camera that originally cost almost twice as much.
We took the GF7 for a spin at CP+ 2015 in Yokohama, Japan, and found a lot to like.
In pursuit of the perfect size
It may be bigger than a GM5, but the first thing you'll notice about the GF7 is that it's still a very small, very light camera. We're talking 4.2 x 2.5 x 1.3 inches and just 9.4 ounces without a lens. Pair it with Panasonic's 20mm f/1.7 or 14mm f/2.5 primes—or even the included 12–32mm collapsible zoom—and you've got a very pocketable camera that can outmuscle any traditional compact.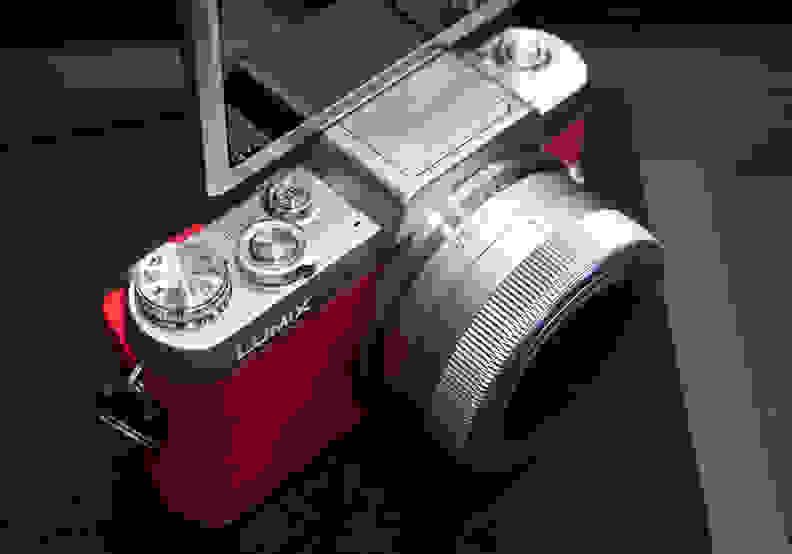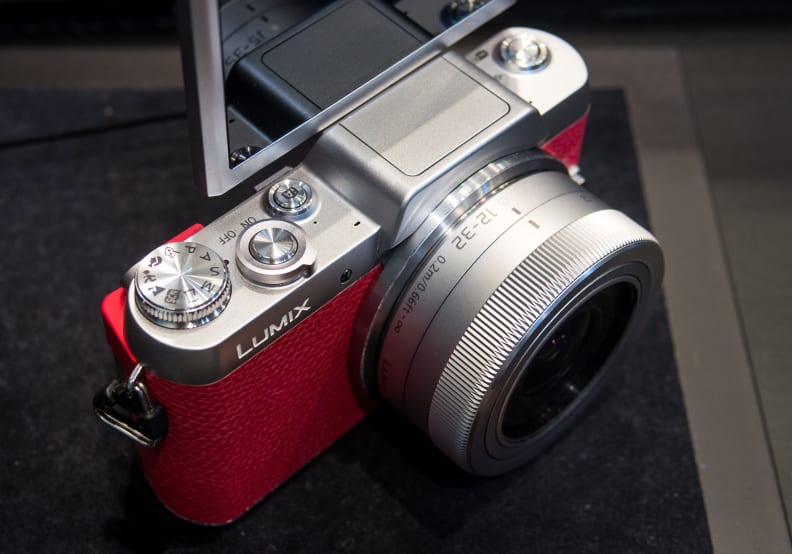 Despite the tight packaging, you get a decent amount of control. Up top there's a full-on mode dial, Panasonic's customary iA (Intelligent Auto) button, and a customizable Fn1 button. Around back, the usual OK-plus-four control cluster is surrounded by a rotary command dial and flanked by the playback, trash/Quick Menu, and display toggle keys. The video recording shortcut lives at the upper edge, where your thumb naturally falls.
It's clear, however, that Panasonic expects you to do most of your shooting using the touchscreen display. Panasonic's touch interface isn't our favorite, but it's delightfully simple and easy to use on the fly. Tap-to-focus, tap-to-shoot, pinch-to-zoom (in playback) and all the other functions you'd expect from a modern touch-enabled camera are here, and they all work well.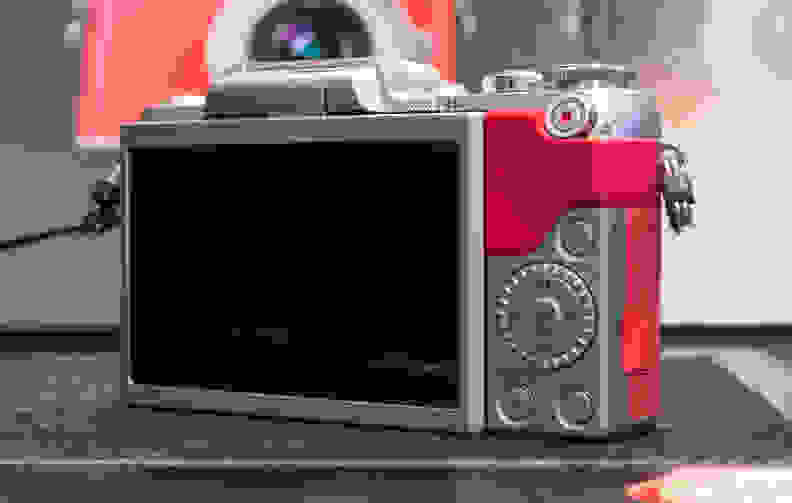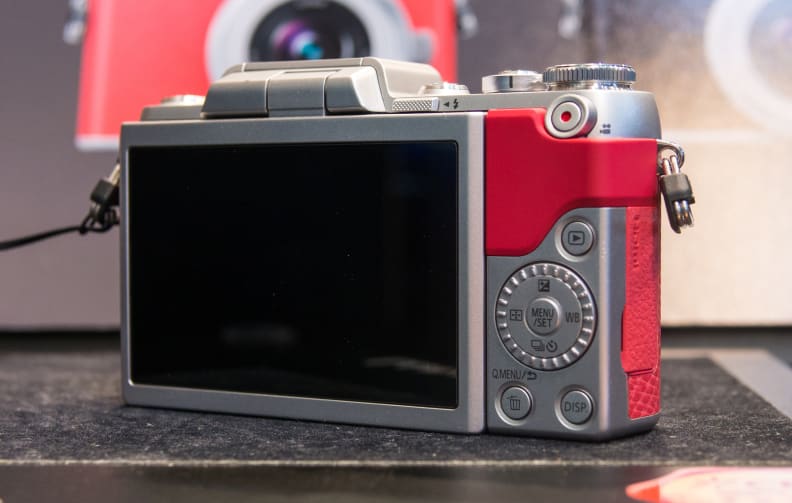 Of course, some features did get cut to keep the size down. There's no hot shoe, for one thing, but you get a pop-up flash in the GF7's cute little faux prism hump. The GF7 also foregoes the GM5's built-in electronic viewfinder, and with the lack of a hot shoe there's no option to add an external unit. You may miss it when shooting in bright sunlight, but in most other cases the 3-inch, 1040k-dot LCD will do you just fine.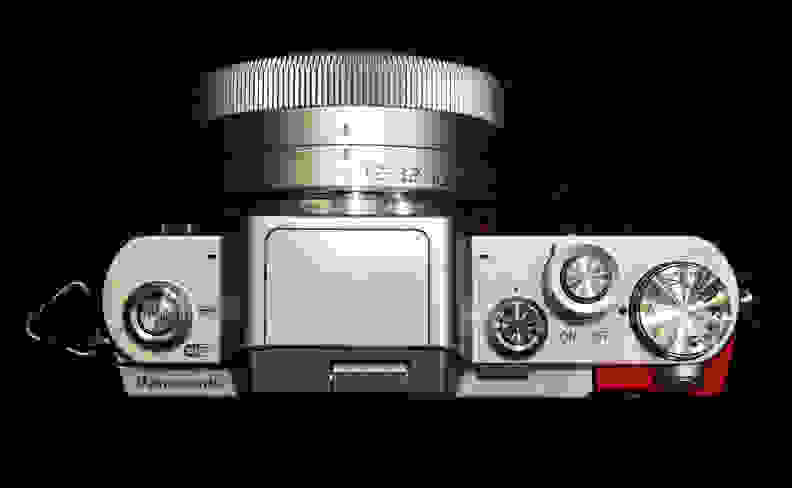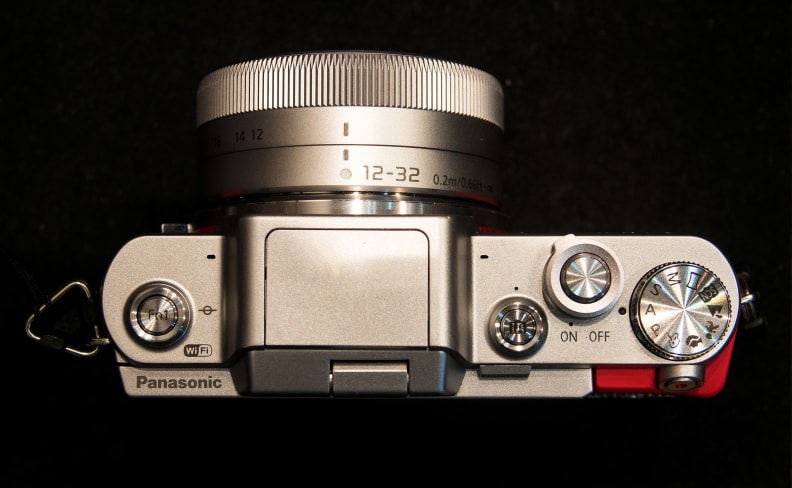 Build quality also takes a small hit in Panasonic's quest to create a lighter camera. You'll find lots of plastic here, though it appears to be relatively high-quality plastic, for what that's worth—no creaks, no groans, no body panel gaps. And it's no surprise that the GF7's LCD feels equally solid. Panasonic has plenty of experience building hinged camera screens, after all.
The camera will come to the U.S. in two different finishes: a silver body wrapped in either bright pink or black leatherette. We checked out both at CP+, along with brown and white international versions. In our opinion, the pink version is actually quite striking, though we're sure hardened photography buffs will scoff. (Seriously, keep in mind that this is a camera built around a selfie screen.)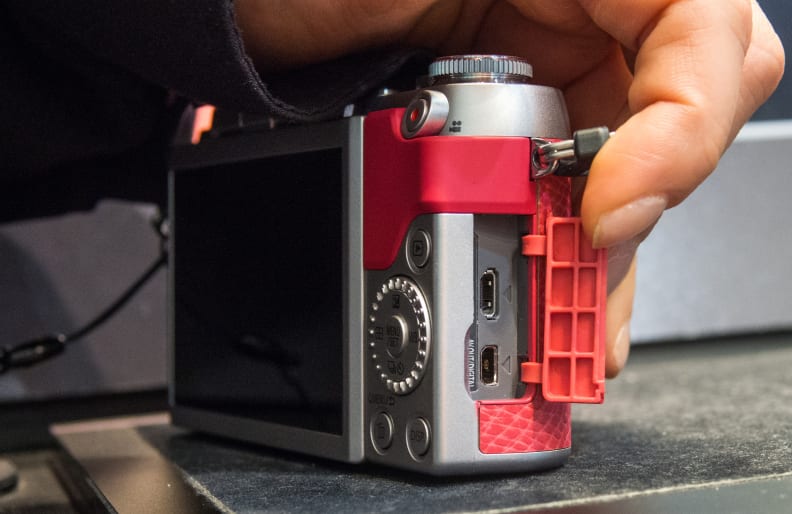 Step back from the ledge, selfie cynics.
It seems the GF7 uses the 1/500sec mechanical shutter from the GM1 and GM5, with the electronic shutter picking up the slack.
Inside the tiny GF7 you'll find the same 16-megapixel Micro Four Thirds sensor found inside Panasonic's high-end Lumix GX7. It offers a sensitivity range of ISO 200 to 25600, expandable down to ISO 100 equivalent. You can shoot 5.8 frames per second with single autofocus, or 5fps with continuous AF, and you can bump this all the way up to 40fps by switching to the electronic shutter (at the cost of slightly reduced resolution).
Speaking of the shutter, you get speeds of up to 1/16,000 of a second with the electronic option. We couldn't get official confirmation, but it appears that the GF7 uses the same 1/500sec mechanical shutter as the GM1 and GM5, with the electronic shutter picking up the slack. That won't be a big deal for the intended user, but professionals looking for a compact backup may want to look elsewhere.
The contrast-detect autofocus (no PDAF pixels here, sorry) is plenty speedy, and Panasonic claims it'll work down to -4EV—impressive, if true (we couldn't test it on the show floor). The autofocus system also works continuously when shooting video, and offers a few neat tricks like an eye-detection AF mode that will automatically select and focus on the appropriate eye on your subject's face.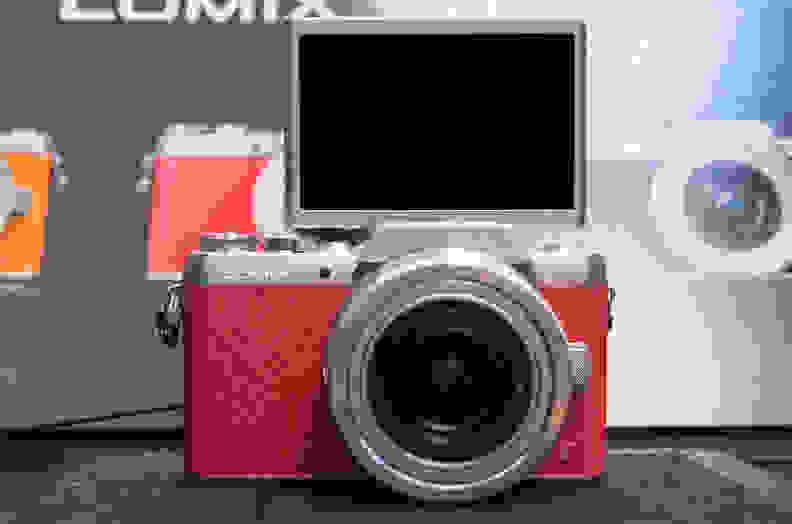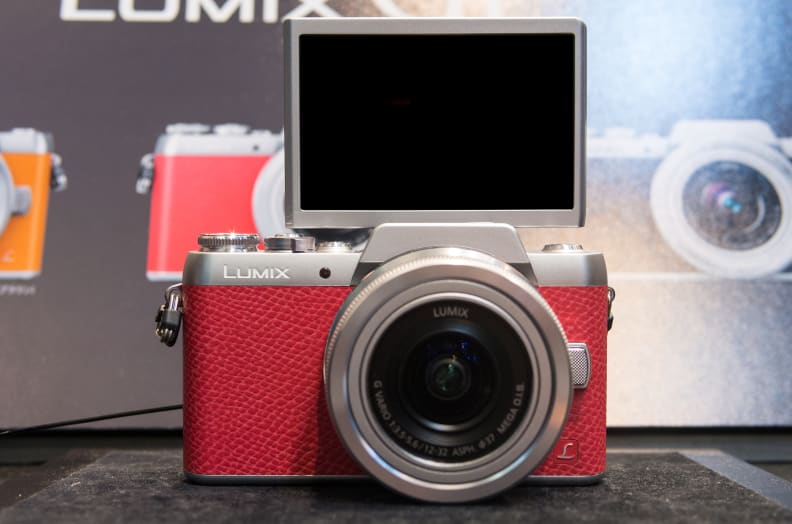 That's not the only kind of face detection it offers, either. When you flip up the screen and kick the camera into selfie mode, the GF7 starts watching you. If it sees you wave a hand in front of your face, or if your face gets close to someone else's face, it'll snap a selfie. We tried it out on the show floor—well, the first one, anyway—and it worked as advertised.
If you want a different type of selfie, you can select Jump Snap mode, which uses the GF7's onboard WiFi connection to monitor your phone's accelerometer. If it detects a jump, the shutter will fire. (Probably really helpful if you're training for the Cliché Wedding Photo Olympics.)
For a different type of selfie, Jump Snap mode monitors your phone's accelerometer. If it detects a jump, the shutter fires.
WiFi connectivity lets you use your smartphone as a remote viewfinder, and while there's no NFC for pairing, you can use your phone's camera to scan a QR code on the camera screen for a password-free connection. The camera can also take advantage of your phone's GPS to geotag images, despite not having a GPS module of its own.
Video specs are solid, if not groundbreaking. You can shoot 1080/60p at 28 Mbps in AVCHD or MP4 H.264, or select a more cinematic 24p mode at 24 Mbps. In addition to continuous AF, you can tap to refocus mid-shot, and take full advantage of the camera's AF tracking capabilities.
More than just a selfie machine
The Panasonic Lumix GF7 isn't the first interchangeable lens camera to jump on the selfie craze bandwagon and it won't be the last. Like it or not, selfies have permeated our culture, and manufacturers are naturally looking to cash in on the trend wherever they can. It's certainly no coincidence that Fujifilm launched the nearly identical X-A2 at almost exactly the same time as Panasonic unveiled the GF7.
Does the GF7 take selfies? Heck yes it does, and it takes them far better than your smartphone ever will. Is that all it does? Heck no, it isn't!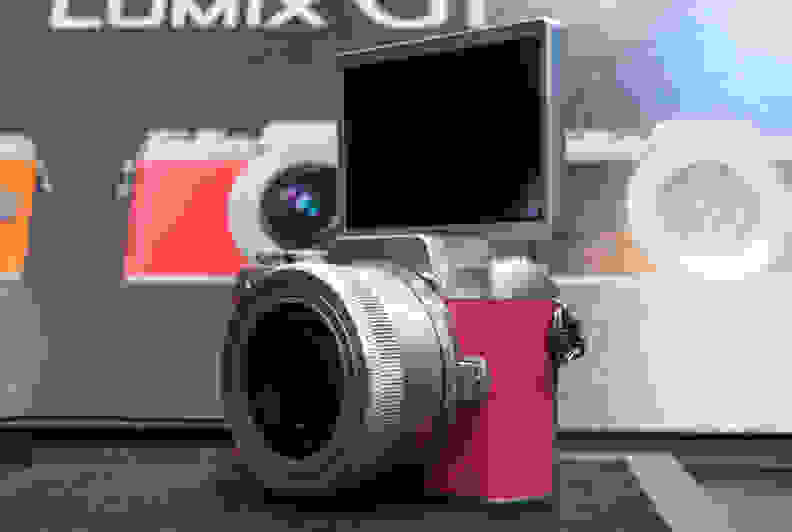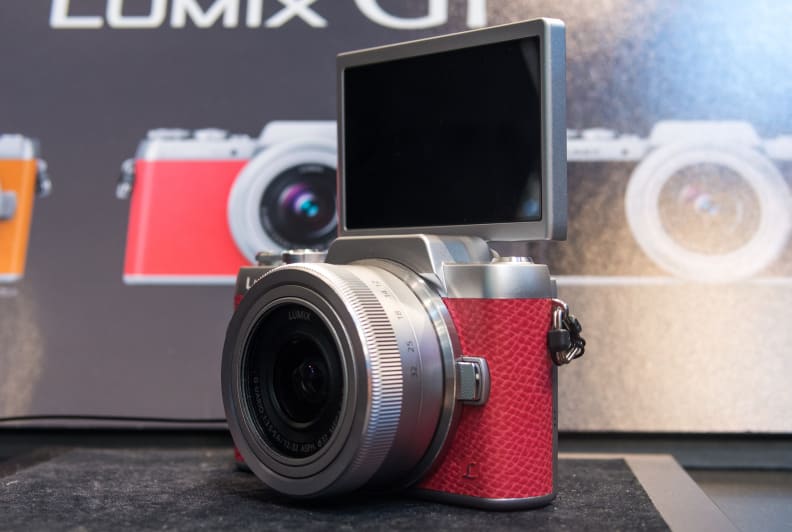 Despite the flip-forward screen and cutesy marketing, the GF7 is a camera that packs some serious photographic chops, and it would be a mistake to write it off as a curiosity for tweens and the kind of people who would get excited about a pink camera. This camera should be able to hang with nearly any Micro Four Thirds camera on the market when it comes to pure image quality, and it can do that while slipping easily into your pocket.
If the company can convince shoppers to put down their smartphones and pick up a real camera, the only thing left for Panasonic to do is to convince them that the GF7 is a better buy than challengers like the X-A2 and Samsung NX Mini. The former offers a larger APS-C sensor and a lower price point, but comes with a far bulkier kit lens. The latter has a slightly smaller sensor but is also far slimmer, and its price has fallen to nearly half the price of the GF7.
Meet the testers Ben Keough
Contributor
@ben_keough
Ben is an experienced industry journalist who formerly served as Senior Editor of News and Features at Reviewed. He now contributes as a freelance writer and editor. Most recently hailing from the vast wilds of the American southwest, he is an avid photographer who is deeply disturbed by the lack of wide open landscapes in Boston.
See all of Ben Keough's reviews
Checking our work.
We use standardized and scientific testing methods to scrutinize every product and provide you with objectively accurate results. If you've found different results in your own research, email us and we'll compare notes. If it looks substantial, we'll gladly re-test a product to try and reproduce these results. After all, peer reviews are a critical part of any scientific process.
Shoot us an email