Our lab results confirm that this camera is one of the best point-and-shoots that you can get today. With excellent color accuracy, strong noise performance through ISO 800, and some intriguing features like 4K video capture that will keep you future-proofed for years to come.
Editor's Note: We've run the FZ1000 through all of our point-and-shoot lab tests. Below you'll find our results so far. The one test that is not currently here is our resolution testing. During that test we found that the images taken halfway through the zoom range at the the telephoto end were abnormally soft. In our opinion this is likely due to a decentered or improperly aligned element within the lens. We've secured a second production-level unit to confirm these results and once that is complete we'll update the review with the final score.
Panasonic has long been known not only for its excellent Micro Four Thirds cameras, but also for its tremendous superzooms, often pushing the envelope in terms of optical reach. The FZ70, released last year, pushed the optical zoom barrier all the way to 60x, but image quality fell off dramatically at the telephoto end. Sometimes, pushing the envelope only gets you so far.
Sony seemed to see the wisdom there when it introduced the RX10, a camera it billed as the ultimate all-in-one solution for premium buyers. While the RX10's 8x zoom and constant f/2.8 aperture made it more of a bridge camera than a superzoom, its best feature was undoubtedly the huge 1-inch sensor. Though the RX10's extreme $1,300 price tag makes it tough to recommend to everyone, it's clear that going with less zoom for a larger sensor provides excellent performance.
When Panasonic brought their new Lumix FZ1000 (MSRP $899.99) by our headquarters last week, we were still hesitant to geek out about it. While its specs are pretty impressive, we kept seeing dollar signs add up as Panasonic listed the features off. Leica-branded optics. A 16x zoom with an f/2.8-4 max aperture. A 1-inch sensor. The electronic viewfinder from the GH4. And it shoots 4K video? It's gotta be really expensive. It's basically a baby GH4.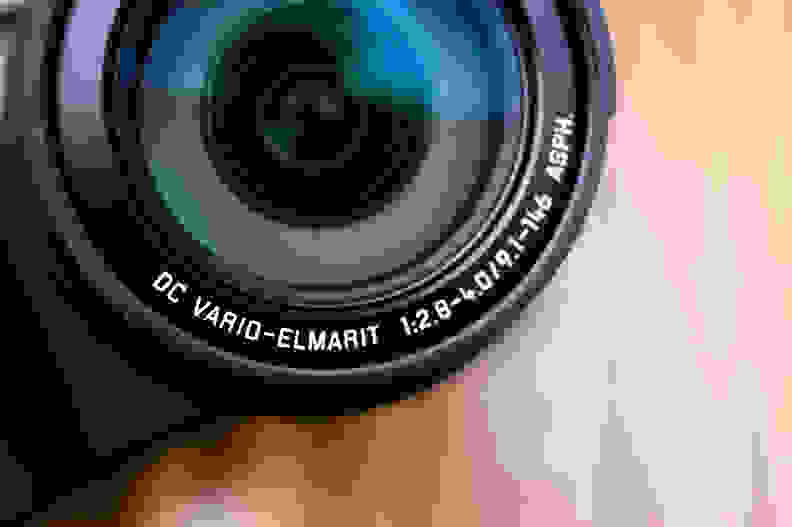 Then, almost like an afterthought, Panasonic dropped the price on us: $899.99, a new low price point for some of Panasonic's best technology. We couldn't wait to run it through our full suite of lab tests to see just what this camera could do.
In our color accuracy test the FZ1000 performed quite well, with lifelike color reproduction in nearly every color mode. The most accurate mode that we tested was the Natural mode. All of the modes did well, however, with the Portrait and Standard mode also performing very well.
In the lab we found the Natural mode had a color error of ∆C00 (saturation corrected) 2.02, with a saturation percentage of 98.4%. In this test any color error under 2.2 and saturation percentages within 10 points of 100% are considered excellent, so the FZ1000 does quite well here.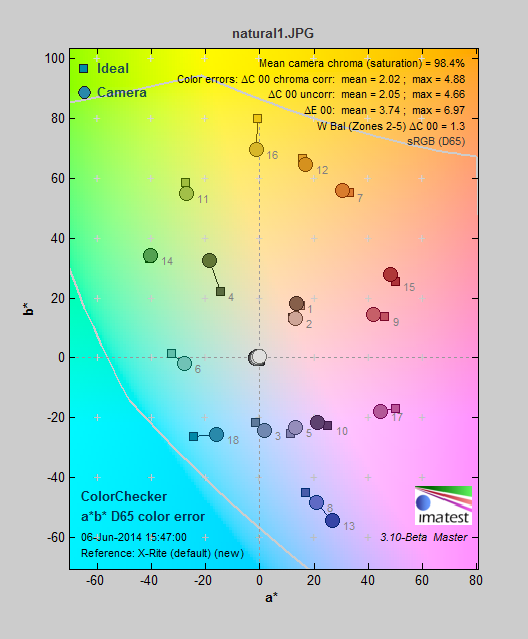 Of course, for accurate colors you need accurate white balance, and the FZ1000 does not disappoint there. Though it falls slightly short of our lofty expectations based on our experience with previous Panasonic cameras, this new bridge still does very well. Custom white balance, in particular, is typically excellent, with only a few issues popping up in our white balance test.
In our lab test we shoot a standard ColorChecker chart under three lighting conditions—tungsten, fluorescent, and daylight color temperatures—with both custom and auto white balance.
With auto white balance the FZ1000 did very well with daylight conditions, with a color temperature error of less than 75 kelvins on average (anything under 200 is acceptable). That error grew to just over 600 kelvins with fluorescent result, with a slight greenish cast that was offputting. Under tungsten lighting the FZ1000 had temperature errors of more than 2400 kelvins, though performances this bad are very typical as most cameras just can't cope with the warmth of standard indoor bulbs.
If you take the time to capture a custom white balance, however, you'll get very accurate colors across the board. In this test the tungsten performed the best, with a temperature error of just 58 kelvins. Under fluorescent the FZ1000 was still off by about 130 kelvins, though in daylight conditions you can expect errors on par with the automatic white balance performance.
Leica optics, but Lumix looks
The FZ1000 is very reminiscent of other recent Lumix cameras we've handled, with a control scheme greatly informed by the top-of-the-line Lumix GH4. While this doesn't feature interchangeable lenses like the GH4, Panasonic is hoping that the large 1-inch sensor and ample zoom will mean that shoppers won't care a whit. The combination of advanced handling and user-friendly auto modes should make this easy to handle for beginners, with plenty of customization for advanced shooters to love, too.
As soon as we picked up the FZ1000, we were impressed by how well the buttons lined up with our fingers. Though the body and buttons are mostly plastic, nearly every important control is easily within reach. Exceptional care has been paid to varying the sizes and shapes of button, too, with some larger than others to help you differentiate one from the other while shooting.
Like on the GH3 and GH4, there's one physical knob for modes and one for burst/self-timer settings. There's also a single control dial on the back of the camera that clicks in to change between individual settings (like aperture or shutter) and simple exposure compensation. Add in an perfectly placed Q. Menu button and you can alter just about any function you want on the fly. The only control element that felt missing was a touchscreen, which we most frequently use for setting the autofocus area. Thankfully, the five custom function buttons pick up the slack, and there's more than enough control for shooters of all levels.
The front of the FZ1000 is dominated by the massive cold, metal lens. It has a large, smooth-operating control ring, with a switch so you can choose between using the ring for zoom or for focusing. Like on the awesome Panasonic 42.5mm f/1.2 Nocticron lens, the lens also has a Power OIS on/off switch, for times when you don't want stabilization. Unfortunately, the front ring can be a bit squirrelly for manual focus, though the FZ1000 has both focus assist zoom and peaking to be sure you get it right.
Perhaps the best hardware touch here is the OLED EVF from the GH4, which makes a very special guest appearance in the FZ1000, providing a crystal-clear picture and very little lag. It's a massive, bright, detailed finder and easily among the best we've seen on a fixed-lens camera. For times when you don't want to or can't use the rear 921k-dot LCD, the EVF is a fine alternative.
The only thing that lets the FZ1000 down is its rather plasticky construction. While the metal lens barrel adds a reassuring ballast, the textured plastic body feels a bit hollow. While it's obviously a rigid, high-quality polycarbonate, it lacks the satisfying heft that the metal-bodied Sony has. It feels much better than most point-and-shoots, but compared to similarly priced DSLRs, it feels almost like a toy.
The FZ1000 provides you with an ISO range of 125-6400 by default, expandable out to 80-12,800. You can shoot in either RAW or JPEG, with a sliding noise reduction scale with options ranging from -5 to +5 (zero is the default level).
With noise reduction set to the default, the FZ1000 keeps noise to a minimum. At the base ISO of 125 noise accounts for a variance of just 0.54% in the scene. This rises to 0.6% at ISO 200 and 400, 0.73% at ISO 800, and 0.94% at ISO 1600. Noise goes up quite a bit from there, hitting 1.24% at ISO 3200, 1.47% at ISO 6400, and 2.09% at ISO 12,800. Since any noise level under 2% is acceptable for printing, these results are quite good, though they come with a heaping helping of noise reduction, as you can see in the crops below.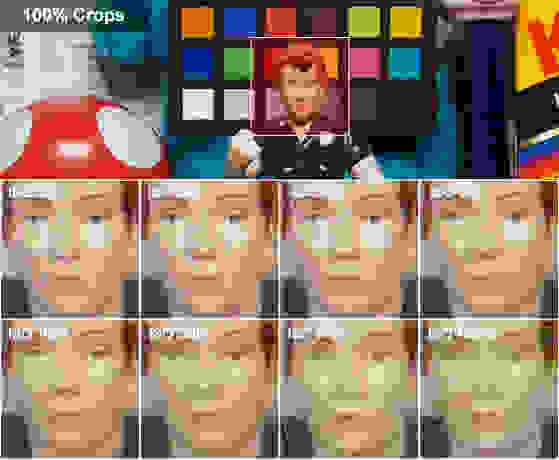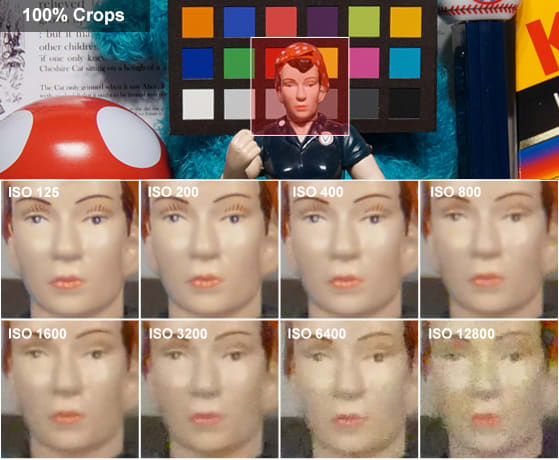 If you turn noise reduction all the way to the minimum level noise begins at 0.69% at base ISO, hitting 1.01% by ISO 800. Noise then rises to 2.21% at ISO 6400, topping out at 3.11% at ISO 12,800. This level produces grainier images, but it retains more fine detail in the scene and makes for better images through ISO 1600.
For times when you want to get rid of any and all noise you can ratchet NR all the way to +5. If you do that then noise starts at just 0.43% at base ISO and doesn't rise above 0.77% until ISO 6400. Even then it just hits 1.07%, topping out at 1.36% at ISO 12,800. This sounds great on paper, but the result is a muddled mess of fine detail typical of what you'd get from a smartphone camera in low light. Still, for web resolutions or times when you'll at most need a small print, the images are acceptable.
Jam-packed with the best Panasonic has to offer
While this isn't one of Panasonic's top-end Micro Four Thirds offerings, it certainly has a similar bag of tricks at its disposal. Learning from those great cameras, the FZ1000 received a quality education before leaving Panasonic's labs for the real world. It's the first Panasonic with a 1-inch sensor, which has a 20.1-megapixel count. NFC and WiFi come along for the ride, too. This camera also has the distinction of being the very first UHD-capable consumer-grade video camera for under $1,000. Considering how tepid 4K adoption rates have been so far, it's remarkable how far ahead of the curve Panasonic is here.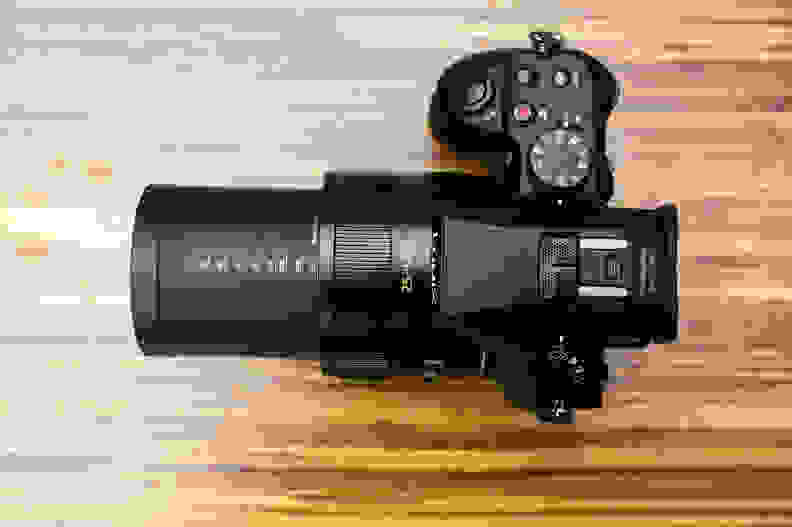 A great sensor is useless without an equally great lens, however. It's clear that Panasonic wasn't satisfied simply invoking the Leica name when building the FZ1000's zoom lens. The 25-400mm equivalent lens is plenty fast with an f/2.8-4 range, with creamy smooth bokeh in the sample shots we've gotten so far. Adding to that is the addition of 5-axis image stabilization, which should help keep shots sharp when zoomed in on subjects from far away.
Compared to the RX10's lens there are some pros and cons. You get double the zoom range with the FZ1000, but you can only shoot at f/2.8 when fully zoomed out, while the RX10 gives you f/2.8 through its entire 8x zoom range. By 200mm (equivalent), the FZ1000 tops out at f/4 while the RX10 is still shooting at f/2.8. The bokeh looks exceptional compared to the Sony, however. Panasonic figured out how to all but eliminate the "onion ring" effect in aspherical lenses with its 42.5mm f/1.2 Nocticron lens, and that's carried over to the FZ1000 as well.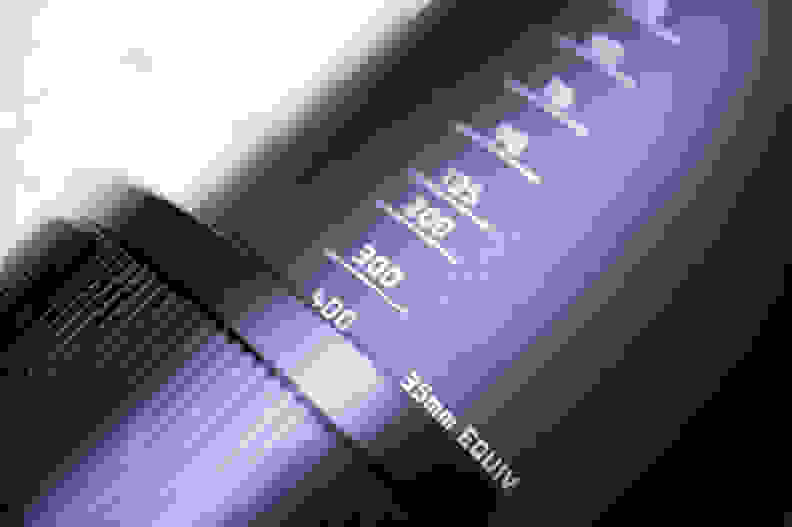 The FZ1000 also does well with action, too. Thanks to Panasonic's Depth From Defocus (DFD) technology, the camera knows what out-of-focus areas should look like, and uses that information to make focusing faster. It's a tactic the GH4 also employed, to great effect. Even at full telephoto, the camera's autofocus reacts much quicker than most compact cameras, snapping to attention and locking on within fractions of a second in normal shooting conditions. This prevents the lens from accidentally heading in the wrong direction, cutting down on focus hunting.
The FZ1000 isn't being positioned as a video camera for professionals, but it has far more high-end video features than we were expecting. Zebra? Check. Focus zoom with peaking? Affirmative. 100 Mbps 4K/30p capabilities? Absolutely. A mic jack and Cinelike V and D, just like with the GH4? Yup. Even if it doesn't have a headphone jack for monitoring audio, the FZ1000 seems like it sure wants to make a good impression on videographers. If you have an external audio recorder, or want to use the FZ1000 as a second camera, it could easily fill the shoes of a prosumer camcorder.
If you need to capture a burst of action the FZ1000 has you covered. Much like the GH4, the FZ1000 has both mechanical and electronic shutters, letting you shoot both quickly and silently if the occasion calls for it.
Panasonic claims that the FZ1000 can shoot at up 12 frames per second at full 20.1-megapixel resolution, but in our tests it was never able to top 10 frames per second. We're not sure where the disparity is coming from, but despite trying a dozen different configurations nothing pushed it up to the full 12 fps. You can get in excess of 30 frames per second if you're willing to step down to just 5 megapixels using the "SH" burst mode.
Impressive performance from a bridge camera
Specs and features are all well and good, of course, but how does this thing actually perform? That was the question on our minds as soon as we got our hands on the FZ1000. And after running it through our gauntlet of lab tests, it's clear that the FZ1000 isn't just some pretender that looks like the GH4, but a strong performer in its own right. The FZ1000 has excellent color accuracy, solid performance through ISO 800, action-ready shot-to-shot speed, and extraordinarily sharp 4K video.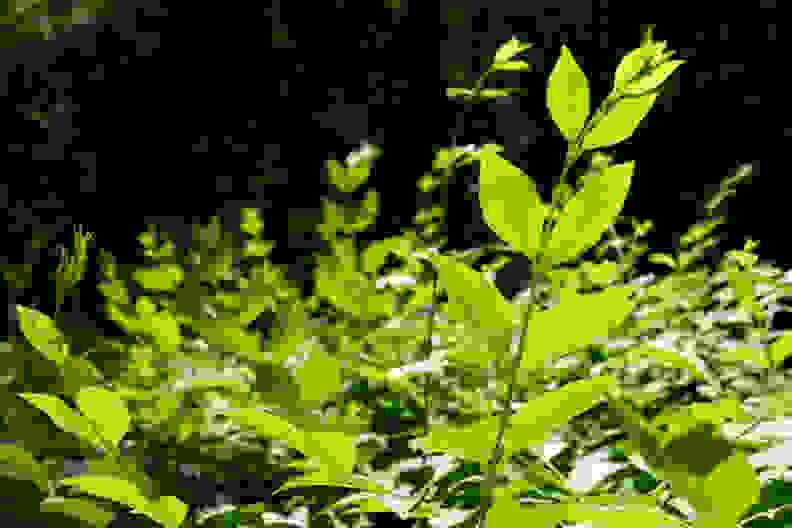 The 4K video, in particular, sets the FZ1000 apart from just about every other camera in this class. In our bright light test, we measured resolution numbers of 1,000 LP/PH vertical and 1,100 LP/PH horizontal. Not too shabby, considering most of the HD-only competition tops out at around 650 LP/PH. Like the GH4, the FZ1000 appears to use a 1:1 pixel relationship in order to record 4K, with the crop of the image changing noticeably when you go from 4K to HD.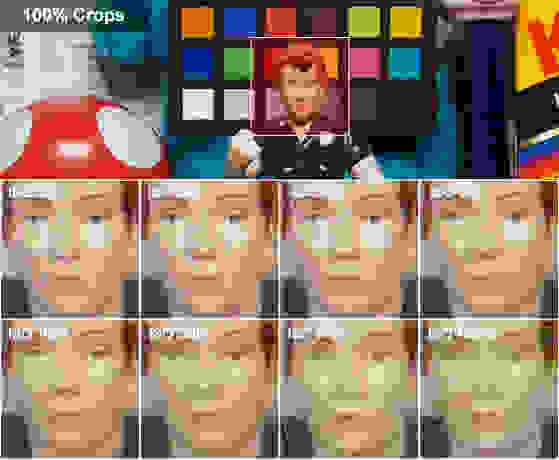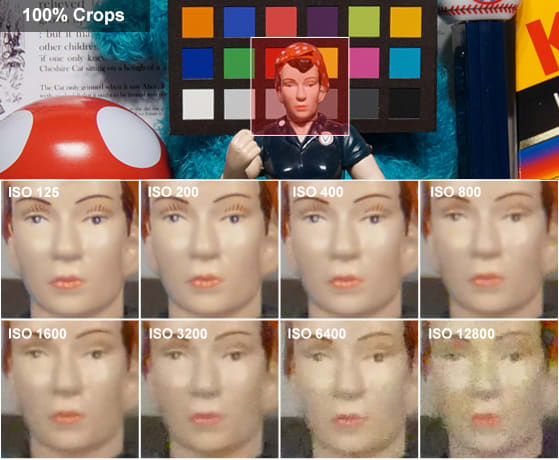 And while white balance and color accuracy were predictably quite good, the fast Venus Engine processor and 4K-ready sensor readout speeds helped it in our continuous shooting test, as well. We were able to shoot a whopping 39 full-resolution JPEGs at about 10 frames per second before the buffer filled up. If that's not fast enough, Panasonic also can use its electronic shutter and a lower (5 megapixel) resolution image in SH mode to achieve image capture of over 30 fps. Finally, Panasonic also treats 4K shooting like a kind of 30 fps burst mode. When using playback mode, the FZ1000 will let you pick individual 8-megapixel frames out of a 4K/30p clip and export them as JPEGs.
Panasonic didn't shy away from comparing the FZ1000 to some similarly priced peers, either. Both our own samples and what Panasonic had to show us confirmed that the FZ1000 can hold its own against just about any point-and-shoot on the market, including the RX10.
We were also shown some prints comparing the Canon EOS 70D to the FZ1000, but in our experience that's a bit of a stretch in low light. The 70D provides usable images through ISO 3200 consistently, while the FZ1000 struggled as early as ISO 800, with just heavy-handed noise reduction to make up for it. You'll probably be able to get usable results through ISO 3200 with careful processing of RAW shots, but we wouldn't recommend shooting with ISO 6400 or 12800. The image simply gets too noisy, with very noticeable banding at the max ISO.
For more on how the FZ1000 fared in our scientific tests, head over to our Science Page.
Playing to Panasonic's greatest strengths
The camera market is as competitive as it's ever been. You can get an interchangeable camera for just $500, brand new. You can pick up an older mirrorless camera—with lenses—for just $300. And even brand-new DSLRs from Canon and Nikon are starting closer to $650 than $1,000 these days. While compared to the $1,300 Sony RX10 the $900 FZ1000 feels like a bargain, it's still $900. How can Panasonic justify charging this much for a fixed-lens camera?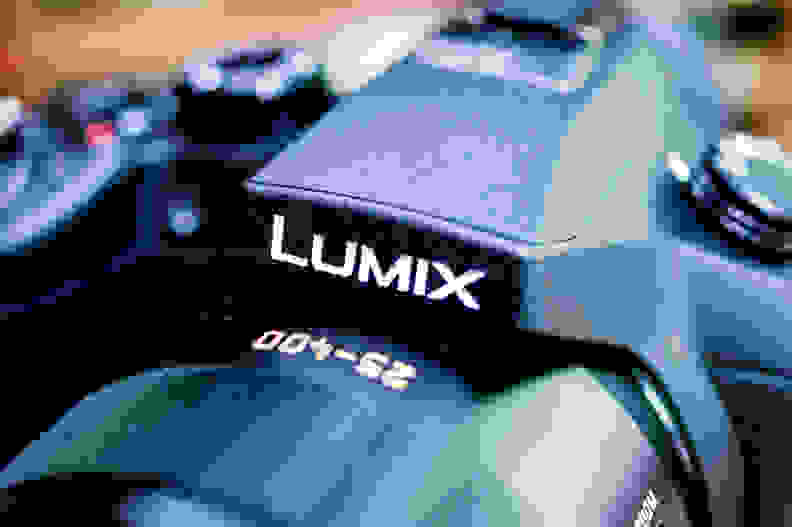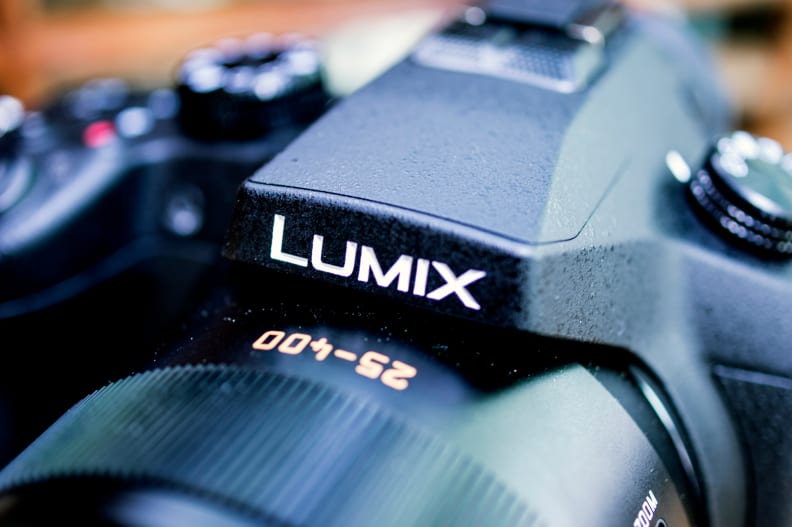 After spending nearly a week with the FZ1000 both in and out of the lab, we know the answer: Because this is one of the best fixed-lens digital cameras we've tested yet. It may be drawing heavily from Sony's RX10 blueprint, but it brings plenty of Panasonic's home cooking to the table. It borrows much of the hardware, design, and features from Panasonic's excellent GH4. It shoots at up to 10 frames per second. And the 1-inch sensor and Leica-branded lens are a close match for what the RX10 provides.
The 1-inch sensor and Leica-branded lens are a close match for what the RX10 provides.
Oh, and it has 4K/UHD video—and it's not some GoPro-esque 15 frames per second mode that only qualifies as video if you squint, either. It's true, 100Mbps, 4K/30p video. Yes, you probably don't even have a 4K display in your house, but with the FZ1000 you also get a great stills camera today, with superb 4K video that'll look great on your next TV (and probably the one after that, too). If we're nitpicking, it would be with the fact that the max aperture drops to f/4 by halfway through the zoom range, with f/2.8 only available wide open. And while lightweight, the camera's plastic body feels chintzy.
Does the FZ1000's performance justify its $900 price tag? To a point. Though there are cameras that perform better for the money, there simply isn't a camera that offers a package this complete—including 4K video—at this price point. The question is only if you can live without the flexibility that a true system camera provides. For a customer looking for a simple, flexible, do-it-all solution who doesn't want to mess with interchangeable lenses, the FZ1000 is a superb value.
The FZ1000 is a landmark camera due to its 4K shooting abilities, but it's a competent performer when it comes to HD video. Even though it can do many things that the much more expensive Lumix GH4 can pull off, its smaller sensor doesn't do it any favors. We tested the FZ1000 in both its 4K/30p 100 Mbps setting and with its top HD mode to compare sharpness.
It's clear to us that the FZ1000 uses a method similar to the GH4 to capture HD and 4K using the same processor and sensor. HD uses the center of the sensor, while 4K uses a 1:1 pixel relationship from a smaller area of the sensor. This results in a different, tighter crop in 4K.
In our bright light test, we measured 1000 LP/PH horizontal and 1100 LP/PH vertical when using 4K. In low light, we measured 800 LP/PH horizontal and 1000 LP/PH vertical. The smaller sensor made the FZ1000's test video much noisier than the GH4's in low light, with some ugly artifacts popping up around fine details.
When we turned the FZ1000 into 1080/60p mode, we measured 750 LP/PH horizontal and 700 LP/PH vertical. In low light, the FZ1000 turned in numbers of 625 horizontal and 675 vertical. HD video exhibited way more moiré than the 4K footage, which is likely due to the pixel binning required.
In our standard low light test, the FZ1000 required 10 lux to make an image at 50 IRE. This is another test where the smaller, 1-inch sensor showed its weaker side when compared to Micro Four Thirds. A bigger sensor with more surface area usually requires less light to hit that 50 IRE mark.
There's no doubt that Panasonic spent considerable resources on the FZ1000's lens. After all, since this isn't an interchangeable lens camera, you're stuck with the one lens. Overall, we saw performance that was almost as good as what you might see from an RX10, except that you get twice the zoom with the Lumix.
We ran our tests a couple of different ways, getting slightly different results every time. With the standard JPEG color mode on, we measured sharper results than when testing with the natural JPEG mode. For a point-and-shoot with 16x zoom, we were mostly satisfied with the way the FZ1000 performed. While more oversharpening occurs in Standard, it wasn't nearly to the extent that we saw from the RX10.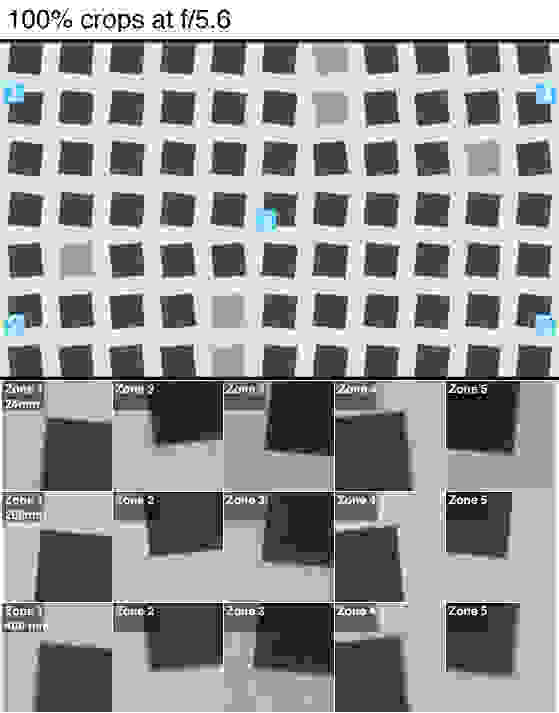 The camera is clearly sharper at full wide (24mm equivalent), with some but not a dramatic amount of falloff at the midpoint we used and at full telephoto. We also noticed a drop in contrast and more pronounced chromatic aberration at 400mm. All in all, the FZ1000 earns the Leica badge on the front of the lens.
Meet the tester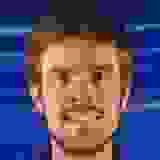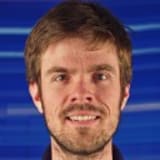 Brendan Nystedt
Contributor
@bnystedt
Brendan is originally from California. Prior to writing for Reviewed.com, he graduated from UC Santa Cruz and did IT support and wrote for a technology blog in the mythical Silicon Valley. Brendan enjoys history, Marx Brothers films, Vietnamese food, cars, and laughing loudly.
Checking our work.
Our team is here for one purpose: to help you buy the best stuff and love what you own. Our writers, editors, and lab technicians obsess over the products we cover to make sure you're confident and satisfied. Have a different opinion about something we recommend? Email us and we'll compare notes.
Shoot us an email