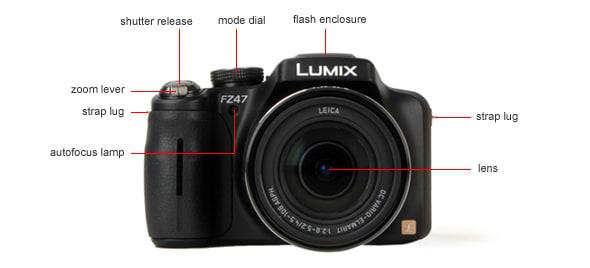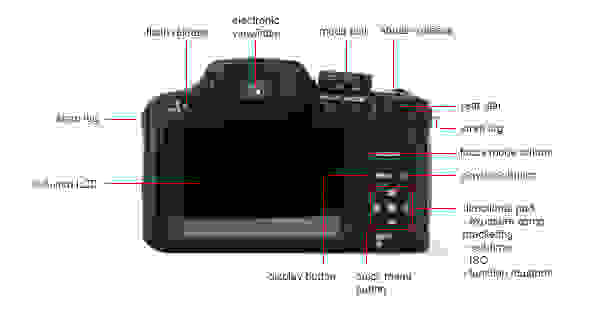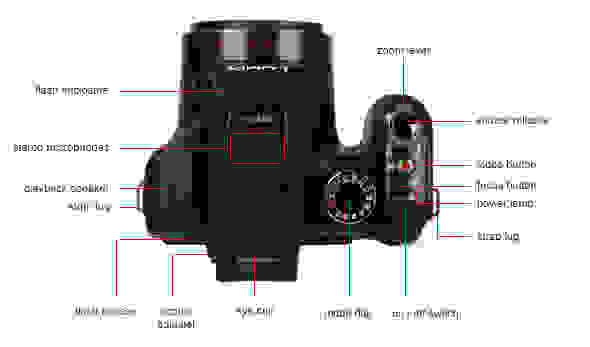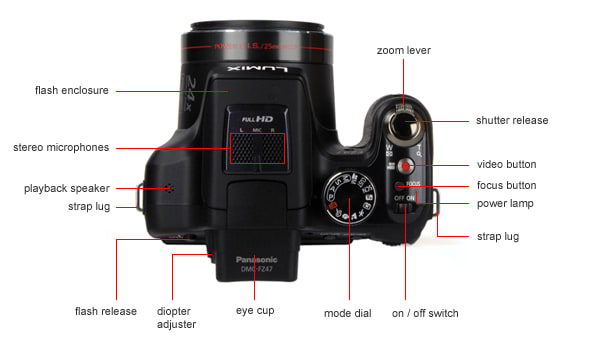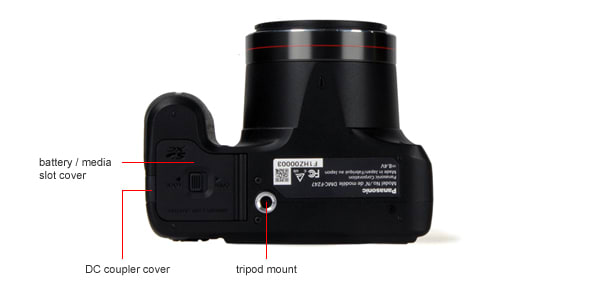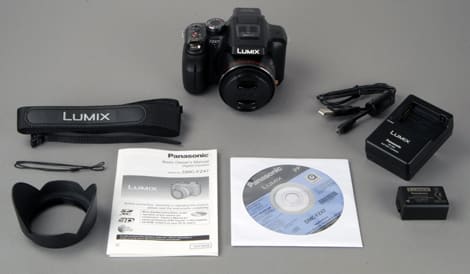 In the box:

• Panasonic LUMIX DMC-FZ47 Digital Camera

• DMW-BMB9E rechargeable battery pack

• DE-A83 battery charger

• Lens cap with strap

• Neck strap

• Micro-USB cable

• Basic Owner's Manual

• Software CD-ROM
The FZ47's color accuracy is straight up amazing. We ran the test three times to be sure. In that test, where lower scores are better, the FZ47 produced a color error average of only 1.96. This is the best score of any fixed lens camera since as far back as any of us can remember.
Looking over the raw data, we find the camera's weaknesses, small as they are, tend to be centered around the brightest yellows and blues. Most areas of the gamut tend to be slightly darker than they should be, but yellows are off by a relatively wide margin. Still, if faithful, flattering shots are important to you, know that the Lumix FZ47 is one of the best performers ever. More on how we test color.
We'll be comparing the FZ47 to a few similar models, Canon's PowerShot SX30 IS, Fujifilm's FinePix HS10, and an older model from the Lumix line, Panasonic's FZ35. In this test however, the comparison is moot. No competitive model comes close to the dead-on accuracy of the FZ47. For that matter, the FZ47 is more accurate than the Nikon D7000, more accurate than the new Nikon D5100, and even more accurate than the Canon EOS 60D, our top rated DSLR!
Five color modes are available. Natural is the most accurate and we do recommend shooting with this setting at all times. The Standard setting was close, but oversaturated by about 5%. Other options are designed to highlight subjects in various situations and conditions, but they sacrifice accuracy for style, and this should really be left for post production, not the camera itself. In accordance with our standards, all subsequent tests were performed in the Natural color mode.
When it comes to undesirable image noise, just about every camera follows the same pattern: low noise at low ISO's, the most noise at high ISO's. For both better and worse, the Lumix FZ47 bucks this trend. Thanks to a very aggressive smoothing algorithm, noise levels stay pretty flat. This is great for higher ISO's, where we don't see as much noise as is typical, but lousy for the lowest ISO's, where noise is more apparent than it should be. The effect continues all the way up to ISO 1600, at which point there's not much else the software can do, and noise finally spikes. More on how we test noise.
We see the same trend in low light, with noise levels holding steady at 1%, before spiking a bit at ISO 1600. But a qualitative analysis is also necessary here. An "aggressive" noise reduction algorithm is not necessarily a good one. When the FZ47 does produce noise, especially in low light conditions, that noise is distracting and very ugly relative to the competition. Take a look at the face crops below or the fourth shot on our Sample Photos page to see this in action. Therefore, despite our test scores, the FZ47 should not be considered a strong low light performer for practical use.
The comparison group is at least closer this time, but the newer FZ47 does still surpass all other models. Note the difference between this model and the aging FZ35, it's impressive to see how far Panasonic has come in only two years. Still, the validity of this comparison is always in question, given the way different models and different manufacturers choose to handle the problem of noise. What should be a performance comparison can often turn out to be a software comparison. Unfortunately, many users will stick with default settings out of the box, and that's how we test. Just bear in mind, some of these cameras will perform better or worse with some tweaking.
This model's selection of ISO levels is average, 100, 200, 400, 800, and 1600 are available. There are also two automatic settings, Auto and i.ISO. Auto adjusts between 100 and 400 (at default settings) according to metering, while i.ISO selects from the full 100 to 1600 range according to both lighting conditions and the movement of the subject. A scene mode called High Sensitivity increases the maximum ISO to 6400, but limits resolution to 3 megapixels.
NOTE: The images above are not used in our testing or scoring, but are included here to show real-world examples of the differences between cameras at the various ISO settings.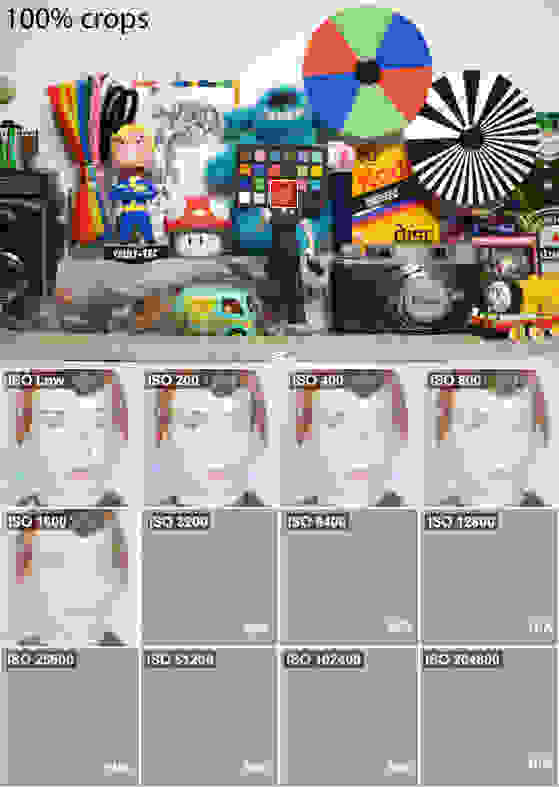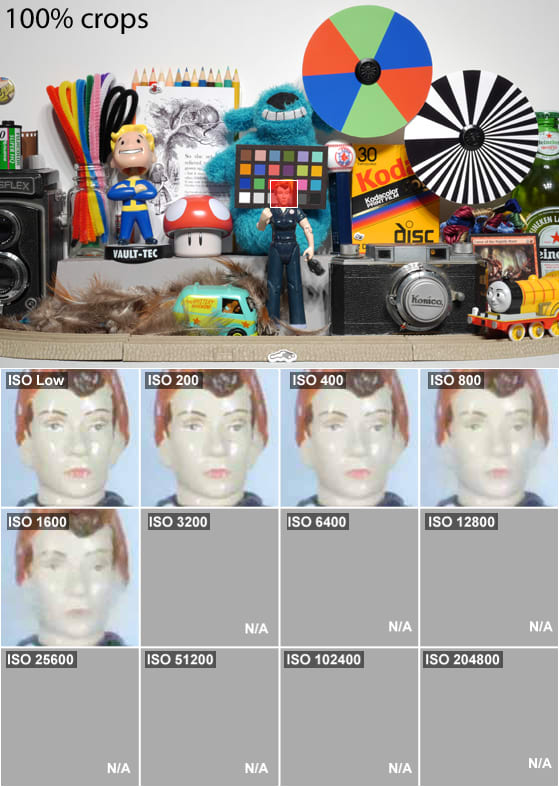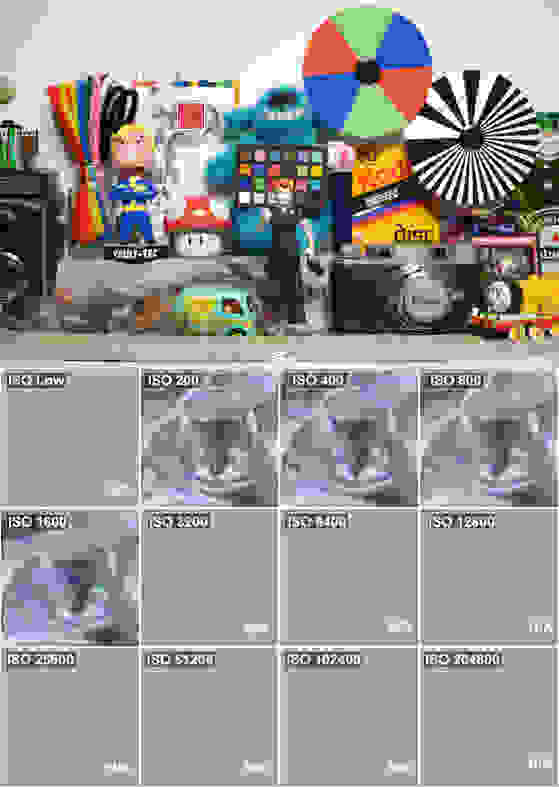 Considering this Panasonic's 24x ultrazoom lens, the FZ47's resolution performance was very strong. However we notice an amusing phenomenon here: with the exception of the Fujifilm HS10, the zoom ratio of these cameras have an inverse relationship with their scores. For example, the Canon SX30, equipped with a 35x optical zoom, didn't score as well. However the FZ35, with only an 18x zoom, actually scored better than the FZ47, despite the two year gap. This speaks to the difficulty of squeezing such extreme focal lengths into compact bodies, but we think Panasonic has found a happy medium. More on how we test resolution.
Distortion ()
Distortion is easily corrected in software and, as a result, all the cameras in our comparison group are good performers. The FZ47's distortion never rose above plus or minus 1%, although the effect was worst at the middle focal length (57.2mm). That's the opposite of what we expect, and confirms the presence of distortion correction.
Sharpness ()
The FZ47's ability to resolve detail was better than the SX30 and HS10, though again, not quite as good as the older FZ35, thanks to its less ambitious zoom. Sharpness was fairly consistent across all focal lengths, however detail was worst at 24x and best at 12x, which is typical of most ultrazooms.
Chromatic Aberration ()
Aberration is a major problem for ultrazoom lenses, since the ability to focus all colors to the same convergence point becomes more and more difficult as zoom increases. The FZ47 has less of a problem with this than the SX30, thankfully, but some hallmark purple fringing is still visible on the chart below, especially at the frame's extremes.
This camera does not offer the ability to shoot in RAW mode, however no less than 21 image size options are available in 4:3, 3:2, 16:9, and 1:1 aspect ratios. Two levels of compression quality are also available.
The FZ47's spec sheet boasts powerful lens-based image stabilization, but its actual performance is nothing to boast about. In our tests, we found the stabilizer worsened image quality by about 7%. In practice however, the stabilizer isn't totally useless. The system is continuous, which means it can be helpful for lining up shots at the longest focal length. And we must admit, we scored some pretty sharp photos while using the camera inside a moving vehicle. So the stabilizer does have some value, even if our test can't detect it. More on how we test image stabilization.
Even though the numbers don't suggest this, the stabilizer to beat here is the SX30's, which had a very pronounced effect both while shooting and framing. It's also interesting to note the drop in performance since the FZ35, an anomaly that we can't really explain.
The lack of a swiveling LCD handicaps the FZ47 as a video device right off the bat, however the suite of video functionality is actually pretty extensive. 1080p capture is supported at 30 frames per second, in both MPEG4 and AVCHD encoding. The full zoom range is also available while shooting, although speed is slowed to reduce mechanical noise. Autofocus is also pretty quick, and this camera even has the ability to capture five 3.5 megapixel stills while a video records.
It's jarring to see this camera's video color scores plummet so far, after such an incredible still score. The FZ47's video accuracy error was a whopping 7.14 in our test, and undersaturated by over 20%. This is still is the middle of the pack however, better than the HS10 but not quite as strong as the SX30 or the FZ35. More on how we test video color.
Panasonic made huge strides in video resolution since the FZ35, and the FZ47 is now the sharpest camera during video of our comparison group. It resolved 600 and 550 lw/ph of detail horizontally and vertically in our test. More on how we test video sharpness.
Image review is available in fullscreen with up to 16x magnification, in grids of various dimensions, and in a calendar mode; all of which are accessible with the zoom lever. Slideshow playback is also supported, with options for normal play, as well as playback by mode or category.
In-camera editing options are functional, but lack fun elements like silly overlays and filters. Mainstays like resize, crop, and rotate are handy though, and the interface is painless.
The FZ47's DPOF interface is little more than a menu item, too simplified for our tastes. But image tagging for pharmacies is at least present, and the popular PictBridge standard for home printing is fully supported.
The FZ47's electronic viewfinder is a nearly 100% coverage LCD with 202,000 dots and diopter adjustment of -4 to +4. Some will hate the soft diopter adjustment dial, but we love the ease of access. The screen's color temperature is very accurate and representative of the final image. Best of all, swapping between the EVF and LCD gets its own large button next to the eyecup, within easy reach of the thumb.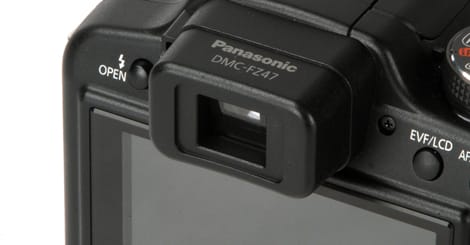 The 461,000 dot LCD monitor is also very accurate. This 3-inch, 3:2 screen does not swivel however, making it less than ideal for video shooting. The scratch- and impact-resistant coating is nice though, and the adjacent rear thumb rest discourages smudging.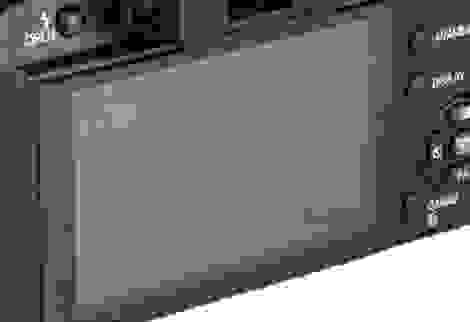 This Lumix's built-in pop up flash is concealed below the logo and enabled by a mechanical release button on the rear left of the body. The flash is harsh at default settings, but advanced options like slow sync and flash exposure compensation allow for a bit of versatility. Maximum range is rated at over 31 feet, which is plenty for most users. The flash assembly itself is sturdy and unlikely to release accidentally.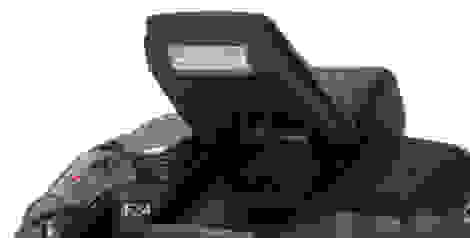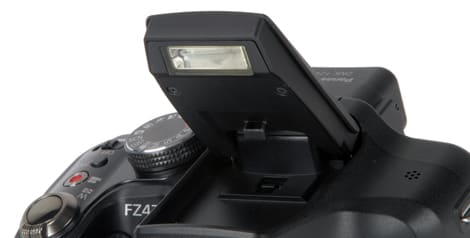 The large Leica lens comes with an excellent cap that features oversized tabs for easy removal or placement. The cap also has a small lug for a strap, so you won't lose it. A plastic hood ships with the FZ47, which blocks stray light beams to reduce unwanted flares, and also physically protects the lens from damage.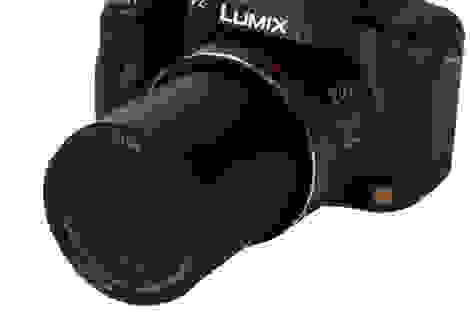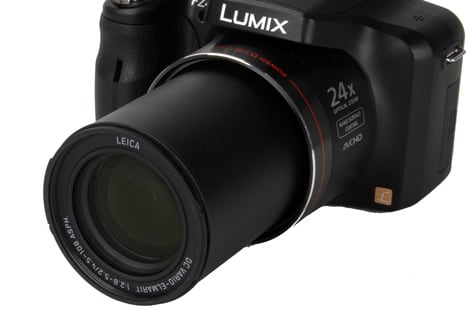 Zoom is of course the selling point of the ultrazoom class camera, and while it's true that other manufacturers have pumped out even crazier zoom ratios, like the 35x SX30, this model's 24x is plenty for nearly every occasion. Enough to, for example, catch a decent shot from across a football field. Also, the zoom's drive motor is quieter than some, which is helpful for shooting wildlife.
The FZ47's large lithium battery is rated at 400 shots according to CIPA standards, and this is in line with other cameras in the class. In practice, we found the unit held a charge very well, speeding up the review process considerably. Recharging is accomplished via an unremarkable wall socket adapter and the camera cannot charge through the USB terminal.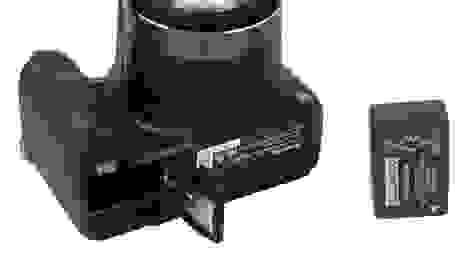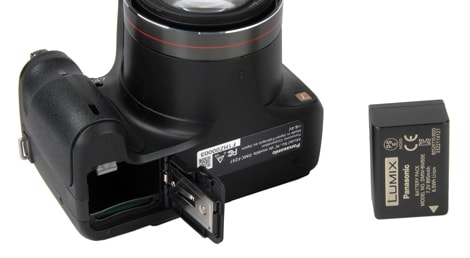 The FZ47 has a built-in memory of approximately 70 MB, which is enough for 15 full resolution stills. For proper storage, the camera is compatible with SD, SDHC, and SDXC memory cards.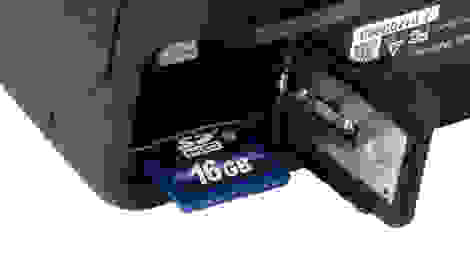 Both ports are housed underneath a rubber cover on the left side of the body. A micro-USB port is used for PC and printer connectivity, as well as analog multimedia output. A setup menu option allows the user to specify PictBridge or PC interfacing as the USB port default, or to prompt each time. A mini-HDMI port is used for output to a digital TV or capture card.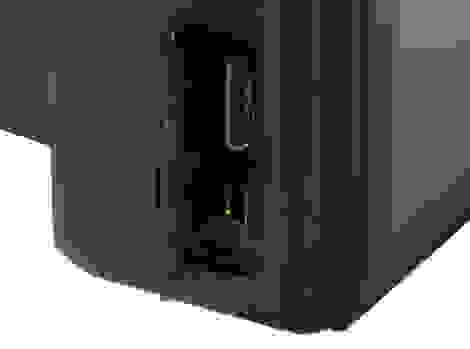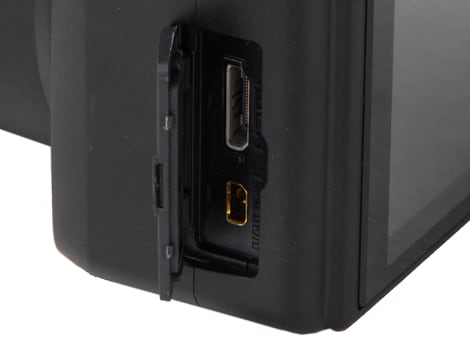 The FZ47 is equipped with a full mode dial featuring aperture priority, shutter priority, full manual, program auto, full auto, custom mode, and a host of others. Program is what we did most of our shooting in, and you'll likely do the same.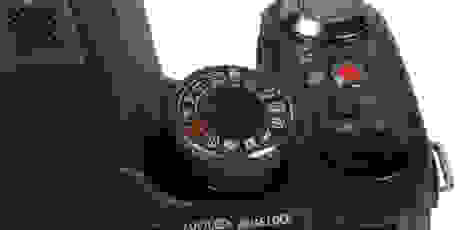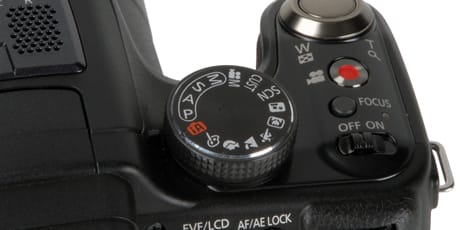 Scene Modes
Scene modes are contained within their own mode on the dial, and range from the useful to the mundane. High Sensitivity mode unlocks ISO levels up to 6400 at the cost of resolution, while Hi-Speed Burst enables shooting at 10 frames per second again at the cost of resolution. There's even a 3D Photo mode for assistance lining up images that will eventually be converted into a stereoscopic still.
The rest are old favorites: Fireworks, Candle Light, Party, Sunset, Snow, etc.
The only true picture effects come in the form of the Photo Frame scene mode. Only three overlays are available, and none of them are very exciting. The FZ47's color modes and the related interface are useful however. Seven are available in total: Standard, Vivid, Natural, Monochrome, Scenery, Portrait, and a Custom mode. Each of these may be tweaked individually, with sliders for contrast, sharpness, saturation, and noise reduction.
Self-timer options are available in 2 seconds, 10 seconds, and 10 seconds followed by three shots. The self-timer may also be combined with continuous shooting, for a 2 or 10 second countdown followed by three shots in rapid succession.
Shot to Shot ()
The FZ47's full resolution continuous shooting mode should really be called a "burst" mode, since only seven shots in a row are possible. The camera achieves 3.74 frames per second during this burst, and that's consistent with the competition. The seven shot limit isn't a big deal either, and should allow even beginners to capture the decisive moment.
Overall, the FZ47 handles very well. A decent-sized rubber hand grip coats the right side of the front of the body, which protrudes an inch for gripping with the surface of the fingers. A slight recession is carved here, to give the middle finger some extra leverage.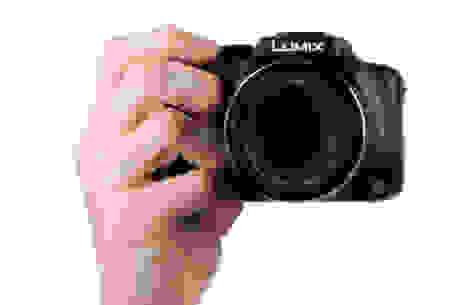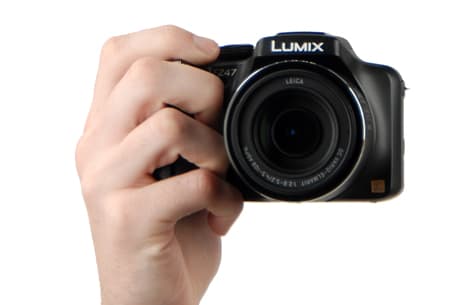 The camera's rear isn't quite as well thought out, but we didn't have too much of a problem with it. A plastic rest for the right thumb is placed directly above the button layout, but without any rubber here, the thumb's natural tendency is to slide up and left, toward the autofocus lock button.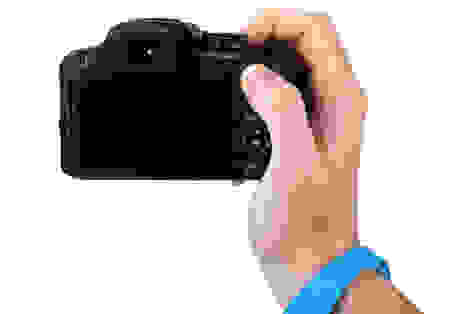 The relatively heavy lens also throws the FZ47 a bit off balance. This, combined with the lack of a rubber rear grip, makes one-handed shooting slightly imprecise. But these complaints are subtle at best, and most people will find themselves shooting with two hands anyway, so this camera receives a strong handling score.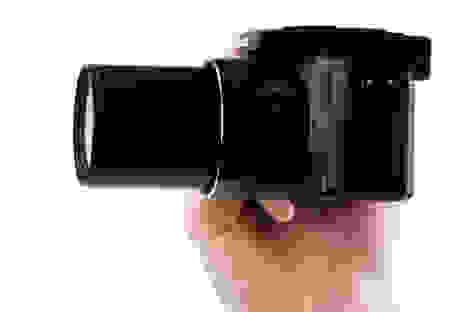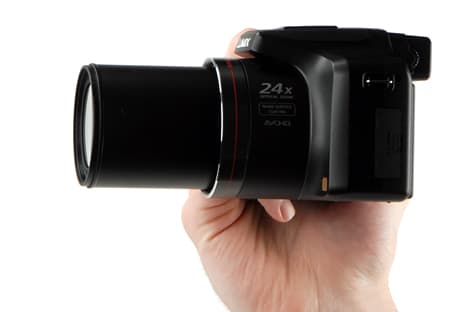 Each button on the FZ47 was designed with purpose, the tactility here is excellent. For example, the quick menu button is the lowest one, and situated right next to the directional pad, allowing the user to easily navigate with touch and without looking away from the EVF. At the top of the control layout, the EVF/LCD and AF/AE LOCK buttons are similarly shaped and close together, so Panasonic placed a small nub on one of them to help the thumb differentiate, like the home row of a computer keyboard. The only recessed key is the playback button, and wisely so, to prevent accidentally swapping into review mode.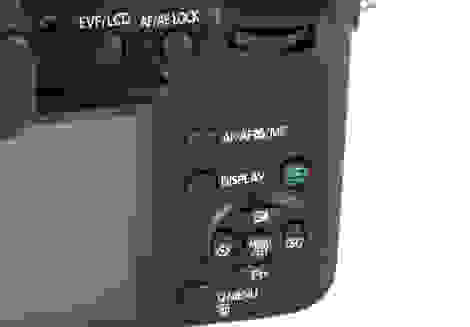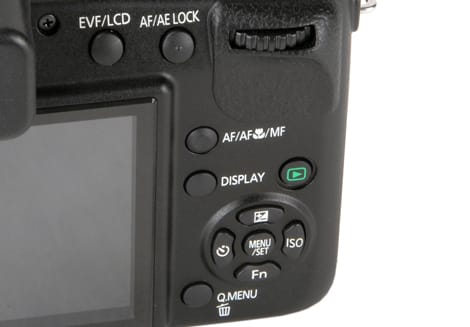 We don't love the rear dial however. It's too shallow and lacks friction, so our thumbs slipped across pretty frequently. On the other hand this dial does feature a secondary downward click, which is handy for swapping between shutter and aperture in manual mode.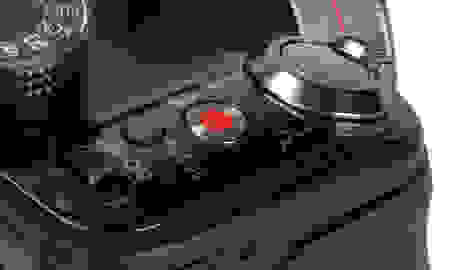 The main menu system isn't the best we've seen, but certainly isn't the worst either. It is necessary to use the directional pad while navigating, but the zoom lever does help when quickly scrolling through pages.
The quick menu is excellent however. One push of its dedicated button brings up an intuitive overlay with settings for some of the most common shooting variables, like burst, metering, focus mode, white balance, etc. The painless two-axis interface is a helpful aid during real world shooting and will likely see far more action than the main menu itself.
A 25-page "Basic Owner's Manual" ships with the FZ47, and its usefulness lies somewhere between those popular "quick start guides" and a full operating manual. The proper manual is available on an included CD-ROM, along with some useless editing software, and we found it to be moderately well-written and clear.
This isn't really a fair comparison, considering the SX30's age at the time of the FZ47's release. But despite this Canon's proximity to the end of its product lifespan, the camera remains one of the best ultrazooms out there. Yet the FZ47 is superior is almost every way. Sharpness, video features, and especially color accuracy all stand out.
But the most important factors for us are chromatic aberration and continuous shooting performance. Despite all their similarities, the SX30 is severely bogged down by green and purple fringing, so the FZ47 produces distinctly more attractive shots in many scenarios. The SX30 is also held back by slow continuous shooting, an area in which the FZ47 excels. This makes a huge difference in practice, we were able to capture far superior action and "decisive moment" shots with the Panasonic.
It will be exciting to see how Canon's next ultrazoom compares to the FZ47. Will it come close to the Panasonic's incredible color accuracy? Will it fix all the unsightly aberration? What about shooting speed? Who knows. But in the meantime, the SX30 offers few advantages over the newer FZ47.

/r:render
Like the SX30, the Fujifilm FinePix HS10 is inferior to the FZ47 in almost every way, except this time to a larger degree. We know it's tempting to consider the longer 30x optical zoom an advantage, but the image quality tradeoff just isn't worth it. With equal or lesser scores in just about every single test we perform, Fujifilm's HS10 is the clear loser here.

/r:render
What a fascinating comparison this was! By and large the FZ35 couldn't compete with the newer, better FZ47, which is two years its senior. Yet in our resolution section, the roles are reversed! The FZ35 has far better detail performance than the FZ47, better in fact than our entire comparison group.
The FZ35 is only an 18x camera, and this speaks volumes about the industry's trend toward ever-longer zoom ratios inside compact bodies. Notice–at least in this comparison group–that as zoom ratio increases, sharpness decreases. Other lens-related problems like fringing and distortion also get worse with zoom. The geometry of extra long focal lengths is just too complex and strained. So while zoom is of course the selling point of the aptly-named ultrazoom category, are we really getting better image quality? The answer is a complicated one.
Other than that, the comparison is not competitive. In fact we're not even sure where you'd find an FZ35 these days. But hey, at least we learned something.

/r:render
The Lumix DMC-FZ47 is an exceptional camera and a major victory for Panasonic. Running this model's color accuracy test was the sort of event where the entire team had to drop what they were doing and see the results for themselves, the score was simply that incredible. And if that was the end of the story, it would be an amazing fluke.
But it wasn't the end of the story, test after test returned excellent scores. Noise, sharpness, chromatic aberration; all good. Intuitive menus, confident handling, fast shooting, the list goes on. What we're left with is an ultrazoom class model that gives even mid-range DSLRs competition.
At the time of this writing the Lumix FZ47 is our number one fixed-lens camera, and deservedly so. With Fall fast approaching, and many manufacturers yet to announce lineups for the coming season, it's unclear how long this model will hold the position. But for now, the FZ47 is king.
Meet the tester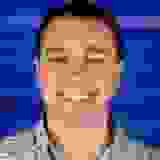 Christopher Snow
Managing Editor
@BlameSnow
Chris was born and raised less than ten miles from our editorial office, and even graduated from nearby Merrimack College. He came to Reviewed after covering the telecom industry, and has been moonlighting as a Boston area dining critic since 2008.
Checking our work.
We use standardized and scientific testing methods to scrutinize every product and provide you with objectively accurate results. If you've found different results in your own research, email us and we'll compare notes. If it looks substantial, we'll gladly re-test a product to try and reproduce these results. After all, peer reviews are a critical part of any scientific process.
Shoot us an email