Since then, it's been a slow return to form. The GF5 added some buttons and refined the GF3's awkward, blobby styling. Now we have the DMC-GF6 (MSRP $599.99). Although the signature hump remains (albeit in a more vestigial form), it's a different beast altogether.
Design & Handling
"Stylish Flat Design" isn't terribly comfortable to hold.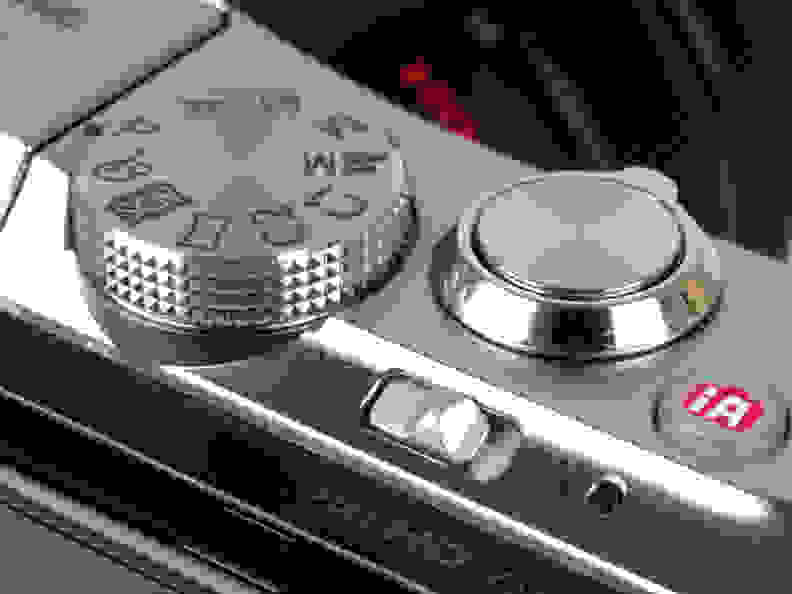 The GF6's purpose is to provide a full Micro Four Thirds experience in a petite package. It succeeds in many ways, especially when compared to the previous two incarnations of the GF series. For the first time since the GF1, there's an honest-to-goodness mode dial. Modes click into place with an extremely confident, satisfying detent. In typical Panasonic fashion, the iAuto mode has its own button, separate from the rest of the modes. Like on the G6 and GX1, two convenient custom modes are a few quick turns away.
The mode dial isn't the only new thing on the latest GF. There's not one but two custom buttons on the GF6. In addition, the GF6 also has a lever around the shutter button that can either control exposure compensation or power zoom (assuming there's a power zoom lens attached to the camera). This GF is the second to have a tilt-and-flip LCD, making self-portraits and shots with friends simple. As always, Panasonic's used the GF6's hump to pack in a pop-out flash.
In order to keep this camera compact, Panasonic opted to put a tiny grip on the GF6. A small, contoured piece of rubber is haphazardly glued next to the off-center lens mount. Around the back is a concave rubberized grip in order to provide a spot to rest your thumb. It's just barely enough to keep the camera in your hand. The klutzy and butterfingered among our readers might want to look into a G5 or G6 for their beefier, grippier bodies. Since the lens is interchangeable, you can shrink this Lumix's footprint by swapping the kit lens for one of Panasonic's pancake lenses.
Speaking of lenses, the GF6 we tested came with the new, refined Panasonic 14-42mm f/3.5-5.6 kit lens. We liked it on the G6 and we like it here. Arguably, it makes more sense on a smaller-bodied camera like the GF. It's a compact, lightweight lens with smooth-turning zoom and focus rings and excellent sharpness characteristics. We also found it easier to handle than the previous model.
Features
The very model of a modern system camera.
With its recent Micro Four Thirds models, Panasonic has shown that it's not standing still on the feature front. Even though the GF6 is smaller than its brethren, it still packs many (but not all) of the features you'd see in those cameras.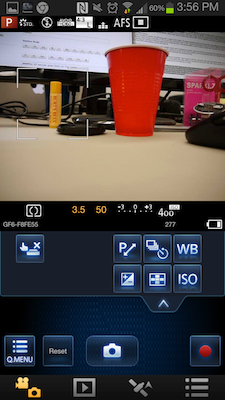 The GF6 is the first of the GF series to get NFC and WiFi standard. NFC is supposed to make pairing Android phones to a camera easier. We had some issues when testing it on the G6, but the GF6 linked up without drama. The Panasonic Image App works extremely well, with a fast live view and a full set of controls.
The GF6 includes many of the Creative Control filters we've come to expect from Panasonic. Also onboard are plenty of scene options, laid out in the easy-to-understand way we've seen on other recent Lumix cameras. Not only is there a name for each scene, there's also a thumbnail picture of what the results will look like.
If you've ever wanted to make your own stop-motion animation, the GF6 comes with a very cool mode that makes child's play out of the famously tedious art form. When capturing a series of frames, the GF6 keeps a faded version of previous shots on screen so that it's easy to line up objects.
The 3-inch touchscreen on the back of the GF6 is a highly responsive capacitive panel. The way that Panasonic has laid out the entire camera means you can choose to use the d-pad, scroll wheel, or touch, wherever you want. Multi-touch gestures like swiping and pinch-to-zoom worked fairly well, although we noticed some lag when advancing photos in playback mode. Like with other touch-optimized Micro Four Thirds cameras, the GF6 has tap-to-focus as well as tap-to-shoot.
Even though it doesn't include a 1080/60p mode, the GF6 is not terrible for video. Both AVCHD and MP4 video compression options are available and you have the option of shooting 60i when using AVCHD. The stereo microphone on the GF6 is a little bit of a worry, since the two channels are just a centimeter apart and are both positioned the left side of the camera. Front-facing or centered microphones would have been preferable and less easy to touch or block accidentally while shooting video. If you like to fine-tune your video settings, the GF6 has plenty to offer. Manual control functionality is all there, and it's nice to see that P/A/S/M modes are all available in video.
Performance
More than enough power for its target demographic
There's no doubt that the types of shoppers that will go for the GF6 are people upgrading from a smartphone or point-and-shoot, and in that regard, it'll prove itself to be a huge upgrade in image quality. Because of its size, layout, and automatic features, it's straightforward to operate with a shallow learning curve. But, when compared to other cameras in its class, it didn't exactly shine.
The GF6, like the more expensive G6, handled white balance quite well. Under simulated daylight, incandescent, and fluorescent lighting, it was able to adapt fairly quickly and accurately using both automatic and custom settings. Color, on the other hand, while pleasing enough, wasn't accurate. Noise was not an issue across the lower ISOs but detail gets spotty at and after ISO 3200. For people who like to keep noise under control, Panasonic's has carried over its very good manual NR scheme, with 11 variable settings plus long shutter noise reduction.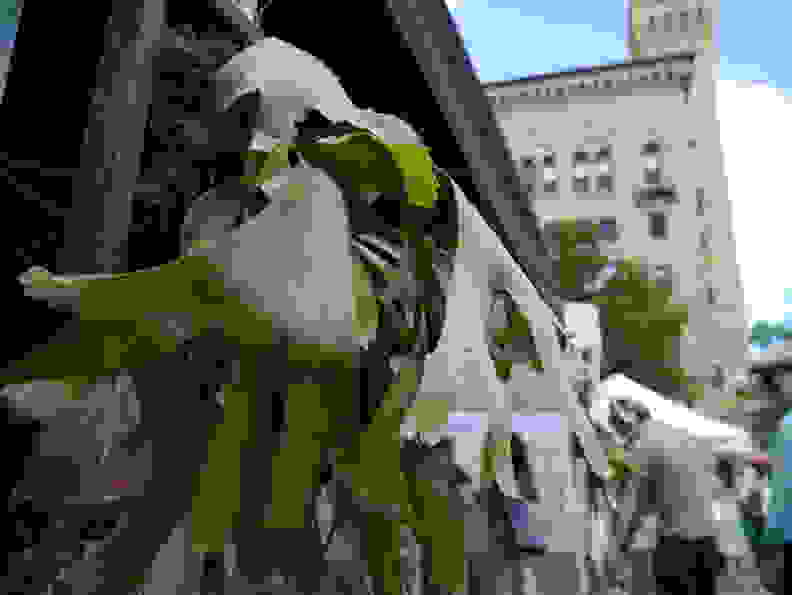 Like other M43 cameras, the GF6 uses contrast-detect autofocus. In day-to-day usage, we found that autofocus was quick and precise. When it didn't quite lock on to what we wanted to be in focus, we just turned to the more precise touchscreen focusing option. A quick pinch gesture can easily change the size of the point you want to focus on—and it's surprisingly effective.
Burst shooting continues to be a sore point for Panasonic's M43 cameras. The GF6 managed to shoot at 7 frames per second, which is fine by itself. The problem is that after 7 shots, it slowed to a screeching halt. We recorded as much as two seconds between shots after that, which felt like an eternity. This camera's direct competitor on the Olympus side of the fence took steady shots an a 1-second interval after the buffer filled (which took 25 shots at 8 fps).
While Panasonic is known for its quality video, the GF6 won't win you an Academy Award for cinematography any time soon. With 60i and 30p as its full-HD shooting resolutions, video looked fine but (understandably) lacked the crispness we've come to expect when using 60p. Motion was rendered well, with only a little bit of visible trailing and noise.
Conclusion
It's an evolution in the right direction.
At this stage in the compact system camera game, Panasonic knows where it stands. The GF series has taken a long and winding road (with a few bumps along the way), but the GF6 is a camera with plenty of features and controls that let you use them the way you choose. It has a highly useful capacitive touchscreen, WiFi, NFC, a built-in flash and easy-to-navigate menus. We think that the people who will be interested in this camera (smartphone and point-and-shoot upgraders) will enjoy what it has to offer.
The GF6, like the other recent cameras from Panasonic, suffers from a sensor that's a little long in the tooth.
But when compared to Olympus's E-PL5—a similarly priced and spec'd camera—everything falls apart. The GF6, like the other recent cameras from Panasonic, suffers from a sensor that's a little long in the tooth. Since everything we did like about the GF6 rests on such a weak foundation (that darn sensor), it'll be a tough sell to enthusiasts who can turn to other, better options at the same price point.
Panasonic has an excellent sensor in their top-of-the-line GH3, but for whatever reason, they have yet to spread the love amongst its less pricey cameras (something Olympus has done with the sensor from its OM-D). Ideally, we'd love to have a camera with the ease-of-use and features of the GF6 with higher image and video quality. We'll have to wait and see what the next generation brings.
By the Numbers
In our scientific tests, the GF6 performed adequately for a Micro Four Thirds camera (that is to say, much better than the average point-and-shoot yet not quite as good as a DSLR). We put each camera we review through its paces and test for resolution, white balance, color, dynamic range, burst shooting speed, video sharpness, and more. With the GF6, we were impressed by its exceptional white balance accuracy, both in automatic and manual modes. Noise control was also very good, with intelligent noise reduction that preserved detail while decreasing grain. Color accuracy was a disappointment, but we think it was intentionally tuned to produce a more vibrant image that would appeal to point-and-shoot users.
Noise & ISO
In our still life setup, we shoot each camera at each ISO and noise reduction setting. This allows us to see how the camera applies noise reduction to higher ISOs in a consistent way. Out of the box, the GF6 offers up ISO sensitivities from 160 to 12800. Noise levels are low through ISO 1600. But, there's a very visible falloff at ISO 3200, where detail takes a huge hit.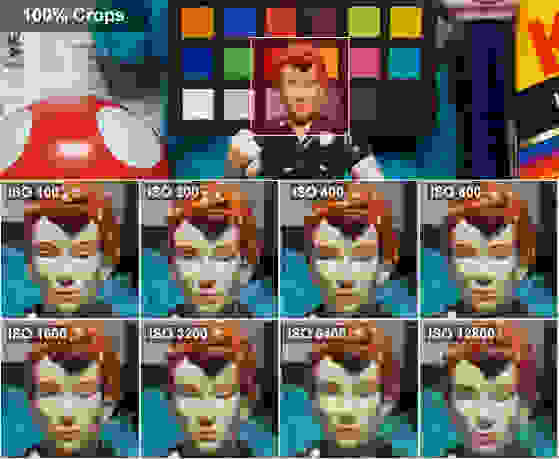 Noise reduction is, like on all Panasonic cameras, highly variable. The GF6 gives you 11 settings including its default NR setting, which is something that just isn't seen on competing cameras. Take, for instance, Sony's NEX-3N. That particular competitor only offers two settings—low and normal. Which of the noise reduction settings you choose can greatly impact the image quality, especially at high ISOs.
At its default setting, the GF6 applies enough reduction to keep noise levels down below 2% all the way up until ISO 12800, when noise is pushed up to 2.36%. The 2% threshold is one we use to represent printability of an image. If you pump up the amount of noise reduction, you'll see less noise across all ISOs and but especially between 3200 and 12800.
Color & White Balance
Like other Panasonic cameras, the GF6 comes with a range of color modes. The default Standard mode is the most accurate, even beating out the flat-looking Natural mode. In Standard, we measured saturation of 109.1% and a ∆C uncorrected color error of 3.68. To put that in perspective, a ∆C uncorrected color error of 2.5 is considered to be excellent, so the GF6 is quite far from ideal.
It looks like the Standard mode on the GF6 isn't identical to what we just saw from the G6, meaning that Panasonic has taken the opportunity to rework the color on this camera slightly in order to achieve a certain look. Accuracy takes a hit because of this new color tuning.
In our white balance test, the GF6 produced excellent results. Both in automatic and custom white balance modes, the GF6 did an exceptional job at adapting to different types of lighting. As usual, Panasonic offers same strong suite of white balance options, including two custom presets, and manual temperature entry. Even though the tricky incandescent test still proved a little difficult (as it is for most cameras), daylight in particular was extremely precise.


Continuous Shooting
This is one area where Panasonic can still improve over the competition. Even though the GF6 has a 20 fps burst mode using the electronic shutter, it's sadly limited to 3.9-megapixel shots. The fastest way to get full-resolution shots is with the camera's continuous High mode. Unfortunately, this burst mode will only net you 7 fps—then it slows way down to less than 1 fps.
Video
Would it have killed Panasonic to put 1080/60p video into the GF6?
Video we shot in 60i and 30p looked acceptible, with minimal trailing and only a hint of noise. Those are the only two full-HD frame rates, unfortunately. At least the GF6 has better-than-average low-light sensitivity. In the lab, it took 13 lux to produce an image at 50 IRE, the minimum acceptable brightness for broadcast.
As long as you shoot in 30p, you'll see a decent amount of detail, as we saw in our resolution test. In a brightly lit lab, the GF6 was able to resolve 600 lw/ph horizontal and 625 vertical. When the lights were dimmer, detail diminished and we observed numbers of 575 horizontal and 600 vertical.
We've posted some sample videos at both 60i and 30p below for your perusal.
Meet the tester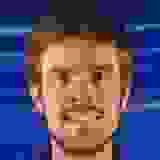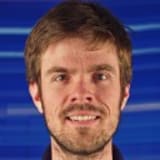 Brendan Nystedt
Contributor
@bnystedt
Brendan is originally from California. Prior to writing for Reviewed.com, he graduated from UC Santa Cruz and did IT support and wrote for a technology blog in the mythical Silicon Valley. Brendan enjoys history, Marx Brothers films, Vietnamese food, cars, and laughing loudly.
Checking our work.
Our team is here for one purpose: to help you buy the best stuff and love what you own. Our writers, editors, and lab technicians obsess over the products we cover to make sure you're confident and satisfied. Have a different opinion about something we recommend? Email us and we'll compare notes.
Shoot us an email