Sometimes it seems like designing cameras must be so simple: Take a successful camera model, add features people keep asking for, rinse, and repeat. Of course, things rarely work out that way, but sometimes the masses get exactly what they want. After all, enthusiasts are always looking for more, faster, better, sharper than last year's model.
In this way, Panasonic's upcoming Lumix GH4 looks like a home run. Not only is it a better stills camera, it's aimed to bust the pro video market wide open, featuring production-grade features and accessories. You want zebra patterns? You got it. The ability to output files with massive bitrates? 200Mbps it is. How about 4K? Step right up, my friend.
Panasonic took everything that made the GH3 a great camera and upgraded it like Steve Austin in the Six Million Dollar Man. A new Venus Engine processor, a new sensor, NFC, a better LCD, and a sharper EVF all come together in a camera body that still and video shooters alike have lauded for its ergonomics and ruggedness. And...did we mention that this sucker shoots 4K?
Practically a GH3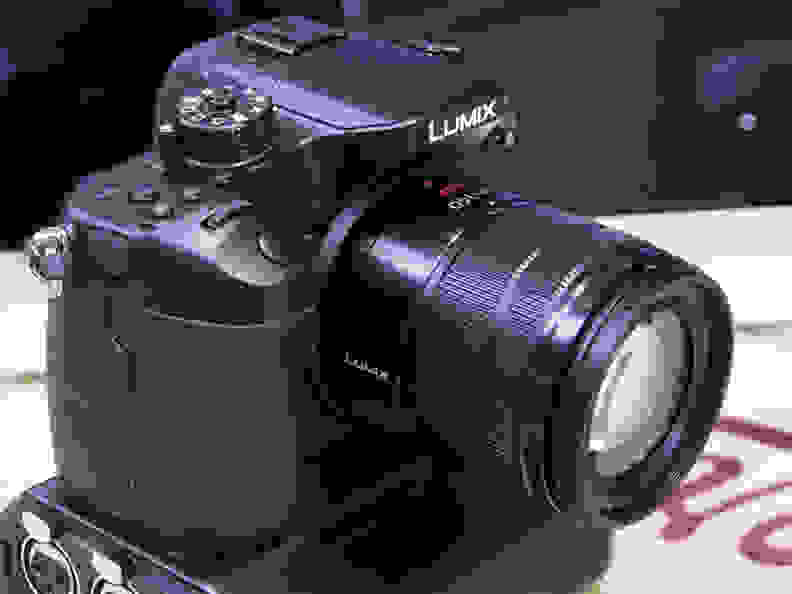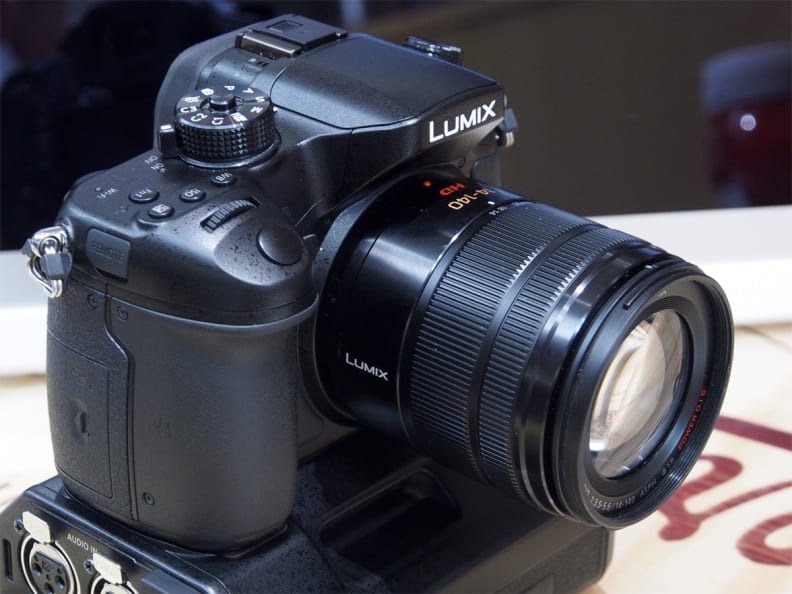 Save for a new mode dial, Panasonic did little to change the original GH3's design. Even though that might seem boring in a world where cars and consumer electronics are given facelifts and tweaked every single year, the GH4 is a safe upgrade to a solidly built camera that users already know inside and out.
That means that the GH4 should integrate seamlessly with an existing GH3 setup. Rigs will just work, plug and play. The GH3's battery grip is compatible and so are the GH3's batteries. Those shooting on SD cards won't have to invest in a new memory type, and improved accessories mean the GH4 can enhance, rather than replace, the kit you've already got.
The most noticeable change here is the GH4's mode dial. A pushbutton lock works like the one on Olympus's OM-D E-M1. Click it once and it's locked in place. Click it again to unlock. Simple. The new dial is also chunkier and its finely knurled exterior will make it easier to rotate, even when you're shooting with gloves on.
The other major change is surely one that long-time GH3 shooters will love: greatly improved OLED panels for both the EVF and rear touch display. The swiveling touch screen gets a bump from 610K-dots to 1040K-dots and the viewfinder gets more pixels, up from an already-decent 1744K-dots to a razor-sharp 2360K-dots.
While keeping things familiar will be a boon to GH3 shooters looking to upgrade, there were some improvements that we would have liked to have seen. For instance, with 4K recording's storage hungry file size a second SD card slot (or internal memory) would've gone a long way. That gripe aside, the GH4 is still fully weather-sealed and dustproof, with a size that is far more compact than most pro-level video cameras.
Photo fans, skip this section
The GH4 is a beefed-up stills camera, no doubt, but where Panasonic truly went all-in was with video features. They checked all the boxes pro videographers have been waiting to see. The changes enable so much more to be done with the camera itself, but things only get better when the GH4 is paired with the new DMW-YAGH accessory base. This new accessory is only compatible with the GH4, slotting into its base and providing HD-SDI output, XLR input, and HDMI output. This means the camera can integrate into existing studio operations with standard HD-SDI monitors, and you can even get higher-quality 4K and HD footage out of the camera with 4:2:2 chroma subsampling and 10-bit color by attaching an external recording device.
But before we get ahead of ourselves, we should talk about that marquee feature—4K video capture. The GH4's top 4K recording modes use IPB compression at 100 Mbps at either 24 fps when shooting 4096x2160 resolution (that's a 2.39:1 aspect ratio), or 30 and 24 fps at the 3840x2160 resolution (16:9). There's no ALL-I mode, but in our experience IPB (when done well) compresses footage with almost no visible artifacting compared to the same ALL-I shots. Getting back to chroma subsampling, it's worth noting that the max ratio available when shooting on an SD card is limited to 4:2:0 (with 8-bit color)—you'll have to rely on an external recorder and the previously mentioned DMW-YAGH to get full 4:2:2 subsampling along with 10-bit color.
We had a chance to check out sample footage taken with the GH4. We were impressed with the clarity of the video—this is 4K after all. The sharpness of the footage was probably aided by watching it on a pixel-dense 20" 4K Panasonic Toughpad tablet brought to our briefing. Don't get us wrong, though—from the clips we got to see, the GH4 seems more than up to the task of capturing detailed, lifelike UHD footage.
It's clear that storage is still a little bit of an issue.
It's clear that storage is still a little bit of an issue with such immense throughput required. Panasonic is utilizing the absolute latest in SD card technology, featuring UHS-3 speed class. With an SD card, 1 hour of 4K footage will take up around 45 GB (!!) of space. We can understand why the camera itself would be limited to more compressed video, since the full 4:2:2/10-bit scheme would greatly increase the space necessary to capture footage, and likely require memory an expensive, proprietary memory solution (we're not huge fans of P2 cards for that very reason). Out of the gate, Panasonic will be the only company with UHS-3 SD cards, but, we're hopeful that other flash memory producers will have other options on the market later on this year.
4K might be the star of the show, but HD shooting modes get VIP treatment, too. Putting the GH3's top bit rate of 72 Mbps to shame, the GH4 can shoot 1080/60p at up to 200 Mbps with options for 100 Mbps. You can even shoot at native 24p with this new high bit rate mode. For slow-motion shooters, the GH4 can reach a max variable shutter speed of 96 fps, up from 60 on the GH3. While 4K is sure to be the focus for the GH4, attention has clearly been paid to 1080p shooting as well.
Finally, there are a host of little video features included, many of which have been atop the wishlists of mirrorless shooters since the GH2 hit the market. Zebra pattern, PAL/NTSC frequency selection, color bars, synchro scan, luminance level adjustment...you can even have the GH4 display shutter speed information as shutter angle if you want. On the strength of its features alone the GH4 is bound to be one of the best compact interchangeable lens video options around.
Okay, camera buffs, you can start reading again now
The new sensor in the GH4 is good for far more than just video. Panasonic tells us that image quality should be a little bit better than the GX7, a camera we already thought had excellent imaging prowess. We'll hold off judgment for when we can get the GH4 into our labs, but there are some interesting new features that make this a better stills camera than the GH3.
The GH4's new sensor has a quicker refresh rate that should fight rolling shutter and boost burst shooting.
The new sensor features a new, 60-minute long bulb mode, a slightly different range of ISOs (with ISO 100 in extension mode) and a quicker refresh rate—less than half that of the GH3. Not only should this contribute to toning down rolling shutter in video, but it should also make the Panasonic-unique electronic shutter even more usable, and speed up burst shooting. Panasonic aren't discussing specifics, but if a camera can output 4K at 30fps, it shouldn't be a slouch in the burst department. Speaking of the shutter, the mechanical shutter now has a doubled top speed: 1/8000sec.
Another unique new feature should make contrast-detect AF faster on the GH4 as well as all future Panasonic cameras. Called DFD, it's a lens profile-based addition to the already-fast Panasonic autofocus system. Since the GH4 knows each Panasonic lens, it's been programmed to know what each lens's bokeh looks like at any focal length and aperture. If you tap on an out-of-focus subject in the foreground, the camera's AF programming can shave milliseconds off the time needed to nail focus since it knows what the edge of a blurred object looks like and when in the focusing range that type of bokeh might occur. This inferred depth may not work all of the time and won't be as predictive as phase-detect AF, but it should cut down on hunting time significantly.
The GH4 seems primed and ready for anything...if the price is right.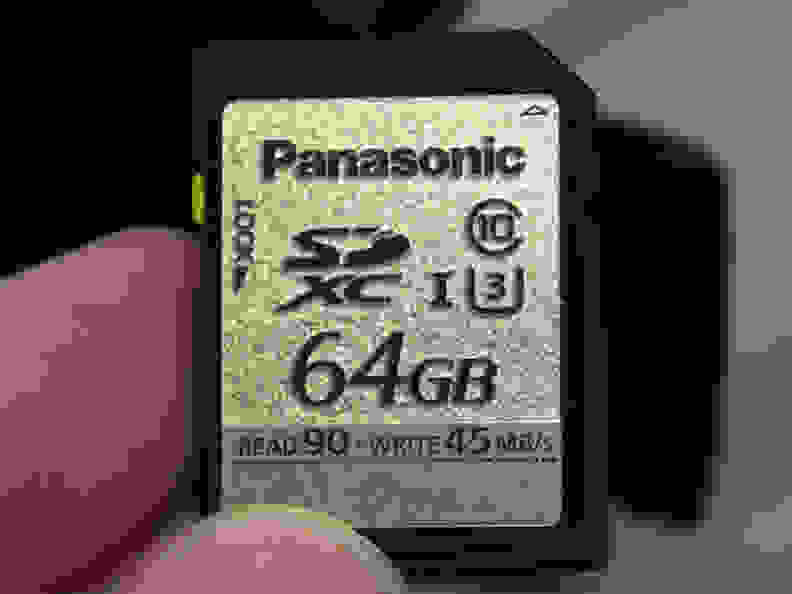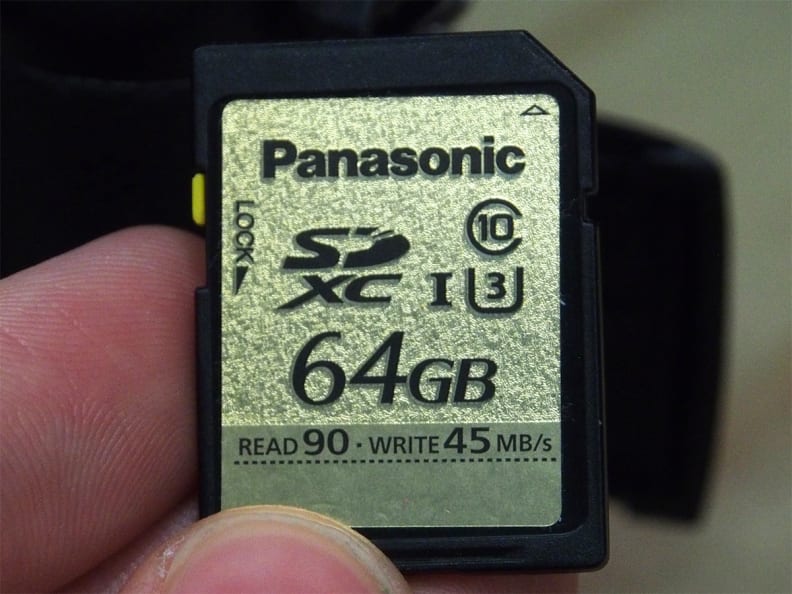 We get the feeling that Panasonic was holding back just a tad when it launched the GH3. After the GH2 resonated so well with video shooters, Panasonic began to orient its flagship Micro Four Thirds model in that direction, polling videographers for the features they'd most like to see. Even though that camera had plenty of video features, things like higher bitrate shooting, zebra patterning, and 4:2:2 subsampling didn't make the cut. It's clear that, with the GH4, Panasonic is making a statement about its video prowess.
The GH4, as a result, could upset the cinema camera market significantly. There are few 4K-capable options on the market right now and even fewer that will be as approachable right out of the box as this. The GH4 provides the flexibility of an interchangeable lens camera, the ease of use of a DSLR, and the video chops to integrate into a pro-grade setup. The only question for many is: How much will this thing cost?
Right now, we simply don't know. But whether you choose to stick with HD, go all-in on 4K, or just use it for stills, the GH4 looks like it could offer all of the above in a body that plenty of shooters already know and love. We just hope the GH4 costs well under Steve Austin's six-million-dollar price tag.
Meet the tester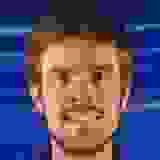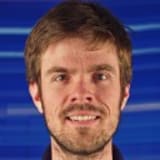 Brendan Nystedt
Contributor
@bnystedt
Brendan is originally from California. Prior to writing for Reviewed.com, he graduated from UC Santa Cruz and did IT support and wrote for a technology blog in the mythical Silicon Valley. Brendan enjoys history, Marx Brothers films, Vietnamese food, cars, and laughing loudly.
Checking our work.
Our team is here for one purpose: to help you buy the best stuff and love what you own. Our writers, editors, and lab technicians obsess over the products we cover to make sure you're confident and satisfied. Have a different opinion about something we recommend? Email us and we'll compare notes.
Shoot us an email