We spent a few minutes with the TS20 in a briefing at CES 2012 and gathered a few initial impressions to share. Read on for more.
The TS20 will be available in late February for $179.99 in orange, blue, red, and black.
The TS20 looks basically like a smaller version of last year's TS3 or this year's TS4 "full-tough" models. The brushed-metal finish gives it an air of seriousness, but in-hand, it feels like a slightly beefy ultracompact with a shiny coat. It feels like it can withstand some drops, and the safety mechanism on the door inspires confidence.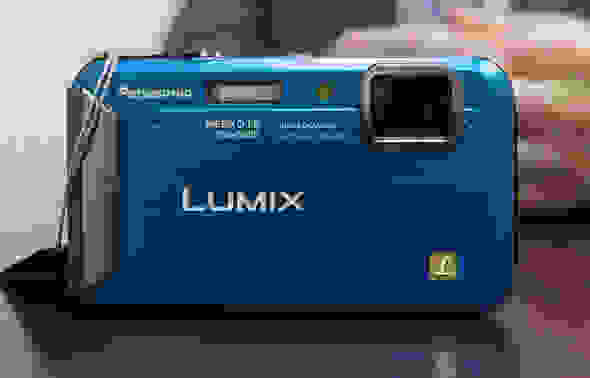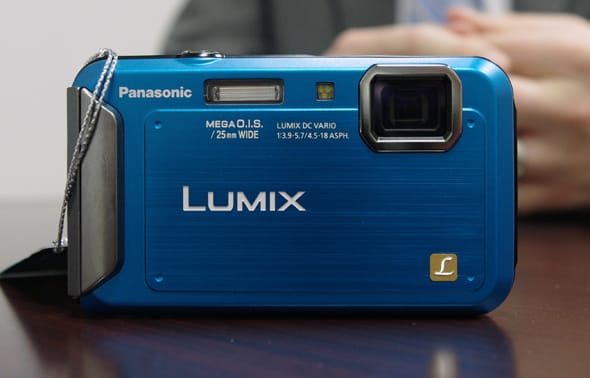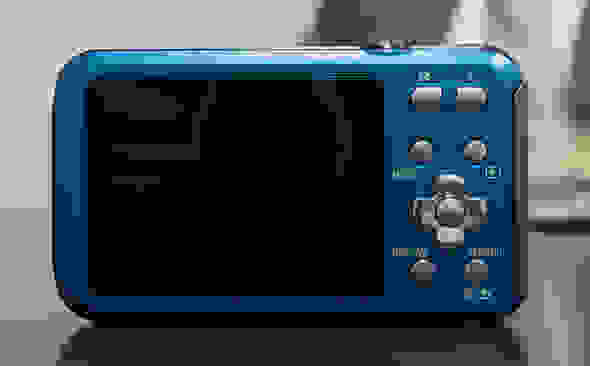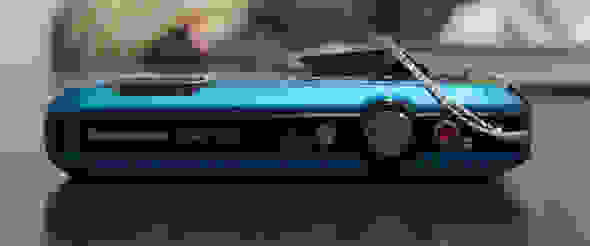 The menu system is decently easy to use, but not as efficient as it could be—typical of a Panasonic point-and-shoot. The Q. Menu button brings up the most common adjustments without leaving the photo preview. The Menu button brings up a top-level menu with options for a bunch of sub menus, including Rec for photo controls and Setup for system-related adjustments. Once again, it's similar to the TS3 and the other cameras that Panasonic announced recently.
This is pretty simple point-and-shoot stuff. Set it to Intelligent Auto, and it's a no-fuss affair. Fiddling with settings in, say, program mode could stand to be more intuitive—a mode dial would help, for instance—but if you don't want to mess with any of that, it's easy to ignore. Check out our TS3 review for more on the interface.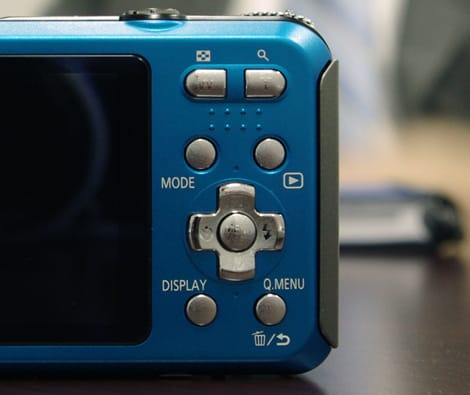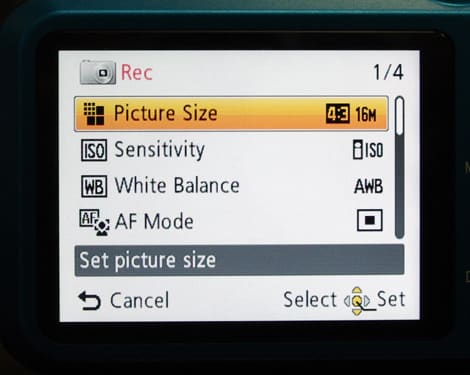 The TS20 feels like a beefy ultracompact—arguably still slim enough to fit into a pants pocket despite its ruggedized exterior. Like any pocket camera, handling is a bit slippery, and the rubber seals on various parts of the body don't help the grip very much.
There's no mode dial, but a mode screen with icons for Intelligent Auto, "normal" (or program) mode, a handful of scene presets (like Beach, Snow, Action), a scene preset sub-menu (with options like Baby, High Sensitivity, Portrait, and the like) as well as a miniature effect.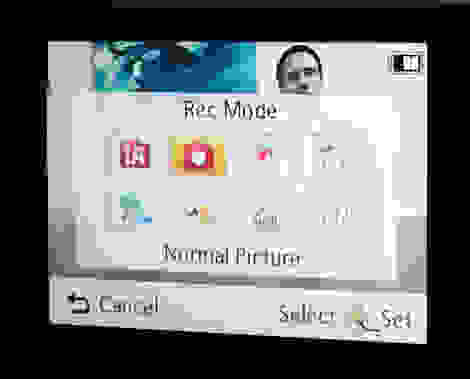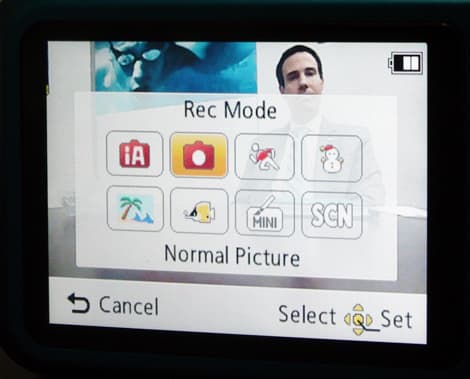 Like most Panasonics, the TS20 uses the hands-off Intelligent Auto mode, which leaves almost every decision up to the camera. Resolution can be adjusted, but that's about it.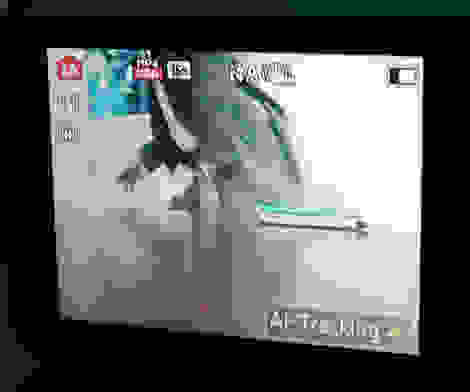 Movie mode maxes out at 720p in MP4 format. VGA clips are available as well.
We don't have official specs on continuous shooting, but there is a drive mode available. Since the TS20 is built around a CCD sensor, we don't anticipate that it's anything to get excited about.
Pretty typical playback mode stuff here: The four-way pad cycles through photos. The zoom buttons control playback zoom and multi-photo view out to calendar view. So on and so forth. Read our notes on the TS3 if you're interested.
The TS20's resolution maxes out at 16 megapixels in a 4:3 aspect ratio. A handful of reduced-res options are available, and it can also shoot in 16:9, 3:2, and 1:1 aspect ratios, though only one size per ratio. Normal and Fine JPEG qualities are supported. No RAW capture.
The TS20 is an autofocus-only camera. Face detection, AF tracking, 23-point, 1-point, and spot modes are all available, in Normal, Macro, and Zoom Macro ranges.
Aperture ranges from a middling f/3.7-5.9 to f/9.0-13.0. Shutter speed maxes out at 1/1300 sec. and can slow down to 8 seconds. These cannot be set by the user, since it has no aperture priority, shutter priority, or manual exposure modes.
Exposure compensation can go 2 EV in either direction in steps of 1/3 EV. The only metering option is Intelligent Multiple, which can cause problems in certain lighting situations.
ISO sensitivities range from 100 to 1600 in full stops at full resolution. The High Sensitivity setting unlocks ISO 3200 and 6400, though both at reduced resolutions.
Only a few white balance settings are available: auto, daylight, cloudy, shade, incandescent, and a custom setting.
The TS20 is equipped with POWER O.I.S. optical stabilization.
The lone picture effect is a miniature filter. Why that one? Who knows.
The TS20 is built around a 1/2.33-inch 16-megapixel CCD sensor—typical for a cheap compact. The lens is a 4x-zooming Lumix piece with a 25-100mm equivalent focal range and a ho-hum f/3.9-5.7 aperture.
Image quality is not typically a strong point with tough cams. Based on this optics setup, we don't expect the TS20 to blaze any new trails. But at least it won't break if you drop it.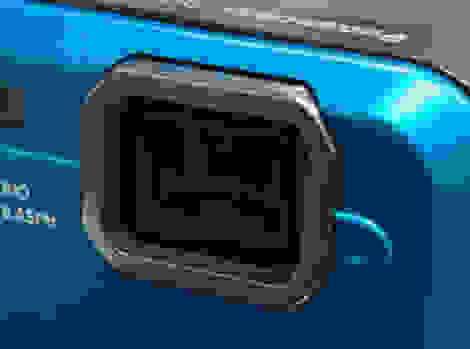 The LCD is a 2.7-inch, 230,000-pixel screen—about as low-end as it gets on a compact these days, but not too bad, all things considered. There's a High Angle mode that apparently improves the viewing angles.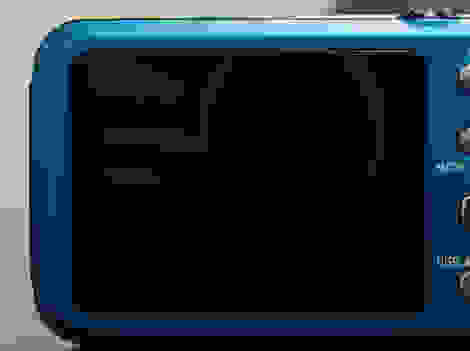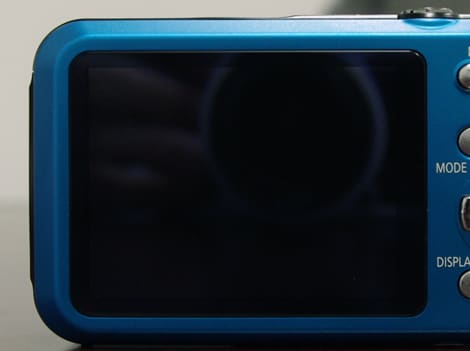 A small flash is tucked into the front panel, rated for a gentle 14 or so feet of effectiveness. Better than nothing, right?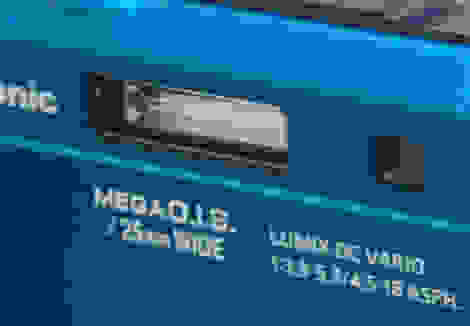 A USB port is concealed behind the vault-like, weather-sealed door on the right side of the camera.
Running on a rechargeable lithium-ion battery, the TS20 is rated for 250 shots per charge. The battery compartment is also concealed by the impenetrable vault door.
No surprise, the TS20 records to SD/SDHC/SDXC memory cards, which sit in a slot behind the weather-proof door.
Ruggedness
The TS20 is basically a budget compact camera that can withstand more abuse than a typical budget compact camera. It's Waterproof to 16 feet, shockproof to 5 feet, dustproof, and freezeproof to 14 degrees Fahrenheit. There's a general "toughness" to the construction that suggests it'll take a beating. There's also a locking, rubber-sealed door that covers the USB port, battery compartment, and memory card slot. Even if it's locked, the camera will flash a warning on the screen at startup imploring you to make sure that it is, indeed, actually locked.
Straightforward, run-of-the-mill, featureless point-and-shoots don't sell like they used to. To cover the gap, camera makers are turning toward longer zooms and tougher bodies to keep the dollars rolling in.
The TS20 is one of two new Panasonic tough cams for 2012. It's the Lite version of their TS4 tough cam—still waterproof and shockproof, but not to the same degree, and it doesn't have as many high-end features. But at $179.99, the TS20 is also less than half the price.
Therein lies this camera's appeal. You can buy plenty of cheap compact cameras for under $200, but few of them will survive a dunk in the pool or a drop off of a table. If you're going to buy a cheap camera, it might as well be one that's built to last for a while. It could be a good option for parents of young children.
We'll need to get the TS20 into our labs before we can make any firm judgments, though with an internal lens and low-end sensor, we don't imagine that the image quality will be anything to get too excited about. But hey, this is already a pretty good price for a good-looking, well-built, easy enough to use tough cam.
Meet the tester
Liam F McCabe
Managing Editor, News & Features
@liamfmccabe
Liam manages features and news coverage for Reviewed.com. Formerly the editor of the DigitalAdvisor network, he's covered cameras, TVs, personal electronics, and (recently) appliances. He's a native Bostonian and has played in metal bands you've never heard of.
Checking our work.
Our team is here for one purpose: to help you buy the best stuff and love what you own. Our writers, editors, and lab technicians obsess over the products we cover to make sure you're confident and satisfied. Have a different opinion about something we recommend? Email us and we'll compare notes.
Shoot us an email