The new K-S2 (MSRP $699 body-only, $799 w/ kit lens), which made its debut this week, isn't as immediately striking, but boasts some welcome upgrades that should allow it to compete with the best mid-range DSLRs on the market. Specifically, this is the first Pentax DSLR with a swivel screen, and also the first with WiFi and NFC. Packing the same 20-megapixel sensor as its little brother, it adds full weather- and dust-sealing.
Pentax is marketing the K-S2 as "the world's smallest dust-proof, weather-resistant DSLR," and it is indeed smaller than the earlier K-50 by a few millimeters in every dimension. It also gets an added boost in the form of a new collapsible 18–50mm f/4–5.6 kit lens that's significantly more compact than the old 18–55mm.
We went hands-on at CP+ 2015 in Yokohama, Japan, to find out how the K-S2 stacks up to the latest mid-range rivals from Canon and Nikon.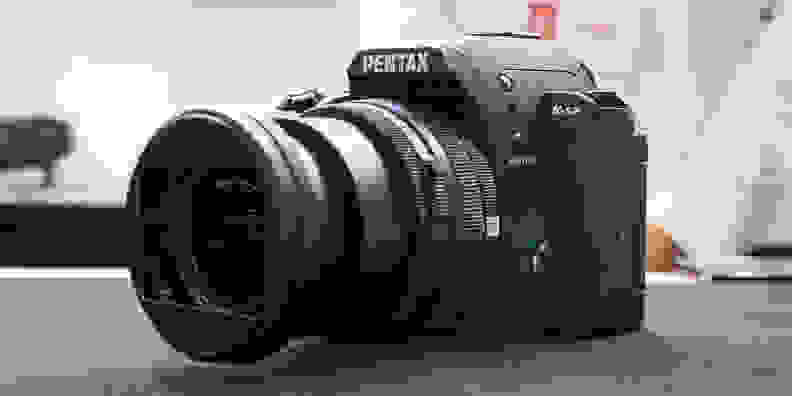 Lean and mean
Though the K-S2 inherits some of the K-S1's design cues, it thankfully dispenses with the blinking front LEDs and chromed accents. What's left is a slightly angular, mean-looking compact DSLR. On the whole, the body feels solidly built, though you certainly won't mistake it for a K-3.
The grip, while a little slim for our tastes, is artfully contoured, and the shutter button is placed on a gentle slope that naturally conforms to your fingers. Like the K-50 (and unlike the K-S1), the K-S2 offers a dual control dial setup, with the front dial placed just in front of the shutter release.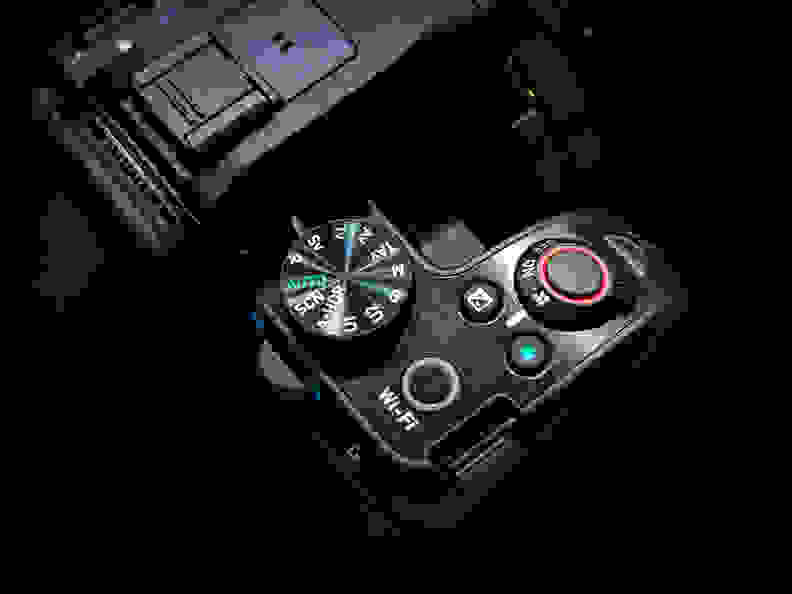 Up top, you'd have to be blind to miss the new WiFi button, which lights up when it's active. The shutter button itself also lights up: green for stills shooting and red for video. Yep, that means the K-S2 retains the video setting integrated into the power ring—a feature inherited from the K-S1 that's extremely convenient, but also annoyingly easy to trigger by mistake.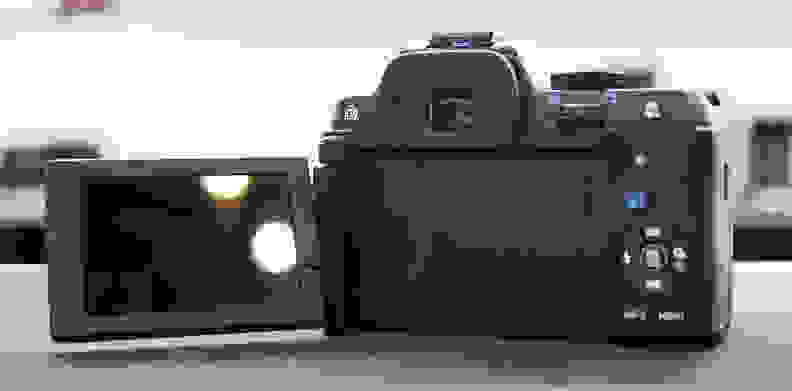 Speaking of video, budding filmmakers will definitely enjoy the tilt-n-swivel screen, a long-awaited first from Pentax. (Yes, the 645Z has a tilt screen, but it doesn't flip out or get you a 270-degree tilt.) The LCD feels very sturdy, and it's great to see it included—despite the potential challenge of putting an articulated LCD on a weather-sealed body.
Stills shooters can enjoy the newfangled screen, too. Naturally, you can shoot at odd angles (over crowds, at waist level, around corners), or flip the screen to face forward for selfies. As an extra little perk, when you flip the screen around, the WiFi button automatically transforms into a secondary shutter button, giving you a more natural way to snap self-portraits.
(Just one disappointment: The LCD is not a touchscreen. We'll have to wait for the eventual K-S3 to supply that missing piece.)
Around back, there's a new control scheme. Where the K-S1 rocked a bright blue OK button surrounded by a rotary mode dial, the K-S2 kicks the mode dial back up top where it belongs and returns to a simpler OK-plus-four setup. The buttons feel great, though we wish they had ridged edges for better differentiation.
There's one last curiosity lurking behind that fancy new swivel screen. Ricoh must have gotten some serious backlash when they put their own name on the back of the K-3: The K-S2 has a gigantic PENTAX logo on the back of the LCD panel.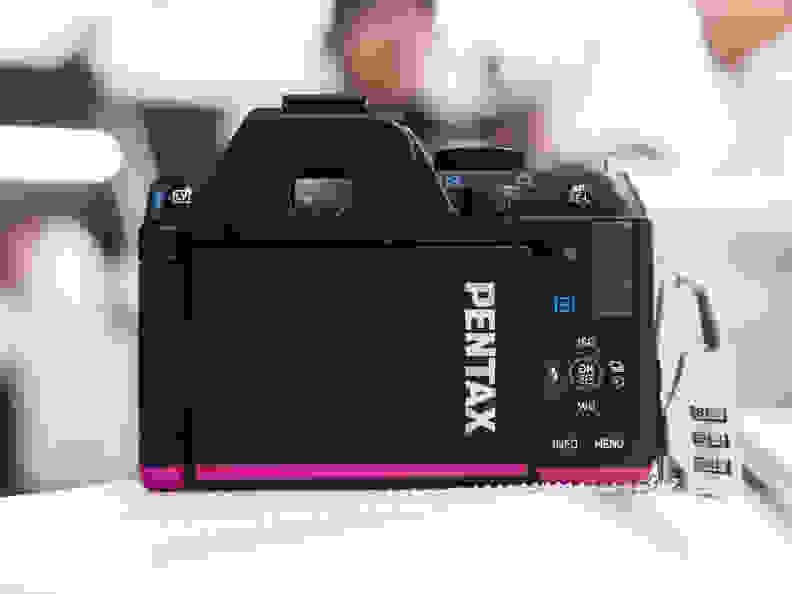 A smörgåsbord of modern tech
New features are the K-S2's stock in trade. As we've mentioned, it's the first Pentax to offer both wireless connectivity and an articulating screen, but Ricoh's designers didn't stop there.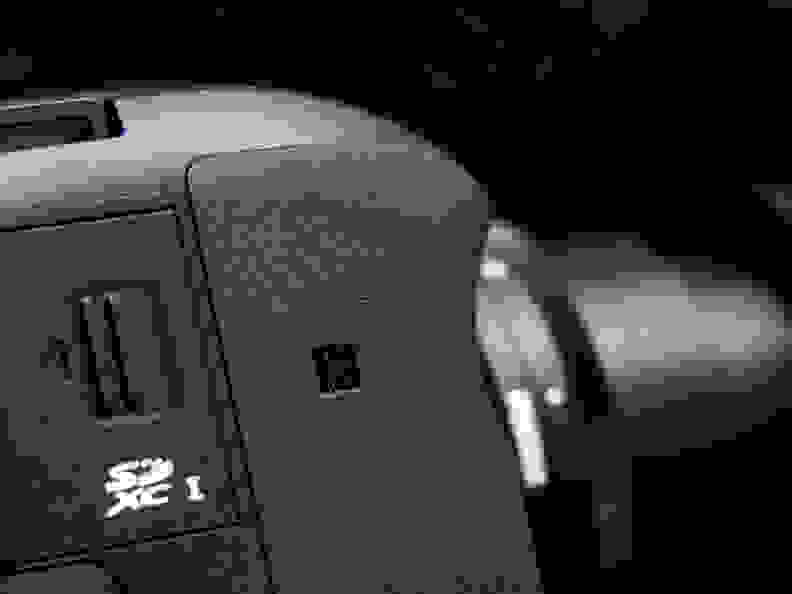 The same video fans who appreciate the tilt screen will love the addition of a mic port—something the K-S1 and K-50 both lacked. That makes the K-S2 the most affordable Pentax option that can record external audio. And though the K-S2 shoots 1080/30p and 720/60p video in H.264—just like the K-S1—it also adds a novelty 4K interval movie mode to ice the cake.
Of course, don't be fooled by the new bells and whistles; despite solid tech specs and the addition of a mic input, video isn't the reason to buy this camera. Other brands simply take video recording more seriously, offering features like focus peaking and advanced autofocus modes.
Rival brands have been offering WiFi and NFC for a year or more, so it's about time that Pentax finally caught up.
Rival brands have been offering WiFi and NFC for a year or more, so it's about time that Pentax finally caught up. The company's first effort is more or less par for the course; you can pair the camera to any iOS or Android device, then use your phone as a remote viewfinder with tap-to-focus, tap-to-shoot, and so on.
Also worth mentioning is Pentax's unique composition adjustment tool, which the K-S2 receives from the K-50 and other higher-end Pentax cameras. The feature is the same as before, allowing you to use the in-body image stabilization system to re-frame your shots in-camera. That might sound silly if you shoot handheld all the time, but for frequent tripod users it can be a lifesaver.
The core of the camera is still a 20.1-megapixel CMOS sensor without an anti-aliasing filter—the same sensor found on the K-S1. But, the K-S2 received a couple of complementary upgrades, including the K-5 II's decent, but still outdated 11-point SAFOX X autofocus system, and the AA filter simulator found on higher-end Pentax bodies. The simulator uses microscopic vibrations to erase moire and false color, and—unlike a real AA filter—can be turned on and off. (In essence, it's like if Nikon put a D800 and D800E in the same body.)
One feature that Ricoh left entirely intact: the best-in-class optical finder (100% coverage and 0.95% magnification) inherited from the K-S1. It's bright and clear, even on a dim show floor, but at this point in camera evolution we'd almost prefer a Fujifilm X-T1–style EVF.
It's smaller and lighter, but is it better?
The K-S2's other exciting feature isn't part of the camera at all. It's the new DA-L 18–50mm f/4–5.6 DC WR RE kit lens, and it's exciting for two reasons.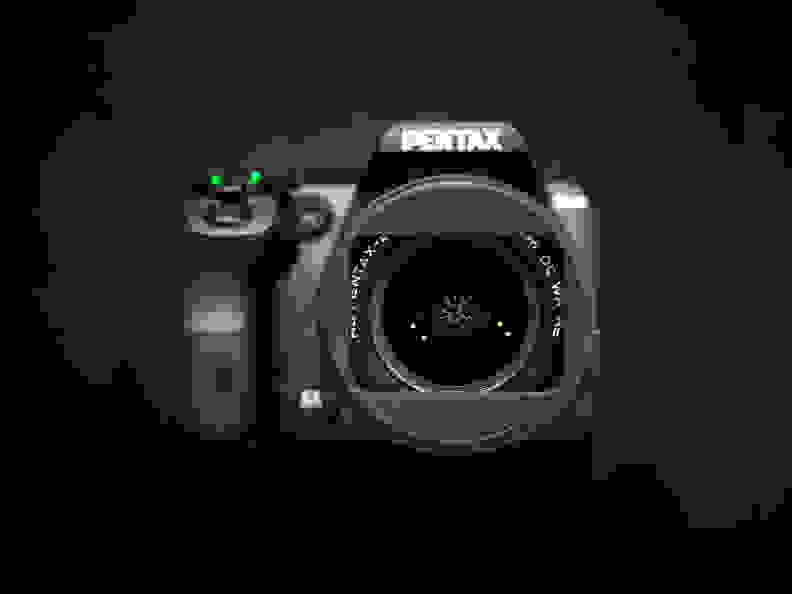 To begin with, it's the first all-new kit lens from Pentax in, oh… about a decade. Introduced back in 2004, the DA 18–55mm f/3.5–5.6 AL served through 2008 until it was replaced by the virtually identical 18–55mm f/3.5–5.6 AL II, which still serves to this day in various WR and DA-L guises. Change isn't necessarily good—and the 18–55mm was noted in its day for being an unusually solid kit lens—but at least it's exciting.
We've seen plenty of collapsible mirrorless lenses, but it's relatively rare to see a DSLR optic that can fold in on itself.
But change alone isn't cause for excitement. The new lens is also retractable (hence, the "RE" in the model name). We've seen plenty of collapsible mirrorless lenses, but it's relatively rare to see a DSLR optic that can fold in on itself.
Sadly, the mechanism Pentax has used isn't as robust as others we've used from Nikon, Panasonic, Sony, and Olympus. The button you press to "unlock" and extend the lens feels flimsy, and the barrel rotation feels annoyingly imprecise—almost grainy. Don't get us wrong, it definitely gets the job done and Pentax's heart is in the right place. We just wish this lens felt as nice to use as, say, the Panasonic 12–32mm kit lens from the Lumix GM5.
Autofocus speed from the electric DC motor seemed just as quick as traditional screw-drive lenses, and it has the side benefit of making the lens wonderfully quiet in use. Turn off the autofocus confirmation beep and the K-S2 hardly makes a sound. That's a big improvement from previous Pentax kits, almost all of which boasted a screechy, high-pitched AF whine.
We can't pass judgment on the lens's optical capabilities just yet, but in the 100% uncontrolled and generally unpleasant photographic conditions of the CP+ show floor, shots looked decently sharp and not obnoxiously distorted. That's about as much as you can hope for from the average kit lens.
Ricoh puts its best foot forward for 2015.
The K-S2 is a big step forward for Pentax, and evidence that Ricoh is committed to growing the brand after a long period of stagnation under Hoya. Equipped with all the modern tech expected of a DSLR in 2015, this is a camera that can compete on a level playing field with rivals from Canon and Nikon.
Really, the only place it's likely to stumble is in autofocus performance—an area where Pentax has historically struggled. The K-S2 is rocking a 2.5-year-old AF system that was already outdated when it came out; we wish it had inherited the K-3's far more advanced SAFOX 11 system, but that particular corner got cut.
We're glad Ricoh is mixing things up a bit with the K-S series' styling, but we're also glad it's taken a small step back after the K-S1. The K-S2's look is modern without being gaudy, and it's different enough to make the camera stand out in a crowd of same old, same old DSLRs. The company will be offering it in three standard colors—black, white, and black-and-orange—as well as seven additional nature- and sports-themed color schemes. (The latter group even includes two varieties with racing stripes. Sporty!)
The K-S2 hits stores in the U.S. next month with an affordable $700 body-only price tag. Compare that to the Nikon D5500 at $900, or the Canon T6s at $800, and it's clear that the K-S2 is a great value—especially when you consider that it's smaller than the competition and fully weather-sealed. Now Ricoh just has to convince consumers to jump aboard.
Meet the tester Ben Keough
Contributor
@ben_keough
Ben is an experienced industry journalist who formerly served as Senior Editor of News and Features at Reviewed. He now contributes as a freelance writer and editor. Most recently hailing from the vast wilds of the American southwest, he is an avid photographer who is deeply disturbed by the lack of wide open landscapes in Boston.
Checking our work.
Our team is here for one purpose: to help you buy the best stuff and love what you own. Our writers, editors, and lab technicians obsess over the products we cover to make sure you're confident and satisfied. Have a different opinion about something we recommend? Email us and we'll compare notes.
Shoot us an email