The compact 12.4-megapixel Pentax K-x is currently the least expensive SLR on the market with video recording capability. It's available in three kit configurations;, a single-lens version with an 18-55mm f/3.5-5.6 lens for $650, a dual-lens kit with an added 50-200mm lens for $750, and a dual-lens kit with a 55-300mm lens for $850. Unlike most SLRs, it also comes in colors, with the standard black (used in our testing), white, navy blue and red.

The K-x in white, red and navy.
Front
---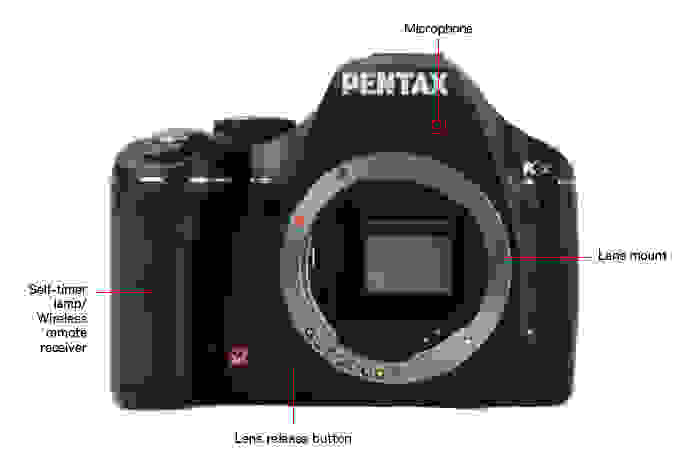 Back
---
Sides
---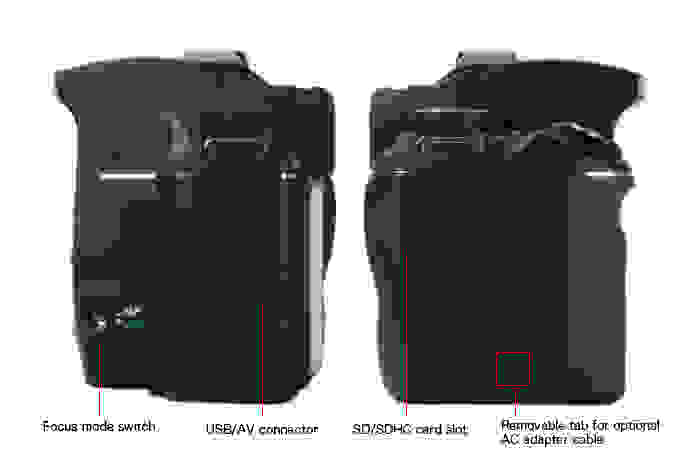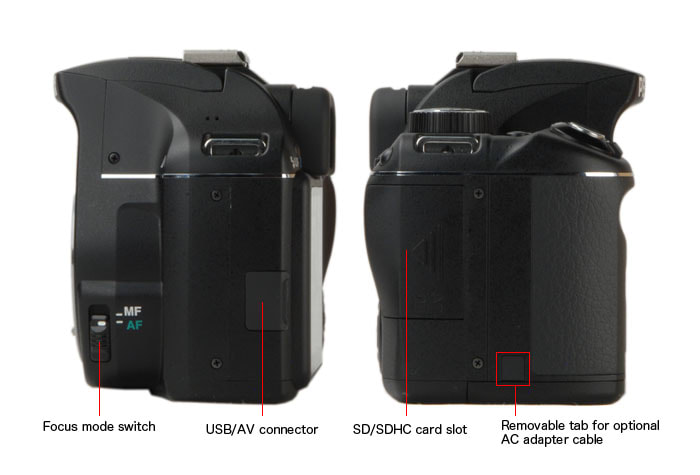 Bottom
---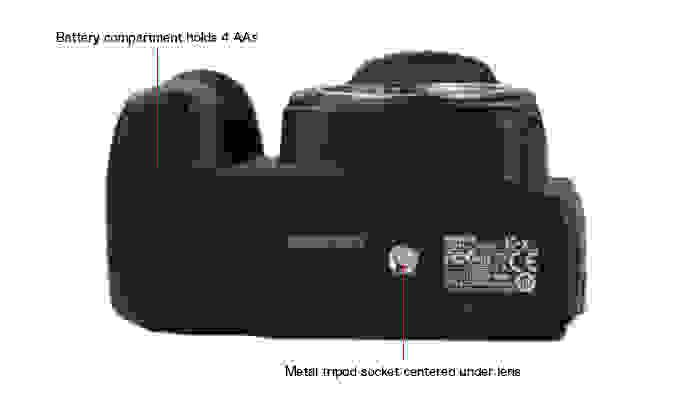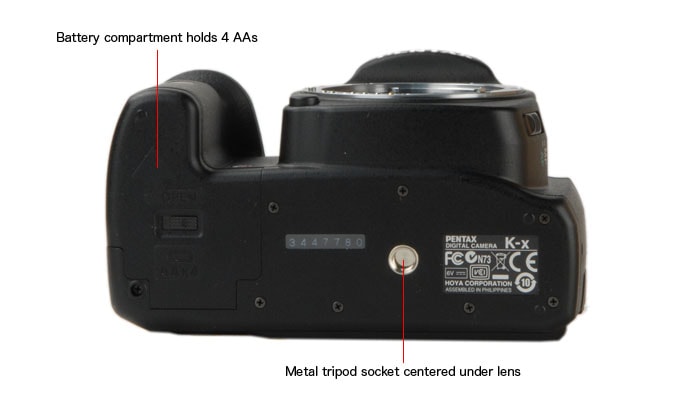 Top
---
** Size Comparisons **
---
** In the Box **
---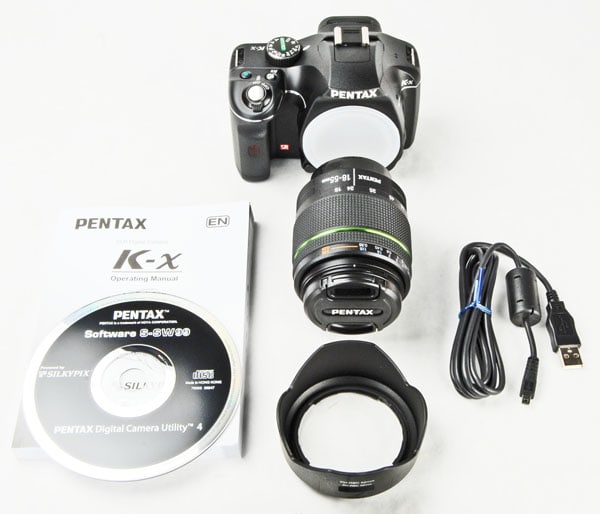 • Camera with body cap attached
• Strap
• USB cable
• Camera strap
• Operating Manual
• 4 AA disposable lithium batteries
Strangely for a camera with video recording capability, the K-x ships with the cable required to output video to a TV. The required I-AVC7 cable sells for $14.95.
**Color Accuracy *** (11.36) *
---
The Pentax K-x was less accurate in its color reproduction than most cameras we test. To determine color accuracy, we shoot the X-Rite ColorChecker chart under bright studio lighting, in each available color mode, and analyze the resulting images using Imatest software to measure the color deviation from the known chart values. The score is based on the result for the most accurate color mode.
The K-x offers six color mode choices, the most accurate of which is called Natural. This is the only available choice that's properly saturated, at 103.5%, The next closest to ideal, Bright mode, is oversaturated to 123%. While it's not unnaturally vivid, even the Natural mode exhibits substantial color shifts, most notably when reproducing orange and yellow shades. Blue, red and magenta, though, are reproduced quite accurately. Flesh tones are off a bit, but it will take a critical eye to notice this shift. Click here for more on how we test color.
The following table shows same-size crops taken from our test shots for each of our comparison cameras, in their most accurate color modes.
NOTE: Because of the way computer monitors reproduce colors, the images above do not exactly match the originals found on the chart or in the captured images. The chart should be used to judge the relative color shift, not the absolute captured colors.
The default color accuracy for the K-x in its best mode is less precise than the other cameras in our line-up. Color shifts are most noticeable for orange and yellow, which fortunately aren't that prominent in most photos.
Color Modes*(4.00)*
---
The K-x offers seven Custom Image settings, which control color along with saturation, hue, brightness, contrast and sharpness, all of which can be adjusted. Six of these settings are in color: Bright, Natural, Portrait, Landscape, Vibrant and Muted. The final choice is monochrome. For more information and image samples comparing Custom Image settings, see the Picture Effects section.
In the table below are same-size crops from our test images for five of the color modes. You'll find samples taken in Muted and Monochrome modes in the Picture Effects section of this review. 
NOTE: Because of the way computer monitors reproduce colors, the images above do not exactly match the originals found on the chart or in the captured images. The chart should be used to judge the relative color shift, not the absolute captured colors.
Long Exposure*(7.01)*
---
Our long exposure testing combines color accuracy and image noise analysis at slow shutter speeds (between 1 and 30 seconds), at low light levels. The K-x didn't fare badly in the noise component, but its bright light color problems carried over when the lights were low, leading to a mediocre overall score. Click here for more on how we test long exposure.
The good news is that the color didn't shift when the shutter speed changed — consistency here is a virtue — and there was only slight oversaturation. However, the color hues weren't reproduced accurately, leading to a low score here. As expected, results were very close whether long exposure noise reduction was turned on or off. The charts in this section measure color error (above) and image noise levels (below), so shorter bars indicate better performance.
Image noise results aren't great, but at under 1% across the shutter speed range the images are certainly useable. As we often find, long exposure noise reduction had no positive effect, and doubled the elapsed time for each shot. Long exposure noise reduction systems work by taking a second exposure with the shutter closed, determining the noise pattern in that shot and mathematically removing these flaws from the original. However, since most image noise is unpredictably random from shot to shot, the system rarely works and, in fact, often increases visible noise.
The Panasonic GF1, with its noisy Micro Four Thirds sensor, posted a slightly lower score than the Pentax K-x, but all of the other comparison cameras (including the non-video Pentax K2000 model) posted higher scores in our long exposure test.
Noise*(5.95)*
---
Shooting in a well-lit environment, images from the K-x had higher noise levels than most of our comparison cameras, starting at nearly 1% at a low ISO 200 setting and becoming pretty much unusable at the top ISO 6400 level. We test image noise by shooting the X-Rite ColorChecker chart under bright 3000 lux studio illumination, using each high ISO noise reduction setting available, then run the test images through Imatest for analysis. Click here for more on how we test noise.
We used the default configuration for high ISO noise reduction in our testing, but the K-x offers some flexibility here. By default, high ISO noise reduction kicks in after ISO 800. However, through a custom menu setting, you can choose the setting to start applying noise reduction.
The noise reduction processing does have a significant impact, cutting visible noise by nearly half at ISO 1600.
The chart here breaks out overall image noise into its component parts, red, blue, green, yellow and chroma (gray). If noise in one color channel is considerably higher than the others it can make noise visibility worse, but that's not the case here.
With the camera's noise reduction processing turned off, the Panasonic GF1, with its small Micro Four Thirds format sensor, is the noisiest camera in our roundup by far, but the K-x performance is nothing to brag about either.
Crank the noise reduction setting to 11 and images at ISO 1600 become useable, though we'd stick with small reproduction sizes for anything beyond that. It's interesting that, while photos taken with the Panasonic GF1 look awful at ISO 1600 or 3200 with noise reduction turned off, the highest of four available noise reduction settings dramatically reduces visible speckling and imperfections at these levels, and didn't annihilate fine details in the image.
The K-x didn't match the image noise performance of the other SLRs in our lineup, surpassing only the small-sensor Micro Four Thirds Panasonich GF1 in this test. levels
ISO*(6.00)*
---
Available standard ISOs range from 200-6400, with an expanded ISO range from 100-12800. There's an Auto ISO mode, which allows the user to limit the highest acceptable setting anywhere from ISO 200-12800.
NOTE: The images above are not used in our testing or scoring, but are included here to show real-world examples of the differences between cameras at the various ISO settings.
Resolution*(9.18)*
---
The Pentax K-x posted middle-of-the-road results in our resolution testing, shot with the kit 18-55mm lens. At some settings photos were tack-sharp from edge to edge, but we test at three focal lengths, each at three different aperture settings, and poor sharpness at high aperture settings pulled down the overall result. Click here for more on how we test resolution.
Distortion
We don't include distortion results in our scoring for cameras with interchangeable lenses, but we do run the test on the kit lens. In this case, there was virtually no distortion when shooting in the middle of the zoom range, some slight pincushioning at full telephoto and quite a bit of barrel distortion (over 2.5%) at the widest angle 18mm setting (equivalent to 27mm on a 35mm camera).
The K-x has an optional distortion correction system that attempts to digitally manipulate an image to minimize the effect of distortion when shooting with a compatible lens.
Chromatic Aberration (8.48)
There wasn't much chromatic aberration at most settings, though a keen eye will note some problems when shooting at the widest zoom.. *
*The K-x offers optional digital processing to control lateral chromatic aberration adjustment. *
Sharpness (9.48)*
As seen in the same-size image crops from our test shots below, sharpness results are inconsistent, with wide variation based on shooting conditions. This is in part attributable to the extremely small aperture settings available with the kit lens: we expect to see sharpness fall as the lens is stopped down for any camera, and the K-x lens has a minimum aperture of f/40 at its long telephoto setting.
The K-x delivers nice results at the widest lens setting, with softness and chromatic aberration becoming a bit more noticeable with the aperture stopped down to f/22, but still not bad.
Images shot at the middle aperture setting look crisp, while both extremes show some softness, though little chromatic aberration.
Shooting at the highest zoom setting under bright studio lighting, we again see far superior results in the middle aperture range than at the larger or smaller ends of the spectrum.
In our comparison group, both the Nikon D5000 and Canon T1i produced distinctly disappointing resolution results, with noticeable sharpness problems. The Pentax K-x scores are in a different class, though still not as high as its brand mate Pentax K2000 or the Panasonic GF1.
Picture Quality & Size Options*(9.13)*
---
The K-x supports four resolution settings:
There are three available JPEG compression settings. In both RAW and RAW+JPEG modes, shooting is supported in Pentax's PEF format or the DNG format created by Adobe. One of the many options for the programmable Green Button is switching temporarily to RAW+JPEG mode.
Dynamic Range*(8.13)*
---
The K-x performed well in our dynamic range testing, making it a good choice for handling high-contrast shooting situations without losing detail in the very bright or deeply shadowed areas. We test dynamic range by shooting a Kodak stepchart with 20 patches from solid white to solid black, with a range of gray values in between. Test photos are taken at each ISO level, across the full aperture range. These test images are then analyzed using Imatest software to determine how many distinct patches can be identified in each, then those results are compiled to create an overall picture of the camera's performance. Click here for more on how we test dynamic range.
The K-x delivers a 7-stop dynamic range at ISO 200, which is quite good, and retains nearly 5 stops out to ISO 1600.
Comparing dynamic range for the cameras in our roundup at ISO 200, only the Canon T1i offered a wider dynamic range. After that, though, the T1i takes a steep dive, down to 4.27 stops at ISO 400, at which point the K-x still measures 6.21 stops.
The Pentax K-x stands up well to the competition here, with only the K2000 posting a higher score.
Image Stabilization*(2.02)*
---
The K-x incorporates sensor-shift image stabilization in the body of the camera, so any attached lens reaps the benefits (versus Canon and Nikon SLRs, which use lens-based stabilization, with some lenses equipped with IS and others without). And there are benefits to be reaped here, in combatting up-and-down camera shake. When it comes to horizontal camera shake, on the other hand, the IS system was largely ineffective.
We test image stabilization by mounting the camera in a computer-controlled rig that produces programmed movement patterns at low shake levels (about what you'd find in a typical handheld shooting situation) and high shake levels (about the same as shooting one-handed, or while moving). We test at a variety of shutter speeds, moving the camera both horizontally and vertically, with image stabilization turned on and off. The thousands of test photos have their resolution levels analyzed using Imatest software, and the measured differences between results shot with and without IS lets us determine the system's success. Click here for more on how we test image stabilization.
In our low-shake testing, we found the image stabilization system make very little difference when it comes to horizontal shake, but produced a worthwhile advantage when the camera bobbed up and down.
The same pattern holds true when we cranked up the level of shake, with a consistent and meaningful improvement.
The stabilization performance of the K-x is nearly identical to the K2000, which makes sense. The Canon T1i, with its lens-based stabilization, was by far the best of the bunch.
The table below provides representative same-size crops from our horizontal stabilization testing.
*NOTE: As of May 2010 we have revised our image stabilization testing procedure to consider only horizontal stabilization. The scores shown here are up to date.
*
White Balance*(6.09)*
---
The K-x is a mediocre performer in white balance adjustment accuracy, lagging the competition using the automatic white balance system and falling short of the color accuracy levels we expect after taking a manual white balance reading.
We check white balance performance by shooting the X-Rite ColorChecker chart under daylight, incandescent and compact fluorescent lighting produced using the X-Rite Judge II light box. The test photos are analyzed using Imatest software, with color error measurements compared against the known values of the ColorChecker chart. Click here for more on how we test white balance.
Automatic White Balance (9.43)
The automatic white balance system handles daylight illumination well, but it's flummoxed by compact fluorescent and incandescent lighting, like that produced by household tungsten bulbs. The charts in this section illustrate color error levels, so short bars are better.
The K-x couldn't match the exemplary results delivered by the K2000 in daylight shooting, but its WB accuracy holds up well compared to the other tested cameras.
Incandescent illumination is consistently the most challenging light source for automatic white balance systems, and the K-x is not alone in failing to cope well. The GF1 was the noteworthy exception to the orange-tinged rule here.
The Pentax K2000 handled compact white fluorescent lighting poorly compared to the competition, including the exceptional K2000 results.
Custom White Balance (2.74)
We demand a very high level of color accuracy after going to the trouble to take a custom white balance reading with an SLR. The K-x didn't live up to these standards, Shots taken under incandescent lighting were much improved compared to the automatic WB results, but still no great shakes compared to other tested cameras.
The Pentax K-x offers underwhelming white balance accuracy levels.
White Balance Settings*(10.00)*
---
The K-x provides a generous selection of white balance presets, including a variety of fluorescent bulb types.
The on-screen preview system works well when setting white balance. By pressing the exposure compensation button, you capture a preview image at current settings. Then, as you cursor through your white balance preset options, or fine-tune the setting along the green-magenta and/or blue-amber axes, you see the effects of your changes live on the preview image (which you can save as well, if the spirit moves you).
Taking a manual white balance reading is simple enough. You shoot a white or neutral gray surface under current lighting conditions. You can then make the selection area larger or smaller, and move it around the screen, to specify the precise area you want to use for taking a reading.
Sample Photos
---
Click on any of the large images in the following section to open the full-resolution photo in a separate window.
**
Still Life Examples**
---
The following photos of our still life setup were taken at all available ISO settings for each comparison camera, using their most accurate color modes in aperture priority mode, using the automatic white balance system. Clicking on any of these thumbnails will open the original full-resolution image in a separate window.
NOTE: The images above are not used in our testing or scoring, but are included here to show real-world examples of the differences between cameras at the various ISO settings.
Noise Examples
---
The following same-size crops are taken from our still life shots for each comparison camera.
NOTE: The images above are not used in our testing or scoring, but are included here to show real-world examples of the differences between cameras at the various ISO settings.
Playback Mode*(10.00)*
---
The 2.7-inch LCD is a bit small and low-res to really show off your photos to best effect, but the playback mode screens do a nice job displaying your image data.
The slideshow utility offers three different transition effects and control over the length of time each image will remain on screen, but it lacks the option to choose which photos will be included, an all-or-nothing approach that isn't ideal.
There's a useful option to view photos images simultaneously, side by side on the screen, enlarging them if you like and scrolling the enlarged images in sync.
Stored photos can be deleted one at a time, all at once, by the folderful, or up to 100 images can be selected individually and deleted as a group.
In addition to the obvious play, pause and resume, movie playback offers single frame advance and reverse, fast forward and fast reverse. What's missing here is the ability to jump directly to the beginning or end of the clip. Strangely, the same image editing menu that appears when you press the bottom leaf of the four-way controller when looking at stills appears when you make the same choice viewing movies. Only problem is, while the editing options are still displayed, none of them work on the movie file you're viewing.
In-Camera Editing*(10.75)*
---
The K-x provides plenty of editing options, most of them genuinely useful. You can rotate photos,  resize them, crop (3:2, 4:3, 16:9 and 1:1 aspect ratios are available) and develop RAW files, applying any of the available camera settings and effects. If you're feeling playful, there are 15 digital filters, as shown below. Seven of these (toy camera, high contrast, soft, star burst, retro, extract color and fish-eye) are also available as effects applied directly while shooting. Since you're stuck without an undistorted original when taking a photo using one of the digital filters, using them during editing seems a lot more sensible.
If all those choices aren't enough for you, you can also create your own custom filter effect. Parameters include High Contrast (Off, +1 to +5), Soft Focus (Off, +1 to +3), Tone Break (Off, Red, Green, Blue, Yellow), Shading Type (6 types), Shading Level (-3 to +3), Distortion Type (3 types), Distortion level (Off, Weak, Medium or Strong) and Invert Color (off or On).
The Index Print capability can be used to create straightforward contact sheet-style compilations of multiple images, but a multitude of options lets you create interesting collages as well. There are six available image layouts, from ordinary rectangles to angled and overlapped designs, and even a circular pattern with different sizes scattered around the page. Each page can have 12, 24 or 36 photos. with the background set to white or black. Finally, you can choose to include all images, only those in a particular folder, or choose one photo at a time. When you have everything the way you like it, your index print can be saved as a 6-megapixel file.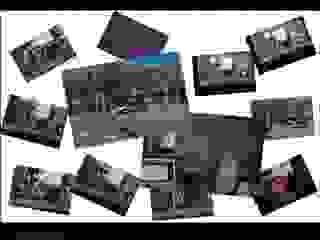 *The index print utility goes beyond ordinary layouts. * When viewing movies, it's possible to capture a single frame by pausing the playback, pressing the INFO button and confirming your intention. **Software***(5.00)*   *** The K-x ships with a single program, Pentax Digital Camera Utility 4, in versions for both Windows and Mac. **Direct Print Options***(2.00)* *** We've come to take for granted that any digital camera that comes in for review, point and shoot or SLR, will support the PictBridge standard — the question is always how *well* it's supported. PictBridge is the system that lets you output directly to a printer, without using a computer, by connecting your camera via USB. In this case, though, Pentax decided not to invest in a PictBridge license for the K-x (the less expensive K2000 is PictBridge enabled, the more expensive K-7 is not). DPOF ((Direct Print Order Format), the system used for preparing a digital order form for printing at an outside service bureau, is supported, but only the essentials are provided. You can choose to print all or select individual images, set the number of copies for each image, and decide whether or not to imprint the date. The one saving grace regarding printing is the flexible index print creation utility, which lets you create and store not only standard rectangular thumbnail image blocks but also collage-style image compilations using a variety of layouts, **Sensor***(3.00)* *** The 23.6 x 15.8mm CMOS sensor has a gross resolution of approximately 12.9 megapixels, and an effective resolution of 12.4 megapixels. The sensor has a dust reducing coating in addition to a sensor shake system. If manual sensor cleaning is required, the Dust Alert feature lets you take a photo of a bright, solid-colored surface and get an image map showing where dust was detected.  **Viewfinder***(7.75)* *** The penta-mirror viewfinder is reasonably bright and comfortable, though eyeglass wearers will need to shift the camera a bit to see both the full scene and the information bar at the bottom of the screen.  The field of view is approximately 96%, the magnification about 0.85x. The diopter adjustment is a slider at the top of the viewfinder, indented in the eyecup so it won't be moved accidentally. The diopter adjustment range is approximately -2.5 to +1.5m
-1
. The illustrations below shows the viewfinder display, first the full screen, then an enlarged view of the information readout.     **LCD***(4.40)* *** The LCD is an adequate but uninteresting 2.7-inch 230,000-dot display. LCD brightness can be adjusted along a 15-step scale, with a black-to-gray gradated strip displayed on screen while you move the slider. LCD color can also be adjusted to your liking, though this won't affect the actual color in the photos you shoot. The illustration below shows the on-screen information display when shooting stills. It may not be the most graphically appealing arrangement, but it's very practical, providing easily legible readings for key shooting settings and readings plus reminders of digital filters and custom image settings in effect (so you're less likely to forget the funky setting you used for a previous shot and ruin the next one), and even at-a-glance reminders of the functions mapped to the four-way controller.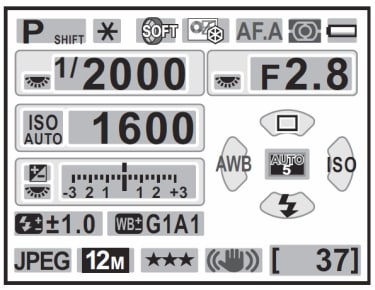 *The shooting info display is clear and comprehensive.
*The movie mode info display provides a similar level of detail, including customized image settings along the right side.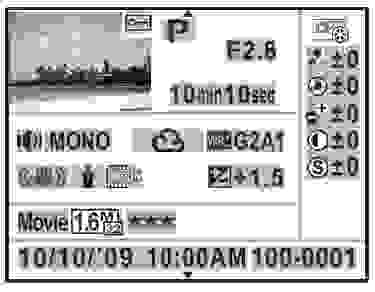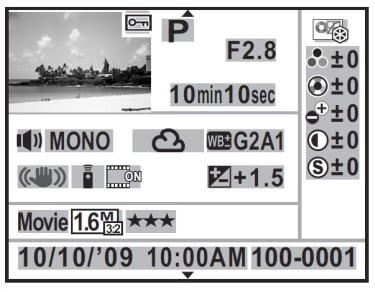 Your movie shooting settings are visible at a glance.*

*
LCD Panel
As with most low-cost SLRs, there is no separate monochrome LCD to display shooting settings.
Flash*(6.75)*
---
The built-in flash pops up about 3 inches from the center of the lens, a bit close when shooting with a long lens or hoping to avoid red-eye in portraits taken in dark environments. The strobe is quite small, with a very distinct hot spot in the center and relatively narrow coverage. Pentax gives the guide number for the pop-up flash as approximately 16 at ISO 200. Maximum shutter sync speed with the built-in flash is 1/180 second.
Shooting in Auto Picture mode, the flash will pop up automatically be default, but this can be defeated by changing the flash setting, an option too often missing in full auto mode. There is also a separate spot on the mode dial for auto shooting without flash, but this also disables  the scene recognition feature ordinarily found in Auto Picture mode.
Pentax has enhanced the settings flexibility of the built-in flash compared to the K2000. Now, in addition to the auto and forced flash mode modes, you can use slow sync for capturing foreground subjects against a dark background, use trailing curtain sync to capture a trailing light effect behind moving subjects, and sync with an external wireless flash unit. Red-eye reduction is available in auto, manual, and slow sync modes.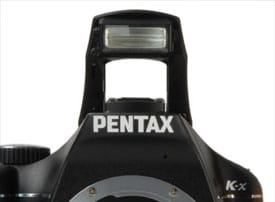 The pop-up flash is underwhelming.
Flash output compensation is available in a range of -2.0 to +1.0 stops, in 1/3 or 1/2 EV steps.
Shooting with an optional external flash makes P-TTL flash available, which fires a pre-flash to calculate the right exposure for the subject at hand before the photo is actually taken, and should produce a more accurate reading. With the AF540FGZ or AF360FGZ flash units, you can set the sync speed higher than the 1/180 second limit on the built-in flash. Wireless flash control is also available, using the built-in flash or one of the two listed above, along with a compatible external unit.
Lens Mount*(7.50)*
---
The KAF2 bayonet mount is fully compatible with DA, DA L, D FA, FA J lenses, and lenses with an auto aperture setting when used with that mode enabled. Other lens types can be mounted, but require custom settings changes and some functions may be disabled. Details are found at the Pentax web site here.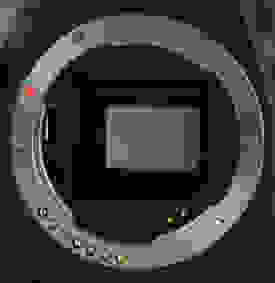 *Pentax offers a nice selection
of high-quality lenses.*
The camera has an approximately 1.5x magnification factor, so the kit 18-55mm lens shoots like a 27-83mm lens on a 35mm camera. The three shots below show the zoom range from widest angle to maximum zoom.
Battery*(4.00)*
---
Unlike most SLRs, the Pentax K-x runs on 4 AA batteries (it comes with a set of Energizer Ultimate Lithium AAs).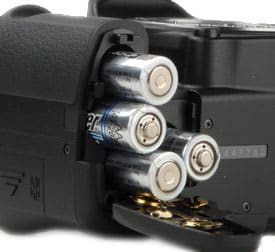 *The use of AA batteries isn't
necessarily a bad thing.*
Pentax claims that without flash you'll get 210 shots with a set of regular alkaline batteries, 1900 shots with pricey lithium disposables, and 640 per charge with rechargeable NiMH (nickel metal hydride) cells. In our initial testing, though, we blew through a set of regular alkalines much faster, and even the expensive lithium disposables didn't come close to 1900 shots. In early December, though, the company introduced a firmware upgrade primarily devoted to addressing just this problem. After upgrading the camera to version 1.01, battery life increased dramatically, approaching the manufacturer's initial claims. That said, we still recommend springing for a set of rechargeable NiMH batteries, since standard alkalines offer limited shooting capacity and the admittedly long-life lithium disposables go for about $15 for a set of four. Radio Shack is currently selling a package with four store-brand NiMH AAs and charger for $30.
Pentax also offers an optional AC adapter kit, K-AC84 ($65), with a battery-shaped coupler that fits in the compartment, which has a notch for the cable when the compartment door is closed.
Memory*(3.00)*
---
The K-x uses SD/SDHC memory cards, the usual choice for compact digital SLRs.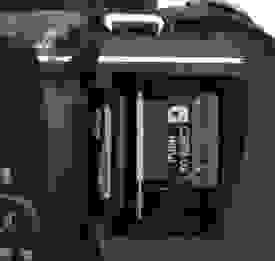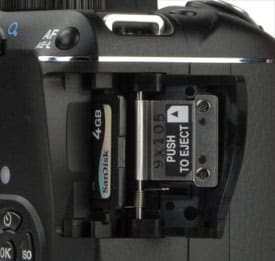 *SD cards combine high capacity
with low price.*
Jacks, Ports & Plugs*(2.00)*
---
There is a single jack, located on the left side of the camera, with a proprietary connection for data and AV output. Unfortunately, the cable required to connect to a TV isn't included in the box, requiring an additional $14.95 purchase (if you can find the I-AVC7 cable at all). This was less of an issue with previous Pentax SLRs, but this one has video recording capability, so output to a TV set is a pretty mainstream activity. Also missing is an HDMI port for connecting to a high-def TV, despite the fact that the K-x does shoot in 720p video mode.
*The lack of high-def video output
is a significant flaw.*
Shooting Modes*(11.50)*
---
The K-x offers a fully automatic shooting mode that attempts to use scene recognition and set the camera accordingly. We like this approach, and found that the system usually made an appropriate choice. Among the other shooting modes, the only oddball is Sv (for sensitivity value), which adjusts the aperture and shutter speed based on changes to the ISO setting
Live View*(3.00)*
---
You enter Live View shooting mode by pressing a dedicated LV button on the back of the camera. The Live View screen looks good as you move the camera around,with no flicker, stuttering or blurring even under low light or fluorescent illumination. You can customize the Live View screen to suit your preference. For starters, there's a single black strip at the bottom with shutter speed, aperture, ISO and remaining image capacity displayed. You can add as many features as you like from a four-course menu: detailed info overlay, a line grid, a histogram and a bright/dark area indicator that blinks yellow for underexposed areas and red for overexposed areas, creating quite the Sixties light show under the right shooting conditions.
There are three Live View autofocus choices. Contrast detect autofocus uses information from the image sensor to achieve a sharp image, unlike the phase detect system used when shooting with a viewfinder, which employs a dedicated autofocus sensor. With contrast detect, the system has to move the lens back and forth and hunt for the right spot, which takes lots of precious time, and makes a delightful growling sound as the gears grind forward and back. The bottom line: this system is hopeless for capturing moving subjects in sharp focus. Nevertheless, there is a face recognition mode using the same technology. The good news is that, once it's achieved focus, it does a reasonable job of following the subject if he or she shifts around a bit. Trying to grab a shot of an active child this way, though, will be bad for your blood pressure.
Which brings us to the third Live View focus system, phase detect AF. This uses the same sensor as the regular viewfinder-based focus system, but works in an odd way. When you're looking at a blurry image of your subject on the Live View screen, press the shutter halfway and the camera flips down the mirror and blacks out the Live View LCD image while focusing. You can wait for the cheery 'chirp' indication that focus has been achieved and let go of the shutter to continue composing your shot in Live View, if you like, then press the shutter a second time until you hear two distinct 'click' sounds — one for the mirror flipping down again, the second for the photo actually being taken. Or, if you're pretty sure your composition is right, you can press the shutter all the way down, lose sight of your subject while the camera both focuses and shoots the picture, and then return to Live View display. No matter how you slice it, this is slow, clumsy work. A Live View system was required for adding movie mode to the camera, but as a still photography tool, it's basically only practical for tripod shooting. 
Live View offers three autofocus options.
Scene Modes*(6.50)*
---
For those ready to move the mode dial beyond Auto, but not quite up to grappling with manually manipulating camera settings to match the shooting situation, Pentax offers a generous array of preset scene modes.
Picture Effects*(7.00)*
---
The Pentax K-x provides an extraordinary range of customizable image control settings while shooting, both as custom image presets and filter effects. The missing link here is the option to store the tweaked controls as user-defined custom settings. You can set the camera to retain your changes when restarting the camera, but that's not as convenient as having separate slots for your customized variations.
The following sample shots are accompanied by the verbatim Pentax descriptions of each preset. Tjus=dThe
Each of these custom image settings can be fine-tuned in numerous and significant ways, as detailed below, offering an impressive freedom of expression to both sophisticated shooters and those who just want to play around with cool effects.
As with the white balance adjustment system, the custom image settings can be previewed interactively on-screen while you fiddle with the sliders, making this a much more practical process.
The K-x offers a variety of digital filters, each with a range of settings to tailor the effects. Pentax doesn't include Cross Processing in the same menu section as the other filters, but logically it feeds the same desire for unusual effects. Examples of each of these filter effects are provided below.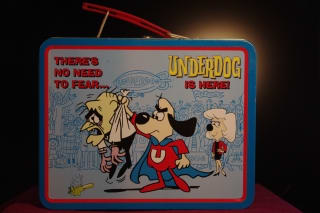 *This is our prized Underdog lunchbox shot in
program mode, without digital filters. Then
we started playing, as shown below.*
You can also create your own custom filter effect if you like. Adjustable parameters include Color Intensity (Off, +1, +2, +3); Color (Red, Magenta, Cyan, Blue, Green, Yellow); High Contrast (Off, +1, +2, +3, +4, +5), Soft Focus (Off, +1, +2, +3), Tone Break (Off, Red, Green, Blue, Yellow); Shading Level (-3 to +3); Shading Type (6 types), Distortion Type (3 types), Distortion Level (Off, Weak, Medium, Strong) and Invert Color (Off/On).
There's a basic multiple exposure option, which allows you to take between 2 and 9 shots sequentially and have them composited in camera, with the exposure automatically adjusted if you choose. You have some control over the way images line up — the shots you've taken so far are reviewed on the LCD, and you can discard part of the sequence and continue shooting — but without a live preview, there's a lot of guesswork involved.
Focus*(14.25)*
---
The K-x incorporates a significant autofocus system improvement over the K2000 introduced earlier this year. The camera now uses 11 autofocus points (versus 5 for the K2000) and offers four AF point selection modes: the camera can choose from 5 or 11 points, the user can select one of 11 points manually, or the center point can be set in spot mode.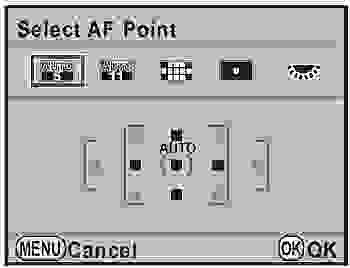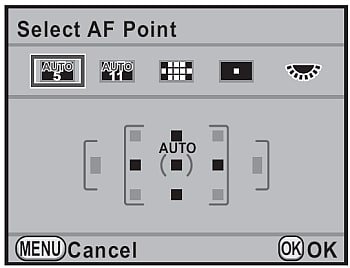 The autofocus system provides a high degree of control.
Autofocus speed isn't lightning-fast, but it's not bad — certainly up to the task for day-to-day shooting, and even sports photography works reasonably well, particularly when using continuous focus mode.
If you're trying to snag a sharp shot of a moving subject, catch-in focus is available. You set the focus on a point that the subject will pass and hold the shutter button halfway. When your quarry appears and is in focus, the shutter trips automatically.
The camera doesn't have a dedicated autofocus assist lamp, relying instead on a brief burst of light from the pop-up flash to help achieve focus in dark environments. Fortunately, the system works quickly enough in most low-light conditions even without the flash assist, so you'll be able to take your indoor candids without being branded a flasher.
When focusing manually, the viewfinder focus confirmation indicator lights when the subject comes into focus. However, the focus ring on the kit lens has very little friction, making manual focusing a chore, and hitting the precise point where that indicator light blinks on is awfully tricky.
Exposure*(6.25)*
---
Exposure compensation is provided in a ±3 EV range, in 1/3 or 1/2 EV increments. Three-shot exposure bracketing is also available,with ±3 EV range in 1/3 or 1/2 stop increments.
Pentax tackles dynamic range expansion with two different settings, one for highlights, the other for shadows. Highlight Correction is set to either on or off; when it's set to on, the minimum ISO climbs to ISO 200, or ISO 400 if the Expanded Sensitivity custom setting is turned off. Shadow Correction, as the name implies, attempts to maintain detail in dark areas of a scene, and can be set to three intensity levels.
The Pentax K-x is one of the rare cameras on the market that supports in-camera high dynamic range shooting. To create a high dynamic range image, three shots are taken sequentially, with bracketed exposures, then combined to create an image with an expanded dynamic range. The Pentax implementation is more limited than the Sony A550 system we reviewed recently. First off, the Sony system provides more settings flexibility when it comes to the bracketing interval. The K-x offers two settings, Standard and Strong, and the camera chooses exposure settings accordingly. With the A550, the user can manually set a 1, 2 or 3-stop range.
The Pentax uses a three-shot sequence versus the two-shot combination used by the Sony cameras. More important, though, is the Sony software processing that corrects for minor camera movements between shots.  Combined with a blazing-fast burst rate, this means you can shoot an HDR image handheld with the Sony, while the Pentax has to be mounted on a tripod. Even on a sturdy tripod, though, we had continuing problems with slight camera movements creating blur when shooting HDR images with the Pentax, as shown in the sample photo section. Strangely, the self-timer is unavailable during HDR shooting, so the only way to avoid some camera shake when pressing the shutter would be an optional remote control.
Speed and Timing
---
Shot to Shot (4.22)
Pentax promises a high burst rate of approximately 4.7 fps, and our testing proved they're not far off the mark. Shooting full-resolution, large JPEGs, we clocked the camera at 4.22 shots per second, the fastest speed in our comparison group. 
Drive/Burst Mode (4.50)
There are two settings for continuous shooting, Hi promises 4.7 shots per second up to 17 frames in a row, and came very close. There's also Lo, which shoots at about 2 frames per second, but can continue at that rate until you've filled up the SD card. RAW shooting is also speedy, but you can only shoot 5 shots continuously in high-speed mode before giving the buffer time to clear.
Depth of Field Preview*(1.50)*
---
The K-x supports depth of field preview and a separate, moderately interesting preview mode using the rear LCD. The much-in-demand Green Button is the way in. It can be set to standard optical depth of field preview, which stops down the lens to the current aperture setting so you can see what will actually be in focus before taking the picture. Alternately, you can ask for digital preview, which takes a shot with luminance histogram and/or bright/dark area highlighting displayed on the LCD when you press the green button. This preview shot can be saved if it happens to look great, so it's basically a shortcut way to take a photo and review it with histogram displayed and flaws highlighted.
Metering*(7.50)*
---
The K-x meters using sixteen zones, as shown here.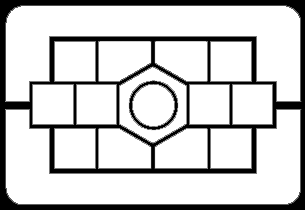 The sixteen-segment metering pattern.
The standard three metering modes are supported:
By default, the metering is set separately from the autofocus point when using multi-segment metering, but the two can be linked via a custom menu setting.
Shutter Speed*(10.00)*
---
Available shutter speeds range from an unusual 1/6000 second to 30 seconds, plus bulb for extended exposure times.
Self-Timer*(3.00)*
---
There are two self-timer modes:
An optional wireless remote control is available, which can be used to trigger the shutter immediately or after a 3-second delay.
Other Features*(2.00)*
---
Post-Shot Image Adjustment* (1.00)*
This is an innovative idea we don't remember seeing before. Say you shoot a JPEG image and realize you should have used a different white balance setting, As long as you haven't taken another shot, you can press the left-most button on the four-way controller and bring up the white balance setting screen. You can then change the white balance setting, while viewing an on-screen playback of the photo you just shot, and save an alternative image based on the original uncompressed data stored in the buffer, avoiding any image quality deterioration that ordinarily occurs when editing JPEGs. You can also change the custom image setting in the same way, based on uncompressed data, though the procedure for doing this described in the manual is entirely incorrect. Instead of pressing the right four-way controller button as specified, you have to bring up the quick menu system and choose Custom Image to make the adjustment.
Copyright and Photographer Info*(1.00)

*Copyright and photographer name information can be automatically stored in the EXIF data with an image.
Handling*(7.00)*
---
At 4.8 x 3.5 x 2.7 inches (122 x 91 x 67mm) and 18.2 oz. (515g), the Pentax K-x is a compact SLR, but one that feels solid and substantial in your hands. The right grip is a bit short and narrow if you have large hands, but it does have a rubberized coating to prevent slippage, an unusual feature in an inexpensive camera. The thumb rest on the back has a deep curved shape that works well to balance the camera's weight, though it would be better with a more textured surface.
The buttons and the control dial are positioned nicely; there's virtually no chance you'll change a setting accidentally. With the playback button at the top of the four-button lineup and the menu button at the bottom, these frequently used controls can be accessed quickly, without searching. And the control wheel, just to the left of the thumb rest, clicks distinctly to provide feedback as you make adjustments. All in all, a successful design for a small camera body.  
Controls*(8.50)*
---
The K-x provides direct access buttons for the most frequently used shooting adjustments — ISO, white balance, drive mode and flash control — and the comprehensive quick menu (available by pressing the Info button) displays nearly all the settings on a single screen. The layout will look familiar to anyone who's checked out the Pentax K2000, which is nearly identical. To accommodate Live View access (the K2000 lacks this feature), Pentax added a dedicated button in place of the delete button. The delete function now shares the flash pop-up button, which works out fine.
Menu*(6.50)*
---
As with most SLRs today, the K-x offers both a traditional full menu system and a quick menu (which Pentax calls the control panel) providing ready access to the most frequently changed shooting settings. The control panel is accessed by pressing the INFO button in shooting mode, which toggles between the LCD info display, the control panel and turning the LCD off entirely.
To change settings in the control panel, you move the cursor to the relevant category using the four-way controller, At that point you can turn the control dial to cycle through settings, or press OK and bring up a menu displaying all the available options. The settings with dedicated buttons on the camera body aren't included in the control panel.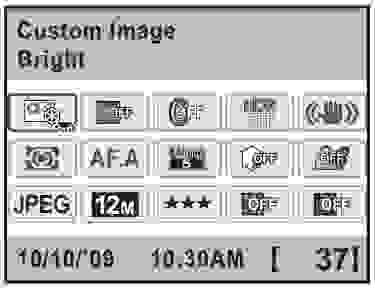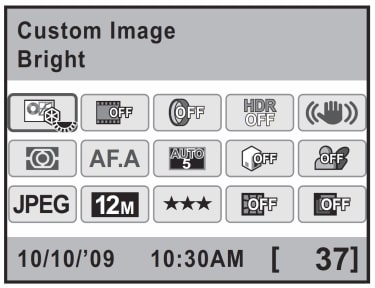 The quick menu puts 15 key settings at your fingertips.
The main menu system is broken into four sections: record, playback, setup and custom. All but the playback section have multiple screens, but turning the e-dial makes them easy to navigate — unlike some menu systems, you don't have to cursor up to the top of a list to move to the next screen of options. We also like the fact that all of your choices are visible on screen at once, without having to scroll down to the bottom of a column to reveal hidden options below.
The white-on-gray text is perfectly legible. And while the quick menu uses icons to fit as many options as possible in a confined space, the main menu system writes out each option clearly. Some commands are placed in categories we found unintuitive; noise reduction choices are found in the custom menu rather than record, while the programmable green button functions are assigned via the record menu. It didn't take us long to get used to the few oddities, though.
In a feature we've applauded in Pentax point-and-shoots, the K-x lets you easily choose which camera settings will be retained and which will be reset when you turn the camera off and turn it back on. There's a checkbox listing in the fourth Record Mode menu that includes settings for flash mode, drive mode, white balance, ISO, EV and flash compensation, cross processing, digital filter, HDR capture, shooting info display, playback info display and file numbering.
Manual & Learning*(5.75)*
---
The 320-page Operating Manual generally does a good job of explaining the camera's broad and deep feature set. The writing is clear, and the illustrations, charts and diagrams well designed. Pentax also deserves praised for providing a detailed index that's genuinely useful, plus a glossary that explains concepts like RAW format, color temperature and histograms. There's an unfortunately intimidating information dump at the very beginning of the manual, before you get to the Getting Started section, and unlike the Pentax K2000, there's no separate software user manual, leaving you to learn a complex program using the software help system. We found only one factual error: the procedure described in the section on Readjusting Images Shot in JPEG Format doesn't work, and it took quite some time with tech support (via live online chat) to sort it out. Overall, though, this is a solid effort. To see for yourself, download a copy in PDF format from the Pentax web site here.
**Video: Color Performance***(7.10)*
---
The Pentax K-x had slightly worse color accuracy than the competition, but its saturation levels were very strong in our testing. The camera registered a color error of 4.93 with a saturation level of 98.3% — both numbers coming when we tested the camera in its default color setting, which is called 'Bright.' The camera measured slightly more accurate colors in its Landscape color mode, but the difference wasn't that significant. Click here for more on how CamcorderInfo.com tests color performance.
In the images above you can see the Pentax K-x produced a vivid, colorful picture in our bright light video testing. The camera was most accurate with blues, browns, and reds, while greens and yellows were more inaccurate. The K-x's color error of 4.93 isn't a bad performance, but we've seen a lot better accuracy from other video-capable DSLRs (and many dedicated camcorders). The K-x is equipped with a number of color modes, all of which are available for use in video mode. What we've labeled as 'Auto: below is really the camera's 'Bright' color setting, which is its factory default.
The K-x registered a higher saturation level than each of the cameras shown below, except for the Canon T1i. Overall, we're quite pleased with the colors produced by the K-x, despite the fact that they weren't as accurate as the other models shown below. Its image is strong and vivid, and its auto exposure produced an ideal level of brightness — something that was not the case with the Nikon D5000.
**Video: Noise Performance***(11.62)*
---
The Pentax K-x measured 0.4325% noise in our bright light test, which is a fairly good number. Unfortunately for the K-x, however, most of the video-capable DSLRs out there did a better job in this test. Still, 0.4325% noise is better than most regular camcorders are capable of in bright light.  Click here for more on how CamcorderInfo.com tests noise performance.
The crops above do a good job showing off the video sharpness capabilities for each camera. The Pentax K-x appears to produce a sharper image than the Nikon D5000 and Panasonic GF1, but the Canon T1i captures a bit more detail. This makes sense, however, as the T1i can record Full HD video at 1920 x 1080, while the other cameras are limited to 1280 x 720 resolutions. So, compared to the other 720p cameras, the Pentax K-x shows an above average sharpness.
**Video: Motion Performance***(7.00)*
---
The Pentax K-x can only record video with a 24p frame rate, although it has both HD (1280 x 720) and SD (640 x 480) recording options. The videos shown below have been heavily compressed during the upload process to YouTube, but they should still give you an idea about how well each camera captures motion video. Click here for more on how CamcorderInfo.com tests motion.
Pentax K-x

*Click Here for large HD Version *
The Pentax K-x showed very little artifacting in our motion test, but its video wasn't that smooth. The camera appeared to render somewhat jerky motion, especially when compared to the kind of motion produced by a traditional camcorder. Still, the fact that the K-x had such low amounts of artifacting is definitely a plus.
Nikon D5000

*Click Here for large HD Version *
The Nikon D5000 wasn't very good in our motion test. Its 24p footage had a lot of artifacting and frequency interference. We noticed jagged lines (like lightning bolts) on our black and white pinwheel, as well as some blur on our RGB pinwheel. The camera simply couldn't render motion that looked good in our testing.
Panasonic GF1

*Click Here for large HD Version *
The GF1 has a couple of different recording options for HD video—a 60p mode and a 30p mode. We had a good deal of trouble dealing with the GF1's 60p setting when we imported the footage onto our computer (the videos played back at double speed), but we chalked this up to a compatibility issue with Panasonic's AVCHD Lite compression system. Shooting with the GF1's 30p mode, which uses MJPEG compression, we saw some artifacting, pixelation, and choppy video, but we were able to import the files to our computer with no problems.
Canon T1i 1080/20p

*Click Here for large HD Version *
The Canon T1i did produce fairly artifact-free video in our motion test, but the camera was marred by its unusual 20p frame rate when shooting 1920 x 1080 video. The footage looked awkward and choppy due to the low frame rate, and for this reason we recommend the Canon 7D instead. The 7D offers similar video performance to the T1i, but includes more popular 24p and 30p frame rates instead. The Canon T1i does, however, include a 720/30p setting that showed some better results in our motion test.
---
The Pentax K-x appeared to deliver a sharper image than most video-DSLRs that record 720p video. According to our measurements, the camcorder managed a horizontal sharpness of 650 lw/ph and a vertical sharpness of 600 lw/ph. These numbers are slightly better than the Nikon D5000 and Panasonic GF1 put up, but most of the DSLRs with 1080p capability had better sharpness numbers (because they shoot video at a higher resolution). Click here for more on how CamcorderInfo.com tests video sharpness.
The problem with the K-x when it comes to video sharpness is the fact that the camera has no HDMI output. You can only output video on the camera using the proprietary AV-out port (that also doubles as a USB port) on the left side of the camera. This means you're viewing the 1280 x 720 HD video through a low-quality analog connection when you connect the K-x to a television—so you're really losing all that HD quality and sharpness when you watch videos this way. You can import the footage to your computer and watch it in HD there, however, but we're guessing you'd rather watch HD video on a large HDTV if given the option.
**Video: Low Light Sensitivity***(0.97)*
---
Testing the Pentax K-x with its kit lens, the camera didn't do a very good job with low light sensitivity. Still, compared to some of the abysmal results we've gotten from other video-capable DSLRs, the K-x's numbers don't look too bad. The K-x required 23 lux of light to register 50 IRE on our waveform monitor. Of the DSLRs we compared it to below, only the Nikon D5000 had a better low light sensitivity (the Panasonic GF1 and Canon T1i were just slightly worse than the K-x). Click here for more on how CamcorderInfo.com tests low light sensitivity.
Of course, much of a camera's low light sensitivity score comes down to what kind of lens you are using. The kit lens on the K-x is an f/3.5 18-55mm lens, so it isn't that fast. If you shoot video with a lens that has faster aperture settings, you're likely to get better low light sensitivity in video mode on the K-x.
**Video: Low Light Color Performance***(5.67)*
---
In low light, the K-x didn't have very good color accuracy, with its score dropping significantly from our bright light testing. The camera measured a color error of 6.27 in low light, although its saturation level remained a high 101.2%. The camera was still capable of producing solid, vivid colors in low light, but its overall image had a slight pink-purple hue, which we think attributed to its poor color accuracy performance. Click here for more on how CamcorderInfo.com tests low light color performance.
In the comparison images below, you should be able to see the slight pinkish tone we're talking about on the Pentax K-x. The Panasonic GF1 and Canon T1i offer more of a natural grey tone in their images, while the K-x appears more colorful in the grey portions of the image. All of these camcorders maintained strong saturation levels in low light, although the Nikon D5000 continued to produce an overexposed image, which made some of its colors look washed-out and bland.
**Video: Low Light Noise Performance***(6.73)*
---
The Pentax K-x managed disappointing results in our low light noise test. The camera averaged 1.8375% noise, which is significantly higher than the competition. In the crops below you can see this extra noise on the image from Pentax—especially when compared to the relatively clean images coming from the other cameras. Click here for more on how CamcorderInfo.com tests low light noise performance.
The good news for the K-x is that the camera still captured a sharp image in low light—sharper than the Nikon D5000 and Panasonic GF1. Still, with this extra sharpness comes more noise, which is definitely noticeable in the cropped image above. Yes, the GF1 and D5000 show some signs of noise and discoloration, but it is not as prominent as on the image from the K-x. The Canon T1i looks quite good in comparison, but you have to remember that it is the only camera shown above that can record 1080p video (the rest max out at 720p).
**Video: Compression***(6.00)*
---
The Pentax K-x records video using the Motion JPEG (MJPEG) compression. This is the same system used by the Nikon D5000, as well as a number of point-and-shoot digital cameras that offer video modes. MJPEG is a common compression system, so compatibility with your media player or editing software shouldn't be an issue. Motion JPEG isn't very efficient, however, and it isn't regarded as the highest-quality compression system for HD video. The MJPEG video files recorded on the Pentax K-x are saved as AVI files.
There aren't too many format options for recording video on the K-x. There's a single HD recording setting, which captures 1280 x 720 video with a 24p frame rate, and there's a standard definition option that records with a 640 x 480 resolution (also at 24p). The camera offers three unnamed quality settings for video recording, each of which is represented by a series of stars in the menu. We assume these quality settings each use different bitrates because you can record more video with the one-star setting than you can with the three-star setting — but Pentax doesn't list any specs or bitrates when referring to the quality options. Pentax simply calls the quality settings Best (three starts), Better (two stars), and Good (one star).
**Video: Manual Controls***(3.00)*
---
Auto Mode
Since the K-x has no continual autofocus feature we can't really give its auto controls a full recommendation. If you want to focus while recording video you must do so manually (by rotating the lens ring), and if you want to use autofocus you have to press the shutter button halfway before recording (just like you do to take a still photo).
The camera's other auto controls aren't bad. Auto white balance generally worked well in video mode, but it wasn't perfect in all kinds of light. The camera offers plenty of white balance presets, however, so you shouldn't have any trouble fine-tuning the color temperature to your preference. Auto exposure adjustments were very slow, but the system worked smoothly when we moved from light to dark scenes. Some users may like the slow transition of exposure (it almost looks like you are rotating a dial manually), while those used to the snap-like exposure offered on many consumer camcorders will probably be disappointed.
Zoom Controls and Zoom Ratio
Zoom is controlled on the K-x by rotating the large lens ring on the attached lens. The quality and feel of this ring will be different depending on what lens you have connected to the camera—as will the zoom ratio. The kit lens with the Pentax K-x is an 18 - 55mm lens, which is close to a 3x zoom. You can zoom while recording video with the K-x, but you must do so by rotating the lens ring.
Focus
The K-x has no continual autofocus feature, which means the only way to keep a moving subject in focus while you record is to do so manually by rotating the focus ring. This is an issue that plagues many video-capable DSLRs, with the notable exception of the Micro Four Thirds models from Panasonic and Olympus.
In addition to not offering a live autofocus feature, the K-x also has one of the loudest and slowest autofocus mechanisms of any video-capable DSLR we've tested. The camera's live view mode must go blank for a moment while the camera performs an autofocus (which is done by pressing the shutter halfway or by pressing the AF button), and you cannot perform any kind of autofocus while recording is taking place.
Exposure, Aperture, and Shutter Speed
The K-x isn't loaded with manual controls in video mode, but adjustments to exposure and aperture can be made (shutter speed can't be controlled manually). There are 13 increments of basic exposure control on the K-x, ranging from -2 to +2 in 1/3 EV steps. Adjusting exposure is quite simple, but it cannot be performed while recording is taking place. When you set a manual exposure prior to recording, however, this exposure is locked for the duration of the clip (auto exposure is turned off).
To set aperture manually in video mode you must go into the camera's menu and switch aperture from auto to fixed. The camera offers plenty of aperture values, ranging from f/3.5 to f/40, but you have to start recording before you can see what kind of exposure level your manual aperture is going to give you. To compensate for this, the aperture selection will blink in red if there isn't enough light to use it. You can still use these aperture settings, but your recorded image will likely be too dark.
ISO* and Other Controls*
As with shutter speed, ISO cannot be set manually on the K-x. You can set white balance manually, but you must leave video mode to do so. You can then put the camera back into video mode (with a manual white balance selected) and use your manual white balance. We're kind of annoyed by this roundabout system, but quirks like this are rather common on video-capable DSLRs.
There is also an image stabilization feature that can be turned on and off in video mode, but it makes loud, consistent noises while engaged. We recommend turning the stabilization feature off if you are at all concerned about picking up unwanted noises on the K-x's built-in microphone (the crackling sound created by the stabilization system can also be very annoying to listen to for extended periods of time). Still, the built-in mic on the K-x is not very good to begin with, so if you care about audio you shouldn't be using it to record sound in the first place.
---
The audio features on the Pentax K-x are the epitome of 'bare-bones.' All the camera has is a tiny monaural microphone on its upper left side. The mic isn't well placed, as it's positioned right in the spot where you might end up resting your fingers if you don't like holding the lens while you shoot. The Pentax K-x picks up tons of operating noise with its built-in mic, but this is something we've seen from most video-capable DSLRs. When using the built-in mic, expect to hear plenty of noise from the autofocus motor, lens and dial movement, and image stabilization system (if it is turned on).
The group of video-DSLRs listed in the table below are all sub par models when it comes to audio features. None of them have external microphone inputs, and each of them lack any special audio controls — except for the GF1, which has a mildly useful wind cut option. The point is, if you need quality audio with any of these cameras you're going to have to record to a separate audio device entirely.
---
The Pentax K-x has a number of handling problems, but we do applaud the camera's petite size and excellent right side grip. No, the camera isn't as easily to hold for a long period of time as a traditional camcorder, but people who are accustomed to shooting with a DSLR should like the way the K-x feels in their hands. Of course, we have nothing but bad things to say about the LCD on the K-x—particularly when you are using it to record video. The LCD cannot rotate or move in any way, which makes shooting hand held video a downright frustrating experience. You must crouch or crane in order to frame your shots, so we recommend using a tripod whenever possible.
We also really don't like the fact that the K-x uses the same shutter button to record video as it does for snapping photos and performing an autofocus. This setup is extremely awkward, and half the time we meant to start recording all we did was actually focus the image. Pentax should have simply included a dedicated record button like many manufacturers have begun doing with video-capable DSLRs. This avoids confusion and makes shooting video a much simpler experience — all by adding one basic button.
The K-x doesn't offer too many manual controls in video mode, but it still has some confusing options when it comes to video features. For example, to use a manual white balance in video mode you must set the white balance in a different mode (any of the manual photo modes), and then flip the camcorder's mode dial back over to video. This roundabout system may be a minor inconvenience, but we think it represents lazy design on the part of Pentax.
We're also very disappointed the K-x doesn't offer an HDMI output on the camera. So, if you want to view your HD videos on your large HDTV you must do so via the lame, analog AV-out terminal. Here's the kicker, though—the Pentax K-x doesn't come with an AV cable and the terminal connection is proprietary. So, just to watch your videos on a television you need to purchase a separate cable. You can, however, import the videos and view them on your computer in HD.
Overall, the K-x is good on size and grip, but bad with just about everything else. It has poor button design, a bad LCD for video, limited connectivity options, no continual autofocus, and few manual controls. It also has the internal overheating and rolling shutter issues that have plagued every video-DSLR we've reviewed (other than the Micro Four Thirds cameras). The video mode on the K-x may be more of a bonus gimmick than anything else, but at least it isn't a costly gimmick. Remember, the K-x is one of the cheapest video-capable DSLRs on the market—so you are essentially getting what you pay for.
Performance
The K-x offers faster autofocus and burst rate performance (4.22 shots per second versus less than 3 for the K2000). However, in our lab tests, the older camera delivered superior image quality across the board. In most cases, the difference isn't going to be readily noticeable to the naked eye, though the K-x white balance system fared surprisingly poorly in comparison to the K2000.
Components
The K-x step-up features include video recording and Live View mode, both notably absent on the more barebones K2000. The K2000 does include an external flash, which is useful given the small, low-power pop-up flash built into these cameras. That external flash would be much more desirable, though, if it had a pivoting head so you could bounce it off walls or ceilings for a softer effect. Beyond these differences, both cameras are quite similar, with compact but well built bodies, a single conveniently placed control dial and a mediocre 2.7-inch LCD.
Handling
There is effectively no handling difference between the K-x and the K2000, with only a few buttons changed. That isn't a bad thing, particularly for users whose hands are relatively small: the grip is comfortable, the buttons well positioned, and the menu system easy to navigate. Of course, for those who like to shoot with Live View, the fact that this mode is available on the K-x and not the K2000 could be a compelling selling proposition.
Controls
The K-x supports a wider ISO range, from 100-12800 with extended settings versus ISO 200-3200 for the K2000, and expands exposure compensation to 3 stops. The burst rate speed for the new camera is far superior, with a tested 4.22 shots per second versus 2.91 for the K2000. The most noteworthy addition, of course, is video recording capability and, while our experts weren't overly impressed with the movie mode performance, it's still a major advance over none at all.
NOTE: The images above are not used in our testing or scoring, but are included here to show real-world examples of the differences between cameras at the various ISO settings.
Performance
The K-x has bragging rights in three important categories: it delivers faster burst speed, wider dynamic range and superior resolution performance, an area where the Canon falters to a disturbing degree. The T1i offers much more accurate color reproduction, both in bright light and low light, superior white balance performance (particularly in manual mode) and lower image noise.
Components
While neither camera offers an articulated screen, the Canon LCD is far superior, a handsome 3-inch 920,000-dot screen versus the noticeably smaller 2.7-inch Pentax screen with lower 230,000-dot resolution. The T1i comes with a rechargeable Lithium ion battery rated at 500 shots per charge, while the K-x relies on four AA cells. While both cameras shoot high-def video, actually watching it is a chore on the Pentax: it doesn't include an HDMI port for direct connection to a high-def TV (the Canon does), and doesn't even include a standard-def video cable in the box (it's a $15 accessory). We did like the built-in sensor-shift image stabilization system on the Pentax; Canon requires purchase of individual image-stabilized lenses.
Handling
The Canon Rebel cameras are very lightweight, and the T1i is no exception, with a body 18% lighter than the K-x. While this may be an advantage when it comes to portability, we prefer the more substantial feel of the K-x when shooting: it sits more comfortable in your hands, and feels solidly built. We like the textured thumb rest on the T1i, but prefer the control wheel positioning of the K-x (on the camera back and operated with your thumb) to the top dial on the T1i, which requires moving your index finger off the shutter. As for the menu systems, they're similarly organized, with multiple tabs rather than long scrolling lists that hide your options until you cursor down. The Canon T1i does offer a My Menu section, though, which can be populated with your most frequently used settings.
Controls
With extended settings factored in, both cameras offer an ISO 100-12800 range. The K-x can shoot slightly faster (1/6000 second versus 1/4000) and offers 3 stops of exposure compensation flexibility where the T1i is limited to 2 stops. For those looking for scene modes, digital filters and in-camera editing flexibility, the K-x delivers far more options. The K-x also provides true in-camera high dynamic range shooting and, while it's not a flawless implementation, it can capture high-contrast shots that would otherwise be impossible. The T1i offers 1080p video shooting versus a maximum resolution of 720p for the K-x, but that 1080p mode only captures 20 frames per second, producing choppy-looking results. Still, in our video testing, the Canon consistently outscored the Pentax, particularly in color accuracy and low light performance.
NOTE: The images above are not used in our testing or scoring, but are included here to show real-world examples of the differences between cameras at the various ISO settings.
Performance
The Nikon D5000 outperformed the Pentax K-x in most of our lab tests, including substantial wins in color accuracy, long exposure, image noise and white balance. The Pentax came out ahead in burst rate shooting and dynamic range, though not by much. The one major sticking point for the Nikon, though, is still image resolution. While sharpness wasn't as bad as the Canon T1i, it is still troubling, while the Pentax K-x scored well in this area.
Components
The two cameras both offer relatively small (2.7-inch) low-resolution (230,000-dot) displays, but the Nikon screen is hinged at the bottom, providing more freedom to shoot from unusual angles. The Nikon is powered by a Lithium ion battery that takes about 500 shots per charge, versus the 4 AA batteries required to power the Pentax K-x: if you spring for a set of rechargeable AAs (about $30), the convenience of buying off-the-shelf AAs in a pinch could be considered an advantage for the Pentax. However, the lack of an HDMI port for connecting to a high-def TV is clearly a significant problem for the K-x, which can shoot 720p video but can't display it on a TV. Even showing video or photos in standard def requires the purchase of an optional $15 cable, one which is included with the company's inexpensive point-and-shoot cameras.
Handling
The Nikon D5000 is a bit larger and heavier than the Pentax K-x, but we found both of them easy to handle, with the Nikon more comfortable for users with large hands than the Pentax. The D5000 has a rubberized surface on the back thumb rest and none on the grip; the Pentax K-x has a rubberized surface on the grip and not the thumb rest -- call it a draw. The Nikon does have an advantage when it comes to shooting with the camera held vertically: the LCD info display pivots to match the camera orientation, making it much easier to read and to change settings. When it comes to camera controls, though, we prefer the four-way controller on the Pentax K-x to the small multi-selector on the Nikon camera back, partly for its easier handling, and partly because the four-button cluster provides direct access to ISO white balance, flash and drive mode settings without going through the menu system, which the Nikon requires.
Controls
There isn't an enormous difference between the two cameras here. Both offer extensive in-camera editing options and a nice selection of scene modes, though the Pentax offers a wider array of digital filter options, some more useful than others. Pentax K-x offers one more stop in ISO sensitivity (to ISO 12800) when extended range settings are included. The Nikon D5000 provides a ±5 EV range for exposure compensation, versus ±3 EV for Pentax K-x. Both cameras provide 720p high-def video recording topping out at a 24 fps frame rate. The ability to create high dynamic range images in-camera is a standout feature of the K-x, though it would be more compelling if camera shake didn't subtly blur images so frequently.
NOTE: The images above are not used in our testing or scoring, but are included here to show real-world examples of the differences between cameras at the various ISO settings.
Performance
The lab test results for these two cameras are a mixed bag. The Panasonic GF1 delivered more accurate color reproduction, a high resolution score and far better white balance performance. The greatest image quality flaw of the GF1, though, is high image noise, and while the Pentax wasn't a stellar performer here either, it did post better numbers. The K-x is significantly faster in burst mode shooting, and has a much wider dynamic range. And when shooting video, the Panasonic proved exceptionally strong in color accuracy, and outranked the Pentax by a substantial margin in low light shooting.
Components
The GF1 offers a larger, higher-res LCD, but eye-level shooters will have to invest an additional $200 in an optional electronic viewfinder, which pushes the total camera cost to $1100. Another issue with the Micro Four Thirds GF1 is the limited variety of fully compatible lenses available, which is nowhere near as broad as the Pentax or other traditional SLRs. Of course, the GF1 has an HDMI port for connecting to a high-def TV, as you'd expect from a camera that shoots HD video, where the K-x provides no way to show high-def video on your TV, and requires the purchase of an optional cable to show even standard-def video output.
Handling
Portability is a key selling point of the Panasonic GF1. Without the mirror box mechanism found in traditional SLR designs, the GF1 body is just 1.43 inches deep versus 2.7 inches for the Pentax K-x, and weighs half as much. The GF1 is small but not too small, fits well in the hand and feels solidly built. This is not to take anything away from the K-x, which is an easy-to-handle, nicely designed compact SLR. The point, though, is that you don't sacrifice comfort in the name of portability if you go with the Panasonic. You also gain a dedicated video record button, separate from the shutter, an advantage over the shutter-only Pentax design.
Controls
The two cameras share a ±3 EV exposure compensation range, while the ISO flexibility award goes to the K-x (ISO 100-12800 including extended settings versus 100-3200 for the Panasonic). While the Panasonic Live View autofocus system is exceptionally fast for a contrast-based AF system (and much faster than the Pentax Live View AF), autofocus when shooting using the Pentax viewfinder is much faster, and better suited to sports and other fast-action situations.
NOTE: The images above are not used in our testing or scoring, but are included here to show real-world examples of the differences between cameras at the various ISO settings.
Meet the tester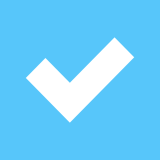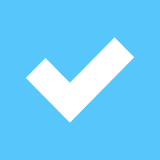 Steve Morgenstern
Editor
Steve Morgenstern is a valued contributor to the Reviewed.com family of sites.
Checking our work.
We use standardized and scientific testing methods to scrutinize every product and provide you with objectively accurate results. If you've found different results in your own research, email us and we'll compare notes. If it looks substantial, we'll gladly re-test a product to try and reproduce these results. After all, peer reviews are a critical part of any scientific process.
Shoot us an email