The Pentax WG-2 has a strange, reptilian design that is representative of its rugged, waterproof nature. The body has a hard, layered exterior that gives the camera the appearance of having scales. This layered design does give you more areas to grip, but it also made the WG-2 less comfortable to hold (the body simply isn't smooth). If you're looking for a sleek, subtle camera that you can slip in and out of your pocket, the WG-2 is not likely to catch your eye. This is a rugged, durable camera at its core, and the tough shell that coats the outside speaks to this persona.
We almost forgot to mention colors. The Pentax WG-2 with GPS comes in glossy white or shiny orange, while the non-GPS version of the WG-2 comes in vermillion red or just plain black.
The menus on the WG-2 aren't fancy and look dated. The pages can be difficult to navigate and it is occasionally confusing as to how exactly you're supposed to select certain features. This is not the kind of thing you'd see from, say, Canon or Nikon, both of which feature stylish menu screens. This simply isn't a strong suit for Pentax, as the company features lackluster menus on most of its Optio models.
The button design on the WG-2 isn't much different than last year's WG-1, and its a setup that we're still not crazy about. The directional pad can be hard to use thanks to its small size, and the OK button that sits at the center of the d-pad is difficult to access. The buttons have too many features associated with them, and the WG-2 has a menu system that isn't the easiest to navigate. If you're used to the simple interface of most pocket-sized cameras, the WG-2 will probably confuse you a bit. It's a challenging camera for the point-and-shoot crowd, but that makes sense. This is a model for the adventurous and hardy among us, so they should be able to get past some of the frustrating design flaws.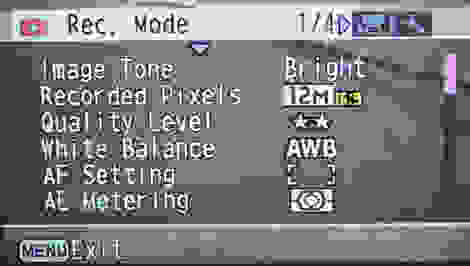 Weighing just under 200g fully loaded, the Pentax Optio WG-2 GPS is slightly heavier than its predecessor (the WG-1 weighed just 167g). It's also a bit bigger, but only by a few millimeters here and there. The non-GPS version of the WG-2 shaves off a few grams in weight, but it has the same exact dimensions as the GPS-enabled model.
Like the WG-1 before it, the Pentax WG-2 is a camera that puts an emphasis on rugged design and handling. This is a camera that Pentax prominently advertises as waterproof, shockproof, crushproof, coldproof, and dustproof just like its predecessor. But Pentax improved the waterproofing on the new model, as it is able to travel up to 40 feet underwater (that's seven feet deeper than the WG-1 was willing to travel).
As for regular handling, the WG-2 has some design modifications as well. The top and front of the camera have layered ribs that make the camera easier to grip compared to the smooth curves on the WG-1. These grips do make the WG-2 less comfortable to hold, but we imagine they add some support when grasping the camera underwater or when wearing bulky winter gloves.
Selecting the shooting mode menu option on the WG-2 brings up two pages of scene modes, which is where Pentax organizes all of the camera's shooting modes. You'll find the dedicated auto mode here, as well as a program auto mode, and a huge variety of scene modes. If you include all of the options on these menu pages (this includes movie modes and auto modes), the camera has 28 shooting modes to choose from. Of course, this is nothing new for Pentax, as the WG-1 had a similar collection of shooting options last year.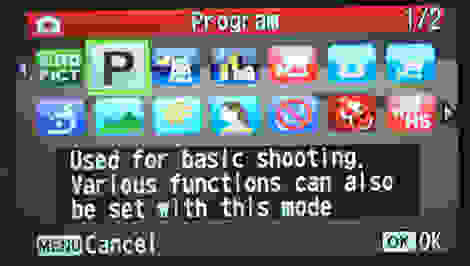 Pentax calls the WG-2's dedicated auto mode "Auto Picture" and it's the first option available on the shooting modes menu page. The mode worked well when we tried it out—focus was generally quick and exposure levels were adjusted with accuracy. There's also a simplified shooting mode called Green Mode that you can engage by pressing the green button on the back of the camera. Using any auto mode will often result in frustration at times, especially when taking pictures in low light situations, but we didn't have much to complain about in our brief time shooting with the WG-2.
Here's a spot where Pentax updated the WG-2 over last year's WG-1. The new camera has a Full HD 1920 x 1080 record mode, while the WG-1 featured a top video resolution of just 1280 x 720. The WG-2 GPS still has a 720p record mode in addition to the 1080p option, and you can shoot standard definition video with the camera as well. All video shot at the 1920 x 1080 resolution uses a 30p frame rate, while the 720p setting gives you the option of 60p or 30p recording. The standard definition record mode defaults to 30p recording, but there is a high-speed option that shoots standard def video at 120 frames per second as well.
There's a good set of continuous shooting modes on the WG-2. The regular continuous shooting option takes roughly one photo per second (at full resolution), while there's a limited-resolution high-speed mode that will shoot up to 30 photos at 10 photos per second (5 megapixel or 4 megapixel photos only). There's also a self-timer (two or ten seconds), an interval shot option, and an auto exposure bracketing function on the camera as well. Most of these drive/burst options were also available on last year's WG-1, but it looks like Pentax may have made some minor improvements to the continuous shooting speeds.
The WG-2 GPS has a simple playback interface that is good for reviewing and organizing your photos. You can do all of the traditional playback views: thumbnail, full screen, or calendar view organized by date. In playback mode you can zoom in on your photos digitally, view histogram data, add digital filters, remove redeye, and resize or crop your images.
There's a boatload of image size options for the WG-2, and the camera offers three quality levels as well (good, better, and best). The max resolution is the camera's 16-megapixel 4608 x 3456 option and the smallest photo mode is a VGA 640 x 480 image. There are nine other size options that fit somewhere in between, and the camera can take photos using three different aspect ratios (4:3, 16:9, and 1:1).
Focus is one of the controls on the Pentax WG-2 that you can set manually, and the camera has a solid collection of autofocus options as well. Despite the fact that you can set focus manually on the camera, that doesn't mean we recommend it. The manual focus setup is alarmingly bad, and it doesn't translate well to good or precise focus performance. The autofocus functions are a lot more sophisticated. You can switch between Nine Point AF, Spot AF, Auto Tracking AF, Macro AF, Super Macro AF, Infinity Landscape, or Pan Focus. Yup, that's a ton of autofocus controls.
Pentax lists the focus range on the camera as 1.64 feet to infinity. In Macro mode, this range shifts to 0.33 to 1.97 feet, and Super macro allows you to focus on subjects that are just 0.03 feet away (1cm) from the lens.
There's no setting to adjust aperture or shutter speed manually on the WG-2, but you can make basic exposure compensation changes. You can also choose from three metering modes: multi-segment, center-weighted, and spot. While you can't select a specific shutter speed, the camera's shutter speed range goes from 1/4000 to 1/4 of a second, and certain scene modes allow the use of shutter speeds as slow as four seconds (Night Scene mode).
The ISO range on the WG-2 is actually less extensive than what Pentax offered on last year's WG-1 (but not by much). The camera's range runs from ISO 125 to ISO 6400 (the WG-1 went as low as ISO 80, but had the same max ISO). ISO can be set manually on the camera or you can let the auto control do the work.
Along with a manual and auto white balance mode, the WG-2 has four white balance presets: Daylight, Shade, Tungsten, and Fluorescent. These options are no different than what came on the Pentax WG-1.
Pentax surprised us last year with a good showing in our stabilization test from the Optio WG-1. You can read about the camera's impressive stabilization results here. The WG-2 GPS should have similar results, as it appears Pentax equipped the model with the same Pixel Track SR and Digital SR functions (as well as a movie mode stabilization feature).
When you first enter the WG-2's menu screen, you'll find an option for picking a "Custom Image Mode". The choices here are few—Bright, Natural, or Monochrome—but if you go to the camera's scene mode menu you'll find a ton of other picture effects options. The scene modes on the camera include: Night Scene, Handheld Night Snap (ISO 125-1600), Underwater, Digital Microscope (2 megapixels), Landscape, Flower, Portrait, Surf & Snow, Kids, Pet, Sport, Candlelight, Fireworks, Night Scene Portrait, Text (for photographing text), Food, Digital Wide (5 megapixels), Digital Panorama (2M per frame), Frame Composite (3M or 2M), Report (1280x960, ISO 125-1600), and Green mode (ISO 125-1600).
Also lumped into the scene mode collection are various movie modes like underwater movie, high-speed movie, and interval movie. More digital effects are available in playback mode and there's a dynamic range adjustment option that gets its own spot in the menu system.
The lens on the WG-2 doesn't appear to be much different than the lens on its predecessor (if at all). It has the same 5x optical zoom and 5-25mm focal length (28-140mm 35mm equivalent). The f/3.5 - f/5.5 aperture is also no different than what we saw on the WG-1 last year. Surrounding the lens are six tiny LED lights that you simply can't miss when they're turned on. These are the WG-2's Macro LED lights, and they are there to provide extra illumination when shooting closeups (we assume they may also help underwater).
The image sensor, however, is completely different on the WG-2 compared to last year's WG-1. Pentax opted to go with a CMOS sensor on its new Optio, rather than the CCD-type chip found in the WG-1. The size of the imager is no different, it's still 1/2.3 inches, but the pixel count has been upped to 16.79 megapixels, which is why the WG-2 can take slightly higher-res photos than its predecessor. It'll be interesting to see if the choice of switching to a back-lit CMOS will make a big difference in terms of performance compared to the CCD-equipped Pentax WG-1.
Like the image sensor, the LCD on the WG-1 GPS got an upgrade as well. Pentax upped the size to 3-inches diagonally (that's a 0.3-inch increase over last year's WG-1), but the cool thing is Pentax also went ahead and doubled the screen resolution to 460,000 pixels. This means your images will look crisper during playback and it should help when you frame and compose your shots too.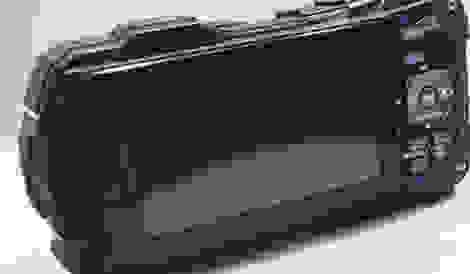 According to Pentax, the effective range of the WG-2's built-in flash has been increased. The camera's flash has a range of 18-feet when the lens is zoomed all the way out or 11 feet when set to tele. This is an extra 5-feet over the WG-1 flash range. The flash also has a couple of red-eye reduction settings, just like last year's model.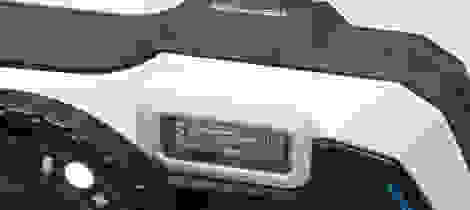 Lots of compact cameras skimp on the ports, but Pentax includes an HDMI port and a dual AV-out/USB terminal that uses a proprietary connection. The HDMI port is of the micro variety, which is harder to find than regular or mini-sized HDMI cables (another slight negative). All the ports are located on the left side of the camera, behind a well-sealing port cover that is designed to keep the ports protected from the elements.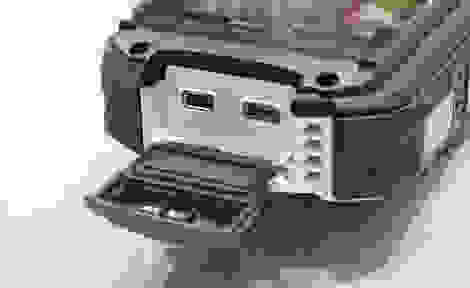 The rechargeable D-LI92 battery pack slips into a compartment on the bottom of the WG-2. It's the same compartment that houses the memory card slot, and, like the ports and jacks mentioned above, the area is protected by a heavy-duty cover to keep it water-free. According to Pentax, the camera should be able to take 260 photos on a fully-charged battery. The camera comes with a battery charging kit to recharge the provided battery pack.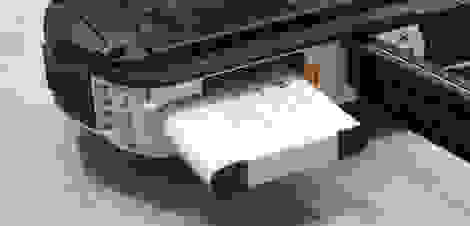 There's actually a small amount of internal memory on the WG-2 (88.2MB), but it's only enough to store a dozen photos or so (depending on the quality settings). If you want to take more than a few snapshots, you'll have to load the WG-2 GPS up with an SD-type memory card. The camera does work with new, high-capacity SDXC cards as well as SD and SDHC memory cards.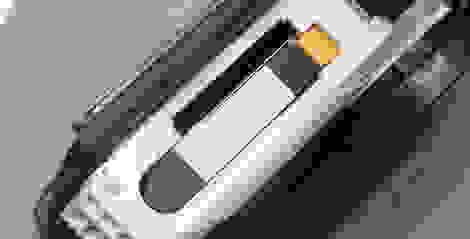 Since the Pentax WG-2 GPS has a rugged design and waterproof shell, there's actually quite a bit to talk about in terms of "other hardware" for the camera.
Waterproof – The Pentax WG-2 can travel up to 40 feet underwater without taking damage, and if you're keeping track that's seven feet deeper than the WG-1 was able to go last year. The camera's shell is comprised of reinforced polycarbonate plastic in order to keep sensitive areas from taking water damage. The ports are also protected by thick, locking doors to keep them free from water.
Shockproof – This really means the WG-2 can take a fall without breaking. Pentax claims the camera will be fine from falls up to 5 feet, which is good if the camera slips out of your hand while you're taking a snapshot. If you drop it off the roof of a building, however, it will likely do some damage.
Crushproof – The camera can withstand 220 LBF, which means it can take 220 pounds of force without getting hurt. This is part of the reason you don't have to think twice about tossing the WG-2 into your backpack before a hike.
Coldproof – Most cameras won't function below freezing, but the WG-2 can operate in temperatures as low as -10°C. Combine this with the camera's waterproof feature and you've got a device you can bring with you anywhere—even to the heart of a blizzard.
Dustproof – Not as exciting as the other features, and we're not exactly sure how "dustproof" the camera really is, but it's still a cool feature. If you're looking for a camera to take with you to Burning Man, this dustproof feature might really come in handy.
There's also the GPS feature that comes built-in on certain versions of the Pentax WG-2. If you didn't guess already, the model called WG-2 GPS comes with GPS, while the regular WG-2 camera does not. For those who don't care about GPS, Pentax threw in another little treat. All of the WG-2 units come with a cool carabiner strap that allows you to clip the camera to a belt or backpack loop with ease as well as a small Macro Stand tripod.
The Pentax Optio WG-2 is an impressive adventure-cam that simply doesn't shy away from its rugged persona. Its design may not be pretty, and Pentax definitely has some work to do on its button layout and menu interface, but the camera succeeds where it counts. When we first checked out the WG-2, we were disappointed by the lack of innovation and new features compared to last year's WG-1 from Pentax. Digging deeper, however, we found ourselves excited by the WG-2's new CMOS image sensor, which could translate into vastly improved performance over its predecessor. We won't know until we run the camera through our vigorous tests, but we expect to see at least some changes in terms of quality.
The camera's new 1080p video mode is also noteworthy, as is the improvement in its waterproof capabilities. Pentax will continue to ship the WG-2 with a tiny tripod that the company calls a Macro Stand, which is one of those accessories that could actually be useful at certain times. The WG-2 is available for pre-order now, with a list price of $349 for the non-GPS model and $399 for the GPS-enabled WG-2.
Meet the tester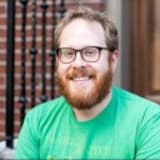 Jeremy Stamas
Managing Editor, Video
@nematode9
Jeremy is the video expert of our imaging team and Reviewed.com's head of video production. Originally from Pennsylvania and upstate NY, he graduated from Bard college with a degree in film and electronic media. He has been living and working in New England since 2005.
Checking our work.
We use standardized and scientific testing methods to scrutinize every product and provide you with objectively accurate results. If you've found different results in your own research, email us and we'll compare notes. If it looks substantial, we'll gladly re-test a product to try and reproduce these results. After all, peer reviews are a critical part of any scientific process.
Shoot us an email