For all intents and purposes, the Q-S1 is identical to the Pentax Q7, with the same sensor, same processor, and all the same vital specs. But the Q-S1 isn't replacing the Q7; it's going to be sold alongside it, providing style-conscious buyers with a more colorful, more angular take on the Q paradigm.
We recently had the opportunity to get our hands on the newest member of the Q family, and to examine its evolutionary changes. While a full review will have to wait for our lab tests, our initial impressions are that you might want to consider it over the Q7.
Fresh and clean
From the front, it's easy to tell the Q-S1 apart from the earlier Q7 and Q10. Where those cameras had clipped, Battlestar Galactica-type corners, the Q-S1 is all clean lines and 90-degree angles. The angled "prism" hump from the Q7, for instance, is now a squared off keystone topped with a hot shoe.
The other major front-facing design change is the enlarged, chrome-trimmed IR sensor, which sits to the right of the lens and protrudes quite a ways out from the body. It's roughly as big and as deep as the Q-standard quick dial on the left, and the pairing creates a certain kind of weighted symmetry, despite the nagging sense that it's all for show.

On top of the architectural changes, Pentax is letting buyers customize the color of their Q-S1s, choosing from an array of eight grip colors and five body colors at no added cost. We've seen similar services for the K-50 and Q7, but the Q-S1 looks particularly cute with all these color options.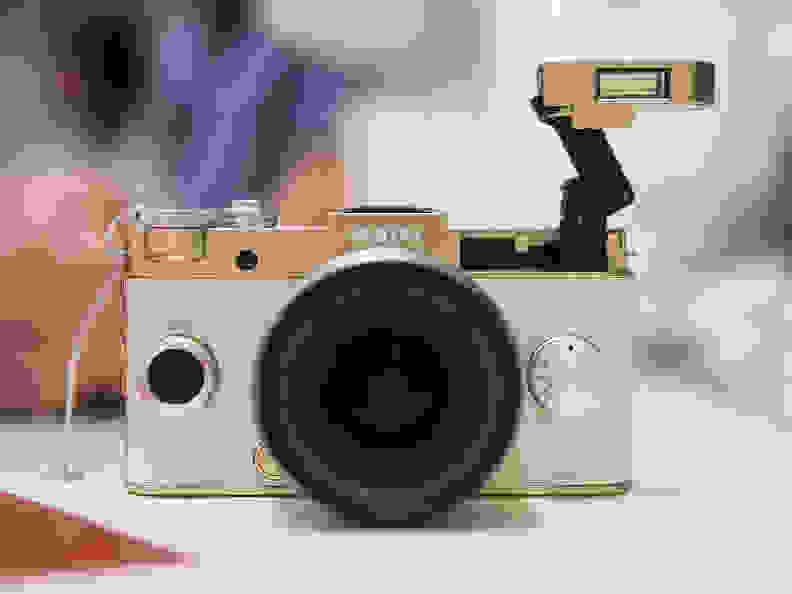 As with previous Q cameras, there's an onboard flash that can be tucked into the body or extended up on a scissor-arm. It's an ingenious and surprisingly sturdy solution, though it looks decidedly comical in actual use.
Around back, the control scheme is unchanged. Alongside the meager hard-plastic thumb rest you'll find EV compensation and green mode/trash buttons. Below that is the typical 4-way control pad with a central OK button. And below that are Info and Menu keys. The lone control dial sits atop the entire control stack.
The 3-inch, 460K-dot rear LCD is clear and bright—a Pentax rep claimed it's brighter than the Q7's—but the menu system is unchanged from previous models going all the way back to the original Q. That's a shame, since the K-S1's menus just got a stylish update, but it's a minor complaint.
The Q-S1's menu system is unchanged from previous models. That's a shame, since the K-S1's menus just got a stylish update.
As before, the right-side compartment is where you'll put your memory card (SD, SDHC, or SDXC, please!), while the matching left compartment is where the D-LI68 battery pack goes. Pentax claims it's good for 250 shots on a charge, which is exactly the same as the Q7. Micro HDMI and USB ports are found under a rubber flap on the bottom of the camera, alongside the metal universal tripod socket.
We've been impressed with the build of all the previous Q-series cameras, and the Q-S1 is no exception. Despite its tiny stature and relatively low price, this is a seriously well-designed piece of kit, and one that feels like it'll stand up to years bouncing around in your pocket. The 5-15mm kit lens feels similarly robust.
Style is an intensely subjective thing, but we think the Q-S1 is a significant visual upgrade over its predecessor. It's a smart move for Pentax, especially in the Asian market, where the Q series has enjoyed considerable success among fashion-conscious buyers.
Maintaining the status quo
As ever, the appeal of the Q-S1 is its compact profile and ultra-light weight. This thing is seriously tiny, fitting easily in the palm of your hand, and it weighs just 203g (a little under a half pound) with the battery installed.
Of course, a tiny camera isn't as easy to hold as one scaled to naturally fit your hand—a fact I discussed in some depth in my review of the Q10. It's a fact Pentax is well aware of, and it's one reason why the Q-S1 designers added the unnecessarily large IR sensor on the right side of the body. The sensor gives your fingers a place to rest and something to hold onto, especially since the Q7's shallow rubberized grip is gone with the Q-S1's new look.
The front-mounted Quick Dial remains a delight, letting you switch between various Smart Effects, Custom Image settings, Digital Filters, and aspect ratios with lightning speed. The dial itself feels great, and the variety of things you can do with it is immense.
The front-mounted Quick Dial remains a delight, letting you switch between various picture effects and settings with lightning speed.
Those effects and filters are quite a lot of fun—Instagram addicts will feel right at home shooting in the Q-S1's Bold Monochrome or Cross Processing modes. And unlike Instagram, the Q-S1 provides the filter effects in live view, letting you actually compose in black and white, fisheye, and the like, rather than converting after the fact. For those who are serious about their image composition, that's a big advantage.
Like the Q7, the Q-S1 sports a 12-megapixel, 1/1.7-inch BSI CMOS sensor comparable to those found in many high-end compacts from a couple years ago. In the meantime, the enthusiast point-and-shoot market has moved on to 1-inch, Four Thirds, and APS-C sensors, but it's unclear whether the Q-mount has the physical room to expand to anything bigger than its current sensor size. If not, it runs the risk of being left behind in image quality. (Some would say it already has been.)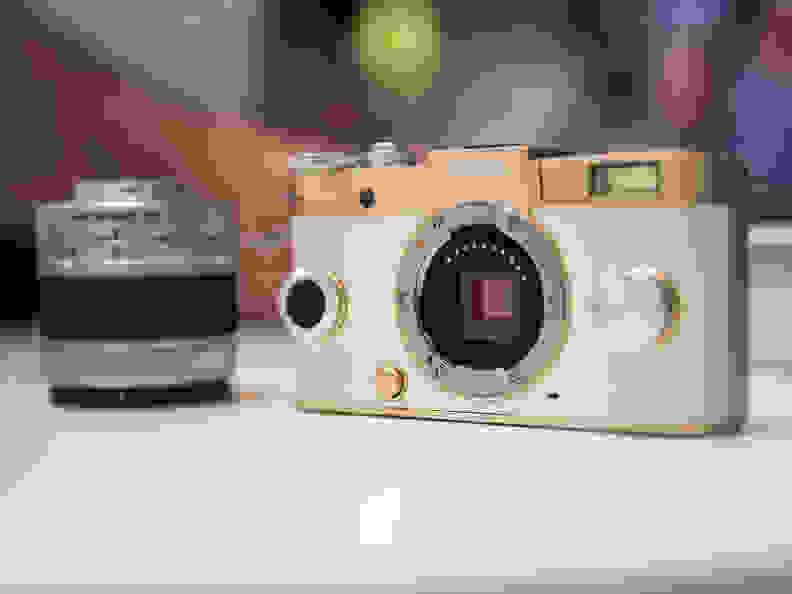 The Q-series lens range hasn't expanded much recently, but it's fairly robust. There are a total of eight lenses available, including three zooms, a standard 50mm-equivalent prime, three "toy" lenses (mostly providing better than toy image quality), and a super-cheap "body cap" lens. As with any mirrorless camera, you can easily adapt all kinds of third-party glass with simple mechanical adapters, though handling can quickly become awkward with larger optics.
A sleeker, sexier Q
Style is subjective, but in our opinion, the aesthetic adjustments Ricoh has made to the Pentax Q-S1 are a step forward. The camera itself, however, is just a step to the side. Apart from a couple tweaks, this is the exact same camera as the Q7—a model we weren't too impressed with, despite its advances over the earlier Q and Q10.
Still, the Q series has a rabid (if small) fan base, and there's every chance that you could find yourself falling in love with this tiny, incredibly well-built mirrorless camera. Image quality from the Q7's point-and-shoot sensor may not have been anything to crow about, but it was plenty good for everyday snapshots. And for those who want the flexibility of a DSLR with the size of a compact, there are few better choices available today.
Like the K-S1, the Q-S1 is designed to appeal first and foremost to style-conscious camera buyers. That may frustrate diehard Pentaxians who are itching for a more advanced Q, but it makes sense for Pentax, which is looking for a new direction under Ricoh. Only time will tell whether the company's "style" gambit pays off, but we already like the results.
Meet the tester Ben Keough
Contributor
@ben_keough
Ben is an experienced industry journalist who formerly served as Senior Editor of News and Features at Reviewed. He now contributes as a freelance writer and editor. Most recently hailing from the vast wilds of the American southwest, he is an avid photographer who is deeply disturbed by the lack of wide open landscapes in Boston.
Checking our work.
We use standardized and scientific testing methods to scrutinize every product and provide you with objectively accurate results. If you've found different results in your own research, email us and we'll compare notes. If it looks substantial, we'll gladly re-test a product to try and reproduce these results. After all, peer reviews are a critical part of any scientific process.
Shoot us an email