The camera is available in black or purple and has an MSRP of $349 (but you can find it for cheaper online). For an extra $50 bucks you can add GPS capability to the WG-1, and the GPS model comes with a black or yellow green paint job.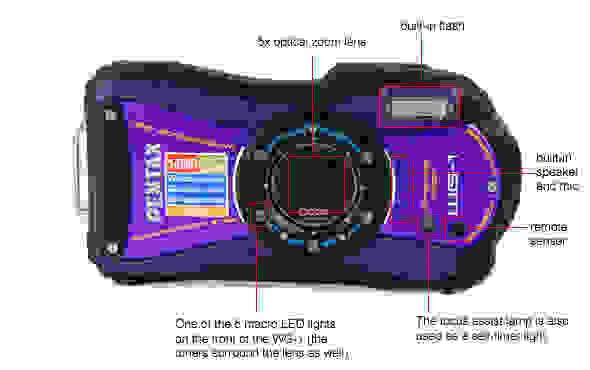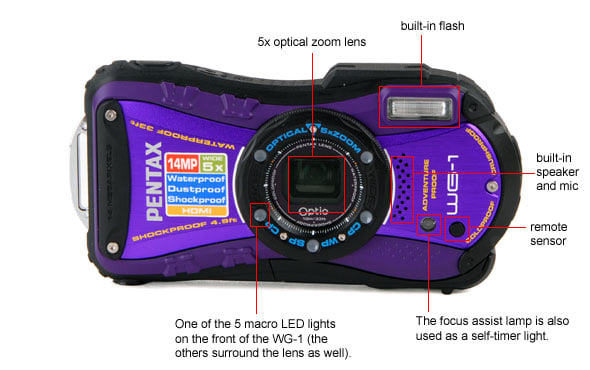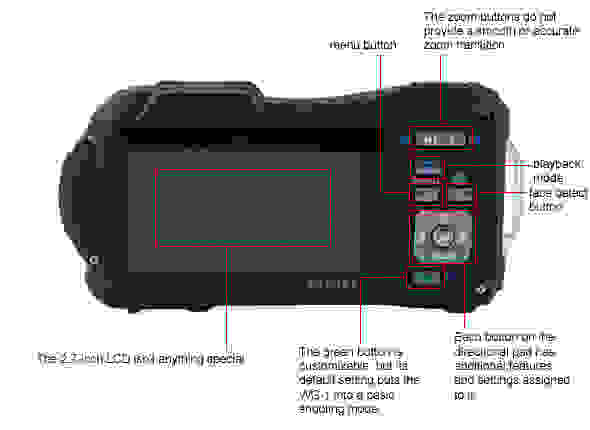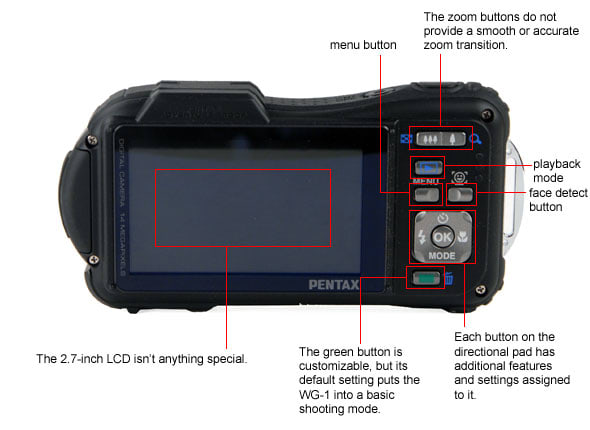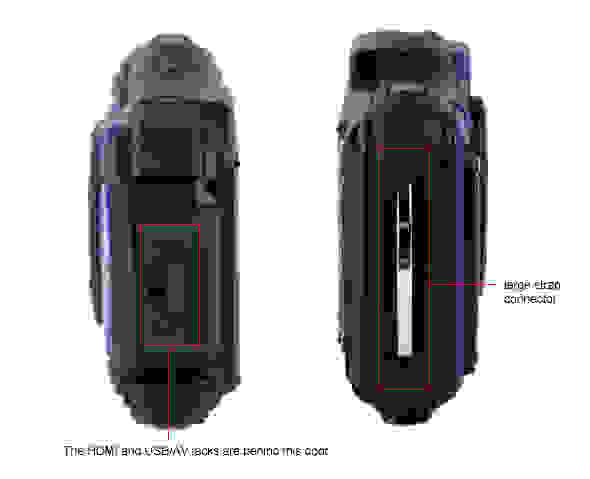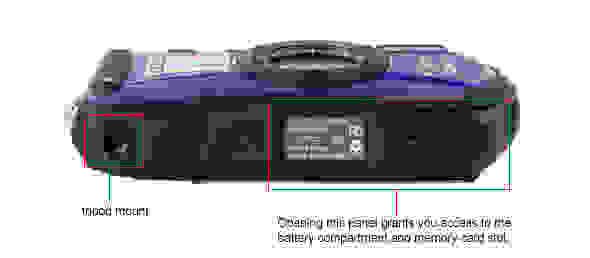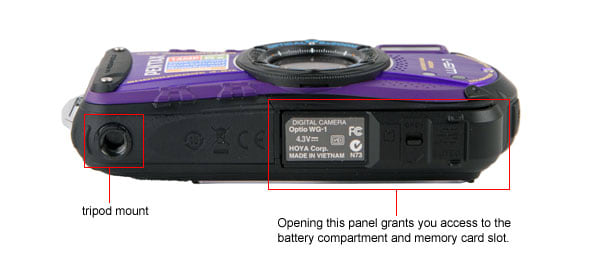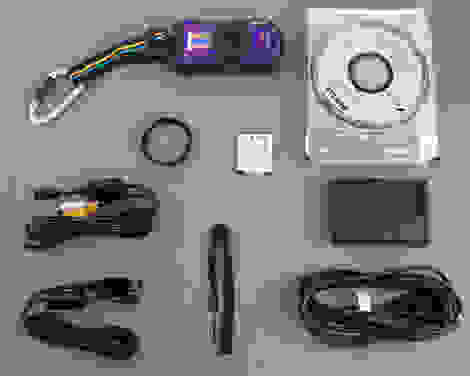 The Pentax WG-1 comes with the following items:
• USB cable

• AV cable

• rechargeable battery pack (D-LI92)

• battery charger kit

• wrist strap

• carabiner strap

• macro mount

• software CD
Of these items, the macro mount and carabiner clip are the two accessories that are most unique, although neither are particularly useful. The caribiner does have advantages if you want to hang the WG-1 from a branch or surface, while the macro mount is meant to reduce shake when shooting close-up photos.
The WG-1's results in our color accuracy test were shockingly good. At best, the camera managed a color error of 2.42 and a saturation level of 92.16%—both of which are top-notch results. The WG-1's good score here surprised us because it is so much better than the results we obtained from its predecessor, the Pentax W80. More on how we test color.
Of the cameras we compared it to, the Panasonic Lumix TS2 was the next closest in matching the WG-1's excellent color accuracy scores. The Pentax W80 and Casio EX-G1 were both far behind in this category, although it is difficult to tell from the color crops below. If you look closely at certain color swatches you will see some differences, however, particularly with the foliage color swatch (which the WG-1 captured with good accuracy), the orange yellow patch, and the regular yellow patch.
Unlike many cameras that pass through our labs, the WG-1 is not loaded with color modes or manual color controls. It simply has two color options called Bright and Natural, as well as a monochrome option that takes pictures void of color (black and white). We found both color modes did well in our color accuracy testing, but the Natural mode produced the most accurate colors overall (2.42 color error and 92.16% saturation). The Bright color option wasn't far behind, producing a 3.14 color error and a 107.6% saturation level, which are strong results as well.
The Pentax WG-1 managed to produce good results in our noise test, with the camera again outperforming its predecessor (the Pentax W80) by a wide margin. We test noise at two different light levels for point-and-shoot cameras, but the WG-1 consistently averaged under 1.6% noise in all of our tests—even at ISO 1600 (the highest ISO that allows for full-resolution photos). More on how we test noise.
As is common, the WG-1's images had less noise in our bright light test than our low light. Shooting under 3000 lux, which is similar to very bright indoor light, the WG-1 averaged just under 1.2% noise in its photos. Strangely, we noticed the noise levels peaking at ISO 200, while the camera was able to bring the noise levels down at ISO 400 and ISO 800. Things went up again a bit at ISO 1600, but the levels weren't as high as the peak at ISO 200.
In our 60 lux low light test, the noise levels followed a nearly identical pattern. Levels were at the lowest with ISO 80 and ISO 100, and then they rose up to around 1.5% at ISO 200. Noise declined at ISO 400 and ISO 800 (with levels nearly as low as ISO 100), and things went up again at ISO 1600.
In the comparison images above, you can see the WG-1 has a fairly even amount of noise throughout the ISO spectrum. The image is certainly at its cleanest at ISO 80, but there isn't that much more noise at ISO 1600 (although the difference is noticeable). This is a testament to the WG-1's solid overall capability at keeping noise levels low.
Just to note, the reason the ISO 80 patch at 60 lux is so dark is because the WG-1 could not properly expose the image at that light level during our test. We bumped the exposure up as much as possible, but the camera still produced an image that was a bit too dark, hence the color patch appears darker than the other patches in the test.
The Pentax WG-1 has a decent set of ISO levels for a camera of its class. ISO options range from a low of ISO 80 to a high of ISO 1600. You can also manually set higher ISO levels of 3200 and 6400, but using either of those will drop the maximum resolution of your photos down to 5 megapixels.
The Pentax WG-1 doesn't offer more ISO levels than the Pentax W80 did, but from the comparison images below you can see the vast improvement Pentax made in noise performance. With the W80 you can see noise right away at ISO 100, and by the time the camera gets to ISO 800 the image is full of noise and grain. The biggest difference, though, may be with the low-resolution ISO options of 3200 and 6400. While the WG-1 did produce a great image with those high ISOs, its photos are far cleaner than what the Pentax W80 produced.
NOTE: The images above are not used in our testing or scoring, but are included here to show real-world examples of the differences between cameras at the various ISO settings.
The overall resolution score for the WG-1 wasn't as strong as the camera's color and noise results, but it was still very good for a camera of its class (again showing much improvement over the Pentax W80). The camera was at its best in our distortion test, as our results showed the WG-1's images produced almost no distortion whatsoever across the focal lengths we tested. Sharpness and chromatic aberration results were less impressive, but were still adequate. More on how we test resolution.
Distortion ()
The images below tell the story here better than words ever could. With most cameras—even high-end models—we see some distortion at the edges of the frame that cause the image to curl or bend a bit (this is what we call distortion). The Pentax WG-1, however, produced straight, even lines in our testing, and the distortion levels were less than 0.2% at all three focal lengths we tested. This is a shockingly good score for a point-and-shoot camera like the Pentax WG-1.
Sharpness ()
Sharpness was an area where the Pentax WG-1 didn't improve much over its predecessor, the Pentax W80. Still, the camera produced decent results for a camera of its class. If you're looking to capture very sharp images, there are plenty of better cameras on the market, but most of them aren't waterproof tough-cams like the WG-1. The Panasonic TS2 did produce sharper images than the WG-1, however, so that's probably your best bet for sharp images on a waterproof model.
We noticed, and you can see for yourself by looking at the example images below, that the WG-1 captured a significantly sharper image at the center of the frame than at the edge. Click on the various blue boxes in the sample image and you can see what we're talking about.
Chromatic Aberration ()
Like sharpness, the WG-1 didn't show much improvement over the Pentax Optio W80 in our chromatic aberration testing. None of the waterproof cameras we used in this comparison set did a spectacular job in this test, though, so the WG-1's results were actually the best of the bunch (by a slight margin).
As is common, the WG-1's images showed more discoloration the more we zoomed. Check out the blow-up sample crops below and you'll notice a slight yellow glow around all of the images shot at 25mm. The effect is less prominent at 11.1mm (mid-zoom) and 5mm (wide angle). The chromatic aberration is also more noticeable at the edge of the frame as compared to the center.
In addition to its numerous photo size options, the Pentax Optio WG-1 has three quality options for taking pictures. The quality options are expressed in terms of "stars" with three stars being the highest quality and one star being lowest. You can check out the various size options by clicking through the aspect ratios below. The WG-1 has most options in a 4:3 ratio, but it does have a few 16:9 (widescreen) options as well as a single 1:1 mode.
We were surprised by how well the WG-1 did in our stabilization test, as the camera outperformed the other three models we compared it to in this category. With stabilization turned on, the WG-1 was able to improve sharpness in its still images by around 56%. That is a ton of improvement for a compact camera, so if you're shooting in shaky environments you might as well turn the feature on. Can't find stabilization on the camera? That's because Pentax calls it Pixel Track SR—confusing, right? Anyway, turn the feature on in the menu system and you should get sharper photos with your shaky hands. More on how we test image stabilization.
Pentax includes a number of video record modes on the WG-1, but some of the offered frame rates are strange and none of the video modes captured anything close to what we'd label as "high-quality" video. The clips we recorded with the WG-1 were not sharp, showed significant amounts of noise, and had other interference issues like blurred lines and jagged edges.
The talk of "strange frame rates" that we mentioned earlier is a reference to the WG-1's 15p frame rate options, which is available in all record modes (in addition to the more sensible 30p frame rate). Clips shot at 15p looked very choppy and lacked any sense of smoothness—much like a video you'd watch on a slow internet connection. The only thing we really like about the video mode is the fact that Pentax offers two standard definition record modes in addition to the 720p HD option. You can also setup an interval record session for capturing videos and that's kinda cool too.
Compared to the other cameras in this set, the WG-1 actually did an adequate job in our color test. Compared to your average consumer camcorder, however, the WG-1's colors in video mode weren't accurate enough to be considered good by our standards. This is disappointing, considering the WG-1 did so well in our color tests in photo mode. The camera did offer a good amount of saturation in its video clips, though, with our testing showing a saturation level of around 90%. More on how we test video color.
In simplest terms, the Pentax WG-1 is not capable of recording sharp video. In our testing, the camera managed just 350 lw/ph in both our vertical and horizontal sharpness exams—not good scores by any means. Ah, but the WG-1 doesn't have too much to worry about when you look at the competition. The Pentax W80 did a similarly poor job in our video sharpness test, while the Pentax TS2 did only marginally better. As for the Canon EX-G1, it's probably not even worth mentioning the awful quality of its video recordings.
Despite the fact that the WG-1 records 720p HD video, you aren't going to get the crisp, clear HD video you may be used to seeing from consumer camcorders. Even cheap pocket camcorders or ultracompact camcorders will get you far sharper video than the WG-1. More on how we test video sharpness.
Using playback to view your photos is a simple affair on the WG-1, as it should be. Images can be cycled through manually using the d-pad, or you can look at an arrangement of multiple photos in thumbnail form. Clicking the mode button brings up a large set of extra playback features, most of which are too complicated for the average camera user to understand.
The Pentax WG-1 has so many in-camera editing features, we almost feel like we should direct you to the instruction manual rather than outlining them here. You can rotate images, shrink faces, create collages, apply filters, add text, add frames, capture stills from videos, remove red-eye, resize images, and crop images. There's also direct to print options, a setting for recording voice memos, and a strange "ink rubbing filter" that... well... makes your photos look like ink rubbings.
If you skim the LCD specs for the Pentax WG-1 you may come away rather impressed with its TFT color and anti-reflective coating. In reality, however, the LCD on the WG-1 is rather sedate for a digital camera. Sure, it's got a widescreen display and those fun-sounding features, but it's only 2.7-inches in size and its pixel count is a disappointing 230K. Those are pedestrian specs for sure, but we're not surprised. The WG-1 is a tough-cam at its core and its design reflects that. Pentax wisely chose to make the LCD more basic and functional for underwater recording rather than to implement a high-tech, flashy design. The camera has no viewfinder, though, so make sure you like the LCD enough before you go out and splurge on the WG-1.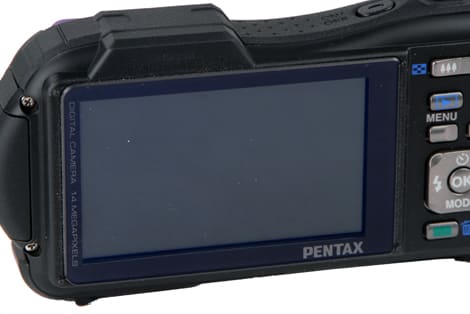 The built-in flash on the WG-1 has an effective range of about 8 to 13 feet depending on how much the lens is zoomed in at the time you take your photo. We found this range to be mostly accurate and we were impressed by the recycling time on the flash (there was little delay between shots). The flash has the standard settings of on, off, auto, and red-eye reduction.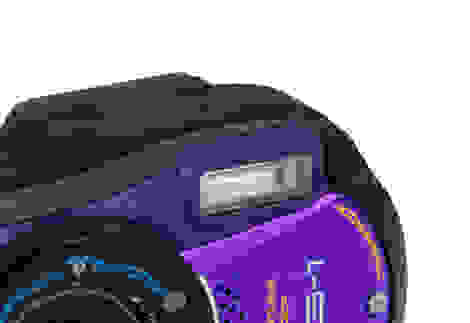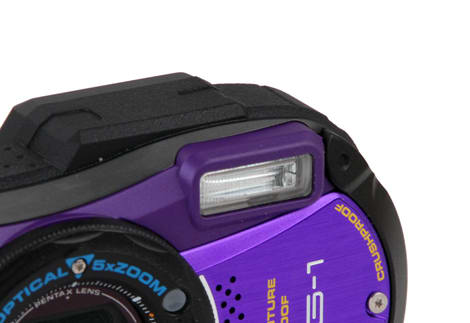 The lens on the WG-1 carries a 5x optical zoom (5-25mm) and an apeture of f/3.5 (at its widest) to f/5.5 (when using full 5x zoom). We'd like this lens to be a bit faster for better low light and underwater performance, but Pentax tries to cure this problem by adding a set of 5 led lights around the edge of the lens for illumination purposes.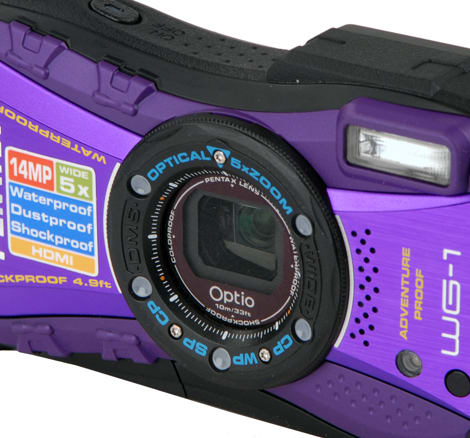 Like we said above, the Pentax WG-1 has a 5x optical zoom lens. You can crank this zoom up to 33.5x by activating the digital zoom feature, but this will result in some loss of image quality the more zoom you use. Our biggest complaint about the zoom has nothing to do with the WG-1's magnification, however, and it has to do with the terrible zoom controls instead. The small zoom toggle on the back of the camera doesn't provide smooth transitions between zoom distances, and this makes it impossible to replicate certain zoom ratios.
This description may be hard for the layman to comprehend, so let's explain a bit further. When you press the zoom button to zoom in, it will immediately increase the zoom from 1.0x to 1.2x. Another press of the button takes it to 1.5x. Each further click of the zoom toggle will increase the zoom by anywhere in between 0.3x and 0.9x, always hitting the same zoom ratios each time. This makes it impossible to hit specific zoom ratios in between these increases. Basically, it is as if the WG-1 has 9 zoom distance options to choose from, rather than a completely free range of 5x zoom. This is more annoying than it sounds, particularly if you're trying to get a specific, tight frame around a certain subject.
Pentax attempts to protect the bottom-loading battery compartment on the WG-1 by using a rubber-lined door cover that locks into place. The cover looks fine and feels strong, but our we found a significant amount of water was able to make its way into the battery compartment when the camera was submerged. None of this water got right into the battery slot, but the pools of liquid were close—and they were inside the compartment when we opened the door. This means you need to have a cloth, tissue, or something handy to sop up any liquid if you open the battery compartment door. Otherwise, some of this water could easily drip into the important areas of the camera.
We were also bothered by the lack of instructions on how to load the battery pack into the WG-1. There is a tiny +/- sticker inside the battery compartment that shows you how to load the battery, but this sticker is both hard to read and difficult to decipher. This same issue comes up when using the provided battery charger that comes with the WG-1. Here's a tip for those that are confused: line up the three gold rectangles on the side of the battery pack so they make contact with the metal prongs on either the battery charger or the camera's battery compartment. This will ensure the battery is inserted properly.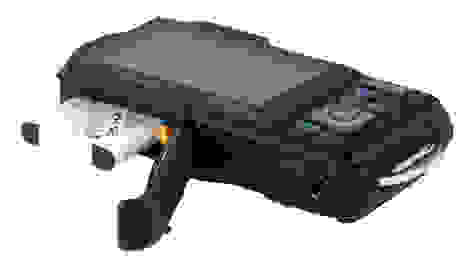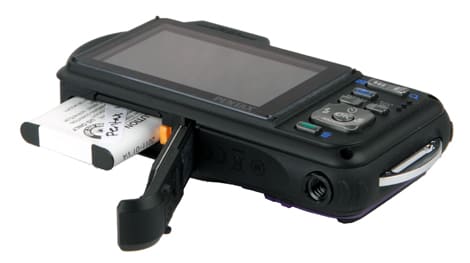 The Pentax WG-1 stores photos to SD or SDHC memory cards, which are best described as "those small rectangular cards that are a tad larger than a postage stamp." SD cards are very common and come in sizes up to 32GB. The best deal for your money is to buy a couple of 8GB or 16GB cards and use them with your WG-1. Heck, you may already have a few cards lying around if you have other media devices that use them (cameras, camcorders, audio recorders, etc.).
If, for some reason, you find yourself without a memory card. The WG-1 does have around 100MB of built-in internal memory that can be used to store photos. This isn't too much space, however, so it is not a good idea to rely on it for more than a few photos or a few seconds of video.


In addition to the battery compartment and memory card slot, the Pentax WG-1 has two ports located on the left side of the camera. These ports are also protected by a thick door that slides open and locks into place when set. Much like we saw with the battery compartment, this port housing collected a small amount of water after we submerged the WG-1. Again, no water seeped its way into the ports, as they were protected by a rubber lining on the underside of the door protector, but there were droplets of water located right next to the ports when we popped open the door. One slight shake before wiping that water away, and you may end up significantly damaging these terminals.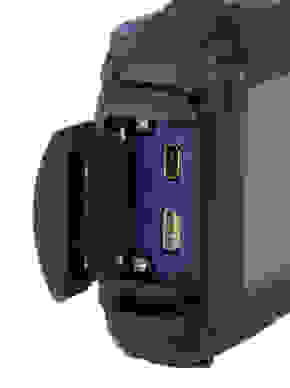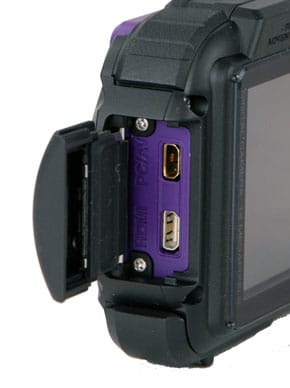 The ports themselves are an HDMI terminal and a USB/AV-out jack. Both use rather unique connections, with the HDMI terminal fitting only micro-HDMI cables and the USB/AV jack using a proprietary connection that works only with the provided cable from Pentax. This isn't what we like to see on a consumer camera, as cables that work with these ports can be hard to replace (or find in the first place). We'd much rather have a universal USB port and the far more common mini-HDMI connector.
Macro LEDs
Surrounding the WG-1's lens are five tiny lights called Macro LEDs. You can turn on these lights in the menu system (under Macro Light), and the five lights will provide illumination for close-up shots in the dark. The lights don't have the same range as, say, the built-in flash, so they're only really effective when shooting close-ups. They can be useful underwater as well, as the world tends to be far less bright down there.
Tough-cam Design
If you didn't know already, the Pentax Optio WG-1 is a camera designed for the adventurous. Its rugged body is waterproof (up to 33 feet), shockproof (which means it can take a fall of around 5 feet), crushproof, coldproof (down to 14 degrees F), and dustproof. We tested the camera's waterproof capability with mixed results—some water was found to seep into areas where it shouldn't—but with some of the other "proof" features we had to take Pentax's word. We must say, the camera does feel and look strong, and we dropped it a bunch of times without it showing any signs of damage.
The Pentax Optio WG-1 has two pages of shooting modes in the camera's menu, and that translates into 24 mode options overall. The modes range from the very useful—like Night Scene, Movie, Underwater, Portrait—to more confusing options like Frame Composite, Report, and Text. The camera has no mode dial or anything of the such, but all of its shooting modes are located in a mode menu instead (which is accessed by pressing the mode button).
Separate from these shooting modes is the WG-1's "green mode", which is a simplified auto mode. The camera has another auto mode (called auto picture), but the green mode is even more basic. It reverts everything to standard auto controls regardless of how things are set in the menu system (it actually locks you out from adjusting the record menu options). The green mode button is found on the back of the camera (it's green), and it can be customized to perform different tasks if you want it to. The green button can be set to switch to voice record mode, movie mode, or function settings instead of activating green mode.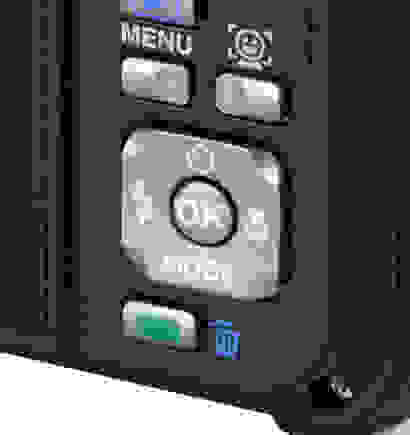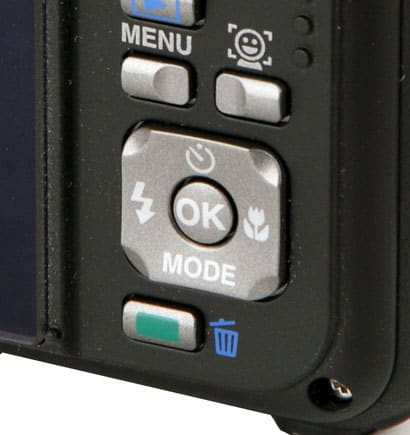 Buried in the menu system are three manual picture effects controls that allow you to adjust sharpness, saturation, and contrast on the WG-1. Each control has a very limited range of adjustment from -1 to +1, so don't expect to have lots of room for making changes here. Certain shooting modes also enhance colors and change sharpness or contrast as well, but all do so automatically when the mode is selected.
While the WG-1 does have plenty of picture modes, the camera is rather light on manual controls. You can't set aperture or shutter speed manually, but you can select a specific ISO level or use manual focus. Picking ISO manually is easy, but the manual focus option isn't well-suited with the WG-1's design. You have to click up and down on the directional pad in an attempt to find the right focus—a method that does not allow for precise or fine control. We doubt many people will use the manual focus on the WG-1 anyway, as the camera's plentiful autofocus modes should work well enough for most situations.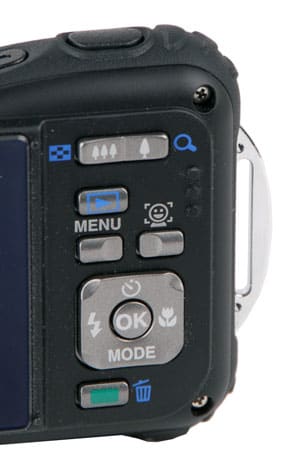 The WG-1 has a full-resolution drive mode that works at a modest pace, and there's also a high-speed burst mode that shoots lower-quality photos at a faster speed. The max resolution for the burst mode is 5-megapixel photos, while the drive mode can take up to 14-megapixel photos (the largest photos the camera allows for regular shooting as well). The drive mode also has a self-timer that can be set to 2 or 10 seconds, an auto exposure bracketing option, and a photo mode that can be initiated with a remote control.
Shot to Shot ()
The regular drive mode results for the WG-1 weren't all that impressive. The camera managed to capture just under one photo per second and it could maintain this speed for about 13 - 16 shots before the WG-1 had to stop and catch its breath. The high-speed mode worked a lot faster, capturing around 2.3 photos/second and could do around 20 shots in a row before taking a break.
D-Range Setting
There are two features under this menu heading: Highlight Correction and Shadow Correction. Both features are fairly self-explanatory, and neither does anything overly impressive. We noticed shadows looked a bit finer with Shadow Correction turned on and the entire image looked a bit brighter with Highlight Correction engaged. Don't expect either of these features to completely revamp your photos, as they are just minor enhancements.
Interval Shoot
The interval shot mode on the WG-1 is fairly extensive, although it is also rather confusing. You pick an interval for which the camera will repeatedly take photos, but you can only take up to 15 photos per interval set. The interval range you can select from is 10 seconds to 99 minutes, but if you pick an interval higher than 4 minutes you can no longer pinpoint down to the second (i.e. you can set a 3 minute 54 second interval, but not a 4 minute 23 second interval). You can set the interval shoot to begin at a certain time (there's a delay timer), and the WG-1 will always turn off automatically when the photo limit set in the interval options is reached.
Face Detection
Pentax includes a dedicated face detection button on the back of the WG-1, and when you press the button you cycle through the camera's various face detection modes. There's regular face detection, which most users are probably aware of (hint: it detects people's faces in the frame), but there's also smile capture, self-portrait assist, and a combination of the two (self-portrait assist with smile capture). We found the face detection worked reasonably well—as long as your subject wasn't wearing any kind of glasses. The self-portrait assist feature is kind of cool, as it uses the LED lights on the front of the WG-1 to let you know when faces have been detected (since you can't look at the LCD if you're taking a self-portrait). Again, it works well, but not if you or another "face" in the frame is wearing glasses.
Blink Detection
Blink detection goes hand in hand with face detection on the WG-1, which is to say it won't work unless you have face detection turned on. If you do have both features on, the WG-1 will let you know if someone blinked or had their eyes closed when you take a photo. It doesn't work all the time (and it seemed to never work if people are wearing glasses), but we did find the feature detecting a few "blinks" every now and then. It's probably a better idea just to scrutinize your photos in playback mode and look for any blinks manually if you're really concerned.
IQ Enhancer
Pentax doesn't shed too much light on this mysterious feature other than claiming it improves image quality (that's what the "IQ" stands for—it doesn't improve your intelligence). According to the WG-1's instruction manual, IQ Enhancer uses digital processing to produce clearer pictures. We don't exactly like the sound of that because usually anything that uses "digital processing" is really degrading the picture quality slightly.
If you don't think the Pentax WG-1 is a durable camera, well, then here's the proof: the camera is waterproof up to 33 feet, shockproof up to five feet, crushproof up to 100 kilogram-force, and coldproof down to 14 degrees Fahrenheit. If that's still not enough proof for you, Pentax also claims the WG-1 is dustproof, which means it can handle dry or dusty environments with ease (we're not exactly sure what this entails). In addition, the WG-1 comes with a thick strap with a carabiner clip at one end—a testament to the camera's adventuresome spirit.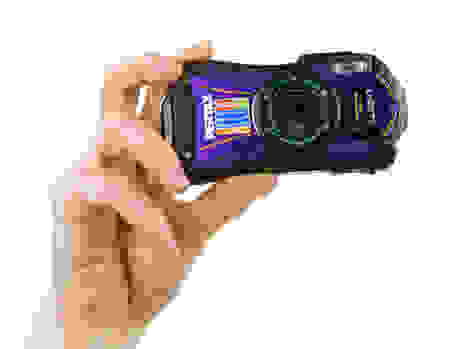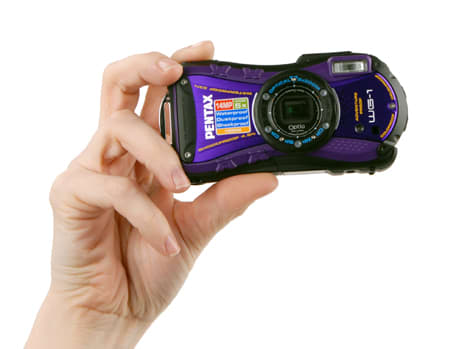 While these loaded statements from Pentax make the WG-1 sound like a strong, solid camera, we were a bit disappointed overall with the body design. Yes, the WG-1 is waterproof, but we found some extensive water seepage that came close to touching the ports and battery terminals when we took the camera out of its bath. We also found the rigid design and tight grooves on the WG-1 weren't exactly conducive to waterproof photography. After we brought the camera out from the water it took a long time for the WG-1 to dry off. Droplets of water stuck in the grooves and stayed there even after we wiped the camera down with a towel. We'd much prefer a smooth surface that can be dried off with ease—that way you can immediately stop worrying about water getting in places where you don't want it to go. Of course, this rigid design may make the WG-1 tougher, and we do like that, but we'd rather have a compromise between the two.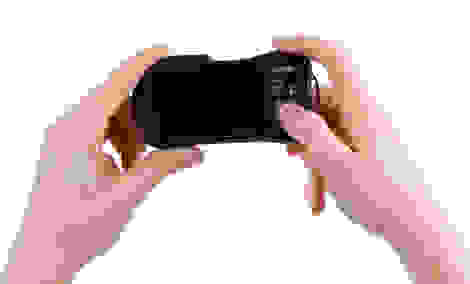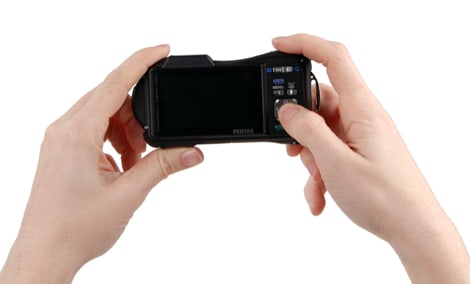 We had a number of other problems with the WG-1, but most of them were issues with the camera's interface. One of the biggest grips, which was a repeated problem during our testing, was the fact that the WG-1 resets many of its controls whenever the camera is turned off. So, if you set the white balance manually, then turn the camera off, the WG-1's white balance will need to be reset again at that point. This is a pain for people who like using and setting controls manually on their cameras.
We also didn't like the way Pentax arranged the LCD display on the WG-1. Instead of centering the image within the frame of the screen, the WG-1 displays images indented to the right (with a large black space on the left). This can make it challenging to center your subjects, particularly if you're shooting them against a black background. It's a silly design flaw that really makes no sense to us. Why not just take advantage of the whole LCD by filling the entire screen with the image?
The buttons on the WG-1 aren't too bad, but they have some problems. We don't like that so many features are attached to single buttons, which forces you to cycle through buttons looking for options and settings that you can't find in the menu system. Overall, though, we like the way Pentax built the actual buttons on the camera. They are easy to press, have good tactile feedback, and work well underwater (that's something you can't always say about waterproof cameras).
As we said above, the buttons on the WG-1 have too many options and features attached to them. This makes the menu more difficult to use, as so many features are scattered and hidden all over the camera. The basic menu system isn't too hard to navigate, and it has options organized fairly well. The WG-1 would really benefit from a help or info box in the menu, though, as many features and options have confusing titles that don't really explain what they do.
At 312 pages, the manual for the Pentax Optio WG-1 is very thick for a camera of its class. There's a lot of detail inside and the index is organized very well, so it is quite easy to find what you're looking for. It is possible that the manual will look too daunting for some users, but the WG-1 has a lot of features to go over and the manual really is necessary to look up how many of these features work. We're glad Pentax decided to cover everything in the manual, particularly because some of the camera's settings are unique and confusing.
If anything was made clear from our testing, it's the fact that Pentax made huge improvements to the Optio WG-1 over the company's previous waterproof camera, the Optio W80. In nearly all of our imaging tests the WG-1 came out on top, and the camera showed tremendous strides in color accuracy, noise, and distortion. The WG-1 didn't show much improvement in sharpness or video performance, however.
Pentax did add a bit of size and bulk to the WG-1, but, in doing so, the camera was made to be far more durable than the W80. The new camera can go to depths of 33 feet underwater and maintain its composure, while the W80 had a limit of just 16 feet. The WG-1 can also withstand a longer drop (5 feet vs. 3.3 feet), and Pentax added dustproof and crushproof designs. The WG-1 certainly looks more durable than the W80 as well, although this odd, rugged design may put off some users.
The Optio WG-1 is far from perfect and has plenty of flaws, but it is clearly a step forward for Pentax. It is the better camera all-around when compared to the Optio W80, and its $349 price tag is competitive for a waterproof camera.
The Panasonic Lumix TS2 is one of the best waterproof cameras we've reviewed and it is the only model in this review that outdid the WG-1 in our performance testing. The two cameras were neck-and-neck in certain tests (like color and noise), but the Panasonic TS2 was able to capture a sharper image than the WG-1, and it managed to record higher-quality videos.
The two models have very similar specs, as both cameras can take up to 14-megapixel photos. Of course, the two models are also both waterproof, shockproof, coldproof, and dustproof, although the TS2 has a slight edge in its "shockproof" capability (it can handle a 6.6-foot drop instead of a 5-foot one). We found the design of the TS2 to be a bit sleeker, so it may attract those who like the look of a more conventional camera. The WG-1, on the other hand, doesn't shy from its rugged, adventuresome style (and it may look kinda funny to some people).
Comparing these two models directly, we must say the Pentax WG-1 is the better camera. However, the Panasonic Lumix TS2 is an older model, and the company has made numerous updates to its toughcam line. The current edition of Panasonic's waterproof camera is the Lumix TS10, and it may be the more apt comparison to the new Pentax WG-1. If Panasonic's updates did anything to improve image quality, the new TS10 would probably come out on top of the Pentax WG-1. We'll have to wait and see once we get the Panasonic TS10 into our labs to be sure, though. By the way, we also like the $250 price tag of the Panasonic Lumix TS2 camera (that's nearly $100 less than the WG-1's MSRP).
Compared to the Pentax WG-1, the Casio EX-G1 is an awful camera. Sure, it has the same rugged design and it is waterproof, but its image capabilities are not up to par. In all of our tests, the Casio EX-G1 scored significantly lower than the Pentax WG-1, and there's really nothing so special about the Casio's design that would be able to redeem these lousy scores.
Before you completely dismiss the Casio Exilim EX-G1, we must remind you that the camera is not a new model (it was released nearly two years ago). Still, it is one of the few waterproof cameras on the market, so it is a model that some may be considering. We wouldn't recommend it, though, unless you find it at an exceptionally low cost. Both the Pentax WG-1 and Panasonic TS2 are better waterproof cameras by far.
The Pentax Optio WG-1 surprised us in many ways. The camera exceeded our expectations in various imaging tests, particularly color and distortion, while its design and interface occasionally left us shaking our heads. The $349 price tag that Pentax slapped onto the WG-1 is competitive, but there are far cheaper waterproof models on the market as well. You also shouldn't have a problem finding the WG-1 on sale for under $300 if you shop around.
For a rugged, waterproof camera, the WG-1 is one of the best models we've seen overall. At times, however, we were disappointed by how much water was able to seep into important areas of the camera. In our time with the WG-1, water never made it into any important ports or terminals, but we did see pools of liquid inside these compartments when we opened up the camera. This is a model you need to be careful with despite its waterproof frame. As for the other design traits, we like the tough style of the WG-1. The camera can definitely handle a fall, and it should have no problems getting tossed into the bottom of a soiled backpack.
Our main point is this: don't buy the Pentax WG-1 if you're looking for top-notch image quality or lots of great controls. The camera has a confusing interface and a number of awkward quirks, and, despite the fact that it exceeded our expectations at times, its image performance wasn't in the same class as a high-end or even a good mid-range camera. The durable design and waterproof elements are the core traits of the WG-1 and that's what Pentax put its energy focusing on—with good reason. The Optio WG-1 is currently our highest-rated waterproof camera, so if that's the kind of product you're looking for, you should definitely add the WG-1 to your list.
Meet the tester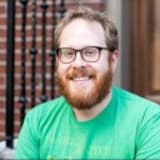 Jeremy Stamas
Managing Editor, Video
@nematode9
Jeremy is the video expert of our imaging team and Reviewed.com's head of video production. Originally from Pennsylvania and upstate NY, he graduated from Bard college with a degree in film and electronic media. He has been living and working in New England since 2005.
Checking our work.
We use standardized and scientific testing methods to scrutinize every product and provide you with objectively accurate results. If you've found different results in your own research, email us and we'll compare notes. If it looks substantial, we'll gladly re-test a product to try and reproduce these results. After all, peer reviews are a critical part of any scientific process.
Shoot us an email