Digital photography has reduced film into a niche artistic endeavor, and even the cheapest of the cheap pocket digicams are incredibly convenient compared to the old way of doing things. But instant prints are still charming, and something that digicams—convenient as they are—don't offer.
Enter the Polaroid Instant Z340. It's a Polaroid instant camera for the digital age. Like its ancestors, it's a point-and-shoot camera crammed into a big, ugly brick of a printer. Warts and all, it exists because it can spit out a real photo in short order, but it doesn't give up any of the advantages of digital photography. Read on to see how it stacks up.
The Polaroid Instant Z340 is available now at an MSRP of $299.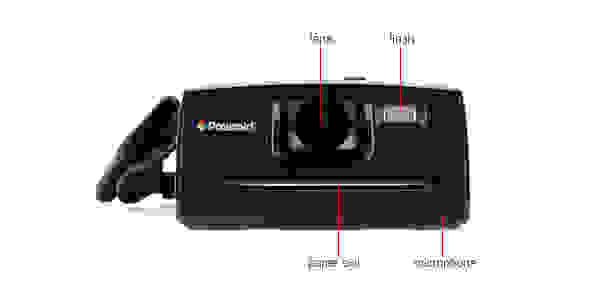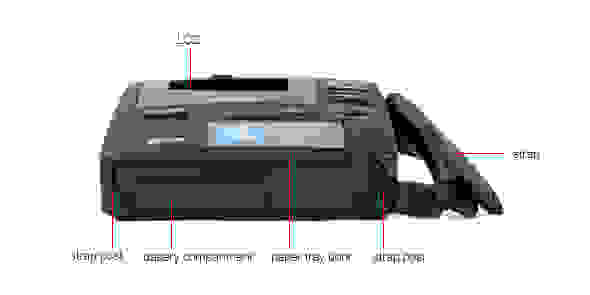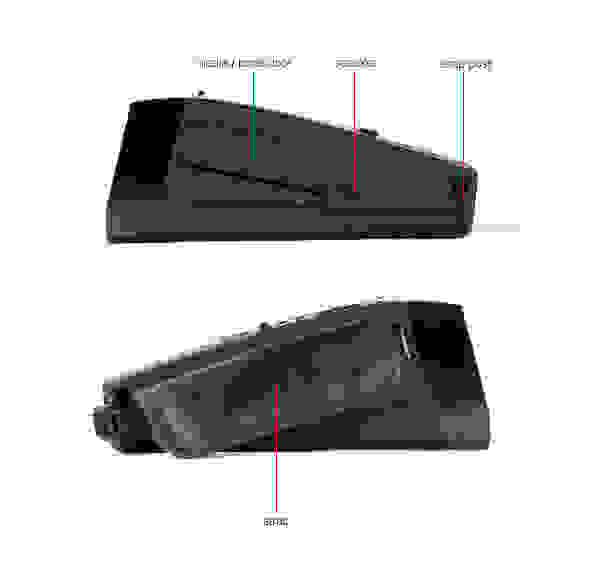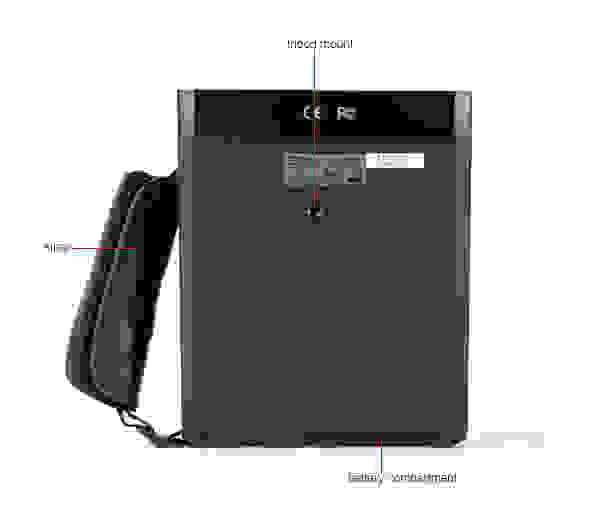 • Polaroid Instant Z340

• 10 sheets of 4x3" ZINK paper

• rechargeable lithium-ion battery

• AC adapter and charger

• hand strap

• micro USB cable
Polaroid instant film cameras have an, erm, unique approach to color accuracy, but we all loved the warm, soft tones anyway. The Z340's digital reproduction is technically more accurate, but not as charming, and nowhere near what most digital cameras are capable of.
We measured a minimum color error of 4.61, and we like to see a 3.0 or lower. Saturation sits at about 109.6%, which is on the threshold of where an over-saturation penalty kicks in. Yellows and reds are particularly inaccurate, which could be troublesome in a camera designed for portraits. Blues are exaggerated as well. More on how we test color.
Our comparison group is a ragtag bunch of cameras that don't really have much in common, but in every single case, they outperform the Z340. The Panasonic FZ47 is the top overall color performer, period, and the other two models earned above-average scores.
Accuracy isn't always the aim with a novelty camera like the Z340. We used the sub-par Standard mode for all of our testing, but there are a handful of specialized color settings on hand to bring out some retro flair. Vintage Color 1 super-saturates colors, while Vintage Color 2 comes the closest to the warm, muted feel of the classic Polaroid instant film. Two black & white, one sepia, and one negative-film color mode are available as well.
The Polaroid Z340 is essentially a budget point-and-shoot camera attached to a printer. As with most point-and-shoots built from low-cost components, shooting with the Z340 in dim lighting can be problematic because of the way the camera handles noise—or more precisely, applies noise reduction.
Actual noise weighs in at an average of just 1.1% across all full-res ISO levels in multiple lighting conditions, which is a very respectable result for a camera like this. The full-size crops tell a bit of a different picture. The lower ISO levels—ISO 100 and 200—are fine, so outdoor and well-lit indoor shots will look clean and clear.
At ISO 400, we noted a drop in noise levels, which means that noise reduction really starts kicking in. Technically there's less noise, but details start to get obscured in favor of a smoother look. That effect is exaggerated even more at ISO 800 and 1600, which get deployed in dim and low-light settings. Details get smeared like a watercolor painting, colors start to lose their saturation, and grainy noise creeps into the shot anyway. We've seen more heinous noise reduction than what the Z340 offers, but it's a generation or so behind what top-shelf compact models can offer today. (That said, noise handling is more than fine for using the built-in printer—4x3" prints are pretty small, and honestly the printer is too low-res for pixel-sized noise to matter.) More on how we test noise.
Low-light shots are noisier than bright shots, which is no surprise, even with the heavy noise reduction. At 60 lux, we measured an average of 1.2% and a maximum of 1.3% noise—the curve flattens out at the top, due to increasing noise reduction. At 3000 lux, we measured an average of about 1% and a maximum of 1.16% noise, with a similar curve.
Those top-shelf models we mentioned above include the Canon ELPH 100 HS and Panasonic FZ47, both of which registered lower noise levels than the Z340 (and better-looking photos overall, too—their sensors and processors are smarter). The Kodak EasyShare Sport is clearly the worst in the comparison group, with more noise and sloppier noise reduction than just about any camera we've tested. Then again, it costs about one-quarter as much as the Z340.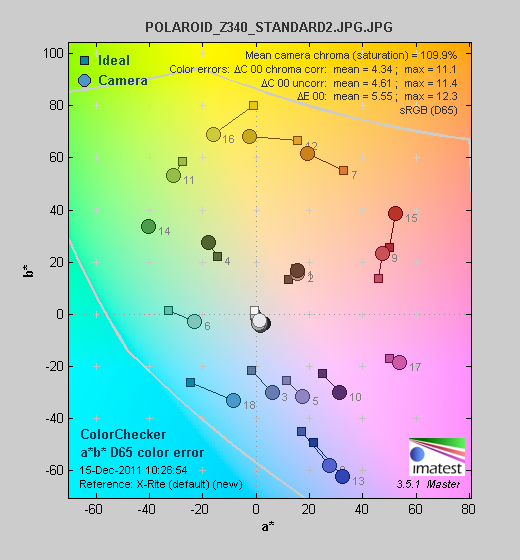 The Z340 has a native (full-resolution) ISO range of 100 to 1600, adjustable in Program mode. Two higher sensitivities are available—3200 and 6400—though they're both at a miniscule 3 megapixels, neither of which are usable, even in a pinch. Auto mode caps the ISO sensitivity at 1600, which is a smart move.
The Z340 is a fixed focal-length camera (no optical zoom), so it has an inherent advantage in most of our resolution tests—with so few moving parts, no much can go wrong. As surprising as these scores were when we processed the results, we've got to admit that the Z340 has pretty great resolution, plenty sharp for the printer's 4x3" maximum size. More on how we test resolution.
Distortion ()
Distortion is usually only a problem for wide-angle lenses with optical zoom; the Z340 is neither wide nor zooming, and its shots are straight as a board. At about 1% barrel distortion, the curve won't be noticeable unless you're looking for it. 15.0 is the highest score that we award in this test, and the Z340 sits among a dozen or so other shooters with flat shots.
Sharpness ()
Fixed focal-length cameras should nail their sharpness tests for the same reasons they ace distortion tests, and the Z340 passes with flying colors. This is one of the best sharpness scores we've seen out of any camera this year, period. The Polaroid's softest edges were sharper than many cameras' best scorers, and the sharpest edge at the center of the frame exceeds 2100 MTF50s (fantastic, in laymen's terms). There is, of course, a bit of artificial pixel sharpening by default to add some crispness, but it's at an acceptable application.
Chromatic Aberration ()
Though a bit less impressive than the sharpness and distortion scores, the Z340 also controls chromatic aberration quite well. The weakest performance lies between the center and the edges of the frame. It still compares well with the cameras in this comparison group, which all finish within spitting distance of each other.
The Z340 weighs in at 14.1 megapixels—way more than reasonably necessary for any point-and-shoot, especially one that makes 4x3" prints, but it's about par for the course these days. It shoots standard JPEG-format photos at 3 compression levels and at handful of resolutions, as low as VGA (standard-def monitor).
We could find no mention of any stabilization in the Z340's spec sheet, though we imagine there's some sort of electronic shake correction at work. But because there's no way for the user to turn stabilization on or off, we couldn't test the anti-shake system's effectiveness, and unfortunately can't award the Z340 any points in this test. More on how we test image stabilization.
Like any other camera on the market, the Z340 has a high-def (720p) video mode with limited control and iffy performance. Zoom is unavailable in video mode, and autofocus is tenuous at best. It's a tossed-off, barely useful feature—but hey, it's there for anyone who wants it, and totally forgettable for anyone who doesn't.
Video color is worse than still color, and pretty terrible overall. It's really a crapshoot with point-and-shoots—some are pleasant surprises, others are unexpectedly junk. We can't say that the Z340 surprised us either way. More on how we test video color.
Sharpness is below average for a 720p-capable camera, closer to what we typically see from cameras that are stuck at standard definition. We measured 300 horizontal and 350 vertical lw/ph, which is much softer than either then Canon ELPH 100 HS or the Panasonic FZ47, and barely better than the Kodak Sport. More on how we test video sharpness.
Playback mode on the Z340 is pretty standard for a point-and-shoot, aside from the emphasis on printing photos. The mode switch has a playback notch, and from there, the system should feel pretty familiar to anyone who's used a digital camera. There's a slideshow option, playback zoom (up to 12x) and multi-picture views, including a calendar mode. The FUNC buttons doubles as a delete key, and multiple photos can be deleted through the menu system. General photo info including a histogram and exposure settings will appear at will, too.
The only "usual" features missing from playback mode are albums (or any sorting ability, at all) and face recognition, which might've been a good idea to include on a camera like this one, designed primarily for taking portraits.
The Z340 has a modest editing quite, including a small handful of effects and color space adjustments, red-eye correction, resizing, picture rotation, and trimming.
Here's where we normally throw in some boilerplate text like, "This camera supports the usual direct-print standards including DPOF and PictBridge."
That's still true with the Z340, but direct printing is this camera's defining feature: It has a zero-ink, 4x3" printer built into the body. The ink-free design prevents any kind of smudging, or cartridge-replacement problems down the line. It prints exclusively to ZINK paper, which has heat-activated color crystals under the surface. That paper is fairly expensive—30 sheets for $19.99—but that's considerably cheaper than Polaroid instant film was, and that was still a popular format. Just stick to printing the "keepers" and it won't be a problem.
The printer quality is decent, considering that it comes from a portable unit without any ink. Colors are a little flat and aren't totally consistent from edge-to-edge, and sharpness could be better. On the plus side, the lower resolution covers up some of the minor noise and aberration inconsistencies in the digital photos. We're not sure whether Polaroid aimed to make the print quality similar to their classic instant film, or if it's just a limitation of the printing technology. Film is certainly more charming, but we're fans of the Z340's prints.
_Read our full review of the Z340's printer at PrinterInfo.com
The LCD is a 2.7", 230,000-pixel monitor, mounted on the top of the body. It's a low-quality screen, with a narrow viewing angle, inaccurate colors and a laggy live view. It becomes washed-out and incredibly difficult to see in direct sunlight. On the plus side, it can flip up about 75 degrees for an alternate viewing angle.
The flash is a pretty sizeable unit, mounted on the front of the camera next to lens, with a similar design to older Polaroid instant film cameras. Polaroid did not provide a spec sheet with information about the flash, but it's fairly well-suited for portraits, and we'd estimate that it's effective to about 15 feet or so.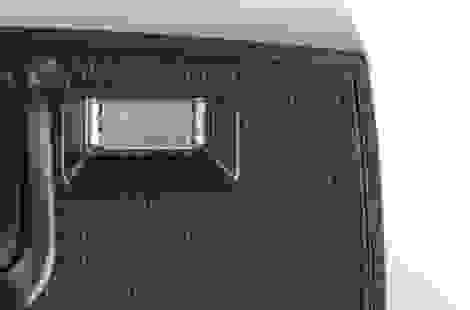 Once again, Polaroid did not provide a spec sheet with lens info, but we discerned that it's a 7.5mm (43mm equivalent) fixed focal-length unit with a maximum f/3.2 aperture. 43mm is very narrow by contemporary digicam standards, but it actually isn't a bad focal length for portraiture. The aperture could certainly stand to be brighter—it would make indoor photos much cleaner and more consistent.
The Z340 has a fixed focal-length lens—no optical zoom. It does have 5x digital zoom and a dedicated digital zoom button, but digital zoom severely degrades image quality.
The battery is a physically large rechargeable lithium-ion unit, model number FC-111095. Again, Polaroid provided no real spec sheet. We took about 300 shots and made about 18 prints over the course of our review period, and in that time we drained the battery once, and were left with two bars left on the second charge. That's about an average performance for a regular camera, so it's pretty impressive for a camera that also prints photos.
It charges in the camera with a series of cords; there's no LED light to indicate whether the battery is charging, which should be a standard feature on any camera.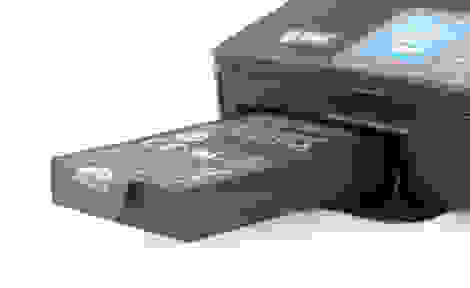 Like just about every camera out there, the Z340 captures to SD/SDHC media cards, inserted into a slot on the side of the body.
The Z340 has just one port, of the micro USB variety. There's no A/V output anywhere on the camera, even through the micro USB jack. This is sub-par compared to the current standards.
Printer
The Z340's defining feature is its built-in, zero-ink, 4x3" printer. The ink-free design prevents any kind of smudging, or cartridge-replacement problems down the line. It prints exclusively to ZINK paper, which has heat-activated color crystals under the surface. That paper is fairly expensive—30 sheets for $19.99—but that's considerably cheaper than Polaroid instant film was, and that was still a popular format. Just stick to printing the "keepers" and it won't be too big of a hit to your wallet or pocketbook.
Paper loads in through a slot in the rear, and spits out through a slot in the front, underneath the lens and flash. Printing takes under a minute.
The printer quality is decent, considering that it comes from a portable unit without any ink. Colors are a little flat and aren't totally consistent from edge-to-edge, and sharpness could be better—but on the plus side, the lower resolution covers up some of the minor noise and aberration inconsistencies in the digital photos.
We're not sure whether Polaroid aimed to make the print quality similar to their classic instant film, or if it's just a limitation of the printing technology. Film is certainly more charming, but we're still fans of this printer.
Like the classic Polaroid instant film cameras and the vast majority of all mass-market cameras, the Z340 is geared for mostly automatic usage. The default auto mode is as straightforward as they come, and likely to see the most use ahead of program shift and the plethora of scene modes. There are no manual aperture or shutter priority modes.
Scene Modes
We counted 24 scene modes, including old standbys like Portrait, Landscape, Kids, and Sports; low light-specific settings like Night Scene, Candlelight, and Night Portrait; and goofier options like Smile Capture, Love Portrait, and Pre-Composition. An auto scene-selector option is at your service as well.
Two picture effects are available—lomo and fish-eye emulators, both of which can be fun. They're mixed in with the rest of the standard scene modes, so they're easy to miss.
The Z340 doesn't offer the usual aperture or shutter priority modes, but it does have sharpness, saturation, and contrast adjustments available in the menu—all of which are uncommon in mass-market point-and-shoots. (We conducted all of our tests using the default settings.)
Like any portrait camera should, the Z340 has a few self-timer options, including 2 second, 10 second, and multi-shot settings. There are also smile and subject detection "trigger" modes. Single-shot and continuous drive modes are available, too.
Shot to Shot ()
An unlimited continuous mode there may be, but it ain't fast. We measured, at best, a glacial 0.3 frames per second; more than three seconds pass between each shot. This is one of the slowest cameras we've ever tested. The super-slow focus and subject acquisition don't help matters (it slows down single-shot capture too).
The Z340 is a printer that happens to take pictures, and printers are not designed for comfort or style. This camera looks and handles like a floppy-disk drive. Even with the included pleather hand-strap, the Z340 doesn't lend itself to one-handed operation at all.
Trying to hold it like a modern camcorder or digital camera puts an uncomfortable amount of torque on the user's wrist and makes the shutter nearly impossible to reach. Framing a photo is a test of geometry and endurance, even with the LCD flipped up.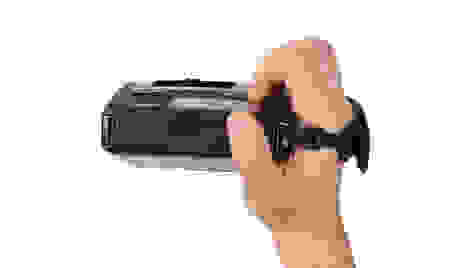 The only comfortable way to wrangle this thing is with two hands, looking down at the top of the body. This way, the shutter and the rest of the buttons fall naturally under the user's fingers, and the weight is distributed evenly.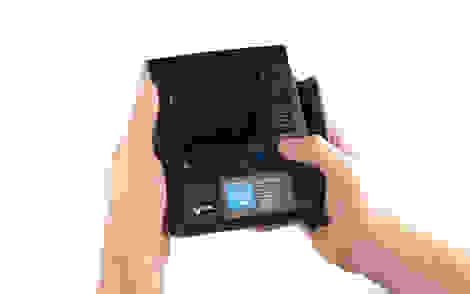 All of the important shooting buttons are arranged in a column to the right of the LCD. There's a power button, a standard four-way pad, a menu-access button, a multi-purpose function key, a mode switch, and the big, obvious shutter button. The buttons have a decent tactility, but a hollow, plasticky feel when they're pressed, except for the shutter, which is too mushy.
Underneath the LCD, there's a dedicated print button, which makes it very easy to print. There's a zoom button as well, but since the Z340 only has digital zoom, you should be using it very often.
The menu is run-of-the-mill, neither particularly good nor bad in the bigger picture of point-and-shoot interfaces. It's a tiered system, dividing options into shooting, playback, and setup-oriented categories. Everything falls where it should.
A solid quick menu is also available, streamlining control of the shooting mode, exposure compensation, white balance, ISO, and color modes among a few others.
Only a fold-out quick start guide is included in the packaging. It gives a rundown of the camera body, how to start it up and insert a memory card, print pictures, and use a few of the shooting modes—no mention of any program or preset scene modes. Polaroid doesn't include a CD-ROM with a full manual, nor does it obviously make one available on its website.
The Canon PowerShot ELPH 100 HS is the standard by which we measure all point-and-shoot cameras. As of Christmas 2011, it can be bought for less than half the cost of the Polaroid Z340, but it's a better camera in almost every measurable way, except for Polaroid's built-in printer.
But that's like comparing Bruce Springsteen to Robert DeNiro: The ELPH 100 and Z340 both take pictures, but one is a purpose-built camera, and the other is a printer that also takes photos. If you buy the new Polaroid, don't expect a great camera; expect a fun novelty gadget that does something no other digital camera can do. If you actually want a great point-and-shoot, our top pick is the Canon ELPH 100 HS.

/r:render
The Panasonic FZ47 is our top-ranked $300 camera. It sports a healthy 24x optical zoom, excellent color accuracy, and strong noise and resolution performance. You'll be able to take nice photos of objects near and far, in most lighting conditions (besides really dim settings), and with your choice of automatic or manual controls.
The Polaroid Z340 is not even one of the top-ten best-ranked $300 (and under) cameras. It has a fixed focal-length and decent photo quality. You'll be able to take decent photos from close distances—and then print them immediately.
That's really what this comparison boils down to: At this price, the FZ47 is the most versatile camera out there, and the Z340 is a one-trick pony. But hey, it's the only camera that can do that trick, and it's a cool one. It should be a hit at any party, or at least stir up some nostalgia in anyone above the legal voting age.

/r:render
Of all the cameras that we've reviewed, the Kodak Sport and the Polaroid Z340 have the most in common: They're some of the only cameras on the market with fixed focal lengths—another way of saying no zoom. That design has its advantages, like sharper edges in photos, but let's be honest: It usually means that the manufacturer needed to keep production costs down.
The Kodak Sport really does keep its costs down, selling for a scant $75 through some retailers, so it's a truly budget-friendly point-and-shoot. The Polaroid Z340, on the other hand, sells for a whopping $300. The image quality is marginally better, but it seems like Polaroid (or whoever owns the brand name these days) chopped out a lot of cost-appropriate features to make way for a printer and just as likely to increase their margins. They can get away with it because the Z340 is the only digital camera right now that can print photos instantly, but just bear in mind that it's really a $100 camera with a $200 printer attached to it.

/r:render
The world is different than it was when classic Polaroids were the social cameras of choice. We've become accustomed to instantly sharing pictures in the digital age, especially since the advent of social networks and now smartphones. But there's still something special about printed photos, and especially instantly printed photos, with or without a shake.
The Polaroid Z340 is the only camera right now that brings back the magic without giving up the advantages of a digital camera. That's enough to earn a hearty thumbs-up from us, but more importantly, the Z340 actually does its job pretty well. Photo quality is plenty clean and clear enough for the 4x3" prints that it makes, and the ink-free printer works well for a small, portable unit.
In its price range (around $299 at the moment), the Z340 is the weakest camera that we've tested, but it's really a $100 camera attached to a $200 printer. It's a stronger performer than almost all of the cheap point-and-shoots out there, and the only cheap point-and-shoot that makes its own prints.
Whether any camera is worth $300 (plus $19.99 for every 30 sheets of ZINK paper) is really a matter of personal preference. We think that the Z340 worth the cost, even if it is really a novelty gadget. It's the ultimate party trick, spitting out instant party favors and putting a smile on everybody's face. The rest of the time, it's a serviceable digicam—slow and cumbersome, but not all that bad. Polaroid lives on.
Meet the tester
Liam F McCabe
Managing Editor, News & Features
@liamfmccabe
Liam manages features and news coverage for Reviewed.com. Formerly the editor of the DigitalAdvisor network, he's covered cameras, TVs, personal electronics, and (recently) appliances. He's a native Bostonian and has played in metal bands you've never heard of.
Checking our work.
We use standardized and scientific testing methods to scrutinize every product and provide you with objectively accurate results. If you've found different results in your own research, email us and we'll compare notes. If it looks substantial, we'll gladly re-test a product to try and reproduce these results. After all, peer reviews are a critical part of any scientific process.
Shoot us an email