From the front, the SC1630 looks like any old ultracompact camera. But there's a party out back: flip it over, and it turns into an Android phone, only without the phone part. It's like an off-brand Samsung Galaxy Player with with a better, zoomier camera lens. The unit we handled on the CES 2012 show floor kept losing its faceplate. It had probably been through thousands of hands by the time we checked it out, but it still had a light, cheap feel to it. Hopefully that gets worked out by the release date.
Fun fact: Apparently this thing has a SIM card slot and a 3G radio built it. It's actually an Android phone if you want it to be. Pretty cool, no?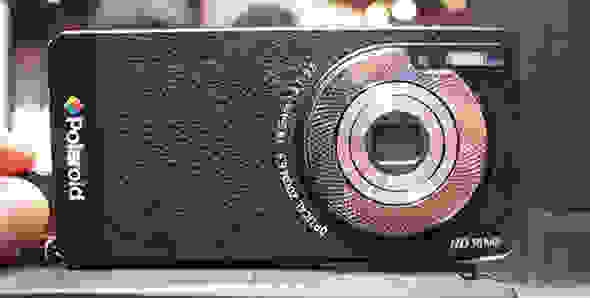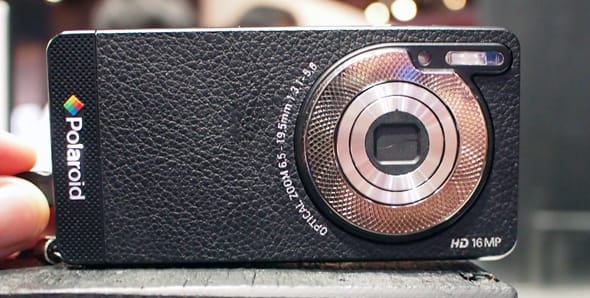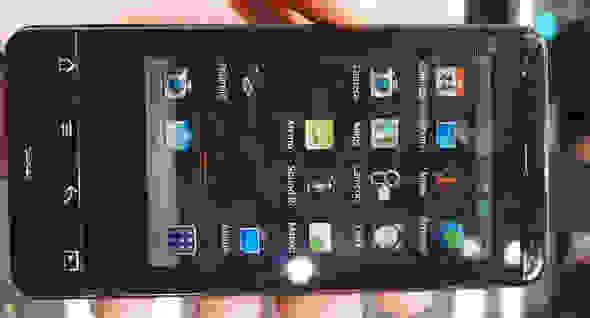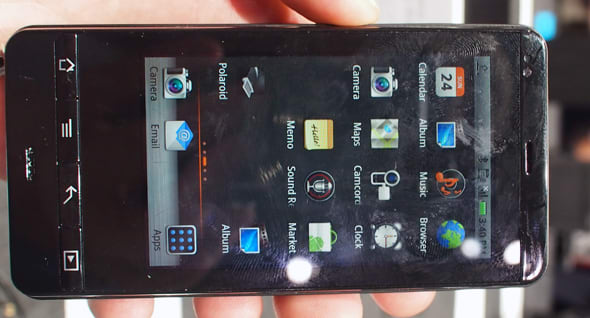 We were pleasantly surprised by the camera app's menu system. Since it's touch-based, it's designed for graphics rather than text, which for a simple camera like this is easier to understand. Scrolling was hit-or-miss with the touchscreen, but we've seen much worse from dedicated cameras masquerading as "cool" touchscreen devices.
This is, first and foremost, an Android device. At startup, it opens up to the regular menu or dashboard or whatever it's called—_not_ the camera app. With the default camera app open, it's works like a basic, straightforward point-and-shoot. The touchscreen is actually pretty responsive for something that feels so cheaply built, so the interface doesn't suffer. And since it's linked to the Android app store, users can download any photo app of their choosing, which opens up tons of possibilities. Don't like the interface? Download a new one.
The pre-production model we saw was running Android 2.3. We'd guess that it'll ship in April with something more like version 3.1. The latest version—4.0—would be a stretch for an in-between product like this, since most proper phones and tablets don't even run it yet.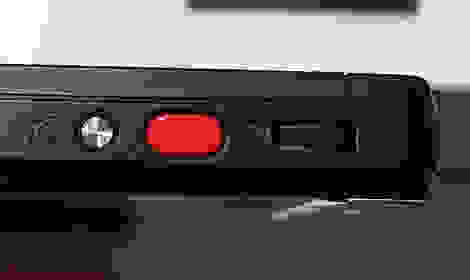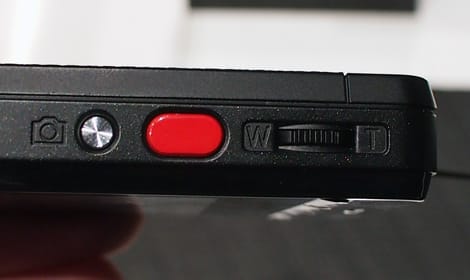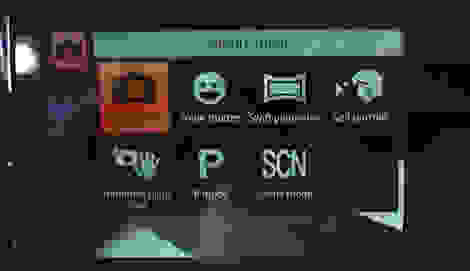 The Smart Camera is very thin and small in the hands—great for carrying around in a pants pocket, but not so great for hand-holding for long periods. That's one advantage that a dedicated camera has over this gizmo. But with such big icons on the touchscreen, playing around with settings is much easier than it would be on a similarly small budget camera.
All of the available shooting modes fall squarely into the automatic category. There's a regular auto mode (Smart scene), a program auto-exposure mode, a bunch of scene presets, and a few specialty modes like sweep panorama.
Auto mode is very simple and straightforward—just point and shoot. Users can tap-to-focus, which is always a nice touch.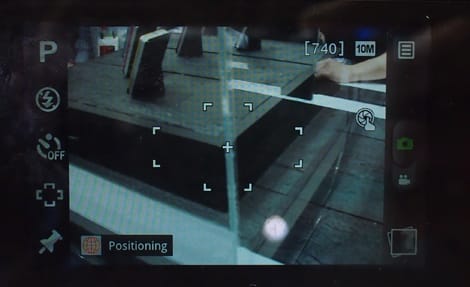 Movies are recorded with a separate app and max out at 720p resolution.
There is a "burst" drive mode available in the program menu. We don't have an official spec for how fast it's supposed to be, or what kind of sensor is inside. Since the movie mode maxes out at 720p, we'll guess that it's a CCD-type sensor, which means burst shooting will be slow.
Playback mode is a lot like most Android phones, which is to say, a bit more logical than most low-end cameras: Drag your finger to move between pictures, share via cellular network or WiFi, make a bunch of edits, watch a slideshow, and the like.
Resolution maxes out at 16 megapixels in a 4:3 aspect ratio. A bunch of lower resolutions are available, all the way down to 1 megapixel, including a few options in 3:2 and 16:9 aspect ratios.
The touchscreen enables a touch-to-focus feature, which is always great. Otherwise, it's an all-autofocus camera.
Aperture and shutter speeds are fully automated. The aperture is a modest f/3.1-5.6, and we don't have specs on the shutter speed.
Exposure compensation is adjustable from + / - 2EV in steps of 1/3. Metering options include, matrix, center-weighted, and spot modes.
An auto ISO setting is available, and the range stretches from ISO 80 to 3200.
White balance can be set to auto, sunny, tungsten, fluorescent, and cloudy. There was no custom WB setting on the model we saw, but we supposed that could change before the final version hits stores in April. Probably not, though.
No word on a stabilization system, but experience tells us that cameras with a relatively low-zoom lens like this generally don't offer optical image stabilization—it's likely to be digital-only.
No effects are built into the camera app, but there are literally dozens of apps in the Android marketplace that can change that. There are a handful of color modes, though, including Vivid, Natural, Color, Black & White, and Sepia.
Connectivity
This so-called Smart Camera is actually a phone. It has a WiFi antenna, built-in GPS, and a few different cellular antennas—that's three more ways to connect than most standalone cameras.
Polaroid's chief operating officer said in a recent interview that it might even have an LTE (4G) antenna by the time it's released in April. We really, really doubt that'll develop in such a short amount of time. Polaroid should focus on getting a few contracts with cellular providers first, then worry about 4G. In that same interview, the COO said it should be available for $299 either on contract or as a standalone device. We'll see how that pans out.
The lens is an unbranded piece with a modest 3x zoom range and middling f/3.1-5.6 aperture—but hey, it's attached to a phone. No other phone out there can claim any kind of optical zoom, which is one of the few shortcomings that keeps the low end of the point-and-shoot market alive.
Polaroid provided us no info on the sensor size or type. We even have conflicting info on the pixel count: the display placard at CES 2012 said 14 megapixels, while the figure in the camera itself indicates 16 megapixels. We'll go with the camera, and hopefully the marketing materials get worked out before launch.
Based on the physical size of the lens, we're guessing that the sensor is 1/2.3 inches, the typical size for a point-and-shoot, and a bit larger than the sensors in most phones. We'll go out on another limb and assume that the sensor is a CCD-type, since the movie mode maxes out at 720p.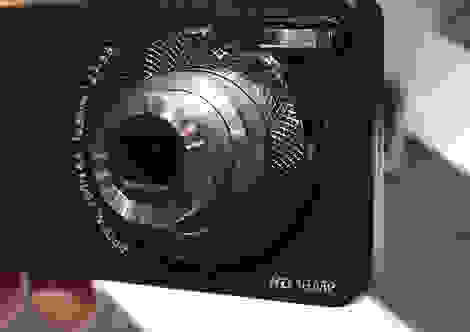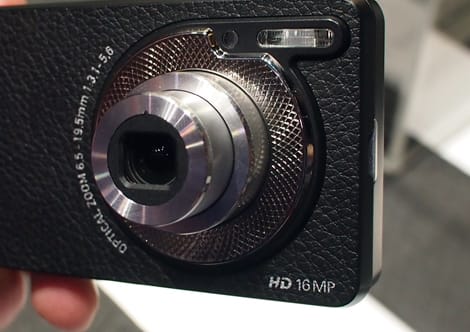 The LCD is a 800 x 400, 3.2-inch touch unit. It's responsive, colorful, and the resolution was pretty good for the size.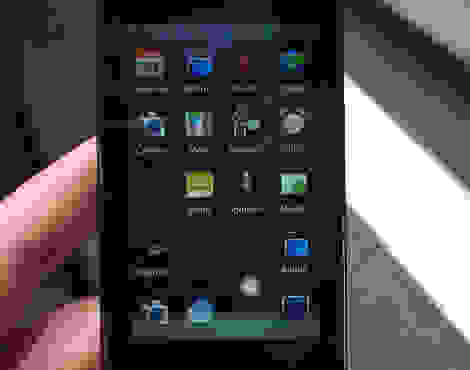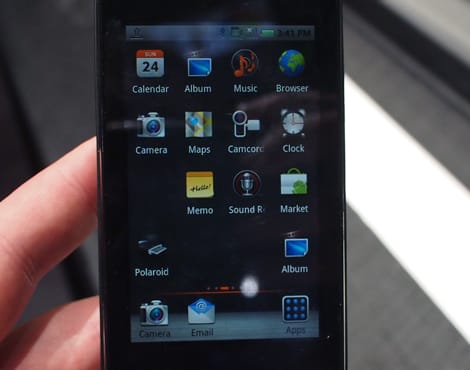 A small flash sits on the front; once again, we have no official specs, but we don't imagine that it's particularly powerful.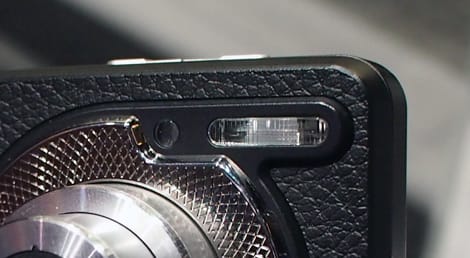 A lone USB port is available, used for charging and transferring. Since it's a phone, we'd imagine that most photos will get transferred wirelessly.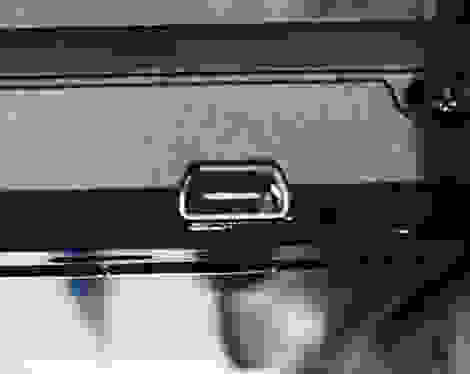 The battery is non-removable. It'll need a pretty serious battery pack to support 3G radio, GPS, WiFi, and an optical zoom mechanism.
Polaroid provided no memory specs, but the SC1630 probably ships with 8GB or 16GB of built-in memory.
Radios and receivers
The SC1630 contains a 3G radio, a WiFi antenna, and a GPS receiver. Polaroid suggests that it may have an LTE (4G) radio by the time that it ships, but that seems very unlikely.
We're not in the business of reviewing phones here at DigitalCameraInfo, so we don't know if the Polaroid SC1630 will actually turn out to be a decent Android handset. There are a ton of them out there. Polaroid isn't even one the first five names that spring to mind when we think about "quality cameras," let alone "any phones," or even "companies that still exist."
We can say, however, that it felt like a surprisingly decent camera, regardless of its antennae and receivers. Not for the price, of course—$300 should get you a lot of zoom, full HD video, and a bunch of special features. Throw a monthly contract in there, and you've got a DSLR within a few weeks. But the interface was pleasantly responsive and nimble, and the prospect of downloading additional photo apps is always appealing.
It's endearing to see a once-great brand like Polaroid at least try to do something new and different, rather trying to sue their way out of looming bankruptcy proceedings, like Kodak is doing. Are we sold on the Polaroid SC1630 as a whole? No. Even if it turns out to have great image quality (we can't ethically say that it won't until we've tested it, but it's hilariously unlikely), the concept still needs some work before we would personally plunk down $300 up front or $70 a month.
But will consumers buy it? If Polaroid can get it on a few of the big cellular networks as one of their heavily subsidized starter Androids (we're talking like $50 or even free on contract), then yeah, actually, it might. And at the very least, hopefully it can convince some smartphone manufacturers that there's a market for handsets with more traditional camera capabilities, like the all-important zoom lens.
Meet the tester
Liam F McCabe
Managing Editor, News & Features
@liamfmccabe
Liam manages features and news coverage for Reviewed.com. Formerly the editor of the DigitalAdvisor network, he's covered cameras, TVs, personal electronics, and (recently) appliances. He's a native Bostonian and has played in metal bands you've never heard of.
Checking our work.
We use standardized and scientific testing methods to scrutinize every product and provide you with objectively accurate results. If you've found different results in your own research, email us and we'll compare notes. If it looks substantial, we'll gladly re-test a product to try and reproduce these results. After all, peer reviews are a critical part of any scientific process.
Shoot us an email