Have we stepped into a time machine? On paper the 520 HS seems like a major step backward. Things weren't quite that bad during our time with the camera, but we struggled to find actual improvements.
The sacrifices come in exchange for a smaller form factor, this camera is more portable then the 510 HS and fits easily into a jean pocket. Exterior design is also quite stylish, meaning this could be an ideal night-out model.
Overall the 520 HS' chassis has been updated to a more angular design than its predecessor, the 510 HS. The distinctive wrap-around battery and media slot covers have been retained, but the body is more sharply rectangular, and lacks the curved corners of the 510 HS.
But by far the biggest change is the move away from an all-touchscreen interface. Thank God. We normally hate touchscreen interfaces on cameras, since they usually have a way of making relatively simply actions complicated and slow. This does mean that the LCD's size has been reduced slightly, to make room for traditional buttons, but we don't mind in the least.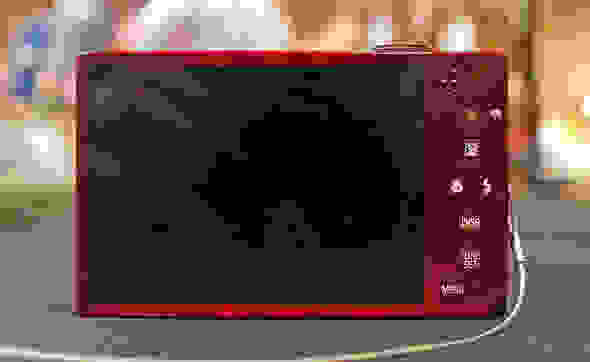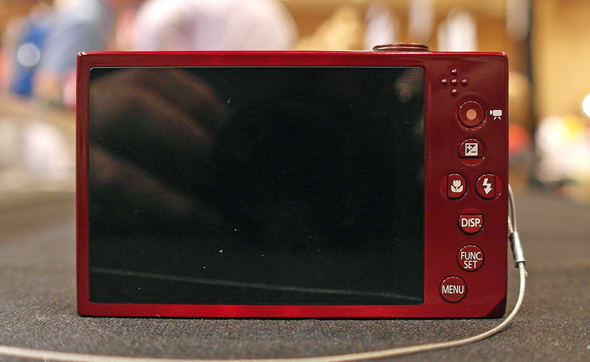 The 520 HS' quick menu, accessed with the Func. button, is a cosmetic upgrade over the typical Canon criss cross we like so much. It's unnecessary, and adds more animation and flair, but sacrifices screen real estate. As a result, it's no longer possible to see all options onscreen at once, and scrolling is required.
The more detailed main menu has received no such change, thankfully. The tab-based system is slower, but the preferences here are more specific and used less frequently.
The new tactile button interface will be a dramatic step up from the all-touchscreen interface of the 510 HS, and should make operating the camera and adjusting shooting variables a much less painful experience. The button layout is atypical though. It's a narrow, nearly single file configuration. Though the design is minimalist, there's still enough room for seven buttons, including a movie shortcut at the top of the panel, and both a function button and a menu button at the bottom. The exposure compensation, focus, flash, and display buttons are arranged like a skinny directional pad and function as such.
The arrangement is a bit cramped, to be honest, and that's hard admission since we loathe touchscreens so thoroughly. But Canon has most certainly taken a step in the right direction here.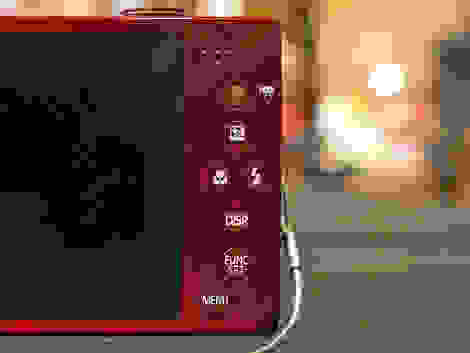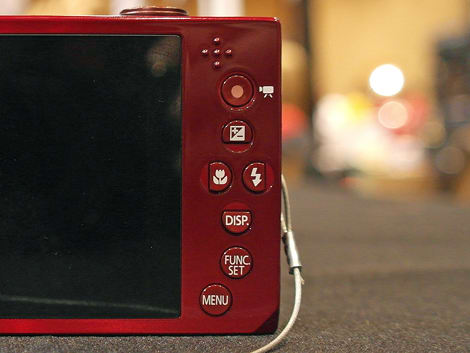 This camera is shaped like a shiny bar of soap. In the grand scheme, handling is only very slightly worse than other cameras of this shape and size. A little bit of rubber would've gone a long way here, but the 520 HS has none. In fact the chassis is quite smooth. Wear those wrist straps.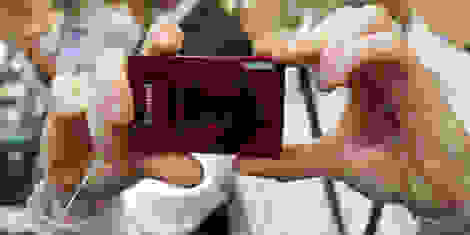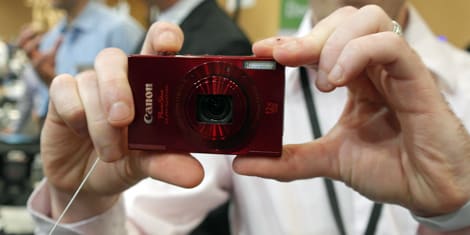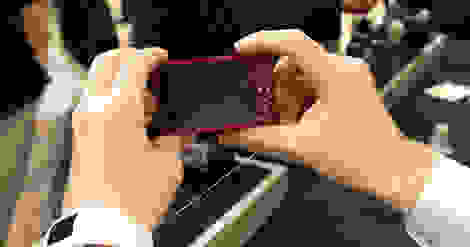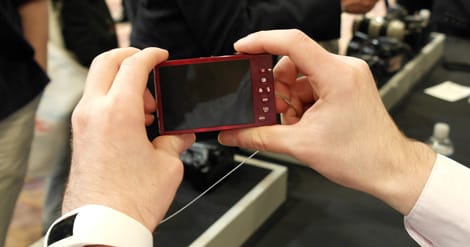 A small mode switch on top of the 520 HS swaps back and forth between Program and Automatic shooting modes. These are the only dedicated modes available, but simplicity is one certain way to tap the mom market.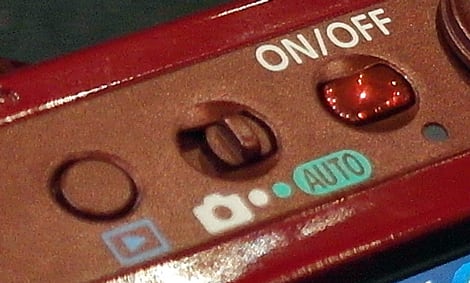 The 520 HS is capable of 1080p video at a cinematic 24 frames per second. If your memory card is running low, shooting in 720p or 480p is also possible, each at 30 frames per second. We weren't allowed to use a memory card during our time with the camera, so no word yet on how video works and feels.
There's also an ultra high frame rate slow motion shooting mode, capable of up to 240 frames per second, though resolution is severely reduced when using this mode.
Continuous shooting of up to 2.8 shots per second is possible in Program mode. That's decent, but nothing compared to the 6.8 shot per second maximum in High-Speed Burst mode. That's full resolution too. Impressive, but the 510 HS was faster.
Playback mode is pretty standard fare. Single and index display modes are easily accessible from the zoom lever, and magnification of up to 10x is available. This interface also supports information display, red-eye correction, contrast enhancement, in-camera editing, application of My Colors settings, focus check, histogram, and overexposure warning.
The interface is tab-based and functions almost identically to the camera's main menu. A faster menu is not necessary here, since image review is usually a more passive activity.
Image resolution and quality settings are reminiscent of other Canon models. Four aspect ratios are available for still photography: 4:3, 16:9, 3:2, and 1:1, and each of them have four available dimensions in varying sizes, for a total of 16 size options. JPEG compression quality may be set to either Normal or Fine.
Like most cameras of this size, the 520 HS utilizes a contrast detection autofocus system. Independent Normal, Auto, and Macro focus modes are selectable, though manual focus is not possible with this camera.
Focus speed is average, or maybe slightly above, though manual focus on a compact camera definitely isn't our cup of tea. Focus assist methods like digital zoom attempt to aid with manual focus, but we're still not sold. Don't judge Canon too harshly here, no fixed lens camera has pulled this off yet.
The 520 HS' aperture range is somewhat limited, and only extends from f/3.4 to 5.6. Shutter speed is more impressive, with a range of 1/4000th to 15 seconds. Metering and exposure compensation are both entirely typical: Evaluative, Center-weighted, and Spot metering are supported, and EV can be adjusted +/- 2 stops in 1/3 stop increments.
Program shift was not available on our demo unit, but the firmware isn't final and this could be subject to change.
Maximum ISO is 3200 and that's dead average for a camera of this class. No extended ISO options are available, but 3200 is sufficient for most purposes.
White balance settings are another pretty typical group. Auto white balance is supported, along with 5 additional presets, plus a custom mode. Direct color temperature entry in Kelvin is not possible.
The 520 HS uses optical image stabilization, an effective method to be sure, but not uncommon for a camera of this class. As always, it's hard to tell whether stabilization will be particularly effective without access to our lab. The feature certainly seemed functional while shooting around the show floor, but that's an entirely unscientific assessment.
Scene modes and picture effects have been merged into one menu, encapsulating many various extras like High-Speed Burst, Monochrome, Super Vivid, Stitch Assist, iFrame Movie, Poster Effect, and Miniature Effect, among many more.
Color modes are true to other Canon cameras, but we'll need to get this model in the lab to determine the most accurate one. Canon has a tendency to be quite unpredictable with their color calibrations.
The 520 HS' sensor is actually smaller than its predecessor: 1/3" to the 510 HS' 1/2.3". We know these values are confusing, but the Reviewed.com mathematics department assures us that 1/3 is indeed smaller. Usually this sort of decision is made to improve zoom ratio, but the 520 HS actually sees a reduction in optical zoom, down to 10x from 12x. Megapixel count has also dropped, down to 10.1 from the 510 HS' 12.1. Very strange.
At this point, there's no real explanation as to why specifications seem to have gone backwards. We'll need to get the camera into the lab to see if this decision made a difference.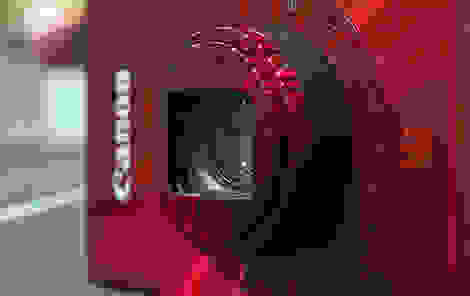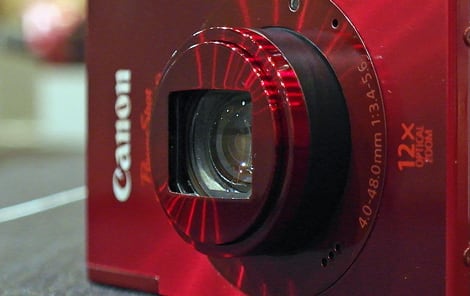 The rear LCD's size has been reduced to 3.0 inches, from 3.2 in the 510 HS, in order to make room for the new traditional button layout. But resolution remains at 461,000 dots and coverage is still nearly 100%. The screen looks big and bright on the camera, though it may not be quite as color-accurate as other Canon screens.
Remember, Canon hasn't just added buttons to their existing hardware, touchscreen functionality has been removed entirely since the 510 HS. One-touch shutter and other similar features are therefore not available.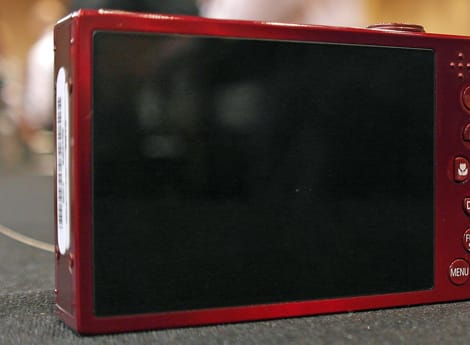 The thin and wide flash emitter is located at the top left hand side of the front panel. Maximum range is rated 8.2 feet, making this an extremely weak bulb. Recycle time is listed at a very poor 10 seconds, but things aren't quite so slow in practice. Typical shot to shot with flash is around three seconds.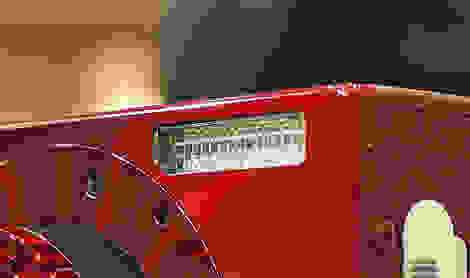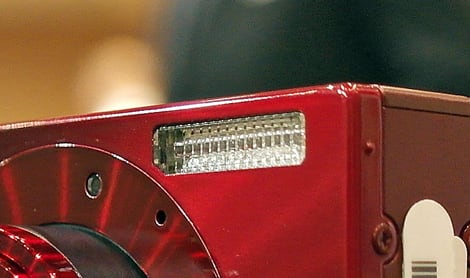 A small plastic tab at the top of the body's right panel houses a standard miniUSB terminal and a miniHDMI port. This compartment cover feels cheap compared to the rest of the chassis, but we love that Canon went with standard connections instead of proprietary.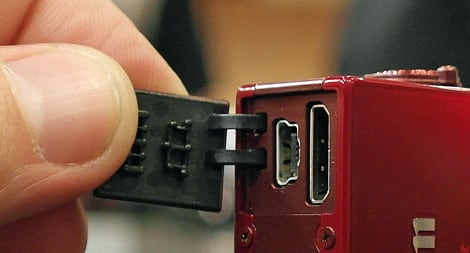 This camera is powered by Canon's NB-9L battery pack, which is rated to a capacity of 190 shots in the 520 HS. That's about average for a camera of this size.
Images are stored on microSD media, which is slightly more rare than standard SD and may require extra expense. MicroSD, microSDHC, and fast microSDXC cards are supported. No internal memory is available on this camera.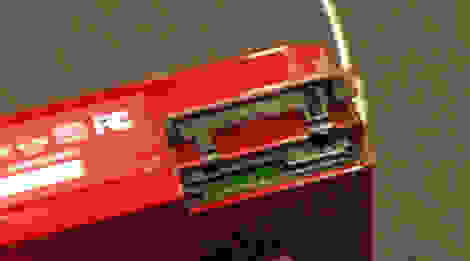 The PowerShot ELPH 510 HS was a fine camera and the 520 HS seems to be a great...update?
Wait. What exactly did we update here? Sure, a few minor features have been amped up. More picture effects, scene modes, the all-important DIGIC 5 image processor, and of course the touchscreen interface has finally been abandoned. But we also get a smaller sensor, slower burst mode, identical optical zoom, and less megapixel resolution.
What happened?!
According to Canon, many of these decisions were made to achieve a smaller, lighter form factor. It's true, the 520 HS is nice and small, and Canon claims general interface responsiveness has been improved by 16% thanks to the DIGIC 5.
This is going to be one of those situations where we cannot make any kind of recommendation, even a vague one, without getting the camera in the lab. Image quality alone is certain to dictate the value of this camera, since we know the feature set and hardware package won't. We're dying to give the 520 HS our full review treatment, if only to solve the Mystery of the Shrinking Spec Sheet.
Meet the tester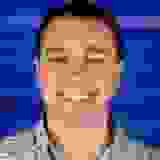 Christopher Snow
Managing Editor
@BlameSnow
Chris was born and raised less than ten miles from our editorial office, and even graduated from nearby Merrimack College. He came to Reviewed after covering the telecom industry, and has been moonlighting as a Boston area dining critic since 2008.
Checking our work.
We use standardized and scientific testing methods to scrutinize every product and provide you with objectively accurate results. If you've found different results in your own research, email us and we'll compare notes. If it looks substantial, we'll gladly re-test a product to try and reproduce these results. After all, peer reviews are a critical part of any scientific process.
Shoot us an email