Here's what makes it so crazy: The Theta is the first mass-produced camera to record 360-degree spherical imagery. Literally everything around the Theta, in most cases including the photographer, is captured in a single exposure. The results are fascinating, if not what users traditionally associate with everyday photography. For its part, Ricoh seems to understand this disconnect, and is actively pushing the Theta as a new concept in imaging. Its slogan—"Beauty is all around"—speaks to that mentality.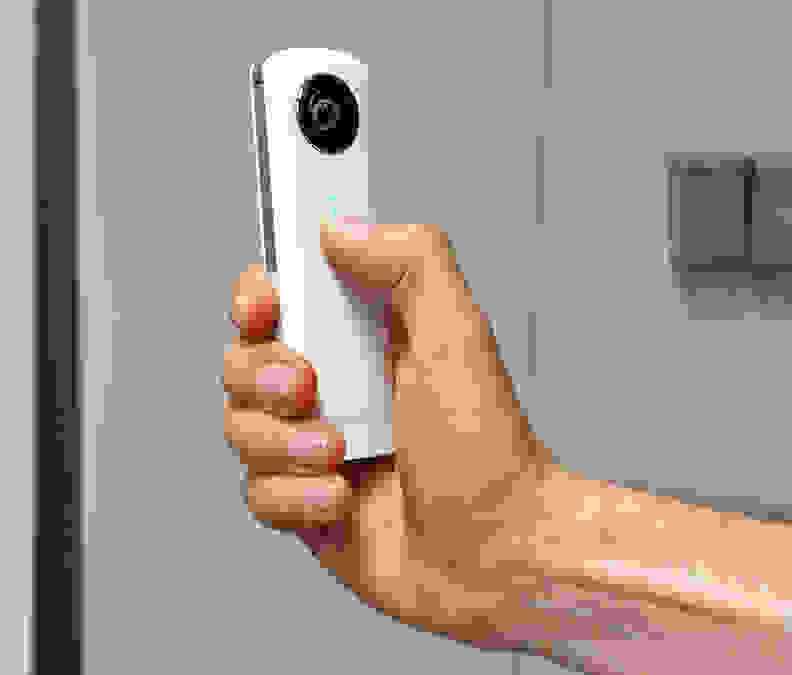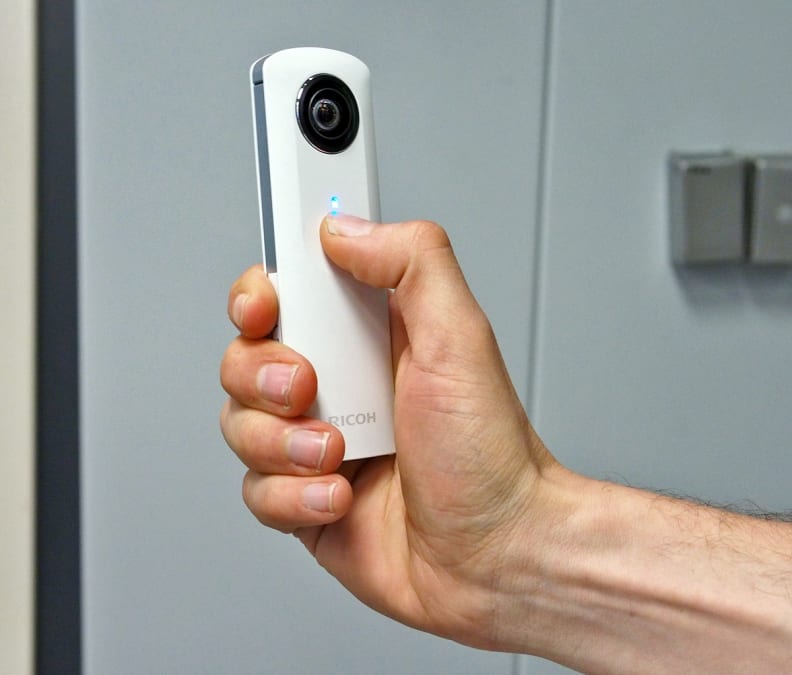 The snow globe–style shots are synced to your iPhone, where they can be viewed and manipulated using the Theta app, and then shared to various social media sites. Social is a huge focus for the product ("The next best thing to actually being there," says the website), and the Theta's intentionally minimalist design makes the camera accessible to users of all ages and backgrounds.
We'll give Ricoh credit for trying something genuinely new and risky, but we're not entirely convinced that spherical images are something the masses want. Nevertheless, we had a lot of fun with this wacky little camera wand.
While at IFA Berlin, we took a chance to sit down with Shu Ubukata, project manager for the Ricoh Theta, to discuss the camera in depth.
Clever design, solid build quality, and some obvious influences
Ricoh's press materials, from the website to the promo videos hosted there, go all-in on Apple's advertising aesthetic. The virtually identical sans-serif font and the hip, upbeat instrumental music in the "How RICOH Theta Works" video are particularly blatant Apple clones. And that's revealing.
The Theta is not a product intended for camera geeks. Pentaxians waiting for the inevitable K-3, this thing doesn't speak your language. Like Apple's iDevices, this is a lifestyle accessory, and Ricoh is pitching it like one.
The Theta is not a product intended for camera geeks. Pentaxians waiting for the inevitable K-3, this thing doesn't speak your language.
Gently curved and tapered to fit the hand, the body is built out of white soft-touch plastic. A narrow metallic band snakes around the sides, not unlike the iPhone 5. There's a central groove where the shutter button sits, helpfully cradling your thumb. Overall, the Theta is lightweight but sturdy—it takes no particular effort to hold, but it doesn't feel like a toy.
The bulbous twin fisheye lenses are positioned way up near the top of the wand. As a result, the Theta can see everything above itself, but there's a tiny white ovoid at the bottom of your spherical shots where the camera's base slips into the field of view. The lenses aren't protected in any way during normal use—they can't be, without obscuring a portion of the image—but the Theta ships with a soft carrying pouch that should prevent your keys from scratching the glass if the camera's tumbling around in your bag.
We thought the shutter button felt great, though it's not like a traditional camera shutter release—there's no half-stop to focus, since focusing isn't required. The Theta emits a cute little happy robot noise when you take a shot, and a sapphire blue LED lights up too. If you prefer, you can use the iPhone app's on-screen shutter button. The only other physical buttons are for power and WiFi pairing, and both of those also have blue LED indicators. The latter turns red when it's not connected.
Inside the Theta, an accelerometer keeps track of the camera's orientation. That means you can shoot with the camera in any position and the resulting spherical shot will appear right-side-up in the Theta app. It's a feature that'll come in handy when you can't or don't want to set the Theta on its base. Hang it upside down above a wedding reception dance floor, for instance, and the dancers will still appear right side up.
A plastic standard tripod socket and a micro USB port are on the bottom of the camera. The latter can be used to get full-resolution JPEGs off of the camera's internal memory (sorry, no card slots), and to charge the device.
It's all about the interface.
As a piece of hardware, the Ricoh Theta is remarkably simple. There are three buttons including the shutter, a USB port, and a tripod mount. Everything that's interesting about the Theta—at least for the end-user—happens in the iPhone app.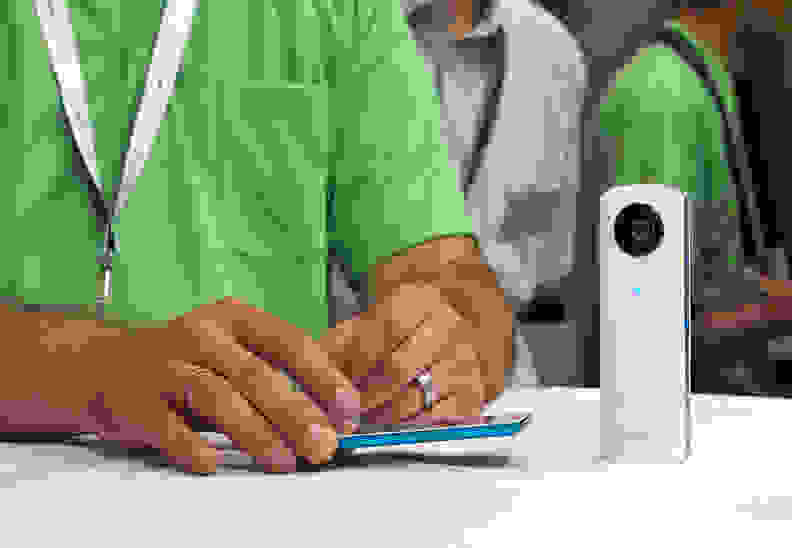 Our coworkers' initial reactions to the Theta ranged from dismissive disinterest to guarded curiosity, but that all changed when they actually got to play with the shots.
Our coworkers' initial reactions to the Theta ranged from dismissive disinterest ("Who would spend $400 on that?") to guarded curiosity. But when those same staffers actually got to play with the spherical shots inside the Theta app, their skepticism immediately transformed into glee—interacting with these photos is just flat-out fun.
(Don't believe it? Check out this example, featuring the Reviewed.com crew during our interview with Shu Ubukata. The experience is more fun on the phone, though.)
Getting potential buyers to experience the app interface—and letting them play with some spherical photos before they buy—will be absolutely key for Ricoh. So it's a good thing that the Theta app is already available on the Apple App Store. If you own an iPhone 4S or 5 running iOS 6 or above, you can head there right now and give it a go. There's only one sample image at the moment, but it's enough to give you a taste of the experience.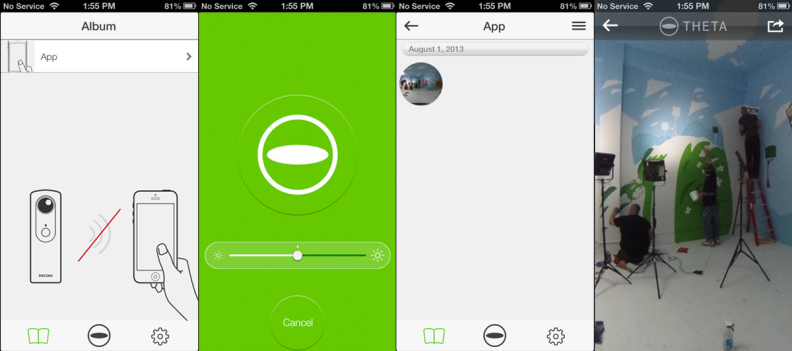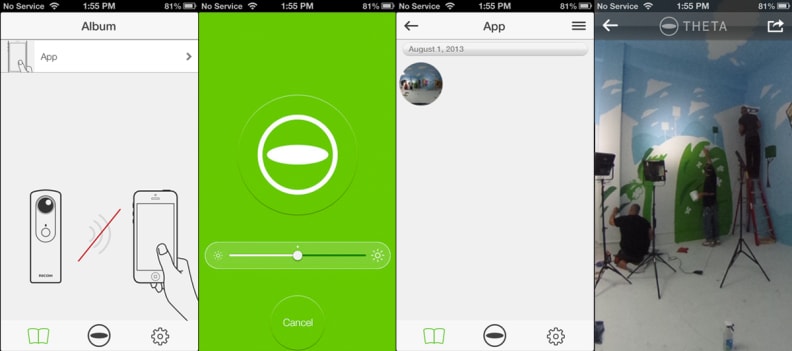 The app itself is nearly as minimalistic as the hardware design. There's a connection status screen, a shooting screen with a huge central shutter button, and a gallery. From within the gallery, you can share photos to your theta360.com account, and from there you can send them to Facebook, Twitter, and Tumblr. Being able to skip the middleman would be nice, but like the Lytro, the Theta requires some software magic to make your shots presentable on the web.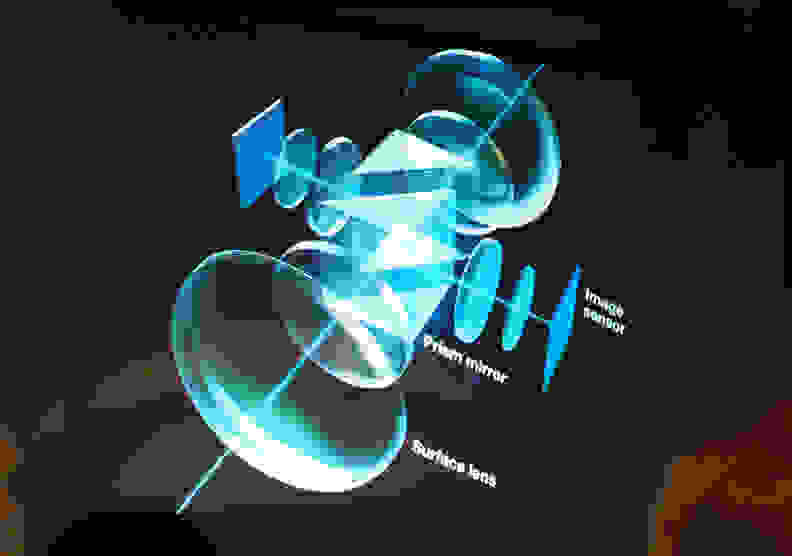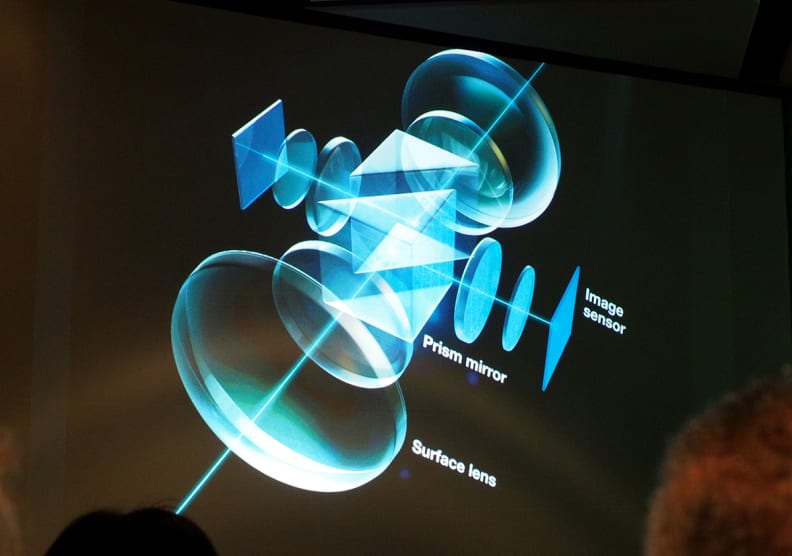 Connecting the Theta to your iPhone isn't as seamless as it could be (maybe the next iPhone will have NFC), but it's relatively simple. You activate WiFi on both your phone and the Theta, connect to the camera's SSID from your phone, and enter the password printed on the base of the camera. When you snap a shot, using either the hardware shutter button or the on-screen icon, the photo takes about 10–15 seconds to transfer to your phone—roughly comparable to the transfer time for the QX cameras.
And the hardware specs? Yeah, it's got those, but they don't really matter because there's no manual control. Project manager Shu Ubukata says Ricoh might consider providing more tweakability in future product revisions, but that the beauty of the Theta is in its simplicity. It's a camera that anyone can pick up and use.
Maybe you've noticed that I haven't talked about image quality. Well, there's a reason for that. The Theta takes perfectly acceptable, compact camera–quality shots in good light, but noise levels quickly rise in indoor settings. For most people, the quality will be just fine. After all, you're going to be viewing these photos in the iPhone app and theta360.com website, not blowing them up to poster size and hanging them on your wall.
A great concept in search of a competitive price
We're pleasantly surprised by how much we enjoyed playing with the Ricoh Theta. It's a relentlessly fun concept, supported by an intuitive, easy-to-use app. Everyone who used it seemed to have a blast. And for the right user, it might make for a smart purchase: Real estate photographers, wedding shooters, skate punks, and artsy types should all get plenty of creative juice out of such a novel device.
Ricoh faces a huge problem in reaching a broader market. For non-professional users, $400 is a non-trivial bit of cash to drop on a one-trick pony.
But Ricoh faces a huge problem in reaching a broader market: the price. For non-professional users, $400 is a non-trivial bit of cash to drop on a one-trick pony. The Theta may be built like an Apple device, but it doesn't have Apple's all-around utility. At around $100 they'd sell like hotcakes. At $400... well, time will tell, but we wouldn't be surprised to see them on clearance come next spring.
Meet the tester Ben Keough
Contributor
@ben_keough
Ben is an experienced industry journalist who formerly served as Senior Editor of News and Features at Reviewed. He now contributes as a freelance writer and editor. Most recently hailing from the vast wilds of the American southwest, he is an avid photographer who is deeply disturbed by the lack of wide open landscapes in Boston.
Checking our work.
Our team is here for one purpose: to help you buy the best stuff and love what you own. Our writers, editors, and lab technicians obsess over the products we cover to make sure you're confident and satisfied. Have a different opinion about something we recommend? Email us and we'll compare notes.
Shoot us an email