The DV300F is a bit smaller than the ST700, Samsung's lead DualView camera for 2011. Most of its front real estate is taken up by the 1.5-inch front-facing LCD, which is low resolution, but only used for framing and playing short animations in children mode. The camera offers a sleek design, with standard button layout and home key for returning to the main menu. The body itself is a mix of plastic and metal, with a rubberized coating on the rear of the camera for grip.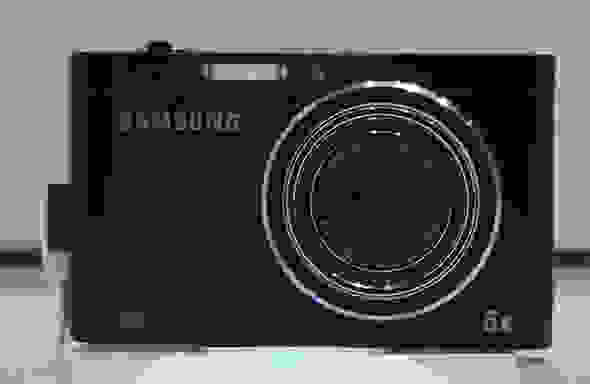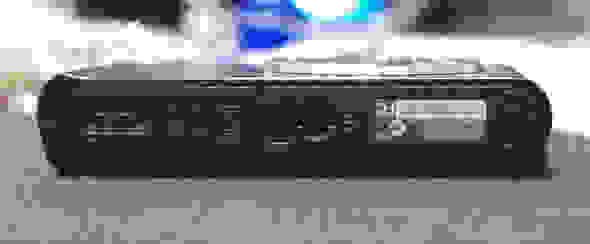 The menu on the DV300F offers some fairly basic functionality and control options, with a quick menu of shooting options and a more extensive mode menu on the camera. Pressing the camera's menu key brings up an overlaid grid of options letting users make small changes to exposure value, ISO speed, white balance, flash, focus, focus area, photo size, metering mode, face detection, and other similar features. Pressing the camera's home key, marked by a graphic shaped like a small house, brings up the full mode menu, where users can access in-depth settings, creative shooting modes, scene modes, as well as the camera's various wi-fi modes. The home menu, as with other new Samsung products, is laid out in a smartphone-esque style grid of squares representing in-camera applications and shooting modes.
Most of the controls for the DV300F are clearly labeled on the rear of the camera, with playback/delete buttons, a four-way control pad, and a home key and menu button. the top of the camera houses the shutter release, zoom toggle, power button, and front LCD power button. The buttons are well-laid out and will be familiar to other point-and-shoot users.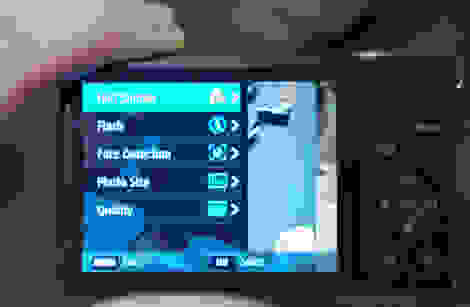 The DV300F rings in at a slightly smaller size than other DualView cameras, with dimensions of 95.2mm x 56.5mm x 18.3mm (WxHxD). Without battery and memory card the camera weighs 103 grams, though there's no word on battery weight yet. It's certainly compact enough to fit in your pocket and is small enough that it can easily be shot with one hand—whether you're facing it forward or at yourself.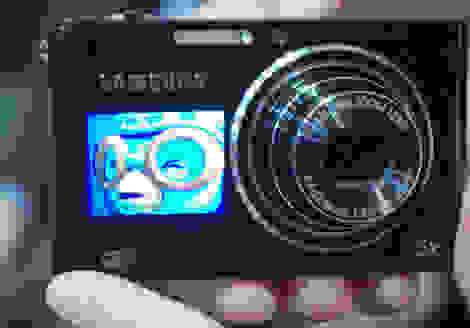 The DV300F offers a total of 21 different shooting modes, with 13 scene modes. The modes are changed through the main menu, as there's no physical mode dial available. The shooting modes include Smart Auto, program, scene, panorama, self shot, picture-in-picture, magic frame, funny face, smart filter, beauty shot, intelligent portrait, night, split shot, motion photo, jump shot 2.0, children mode, close-up, split shot, artistic brush, wall paper, and 3D photo. Most of the modes are variations on the same themes, utilizing the front LCD or using post-processing to accomplish a variety of creative effects.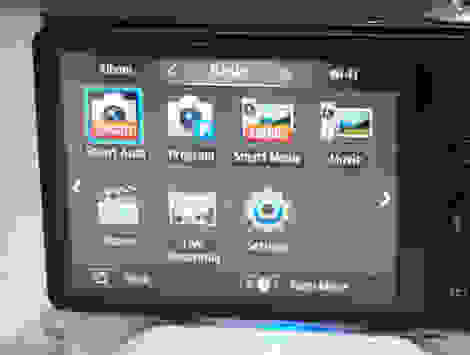 Samsung has included their Smart Auto shooting mode on the DV300F, which will automatically detect the scenario and adjust to a preset accordingly. The presets include portrait, night portrait, night, backlight portrait, landscape, white, macro, macro text, tripod, action, macro color, natural green, blue sky, and sunset sky. Those wishing for a more typical auto exposure experience can go with the normal program autu mode, which just exposes the scene normally as evenly as possible.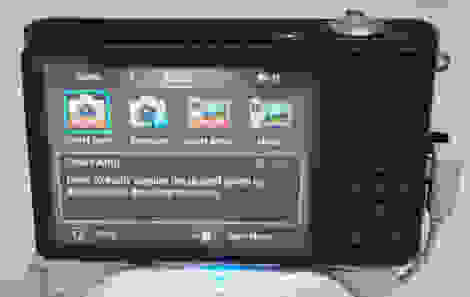 The DV300F has three different video recording modes, including: movie, smart movie, and picture-in-picture movie. The camera is capable of 720/30p HD video capture, with options to shoot at 15fps as well. Movie modes can also have "smart filters" applied to them, which create effects that include miniature, vignetting, half tone dot, sketch, fish-eye, classic, retro, or a color balance alteration (with four effects available).
The DV300F offers a number of drive options for image capture, including single shot, normal continuous shooting, motion capture shooting, self-timer (10-, 2-, and double-shot delays available), and auto exposure bracketing. Motion capture fires multiple shots to record subject movement, while freezing the background, creating an effect similar to a Harry Potter painting as it comes alive.
The DV300F offers a typical level of playback functionality, letting users examine a single shot, a single shot with shooting information, multiple thumbnails, an advanced slideshow, or a smart album. The camera also allows for a playback zoom of up to 8x for checking fine details and focus accuracy.
The DV300F offers a set of picture quality and size options for users to take advantage of, with options for recording 16-, 14-, 12-, 10-, 5-, 3-, 2-, and 1-megapixel images. The camera records images in JPEG (no RAW support), and records 3D photos in the standard .MPO format for viewing in compatible 3D televisions.
3D Photo and Live Panorama
The DV300F includes a number of various extra shooting modes beyond the norm, including 3D photo, live panorama, and various modes that make use of the front-facing LCD. The panorama mode works similar to other models, compositing multiple images to produce a wider shot in-camera. The modes offer a bit of extra functionality, but they're not particularly unique to Samsung or the DV300F.
The DV300F uses a contrast detection autofocus system, with options for center AF, multi AF, object tracking AF, and face detection AF. The camera can focus as close as 5cm when shooting at the widest angle, but only as close as 100cm when zoomed all the way in. The camera automatically adjusts to a macro mode when focusing on objects that close. If you switch to the camera's dedicated macro mode, the camera maintains a close focal distance, but pairs that with a shallow depth of field for photographing small objects. Unsurprisingly, there's no manual focus option on the DV300F.
The camera offers only automatic exposure programs, with no option for manually adjusting shutter speed or aperture. Users can adjust ISO (80-3200 range), or set an exposure compensation of ±2EV in 1/3-step increments. Scenes can be metered via multi-metering, spot metering, center-weighted metering, and through face detection.
Samsung has included a fairly typical ISO range on the DV300F, extending from 80-3200, with options for automatic ISO selection as well. There's no option for corralling the ISO within a certain range in the menu, and we found our test shots at high ISOs to be quite noisy.
The DV300F includes six white balance presets including the automatic mode, with the ability to set a custom white balance as well. The presets are fairly typical and include auto, daylight, cloudy, fluorescent_H, fluorescent_L, and tungsten. There's also a custom white balance for taking manual measurements of ambient light. There's no direct kelvin control or fine white balance adjustments available on the camera, though this is typical for a point-and-shoot camera.
The DV300F includes optical image stabilization in order to better capture images in low light, where camera movement might become problematic. You can combine this with the higher ISO speeds in camera to keep high shutter speeds despite a lack of available light.
Samsung has included a wide variety of fun extra color modes and digital filters on the DV300F. We're excited to see some old favorites, including our beloved magic frame mode, but there are some new ones as well. Samsung has included their motion photo feature, which takes moving portraits against a still background, along with options for distorting faces (funny face) and their artistic brush digital filter mode.
WiFi Controls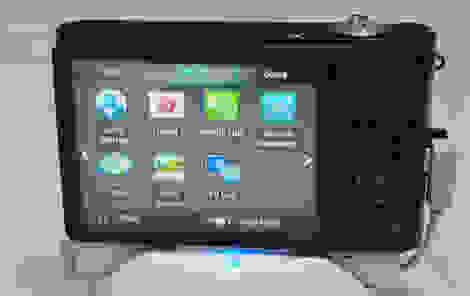 The DV300F includes a number of controls for utilizing the camera's built-in WiFi connectivity. This include linking up directly with an Android (and in the future, iOS) smartphone and using it as a remote viewfinder. The DV300F can also push content directly to phones utilizing direct WiFi. If you're without a phone or simply at a public hotspot, the camera features an in-camera browser of sorts that will let you agree to terms of service, enter a username and password, and even type a short message and e-mail a photo to someone.
The DV300F offers a 5x optical zoom lens, with a focal length range of 4.5-22.5mm (25-125mm 35mm equivalent). The camera has a maximum aperture of f/2.5 at the wide end, closing down to f/6.3 when zoomed in. The specifications don't list a minimum aperture, but we can't imagine if it's much smaller than f/6.3 (if at all).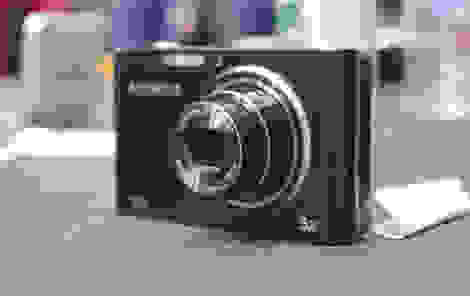 The DV300F offers a rear 3-inch TFT-LCD with a 460k-dot resolution, as well as a 1.5-inch front TFT-LCD. That's a slightly smaller front LCD than the ST700 (1.5 inches against 1.8), with a resolution of just 61k dots. The front LCD is low resolution, but it's good enough for its purposes. The rear LCD is good enough for some basic focus judgements, and it's bright enough to use in most situations, though we found it oversaturated colors a bit for our liking.
The flash on the DV300F is mostly there for emergencies, with fairly typical firing modes, including: auto, auto & red-eye reduction, fill-in flash, slow sync, flash off, and red-eye fix. The flash has a range of 0.2 meters up to 4.1 meters when shooting at the widest angle, which shrinks to a range of just 0.5m-1.4m when zoomed in. The flash is built into the body, tucked just above the front LCD and below the shutter release. It's fairly slow (typical for a point and shoot) with a four second recycle time between flashes.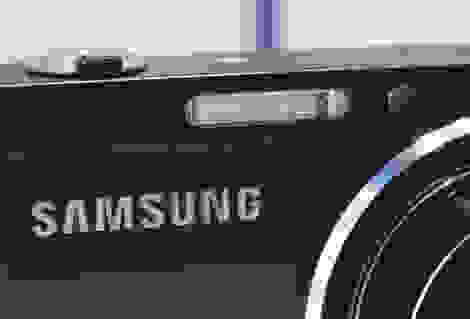 The DV300F offers a micro-USB port for charging and transferring photos off of the camera. The camera will not have an external battery charger, instead providing an AC adapter that will allow the micro-USB cables to be plugged directly into a wall outlet. This isn't dissimilar to what Samsung has done in the past, but the move to standard connectivity ports will make it infinitely easier to replace lost cables.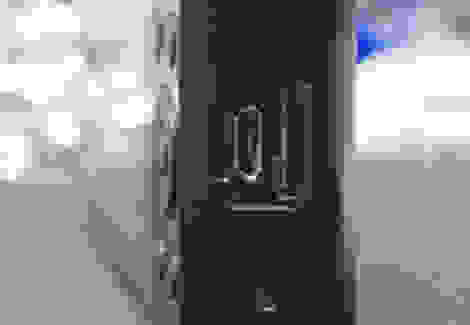 The Samsung DV300F uses a removable, rechargeable lithium-ion battery to power the camera. The battery is model number BP88, with a capacity of 880mAh. The battery charges through a standard micro-USB cable (AC adapter included). Samsung has not yet released a CIPA capacity rating for the battery, but the floor model we used had a 3.7V/880mAh specification listed on the battery.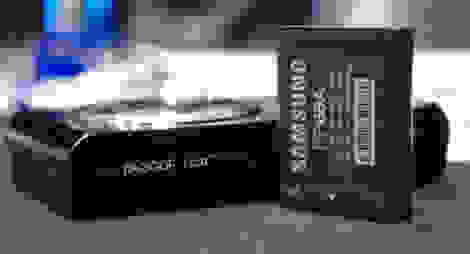 Like other Samsung cameras, the DV300F uses a micro-SD/SDHC memory card slot, though Samsung will only guarantee that cards 8GB and smaller will function properly. Micro SDHC is a bit of a mixed bag for Samsung; it's frustrating for those who already have full-sized SDHC cards, but it's the same type of card that is typically used in smartphones and other devices. There's no internal memory listed with the DV300F, so you'll require a card to get the camera to function.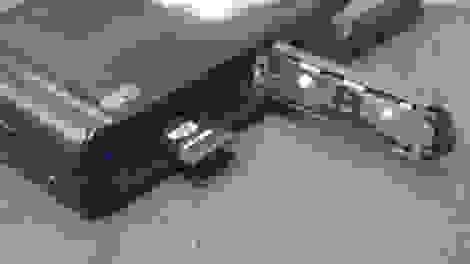 WiFi
The DV300F offers WiFi connectivity built right into the camera, with a variety of ways to take advantage of it. Samsung has developed a cloud sharing service called AllShare Play that the DV300F can take advantage of along with Microsoft's SkyDrive service.
The camera also can integrate with Android 2.2/2.3+ devices and iOS4.3+ devices, pushing content and letting them function as a remote viewfinder and shutter release with some exposure control as well. The camera itself can push content to social media, sharing services, and via e-mail, with an in-camera browser to get around pesky public WiFi authentication pages.
The DV300F is one of several WiFi-enabled cameras announced by Samsung for 2012, and it's clear they've put a lot of thought into how the camera will be utilized in the real world. Smart additions like the option to use a smartphone as a remote viewfinder and in-camera password entry will do well to ensure WiFi rises above mere gimmickry with the DV300F.
The camera itself has a 5x optical zoom range, 16-megapixel CCD image sensor, and generous ISO range of 80-3200. This is all before you even mention the DualView's namesake, its 1.5-inch front LCD designed for use in self-portraits. When you factor in that Samsung offers all this for a reported price point of $199, it's hard to not be impressed by the camera on paper.
Perhaps the most interesting thing in the DV300F's bag of tricks is its integration with smartphones, using them as a combination of controller, viewfinder, remote shutter release, and de facto portable hotspot. It's not uncommon to hear ominous predictions about the future of compact cameras in a world of smartphones. It's telling, though, that the many WiFi enabled cameras at CES 2012 all seem to be complementing—rather than impersonating—camera-packing smartphones.
We can't make any proclamations about true quality of the the DV300F until we get it into our labs and test it de rigueur, but you can color us impressed so far. With so much going for it and at an interesting price point, we'll be excited to see what the camera can truly do.
Meet the tester TJ Donegan
Executive Editor
@TJDonegan
TJ is the Executive Editor of Reviewed.com. He is a Massachusetts native and has covered electronics, cameras, TVs, smartphones, parenting, and more for Reviewed. He is from the self-styled "Cranberry Capitol of the World," which is, in fact, a real thing.
See all of TJ Donegan's reviews
Checking our work.
We use standardized and scientific testing methods to scrutinize every product and provide you with objectively accurate results. If you've found different results in your own research, email us and we'll compare notes. If it looks substantial, we'll gladly re-test a product to try and reproduce these results. After all, peer reviews are a critical part of any scientific process.
Shoot us an email