Well, here we are.
The brand new Samsung Galaxy NX is the first compact system camera to run Android. Like last year's Galaxy Camera, it can do everything a 4G phone can, with the exception of making calls. Sweetening the pot, Samsung claims the camera's internals are identical to the its NX300—and if you aren't sure why that's so exciting, give our recent review a read.
Samsung is keeping price and release date information under its hat for the time being, but we'll keep you updated as further news breaks.
Don't be fooled be the buttonless body—manual control is hidden on the lens.
Confession time: Our first impression of the Galaxy NX's design was "uh-oh." Sure it's an attractive chassis, and the profile is just as thin as other NX cameras, but the huge rear LCD and sparse top plate don't leave room for many physical controls. The Galaxy NX has but one command dial, joined by a physical shutter release, power button, and video record key.
While such a minimal configuration would've spelled doom for any other system, our fears were put to rest once we actually used the Galaxy NX. In practice, the absence of dedicated physical controls on the body is no more than a minor inconvenience. Remember, each Samsung NX lens is equipped with an "iFunction" button and control ring. The lens-based ring can be used to quickly adjust shutter, aperture, or exposure compensation; it's an acceptable alternative to the traditional front control dial.
Speaking of which, the Galaxy NX's lone body-based control dial (positioned around back) could stand to be a little tighter, but on the plus side it does have a secondary click that can be used to quickly select options or confirm a setting. It's a subtle, handy addition, and when it comes to in-the-moment photography, we say any time you can avoid using a touchscreen you should seize the opportunity.
Unfortunately, self-timer settings, digital filters (there are 30 of them this time), and other non-vital control options are relegated to the rear touchscreen.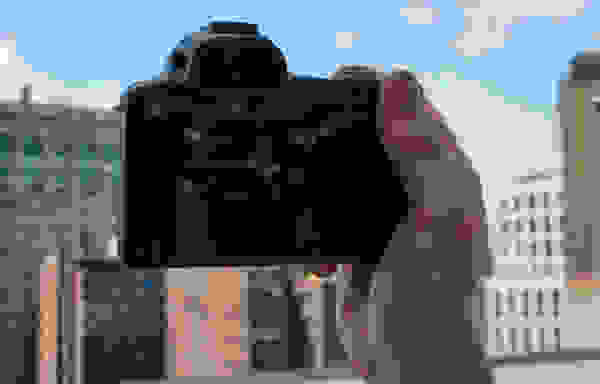 It could be worse. After all, this gorgeous capacitive panel might be the best touchscreen ever employed in a camera—and at 4.8 inches, there's plenty of room to distribute the many soft buttons without crowding. Those familiar with the Galaxy Camera will recognize the NX's interface as almost identical, but this time with all the flexibility we expect from an interchangeable-lens camera.
The Galaxy NX's grip is large and comfy, complete with a carefully sculpted notch for your index finger. A large thumb rest protrudes from the right side of the rear panel, providing added leverage for the unusually wide body. Thanks to the well thought-out handling, it's easy to manipulate the touchscreen with your thumb while hanging onto the camera with your fingers.
Convenience finally catches up to connectivity.
The Galaxy NX runs on Android 4.2, aka "Jelly Bean." So in a sense—at least as far as software is concerned—the camera's feature set is virtually unlimited. Whatever the next big Android photography app might be, the NX will support it (though whether the app in question will support the NX is another question entirely). In the meantime, Samsung has included a few compelling apps to show of this model's unique capabilities. There's one for geolocating the best photographic points of interest in your area, and one for creating a short storyboard with from a collection of your shots. But let's be honest, these are just a tiny fraction of what the Galaxy NX can tap into.
All this connectivity is paired—finally—with an awesome camera.
All this connectivity is paired—finally—with an awesome camera. We get a 20.3 megapixel APS-C sensor (complete with phase detection pixels built right into the chip), sensitivity up to ISO 25600, and a huge selection of continuous shooting modes. Curiously, the camera also boasts two processors: one handles photographic duties, while the other—a quad-core beast—powers the Android software.
Except for the menu system, shooting with the Galaxy NX is exactly like shooting with the NX300. Autofocus is snappy and accurate, and our early, unscientific first impressions are that its photos are sharp, correctly exposed, and free of intrusive image noise up through ISO 3200.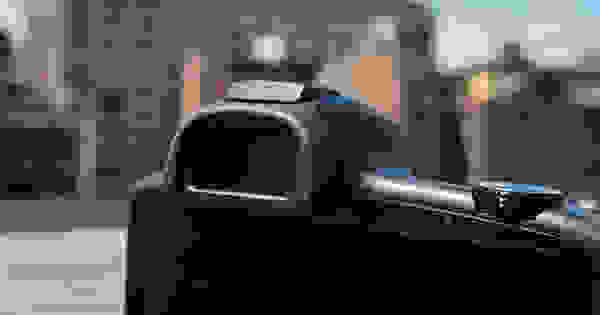 The SVGA electronic viewfinder wasn't quite as impressive as the rear LCD. It's large and bright, but lacks the accuracy of the rear LCD. The EVF senses your eye and automatically swaps from the LCD when appropriate, so you won't have to worry about accidentally changing settings with your nose. The lithium ion battery pack clocks in at a whopping 4360mAh, and like the Galaxy Camera, there are slots for both microSD and SIM cards. Samsung is staying tight-lipped for now on mobile carriers, but it's probably worth mentioning that the earlier Galaxy Camera launched on AT&T and Verizon.
Watch out for Samsung.
When it comes to digital imaging, Canon and Nikon effectively run the show. And when an industry is so dominated, competitors either innovate... or leave the market. Guess which path Samsung is taking?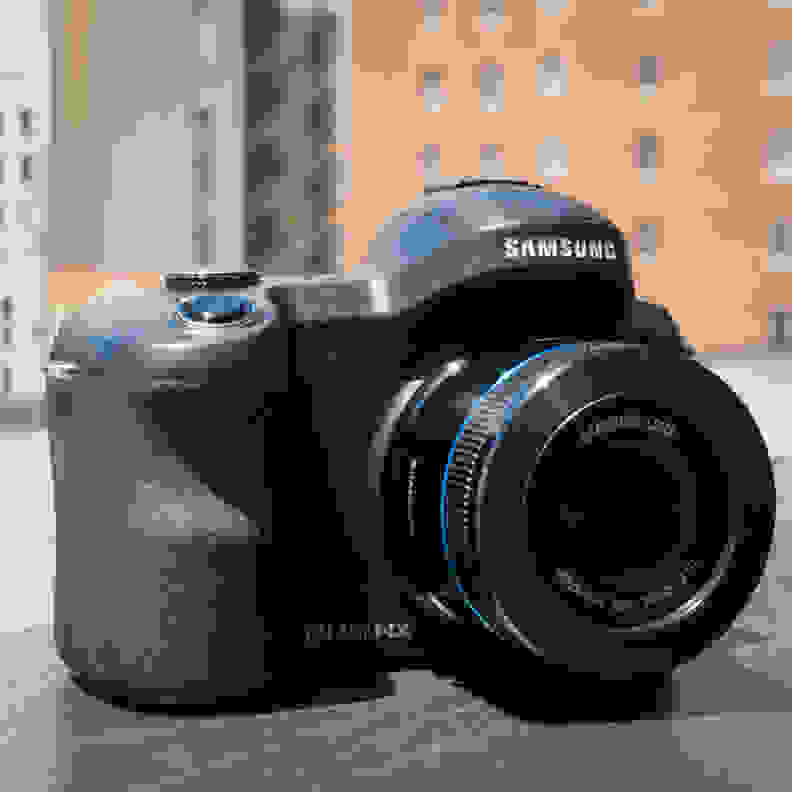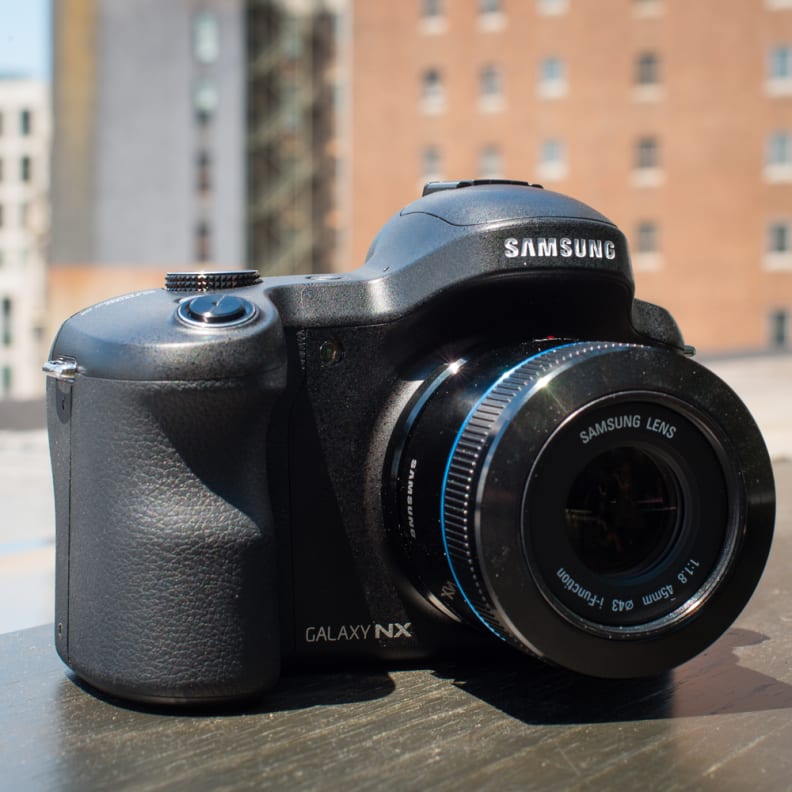 We're certainly not qualified to predict the success or failure of products that are almost totally untested in the market. If we did, we'd be investors, not journalists. But we certainly understand the inherent appeal of a device like the Galaxy NX, and respect Samsung for taking the chance to one-up the entire industry. If the Galaxy NX starts selling in numbers, you can expect the idea to be quickly copied.
Consider the following use case: Last weekend I wanted to take a picture of my grandparents' new puppy and e-mail it to a friend. With my belly stuffed from dinner, I preferred to accomplish this task entirely from the couch. I had a pocket camera, but no laptop to transfer the files with. I had a smartphone, but extreme shutter lag on the lousy built-in camera made this shot impossible. There's no WiFi at grandma's house, so even a WiFi-enabled camera wouldn't have worked. If my pocket-cam had NFC, I could've paired it with the phone, then transferred—wait... too late, the dog ran away while I was messing around with the settings.
What I needed in that situation was the Galaxy NX, a camera that delivers what the WiFi craze of 2012 never could: an always-connected smart camera that allows instant sharing, from the field, without any technological headaches. The last step was to bring this idea to a camera worthy of the enthusiast market, and it seems like Samsung has done so. We're very excited to get this one into our labs.
Meet the tester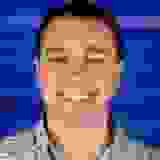 Christopher Snow
Managing Editor
@BlameSnow
Chris was born and raised less than ten miles from our editorial office, and even graduated from nearby Merrimack College. He came to Reviewed after covering the telecom industry, and has been moonlighting as a Boston area dining critic since 2008.
Checking our work.
Our team is here for one purpose: to help you buy the best stuff and love what you own. Our writers, editors, and lab technicians obsess over the products we cover to make sure you're confident and satisfied. Have a different opinion about something we recommend? Email us and we'll compare notes.
Shoot us an email