Front
In the image below, you can see how Samsung added grip material on the left side of the camera, which makes it easy to hold steady. Unfortunately, the placement of the flash is such that it is easily blocked by fingers.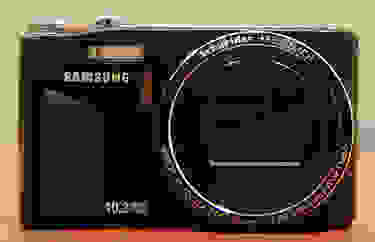 That little patch of grip material makes it easier to hold on to the camera
Back
The back houses most of the important controls for the camera. Right near the top, on the thumb pad, is a small slider that can be customized to a number of functions, but usually controls exposure compensation. There are three buttons around the four-way pad: above it is the Fn (function button) which takes you to a quick menu. To the bottom left is playback, and the bottom right is the E button, which takes you to the screen to change virtual film modes and colors.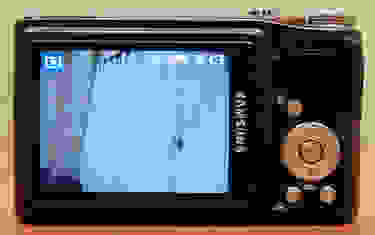 There's a small slider on the thumb pad used for changing settings.
Sides*

The camera's sides are on the ordinary side. The left is bare, and the right houses a wrist strap loop and covered port, both on the slightly raised thumb rest.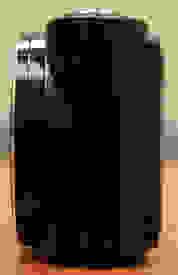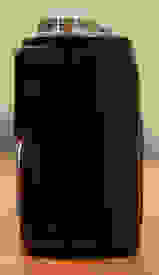 The sides aren't hugely exciting.

*Top**
From the top view, you can best see the substantial grip (given the size of the camera, anyway) which has a mode dial directly above it. To that dial's left is the shutter and zoom controls, and then the power button. On the far left is a small ring of holes which we believe to be a speaker, but weren't able to verify during our brief hands on.





That ring on the far left is probably a speaker
Bottom
The bottom includes a metal tripod mount in the center, which is better than the plastic mounts usually found, and the battery and port cover leading into the grip.

The tripod mount felt resilient
LCD Screen
The screen measures 2.7 inches with a 230,000-pixel resolution, and looks very sharp indeed. Pressing up on the four-way pad alters the amount of information on the screen, from a clean screen to basic shooting info, to full info and then grid lines.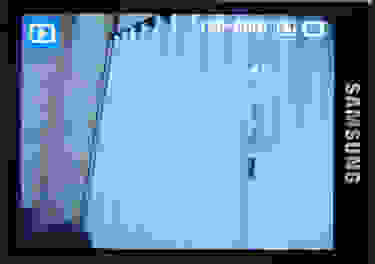 * The LCD looked ultra-sharp* **Flash The flash seemed pretty bright in our brief hands-on session. It can be set to off, on, auto, red-eye reduction, red-eye retouch (which fixes the problem in post processing) or slow synch. **

Unfortunately, the flash is placed where it can
be easily blocked by errant fingers.
Lens
The lens is the major selling point of this camera, and it's quite possibly the largest zoom we've seen on such a small form factor. The fact that they managed to fit a 10x into a camera not much bigger than a standard compact point-and-shoot speaks volumes, but we'll have to wait until we get it into our labs to see how well it really performs. The lens also has an impressive wide angle focal length of 4.2 to 42mm (24 to 240mm in 35mm equivalent), which is also very impressive, especially combined with the zoom factor.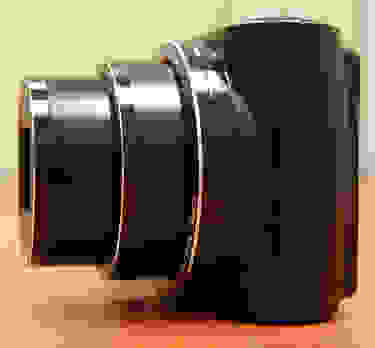 The lens at full 10x zoom extension.
Connections

Samsung has a nasty habit of using proprietary connections. While it's a space-saving strategy, it makes replacement cables expensive and hard to find.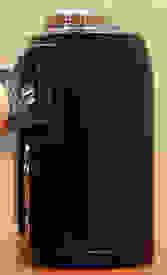 Proprietary cables can be
expensive to replace

Battery

The HZ10W uses a small rectangular lithium ion battery. Once we get it into the lab, we'll have a better idea of what sort of life span it has.
The battery and card slot are shown here

Memory

The HZ10W uses SD and SDHC cards, which have a capacity up to 32GB and are easily found and affordable.
Model Design / Appearance
The Samsung HZ10W is crafted of rather serious black plastic, and looks very business like. The only visual accents are a few silver bits of flair, as well as two pieces of black grip material to make hanging on to the camera a little easier.
Size and Handling
The HZ10W feels very good in the hand. It has a pleasant sense of solidity to it, and the decent size grip makes it very easy to hold. It measure 4.1' wide x 2.4' high and 1.4' thick (105mm x 61.4mm x 36.5mm).


The HZ10W feels great in the hand.
Menu
The menu system on the HZ10W looked tack sharp, and was laid out logically and clearly. What did cause some confusion was the fact that there are three different ways of getting to a menu. The Fn (function) button brings you to a quick menu for altering commonly used settings (resolution, focus, metering, drive, ISO, white balance and face recognition). The E button lets you alter color filters; sharpness, contrast and saturation; and film modes. Finally, pressing the OK button brings up the menu system where you can alter date, time, customizable functions and other such settings.
Ease of Use
Once you get accustomed to where all the choices are stashed, it seems the menu system should be easy enough to navigate.
Auto Mode

While in Auto mode, the only available choices are image size and focus type. Other than that, you'll have to trust the camera to do figure things out for you.
Movie Mode

The movie mode on the camera is noticeable for shooting at 720p resolution (in both normal and high quality), as well as 640x480 and 320x240 in the slightly unusual format of H.264. At all resolutions you can shoot at 30 and 15 fps, and at the smallest you can also get 60 fps. The camera retains a certain degree of manual control during filming, and lets the user control metering and stabilization, though oddly not white balance. One nice touch is that you can optically zoom while recording in movie mode, but at a much reduced speed so that the whirring of the lens doesn't overwhelm the microphone.
Drive / Burst Mode

The camera offers three levels of burst speed. The first is continuous mode, which takes about one frame per second until you take your finger off the shutter button. High Speed mode takes three images in one second, but then stops automatically. Finally, Motion Capture mode reduces the resolution to 640x480, but manages to squeeze our five frames per second continuously.
There's also a decent array of self-timers associated with the camera. 10 seconds, 2 seconds, 10 then 2 seconds (two photos in all), external remote, and motion sensor. The last we'll have to wait to get into the lab to report properly on how it functions.
Playback Mode

During Playback mode, you can zoom in to 11.4x magnification, and trim down to image as displayed on-screen at any point. Pulling back takes you all the way out to thumbnail view of nine images. There's also a fairly comprehensive image editing toolset built into the camera. You can resize and rotate the images, adjust the color (to black and white, sepia, red, green, blue, inverted or custom), use the ACB tool (which is a type of dynamic range optimization), red-eye fix, face retouch (which smears over skin flaws with a trowel full of digital foundation), change the brightness, saturation and contrast or add noise.
Custom Image Presets

This Samsung camera has a decent array of scene modes. It can be set to beauty shot, night, frame guide, party, children, landscape, close up, text, sunset, dawn, backlight, beach and snow, backlight, self-shoot, food and café.
Manual Control Options

The HZ10W has a good degree of manual control, though it's not quite as full featured as it could be. That said, we're always glad to see a camera where you can manually set the aperture and shutter speed, as well as white balance and manual focus.
Focus

*Manual Focus

*The HZ10W lets you manually focus with the left and right buttons on the directional pad, with the central part of the screen enlarged so you can make sure the image is properly sharp.
Auto Focus

The focus mode can be set to spot, multi or selection, the last of which lets you use the directional pad to select an area of the frame to focus on.
ISO

The ISO range is an eminently respectable ISO 80 to 3200, though the highest setting is only available at 3MP. Strangely, auto ISO wasn't available in Manual mode, but this may be a hiccup in the current unfinished firmware on the pre-production model.
White Balance

For white balancing, you can trust the camera to decide with auto, or else use presets for Sunlight, Cloud, Fluorescent H, Fluorescent L or Tungsten or take a manual white balance setting.
Metering

The relatiely standard metering options of multi, spot and center-weighted are all here.
Shutter Speed

While the shutter speed can be manually set, we were not able to do so on our pre-production sample..
Aperture

The aperture range can be set manually, but only to maximum or minimum given the current zoom level, nothing in between. At full tele it runs f/3.5 to f/7.5, and at maximum zoom it goes from f/5.8 to f/13.1, which is an overall quite slow lens.
**Image Stabilization

**The HZ10W offers both optical and digital image stabilization, which is welkcome given the rather slow nature of the lens.
Picture Quality / Size Options

Image compression can be set to Superfine, Fine or Normal in any of the following resolutions: 10MP, 9MP, 7MP, 7MP (16:9), 5MP, 3MP, 1MP
Picture Effects Mode
During shooting you can change the color palette to black and white, sepia, red, green, blue, negative or custom, or set the film mode to vivid, soft, forest, retro, cool, calm or classic. Additionally, in playback, you can add noise to your pictures to make them look more grainy.
**
Conclusion**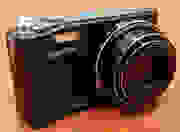 The Samsung HZ10W seems promising based on our brief introduction. It packs some serious zoom power into a small body, has an excellent feel in hour hand, and a good range of manual controls. On the down side, the lens is on the slow side, though we'll know more when we get a chance to test it. The camera will be available in January for $299.99
**Specs Table

**
Meet the tester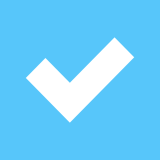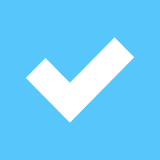 Tim Barribeau
Contributor
@
Tim Barribeau is a valued contributor to the Reviewed.com family of sites.
Checking our work.
We use standardized and scientific testing methods to scrutinize every product and provide you with objectively accurate results. If you've found different results in your own research, email us and we'll compare notes. If it looks substantial, we'll gladly re-test a product to try and reproduce these results. After all, peer reviews are a critical part of any scientific process.
Shoot us an email