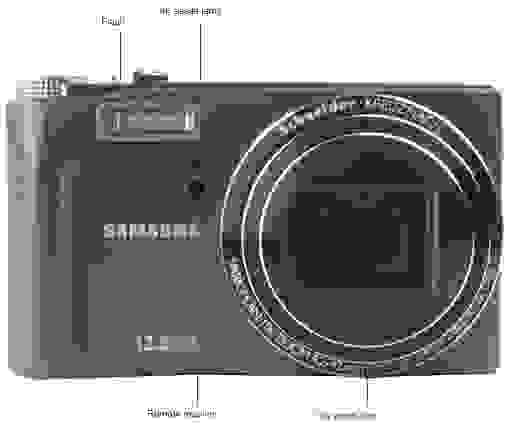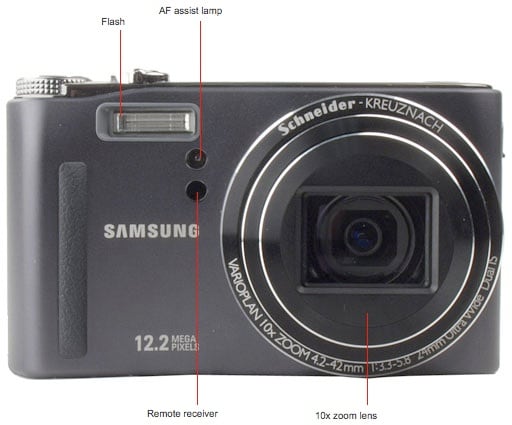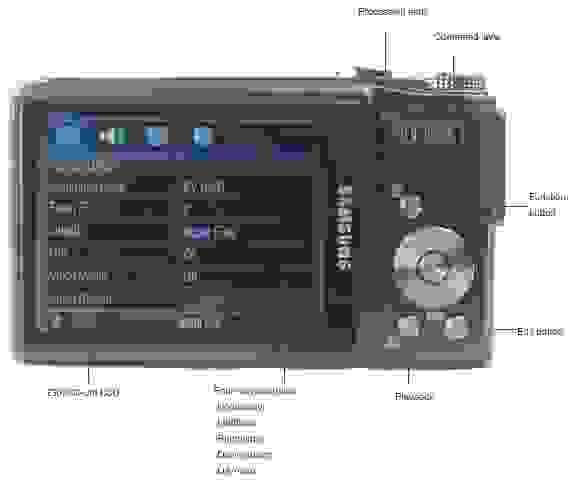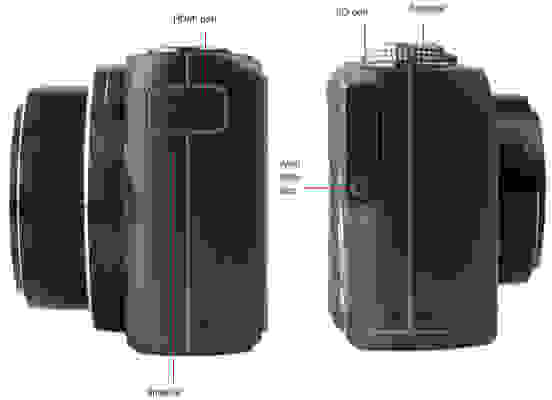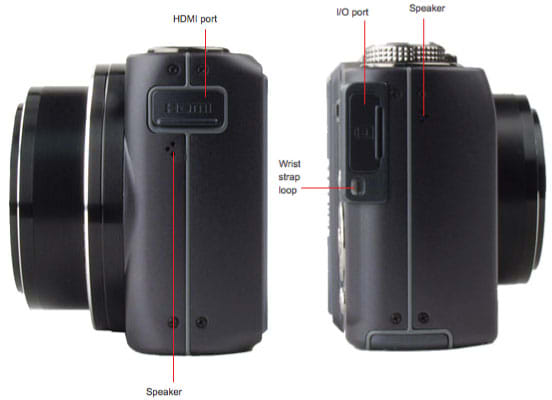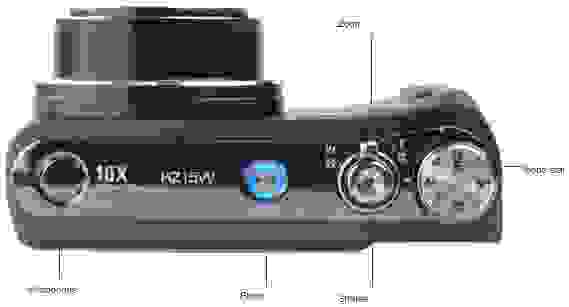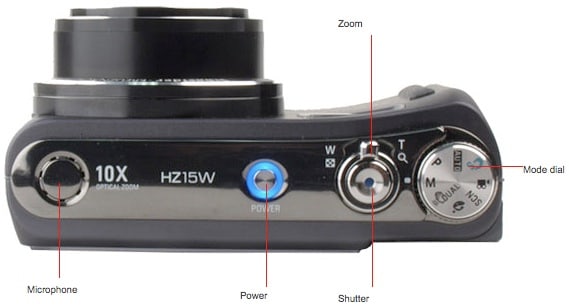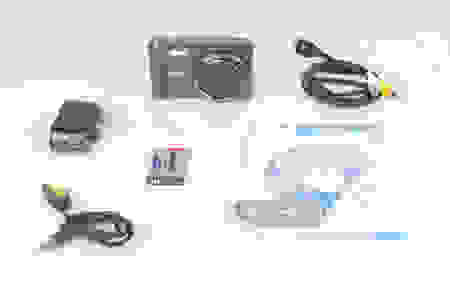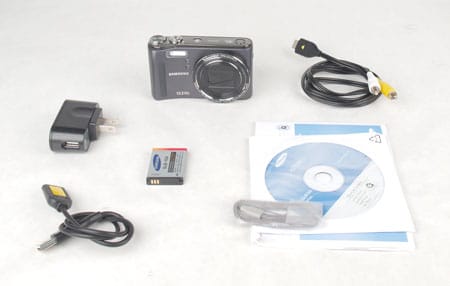 Camera

Manual

Strap

AV cable

Battery

AC adapter/USB cable

Software CD
HZ15W has fairly accurate color, shooting under our lab testing conditions with 3000 lux illumination. For this test, we determine how closely the colors in photos of the X-Rite ColorChecker chart match the known color values of each patch, measuring color error using Imatest software. More on how we test color.
In its most accurate color mode (which was called 'calm'), the camera accurately captured most colors, but had a tendency to undersaturate blues and oranges. The table below shows how each of the cameras, when shooting in its most accurate mode, compares to the ideal value of the color, which is shown in the left hand column.
As you can see on the score chart below, the Samsung performed respectably, lagging the top two by very little.
Samsung includes a wide assortment of color modes, as they do with most of their cameras, which are all unhelpfully named. They're all accessed by pressing the E button on the back of the camera. There's vivid (which oversaturates everything); soft (which struggles with oranges, blues and reds); forest (which oversaturates everything, even more so than vivid); retro (puts an orange hue on, but isn't quite sepia); cool (puts a blue tint over everything); calm (slightly undersaturated, but the most accurate); classic (black and white); and finally normal. From normal mode, you can tweak a number of settings: color casts can be added (in black and white, sepia, red, green, blue, negative and custom which lets you alter the levels of red, green and blue); as well as sharpness, contrast and saturation over a five-point scale.
At high ISOs, the HZ15W was definitely on the noisy side, but below ISO 400, it was perfectly reasonable. This test looks at how much image noise appears at the different full resolution ISOs that the camera offers, taking into account both bright and low light situations. More on how we test noise.
Under 60 lux illumination, as compared to 3000 lux, the noise is a bit worse at low ISOs, but this difference narrows at the higher sensitivities. Generally we found that at low ISOs, the Samsung manages to keep noise levels about what you'd expect. But after ISO 400, it drives off a cliff, and things get pretty bad.
The following chart shows same-size samples from test shots taken at both light levels.
Because of the high noise levels, especially at ISO 800 and 1600, the HZ15W trails behind the other cameras here. The HZ15W has a full size ISO range of 80-1600, and can also shoot ISO 3200 at three megapixels. However, as you'll see in the same-size crops below, shots taken at ISO 3200 have nearly as much noise as image.
NOTE: The images above are not used in our testing or scoring, but are included here to show real-world examples of the differences between cameras at the various ISO settings.
Across the three tests we look at for resolution, the HZ15W did very well, mostly due to its very high sharpness and good chromatic aberration. The resolution score is based on three tests: distortion, sharpness and chromatic aberration, which are observed at three focal lengths.
Given the very good sharpness and chromatic aberration results, as well as the decent lens distortion, the HZ15W scores very well overall in this section against the comparison cameras. More on how we test resolution.
Distortion ()
The distortion was the weakest part of the resolution tests for the Samsung, though it's still pretty decent. At 4.2mm focal length, the distortion was barrelling at 0.68%, at 16.6mm it was 0.8% pincushioning, and at 42mm it was 1% pincushioning. Keeping distortion at 1% or below at every focal length is a significant achievement.
Sharpness ()
Sharpness results for this camera were very high. It did have a tendency towards oversharpening the image, but not too much. Even taking the oversharpening into account, the HZ15W handily outperformed the comparison cameras. As with most cameras, the sharpest image quality was dead center of the lens, and then it dropped off outwards from there, and picked up again at the outer edges. The absolute sharpest was at 4.2mm focal length, dead center, and the worst was the mid area of the lens at 42mm. Regardless of the focal lengths, the center of the lens was very sharp.
Chromatic Aberration ()
The chromatic aberration was also very good, again an improvement over the comparisons. Like with sharpness, the aberration was best at the center, worse moving outwards, before improving at the corners. At the 42mm focal length, we saw the best and the worst chromatic aberration, and at 16.6mm it was overall the most manageable.
The following chart shows same-size crops from our test images, at three focal lengths.
The Samsung has a reasonable array of size options, at the standard 4:3 ratio, as well as one each for 3:2 and 16:9. It doesn't go as small as some other cameras, but to be honest, you probably don't need to shoot at 640x480. The image quality can be set to Super Fine, Fine and Normal. There's no option to shoot RAW.
Under the conditions of our image stabilization test, shooting at 1/30 second with the camera shaking in a computer-controlled rig, the Samsung actually did pretty well. Given the sort of light level and shutter speed you're likely to hit indoors, there was a marked improvement using optical image stabilization.
The chart below shows same-size crops from our test images, demonstrating the sharpness differences we found with the image stabilization turned off and turned on. More on how we test image stabilization.
The resolutions available for movie mode are 1280x720HQ, 1280x720, 640x480 and 320x240, all of which can be shot at 30 or 15fps; the smallest size can also be shot at 60fps. The HQ just seems to be a slightly higher quality image. The maximum length of a file is 29 minutes, which is substantial enough for most situations.
Metering and white balance controls also remain intact in video mode, as do exposure compensation, macro, and some timer modes. The optical zoom is enabled during recording, and it's very slow and quiet. It's a rarity for a camera to retain optical zoom in movie mode, and a welcome addition. Another nice feature hre is the ability to pause and then continue recording, all in the same file.
Color accuracy for video mode was a hair lower than most other cameras, but barely. It blew the Nikon S630 out of the water, but so did everything else, because the S630 only had automatic white balance in video mode. More on how we test video color.
The HZ15W was respectably sharp. Once again, just a touch below the Panasonic, though quite a bit behind the Canon. More on how we test video sharpness.
In playback, you'll see the usual suspects kicking about. Pressing Up on the four-way pad alters the amount of information shown. You can zoom in on a picture, and crop to that zoom at any point. When you zoom out into any of the thumbnail modes, there's an indicator bar shown at the bottom of the LCD. This can be set to date, dominant color of the image, day of the week or type of file.
When viewing videos in playback, you can pause at any point, and save a still version of that frame. It's not a huge feature, but a handy little touch.
For slide shows, you can chose from eight different transitions, seven musical pieces (or, thankfully, none), and the length of the interval, from 1-10 seconds.
Samsung certainly wants you to have plenty of options when it comes to in-camera editing. First, they can be resized to 5-, 3- or 1-megapixel resolution, and rotated or flipped. The color editing mode gives the image a new color overlay (black and white, sepia, red, green, blue or custom). The real fun is in the Image Adjust menu, with a dynamic range booster, red eye removal, face retouch (to one of three levels), and brightness, saturation and contrast tweaking to ±2 levels. If the camera's slightly problematic noise levels aren't enough static for you, there's an Add Noise option.
For DPOF you can print single images, every saved image, index prints, and set the print size to 3x5, 4x6, 5x7 or 8x10. The PictBridge controls are even more expansive: the paper size, number of prints on a sheet of paper, paper type, quality of image, and imprint date and file name can all be set. That's a whole lot of control.
As with most point-and-shoot cameras, the HZ15W does not have a viewfinder.
The LCD is three inch, 230,000-dot model. Not very high resolution, but it's plenty large.
The Up button alters the information on the screen. You can have just the image, shooting details, shooting details plus function explanations (which are shown when you hit the Fn button) and finally full information, overlaid grid and brightness histogram.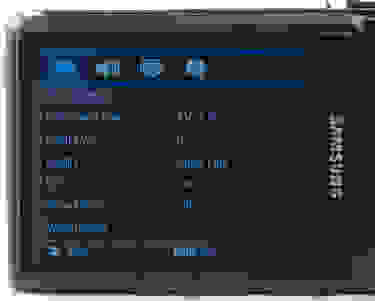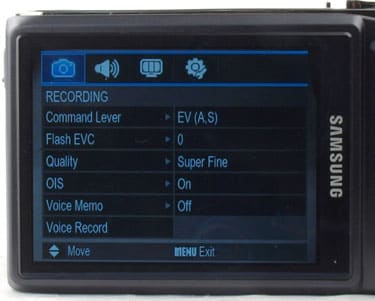 The flash on the HZ15W is very bright, though slow to recharge. The coverage from the strobe was even, and the light dropoff towards the corners was minimal. There was one oddity we hit with this camera, though. Because of the wide-angle lens, depending on how you hold it, it's very easy to block the light from the flash hitting the lower right corner of the image. If you're using the flash, be very careful where you put your hands on the grip, and keep your knuckles as far to the right as you comfortably can
The flash can be set to auto, red-eye reduction, auto and red-eye reduction, on, off and slow synchro. Slow synchro uses the flash in conjunction with a longer exposure time, so that both the foreground and background of the shot are exposed correctly. The flash can be set to one of five levels of intensity.


The major selling point of this camera is its 10x zoom lens, with a good wide-angle, packed into a reasonable-sized frame. The focal length of the lens is 4.2-42mm, which is equivalent to a 24-240mm if you were shooting with a 35mm camera. Even though the camera packs a 10x zoom, the maximum telephoto setting isn't that high. For instance, the Nikon Coolpix S630 only has 7x zoom, but has a greater maximum focal length, so it can actually zoom in further, though it lacks the Samsung's wide-angle capability.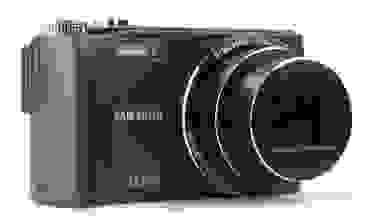 The aperture range is f/3.3-f/5.8. This isn't very fast, but it's fairly standard for this level of zoom.
Samsung rates the battery life of the HZ15W at 280 shots per charge. This is a little low, but not horrible, will still give you a solid weekend of shooting.
One of the interesting little features of the HZ15W is that it doesn't come with a separate battery charger, but charges via the camera's USB port, thanks to a USB to AC adapter. This means that you can charge the battery through your computer, or run it through any other USB to power cable adapter you have floating around, saving you one piece of gear to lug around everywhere. Unfortunately, the USB port on the camera is proprietary for charging, so replacement cables may cost a little extra.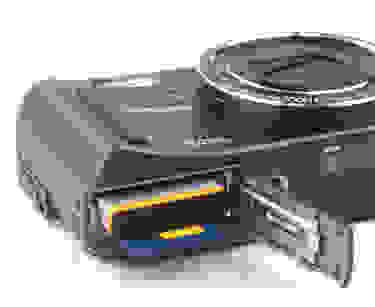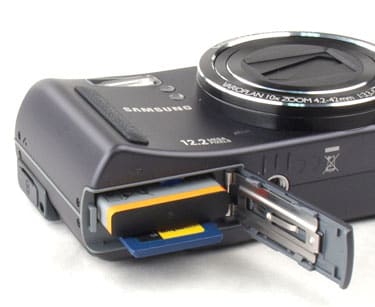 The camera takes SD and SDHC cards which are inexpensive, small, high capacity and easy to come by. Sounds like a winning combination to us.
There are two ports, one on each side of the camera. One is a proprietary I/O port, used for USB, AV and charging the camera. The other is an industry standard mini-HDMI port. While the camera doesn't come with an HDMI cable, they're pretty low cost and easy to come by, so it's easy to pick one up, and plug the camera into your brand new big-screen HDTV.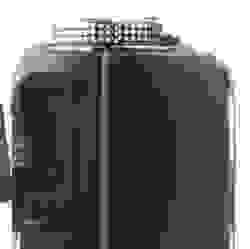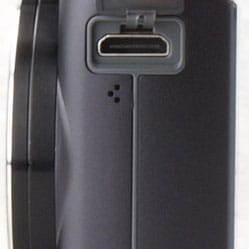 For those of you who crave every shooting mode imaginable, including a fair few manual controls, then Samsung has you in mind. That said, there are a few modes missing that someone with an advanced photographic background might notice. In its favor, it has a manual mode, where you can control the shutter speed completely, and set the aperture to either minimum or maximum. What's missing, though, is aperture or shutter priority modes, which are present in the Canon compact ultrazooms. The Panasonic compact ultrazooms, on the other hand, don't have any manual exposure modes.
On the more automatic side of things, there's program mode, auto, smart auto (scene recognition), movie, scene mode, beauty shot, and dual IS. Of the scene modes, most are rather boring, but one deserves some elaboration. It's called frame guide, and it's used when you want to hand over your camera to someone else to take a shot, but you want them to use a composition of your choosing. The way it works: you set up the shot to your tastes, and take the photo. A slightly translucent frame is then composed of the outer edge of this photo, which allows the person you've handed your camera to match the camera up exactly with how the last photo was taken, while you rush over to try and hold up the Leaning Tower of Pisa.
The other shooting mode worth discussing, if only to condemn it, is the terrifying beauty shot mode. In this mode, there are two settings, Face Tone and Face Retouch, both of which can be set to one of three levels. The first gives you 'brighter skin,' the second smears any topography of your face. Anyone subjected to this ends up looking like a black velvet portrait of Elvis, and the photos haunt us to this day.
Auto Mode Features
Focus
For your focusing pleasure, you can chose between center, multi or selection (using the four-way pad to decide where to focus). Additionally, there's macro mode, and manual focus (which uses left and right on the four-way pad to focus, and helpfully enlarges the center of the frame to aid in getting things razor-sharp).
There is also a face recognition mode, which can also be set to self-portrait, where it will beep once your mug is in frame and in focus, so you know when to hit the shutter. Corollary to these are smile shot, which takes a photo when it detects a smile, and blink detection which will take three shots in quick succession if it spots a closed set of eyes.
Exposure
Exposure compensation runs the standard gamut of ±2 EV in 1/3 steps, and is controlled by a little slider on the back of the camera. Something that gets left out of many compact cameras, that we're happy to see here, is the inclusion of auto exposure bracketing. It takes a shot with no compensation, then -1/3EV and finally +1/3EV.
Like almost every other camera on the market, there's a dynamic range boosting tool, here called ACB (auto contrast balance). It can be used while shooting, or applied to an already taken image.
Metering
The standard array of metering choices: multi, center-weighted and spot.
White Balance
The camera has presets for daylight, cloudy, daylight fluorescent, white fluorescent and tungsten. Also included are automatic and manual.
Aperture
At wide angle the aperture runs f/3.3 to f/7.5. Zoomed all the way in, it's f/5.8 to f/13.1. These compact ultrazooms tend not to have blindingly fast lenses, so this is about what you'll see in most comparable models.
We like the fact that you have some control over the aperture, via the manual shooting mode, but we wish it was over the entire range of apertures, rather than just being able to chose between the maximum and minimum.
Shutter Speed
The shutter speed range on the HZ15W is decent, but not fantastic. The highest speed could be better (it only reaches 1/1500 of a second), but the maximum exposure of 16 seconds is a healthy length for a compact camera. There is the added bonus of being able to manually set the exposure length across this entire range in manual mode.
Self-Timer
This camera has a fair few different timer modes. There's the usual 10- and 2-second modes, plus the handy 10 then 2 mode, which takes a photo after 10 seconds, then another two seconds later. Motion timer waits six seconds, then takes a photo as soon as everything stops moving. Finally, the camera is also compatible with an optional remote control, and will take a photo two seconds after you push the button on said remote.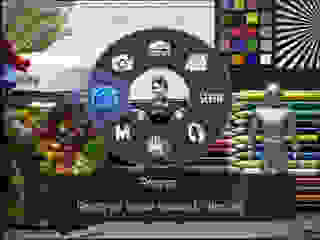 In addition to the slightly horrific effects of beauty shot mode mentioned above, you can add a color cast to the image (red, green, blue or custom), shoot black and white, sepia or inverse while the standard photo modes. Sharpness, brightness and contrast can also be tweaked.
There are quite a few drive/burst modes on the camera. You have access to single shot, continuous, high speed, auto exposure bracketing and motion capture. This last takes 6 shots per second for up to five seconds, but at 640x480 resolution.
Shot to Shot ()
In High Speed mode, we captured an average of 1.6 frames per second, which is in keeping with Samsung's stated speed of 1.5 frames per second with this setting.
Samsung has liberally cribbed from Panasonic's design book: the HZ15W looks almost identical to Panasonic's popular TZ5 model. It's a very functional design, and while hardly original, it does the job very well.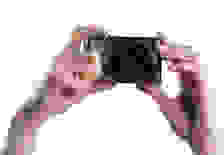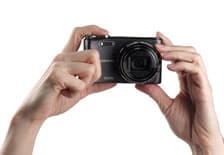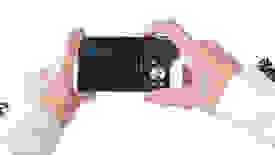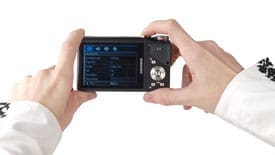 Compared to a point-and-shoot with a less mammoth zoom, the HZ15W seems on the chunky size. However, when you consider that a couple of years ago a 10x zoom camera would be SLR-like in shape and size, this camera seems petite by comparison. The HZ15W is a bit big, and a bit heavy, and it won't fit into a tight set of pockets. If you're wearing a coat, or want to throw it into a purse or bag, though, it'll do just fine.
The buttons and dials are all well crafted, with a pleasant tactility, and all are positioned so that you're unlikely to hit the wrong one. The one minor issue we had was the multiple paths to get to menus. The quick menu for most commonly changed options is accessed via the Fn button (which is short for Function; the main menu is accessed via the Menu/OK button at the center of the four-way pad; and to change shooting effects the E button is used. This system just feels like it could be more centralized.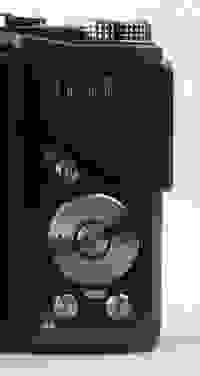 Apart from the above mentioned issue of the menus being split into too many sections, we were pleased with the menu system. In general they're laid out well, with clear text and flow in a logical order. While some of them do go on a bit past a single page of options, they're not much longer than that.
The HZ15W manual isn't bad, but it's hardly great. The illustrations are good, as is the layout. However, it skimps a bit on explaining concepts, so it doesn't always give as much detail as we'd like. The table of contents is all-encompassing, but laid out in manner that assumes some familiarity with the camera already. There is no index, which is a major black mark against the manual, and makes it very hard to track down certain information without poring over the table of contents in fine detail.
While neither the Canon SD970 nor the Samsung HZ15W is the smallest cameras on the block, the Samsung is a significantly larger gadget. That's due to the rather large 10x zoom lens (compared to the Canon's 5x), with a significantly greater wide-angle. Both cameras have the same resolution (12-megapixels), and the same ISO range (80-1600 at full res, 3200 at reduced).
In terms of performance, it's a pretty even split between the two cameras. Their color accuracy was similar, both for still and video; the Canon has an edge in noise, stabilization and video sharpness testing; the Samsung comes out ahead for resolution and shot to shot speed.
The Canon has a slightly better interface, assisted by the use of a scroll wheel for whizzing through menus, and a higher resolution screen, as well as some nifty tricks on scrolling through images based on how the camera is held. However, it lacks the large set of manual controls that the Samsung offers, including manual shooting modes, custom color overlays, and auto exposure bracketing.
While we like the SD970 IS a lot, we have to give this round to the Samsung, due to its strength of manual controls, large zoom, and overall solid performance. That said, it did have some noise issues, and Canon knows their way around user interface design a bit better than Samsung does.
The Nikon S630 provides an interesting contrast to the HZ15W. It's around $50 cheaper, lacks the manual controls of the HZ15W, and has a 6x zoom lens. That said, even though it has less zoom, it has a higher telephoto range, albeit at the cost of wide-angle coverage. Also in the Nikon's favor is its generally better still image performance. It has more accurate color, significantly lower noise and less lens distortion. The Nikon also has a much nicer aesthetic, thanks to its curved design.
Of course, not everything is fantastic on the S630. It had lower image sharpness, its image stabilization didn't function as well, it couldn't get off photos as fast, and its video mode was a major letdown. The Nikon only shot video in standard definition, and lost almost all controls while in video mode, which accounts for its very low score in those sections. It also lacks the ability to manually set shutter speed and aperture when shooting stills, capabilities we find important.
If you don't need the manual controls, wide-angle lens, or HD video, the Nikon will probably serve you perfectly well, and save your wallet a bit. On the other hand, if you do want those features, go for the Samsung.
The Panasonic Lumix DMC-FX580 is a fair bit more expensive than the Samsung, mostly due to it having a touch screen. In a sensible maneuver, Panasonic has wisely retained a button-based interface system, and augmented it with a touch screen, rather than replacing it. The touch screen can be tapped to focus on a point, sliders can be dragged to change aperture and shutter settings, or for for browsing the quick menu. It still has a traditional four-way pad and menu system, so you're not reliant on the screen. While it only has a 5x zoom to the Samsung's 10x, it has a faster lens (maximum aperture of f/2.8), and an approximately equal wide-angle.
Another feature we really like about the FX580 is its manual controls, even more extensive than the Samsung's. In addition to the manual mode, it has aperture and shutter priority shooting modes. Also, the aperture can be set across the entire available range, not just the minimum and maximum.
Where the Lumix really faltered was in its performance. In our lab testing, it scored lower in almost every test we run. The one area where it was appreciably ahead was noise, which is important. However, it lost out on color accuracy, resolution, stabilization, shot to shot speed, and video sharpness.
Where we would recommend the Panasonic is if you want extensive manual controls in a smaller frame than the Samsung, but don't mind missing out on the 10x zoom, or taking an image quality hit. On the other hand, if you want that extra zoom, and don't want to pay more for a touch screen, the Samsung is definitely appealing.
Samsung HZ15W is part of the relatively new division of the point-and-shoot market, the compact ultrazoom. These squeeze significant zoom lenses into bodies only marginally bigger than a standard camera.
The major selling point of this camera is its 10x zoom, starting at an impressively wide-angle 24mm setting. The 12-megapixel resolution and 720p video capture are also impressive.
In our testing, the HZ15W generally performed very well. It had excellent image sharpness, good color accuracy, fast burst modes, and an image stabilization system that really seemed to help. The one area it did struggle with (and this is a significant issue) was with image noise levels. Above ISO 400, pictures rapidly devolved into a speckled mess. However, shots at ISO 400 and below were perfectly decent for image noise.
What we really liked about the HZ15W was the manual control. It wasn't quite perfect, but there are a lot of functions here that we appreciate seeing in a compact camera. The manual shooting mode offers the ability to set the shutter speed to any exposure length, and the aperture to either a maximum or minimum. Ideally, we want aperture control over the entire range, and aperture and shutter priority modes, which this camera lacks. The inclusion of any sort of manual exposure control is very welcome, though, as well as auto exposure bracketing.
But we still find beauty shot mode creepy.
Meet the tester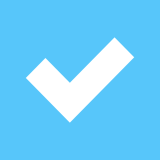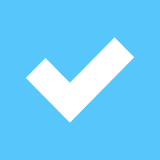 Tim Barribeau
Contributor
@
Tim Barribeau is a valued contributor to the Reviewed.com family of sites.
Checking our work.
We use standardized and scientific testing methods to scrutinize every product and provide you with objectively accurate results. If you've found different results in your own research, email us and we'll compare notes. If it looks substantial, we'll gladly re-test a product to try and reproduce these results. After all, peer reviews are a critical part of any scientific process.
Shoot us an email