Side-by-side, the MV900F and last year's MV800 are not all that different. Both are sleek, thin little pocket cameras that are light on physical controls (and weight), can travel with you just about anywhere, with modern, minimalist designs.
Most importantly, the MV900F retains the key feature of the "Multi View" series, which is the ability of the rear LCD to flip out from the back of the camera up to 180 degrees, facing forward toward your subject. Compared to the MV800 the screen is now a slightly larger (3.3 inches vs. 3 inches) WVGA AMOLED display, but otherwise retains similar specs.
The MV900F (and the MV800 that preceded it) both are a continuation of the DualView design that Samsung pioneered in their older point-and-shoot cameras. While those early models used a small embedded LCD on the front of the camera to allow for self-portraits, the flip-out display allows you to use the entire 3.3-inch real estate of the AMOLED display to frame your shot.
This opens up a few different possibilities for portraits and group shots, as we'll discuss later in this first impressions review. Samsung is an old hand at designing cameras around this key functionality, with little touches that complement the feature, such as a shutter button hidden on the back of the camera (behind where the LCD normally sits) and gesture controls, so you can easily trigger a group photo while in the frame.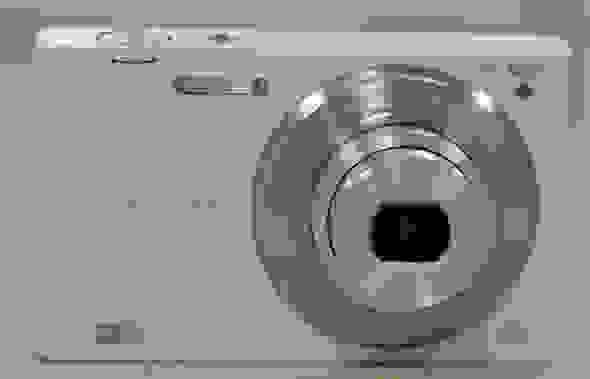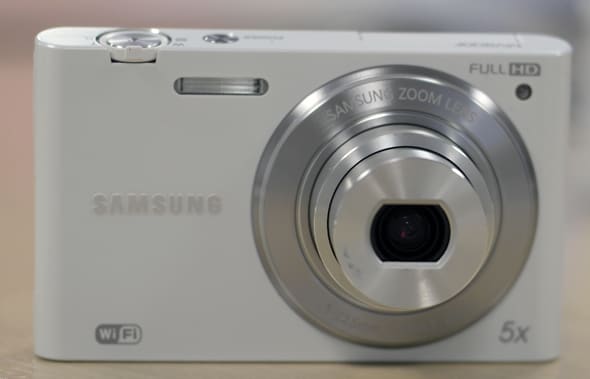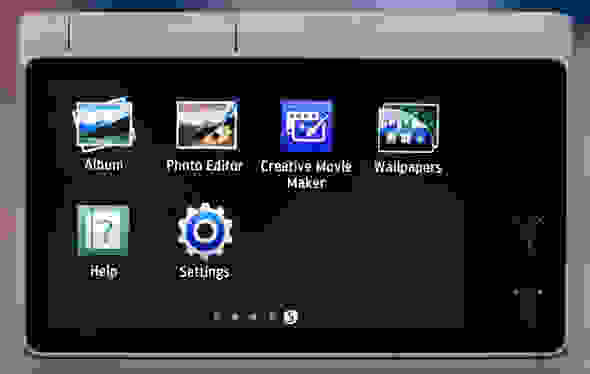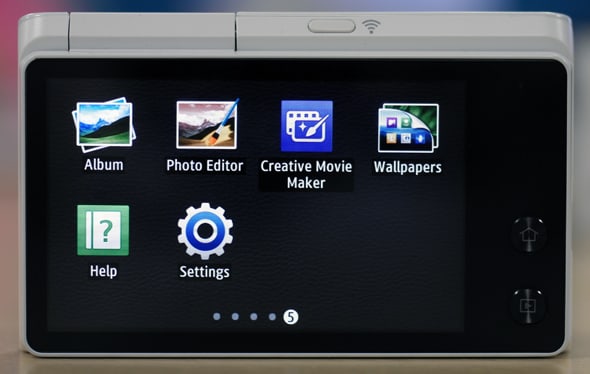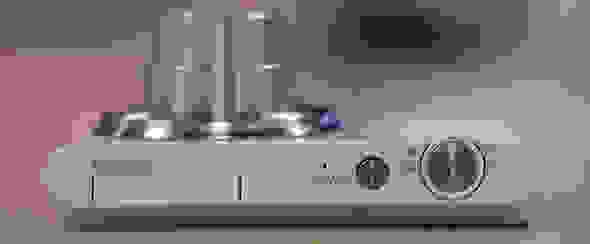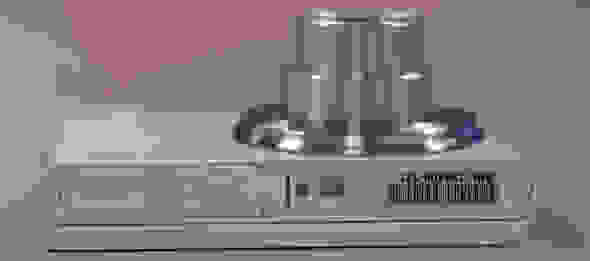 The menu on the Samsung MV900F is easy to navigate with the touchscreen controls, with most of the options laid out in a grid with large icons, similar to a smartphone. The options are placed on different pages, with the ability to swipe between pages at will using the touchscreen. While smartphone cameras are obviously eating away at the cheap point and shoot market, Samsung has done a good job of adopting what smartphones do right in terms of organizing their menu.
The Samsung MV900F's design is relatively simple, with few manual controls and a simple enough menu. The interface is almost exclusively touchscreen, however, which may be a dealbreaker for some people. We generally found it to be usable, and for the target demographic it's hardly going to seem all that hard to use. Samsung's menu lends itself fairly well to the touchscreen interface anyway, so the lack of physical controls shouldn't upset MV900F users much anyway.
The MV900F is razor thin—just 17.2mm thin, by Samsung's specs—and it will easily slip into your pocket. That doesn't leave much room for a grip though, make the camera much easier to shoot with when you've got two hands and a finger on each of the four corners. The MV900F does have the ability to stand on its own, which is nice, allowing you to place it on a table freely while you move backward for framing a group shot or self portrait.
The MV900F lacks a dedicated shooting mode dial (point of fact: it lacks any kind of dial at all), requiring the user to go into the menu in order to switch between the various modes on the camera. Each of these can be loaded up via the menu as you would an app on a smartphone. Generally selecting these modes brings you back to the normal live view shooting setup with a little tooltip window showing a blurb about what that mode can do.
The modes include the usual fare, with auto, program auto, HDR, and creative filters all on board. Samsung also included some of their own proprietary shooting modes, such as beauty shot, split shot, picture-in-picture, and our favorite: magic frame.
The Samsung MV900F operates almost exclusively via program automatic mode, employing an automatic exposure metering system. While we'll cover that later, the camera does offer two vanilla auto modes. The smart auto mode will make almost all of your settings for you, while those wanting just a little more control can utilize program auto to retain some measure of control over the camera's final settings.
Videos on the MV900F are recorded in AVCHD/H.264 compression, wrapped in an MP4 file with AAC audio compression. The camera can record in a variety of resolutions and frame rates, with a maximum of 1920x1080/30p. The specs for the MV900F also list resolutions of 720p, VGA, and 320x240, with all resolutions able to capture either 30 or 15 progressive frames per second. If you are willing to deal with the minimal resolution of 320x240 you can also record in 120p, useful for slowing down action when played back at 30p.
The MV900F's specs don't list an exact continuous burst rate, though we didn't find the camera to have any significant speed in the short time we spent with it. The camera captured shots on command, but we didn't have a chance to get a real impression of its shot-to-shot performance.
The camera does include an interesting mode called gesture shot, which allows the user to set the camera down, back up into the frame, and control various functions as you would use something like Microsoft's Kinect for the Xbox 360. The gesture shots that were demonstrated for us allowed you to wipe your hand to control zoom, moving your hand up and down in order to trigger a shutter on a self-timer. It was an effective, if imprecise, method of taking a self-portrait and was greatly aided by the flip-up LCD's size.
The Samsung MV900F includes basic playback modes, with the option to review photos and videos and their accompanying shooting information. The camera also allows you to apply some of the creative filters to a shot stored on your memory card, letting you create some interesting effects after you've captured a shot.
The Samsung MV900F can capture a maximum image size of 16 megapixels, with a resolution of 4608x3456. Users can also opt for a smaller image that uses a cropped portion of the sensor. These sizes include images of 14, 12, 10, 5, 3, 2 (wide), and 1 megapixel.
When you're shooting with the MV900F you can use focus in a number of ways, including the standard multi-spot, center, and face detection autofocus modes. The camera also includes Samsung's "smart touch," "smart face recognition," and one touch shooting, which employ the touchscreen to remain locked onto parts of the scene when taking photos. The camera does not include manual focus in any way, but it can focus down to 5cm when in macro mode.
It's pretty standard issue point-and-shoot metering with the MV900F, though the user can select from mutli-spot, center-weighted, and face detection metering modes, similar to the autofocus modes. The camera doesn't allow for much control, though there is a +/- 2-stop exposure compensation tool, letting the user have a little more control over the final shot's brightness levels.
If the camera isn't getting enough light, you can increase the camera's ISO setting. The MV900F includes an ISO range of 100-3200, with an automatic mode or the ability to select individual stops. Again, we won't know how usable the higher ISO settings are until we get the camera in for testing, but the addition of a backside-illuminated CMOS sensor (replacing the MV800's CCD) should help things considerably.
The MV900F has just the basics when it comes to coping with various color temperature light settings. You can select from auto white balance, daylight, cloudy, fluorescent H, fluorescent L, and tungsten lighting. If all that doesn't get the job done, you can take a custom white balance reading from a neutral-color card in the scene.
The MV900F includes optical image stabilization, though we were not able to confirm any details about its efficacy or design as of this review. In shooting with the camera in a fairly bright conference room we did not have any issues getting the camera to expose the scene, even at minimum ISO. While we didn't detect any immediate issues, the model we used was an engineering sample, and may not be representative of what a production-level MV900F is going to perform like anyway.
Samsung has pretty much thrown everything they've got in the MV900F in terms of creative picture effects. The camera includes some of the usual modes (panorama, HDR, low light, etc.), along with their proprietary magic frame photos. We are big fans of magic frame, because of how patently ridiculous the shots ultimately look. Sure, your high end photography friends may scoff that your MV900F doesn't have phase detection autofocus or an APS-C image sensor, but can they quickly and easily place your portrait on the face of a giant moon? Or on the front page of Breaking News on a newspaper? We thought not.
The MV900F is a standard point-and-shoot camera, though it features a backside-illuminated CMOS sensor. In front of that is a 5x optical zoom lens that now has a wider aperture, opening up as far as f/2.5 compared to f/3.3 on the MV800. The lens closes down to a maximum aperture of 6.3 when using the full telephoto focal length.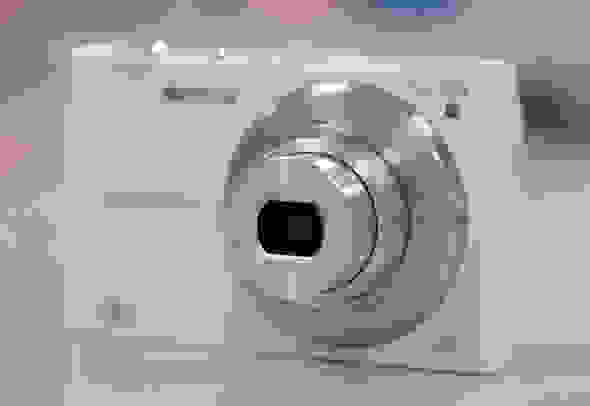 The MV900F features a 3.3-inch AMOLED WVGA display. While the AMOLED display doesn't have the highest resolution, it still manages to render crisp text and nice clean images. The display also holds very rich colors and very deep blacks, due to the AMOLED technology. Just like the MV800 it also has the ability to flip all the way forward, letting the subject easily position themselves in the frame. To aid shooting when the screen is flipped up the camera also includes a shutter button on the back of the camera, behind where the screen normally sits. This lets you frame a self-portrait at arm's length and still reach the shutter button.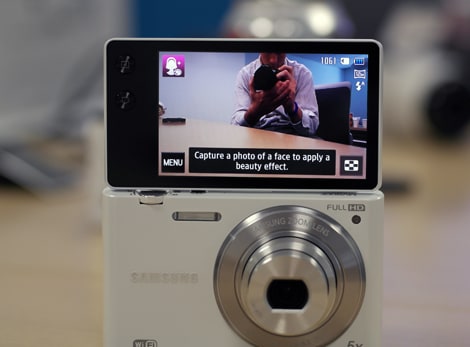 The flash on the MV900 is just a small thing, without a great deal of power. It has a maximum range of just 4.6 meters, though Samsung doesn't state at what sensitivity that spec is gathered from. The flash is positioned right on the front of the camera, however, and it's easy for your finger to fall in front of it accidentally.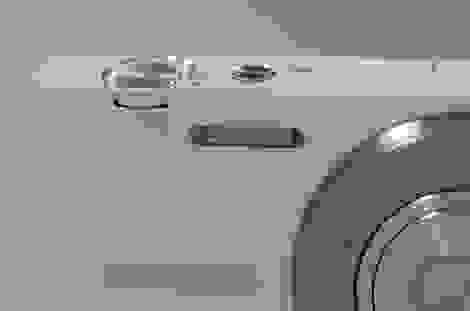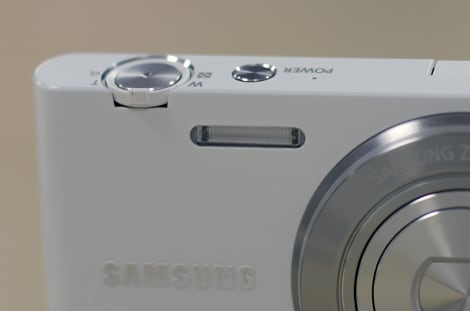 The MV900F doesn't include a great deal of input/output ports, with just a USB port located on the right side of the body.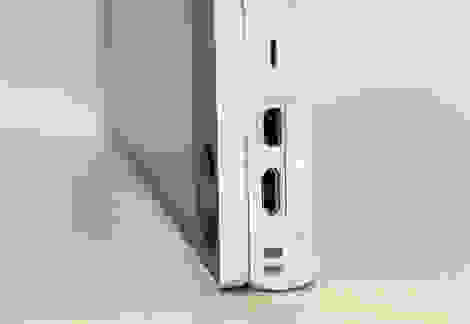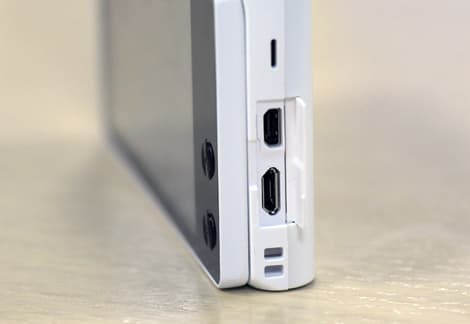 The MV900F uses a standard removable, rechargeable Lithium-ion battery that slots into a dedicated battery compartment on the bottom of the body. It's a thin little battery, given the camera's svelte size. The battery is model BP-88B, with a capacity of 880 mAh, though we don't have CIPA ratings on the battery as of yet.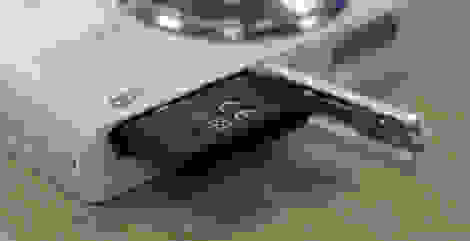 The MV900F uses standard micro-SD/SDHC memory cards, similar to some older Samsung point-and-shoot cameras. It's the same type of memory you'll typically see in most non-Apple smartphones, though it's a shame that some people will be forced to buy the smaller cards when they may have full-sized SDHC cards in a drawer somewhere.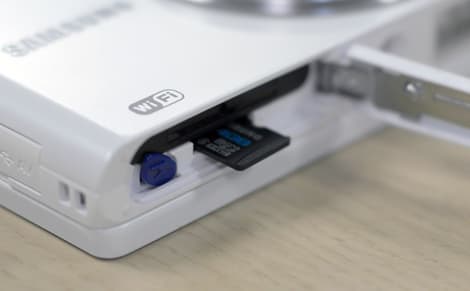 Samsung has toyed with multiple iterations and designs for cameras that allow your subject to view themselves while a picture is being taken. The MV (Multi-View) series, comprised of the MV800 last year and now the Wi-Fi packing updated MV900F, makes their original DualView concept seem like an ersatz knockoff by comparison.
If you need a camera that lets you set it down or hold it arm's length while you take portraits or group photos, this is the best way to go. The gesture controls bring a little Microsoft Kinect-style flare to the camera, as well, while the menu system is simple enough to use if you're familiar with the icon grid common to all the major smartphone operating systems.
While we do have to question whether anyone needs a camera specifically designed to do easy arm's length self-portraits, clearly Samsung found enough of a market to release this model. The MV900F doesn't seem to be totally replacing the MV800, however, so if you settle on this design you do have a choice to make.
To Samsung's credit, the MV900F isn't just a small spec bump, with a new backside-illuminated CMOS image sensor and a lens with a maximum aperture of f/2.5 (versus a normal CCD with a max aperture of f/3.3 on the MV800). The software improvements aside, those two upgrades should make the MV900F a more potent shooter in low light. In addition, the F stapled to the end of the model name signifies its use of built-in WiFi to stay connected, with some neat tricks such as Samsung's "remote viewfinder" functionality letting you control the camera with a connected smartphone in certain situations.
Is that enough to warrant an upgrade from MV800 shooters? Probably not directly, though we applaud any company that is going to focus on improved optics and sensor performance if they insist on bumping up the price. That isn't to say we're totally in love with all the design choices on the camera—micro-SD slots are not nearly as useful as full-size ones, for example—but we can see the MV900F's appeal, whether you want a simple solution for framing full HD video or just want some better Facebook-bound headshots than your phone can provide.
While I wouldn't expect us to get our duckface on when the MV900F hits stores near the end of August, you can expect us to put the camera through its paces in our imaging labs. When we do, we'll update you with a full appraisal of the camera's capabilities as a shooter.
Meet the tester TJ Donegan
Executive Editor
@TJDonegan
TJ is the Executive Editor of Reviewed.com. He is a Massachusetts native and has covered electronics, cameras, TVs, smartphones, parenting, and more for Reviewed. He is from the self-styled "Cranberry Capitol of the World," which is, in fact, a real thing.
See all of TJ Donegan's reviews
Checking our work.
We use standardized and scientific testing methods to scrutinize every product and provide you with objectively accurate results. If you've found different results in your own research, email us and we'll compare notes. If it looks substantial, we'll gladly re-test a product to try and reproduce these results. After all, peer reviews are a critical part of any scientific process.
Shoot us an email