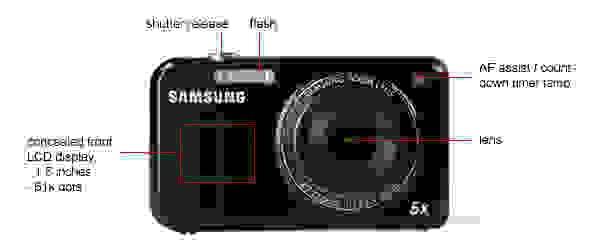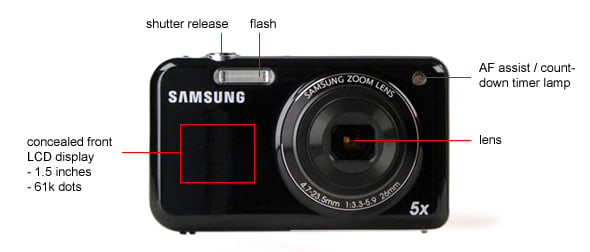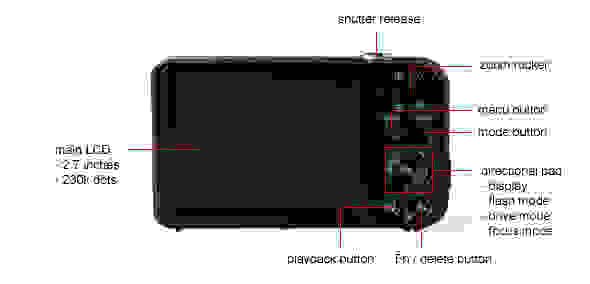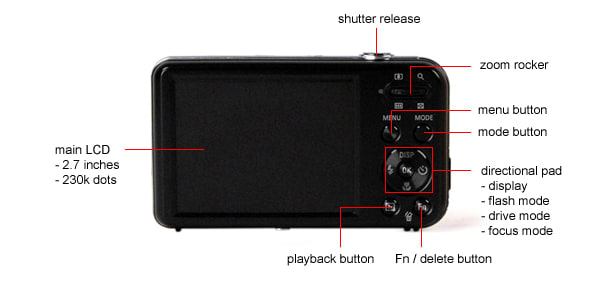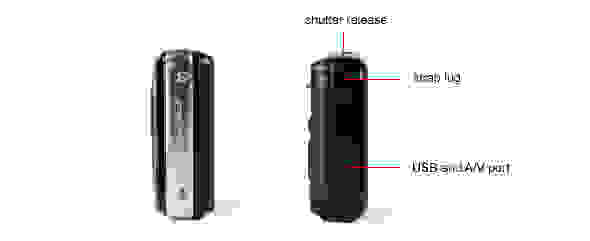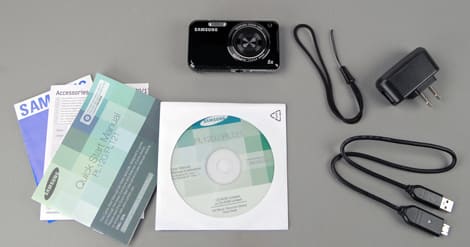 • Samsung PL120 Digital Camera

• AC Adapter / USB Cable

• BP70A Rechargeable Lithium-Ion Battery

• Wrist Strap

• User Manual CD-ROM

• Quick Start Manual
Color error results were what we'd expect from a point-and-shoot, around 3.00 flat in this lower-is-better test. For reference, an expensive SLR might score somewhere in the mid-two's, while a lousy point-and-shoot might register a 3.50 error rating or above. Since this model retails for only $120, the PL120's color accuracy is above average. More on how we test color.
Of the cameras we've tested in the DCI labs, Pentax's Optio RS1500, Panasonic's Lumix FP5, and the older Samsung TL225 are the most closely related in price and feature-set. In this group, the PL120's scores lies directly between the under-performing Pentax, and the shockingly accurate Panasonic. But the real story here is our PL120 versus Samsung's old TL225, which has a nearly identical configuration. The performance leap Samsung made here–in only a couple years–is impressive.
At this point we'd normally explain the differences in the behavior of a camera's color modes, however the PL120 has none. The default color reproduction profile is your one and only option, which at least made testing simpler.
Under normal light and at the lowest ISO setting, which in this case is 80, noise levels start out at a respectable 0.87%, essentially invisible. Noise does creep above 1% early, at ISO 200, before rising to 1.65% at ISO 1600. Like many point-and-shoots, these results are "too good," suggesting a software noise reduction algorithm working in the background. Unlike many point-and-shoots however, this algorithm did not produce inconsistent test results in which noise figures peak and valley as ISO increases, reducing image quality along the way. Although we could find no way to turn off this processing, at least the software seems to have been implemented intelligently, resulting in a smooth, natural trend. More on how we test noise.
In low light, sensors have a tougher time gathering sufficient light without introducing noise artifacts, so results were a little bit worse. 0.87% was our ISO 80 baseline once again, ISO 200 returned 1.25% noise, and this time ISO 1600 resulted in almost 2% noise, which is quite noticeable. Across all tests and light levels, average noise was 1.27%, which is certainly printable.
In our comparison group, no model can match Samsung's older TL225. This shouldn't be too much of a surprise, the TL225 was nearly three times the price of the PL120 at launch. Still, given the two year gap, we wish Samsung could've ported over some of its tech for this model.
Against similarly priced peers, the PL120 is dead average, resting comfortably between the Pentax and Panasonic.
The PL120's ISO options extend from 80 to 3200, although 3200 is a reduced resolution setting: three megapixels only. For that reason, our noise test only includes ISO's up to 1600. This is pretty much in line with the competition, although Pentax's RS1500 includes two reduced resolution options, 3200 and 6400.
NOTE: The images above are not used in our testing or scoring, but are included here to show real-world examples of the differences between cameras at the various ISO settings.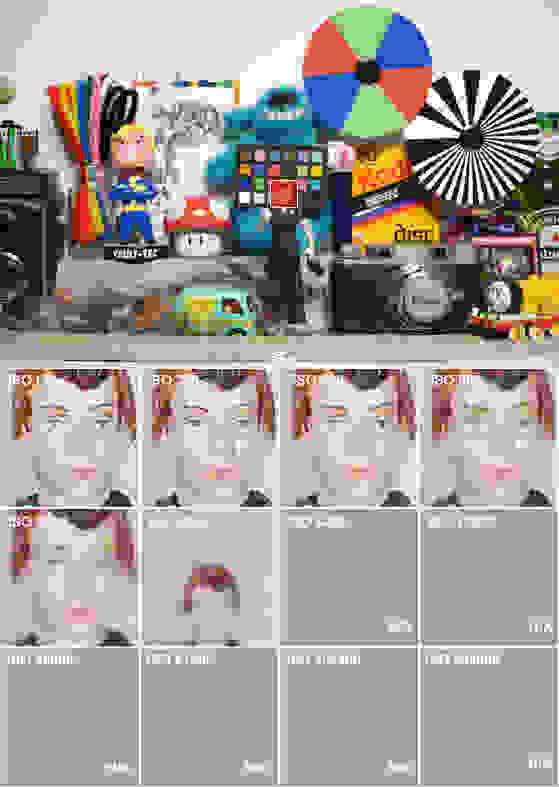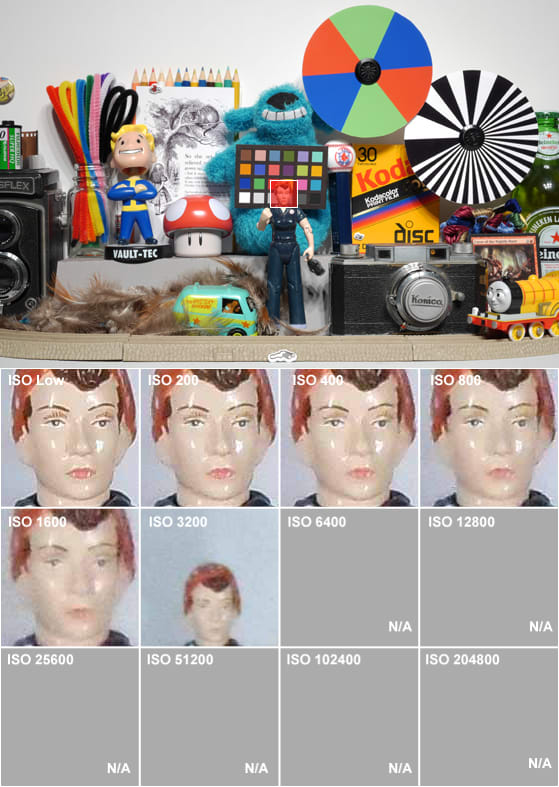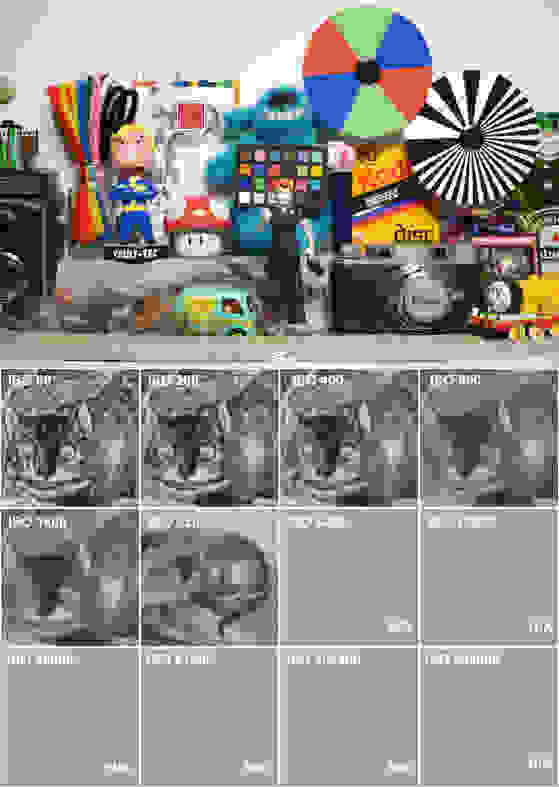 With only one color mode, it's difficult to say whether or not the PL120 is performing artificial sharpening on captured images, which would impact our test results. Either way, this camera's resolution performance is quite good, and detail level in all shooting conditions will be equal to or better than most other point-and-shoots in this price range.
The PL120's resolution score surpasses both the Lumix FP5 and the older, more expensive TL225. However, none are close to the Pentax RS1500, which achieved anomalous and frankly amazing resolution detail. More on how we test resolution.
Distortion ()
It's common to see image distortion at wide focal lengths, especially in smaller lenses. In this case, the PL120's -2.2% barrel distortion is very noticeable while zoomed all the way out. Shooting situations with straight, uninterrupted lines will be affected the most. In cases like this, either zoom in to about 2x, or compensate later in Photoshop.
Sharpness ()
Were it not for the Optio RS1500's incredible resolution, this Samsung would have easily led the pack in overall sharpness. Its score far exceeds the FP5 as well as the more expensive TL225. In our tests, we resolved the most detail at a mid-range focal length of 11.2mm.
Chromatic Aberration ()
The TL225 was prone to heavy chromatic aberration and we're happy to see this problem resolved in the PL120. Instances of color bleed and fringing are on par with the Lumix FP5 and very slightly inferior to the Optio RS1500.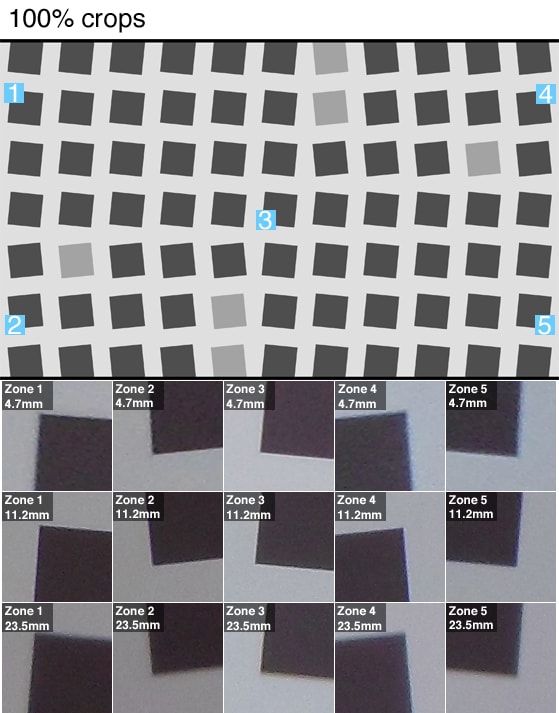 Eight different resolutions are available for still shooting, along with three levels of compression quality on top of that. We don't often find such a selection in point-and-shoots, although the option to shoot in RAW mode is not available, an oversight in our opinion.
Fun fact: the PL120 should've scored a -0.53 in stabilization according to strict math, however we don't give scores less than zero, so that will have to do. The PL120 is equipped with "digital image stabilization" which, if you know anything about "digital zoom" is about as effective as it sounds. In our test, image quality was actually 4% worse with stabilization turned on. In short, it is rubbing up against our test's margin of error. Suffice to say, this camera's stabilizer is entirely ineffective. At least there's an option to turn it off. More on how we test image stabilization.
The RS1500 is not equipped with a stabilizer, and the PL120's is useless, so the FP5 and TL225 easily win this comparison. While the chart below may suggest the FP5 is vastly superior, this is a flaw in our scoring procedures. The FP5 and TL225 actually perform similarly.
Video implementation is a little better than average on the PL120. Exposure is automated and a bit sluggish, but no worse than the competition. Focus is locked in once a recording begins, which is detrimental in scenes of movement or action. Optical zoom however, is available during shooting, a feature we don't often see at this level of camera.
Color accuracy while shooting video is very poor, as is the case with many digital cameras. However the PL120's score was much stronger than the TL225, which was a severe underperformer in this area a few years ago. More on how we test video color.
Video mode sharpness was also extremely poor, even at 720p and even more so than other models of this caliber. The PL120 resolved the least video detail of our entire comparison group: only 300 lw/ph horizontally and 350 lw/ph vertically. More on how we test video sharpness.
The first thing, sadly, that you'll notice about the PL120's playback mode is the sluggish interface. Access speeds are a little slow. But once inside, we found Samsung's interface to be pretty innovative. They've combined grid view with calendar view: images are displayed in grids of various proportions, while a scrolling horizontal bar at the bottom of the screen shows the date and gives you a sense where you are in the timeline. This horizontal bar can also be set to organize by other variables, including the dominant color of images or what the camera perceives to be the "type" of image (i.e. portrait, landscape, etc.).
A typical suite of in-camera editing is available. Resize, crop, rotate, red-eye correction, contrast and brightness, and even color space may be adjusted. Smart filters, which are mostly silly and fun overlays, may also be applied here.
The universal PictBridge standard is supported by the PL120. Size and index settings may also be adjusted for use with pharmacies and 1-Hour Photos, although the interface is a little clunky.
The PL120 has no viewfinder, so the 2.7-inch rear LCD is your only means of framing. 230,000 dots is plenty for a sub-$150 camera, and we found the color accuracy was pretty close to real life, perhaps a tad on the warm side.
We wouldn't be very thorough reviewers if we didn't mention the PL120's front LCD, a major selling-point of the model. This screen is intended purely for framing, so resolution, brightness, and color accuracy are drastically reduced compared to the rear screen. The coolest part of the front LCD is its ability to camouflage right into the camera's black body. When the front display isn't turned on, nobody would guess it's even there.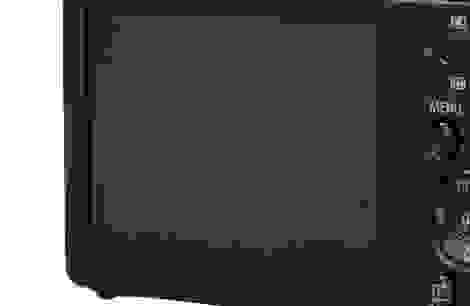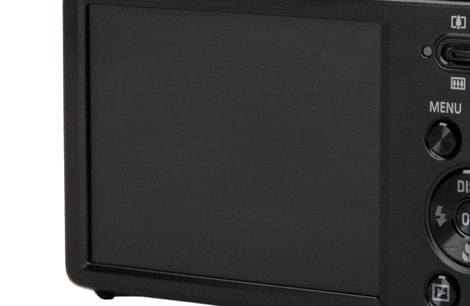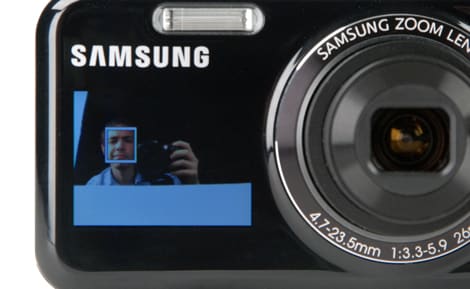 This camera's flash is placed below the shutter release, a pretty common location that will be just fine for most people. If you happen to be a giant, be aware that the right index finger may get in the way, resulting in blocked or uneven flash coverage. Recharge time is a major detractor here, often the wait can be as long as three seconds between flash shots.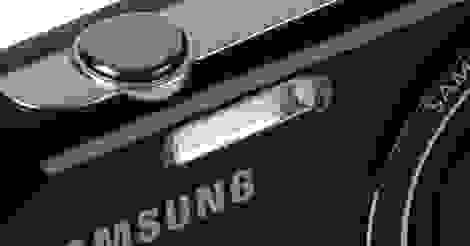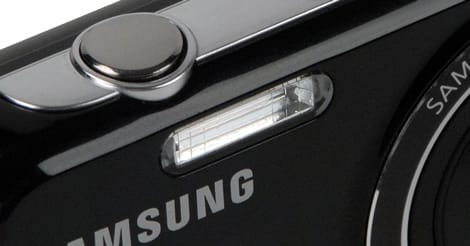 The Samsung-built 4.7 - 23.5mm lens is nice and large for a point-and-shoot. Its plastic enclosure won't resist a direct hit, but the assembly will automatically retract when it isn't needed, such as during playback mode.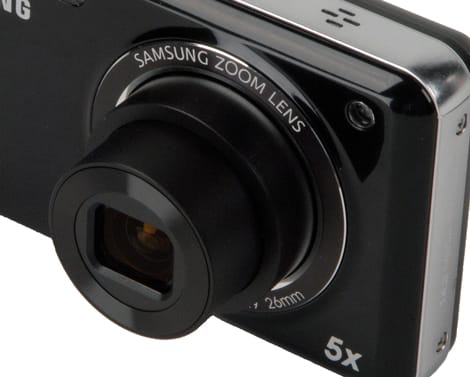 The lens is capable of 5x optical zoom, which is better than many point-and-shoots, including all of the models in our comparison group. A total of 25x magnification can be achieved with optical zoom but, like all digital zooms, it looks terrible.
Samsung used the BP70A lithium-ion battery for the PL120 and it stores a pretty decent capacity, which sped up the testing process quite a bit. The company does not state the CIPA rating for this battery and camera combination, but other models in this class often score in the vicinity of 200 shots.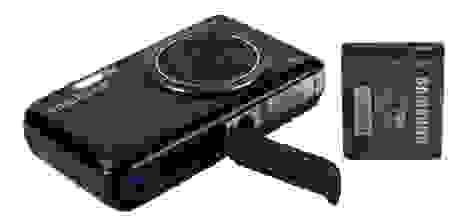 The PL120 uses microSD or microSDHC memory cards for primary storage, which are about the size of a fingernail and, as a result, are downright adorable. Capacities up to 2GB are guaranteed supported for microSD, 8GB for microSDHC. In lieu of a proper memory card, 29MB of internal storage is available in a pinch. That's enough for four or five shots at maximum resolution and quality.
Samsung's connectivity solution is a simplified, single-port method. This single output appears deceptively similar to an HDMI port, and handles battery charging, PC connectivity, and A/V output. A USB to AC adapter is used for wall socket charging, meaning that once the battery and memory card have been inserted, there's really no need to ever remove them. The PL120 will also charge up directly from a computer.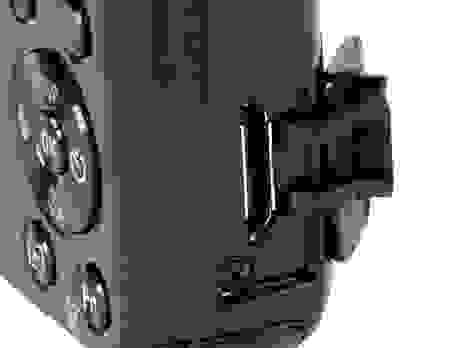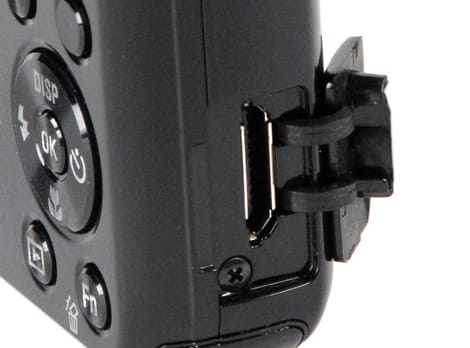 Four modes are available from their own dedicated button on the rear panel. Smart Auto selects all shooting variables for you, and is best for newcomers. Program is what you'll be using most often, and allows full control of most variables, except for shutter and aperture. This omission is common to point-and-shoot cameras. Movie mode is reserved for capturing video, and Scene mode is...a whole other story entirely.
Scene Modes
The PL120's scene mode options are extensive and entertaining. A full suite of modes are available, most with subcategories beyond that. These include Beauty Shot for smoothing skin, Text for capturing print, Sunset, Beach & Snow, Backlight, etc. Our favorite, Magic Frame, places subjects inside a variety of silly overlays.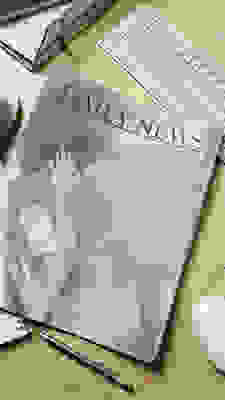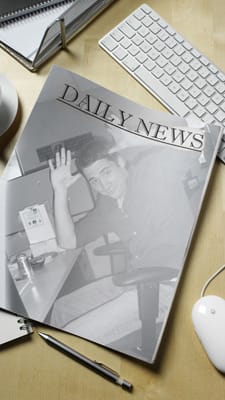 Drive mode may be set to single-shot or continuous full-resolution shooting. Motion Capture mode jacks up the shooting speed to over six frames per second, but resolution is locked at a paltry 640 x 480. A fourth setting, AEB or "Automatic Exposure Bracketing," shoots three full-resolution shots at varying exposure values.
The camera's self-timer is also better than average, with options for ten second and two second countdowns, plus a Double option that counts down from ten seconds before taking two shots.
Shot to Shot ()
The PL120 is only capable of less than one frame per second of full resolution continuous shooting. This is just as poor as most point-and-shoot cameras, which means that timing-sensitive shots must be captured with split-second accuracy, otherwise the moment will be lost. The Panasonic Lumix FP5 was actually the top performer of our comparison group, though it only managed 1.06 frames per second.
The PL120's simple rectangular form factor means it handles in much the same way as other, similar models. Rounded corners are nice for comfort–an improvement over the Pentax RS1500–but don't really improve handling in any noticeable way. Our biggest problem is the implementation of the front LCD, which must be activated using a shallow button on top of the body, then swapped to the proper setting using the rear panel directional pad. We would've preferred a scheme that could be activated entirely from the front, such as a single button, with better tactility, in a more obvious place.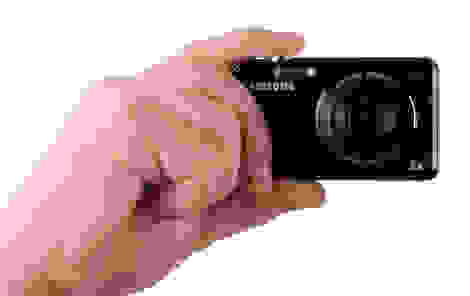 Once we move to the rear panel, things are much better. The button layout is familiar and clearly labeled. All buttons fall within easy reach of the right thumb, without necessitate any swap in grip or positioning.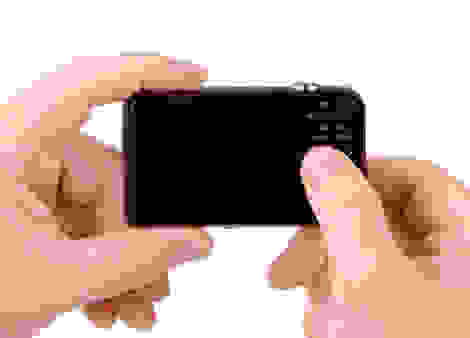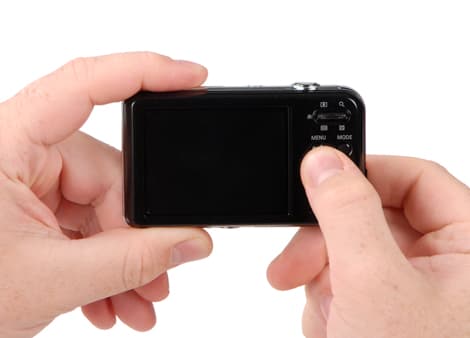 Rear panel buttons themselves all have a nice tactile click and feel great, with the exception of the OK button inside the directional pad, which doesn't have sufficient stroke to separate it from the surrounding pad. This can result in some accidental pressing of either the flash or timer keys. Samsung opted for a vertical orientation of the zoom rocker, rather than the usual side to side motion. We're indifferent as to whether this decision helps or hurts.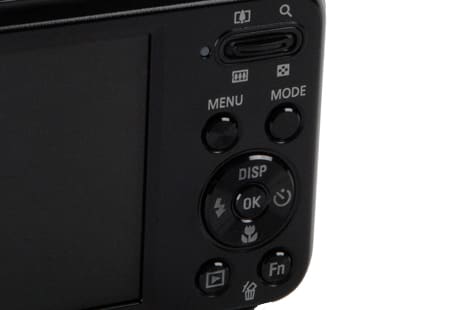 The remaining buttons–power, shutter release, and the aforementioned front LCD–reside on top of the body. The power button is nice and shallow to prevent accidental pressing, however the shutter button is way too stiff, with barely any stroke or tactile click. This makes the shooting experience far less precise than it should be.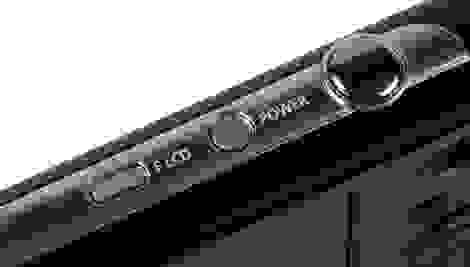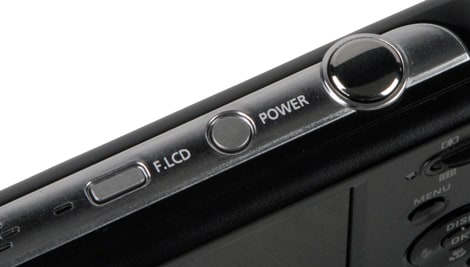 Samsung's menu system is excellent. Arranged simply along the x- and y-axes, navigating vertically selects different topics or sections, while navigating horizontally drills down to different options and settings. This organization is at its finest when using the Fn menu in Program mode, which allows the users to quickly adjust all shooting variables with a single menu.
The very same Fn menu mentioned above can be set to display short descriptions of each variable, empowering beginners without the need for a skim of the owner's manual. Speaking of which, no printed copy ships with the PL120, only a short "Quick Start Manual." Users would be to smart pop in the included CD-ROM, which includes an electronic version that is clear and complete.
The PL120's performance is superior to the Pentax Optio RS1500 in almost every way save for one major caveat: resolution. The Pentax is able capture far more detail than its tiny lens or tiny price point would suggest. Your shooting style will determine whether or not this is a deal-breaker. But remember, the PL120 does offer 5x magnification to the Optio's 4x, so this is a question of close-range detail, not landscape detail.
Aside from performance, you're also getting some significant extra features for only a few dollars more. The front LCD is the most obvious of these, but the Samsung also has a nicer body shape, somewhat better build quality, a far better appearance, and a slightly more efficient menu system. Other than the PL120's lousy shutter release and the RS1500's extra extended ISO, there's very little reason to recommend the Pentax over this Samsung.

/r:render
Performance ratings of the Panasonic Lumix FP5 were a bit of a mixed bag, color scores were off the charts, noise was solid too, but resolution was poor and image stabilization was only decent. In some ways, the PL120 and the FP5 are neck-and-neck. So we expect many customers interested in either camera will likely take note of the other.
But what the spec sheets don't tell you is that the FP5's handling and control is an unmitigated disaster. The Lumix's all-touchscreen interface is horribly unwieldy, often requiring twice as long to adjust a single setting. This effects every aspect of the shooting experience. Therefore, given the already similar test scores, there's just no way we would recommend the Lumix FP5 over the PL120.

/r:render
The Samsung TL225 debuted in 2009 at an MSRP of $350, nearly three times the current price of the PL120. But two years is practically an eternity in the tech world, and the results speak for themselves. In almost every test, the cheap PL120 exceeded its older brother. The TL225 still has superior noise performance, in fact it's ahead of this entire comparison group, but otherwise we're seeing a PL120 sweep across the board.
Since the feature set is practically identical across both cameras, we recommend saving your money and going with the newer, cheaper PL120.

/r:render
The front-facing LCD found on the Samsung PL120 indicates–at least to us–that this is a camera intended for the most casual of casual users, whose most common framing is the cheek-to-cheek B.F.F. self-portrait, bound for Facebook and tagging and commenting and maybe even some scrapbooking at the end of the semester. Yet the performance is nothing to sneeze at. While the PL120 didn't shock us with amazing score spikes, this Samsung posted solid results consistently. Averaged out, that makes it one of the strongest point-and-shoots in this price range.
If, on the other hand, you are not riding the social network wave, or wouldn't be comfortable rubbing cheeks with your B.F.F., we'd guess you may write-off the PL120. That may be a mistake. Accurate colors, low noise, high resolution, and a painless menu system lend this model some much-needed street cred.
Plus, the front-LCD is invisible until you use it anyway, and the price is so low, not even your wallet will know the difference.
Meet the tester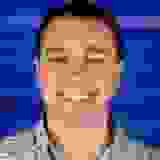 Christopher Snow
Managing Editor
@BlameSnow
Chris was born and raised less than ten miles from our editorial office, and even graduated from nearby Merrimack College. He came to Reviewed after covering the telecom industry, and has been moonlighting as a Boston area dining critic since 2008.
Checking our work.
We use standardized and scientific testing methods to scrutinize every product and provide you with objectively accurate results. If you've found different results in your own research, email us and we'll compare notes. If it looks substantial, we'll gladly re-test a product to try and reproduce these results. After all, peer reviews are a critical part of any scientific process.
Shoot us an email