The front of the V800 is dominated by the telescoping lens, which protrudes about an inch from the body when in use. On the left side of the camera (looking from the front) is a raised rubber bar that acts as a finger hold and the large, rectangular flash. Above the lens is a red AF assist light, and there's a small microphone for recording sound in movies below the lens. There's also a sensor for the optional remote control.
**Back

**The highlight of the back of the camera is the 2.5-inch LCD: half an inch larger than the display on theV700. Four multi-purpose buttons by the screen are used for switching to manual focus (and switching between photo albums in playback mode), auto exposure lock, a +/- button that gives access to RGB, ISO, white balance and exposure compensation (and deleting images), and playback mode (and flagging images for printing). To the left of these buttons is the 4-way control panel with a central OK button, which is used to navigate the menus as well as to add narration to photos, set the shooting mode, set the focus mode and the flash mode. At the top of the case is the zoom control. The USB 2.0 and DC inputs are under a plastic panel on the bottom right corner of the case.
**Left Side **
On the left side of the camera is the cover for the battery and SD Card slot. The cover fits on tightly and should protect the battery and card from moisture and dust. The camera is not waterproof, though. Next to the cover is the loop for the wrist strap.
**Right Side

**The right side is featureless except for a logo that advertises the MPEG-4 capabilities of the camera, in case you've forgotten what it is you've bought.
**Top

**On the top of the camera are the shutter button and a rotating control dial that's used for setting aperture and shutter in manual mode. There's also the mode dial and the power button.
**Bottom

**Except for the tripod socket, the bottom of the camera is a desolate wasteland, void of form or function.
**Viewfinder **
There is no viewfinder on the V800: everything is done through the LCD screen. This is pretty common with cameras of this type, and it isn't really a problem. The LCD screen provides a fast preview of the image that's good enough to shoot accurately.
LCD Screen

**
**The 2.5-inch, 230K pixel screen is quite bright and clear, with impressive detail and accurate color. We saw no evidence of solarization on this screen, but we weren't able to test it under different lighting conditions. Although the screen is smaller than the 3-inch screen on the Fujifilm FinePix V10 and the Kodak EasyShare-one, it's the same resolution. This means that it's not quite as good for showing pictures, but it's big and bright enough for a couple of people to view pictures upon it easily. We weren't able to test the coverage of the LCD against the recorded image, but it looked pretty close to 100%. The cover of the screen is shiny and can show reflections of lights above, though, which can be somewhat distracting.
**Flash **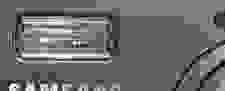 Samsung claims that the flash has a range of between 9.8 and 6.5 feet (at wide and telephoto zoom settings respectively), and our limited testing would seem to bear this out. Modes for auto, auto & red eye reduction, fill-in, slow synch and off are available: None of this is anything to write home about, but on the other hand it's not a lacking selection or range.
---
****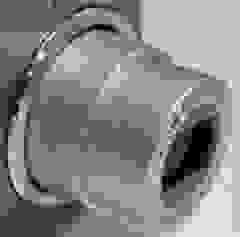 **Zoom Lens

**The lens is a Schneider-Kreuznach, the same type commonly found on compact Kodaks. It has 3x zoom with a range of 7.8 to 23.4mm. That's equivalent to a 38mm to 114mm on a 35mm film camera: a pretty standard range for a camera at this price point. When the power is turned off, the lens folds back into the case and a lens cap slides out to protect the front element. In macro mode, the lens focuses down to 4cm, and in our limited testing, the lens produced sharp images.
**Model Design / Appearance

**The V800 is housed in an attractively styled polished aluminum case, with rounded edges and smooth curves. It's available in light and dark silver colors. Upon first glance, it looks like many of the cameras in Olympus' D-series with its smooth, low-slung, and minimalist design.
**Size / Portability **
At 4.17 x 2.2 x 1.2 inches, the V800 is at the smaller end of the compact camera spectrum. It's a little thick to comfortably fit in a shirt or pants pocket, but it is small enough to fit into a handbag or coat pocket. The rounded edges help it to smoothly move in and out of such places.
Handling Ability

**The V800 handles well, with the rubber bar on the front acting as a finger hold that means it's unlikely to slip out of your hands. The shutter and zoom controls fall under the index finger and thumb, respectively, and the jog dial by the shutter button is comfortable to use. Samsung offers no edgy design innovations on this camera, and in doing so, they've stuck with what works.

**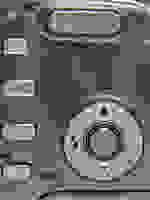 **Control Button / Dial Positioning / Size

**Although the numerous control buttons on the back of the camera are within easy reach of the thumb of the right hand, you really need two hands to use them: the right hand to hit the controls and the left to brace the camera and stop it falling out of your grasp as you do so. Although having plenty of buttons does make life easier by providing easy access to the controls, I'm not sure of the wisdom of putting controls like manual focus on dedicated buttons. Most users aren't going to use it that often, and the real estate could have been better used for another more commonly used control such as switching scene modes or disabling the screen backlight to save battery power.
**Menu **
The onscreen menus are complex, but reasonably well structured. There are a lot of options in there, but the text labeling them is easy to read thanks to the high resolution screen. The menus are broken down into 11 sections: metering, shooting, sharpness, effect, special effect, OSD info, Save Myset, setup, Mycam image size and image quality. This layout does mean that it can often take a lot of button pressing to get to the section of the menu you want, and some settings are a little buried. However, not all of the options are available in all modes: in the full auto mode, you can only access the size, quality, setup and OSD info menu items: the rest are locked out.
The onscreen display is also a little overwhelming, with up to 24 icons and settings displayed at once. Fortunately, most of them are only present when required (such as the aperture and shutter settings in manual mode), so the screen does not get overly cluttered.
**Ease of Use

**Although it is bristling with options and features, the V800 is a simple camera to use. The controls are logically laid out and the buttons by the LCD screen provide quick access to several commonly used settings; you can change the ISO setting with only 3 button presses, for instance, through the +/- button. That's a lot quicker than many cameras that bury it deep within a menu.
**Auto Mode

**The full auto mode of the V800 takes control of every aspect of the camera, except for image size and quality. You can't change any of the options for metering or exposure. The camera makes all such choices, locking out the menus completely. You can still change some settings, though, like enabling or disabling the flash or entering the macro mode, for example.
**Movie Mode

**The movie mode records movies at a maximum resolution of 640 x 480 at 30 frames per second (smaller resolutions and a 20 frames per second rate are also available) in MPEG-4 format. The recorded videos look pretty good, and the V800 is slightly unusual in allowing the use of the image stabilization feature when recording movies. Most cameras can't do this; those that can are general ultra zooms that cost one or two hundred dollars more. Movies can also be trimmed in the camera, so you can remove the boring bits if you're running out of space. The included Digimax Master PC software can also edit the movies, and includes the ability to add basic titles.
**Drive / Burst Mode **
In continuous mode, the camera was capable of capturing around 1.5 frames per second and writing these out to the SD Card. With the SanDisk Extreme 256MB card we used for testing, it was able to keep shooting for 8 seconds before it paused, requiring a few seconds to catch up.
**Playback Mode

**Captured images can be played back as thumbnails, single images or slide shows. They can also be organized into albums in the camera, ready for playing back in a slide show. A PAL/NTSC video output is also included. Narration of up to 10 seconds per image can also be added, and images can be resized (downwards only) or rotated within the camera.
**Custom Image Presets

**Choosing the scene mode on the mode dial offers a choice of 11 modes: night, portrait, children, landscape, close-up, text, sunset, dawn, backlight, fireworks, and beach and snow. It's a little awkward to switch between scene modes, though: you have to go into the onscreen menu and select scene, and then choose the mode. It would have been much easier to assign the jog dial by the shutter to change the mode or assign a dedicated button this task.
**Manual Control Options **
The V800 offers full manual control, including shutter priority, aperture priority and a fully manual mode. The latter is a little confusing: you have to use the ASM button to switch between the aperture and shutter, and then use the jog dial to make the adjustment. It's a little clumsy, but usable.
**Focus

***Auto Focus

*The auto focus was very responsive, quickly hunting down the correct focus point. However, you can't change the focus point. The V800 can only focus on subjects in the center of the screen. This is a limitation, but the manual focus is flexible, so focusing on off-center subjects is relatively easy to do.
*Manual Focus *
Manual focus is available and surprisingly easy to use: just press the MF button and use the jog dial to focus. It takes a few seconds to go from close into infinity, and it's easy with the sharp screen to see when the images are in focus. It's certainly no focus ring, but it's a lot better than using arrows on the four-way controller to manipulate a sliding bar in a menu, which is the preferred method on a lot of point-and-shoots or compacts.
**Exposure

**The aforementioned shutter priority, aperture priority and fully manual modes are on offer. Several scene modes affect exposure in predetermined ways as well, and there's an exposure compensation setting that allows for adjustment two stops up and down in 1/3-stop increments. All told, the range of exposure options on this camera is quite good.
**Metering **
Two metering modes are available: Multi (which evaluates the entire image, with weighting on the center of the image) and spot. It's surprising that a compact of this price doesn't offer a center-weighted option as well, which makes an appearance on cameras as early as the $200 mark, although, to be fair, the Multi mode is somewhere between being an overall and center weighted mode.
**White Balance

**Various white balance settings are offered: auto, daylight, cloudy, fluorescent H, fluorescent l, tungsten and custom. The last allows you to enter a color temperature manually, which is something of a rarity in cameras of this type.
**ISO

**The ISO range is adequate: there are settings for 50, 100, 200 and 400, which has been the standard range for compacts. There's also an auto setting that will probably be the most commonly used one.
**Shutter Speed

**In most modes, the shutter speed range is from 1 to 1/2000 of a second. In manual mode, this is stretched to 15 seconds, and night and fireworks mode stretch this to 8 and 4 seconds respectively. However, noise may be a problem in the longer exposures as there's no noise reduction function.
**Aperture **
The Schneider-Kreuznach lens has an aperture range of f/2.8 to f/5.1. This is a limited range, even for a compact, but will still enable users to pull in plenty of light, while still closing down to provide decent depth of field.
**Picture Quality / Size Options

**The V800 provides a good range of image size options, from 3264 x 2448, 2816 x 2112, 2272 x 1704, 1600 x 1200 and 640 x 480 pixels. For image quality, there are four choices: super fine, fine, normal and TIFF. The latter is a nice inclusion on a camera of this cost and provides the best quality, but it produces extremely large files. A single file can fill up the 32MB of internal memory on the camera, and they take a long time to write out to memory card.
**Picture Effects Modes

**A few very basic effects modes are offered: there's a black and white, sepia and colored mode (which tint the black and white images). There are also a number of special effects, such as a focus frame effect that blurs the background slightly while keeping the subject in focus, to mimic shallower depth of field. You can also add a photo frame to an image; 9 different frames are included. These aren't particularly useful. Both are interesting ideas, but the frames are rather cheesy and you can get much better effects in an image processing program on your computer.
**Connectivity **

*Software

*Samsung includes their Digimax Master and Digimax Reader software with the camera. We did not get an opportunity to explore any software at CES, and thus far this is the first Samsung
camera DigitalCameraInfo.com has reviewed. We can't even guess what the software is like; check back later for our full review.
*Jacks, Ports, Plugs

*USB and A/V cables are included for connecting the camera to a PC/Mac and TV.
*Direct Print Options

*The V800 supports both DPOF and PictBridge for printing images without a PC, which is more or less expected; a camera at this price point that does not include direct printing—or at least a dock that can lend a hand in it—is nearly unheard of.
**
*Battery

*The rechargeable battery is a 3.7V lithium-ion model that holds 1130 mAh of charge. Samsung claims a battery life of around 260 shots: very acceptable for a camera of this size, although still far short of the 400-500 shots top enduring models boast. We were unable to test the V800's true stamina at the CES show to verify battery life.
*Memory

*20MB of internal memory is included, which is enough for 4 images at the highest resolution and quality. Additional storage is added through the SD Card slot, and you can copy images from the internal memory to the SD Card. It's a useful feature if you start shooting and realize you've forgotten to put the card in, or run out of space.
**Other Features

***Auto Focus Bracketing –* This feature works rather like exposure bracketing, but for focus: it takes a sequence of pictures at different focus points, hopefully avoiding any photos that may be missed because the focus is slightly off. The more common exposure bracketing is also included, although you can't use both simultaneously.
*MySET – *This allows you to save sets of commonly used settings, then flip between them quickly. It functions sort of as a custom scene preset mode.
**Who It's For

***Point-and-Shooters -* The full auto mode takes control of the camera and makes good choices, but the number of buttons on the back of the camera, and the number of menu options, might overwhelm some users who just want to point and shoot.
*Budget Consumers - *Well priced for a camera that offers manual control, the V800 is a good value for the money. But there are cheaper cameras out there for deal hounds.
Gadget Freaks - With a stylish design and svelte good looks, the V800 will appeal to certain tastes, but there are no gadgety innovations on board.
Manual Control Freaks - Those who hate the idea of a computer making their photographic choices for them will like the V800: it provides a great selection of manual controls for $400.
Pros / Serious Hobbyists - Although it won't find much favor with professional photographers, the V800 does provide the level of control that more serious photographers are used to. It's certainly not as flexible as a digital SLR, however, and there's a reason the Samsung name is not intimately associated with high-end photographic equipment.
**
Conclusion

**The V800 packs a lot of features into its small case: it provides a high level of manual control, plus image stabilization that works effectively in still and movie mode, the latter of which is very usable mode for capturing video. It shoots high resolution images and would be a good choice for the shooter who wants the simplicity of a point-and-shoot in a small package, but with the ability to dip into manual control occasionally.
But is it too good to be true? Conditions at CES aren't the best for serious testing, and Samsung does not yet have solid street credit as a big camera manufacturer in some circles. So far, it looks like they're heading in the right direction, but only testing will tell if Samsung has seriously thrown down the gauntlet with this year's offerings.
Meet the tester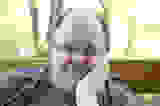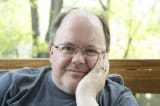 Richard Baguley
Contributor
@
Checking our work.
We use standardized and scientific testing methods to scrutinize every product and provide you with objectively accurate results. If you've found different results in your own research, email us and we'll compare notes. If it looks substantial, we'll gladly re-test a product to try and reproduce these results. After all, peer reviews are a critical part of any scientific process.
Shoot us an email