When manufacturers chase these trends, especially at the low end, there's a tendency for gimmickry to overpower image quality. That may be the case here. We spent some time with the WB150F and our shooting experiences and our test results were both mixed.
The WB150F has a sleek, modern appearance, but a few handling aspects indicate that perhaps looks took precedence over functionality.
The WB150F has a smooth, modern chassis. This aesthetic commitment translates well on the shelf, but it doesn't do much to benefit handling. This is a slippery camera. The one major ergonomic feature is the large hand grip on the right side. The barrel of the Schneider-Kreuznach lens suffers from jumpy mechanical action and a sticky zoom lever (which causes the lens to extend or retract). No viewfinder is included, so framing is limited to the 3-inch LCD. This display has a narrow viewing angle and less detail representation than its 460,000-pixel resolution suggests.
This display has a narrow viewing angle and less detail representation than its 460,000-pixel resolution suggests.
On the rear panel, clearly labeled buttons are arranged in a typical manner: four individual buttons surrounding a directional pad, plus a video hotkey. The menu system is divided into an easily accessible quick menu and a more in-depth main area. The quick menu holds Program Mode necessities such as exposure compensation, ISO, stabilization, and all the rest. Though this interface is highly intuitive, it automatically closes after each selection—a real pain if you have numerous changes to make. Weirdly, the main menu must be accessed from the mode dial.
Some features aren't as terrific as they sound.
The WB150F has a fine variety of shooting modes. A Smart Auto mode completely automates all shooting variables, but affords users the freedom to manually toggle a few options such as self-timer and flash. No mechanical manual controls are included (don't be fooled by the textured lens ring), however the full range of shooting modes do allow complete control over exposures. We hate the Program Auto though; it will not automatically increase sensitivity beyond ISO 400, yet there's no menu option to fix it. This really takes the "Auto" out of "Program Auto" in our opinion. Finally, though we always prefer hardware mode dials, this one overstays its welcome. In addition to the usual shooting modes, this dial has stops for the main menu, and even for a dedicated WiFi mode. There's no reason for extra steps like this, and it burdened the shooting process considerably, especially while first getting to know the camera.
So-called "high speed shooting" features are a bit of a joke.
As for creative software, in-camera editing is limited to the absolute basics, without even the option to remove red-eye. The WB150F does not define any individual color modes, but we think that's okay, since we normally find them pretty redundant. So-called "high speed shooting" features are a bit of a joke, seeing as they aren't speedy at all (or if they are, resolution must be low). Further, the Remote Viewfinder—which is supposed to turn a smartphone into a handheld viewfinder—does not even seem to function.
As usual, a big fat zoom casts considerable gloom over image quality.
Color accuracy and custom white balance are bright spots in the WB150F's iffy performance results. Mediocre resolution and poor noise reduction made for some unattractive shots, especially indoors, and the giant 18x zoom didn't help matters. Before you start to think that the camera's optical stabilizer will help matters, think again. This feature frequently damaged image sharpness, and we recommend using it as little as possible.
Noise rates are quite low at the bottom of the ISO spectrum.
Indoor shooters will not be able to use this camera effectively without flash. Noise rates are quite low at the bottom of the ISO spectrum, but above ISO 200, the influence of noise and destructive noise reduction become exponentially more pronounced. And the maximum ISO, 3200? Just don't use it.
Next, despite a decent feature set, this camera is a slow poke. At full resolution and quality, the "continuous" shooting mode shoots at only 0.66 frames per second. Motion Capture mode is much better, over 8 frames per second, but resolution is limited to a paltry 640 x 480. This camera is not capable of lossless RAW encoding, however JPEG compression quality levels are user-selectable from Normal, Fine, and Superfine.
Lastly, we don't believe there's a strong case for embedded WiFi. More often than not, the process of uploading content to a nearby PC or tethered device with a gimmick like this is much slower than just popping out the memory card and going to town.
This may be this year's best option for under $200, but that doesn't necessarily mean that you should buy it...
There are plenty of better alternatives to the Samsung WB150F, and many of them were released so long ago that street prices will equal this aggressive $229 MSRP. Nearly every feature and every test result you see in this review has been bested by someone else.
Sure, we were moderately impressed by the camera's color accuracy score, but practically none of the photos were sharp enough. Thus, with image quality out the window, it fell to this camera's feature set to provide any potentially redeeming qualities. The full range of manual controls were nice, but the limited Program Auto mode made indoor shooting a real pain. Continuous shooting is almost as slow as single shot shooting with other cameras, and the Motion Capture mode is faster, but at that resolution, you're better off just shooting video.
Samsung has designed some fantastic examples of tech, but this isn't one of them.
Wi-Fi, a highly advertised feature of this camera, never worked the way we wanted it to, and wasn't really a selling point for us to begin with. The 18x lens is impressive, but without decent image quality there's no point. They even put the flash emitter on the hand grip. Seriously, is there a worse spot for a flash bulb? Samsung has designed some fantastic examples of tech, but this isn't one of them. We don't recommend the WB150F.
UPDATE 12/04/12

As sharp posters have pointed out, the WB150F is both the winner of our "Best Camera for the Money" award for 2012, and not "recommended" in the review itself. How embarrassing....
The truth is, nobody released a high-quality camera for under $200 in 2012. Yet out of all the sub-$200 cameras (or cameras that fell under $200 due to a price drop, like this one), the WB150F earned the highest scores. If you absolutely cannot spend more than $200 for a camera, here's your best choice. We understand people are on a budget, may not have a smartphone, and still want a new camera for themselves or as a gift.
Our recommendation for those who have a little more of a budget is to step up to something like the Canon S-series, or maybe a Sony NEX-F3. You could also opt for an older Micro Four Thirds camera (some of those are available for under $200 body-only) or a compact camera from years past.
Despite an encouraging color accuracy score, the WB150F's resolution and noise reduction result in unattractive shots, especially indoors. It's hard to recommend a camera that produces images like this—and it's a real slow poke, too.
Color accuracy and custom white balance were about the only bright spots in performance testing.
The WB150F returned an error value of 2.86 in our color accuracy test, slightly better than the 3.00 average. Greens and skin tones are among the most accurate shades, and in practice our shots of human subjects were flattering even in low or mixed lighting conditions. Samsung is not the first company we think of when it comes to color accuracy, so hopefully this represents a big step in the right direction for them.
Custom white balance is highly accurate.
White balance accuracy was a mixed bag. Tungsten light is handled especially well by the automatic method, with an error of only 300 degrees Kelvin. However, daylight is also off by 300 K, and we expect much better accuracy at this temperature. Custom white balance is highly accurate, though, with no light sources producing errors greater than 100 K. On rare occasions, the custom option accidentally came up with a wildly inaccurate reading, necessitating a do-over to fix it.
Indoor shooters will not be able to use this camera effectively without flash.
If you're in need of better low light performance—and who isn't—Casio's ZR100 is the strongest choice in the category, followed by Sony's HX9V. But if you're stuck with the WB150F, take advantage of its manual control by opening the aperture, slowing down the shutter, and bringing along a tripod.
Noise rates are quite low at the bottom of the ISO spectrum, however above ISO 200 the influence of noise and destructive noise reduction become exponentially more pronounced. Noise crosses a full 1.00% at ISO 400, which is a bit early. Beyond that, noise increases quickly but shots are still serviceable up to and including ISO 1600. As for the maximum ISO, 3200, we don't ever recommend shooting at that sensitivity. Frustratingly, the Program Auto shooting mode will not meter above ISO 400, even though the shots still look okay. This adds quite a bit of extra work to everyday use, and there seems to be no way around it.
Fringing is unavoidable from a lens of this design, and pincushion distortion is noticeable to even the untrained eye. Things aren't particularly sharp either.
On a body of this size, the 18x lens is very ambitious, and unfortunately this results in a mixed bag of sharpness scores. The WB150F should not be considered a particularly sharp camera, however, our tests did record some decent detail in certain zones, likely due to both software edge enhancement and sweet spots in the lens. If you're stuck shooting detail with this camera, we recommend limiting your focal length to the minimum and ignoring the rule of thirds by keeping important subjects at the center of the frame. And before you get to thinking that the image stabilization will help, note that this camera's optical stabilizer actually worsens sharpness by 18% on average. Avoid using this feature unless it's for assistance with framing long zoom shots.
Blue and yellow fringing is quite common and this problem is exacerbated by extending the lens. As always, high contrast areas are the worst offenders, so when shooting scenes like this be sure to zoom out all the way.
Although this isn't a 1080p device, the video feature set is fairly strong for a compact camera.
Maximum video resolution is only 720p, though it's also possible to record at 480p or 240p. Frame rates of 30 or 15 frames per second are available for each resolution. Many shooting variable are adjustable too, such as EV, white balance, focus mode, metering, self-timer, image stabilization, and even Scene Detection. Optical zoom is unlocked while a recording is in progress, though the lens' movement speed is slowed considerably to reduce mechanical noise. Unfortunately, such noise is still audible in recorded clips.
For a 720p video device, this one isn't very smooth. Moving subjects have a bit of a stutter to them, and are usually surrounded by some compression artifacts. We're sure a 60p option would've improved things, but this camera just doesn't seem to have been designed for video.
The WB150F resolved 400 lw/ph horizontally and 450 vertically in our video sharpness test, making it a below average performer. Casio's ZR100 offers the best resolution in this category for video, and also features a slew of the ultra high speed video options that Casio is known for.
Meet the tester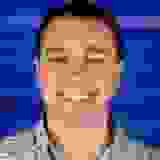 Christopher Snow
Managing Editor
@BlameSnow
Chris was born and raised less than ten miles from our editorial office, and even graduated from nearby Merrimack College. He came to Reviewed after covering the telecom industry, and has been moonlighting as a Boston area dining critic since 2008.
Checking our work.
We use standardized and scientific testing methods to scrutinize every product and provide you with objectively accurate results. If you've found different results in your own research, email us and we'll compare notes. If it looks substantial, we'll gladly re-test a product to try and reproduce these results. After all, peer reviews are a critical part of any scientific process.
Shoot us an email