One certain cure for this affliction is simply buying your own WB750, into which Samsung has managed to cram a full 18x optical zoom–unheard of for an ultracompact body. This makes for one impressive spec sheet, but extreme zooms too often signal the arrival of poor image quality. That's certainly a worry for this ambitious model but, as always, we let our tests decide.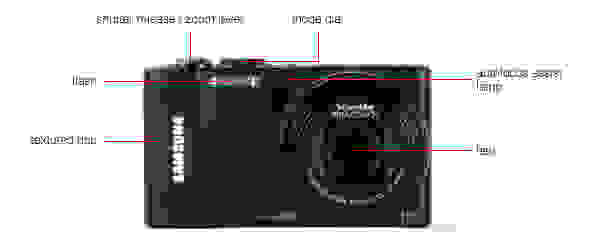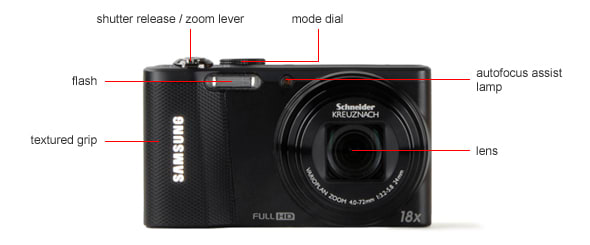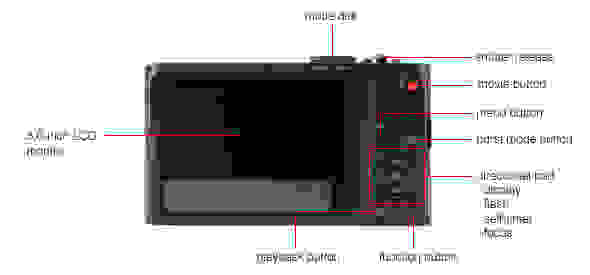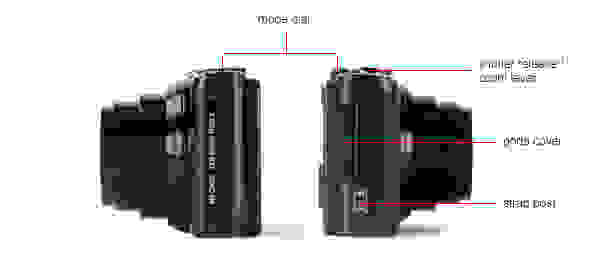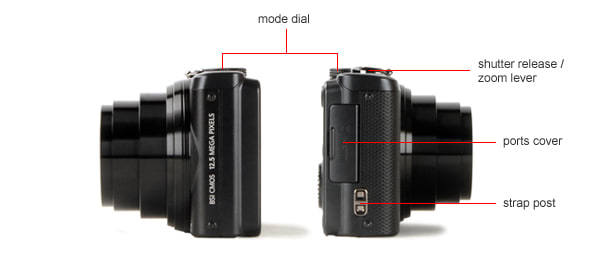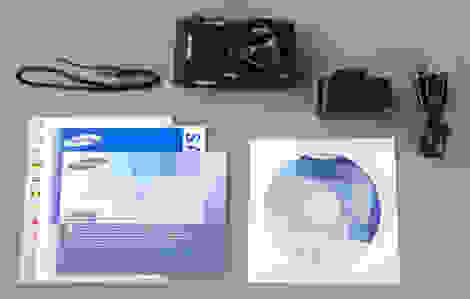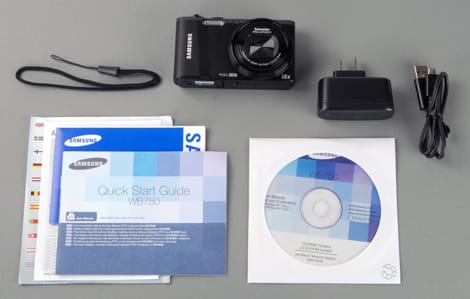 In the box:

• Samsung WB750 digital camera

• wrist strap

• USB / AC adapter

• USB cable

• user manual CD-ROM

• Quick Start Guide

• warranty and accessory pamphlets
The WB750's color performance is only slightly worse than average, returning an error value of 3.25 in our test. The gamut was oversaturated by about 8%, and the most inaccurate shades were light blues and dark yellows. Since yellows are responsible for skin, this is going to be detrimental to accurate rendering of human subjects. More on how we test color.
Fujifilm's F600EXR is similar in design to the WB750 and is a more color-accurate alternative, though not by very much. Test results are also slightly better than Casio's EX-ZR100, and slightly worse than Nikon's Coolpix S6200.
No individual color modes are available, such as vivid, neutral, etc. But we think these can often be confusing and redundant, so they usually aren't missed. Still, a more accurate color mode would've been nice.
Our noise tests are skewed here by a heavy dose of smoothing software that takes off at ISO 400 and continues up the ISO spectrum. The result is a noise ratio that stays pretty consistent at 1%, regardless of which ISO you're shooting at, save for 1600 and 3200. Noise most often manifests itself as luminance artifacts, so affected images will exhibit more grain than color splotches. More on how we test noise.
Noise performance is actually a little bit better in low light, though only by an imperceptible 0.04% overall average. We had no trouble metering the WB750 for our 60 lux test, which is always a break, and can confidently name this camera a solid low light model.
Casio's EX-ZR100 is the top performer of our comparison group by this metric, but does so by cheating. The ZR100 is even more reliant on noise reduction than the WB750, which comes in second place.
Available full resolution ISO levels extend from 100 to 3200, with no reduced resolution settings available. ISO's above 3200 are rare in this class and, as for this group, offered only by the Fujifilm F600EXR.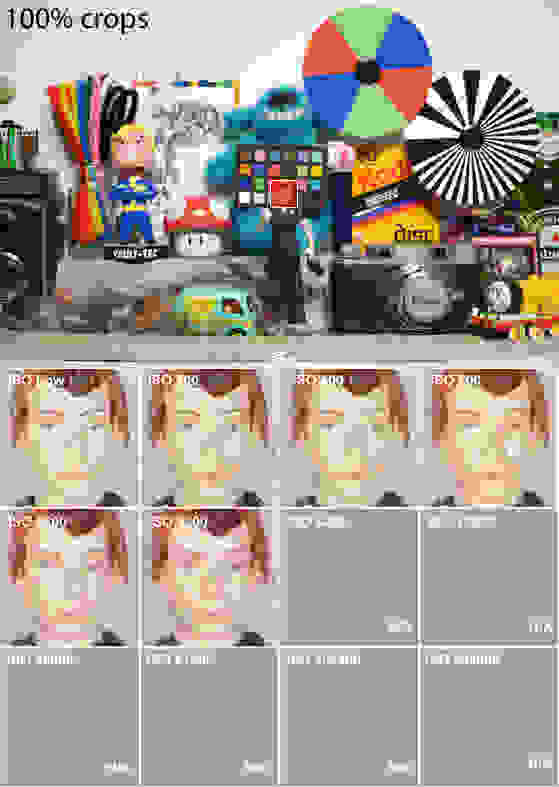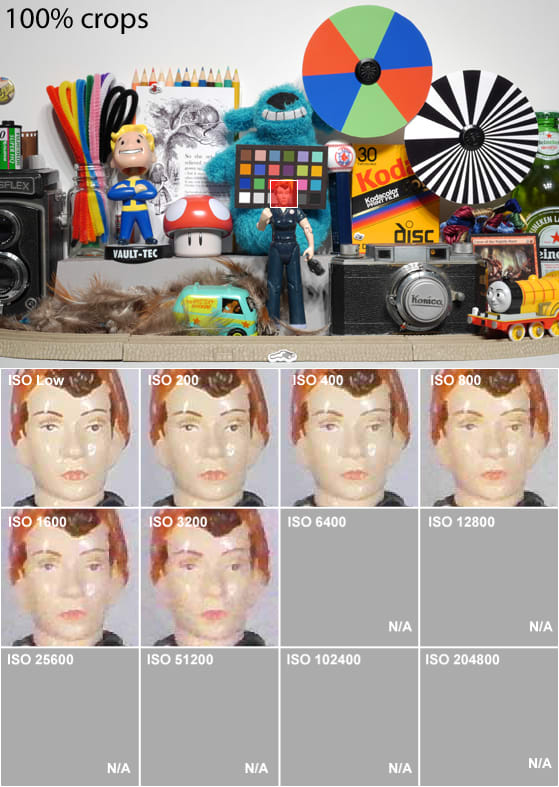 NOTE: The images above are not used in our testing or scoring, but are included here to show real-world examples of the differences between cameras at the various ISO settings.
All of the WB750's resolution results are entirely average. But, given this lens' ambitious zoom ratio, the fact that scores didn't fall off a cliff is impressive anyway. More on how we test resolution.
Distortion ()
Maximum scores like this one aren't uncommon for distortion, since the effect is predictable and easily corrected in software. But if any lens was going to make us worry about distortion it's this one, so we're happy to see the effect minimized here.
Sharpness ()
Images are generally sharp at the frame's center and the shortest focal length, however the WB750 has trouble preserving detail toward the edges of a shot or as focal length extends. A similar effect is found on the remaining cameras of this comparison group, except for Nikon's S6200, which runs away with this test.
Chromatic Aberration ()
Since chromatic aberration tends to go hand in hand with sharpness, we were expecting worse results from the WB750, but in reality this camera's CA performance is average. None of the cameras in this comparison group can boast excellent performance in this regard, but at least the WB750 stays competitive. Purple fringing is the most common, and can usually be found at the extremes of the frame and at the longest focal length.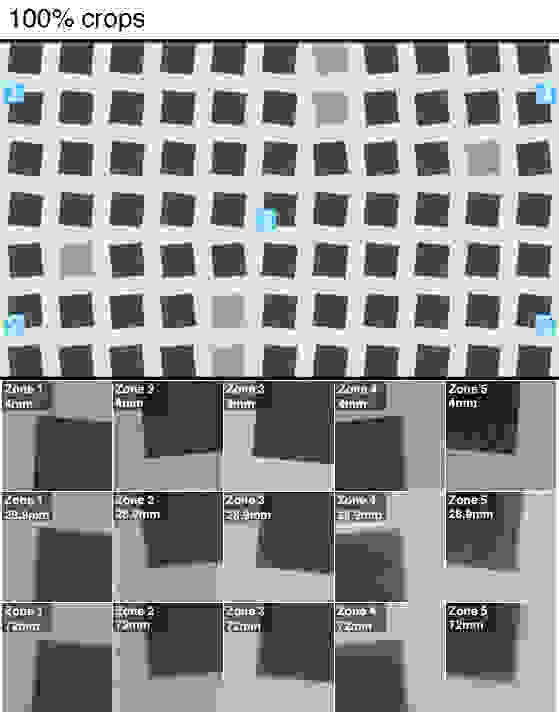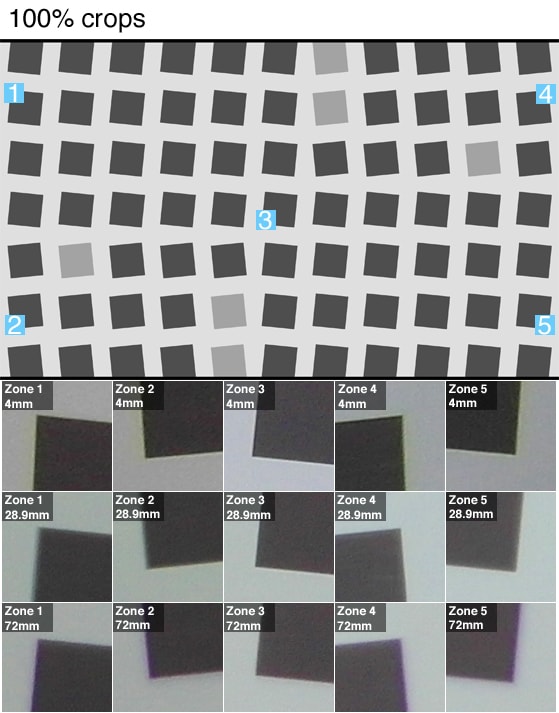 A total of eight shooting resolutions are available, consisting of mostly 4:3 aspect ratios, but also a 3:2 and two 16:9 dimensions. JPEG compression can be further adjusted between Normal, Fine, and Superfine quality levels. The WB750 does not support lossless RAW encoding.
The WB750's optical image stabilization is actually fairly strong. In our shaker test, the camera was able to resolve an average of 51 MTF50s of detail without stabilization, and 85 with the feature active, an improvement of 40%. More on how we test image stabilization.
While Samsung's method isn't quite as useful as those employed by the Fujifilm F600EXR or the Nikon S6200, we've found stabilization to be very hit-or-miss, and the fact that this implementation even works is impressive. Casio's ZR100, for example, offers a shake reduction feature however it an almost entirely ineffective.
Videos are recorded at a maximum resolution of 1080p at 30 frames per second, and encoded in H.264. Stereo microphones reside on the top panel of the camera's body, and they may add a little depth to recorded audio. Clips may be no more than 20 minutes long, but optical zoom is unlocked while recording, though at a reduced speed. Autofocus is also enabled while shooting a video, and macro focus may be selected from the menu.
The WB750 is not the most color-accurate model for shooting video, in this comparison group that honor goes to the Fujifilm F600EXR. Samsung's error rating shot up to 5.74 while shooting movies, though saturation was close to ideal. Color inaccuracies were spread evenly across the entire spectrum, with all shades darker than they should be. More on how we test video color.
Video sharpness is a major problem for the WB750, and while this is true of many cameras in the class, this model's performance is worse still. The sensor could manage only 400 lw/ph of detail horizontally and a paltry 200 lw/ph vertically. This is the worst result of our comparison group. More on how we test video sharpness.
The systems and features found in the WB750's playback menu are mostly common to other devices, and especially other Samsung models. A few exceptions are cool details like videos that preview in grid mode, an automatically scrolling calendar bar at the bottom of the screen, and automatic sorting based on type, date, week, or face. Unfortunately the interface is sluggish, with frequent half-second delays that soon become very annoying.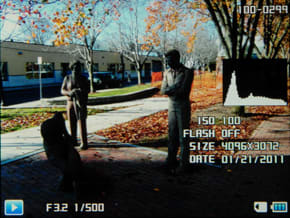 Many in-camera editing functions are available, from basics like crop and resize to advanced features like face retouch and application of smart filters. For the most part, these smart filters mirror the ones available from the shooting menu, so refer to the Controls page for more detail. The options round out a very full-featured review mode, it's just a shame the interface is so slow.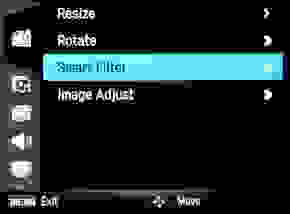 Direct printing can be accomplished via the standard tagging method, or images may be either indexed or arranged by printing size. A maximum of 30 copies is possible per picture, with size tagging for 3x5, 4x6, 5x7, or 8x10 prints.
The 3-inch, fixed position LCD monitor is a low resolution model with a narrow vertical viewing angle. This may present some difficultly while shooting stills or videos overhead, such as during concerts or public events. Accuracy is also pretty far off, the onscreen rendering of colors is far cooler than real life.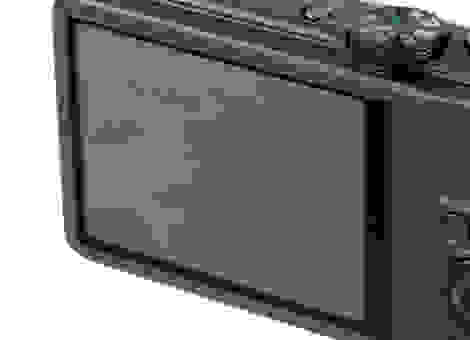 The WB750's flash emitter is placed in a decent but not ideal spot, bordering the top of the right hand grip. Positioning of the right index finger frequently obscures the right side of the bulb, resulting in uneven flash across the scene. Recharge speed is also a major problem for this camera's flash, it can take up to four full seconds to cycle for another shot.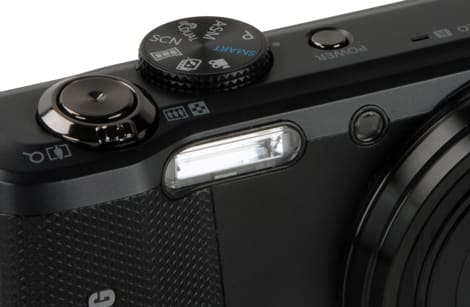 The 18x Scheider Kreuznach lens is the main selling point of this camera, and it's pretty impressive to see in action. When the unit is powered off, an automatic lens cap protects the glass, and the barrel elements collapse all the way down to a position almost flush with the front panel. At maximum focal length, the lens extends about three inches out from the body to achieve that huge optical zoom ratio.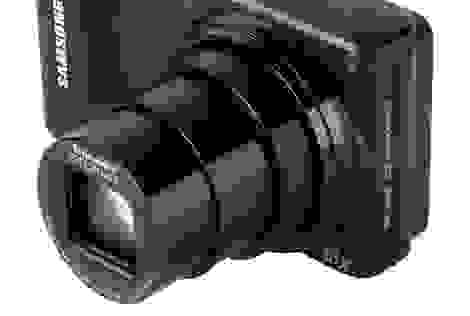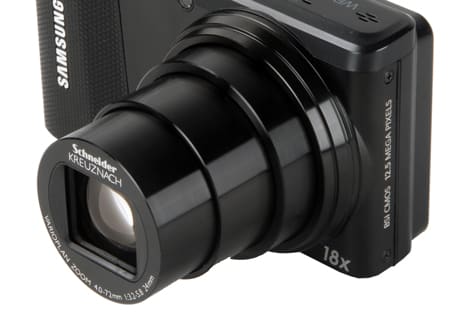 18x is just amazing on a camera of this size. Long zoom cameras are ideal for shooting sports from the bleachers, or onstage performers from the nosebleed section, or catching wildlife without disturbing them. In the sample shots below, we gained about 50 yards worth of additional detail.
Charging the battery is accomplished via an AC adapter that attaches to the USB cable, and this also means the camera can be charged simply by plugging it into a computer. The Samsung SLB-10A battery is rated at 220 shots in this camera, but our experience was actually a little better. The battery survived our entire suite of tests on a single charge.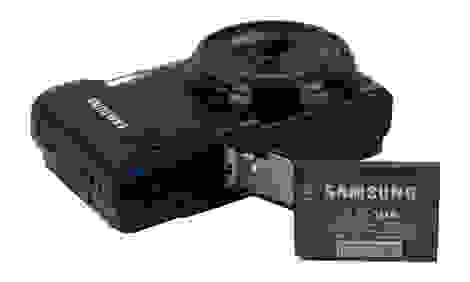 Note the WB750 does not use microSD memory cards like many other Samsung models. Instead, it's compatible with traditional SD, SDHC, or SDXC cards. Our evaluation model came with a small microSD adapter, an inexpensive solution for those who want to make a Samsung to Samsung upgrade, without the need for a new card.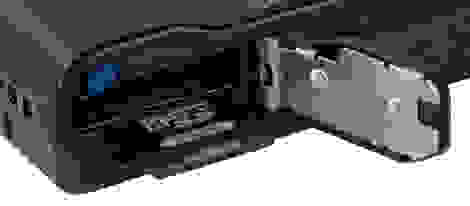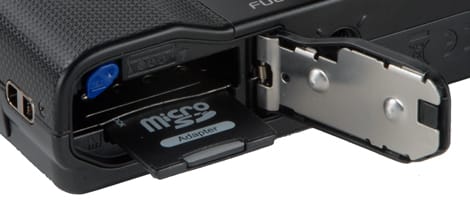 Both connectivity ports are housed underneath a very sturdy door on the camera's right panel. Here you'll find a proprietary USB port, as well as a microHDMI port for streaming content to an HDTV. The WB750 does not ship with any composite video cables, so you'll need to either use a modern TV equipped with HDMI, or purchase standard definition cables separately.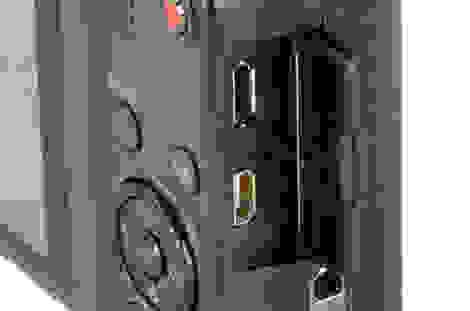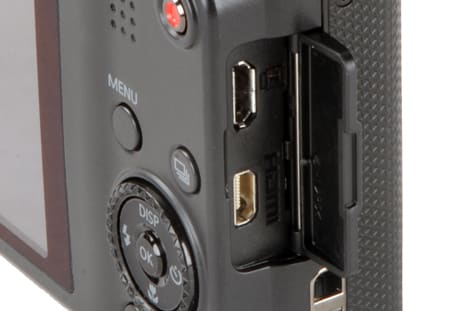 Shooting modes are accessed via a hardware mode dial that rests on top of the body within easy reach of the right thumb. Program Auto gets its own position, however Aperture Priority, Shutter Priority, and Manual modes have all been condensed into one setting, and this requires an extra step in the menus. We would've definitely preferred these separated out into their traditional positions, in favor of–say–the dedicated Dual Image Stabilization mode or the Creative Movie Maker.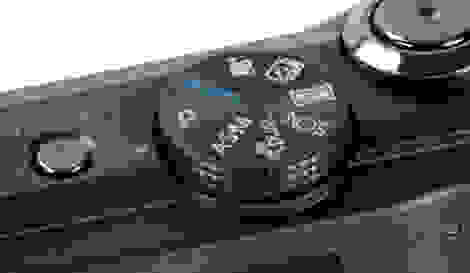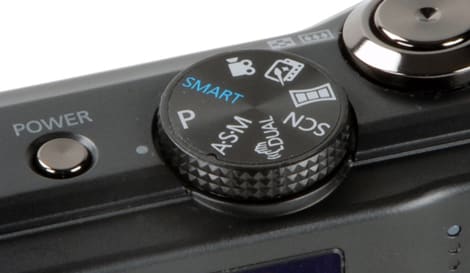 Scene Modes
12 scene mode settings are available, including the ever-popular Magic Frame, a fun diversion found on most Samsung cameras. Remaining modes consist mostly of old favorites such as Sunset, Night, Beauty Shot, Text, Landscape, etc.
The WB750's Smart Filter effects library is excellent, with many options producing dramatic and convincing results. Filters like Sketch, Oil Painting, and Cartoon are especially impressive, with ten other options rounding out the selection. Most effects can be applied either during shooting or afterwards from the playback menu.
Since this is a full "PASM" camera, manual control is available for all shooting variables, although there are no mechanical manual elements included. One notable omission is program shift, which commands the camera to favor wide apertures or long exposures within Program Auto mode. Optical zoom is controlled by a lever surrounding the shutter release, but the lens extends and retracts in pre-programmed steps, resulting in coarse, imprecise control.
Self-timer options are basic, with 10-second and 2-second countdowns only. Continuous shooting modes are much more robust though. White balance and exposure bracketing is supported, as well as eight shot pre-capture, which begins shooting after the shutter is pressed halfway down. Burst modes come in three full resolution speeds, each of which max out at eight shots.
Shot to Shot ()
Each of the burst modes work exactly as advertised. The maximum speed "10fps" burst shoots at precisely 10 frames per second, though the 8 shot capacity is still a major limitation.
Grip is aided by a rubberized and slightly enlarged section on the right side of the body. Unfortunately the textured rubber doesn't have much "stick" to it, and your fingers may end up sliding around regardless.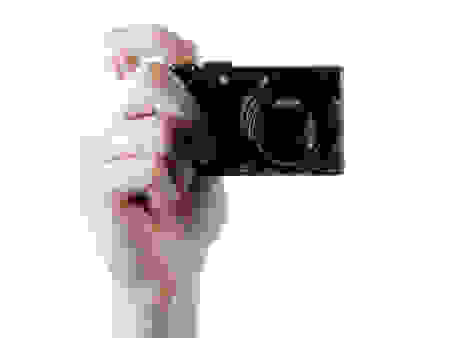 Fifteen small recessions make up a thumb rest above the rear control panel, but these do absolutely nothing to improve grip. Instead, the thumb will most likely rest on the side of the movie button, a dangerous place for it.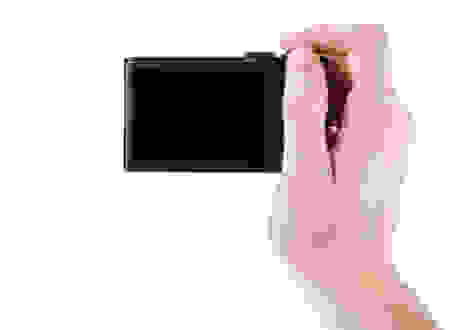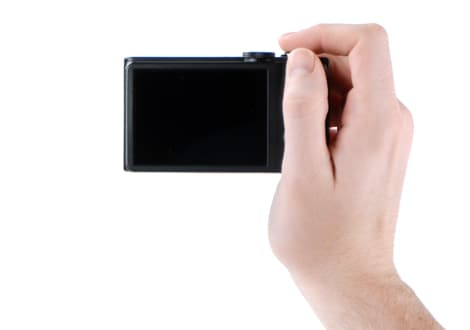 The WB750's shutter release is short on stroke but has a feel that works well with this camera. Stiff enough for tactile awareness, but soft enough to prevent shaky, struggling hands. The power button, off to the left of the mode dial, is out of the right hand's reach, but is at least in no danger of accidental activation.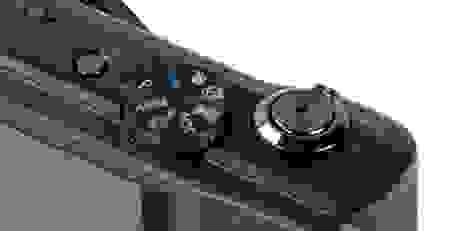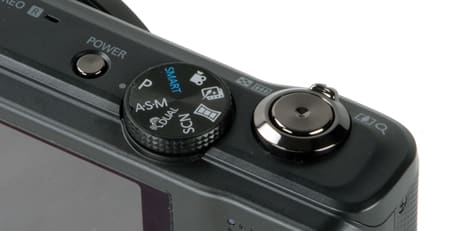 At first glance, the layout of the main control panel seems typical, however the decision to place the Fn and MENU buttons diagonally across from each other had us confused and constantly pressing the wrong key. Other than that quirk, rear controls are fine. The combination directional pad and rotating dial has good action with strong tactile feedback, and the central OK button protrudes far enough to strike without additional effort.
One more interesting note. Mounting the WB750 tightly onto a tripod seems to warp the plastic slightly. This causes the rotating directional pad to pop and behave abnormally. Removing the camera from its mount seems to cure the problem.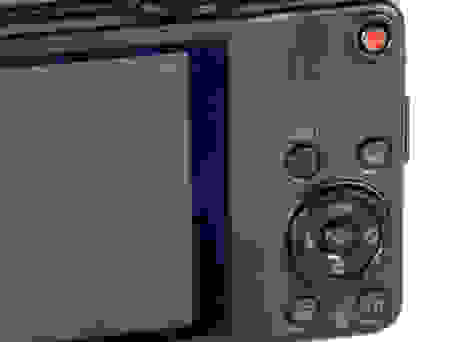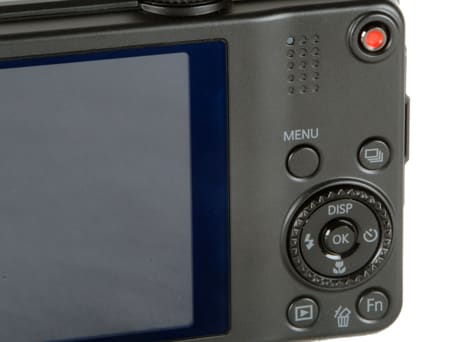 We normally approve of Samsung's menu designs, but this camera seems to lack the processing power of some of its cousins, so the menus are always slow to respond. Even beginners will quickly learn to navigate faster than the software can keep up.
Legibility, particularly in the quick "function" menu, is also a problem. The menus really don't animate at all, and simply jump from option to option without any transitional frames. As a result, it's easy to lose your place a few times before finally landing on the option you're looking for. If that sounds like a minor gripe, it is. But when combined with the fact that all quick menu options are represented by small, monochrome icons, operating the WB750 quickly becomes a confusing, cumbersome chore.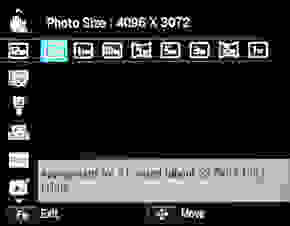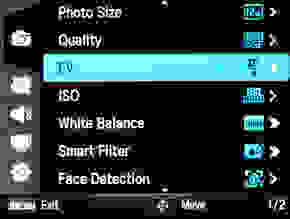 The included quick start guide is just as useless as most, so be sure to copy the electronic full manual from the CD-ROM, or download it from either Samsung's website or the right column of this page. Within the camera, short descriptions of most shooting functions are displayed in the menus, and this will go a long way to aid users brand new to digital photography.
Fujifilm's F600EXR is visually quite similar to the WB750, but internally the experience is quite different. A purchase decision between these two will depend heavily on the user. Fujifilm's travel zoom is geared toward the enthusiast, offering RAW shooting, precise manual control, and staying away from distractions like picture effects. Meanwhile, the WB750 is aimed more clearly at the general public, with more fun secondary features, a slightly longer zoom ratio, and unfortunately some cut corners that the beginner may not notice.
Performance-wise, the two are on even footing. The F600EXR's color performance is better than the WB750's, by about the same degree that the WB750 surpasses the F600EXR in noise performance. Resolution of detail is neck-and-neck, video mode is close, and handling is almost identical. These two are practically twins. So again, the decision comes down almost entirely to the type of shooter using it.

/r:render
The Exilim EX-ZR100, and many Casio cameras in general, are known for super high speed shooting. This model is capable of capture speeds of up to 1000 frames per second, while the WB750 lacks high speed video features entirely. So that right there, we expect, is going to be the deciding factor. If you're into slow motion, go with the ZR100.
The ZR100 also takes arguably the most appealing photos of this comparison group, with clean lines and none of that haloing effect that so many compact cameras rely on. But the WB750 offers far superior optical zoom, and for many, that's what matters most. Either camera is a fine choice and this decision, like the previous, will depend on what type of shooter you are.

/r:render
Most of the Nikon S6200's scores and test results are even with the WB750's, and sharpness is actually quite a bit better. But Nikon skimped on their hardware this time around, and except for the S6200's 10x lens, the camera feels cheap and unremarkable. Controls are very limited with the S6200, and the design theme seems to be "attach a huge lens to an otherwise plain body." With few advantages over the WB750, but many performance and ease-of-use limitations, there's little reason to recommend the S6200 over the Samsung WB750.

/r:render
Welcome to every reviewer's worst nightmare. Aside from the impressive 18x lens which, we must admit, is pretty astounding on a camera of this size, the Samsung WB750 is quintessentially average. Over the course of a 16 page review, it seems the English language lacks a sufficient variety of adjectives to describe this camera's ordinariness. Color performance is standard, resolution abilities are run-of-the-mill, prevalence of noise is typical, and the user interface is...normal?
Against the sheer regularity of this camera, a few noteworthy departures impressed us. Burst mode shooting is fast and useful, and for once matches the manufacturer's advertised claims. Picture effects, if you're into that sort of thing, are fun and well-executed, with many effects yielding drastic and convincing results. Physical construction is also relatively solid. The body is hefty and sturdy, and the collapsing lens is very impressive.
Yet, appropriately we suppose, the WB750 follows up every success with a disappointment. Efforts have been made to improve grip and handling, but the too-slippery rubber and pointless thumb rest fall flat (literally). The rear control panel is of commonplace design, but the separated Menu and Function buttons had us confused for awhile. Adding to the woes of the user experience is a menu and playback system that the processor can't keep up with. Is there anything worse than missing a shot because a slow interface got in the way?
None of this is to say the WB750 is a bad camera, in fact it's a good one. Just no more or less so than relevant competition. While 18x is notable on a body of this size, the lens isn't enough to make this model stand out. Current WB750 owners shouldn't feel disappointed or left out, and will certainly get plenty of use from their camera. But we would advise new shoppers to save their money for a more exemplary model.
Meet the tester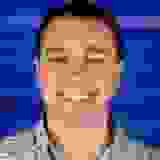 Christopher Snow
Managing Editor
@BlameSnow
Chris was born and raised less than ten miles from our editorial office, and even graduated from nearby Merrimack College. He came to Reviewed after covering the telecom industry, and has been moonlighting as a Boston area dining critic since 2008.
Checking our work.
We use standardized and scientific testing methods to scrutinize every product and provide you with objectively accurate results. If you've found different results in your own research, email us and we'll compare notes. If it looks substantial, we'll gladly re-test a product to try and reproduce these results. After all, peer reviews are a critical part of any scientific process.
Shoot us an email