But that's not the only trick up this camera's (extended) sleeve. It's equipped with Samsung's new SMART WiFi system, opening it up for on-the-go photo sharing, cloud saves, automatic PC backups, and a bunch of other "connected" features.
We spent a few minutes with the WB850F at CES 2012. Read on for our first impressions of the world's longest-zooming compact.
When you're busy cramming a 21x zoom range into a camera that fits into a jacket pocket, aesthetics are probably an afterthought. At least that's the impression we get from looking at the WB850F. It's not busted ugly or anything, but "plain," "unremarkable," and "average" are the first three words that we could come up with on the showroom floor. It's in the same vein as last year's WB750, which was a big improvement on the HZ35W that came before it, but it doesn't pop off the display rack like Nikon and Sony's travel zooms. The knurled ring around the lens is purely cosmetic—it's fixed in place and serves no purpose.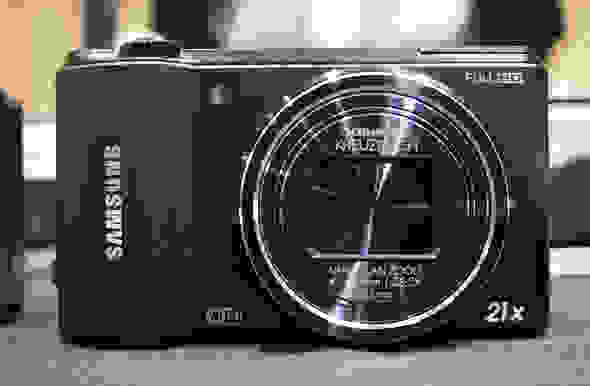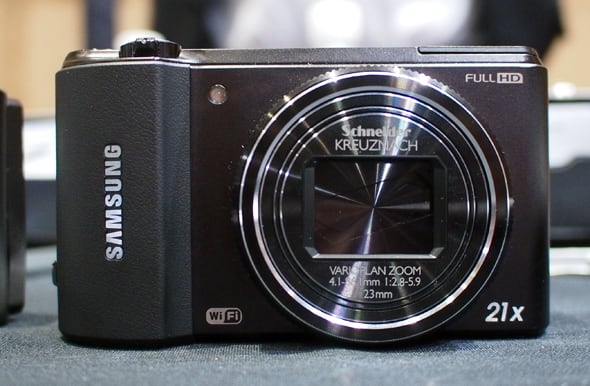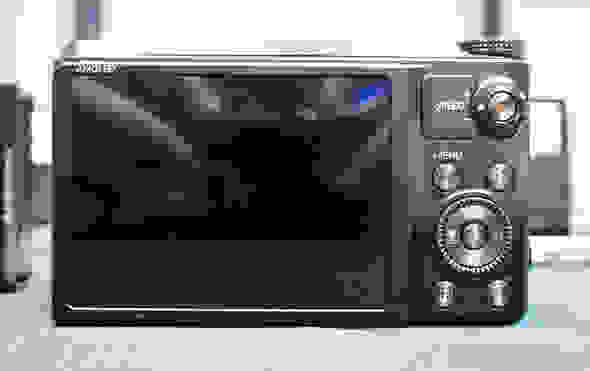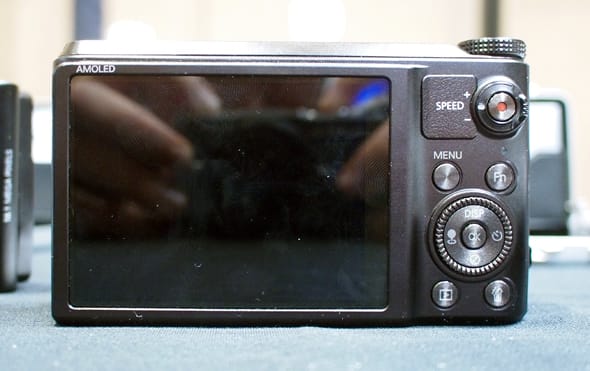 The main menu is a typical tiered affair, but the quick menu takes a few cues from the smart iFunction system found in Samsung's mirrorless NX series. One button (Fn) brings up all of the most commonly adjusted settings in one well-designed table on the LCD. Basically, any setting can be adjusted with one button-push and a little fiddling with the command dial. It's a huge improvement over Samsung's previous compact-cam menu system.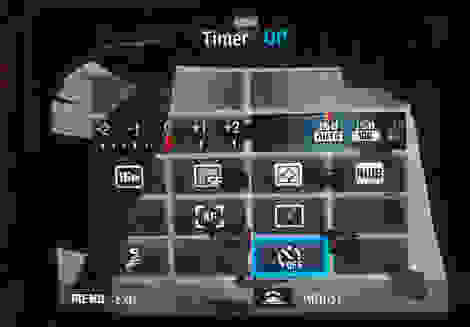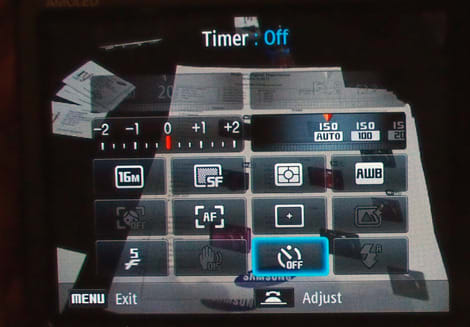 With a Smart auto mode in place, the WB850F is easy enough for anybody to use, but the extra modes--program, aperture and shutter priority, manual exposure, not to mention the WiFi integration and other specialized presets--are likely to intimidate casual users. It isn't a great camera for your grandparents, but your tech-savvy uncle might get a kick out of it.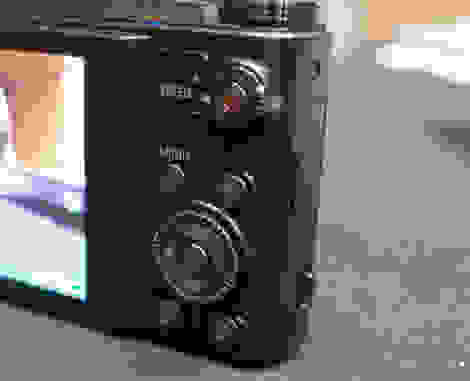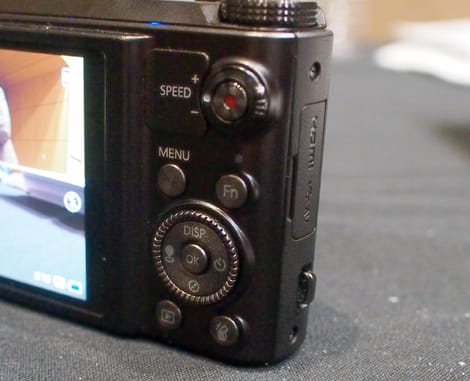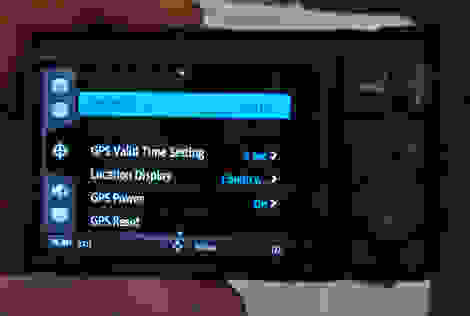 Handling is pretty typical of a travel zoom. The in-hand feel is more comfortable than a small, skinny point-and-shoot, but even with a small grip, the body is designed more for portability than in-hand ergonomics. The button layout is fine aside from the awkward drive mode lever, and the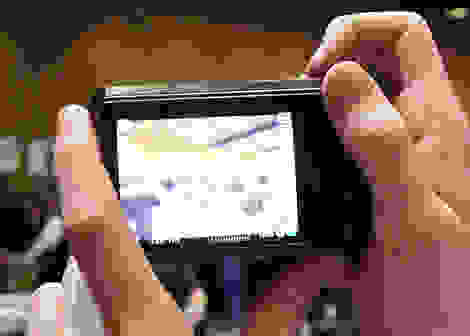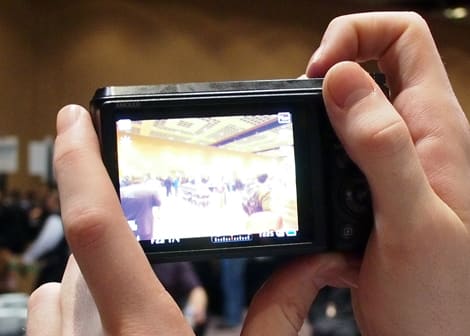 The WB850F offers two auto modes: regular and Smart, which are similar. There's a program shift mode as well as aperture priority, shutter priority, and manual exposure, each of which offering a great deal of control by point-and-shoot standards (full control over the aperture range, example, which isn't always the case. Movie mode gets a notch on the mode dial, as does a scene preset menu. The WiFi mode is the outlier here, the only mode you wouldn't find on most other cameras.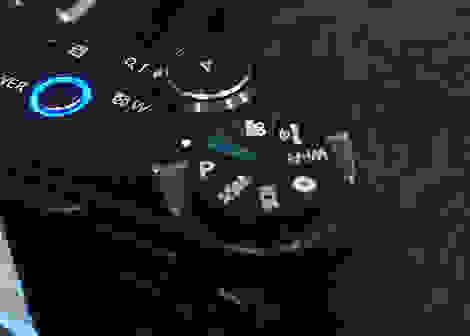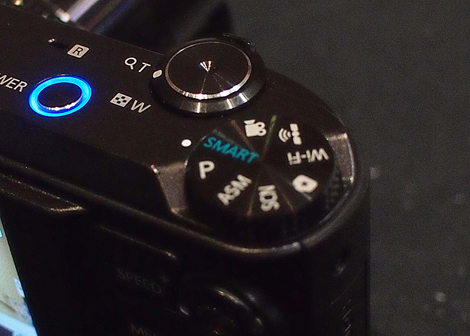 Smart Auto and regular auto modes function mostly the same way. Users have a bit more control over a few settings in regular auto mode, but in both cases, it's an easy point-and-shoot affair.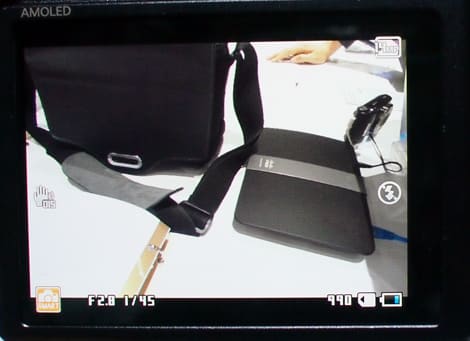 Thanks to its BSI CMOS sensor, the WB850F can record full 1080/30p HD video. Typical of compact cameras, manual control seems to be limited, and from what we could tell, it wasn't particularly good at adjusting focus in the middle of a clip. Optical zoom is supported however.
Burst mode is available, once again thanks to the speedy sensor. The drive mode menu has an option for 10fps, which is certainly impressive, as well as some slower burst shooting and bracketing. Take that top speed with a grain of salt, as we'll have to confirm that one in our labs.
Playback mode is pretty straightforward. The command dial makes it easy to cycle through big sets of photos, playback zooming in and out are supported, as is multiple photo view. Photos can be tagged for upload or printing, lightly edited, and deleted or protected. WiFi integration is the only feature that sets it apart from most playback interfaces, and because of the insane amounts of electronic interference on the CES 2012 showroom floor, it was difficult to really test out that feature.
The maximum resolution is 16 megapixels in a 4:3 aspect ratio, and close to a dozen other options are available in various aspect ratios (including 16:9) and resolutions down to 1 megapixel.
Sweep panorama is available.
The WB850F offers autofocus and manual focus modes. AF is clearly the better choice, though MF isn't hurting anybody just by being there.
Samsung did not provide a complete spec sheet for the WB850F, and we didn't note the full range of aperture and shutter speeds available in our time with the camera. The maximum aperture is f/2.8 at the wide angle and f/5.9 at the telephoto setting. The user does have a decent amount of control over the aperture, selectable in full stops, and there are tons of selectable shutter speeds.
Exposure compensation is selectable in increments of 1/3EV to +/-2 stops. Metering is adjustable, though we didn't note the available options before the WB850F disappeared from the showroom floor for-ev-er.
The ISO range runs from ISO 100 to 3200 in full stops, all at full resolution. There's one auto ISO mode, but no caps for particular levels.
White balance is adjustable, but once again, the WB850F had vanished when we went back to confirm the particular presets. We do know that there is a custom white balance setting, an auto setting, and several presets.
Optical and digital stabilization are available. The atrocious lighting at the pre-CES Digital Experience show wasn't doing the camera any favors, but we got some full-zoom shots that looked pretty crisp on the LCD, and a few that weren't so crisp. But seriously, take this with a grain of salt.
The camera's centerpiece is a massive Schneider-Kreuznach-branded, 21x optical zoom lens (23-483mm equivalent) with a respectable f/2.8-5.9 aperture.
The sensor is a 16-megapixel, 1/2.3-inch backlit CMOS sensor, which should enable quick shooting, decent low-light performance, and full HD video.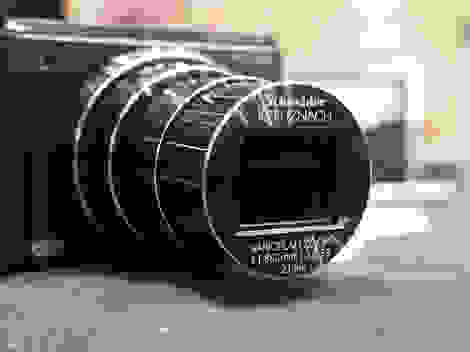 Samsung loves to throw AMOLED displays onto as many of their gadgets as they can reasonably afford to (check out their smartphone lineup), and the WB850F is just the latest camera with one. It's a 3-inch VGA screen—not particularly high-res, but the rich, vibrat colors and smooth motion should balance it out for some users.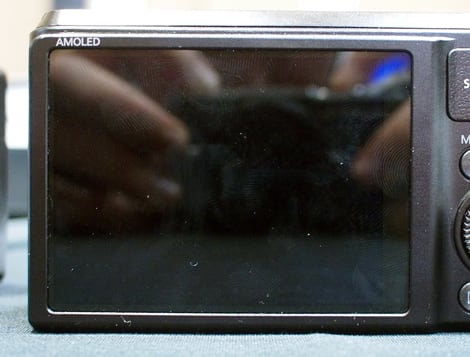 A flash pops up out of the top-left of the camera, controlled by a manual release level. We haven't seen any specs on the range yet.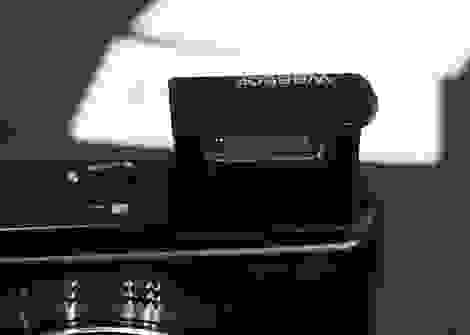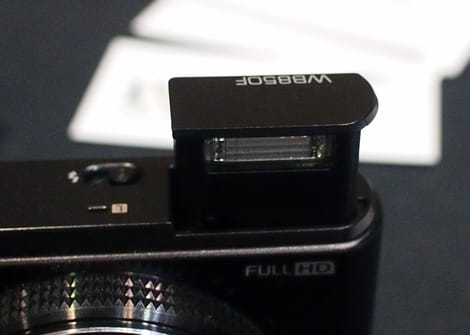 The WB850F deploys two ports: mini-USB and micro-HDMI, both hidden by a small door on the side of the body.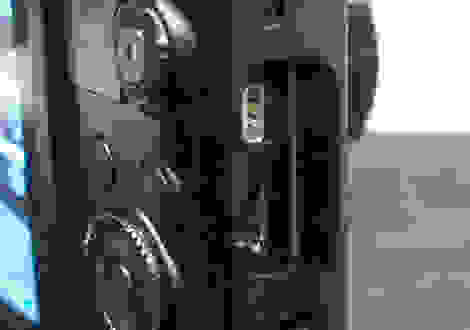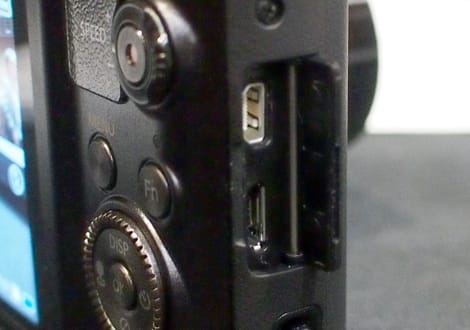 A rechargeable lithium-ion battery powers the WB850F. No word on how long it's supposed to last per charge, but we're pretty confident when we say that with GPS activated, it won't be great.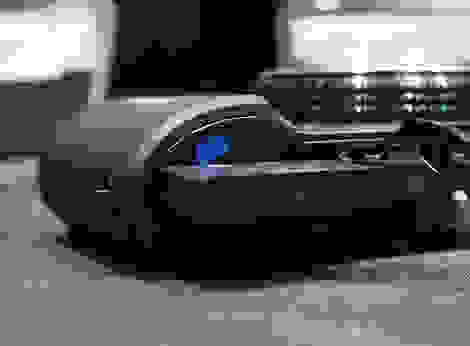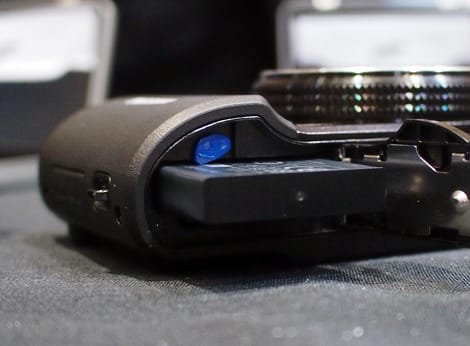 It's SD/SDHC cards here, which is mildly surprising because Samsung loves to equip their cameras with microSD slots.
GPS
The WB850F is equipped with in-camera GPS, including a digital compass and built-in points of interest. The last time Samsung tried to put GPS in a camera (the HZ35W from 2010), it was an unmitigated disaster. Hopefully they've worked out some of the kinks, and it's an effective system that's easy to operate and locks a signal reliably, but of course, there was no way for us to evaluate that at CES.
SMART WiFi
Samsung made a big to-do about their new WiFi cameras. Samsung claims the updated WiFi system is vastly improved over their first-gen implementation. This time around, users will be able to easily sign in at public and password-protected WiFi hotspots, thanks to a proprietary log-in browser. Remote viewfinder with Android phones will be supported (with an iOS version on the way, we're told). Users can enable Microsoft Sky Drive cloud storage and PC Auto Backup, and all the typical sharing features—Facebook, YouTube, Picasa, and email—are included.
The WB850F could be just the update that Samsung's travel zoom line needed. Last year's WB750 was a fine camera, but its clunky interface was a non-starter. We also found that overall image quality was just so-so.
But Sammy's updated pocket superzoomer has the spec sheet and refinement to compete with the travel-zoom elite. The WB850F's 21x zoom range is the longest in the category, and if the performance is as good as advertised, it'll rank with the best in class. Built-in WiFi could prove to be incredibly convenient, and would really separate it from the pack in the hearts and minds of casual shooters, in an age when we're used to instantly sharing photos from our smartphones. The redesigned menu system, which pulls some inspiration from Samsung's mirrorless NX series, is a welcome touch as well.
Weak points include a bland, unremarkable design—which isn't bad, but top-label cameras are instantly recognizable—and iffy handling. Part of that is just the nature of pocket-sized cameras, but some of the controls weren't responsive enough, particularly the zoom tilter and drive-mode lever. Also, the WB850F model we handled on the showroom floor was running pre-production firmware, so we don't have any kind of accurate idea about the image quality.
We're eager to get this model into our labs for testing. From what we can tell, it's a contender for one of the year's top pocket superzooms. Stay tuned for a full, hands-on review in the next few months.
Meet the tester
Liam F McCabe
Managing Editor, News & Features
@liamfmccabe
Liam manages features and news coverage for Reviewed.com. Formerly the editor of the DigitalAdvisor network, he's covered cameras, TVs, personal electronics, and (recently) appliances. He's a native Bostonian and has played in metal bands you've never heard of.
Checking our work.
Our team is here for one purpose: to help you buy the best stuff and love what you own. Our writers, editors, and lab technicians obsess over the products we cover to make sure you're confident and satisfied. Have a different opinion about something we recommend? Email us and we'll compare notes.
Shoot us an email