Our First Take
But with Sony's mirrorless system picking up steam, where does that leave the company's Alpha mount? While rumors abound that Sony may eventually go all-in on mirrorless, the company's Alpha line isn't done yet. Announced today, the new Sony A77 II (MSRP $1,199.99 body-only) has Sony once again stepping into the DSLR market with an APS-C sensor and a heavy emphasis on autofocus speed and accuracy. Utilizing the company's unconventional translucent mirror technology, the A77 II is capable of shooting at up to 12 frames per second while continually tracking a subject with its 79-point AF system.
Why release a new DSLR now? Because as far as mirrorless cameras have come, most still can't quite deliver what the A77 II can. We went hands-on with Sony's latest DSLR to see just how far mirrorless cameras still have to go.
Design & Usability
A respectably derivative design that stays true to DSLR roots
While we always like to see innovative camera designs, there's something to be said for a company just sticking with a known concept and sanding down the edges. The A77 II isn't the lightest or smallest camera on the market. It doesn't clamp to your smartphone and it doesn't require to you to re-learn how to operate a camera. It's not revolutionary. It's a DSLR, through and through. If you own a DSLR now, you'll be right at home with the A77 II.
Your first introduction to shooting with the A77 II is via the soft, accommodating grip. As with other Sony cameras the material is nice and plush, and the grip is nicely formed and should work well for a range of different hand sizes. Picking up the A77 II you'll find that it's nicely balanced and your fingers naturally fall on both the front and rear control dials. This is your primary point of control on the camera, with a rear joystick also available for moving the autofocus point or navigating the menu.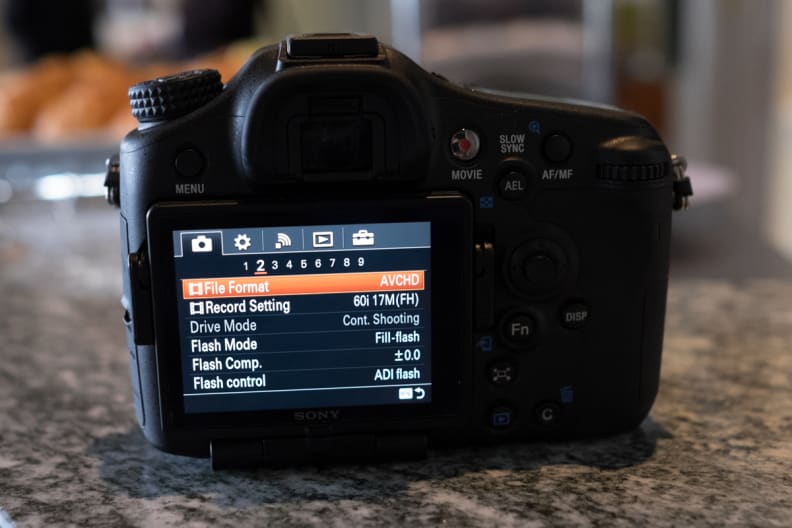 The rest of the buttons on the camera are primarily plastic. The major shooting controls are spread around the camera, with drive/timer, white balance, ISO, and exposure compensation on the top plate and AF/MF, autoexposure lock, video recording, and some playback and menu keys on the back near your thumbrest. On top you'll also find a secondary LCD with a low-power monochrome LCD showing most of the camera's current settings. There's also a mode dial on the top plate opposite the shutter/power release, with a pleasant, tacky texture that makes it easy to grip.
Maybe we've just been shooting with too many EVFs lately, but at this point we think the advantages of the EVF outweigh the disadvantages.
With A77 II you can frame via either the articulating rear display or the large, bright, sharp electronic viewfinder. The EVF is our preferred method. The readout is extremely fast, and there's very little lag as you move about the area focusing. If you've only shot with optical finders to this point you may find the experience disorienting and the display a little dark, but it also allows you to take advantage of the camera's focus peaking and zebra masking modes while framing.
Maybe we've just been shooting with too many EVFs lately, but at this point we think the advantages of the EVF outweigh the disadvantages. The A77 II's EVF isn't perfect, but it's good enough that once you adapt, you may never look back. Worst case, the rear LCD provides a live view of your shot, with a hinge that articulates in practically every direction.
Features
¡Ándele!
The hallmark of the Sony A77 II is its ability to automatically focus on a moving subject while capturing shots at up to 12 frames per second. While we don't have any official lab results to confirm the exact speed, our experience tells us that it's at the very least close to that number. The camera also has quite a bit of capacity, with Sony claiming the buffer is capable of capturing up to 60 JPEG frames in one go (RAW numbers seem slightly less, but not dramatically so). And thanks to the translucent mirror design of the camera, the A77 II can do so while using an off-sensor autofocus sensor with a whopping 79 phase-detection autofocus points (15 cross-type) spread throughout the frame.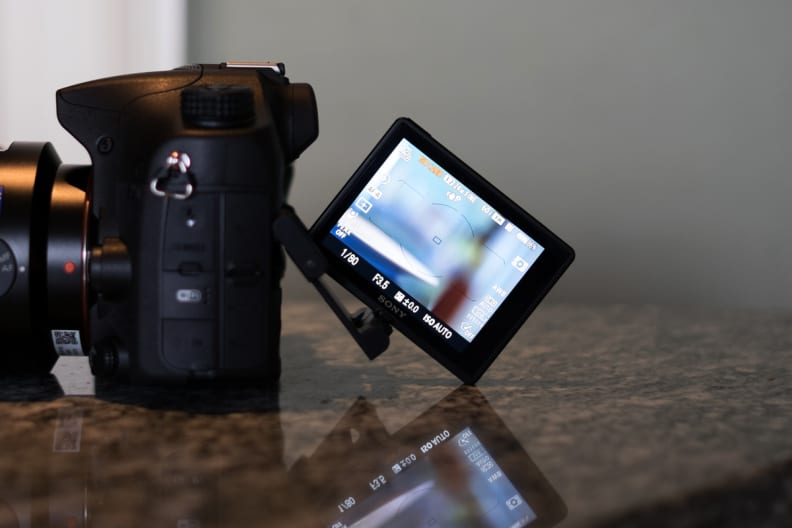 This is possible because while the A77 II has a mirror just like a traditional DSLR, it's only used for redirecting a small portion of the incoming light towards this autofocus sensor. The rest of the light passes to the main image sensor. These dedicated AF sensors only require a little bit of light to function and because they are specialized they operate faster than focus systems where phase-detect AF points are built right into the sensor. It does require a rather bulky mirror (hence the A77 still being DSLR-sized), but since Sony's translucent mirror doesn't have to move at all, there are fewer moving parts and the operation can be much faster and require less precision. For comparison's sake, Nikon's fastest sports-oriented DSLR—the excellent Nikon D4S—isn't any faster than the A77 II, but costs over $6,000.
Looking beyond the AF speed, the A77 II is mostly a mishmash of features we've seen before on other high-end cameras in its class.
Looking beyond the AF speed, the A77 II is mostly a mishmash of features we've seen before on other high-end cameras in its class. It has a 24.3-megapixel APS-C sensor, shoots 1080/60p HD video, and uses the same Bionz X processor that appeared in the A7/A7R. As a result it has an ISO range that stretches from 100-25,600 and clean HDMI output while recording video. For hardware there's the aforementioned articulating 3-inch LCD, WiFi/NFC, and a microphone jack. The camera also has a full multi-interface hotshoe, but there's no headphone jack and only a single SDHC/SDXC memory card slot.
Conclusion
Sony's latest high-end APS-C camera proves there's life in traditional DSLRs yet.
Mirrorless cameras have come a long way in just the past few years, with technological obstacles falling one by one. As EVFs, small sensors, and processors have improved, mirrorless cameras have closed the quality gap considerably on traditional DSLRs. But there's one area where old-school DSLRs still rule: focus speed in low light.
It may seem like a limited use case, but it's one of the major pain points most people have with their cameras. Your life often takes place indoors and indoor lighting is frequently insufficient. While large mirrorless sensors can produce great low light images, getting focus correct is an important first step. Sony's A7R is a perfect example of this. While it can take fantastic low light images, the focus is cripplingly slow at times. And while the Sony A6000 can also shoot at 10+ fps while focusing continuously, it remains to be seen if it can keep that up when light is limited (our review unit just arrived the other day, so we'll let you know soon).


Either way, it's clear that a high-end APS-C camera that can reliably focus on a moving subject while capturing shots at a high rate of speed is still a very relevant product. Just ask the Canon 70D, Nikon D7100, and Pentax K-3, all of which are similar high-end DSLRs with APS-C sensors that have recently hit the market.
The A77 II enters a similar space with a feature set that falls somewhere in the middle of the pack: It has loads of speed, plenty of control, and what seems like a great AF system. In our limited time we found it to be very comfortable to use with a superb EVF and a vastly improved autofocus control system, including a new group AF setting and some features pulled right from the A99. And at just $1,799 with the superb 16-50mm f/2.8 kit lens, the A77 II comes it a very attractive value that easily rivals the best mirrorless cameras on the market right now.
Of course, we'll have to get the A77 II into our labs before we can make a judgement on how good it really is. If it can match Sony's claims (and our initial positive experiences with the camera are a sign of things to come), then the reports of the Alpha system's demise may prove premature.
Meet the tester TJ Donegan
Executive Editor
@TJDonegan
TJ is the Executive Editor of Reviewed.com. He is a Massachusetts native and has covered electronics, cameras, TVs, smartphones, parenting, and more for Reviewed. He is from the self-styled "Cranberry Capitol of the World," which is, in fact, a real thing.
Checking our work.
Our team is here for one purpose: to help you buy the best stuff and love what you own. Our writers, editors, and lab technicians obsess over the products we cover to make sure you're confident and satisfied. Have a different opinion about something we recommend? Email us and we'll compare notes.
Shoot us an email