Our First Take
We can really only think of two good reasons:
You need more zoom range and don't want to spend on extra lenses.
You need something that can fit in your pocket.
But price isn't the only interesting thing about this unassuming camera. The A3000 is also the first DSLR-style Sony system camera to employ the E-Mount, formerly reserved solely for NEX-series models. This switch to a mirrorless design means the A3000 can be smaller and lighter than other Alpha A's. Of course, you'll be looking at an electronic viewfinder, which has its own plusses and minuses.
Regardless of how the A3000 actually performs, it's a startling shot across the bow of competing manufacturers, and yet another innovative product from one of the most aggressive trendsetters in the digital camera market.
Design & Usability
Comfortable and lightweight, without feeling too cheap
During our product briefing, Sony reps revealed that according to internal study data, 60% of likely system camera buyers preferred DSLR styling to the typical rangefinder-style mirrorless design. Sony clearly took those numbers to heart, and the result is its first DSLR-shaped mirrorless camera, which draws its visual cues in equal parts from the A-mount Alpha A58 and the Cyber-shot HX300 superzoom.
From the front, you're likely to be drawn to the sculpted, rubberized grip. It's surprisingly comfortable for a camera in this class, and a good indicator of the A3000's overall build quality—solid without being rugged. It's obviously not as reassuringly built as mid-tier DSLRs like the Nikon D5200 or Pentax K-50, but the A3000 is every bit the equal of the Nikon D3100 or Canon Rebel T3, and unlike some recent cameras it doesn't feel cheaper than its price point.
On the back face, you'll find just a few buttons. There's a typical four-way directional pad that also doubles as the camera's only control dial. Pressing down on each of the four directions accesses a different setting: display info, self-timer/drive mode, exposure compensation, and ISO.
There are also two context-sensitive buttons flanking the d-pad. As on recent NEX models, their function changes depending on how they're labeled on the rear screen. The only other button is a bright red video recording toggle, which will start you rolling regardless of which shooting mode you've selected.
The A3000's grip is surprisingly comfortable for a camera in this class, and a good indicator of its overall build quality—solid without being rugged.
As on the HX300, the mode dial is to the right of the electronic viewfinder. Also in the vicinity is a built-in stereo microphone atop the EVF housing. For connectivity purposes, you get the standard micro-USB and HDMI mini (Type C) ports. The smallish 1080mAh lithium-ion cell is good for a reported 480 shots using the rear LCD—actually on the high side for a camera in this class.
The 18-55mm f/3.5-5.6 OSS kit lens is the same piece of glass that shipped with the company's NEX models until the introduction of the 16-50mm PZ collapsible kit, and it looks right at home on this body. In fact, it looks better matched to this camera than it did to any NEX.
Features
A camera that knows who it's for
On the hardware front, the A3000 is well-equipped with a 20.1-megapixel EXMOR APS-C sensor (most likely directly ripped from this year's Alpha A58), paired with a BIONZ image processor. The available sensitivity range extends from ISO 100-16000. While it's not as big a range as a full-fledged APS-C DSLR, it should provide plenty of flexibility for low-light photography, and the optically stabilized 18-55mm kit lens should help too.
Unlike some newer Sony sensors, this one doesn't feature any phase detection pixels on the chip, so you're limited to 25-point contrast autofocus. That's great for stationary subject matter, but you may find that the A3000 is less well-suited to capturing action than true DSLRs. That's doubly true due to the maximum continuous burst rate of 3.5 frames per second—pretty weak compared to the competition.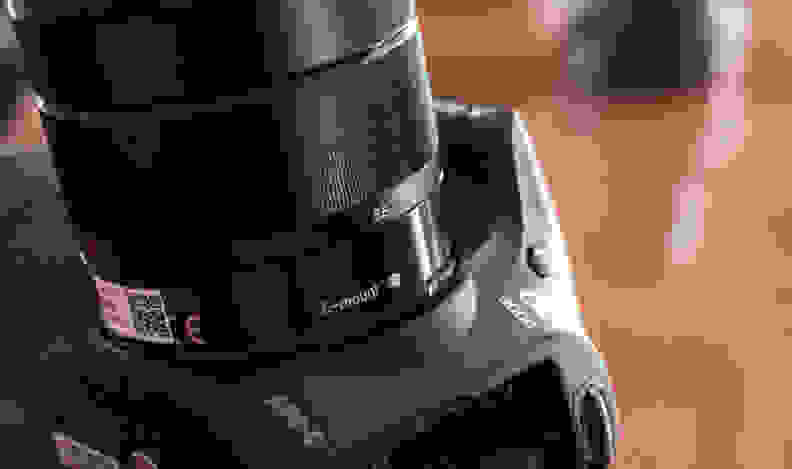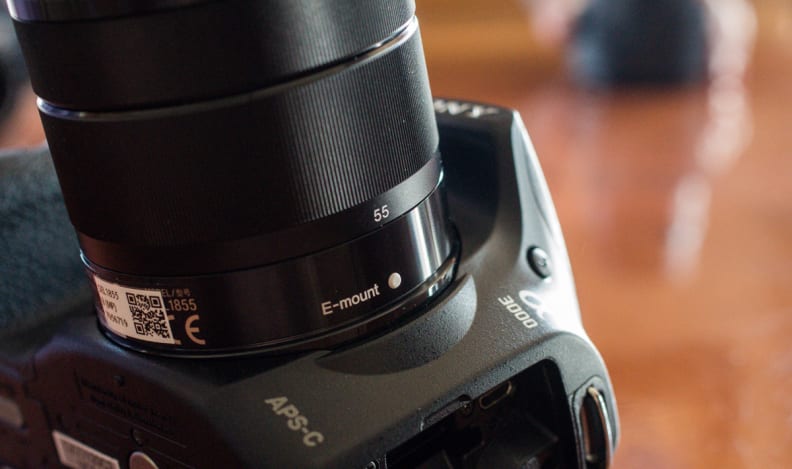 The built-in electronic viewfinder is on the small side, and provides just 0.7x image magnification, though it does offer 100% frame coverage. Sony hasn't specified the EVF's resolution. We expect that many point-and-shooters stepping up to this camera will shoot with the rear LCD, anyway, but it's awfully low-res at 230k-dot. It doesn't tilt or swivel, either, though we hardly expected it to at the A3000's asking price.
Though Sony claims the A3000 is aimed at rivals like the D3100 and Rebel T3, it's actually even simpler than those entry-level cameras. The A3000 features the same "jargon-free" operation you'd find on low-end NEX models like the NEX-3N. That means there's not a lot of manual control, and the camera holds your hand every step of the way. You'll encounter lots of graphics-intensive menus and an interface that recasts confusing technical concepts (like depth of field) as more easily understood ideas (like "defocus control").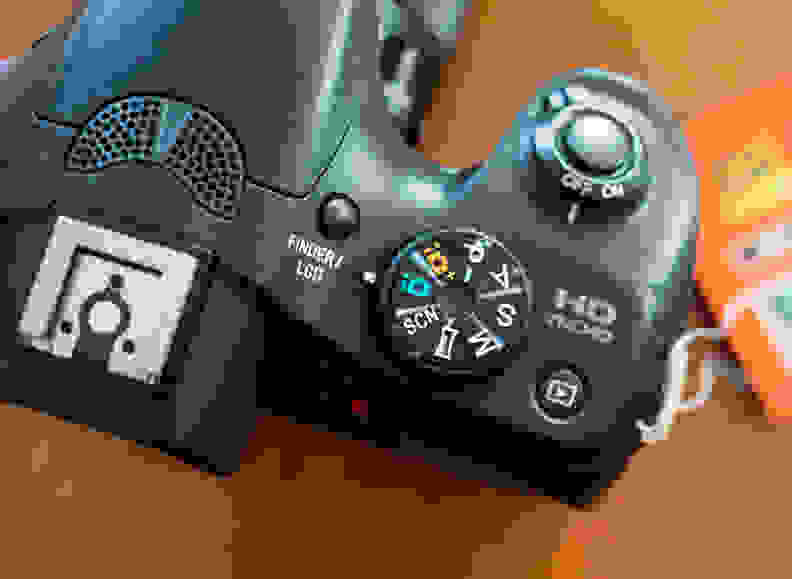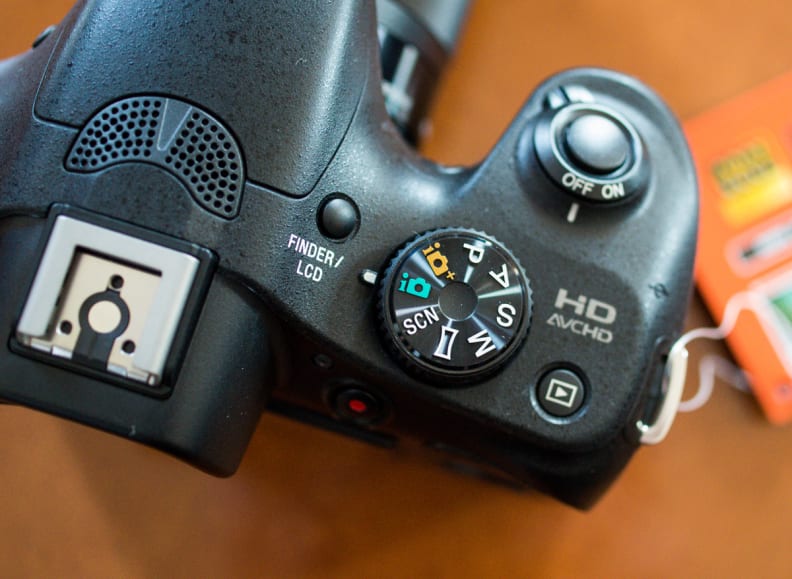 And that's fine. At the price point Sony is hitting, it's clearly appealing to buyers making their first tentative leap out of the point-and-shoot pool, and wants to give them as soft a landing as possible. As such, the physical mode dial features two automatic shooting modes (including Superior Auto), a scene mode setting, and even a dedicated spot for panorama stitching.
The new Alpha also picks up many of the new software features that made their debut on the A58, including Auto Object Framing. And for all you Instagrammers out there, there are 15 picture effects, and there's also WiFi connectivity to get your pictures to the cloud.
Surprisingly, a few enthusiast-oriented features have snuck through. In particular, if you have older manual focus lenses, you can slap them on the A3000 with a simple mechanical adapter and enjoy the benefits of focus peaking and manual focus assist (via two-step magnification).
On the video front, the A3000 offers 1080/60i/24p (24Mbps) recording in AVCHD. You can also step down to 720/60i/24p (17Mbps) if you want to use up a bit less memory card space. Alternatively, you can switch to MP4/h.264 and shoot in 1440x1080 (12Mbps) or VGA (3Mbps). That's a surprising amount of options for an entry-level camera, but then again Sony has always had a strong focus on video.
Conclusion
The A3000 is great news for budget-conscious shooters.
Frankly, we're impressed with the hardware Sony has managed to cram under the $400 mark. If you still weren't convinced that the compact camera market is going though a violent upheaval, you probably are now. The fact that you can get a 20.1-megapixel APS-C sensor in a comfortable body, all for less than many manufacturers (including Sony) ask for small-sensor point-and shoots, is... well, it's a little mindblowing.
The fact that you can get a 20.1-megapixel APS-C sensor in a comfortable body, all for less than the cost of many small-sensor point-and shoots, is... well, it's a little mindblowing.
Until we can actually get the A3000 in our labs for testing, the jury will be out on the camera's image quality. That said, we've tested the 18-55mm OSS lens several times before with various NEX models, and the sensor in the A3000 appears to be more or less identical to the one in the Alpha A58, which we reviewed just this month. We were reasonably impressed with both of those elements in the past, so there's no reason to think we won't be happy with the A3000's performance.
Sony's video chops are just as strong as its stills, if not stronger, so it's heartening to see that the A3000 is also well-equipped with video options. We would have loved to see an articulating LCD thrown into the mix, too, but we suppose $400 only stretches so far—even for a giant like Sony.
Casual photographers who have been pondering a jump to a more serious camera, but who are intimidated by the idea of a full-fledged DSLR, should have the Alpha A3000 on their radar. We expect this camera to be a big seller for Sony, and a real kick in the pants for the Big Two DSLR manufacturers.
Meet the tester Ben Keough
Contributor
@ben_keough
Ben is an experienced industry journalist who formerly served as Senior Editor of News and Features at Reviewed. He now contributes as a freelance writer and editor. Most recently hailing from the vast wilds of the American southwest, he is an avid photographer who is deeply disturbed by the lack of wide open landscapes in Boston.
Checking our work.
Our team is here for one purpose: to help you buy the best stuff and love what you own. Our writers, editors, and lab technicians obsess over the products we cover to make sure you're confident and satisfied. Have a different opinion about something we recommend? Email us and we'll compare notes.
Shoot us an email