The Sony DMC-HX100V is a bulky camera, but that's what you get with these ultrazooms in an SLR-like body. There's a very large grip on the right side, and a protruding lens in the front. It's probably not the most attractive camera we've seen, but it's handsome, in its own way.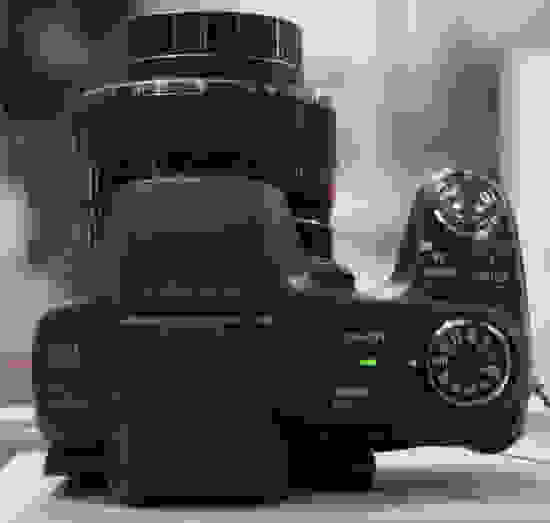 We found the Sony DMC-HX100V easier to use than the new HX9V, primarily because it didn't employ the same poorly designed scroll wheel. Instead, you just push the buttons on the d-pad to maneuver around the menu.
If you're the rare type of shooter that's looking for the easiest possible experience, and only bought the HX100V for its enormous zoom, you're still probably going to like the camera. There are two auto modes clearly marked on the mode dial, allowing you to simply point and snap.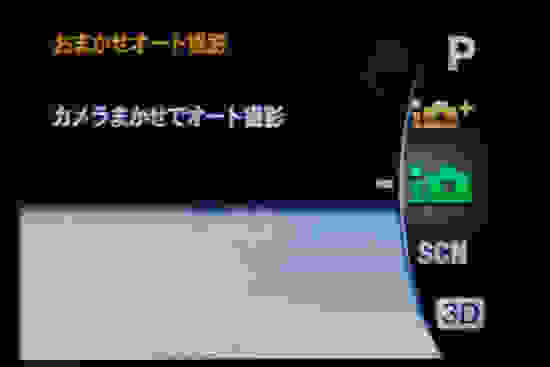 The menus on the Sony DMC-HX100V seemed to be fairly well organized, though certainly more cluttered than comparable models we've seen. We know that Sony generally designs good menus with a sound internal logic, so you'll probably just want to set some time aside to learn your way around.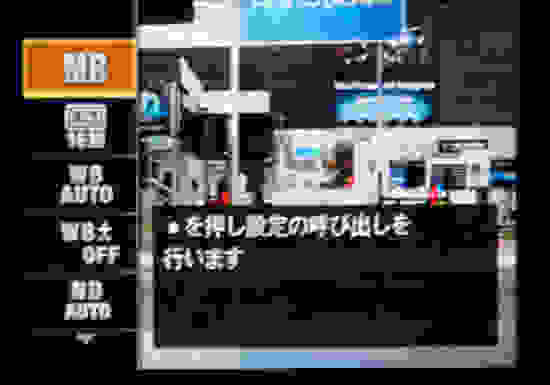 The Sony DMC-HX100V is quite bulky, which is the norm for cameras of this type. You can't expect to fit a 30x zoom camera in your pocket. You'll need a bag for this bad boy. It measures 4.625 x 3.5 x 3.625 inches (19.0mm x 88.9mm x 93.0mm) and weighs 1lb 4.3 oz. (574.3g).
The camera handles quite well, on the whole. It's lighter than most SLRs, and the grip is huge, so you can get a good grip on it. When we first picked it up, we did find ourselves accidentally hitting buttons with our thumb, but we can't imagine that you wouldn't get use to this and adjust your grip. The articulated LCD panel on the back is great for those moments when you need to get the camera way up high or way down low.
The thing we liked about the handling on the HX100V so much is simply that it didn't have the same combined scroll wheel/d-pad we disliked so much on the HX9V, the step-down compact camera from Sony this year. The d-pad on the back of the HX100V is perfectly adequate for the job. There's also a simple scroll dial (very different from the HX9V's) that's well placed and offers good purchase to easily scroll with your thumb or finger.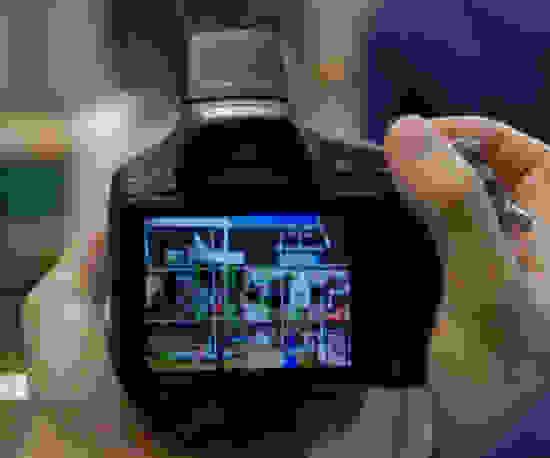 The Sony DMC-HX100V features two auto modes, labeled iAuto and iAuto+ on the mode dial. The difference, as far as we can tell, is that in the latter mode there are certain features that the camera will take advantage of that are prohibited in the former. In either mode, the focus and exposure are all taken care of. The menu is limited to permit on a few options, like turning the flash on and off, or engaging macro focus.
The Sony DMC-HX100V shoots video up to 1080/60p (1920 x 1080 at 60 fps). Unfortunately, Sony was forced to use a proprietary format for this resolution, because AVCHD only support up to 1080i. We may not love proprietary formats, but we certainly understand why they couldn't sit around waiting for the AVCHD coalition or some new body to create a new standard. Panasonic did the same thing with their camcorders in 2010, and blew us away with the results. If you want the best possible video quality from the HX100V, you'll just have to work within Sony's parameters.
There are options in the menu to reduce the resolution to 1080i and lower in order to produce AVCHD video files. You can reduce the compression quality of any of the video formats if you want to save space on your media cards.
In playback mode, there are multiple sort options, as well as the ability to create slideshows and perform some minor editing like cropping, red-eye reduction, and sharpening.
The Sony DMC-HX100V has a lot scene modes, but not early as many as a lot of lower-end cameras. The list includes: High Sensitivity, Soft snap, Landscape, Twilight Portrait, Twilight, Gourmet, Beach, Snow, Fireworks, Pet, Soft Skin, Handheld Twilight, and Anti Motion Blur.
There are also color mode options for standard, vivid, real, sepia, and black & white.
The Sony DMC-HX100V offers a burst mode of 10fps in full 16.2MP resolution, for a maximum of 10 shots.
The Sony DSC-HX100V has a slew of manual controls, which is exactly what you should expect from a $449 camera with a 30x zoom. In addition to the standard PASM controls, there are a lot of special features that we'll detail at the bottom of this page.
The camera's form factor allows for some interesting control options. For instance, the lens barrel has a control ring that can be used for either zooming or focus, with a physical switch right on the side to toggle between the two. There's also a mode on the dial that stores your three favorite camera settings (any configuration of exposure, shutter, aperture, white balance, compression, aspect ratio, you name it). It's great if you have certain types of scenes you come back to with regularity.
The manual focus on the Sony DSC-HX100V is very good, thanks to the large dial surrounding the lens. Our only complaint is that the dial has to share duties with the zoom function, so it's clearly different from an SLR lens in that regard. When you engage the manual focus, a graphic appears at the bottom of the screen to give you a sense of where in the focal range you are, measured in meters.
The auto focus is fast and seemed extremely accurate, in our limited time with the camera. There are multiple AF modes: 9 points, Center Weighted AF, Flexible Spot AF, and Manual. There's also a Face Detection mode and tracking focus feature.
The Sony DSC-HX100V has an expansive set list of ISO options: Auto, 100, 125, 160, 200, 250, 320, 400, 500, 640, 800, 1000, 1250, 1600, 2000, 2500, and 3200. To make these changes you use the small scroll wheel on the upper right corner of the back. Push in to enable changes, then scroll back and forth to make your selection.
There is also an automatic Motion Detection feature that, when then camera detects motion in the frame, the ISO and shutter speed are automatically increased.
The Sony DSC-HX100V allows for fully independent aperture and shutter control, as well as aperture priority and shutter priority modes. Like ISO, you use the scroll wheel in the upper right corner of the back to make changes. It's quite easy and comfortable, though nothing like you'd get from dedicated dials on an SLR. In manual and priority modes, you can shift the aperture from f/2.8 - 8.0. In auto mode, that range closes down to f/2.8 - 6.3.
The shutter speed can be manually adjusted from 1/4000 to 30 seconds in manual and shutter priority. aperture priority mode, it will automatically range from 1/2000 to 8 seconds. In iAuto it ranges from 1/4000 to 2 seconds.
The Sony DSC-HX100V has white balance settings for: Auto (Intelligent), Daylight, Cloudy, Fluorescent 1 (White Fluorescent Lighting), Fluorescent 2 (Natural White Fluorescent Lighting), Fluorescent 3 (Day White Fluorescent Lighting), Incandescent, Flash, One Push, and White Balance Shift. When using Face Detection, the white balance will automatically adjust.
The camera offers an EV compensation of +/-2EV in 1/3EV stops, accessible in the shooting menu. You can also set the camera to bracket three pictures with an EV setting of +/-0.3EV, +/-0.7EV, or +/-1.0EV.
For automatic metering, the Sony DSC-HX100V has settings of Multi Pattern, Center Weighed, and Spot.
The Sony DSC-HX100V features the Optical SteadyShot stabilization system. An optical system is an absolute necessity when you're talking about a 30x zoom. Our time on the CP+ show floor was enough to convince us that if you can hold yourself relatively steady, even shots in full tele come out sharp. Of course, we only had the LCD to gauge the sharpness, but a 921K LCD is a pretty good method of evaluating.
The Sony DSC-HX100V offers just a handful of options for the size and shape of your picture. In its native 4:3 aspect ratio, you can choose 16MP, 10MP, 5MP, or 0.3MP (VGA). In 16:9, you can record 12MP and 2MP. There is no option for 3:2 or 1:1 aspect ratio. You can manually lower the compression if you're looking to save space.
The Sony DSC-HX100V has a ton of special features that we've listed below. We can't promise that they'll all be of use to every photographer, but there are few duds here. Most are clever and innovative, and few seem to be in their first generation, so you know there's been some evaluation and redesign over multiple iterations. The only feature we really question here is 3D, which is still in its gimmick phase.
p. * Backlight Correction HDR – High Dynamic Range (HDR) shooting has become quite popular, and Sony throws its hat in with this feature that takes three images in succession and creates a composite that takes the best exposure levels for each area of the shot.
p. * Noise Reduction – There are two NR modes, Clear RAW and Slow Shutter. Don't get this confused with RAW photo files. The camera only shoots in JPEG. We're not quite sure why they named one of these settings "RAW."
p. * Smile Shutter – The Smile Shutter features has been a staple of Sony's for many years now. The camera is able to read basic facial expressions, and take a picture the moment one or two people in your picture are smiling. You can also set it to child or adult priority.
p. * Blink Detection – Similar to Smile Shutter, the camera uses facial recognition to look for blinks. If you put the camera in Soft Shutter mode, it will take two photos, then discard the one with the blinking. If both photos contain blinking, the camera will alert you so you can re-take the picture.
p. * Background Defocus – It's an attempt to mimic short depth of field shots you might be accustomed to from DLSRs with decent lenses. The Sony DSC-HX9V takes two shots, and analyzes the photos to determine what it foreground and what is background material. It then blurs the background. It helps if you have a lot of distance and contrast between your foreground subject and the background.
p. * GPS – Like a lot of cameras this year, the Sony DSC-HX9V records GPS data and attaches it to the EXIF data. You can use this data later for sorting and tagging.
p. * 3D – The camera can also create 3D images by taking multiple photos to create a composite 3D image. Of course, the LCD on the back is merely 2D, so you need a 3D-enabled TV to determine the efficacy of the 3D effect. The fact that Sony is one of the prime drivers behind the 3D TV movement – a movement that has been slow to gain ground – should be a blaring klaxon indicating why this feature is on the camera.
p. * Panorama – The panorama feature on the Sony DSC-HX9V is more advanced that similar cameras we've seen on the CP+ show floor, so far. You can determine how wide of an angle you'd like the pictures to be, rather than being forced into a fixed setting. Image sizes are as follow: 7152 x 1080 (204 deg), 4912 x 1080 (140 deg), 4912 x 1920 (149 deg), 3424 x 1920 (104 deg). There's also an option to create 3D panoramas.
The LCD on the Sony DSC-HX100V is a key feature in the camera's repetoire. Not only does the 3-inch screen has an impressive 921,000-pixel resolution, it's also articulated, able to bend along the horizontal axis for shooting up high and down low. Sony also states that it features TruBlack technology for deeper contrast and more color.
The camera has a viewfinder that uses an FLC (ferroelectric liquid crystal display) rather than an LCD display technology. Why FLC? We have no idea. Sony makes no mention of it on their website, and no other camera companies seem to be using it. We're not even sure if they used it on the previous HX1, as the specs are a little fuzzy on this matter. Our impressions were that the viewfinder felt cheap and low-res, even lower than the stated 201,600 pixels. We could only imagine using it if using the LCD were impractical, such as in the rain.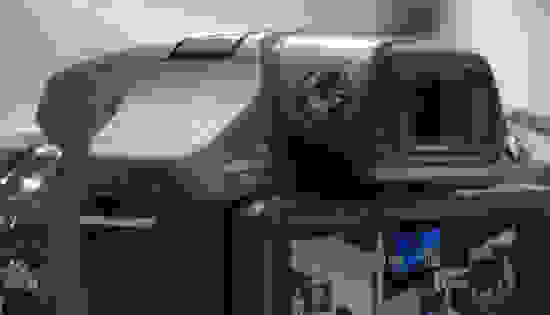 The flash on the Sony DSC-HX100V pops up from the center, looking a lot like an SLR. In the menu, there are modes for auto, forced on, slow syncro, rear slow sync, and forced off. Reportedly, it has a powerful range of about 1 - 41.7 feet in wide, and 6.56 to 19.4 feet in tele.
The camera also automatically enables a feature called Natural Flash that takes a photo without the flash immediate before the picture with flash. It then uses the previous photo as a color reference and makes corrections to the final, saved photo.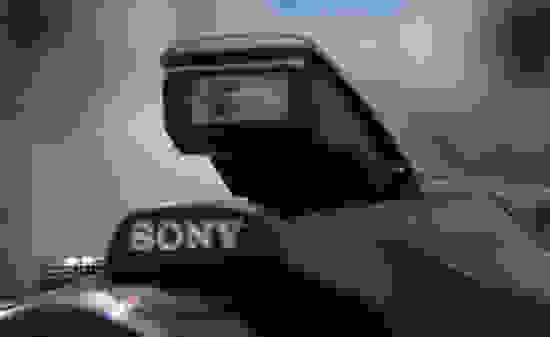 The lens and sensor are two features that receive the biggest upgrades over the previous Sony HX1, which was a tad overdue for a refresh. The lens was previously an f/2.8 20x zoom. The new HX100V has keeps the f/2.8 aperture, but bumps the zoom up to 30x. The maximum aperture range is f/2.8 - 5.6 and a focal range of 27 - 810mm in 4:3 aspect ratio.
The 30x zoom lens features excellent handling, thanks to a control ring around the lens. It's clearly a servo control and not a mechanical control, but its very smooth and could make for some great effects when shooting video. If you need to use the lens ring for focus, there's a secondary zoom control on the shutter button.
The sensor is an Exmor R back-illuminated CMOS with a gross pixel count of 16.8MP (16.2MP effective) that measures 1/2.3-inches. That's a significant increase over the HX1's resolution of 9.1MP over 1/2.4 inches. Of course, there's some cause for concern that such an increase of pixel density over essentially the same surface area will result in noise and decreased sensitivity. We're hoping that the new back-lighting on the CMOS will alleviate those concerns, but we won't know until we can test the camera in our labs.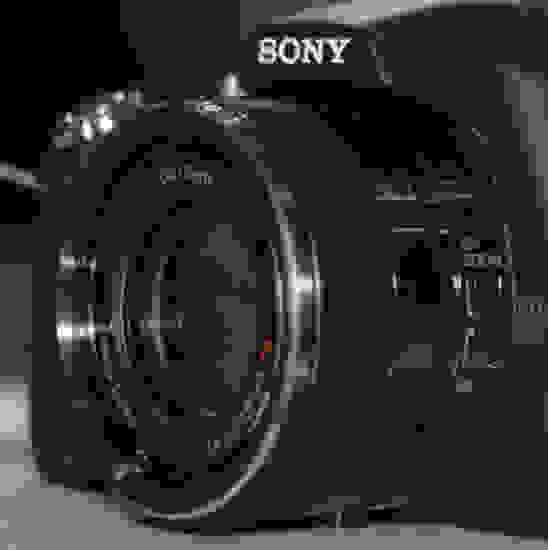 The Sony DSC-HX100V houses a mini HDMI, DC power, and a proprietary port for USB and AV output, all on the left side of the camera. The battery and media cards load from the bottom.
The Sony DSC-HX100V ships with the NP-FH50 battery, a 6.8V rechargeable Li-ion. Sony does not state how many shots the battery is good for.
The camera uses SD, SDHC and SDXC media cards, which is the standard for most cameras these days. They load from the bottom.
The Sony Cyber-shot DMC-HX100V ($449 MSRP) is a beast of a point & shoot, with a whopping 30x zoom and a boatload of special features. The list of improvements over the previous HX1 shows that Sony has put a lot of thought into what customers might like, included a back-illuminated sensor and a nearly doubled pixel count. It's certainly not a small camera, but you can only ask so much of something with a 30x zoom. Overall, the handling is excellent, particularly the zoom/focus ring around the lens. For that particular segment of the population that demands good manual control but (for whatever reason) doesn't want a DSLR, this could make a great choice.
Meet the tester
David Kender
Editor in Chief
@davekender
David Kender oversees content at Reviewed as the Editor in Chief. He served as managing editor and editor in chief of Reviewed's ancestor, CamcorderInfo.com, helping to grow the company from a tiny staff to one of the most influential online review resources. In his time at Reviewed, David has helped to launch over 100 product categories and written too many articles to count.
See all of David Kender's reviews
Checking our work.
We use standardized and scientific testing methods to scrutinize every product and provide you with objectively accurate results. If you've found different results in your own research, email us and we'll compare notes. If it looks substantial, we'll gladly re-test a product to try and reproduce these results. After all, peer reviews are a critical part of any scientific process.
Shoot us an email