Front
When closed, the front is completely featureless, except for logos and titles scattered around. When you slide it open, the lens is revealed, and a small opening is made for the flash and auto focus assist lamp.
The extended front
Back
In the images below you can see how the controls are completely covered when the camera is closed, but when it's opened you gain access to the zoom controls and a large and well textured grip area.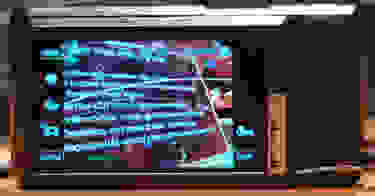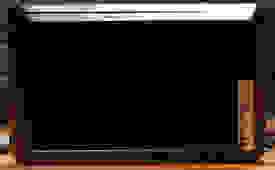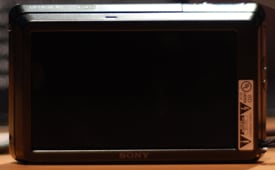 The G3's rear, both open (top) and closed (bottom).
Sides*

The sides of the camera are relatively nondescript. The left side is completely barren, and the right has two buttons, one for powering up the camera, and one to launch the Wi-Fi functionality.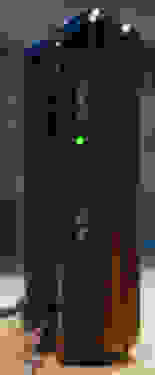 The left and right sides of the camera

*Top**
The top has two buttons, a large one on the far right for taking photos, and a smaller one to its left to launch into playback mode.


The top buttons are all near the right
Bottom
The bottom has access to the memory stick and battery under a door on the right, then the proprietary port, and finally a tripod mount.


The bottom of the camera
**

****LCD Screen**

Sony has a tradition of making LCDs that have an almost ludicrous level of resolution, and the DSC-G3 is no exception. It squeezes 921,000 pixels into 3.5' of diagonal space. However, most of the menu system felt like it didn't take proper accounting for this high resolution, as it looks fuzzy. Since the LCD is the primary method of interface for the camera, a lot rides on its abilities to respond properly, promptly and accurately to your inputs. Unfortunately, we found that the Sony didn't quite live up to the hopes we had. Part of this comes from the fact that it's a resistive touch screen, which means it needs to be re-calibrated regularly, and requires a stylus if you have anything but the finest of fingers. The touch screen system is also quite slow, which means you don't always know if you've pressed something as it takes a second to process, so you may accidentally press a couple of times trying to get it to respond. Finally, one of the inherent problems with any type of touch screen is the fact that it will inevitably get smeared with fingerprints, making the screen smudged and harder to read.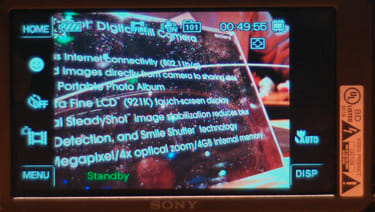 The 3.5' LCD has an impressive 921,000-pixel resolution.
 

Flash

The flash is small, but packs a strong punch. It can be set to three levels of brightness: Normal, Plus and Minus; as well as being set to Auto, On, Slow Synch and Off. Red Eye reduction is controlled through a separate menu system.
Lens
The Sony Cyber-shot DSC-G3 has a tiny Carl Zeiss Vario-Tessar lens, with 4x optical zoom (equivalent to 35-140mm on a 35mm camera), with an aperture range of f/3.5 to f/4.6.  It's tucked away on the top right corner of the camera, so be careful that errant fingers don't get in its way. The maximum aperture of f/3.5 is slightly slow, which may mean trouble shooting in low light situations.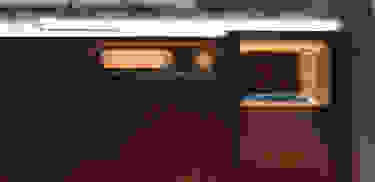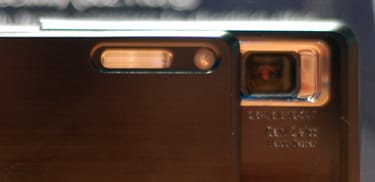 The flash and lens
Connections

Sony is renowned for demanding proprietary systems for everything they can, and the G3 is no exception. The one port can be used with the supplied cable to make a USB or composite video connection, or to an HDTV via component output with an accessory cable.This style of proprietary port does save space on the camera's body, but the cables are often expensive to replace.

A proprietary port

Battery

With the G3's sister model, the T700, the battery life was distinctly underwhelming, due to the large power draw of a touch screen interface. We imagine the same problem will occur with the G3 given the identical hardware, but won't know until we bring the camera in for testing.
The G3's battery. Directly above this is where the Memory Stick would sit if there were one in the floor model.
Memory

Once again, Sony demands that you use the proprietary Memory Stick format with this camera. These cards are available in sizes up to 16GB, though are not as plentiful or inexpensive as SDHC cards. **Other Features**

*Wi-Fi and Browser *– The big drawing card for the G3 is the Wi-Fi capabilities that this camera boasts. Rather than just being tied to a single provider, or to public and private wireless hotspots, the G3 has a fully functional browser, which means you can purchase Wi-Fi functionality at any hotel or airport and upload your images. This also means you can go to any website to upload your pictures, or surreptitiously surf the web when you're meant to be reviewing cameras. This is the first time we've seen a full browser in a digital camera, and look forward to testing it beyond the bounds of the trade show floor.  In an  agreement with AT&T, buyers will also get access to all the AT&T Wi-FI hotspots across the country (including Starbucks and McDonalds) until 2012. We've uploaded an animation of the process of uploading a picture to Picasa below, and it's surprisingly straightforward. The G3 uses Netfront, a web browser designed to be embedded in small devices, usually mobile phones. The version of the software we briefly used was pre-production and under the duress of the show-room floor, so we look forward to seeing how well it works in our lab tests.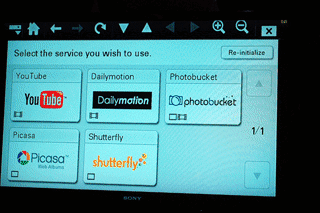 *Portable Photo Albums - *The D3 can take advantage of its substantial 4GB of internal memory, in conjunction with Sony's PMB software, to store small versions of your photos, so that you can use the camera like a photo album. The way it works is that after you've transferred the images from the camera to your computer, scaled down version are sent back, which take up next to no space. The 4GB of memory is capable of holding 24,000 images in this manner, though we were unimpressed with the way it was implemented with the T700, and hope it works better on the G3.
Model Design / Appearance
The G3 is a good looking machine! It's small, sleek and uses its unique expanding form to great effect. It's only available in black, and is incredibly easy on the eyes. This is a camera to be seen with, and Sony have done very well on the design front.
Size and Handling
The Cyber-shot G3 is very small, and will fit in even the tightest pocket without any trouble, as it's only 5/8" (16.4mm) thick. Unfortunately we don't have the rest of the measurements for the camera, so we can't quite tell you how wide or tall it is. Sony has wisely decided that just having a tiny grip strip on the side of the LCD is insufficient to hold a camera, so the G3 slides open, which gives you a decent inch of grasping space. This makes holding the camera very easy, but it's still quite hard to navigate the menus and hold the camera with the same hand, which will disappoint the one-handed shooters out there.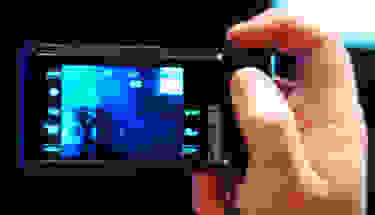 The G3 is very easy to hold.
Menu
In our brief hands-on with the G3, we had some problems with the menu system. While the menus had a large typeface, which made it easy to see, it also had a few problems. Most of the icons and text looked like they hadn't been optimized for such a high-resolution screen, so the icons looked artifacted and blurry. Strangely this isn't true with the menus around the wireless functions, which are crystal clear. The inaccuracy of the touch screen also made navigating the menus difficult, as it was easy to press the wrong item, or for it not to register being pressed at all, requiring you to press it again.
Ease of Use
The G3 is very easy to use. The options are all clearly labeled, the menu system has a straightforward layout, plus it has an Easy Mode if you really don't want to fiddle with anything, and just leave all the messy settings business to the brains of the camera.
Auto Mode

The G3 has both an Auto and Easy Auto mode, the latter of which only lets you control self-timer, image size and flash, and even those only to a limited degree. The camera can also use smile detection to automatically take a photo when someone breaks into a grin (with three levels of sensitivity). Additionally, there's Scene Recognition to help choose the right settings. When activated, it will assign your shot to Twilight, Twilight Portrait, Twilight Tripod, Backlight, Backlight Portrait, Landscape, Macro and Portrait modes based on analysis of the current scene.
Movie Mode

In movie mode, the only options are 320 x 240 (8.3 fps) and 640 x 480 (30 fps and 16.6 fps), which isn't much choice. Filming at 8.3 fps is excruciatingly limited, and will make for ultra-jerky movies. However, you still retain almost camera settings while filming, which provides better than usual control over color and exposure in our videos, though you are not able to zoom.
Drive / Burst Mode

The G3 can take 0.6 images per second for up to 100 images. It has a self-timer for 2 and 10 seconds.
Playback Mode

Playback mode on the G3 has a wide variety of functions. You can set up slideshows and tap one side of the screen to advance or go back; zoom by tapping on an image, go to a 12-picture thumbnail mode; sort by date, events, favorites or folder; add frames around your picture; edit (crop, resize, rotate, red-eye removal, image sharpen, image blur) as well as a couple of color filters and other strange tools (like one that transforms neutral faces into grins, or the rather tacky painting mode).
Custom Image Presets

The G3 has 11 image presets: High Sensitivity, Landscape, Soft Snap (for soft focus portraits), Twilight Portrait, Twilight, Gourmet, Beach, Snow, Fireworks, Underwater (which works with a special waterproof case) and Hi-Speed Shutter.
Manual Control Options

The G3 is definitely not designed for a manual photography experience: you can't even set the white balance, let alone shutter and aperture. This is a camera designed to look and feel slick, not offer you the maximum amount of control.
Focus

Auto Focus

Auto focus can be set to multi, center or spot. Additionally you can tap on the screen to focus on that area, a useful and intuitive capability. The focus seemed to react quickly and track movement accurately. When using face detection, Sony says the G3 is able to spot the differences between children and adults, and prioritize one over the other. You can also tap on a face to make that the top focus and exposure priority.
ISO

ISO sensitivity runs the impressive range of 80 to 3200, but when shooting in burst mode, using the auto bracketing function or dynamic range optimization, you can only shoot up to ISO 400, which is extremely strange, and makes burst mode all but unusable when not in bright sunlight.
White Balance

The camera offers Auto, Daylight, Cloudy, three types of Fluorescent lighting, Incandescent and Flash white balance settings. Unfortunately there is no take a manual white balance reading, which generally rewards careful shooters with far more accurate color reproduction.
**Exposure Compensation

**Exposure compensation can be set to ±2EV in 1/3 steps or be bracketed ±0.3, ±0.6 or ±1 EV. As mentioned above, bracketing can only be used when shooting at ISO 400 or below.
Metering
Metering controls are only available in program mode, and can be set to spot, center-weighted or multi, the last of which is what it uses in Auto mode. These are the standard settings that you will find in most cameras.
Shutter Speed

Unfortunately, there's no way to manually set the shutter speed, and the automatic exposure system only has the unimpressive range from 1 to 1/1000 seconds from which to choose, where most point-and-shoot cameras offer something more like 4 to 1/2000 seconds.
Aperture

As with shutter speed, there's no way to manually control the aperture. At maximum telephoto the aperture range is f/3.5 to f/7.1; at its widest setting, f/4.6 to f/10. This is a bit on the slow side, and may prove problematic in low light conditions.
**Image Stabilization

**The G3 has an optical image stabilization system called Optical SteadyShot to help prevent camera shake.
Picture Quality / Size Options
Picture Effects Mode

The G3 has a number of picture effects modes, most of which function by letting you tap on an area, and alter the image around it. Monochrome removes the color from everywhere except where you tap; fisheye lens and motion blur both morph the image around your selected point; retro blurs and dims the corners of the image; cross filter adds cross shaped flares around light points; happy faces terrifyingly contorts neutral faces into grins; and finally there's a paint mode where you can draw and stamp all over your photos.
**

**
**
Conclusion**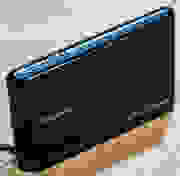 The Sony Cyber-shot DSC-G3 has a number of factors going for it. It's stylish, easy to handle and has an impressive amount of internal memory. It's also blessed with the best Wi-Fi system we've ever encountered on a camera, due to the grace of its impressive built in browser, something thats new to the camera world. However, since it has the same internals as the DSC-T700, this also means that it's be plagued by a slow and inaccurate touch screen, lack of manual controls, and might suffer the same overall below-average result in our lab tests (though we hope a firmware update might be able to fix this). It also has the substantial price tag of $499.95, which is a significant amount of money. If you want a camera that looks gorgeous, and have the funds, this is undeniably stunning, but if you want strong manual controls and excellent image quality, you might want to look elsewhere.
**Specs Table

**
Meet the tester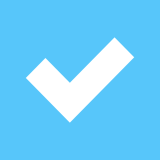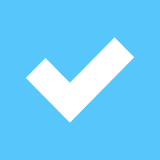 Tim Barribeau
Contributor
@
Checking our work.
We use standardized and scientific testing methods to scrutinize every product and provide you with objectively accurate results. If you've found different results in your own research, email us and we'll compare notes. If it looks substantial, we'll gladly re-test a product to try and reproduce these results. After all, peer reviews are a critical part of any scientific process.
Shoot us an email