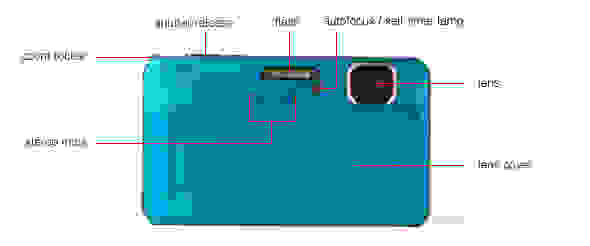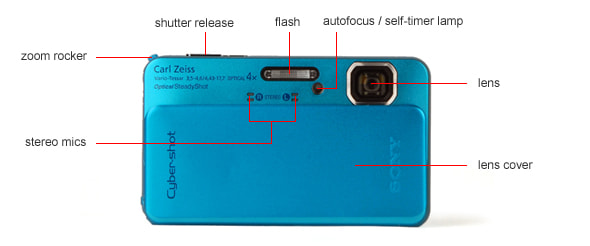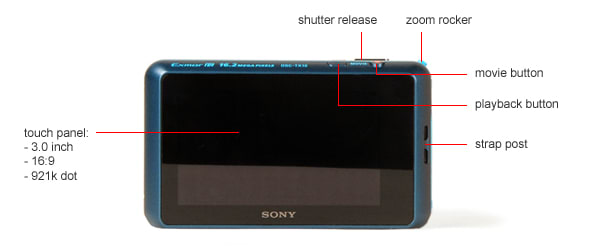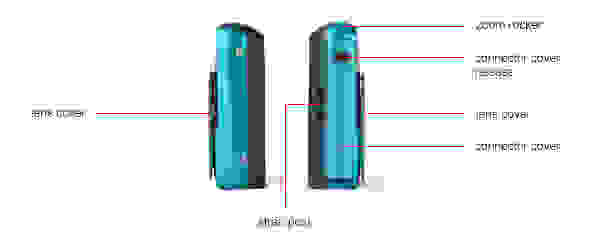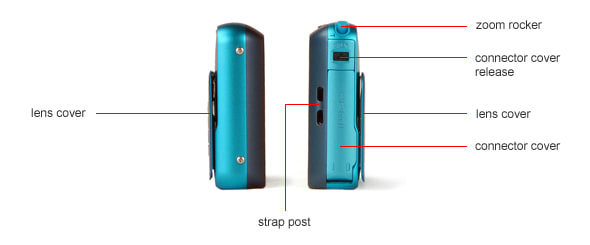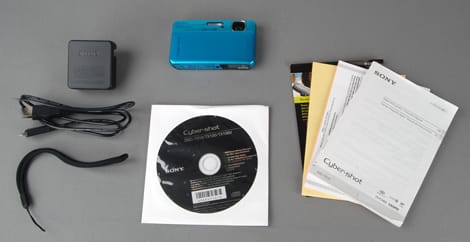 In the box:

• Sony Cyber-shot DSC-TX10 waterproof digital camera

• rechargeable battery pack NP-BN1

• USB cable for multi-use terminal

• AC adapter UB10

• paint pen

• wrist strap

• software and User Guide CD-ROM

• instruction manual

• water-proofing notes
While ruggedized cameras have a reputation for producing images of lesser quality, the TX10 earns a solid score in our color accuracy test, despite the hardy exterior. Its error value, 2.95, is worse than some, but average in this class. Reds are blues are the worst offenders, and they almost single-handedly account for this model's 10% oversaturation. More on how we test color.
Although this is a decent score, the results are not an improvement over competing models such as Pentax's WG-1, Panasonic's Lumix TS3, or even Sony's own TX5, this camera's predecessor. Pentax pulls ahead of the pack here with an outstanding color score by any standard, tough-cam or not.
The TX10 does not offer settings for altering color mode, such as Vivid or Neutral, which we often find on other cameras. The default setting was therefore our only option for testing.
Our noise test can be a bit of a liar. Sure we can detect artifacts and measure their quantity, but does that really equate to a better or worse image? Too often, we find ourselves making a recommendation that the tests don't agree with. However, in this case, the TX10 deserves every bit of its relatively high score.
Noise starts off at an imperceptible 0.47% at ISO 125, a very impressive figure. In fact, noise levels don't breach 1.00% until ISO 1600. Some smoothing software appears to kick in at ISO 400, but its application is even-keeled and doesn't damage photos as severely as competitors. Images are attractive throughout the ISO spectrum. More on how we test noise.
Reducing available light to only 60 lux did not detract from the TX10's noise performance. In fact we actually noticed a slight reduction in overall noise, although the improvement only amounts to 0.05%.
This is by far the best noise performance of our comparison group, and the qualitative difference in image quality is icing on the cake. The difference is clear in the face crops below. Notice the WG-1 is affected by grain and a loss of color saturation by ISO 800. The TX5 also seems to use the same algorithm as its newer cousin, however the bump in megapixels makes the TX10's noise less noticeable.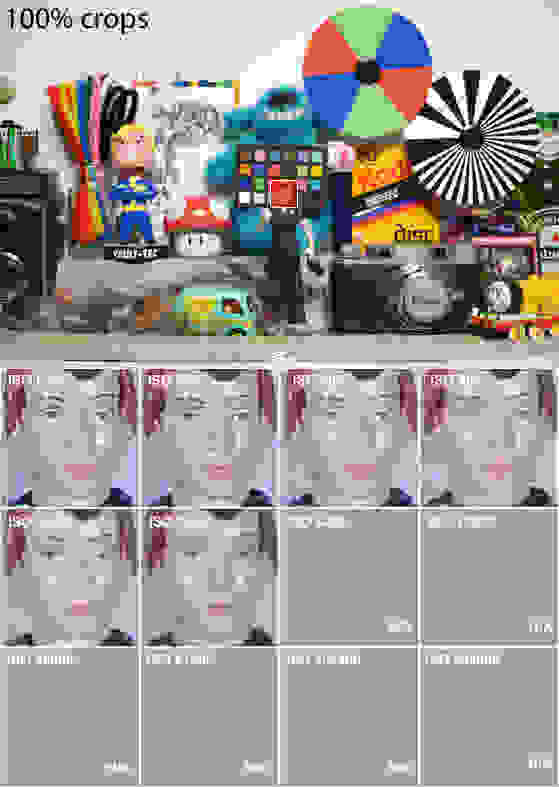 The TX10's ISO options extend from 125 to 3200, and each setting is full resolution. Pentax's WG-1 has the advantage of one extra level, ISO 6400, but each of the TX10's settings are legitimately useful, while the WG-1 loses clarity at high sensitivities.
NOTE: The images above are not used in our testing or scoring, but are included here to show real-world examples of the differences between cameras at the various ISO settings.
The TX10's resolution of fine detail is among the best in our comparison group. In its combined score of sharpness, chromatic aberration, and distortion; only the aging TX5 scored better, and even then by only a tiny margin. More on how we test resolution.
Distortion ()
At the widest focal length, the TX10's distortion is very noticeable, with a barrel-type effect clocking in at nearly 2%. Beyond this however, distortion is imperceptible at both the middle and farthest focal lengths. Distortion is easily corrected in software, so all of these cameras are strong performers. The TX10 occupies the middle of the pack.
Sharpness ()
With sharpness capabilities that often perform in excess of 2000 MTF50s at any focal length, the TX10 is able to resolve the most fine detail of any camera in this group. Only the TX5 offers sharpness performance anywhere close to this level. In the crops below, we do see some cheating in the form of always-on edge enhancement (bright white and dark black lines at high-contrast edges), however the Sonys so far exceed the competition that this makes little difference.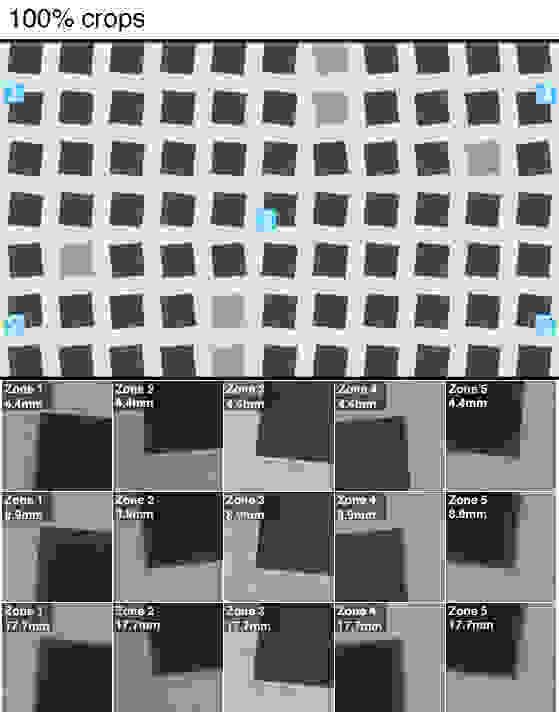 Chromatic Aberration ()
Even to those looking for it, chromatic aberration is barely noticeable in shots taken with the TX10. When the problem appears, it does so at the extremes of the frame, usually in the form of slight blue fringing at areas of high contrast.
The TX10's suite of shooting resolutions is somewhat limited against the competition, but still plenty for our purposes. Six resolutions in 4:3 and 16:9 aspect ratios are available, however there are no options to shoot in RAW mode or to adjust the compression quality level. Many of these limitations are common for the class. Of this comparison group, the Pentax WG-1 offered the most flexibility, followed by our TX10.
This model is equipped with optical SteadyShot, however there is no way to turn the feature off and thus no way for us to gather a "control" data set for lab testing. We therefore cannot award the camera any points for this measurement. More on how we test image stabilization.
All three of the comparison cameras have effective image stabilizers, and Sony's TX5 is the best of the lot. Given how similar these two models are, we expect the TX10 would've posted an equally strong score, unfortunately we cannot be sure.
The TX10's video capabilities are better than most, and include AVCHD encoding, 1080i capture, and stereo sound. What impressed us even more was the level of control access while shooting. Optical zoom is unlocked (and it's nice and quiet too), plus this model has the ability to capture full resolution stills in the middle of a video clip. Autofocus during video is also pretty functional, more than can be said–unfortunately–for many compact cameras.
Color accuracy while shooting video is terrible, and while this is true of most ultracompacts, the TX10's performance is especially poor. This has a lot to do with white balance. After depressing the video button, the camera pauses for about five seconds to adjust aspect ratio and begin shooting. During this time, it also locks in automatic white balance, which negatively impacts our test. Colors were way too hot across the gamut, and the color error rating reached a sky-high 9.6. More on how we test video color.
Sharpness, on the other hand, is a strength of this camera's still performance, and the same is true of its video mode. The TX10 resolved 475 lw/ph horizontally and a whopping 575 lw/ph vertically from our test pattern. This places the TX10 ahead of its predecessor, far ahead of the WG-1, and equal to the Panasonic TS3. More on how we test video sharpness.
Playback mode is accessed via a dedicated key to the left of the movie button. Once inside, the interface is sexy but sluggish. Touchscreen navigation is more trouble than it's worth, and onscreen virtual buttons disappear automatically, adding speed bumps to the already slow system.
Grid and fullscreen display are pretty typical, but memory access delays are noticeable. Burst shots are stored in sets, and there's some "flip book" functionality designed to work with the camera's built-in accelerometer; it doesn't work very well though. There are also two forms of calendar view: timeline style and desk calendar style, and they're just as redundant as you'd expect. Grid mode also separates images by date, a simple and useful addition.
In-camera editing is limited by a few noticeable omissions, like adjustments for color, contrast, and brightness. Basics like crop, rotate, and red-eye correction are available, along with–strangely–the ability to apply an unsharp mask, a relatively advanced feature. The most entertaining feature is a rudimentary painting interface, which is useful mostly for drawing silly pictures of co-workers.
DPOF tagging is available but the interface is does not allow for any flexibility. Images may be tagged for pharmacy printing individually or in bulk (using the touchscreen), but there is no option to specify multiple-prints. This is a limitation we don't often see in modern cameras. We could also find no documented support for the popular PictBridge standard for home printing.
The TX10's compact body has no room for an electronic viewfinder, so framing is accomplished exclusively with the gorgeous 3.0-inch widescreen LCD. Over 921,000 dots, great accuracy, fast refresh rate. Unfortunately, this beauty is also a touchscreen, and that's where the trouble starts.
This is a capacitive-style touch panel, meaning it uses the electricity in your fingers to track touch across its surface. This technology is widely accepted, however Sony's implementation here is very imprecise. The screen fails to detect input quite often, especially near the edges and corners. Touchscreens may sell cameras, but they rarely improve them.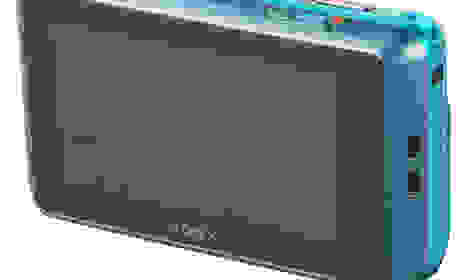 The built-in flash is well placed in the top center of the body, far out of the way of errant fingers. Effective range is rated just over 12 feet, according to Sony, and this is slightly less than comparable models. Slow synchro is supported, however red-eye reduction is not. When used, the flash itself is harsh, and casts an unflattering glare on every subject, especially human ones.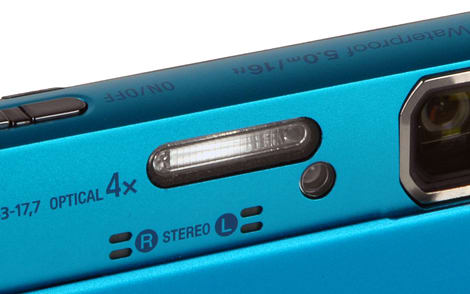 The location of the lens is annoying. Situated at the upper right corner of the front panel, the lens invites misplaced fingertips to ruin photos constantly. Hopefully, you'll notice your mistakes before taking the shot. One-handed shooting really isn't a viable solution, since this severely detracts from stable handling.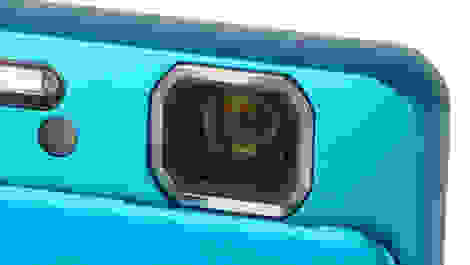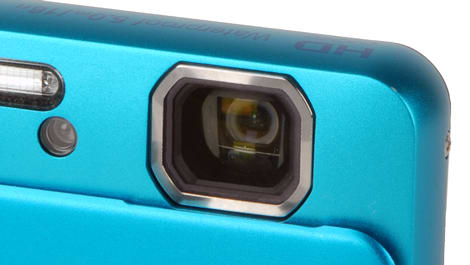 The lens' short focal range only reaches 4x optical zoom, but that's fairly standard for this category. Digital zoom of up to 16x is available, but we always recommend shutting this option off entirely.
The TX10's included lithium ion battery is CIPA rated to 250 shots, and this places it very slightly above average for the class. Our real world use was consistent with this figure, and the camera nearly survived our entire suite of tests and sample photos on a single charge.
Like many Sony cameras, the TX10 supports both SD memory and Memory Sticks. SD, SDHC, and SDXC cards are supported (class 4 is necessary for video). Memory Stick Duo, PRO Duo (Mark2 only for video), and PRO-HG Duo sticks are supported. SD cards lock painlessly into place, underneath the water-sealed compartment cover, however Memory Sticks take a little bit of experimentation to secure properly.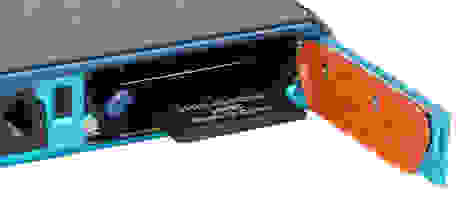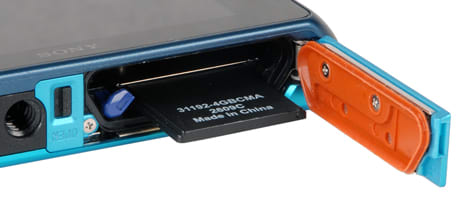 Both input/output terminals are concealed beneath a latching swing-out cover on the right side of the body. The camera is equipped with a mini-HDMI port here, and this is very useful for playback or capture of high resolution AVCHD videos, as well as TV playback of photos. Below that is a USB port for transferring data to a computer, but this solution is proprietary and only works with the included USB cable.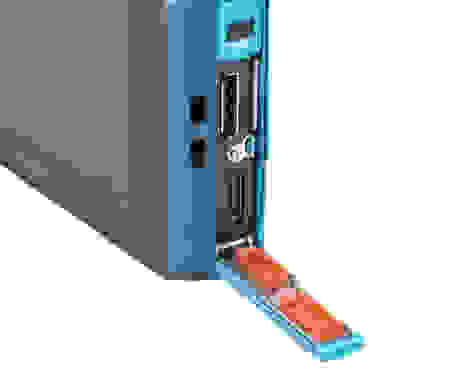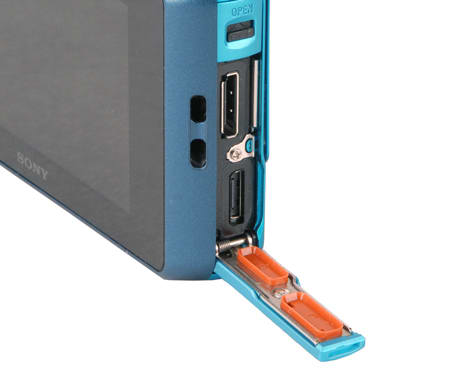 Durability
16 feet isn't the tightest waterproofing, but it's enough for most pools and snorkeling excursions. Scuba divers, on the other hand, will want to double-check their depth.
The TX10's eight shooting modes are selected using a virtual button on the right side of the interface. Two fully automatic modes are available, along with a dedicated movie mode, 3D shooting mode, panorama mode, and a few more; however we did most of our shooting in Program Auto.
Scene Modes
16 options are available in Scene mode, ranging from the typical to the useful. Landscape, Pet, Beach, Snow, and Fireworks are all here. But the more useful options are ones like Underwater, Anti Motion Blur, Backlight Correction HDR, and High Sensitivity. The selection is more practical than the silly, adolescent options usually found in cheaper cameras, and may actually improve your photography, a tragically uncommon feat for Scene mode.
Pictures effects are limited to the playback menu, there are no options available during shooting. These mainly consist of silly digital frames and the entertaining paint feature, however those were already scored in our in-camera editing section, and we do not award additional points here.
The closest thing to a manual control is the TX10's hardware zoom rocker, which is located in an awkward spot anyway. Manual adjustment of ISO and exposure compensation is possible, however this is not a PASM-equipped camera and no full manual mode exists.
Although the TX10's burst mode maxes out at 10 shots, it is just screaming fast. And while a larger buffer would've been desirable, we can't help but be impressed by this speed.
This model's self-timer may also come in handy. Two-second and ten-second countdowns are available, as well as one or two person portrait modes, which automatically count down once one or two faces are detected.
Shot to Shot ()
We clocked the TX10 at 10.00 frames per second, exactly equal to the spec sheet's claim. Slow memory card access means fully continuous shooting is not possible, although most users–ourselves included–will be satisfied with this burst mode instead.
Any ultracompact's form factor will be undesirable for stable handling to begin with, but a few details make the TX10 even worse. The oversized screen is touch sensitive, so the right thumb must be removed to prevent accidental keystrokes. In order to zoom, the right pointer finger must curl up and away to reach the lever. That's two points of contact down. With only one piece of grip real estate remaining (the front panel), support from the left hand is necessary to achieve stability. But this of course places the left pointer dangerously close to the lens.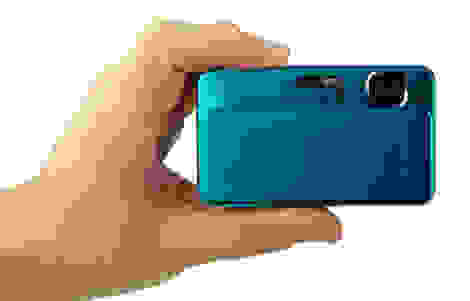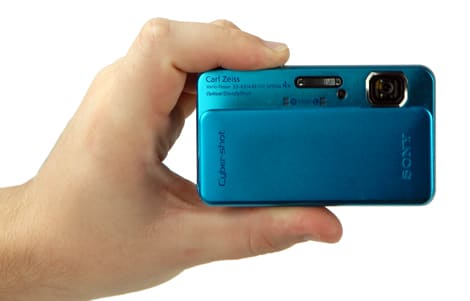 All this results in quirky handling that is never really comfortable. You'll probably resort to an improvised one-handed grip that is cramped and awkward. As you'll soon read, this severe problem is made even worse by one particularly poorly designed button....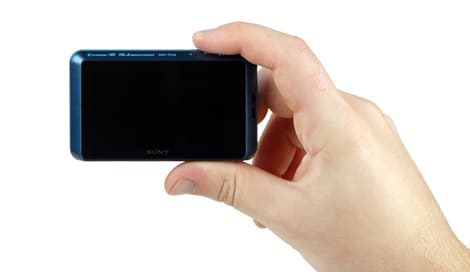 The TX10's shutter release is God-awful. Although autofocus lock is possible, the button has no halfway-down stage at all. In order to lock focus, users must kinda'-sorta' push the button, and hope autofocus kicks in without necessarily snapping the picture yet. We have a feeling this is because subtle tactility is hard to pick up when shooting underwater, but this ignores moments of on-land shooting such as, for example, every other shooting situation ever.
The remaining buttons for playback, video recording, and power work relatively well. They lack stroke and feedback, but not enough to negatively impact use.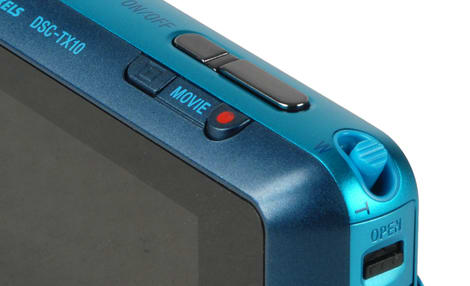 Like far too many cameras today, this one's menu system is handicapped by a touchscreen. In fact, it's not that this is even a poorly designed interface, just a slow one, due to the input method. Other than overall speed, one specific annoyance is scrolling. The interface uses an Apple-style "inverse swipe" method to scroll through options, but the panel is not sensitive enough to consistently differentiate swipes from clicks. So you'll often find yourself selecting options you never meant to.
The included printed manual isn't very detailed and neither is the downloadable user guide. In-camera help is excellent however, featuring both tooltip-style popups for various functions, as well as a main In-Camera Guide with categorized help topics and keyword search. This was helpful even for so-called "experts" like us, and plus, when off shooting in the real world, nobody brings along their printed manual.
Against our TX10, the Pentax Optio WG-1 is certainly the "tougher" tough-cam. Waterproof down to 33 feet, crushproof up to 220 pounds, and it looks the part too, with a rubberized, armored exterior and adventurous carabiner strap. But with that resiliency comes some sacrifices. The TX10 takes better pictures and, except for color accuracy, outperforms the WG-1 in all of our image quality tests. The TX10 also boasts a superior burst mode and better handling of video.
The choice between these two models will depend on modesty. How hardcore of an adventurer are you really? If you are the sort to scale sheer cliff faces, scuba dive, brave frozen wastelands, or raid lost arks; then the WG-1 is your camera. If you're like us on the other hand, and your tough-cam's chief responsibility will be surviving hayrides, sand castle construction, and occasionally falling down the stairs; then stick with the TX10's more attractive photos.

/r:render
Improvements made to the TX10 over the TX5 are minimal. We're guessing the same image sensor is in use here since many scores are almost exactly identical, specifically color accuracy, resolution, sharpness, and chromatic aberration. What improvements have been made are in software. Boosts to noise reduction, picture size options, and video encoding will be the only justifications for an upgrade. Both are fine cameras, so depending on what sort of price you can find, the upgrade or the extra expense may or may not be worth it.

/r:render
The TX10 and Panasonic's TS3 scored incredibly close together, to the point that it became a curiosity around the office. In the end, our overall tally places the TX10 slightly ahead. Yet this is another example of different value for different users. The Panasonic is a more serious, "tougher" camera, with waterproofing to a depth of 40 feet, the best of our entire comparison group. Like the WG-1, the TS3 also looks the part, with hard plating and a rock solid feel. Plus it has GPS, if you're into that.
Sony's model differentiates itself in two areas, noise and resolution. Sony's noise reduction algorithm is much more effective than the TS3's, or any other comparison model for that matter. Its lens also seems far superior, with resolution and sharpness scores that double and triple the TS3's.

/r:render
With the debut of the Cyber-shot TX5, this camera's predecessor, Sony sought to carve out a new sub-category inside the ruggedized camera market. The TX5 did not offer quite the same degree of water proofing, wasn't quite as crush resistant, and couldn't operate in the same extreme temperatures as some of the competition. But the model was slim enough to fit comfortably in the pocket, and it was so stylish you'd never guess it was a tough-cam.
The TX5 was a full-time ultracompact, but a tough-cam when you needed it to be. Equally at home on the ski slopes or underwater as it was at the nightclub or the kid's birthday party. It was a new concept that turned out really well, a solid point-and-shoot that simply added in some rugged features.
All this can of course be said for the TX10. And that's actually our biggest gripe. The TX5 and TX10 are practically the same camera. Nearly identical performance, features, form factor, everything. Rugged elements have been toughened up a bit more, megapixel count has seen a boost, but almost every other improvement is the result of improved software, not hardware. Many of them might've been applied to the TX5 with a simple firmware update.
Still, it's hard to fault a camera simply for being a little bit better than an already excellent one. So we do recommend the TX10. This model is best for users looking for a simple point-and-shoot that happens to also feature the versatility of water-, cold-, dust-, and shock-proofing. Just be aware, if you're already a TX5 owner, then you are already in possession of a high quality ultracompact, and need not upgrade.
Meet the tester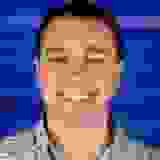 Christopher Snow
Managing Editor
@BlameSnow
Chris was born and raised less than ten miles from our editorial office, and even graduated from nearby Merrimack College. He came to Reviewed after covering the telecom industry, and has been moonlighting as a Boston area dining critic since 2008.
Checking our work.
We use standardized and scientific testing methods to scrutinize every product and provide you with objectively accurate results. If you've found different results in your own research, email us and we'll compare notes. If it looks substantial, we'll gladly re-test a product to try and reproduce these results. After all, peer reviews are a critical part of any scientific process.
Shoot us an email