Front
From left to right, the camera front provides a thin flash unit above and to the left of the telescoping 4x optical zoom lens. On the other side of the lens are four small holes, with a small speaker beneath. The auto focus assist illuminator/self-timer indicator is in the top right corner.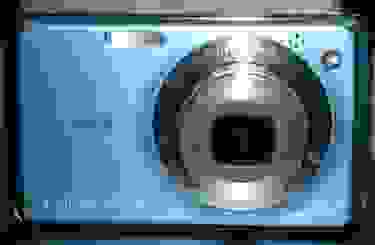 The design is simple but attractive, with a solid feel in your hand.
Back
The 2.7-inch screen takes up most of the back of the camera, wth controls grouped in a vertical strip down the right side. At the top of this control block is the zoom lens switch, which doubles as a photo enlargement control during playback. Next down is the mode dial, with ten options, . There's a dedicated playback button, indicated by the standard VCR-style logo, and below that a four-way controller for menu navigation, with dedicated controls for (from the top, clockwise) Display Mode, Flash, Self-Timer and Macro Mode, with an OK button in the middle. At the bottom of the control panel are two buttons, one that calls up the relevant Menu for the current mode, the other a Home key to back out of menu options.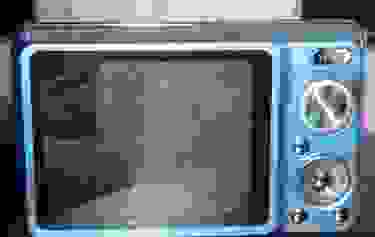 The controls are small but well spaced for easy access.
Sides*

*Other than reminding the user of the slightly extended zoom range offered by the camera, the left side has no particular function.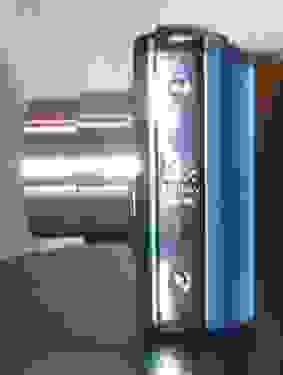 As you can see here, the lens at full extension
is deeper than the camera itself.
The right side provides a loop for threading the wrist strap.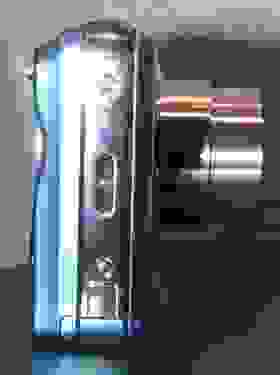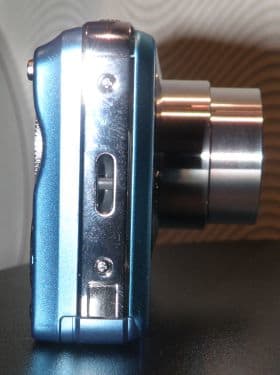 *The right side is ready for the wrist strap attachment.

*
Top
The top of the camera is simply laid out, with the shutter at the far right and the power switch beside it. The three-dot cluster at the left is the microphone location.



Shiny and straightforward
Bottom
The door at the left slides out and pivots down to provide access to the battery compartment and MemoryStick slot. The plastic tripod mount is centered beneath the lens.


*The plastic tripod mount won't take much wear and tear,
but likely users probably won't care.*
Viewfinder
Like most compact cameras, the W220 lacks an optical viewfinder.

LCD Screen

The W220 provides a 2.7-inch LCD with typical 230,000-dot resolution. Working indoors in fairly dim light, the display seemed bright and the menus very readable, as shown below.
While shooting, pressing the Display button toggles between a full shooting information display, full information plus a luminance histogram, and a clean screen.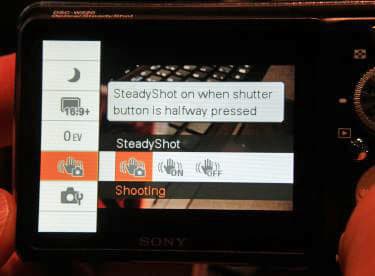 The screen isn't particularly high-res, but smart graphic design
makes the display seem commendably clear.
**
Flash

A narrow rectangular flash is located above and to the left of the camera lens. ****This positioning should make red-eye less of an issue than with some point-and-shoots, which position the flash directly above the lens. Just in case, red-eye reduction using pre-flash is available as an option.
****The specs say that flash range with the camera set to ISO Auto is approximately 0.66-12.8 feet (0.2-3.9m) at the widest -angle setting and 1.64-6.23 feet (0.5-1.9m) at maximum zoom. There are three levels of flash intensity, selectable via the menu system, a worthwhile feature frequently omitted in this class of camera.

**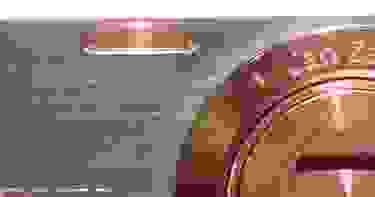 The small flash is offset from the center of the lens.
 **Lens**
The W220 features a 4x optical zoom with a 5.35mm-21.4mm range (equivalent to a 30mm-120mm lens in 35mm photography).
Connections

Once again we find ourselves in the land of proprietary connections, where a lost cable is not just inconvenient, it's expensive and difficult to replace. In this case, the W220 uses a single branching cable that fits in the multipin connector on the bottom of the camera and forks off into a USB jack for connecting to a computer, and a composite video/audio branch for connecting to a TV. High-definition output at 1080i resolution is also available with purchase of an accessory cable.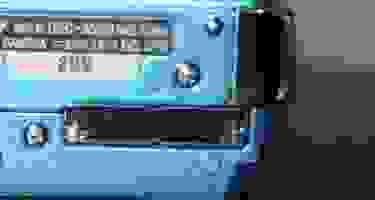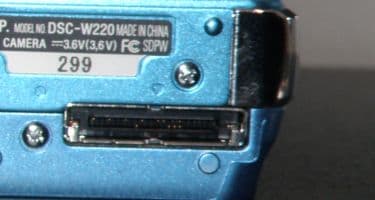 This proprietary connector handles data and AV. Battery

The slim lithium ion battery has a 3.6V, 960 mAh capacity. When inserted in the compartment it shares with the memory card, a small tab keeps the battery from falling out accidentally.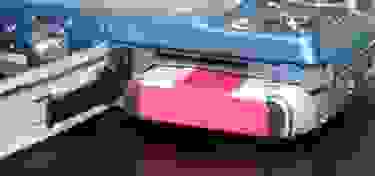 Sony cameras usually exhibit strong battery life.**Memory**

The camera includes 15MB of built-in memory, but relies on optional Memory Stick Pro media for serious image storage.
Model Design / Appearance
We like the look and feel of the DSC-W220. All too often in a sub-$200 camera there's a certain Fisher-Price toy feel to the build and design, but this Sony comes across as a sophisticated piece of gear meant for demanding users.
Size and Handling

The DSC-W220 is small but not wafer-thin, at 3 3/4 x 2 1/4 x 7/8 inches (95.2mm x 56.5mm x 21.8mm), weighing in at approximately 5.2 oz. (147g) with battery and memory stick.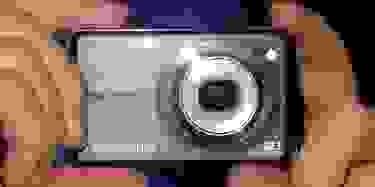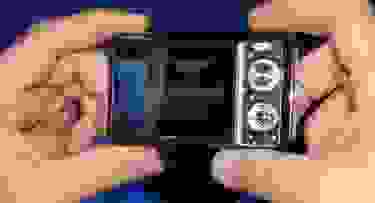 The top-and-bottom pinch is the most appropriate
camera holding strategy here..
Menu

The menu system works in vertical columns: categories are stacked along the left edge and, as you cursor down, a fly-out strip provides choices which can then be selected by moving the cursor horizontally with the four-way controller. Since the number of options in this highly automated camera is fairly limited, this strategy works well: you never have to toggle down more than three screens to reach the choice you require. As for the presentation, it's crisp and clearly legible.
Ease of Use
Sony designers were smart about providing training wheels to help users master the features provided. We particularly like the use of text messages accompanying each menu selection to clarify your options. Another good choice involves the mode dial, which is relatively small and festooned with icons without captions. When the user begins turning this wheel, an on-screen animated version appears at the right side of the LCD, providing a larger display and explanations of the options you're scrolling through.
Auto Mode

The WSC-220 offers a variety of automated modes. At the most basic level, Easy locks out all user settings except for image size and flash mode, while Auto mode allows changes to image size, face detection mode, burst mode, redeye reduction setting and scene recognition mode. For the full set of controls, users rely on Program mode.
Movie Mode

The WSC-220 can shoot at 640x480 or 320x240 resolution at 30 frames per second, 16 frames per second or 8.3 frames per second, storing trhe results in MPEG1 format, which means fairly large files. On the plus side, most image controls from the still photography side carry over to shooting video, including white balance, color mode and optical image stabilization.
Drive / Burst Mode
According to Sony, the full-resolution burst rate mode is 1.7 frames per second for up to 100 consecutive shots. There is also a self-timer, with 2-second and 10-second intervals, and exposure bracketing of plus or minute 0.3 and 0.7 EV..
Playback Mode
While reviewing images, photos can be magnified up to 8x, an adequate if not particularly generous range. Zooming out repeatedly brings up thumbnail image view, first with 12 images on screen simultaneously, then 25.
There is an odd assortment of editing options here. Some are clearly useful, including red-eye removal, soft focus, and perhaps the fisheye effect and partial color, which produces an interesting advertising-like effect. Maybe adding cross-filter sparkles will make you happy and, if so, more power to you. On the other hand, the Happy Face effect which imposes a smile on a recorded face by distorting the image is indisputably creepy.
Custom Image Presets

The Intelligent Scene Recognition system analyzes the subject and attempts to assign it to one of five built-in scene modes: twilight portrait, twilight, twilight using a tripod, backlight and backlight portrait. Unlike other cameras which implement this approach, the Sony version will snap two consecutive shots if more than one scene mode might be appropriate.
Altogether there are ten user-selectable scene mode presets, including high-sensitivity, twilight, twilight portrait, soft snap (for soft-focus backgrounds), landscape, beach, snow, fireworks, underwater and gourmet. 
Manual Control Options
This is not a camera designed with a lot of manual control in mind. There is no direct control over aperture and shutter speed, and no true manual focus. Exposure compensation is available to provide some control over light levels in a pinch.**

**
Focus

Auto Focus

There are three auto focus modes: 9-area multi-point, center-weighted and spot. There is also a 'semi-manual' focus option that allows users to choose a distance measurement from 0.5m, 1.0m, 3.0mn, 7.0m or infinity, which strikes us as just about useless.
Face detection mode is also available, for up to eight individuals. In addition to focus, face detection tailors flash, exposure and white balance based on the subjects identified in the frame. And if you like, you can tell the camera to prioritize face detection to favor either adults or children.
As an adjunct to face detection, Smile Shutter mode may prove useful if your family is a cheerful bunch. The camera waits, after the shutter is pressed, until it recognizes a grinning individual within range before taking a photo. After a few generations of implementing this feature certain refinements have been added, including the option to manually take a photo by pressing the shutter if nobody cracks a smile, and to set the camera to prioritize between adult and child smiles.
ISO

ISO sensitivity ranges from 100 up to 3200 at full resolution, pleasingly high at the top end, which pairs well with a relatively fast f/2.8 lens. Auto ISO is, of course, also available.
White Balance

In addition to automatic camera-controlled white balance, there are seven available white balance preset modes, including daylight, cloudy, incandescent, flash and three flavors of fluorescent light; we appreciate having fluorescent flexibility, since a single setting is really inadequate to deal with the range of bulb colors available. What's missing, though, is the option to take a manual white balance reading by shooting a neutral card under available light, the best approach for fine-tuning white balance settings..
Metering

The standard trio of settings is available: full-screen evaluative, center-weighted and spot..
Shutter Speed

There is no direct user control over shutter speed. The automatic exposure system can set the camera within the range of 1/4 second to 1/1600 second, not a spectacularly fast shutter, but adequate for freezing most fast-action scenes.
Aperture
Maximum aperture is a reasonably fast f/2.8.
**Image Stabilization

**The W220 offers optical image stabilization in addition to an automatic ISO-boosting digital stabilization feature.
Picture Quality / Size Options

There are eight image size options, at three different:
4:3 format: 12MP, 8MP, 5MP, 3MP, VGA (640x480)
3:2 format: 11MP
16:9 format: 9MP, 2MP
Picture Effects Mode
When Dynamic Range Optimization is turned on, the camera attempts to manipulate exposure and contrast settings to maintain the widest possible range of black-to-white reproduction. DRO can be set to off, normal or plus.
There are also four available color modeswhile shooting: normal, vivid, black and white, and sepia.
**
Conclusion**


The Cyber-shot DSC-W220 doesn't offer any revolutionary advancements, but it packages a  number of attractive features found in more expensive models into a sub-$200 camera. We were impressed by the build quality of our pre-production sample: the metal body feels solid and substantial in your hand. The resolution (at 12.1MP), optical zoom (4x) and ISO range (up to ISO 3200) are all just a bit more generous than we expect for a camera in this class. Even some easy-to-overlook features, such as the ability to adjust flash intensity, will prove very useful in real-world situations. We would have appreciated some level of manual control, but then again, this is indisputably a point-and-shoot camera, where the two levels of Auto mode are more important to the target audience than the option to set shutter speed or aperture directly.Without lab results, of course, we can't begin to give thumbs up or thumbs down to the camera, but it made a strong first impression.
**Specs Table

**
Meet the tester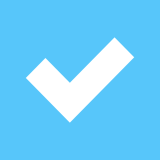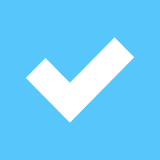 Steve Morgenstern
Editor
Checking our work.
We use standardized and scientific testing methods to scrutinize every product and provide you with objectively accurate results. If you've found different results in your own research, email us and we'll compare notes. If it looks substantial, we'll gladly re-test a product to try and reproduce these results. After all, peer reviews are a critical part of any scientific process.
Shoot us an email