Note: The DSC-TX200V is called the DSC-TX300 in Japan, so the model we photographed and wrote about during the CP+ tradeshow in Yokohama is labeled as such. The TX300 and TX200V are nearly identical, however, with the only major difference being the lack of WiFi connectivity on the TX200V.
With its glossy exterior and its compact frame, the Cyber-shot TX200V is one sleek camera. If Sony didn't imprint the word "waterproof" on the top, you'd probably never even know this little guy can travel 16 feet underwater without any problems. Yup, it's a waterproof camera that looks stylish enough that you won't be embarrassed to bring it with you on your night out.
Just don't treat the TX200V the same way you'd handle a true rugged-cam. According to Sony, the camera isn't shockproof (if you drop it, it may break), it's not crush proof, and it won't work in frigid temperatures. Like the new Panasonic TS20, it's a "lite" tough-cam. In fact, we probably shouldn't even be using the term "tough" to describe the TX200V at all. Just look at that shiny exterior! This model could double as a portable mirror when you're in a pinch.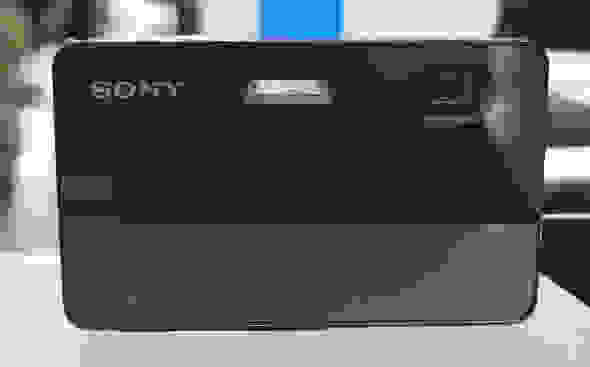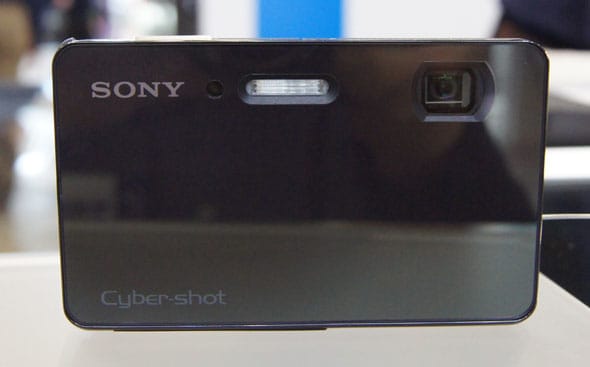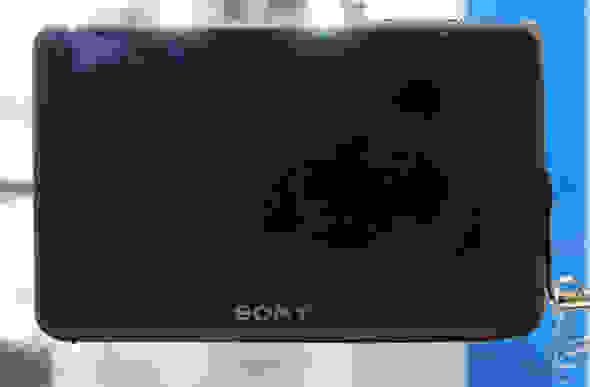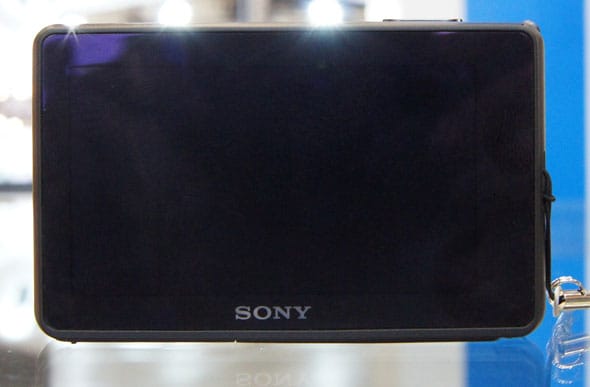 It was hard to get a great feel for the TX200V's menu system at the CP+ trade show in Japan... mainly because all of Sony's camera's on the show floor didn't include English language menu options. Possibly because of this fact, we found the camera's menu interface to be a challenge. There are lots of different menus on the camera itself, and, while we like the scrolling touchscreen navigation features, we did have a hard time getting used to the function at first. Maybe we were overwhelmed by the language barrier, so we won't pass judgement on the TX200V's menus just yet.
The TX200V barely has any buttons. All it has is an on/off button and a shutter button, both on the top of the camera, and an odd zoom toggle that juts out to the right (also on the top of the camera). So, to access controls, make adjustments, and navigate the menus you must set yourself entirely on using the touchscreen interface. The setup is pretty simple and the touch system is intuitive, but there's always an element of frustration with a touchscreen. Sony did a good job manufacturing a screen that is precise and effective, but it collects fingerprints with ease, so you may want to bring along a cleaning cloth (good news, Sony ships one with the camera!) to wipe down the TX200V after you handle it.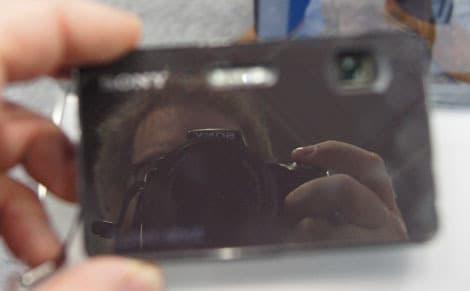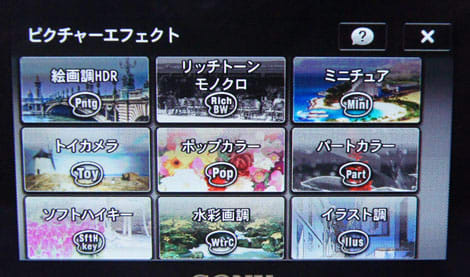 The TX200V has nearly the same weight and dimensions as Sony's last waterproof camera, the TX10. Style-wise, however, the TX200V is more reminiscent of the Sony TX100 camera, and the TX200V is a lot smaller than that model. Of course, Sony did cut down the weight and dimensions by reducing the size of the camera's LCD (the TX100 had a 3.5-inch screen).
Unlike most of the waterproof cameras we've seen this year, the TX200 doesn't have a hardy grip or contoured shape. It's a rectangle, plain and simple, and its a very slippery camera to hold. This helps if you're taking it in and out of your pocket, but it doesn't help if you're dangling it over the edge of your canoe. It is an easy camera to drop, much easier than most waterproof models, so it's important to attach its provided wrist strap right away.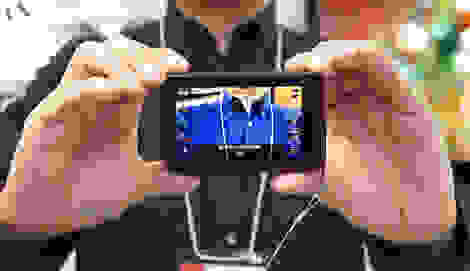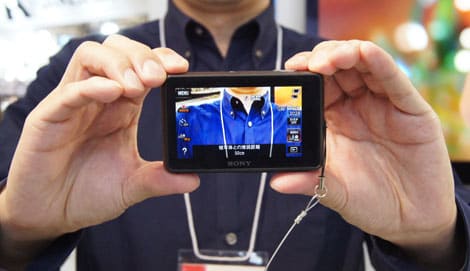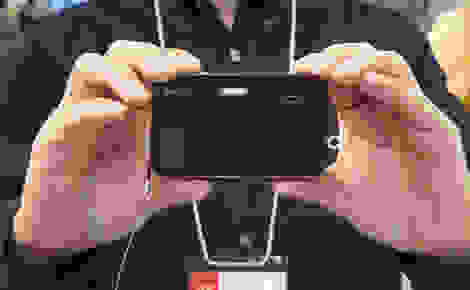 The DSC-TX200 is loaded with impressive shooting modes: from a Full HD 1080p video mode that records using a 60p frame rate, to a 10fps burst mode that captures full-resolution 18MP images. The camera's dedicated auto mode uses intelligent scene recognition to pick an appropriate scene mode based on the shooting situation as well, but that's a feature you find on most cameras these days.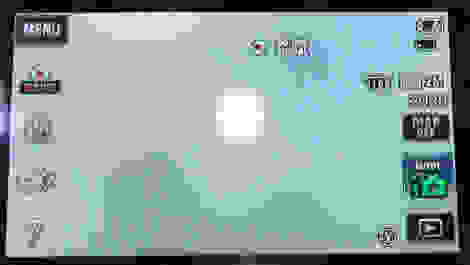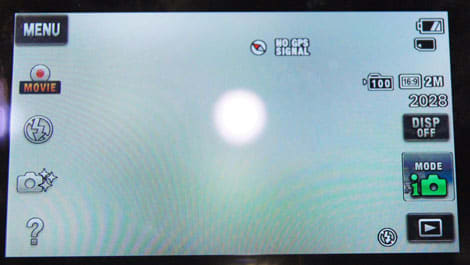 Sony touts 36 different scene modes from which the TX200V can choose from when using the Intelligent Scene Recognition setting (iSCN) on the camera. It's a mode that you commonly see on cameras these days, but Sony adds a second level to its iSCN controls that is very unique and interesting. The Advanced iSCN setting will take not one but two shots in succession, both using different scene modes automatically picked by the camera. The camera only snaps the second photo if it determines the shooting situation to be "difficult" as in low light or a strong back light effect. This means you get two different shots to choose from, both taken with settings determined automatically by the camera.
Sony is one of the biggest manufacturers of camcorders on the planet, so it should come as no surprise that the TX200V camera has an impressive video mode. The camera shoots Full HD AVCHD video, which is the same format Sony uses on its Handycam camcorders. Most impressive is the fact that the little TX200V can shoot 1920 x 1080 video using a 60p frame rate and a 28Mbps bitrate. That's higher than most of the competition in the point-and-shoot camera category, and it's significantly better than what we normally see from waterproof models.
If you don't want to fill up too much space on your memory card, the TX200V also has smaller-res video options that shoot 720p HD or 640 x 480 standard definition video.
The burst mode on the Cyber-shot DSC-TX200V is just as impressive as the camera's video mode. It can take 10 full-res (18MP) photos in succession in just one second. You shouldn't miss a beat with this camera, even if you're shooting action sequences. There's also a few self-timer settings on the camera as well, including two that use face detection to automatically snap a photo for self-portraits.
Sony calls its manual color mode "Photo Creativity" on the Cyber-shot TX200V. This mode allows you to manually adjust settings like brightness, color, and vividness to get the kind of image you prefer. There's also a set of nine different picture effect tools on the TX200V that you can select to give your photos a different look.
You probably know by now that the Sony TX200 can take some of the highest-resolution photos of any point-and-shoot camera on the market. The camera tops out with a max res of 18.2 megapixels (that's a still image size of 4896 x 3672). This doesn't necessarily mean the camera's photos will be physically sharper or look better than the competition, but they will certainly be larger.
The camera also has lower-resolution options, including two 16:9 widescreen photo settings (one at 13MP and one at 2MP), and three additional 4:3 photo sizes along with the 18MP setting. Like most Sonys, the TX200V can take panorama still images using Sony's Sweep Panorama feature. The TX200V has five different panorama size options, with the largest running a whopping 10480 x 4096 resolution.
Sony's Sweep Panorama feature is both easy to use and it can create some pretty cool photos depending on the situation. It doesn't always work perfectly, but it's one of those features that people like to tinker around with for landscape shots. On the TX200V, Sony also includes a 3D Sweep Panorama feature, which we're less excited about. Panoramas are one thing, but adding 3D to the mix is a little too much for our taste.
The TX200V doesn't appear to have a manual focus control, but it has a ton of autofocus features. The camera's regular Multi-point AF worked quickly and accurately on the show floor at CP+, and it was one of the quickest autofocus systems we've seen on a compact waterproof camera. You can switch the autofocus mode to a variety of different settings: Center Wegithed, Spot, Flexible Spot, Tracking, and Face Tracking. The camera also has an AF Illuminator that can be set to auto or off. The minimum focus distance for the camera is 3cm - infinity in auto mode.
There's no manual aperture or shutter speed control on the TX200V, but that's not surprising. The camera does have a basic exposure compensation setting (+/- 2 EV), ISO control, and three metering modes: Multi Patter, Center Weighted, and Spot. Using Face Detection has the camera try to expose and focus people's faces properly, but the feature isn't always perfect (just like all face detection modes).
For a camera that doesn't have many manual controls, the Sony TX200V has a wide ISO range available. ISO can be set from ISO 64 to ISO 12800—the widest range we've seen on the waterproof cameras we've covered at CP+ this year. You can also set ISO to auto, which is probably what most users will choose.
Like ISO, the TX200 has a good set of white balance preset options. There's Daylight, Cloudy, Fluorescent 1 (white fluorescent light), Fluorescent 2 (natural white fluorescent light), Fluorescent 3 (day white fluorescent light), Incandescent, Flash, Underwater, Auto, and Manual. That's more white balance modes than we're used to seeing on a compact, waterproof camera.
Sony includes its optical image stabilization system on the TX200V, which is called Optical SteadyShot. The camera also has an Active Mode stabilization setting that is meant to provide extra stabilization for high-shake situations. Active Mode uses a combination of digital and optical image stabilization to enhance the IS function.
The scene modes and picture effects on the TX200V are rather extensive. The camera includes the following scene modes that can be selected manually: High Sensitivity, Soft Snap, Soft Skin, Landscape, Night Portrait, Night Scene, Handheld Twilight, Gourmet, Beach, Snow, Fireworks, Pet Mode, Anti-Motion blur, Blacklight Correction HDR, Hi-speed Shutter, and Underwater. Since the camera doesn't have manual aperture or shutter speed control, some of these scene modes can be used to "force" the camera to use the settings you want (like Hi-speed Shutter, for example).
The picture effects are more digital effect and filters that alter the look of your image in a variety of ways. They include HDR Painting, Richtone Monochrome (black and white), Miniature, Toy Camera, Pop Color, Partial Color, Soft High-key, Watercolor, and Illustration. Most of these effects are cheesy, but they can be really fun to play around with.
The TX200 has a special "background defocus" feature that blurs the background of an image while keeping the foreground subject in focus. Sony markets this feature as being DSLR-like, as DSLR cameras can achieve this look by closing down on the aperture on the lens. Admittedly, the feature did look impressive on the TX200, but we wouldn't say it looked nearly as good as what a quality DSLR camera is capable of.
There are also a few helpful auto controls on the camera like smile shutter and anti-blink technology, both of which try to help you get the best shots possible out of your subject. Smile shutter snaps a photo at the point the camera detects a good smile from your subject with in the frame, while anti-blink does two different things. It will take two photos in succession and keep the one with less blinking or squinting, and if there's a blink in both photos it will have the camera display a message informing you of the problematic blink.
The Sony TX200 uses a 1/2.3-inch CMOS image sensor—the same size sensor that Sony used on last year's TX10 and TX100 cameras. 2012 saw Pentax, Olympus, and Canon all switch over to CMOS chips on their waterproof cameras, but Sony made the changeover in previous years. This puts all these cameras on a more even playing field, so it will be interesting to see who comes out on top in our performance testing later this year.
Sony's DSC-TX200V does have the biggest pixel count of the waterproof camera's we've seen this year. It's sensor stuffs 18.9 megapixels on its 1/2.3-inch frame, which is a ton of pixels for a little camera. Will this mean the TX200 will come out on top in our performance tests? Not necessarily. People place too much emphasis on pixel counts, and it's really the quality of the lens, sensor, and image processor that can make a huge difference in image quality.
Speaking of lens, the TX200 has a 5x optical zoom lens with a "Clear Image Zoom" option that cranks the magnification ratio up to 10x. Clear Image Zoom is essentially an intelligent zoom function that makes use of extra pixels to increase the zoom ratio. The 5x optical zoom represents the real optical magnification power of the camera, and it is a tad higher than the zoom offered on Sony's previous TX10 and TX100 cameras (both with 4x zoom).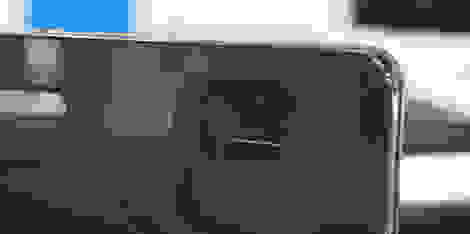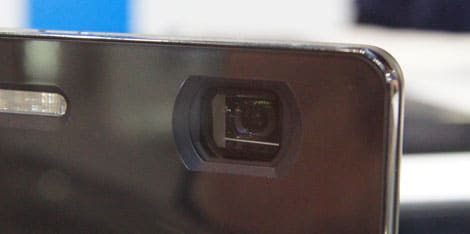 The back of the Sony TX200 is nearly all screen. The camera has a flat, glossy LCD that runs 3.3-inches across (diagonally) and features a whopping 1,229,000-pixel resolution. This results in an extremely sharp and crisp image during photo playback and while you're framing a shot. It's truly one of the best LCDs we've seen on a compact camera—not to mention a waterproof model. The only problem with this crystal-clear glossy screen is that it attracts fingerprints, smudges, and glare like it's its job.
The touchscreen interface of the screen can be frustrating, as all touchscreens are at times, but we found the touch-system to be very responsive and intuitive. The menus feature a slide scrolling function, much like you'd see on an iPhone or iPod Touch. With a flick of the finger you can scroll quickly through menus, but you do have to be careful not to accidentally select a menu option when you start your scrolling.
The tiny flash on the TX200 has a coverage range that is consistent with the other compact waterproof models released this year. According to Sony, the flash can cover a range of just of around 3.25 inches to just over 10 feet (depending on the ISO settings and zoom ratio). The flash also offers red-eye reduction and a slow synchro function (and the ability to be forced on or off).

Sony conveniently puts all the TX200V's ports in the same, easy-to-locate compartment on the bottom of the camera. The ports are protected by a sealed, locking door to keep them safe from water when you take the camera for a swim. There are only two terminals here: a Micro HDMI output and a Micro USB port. The camera ships with a USB cable that connects to the USB terminal, but if you want to connect the TX200 to an HDTV you'll need to purchase your own Micro HDMI cable.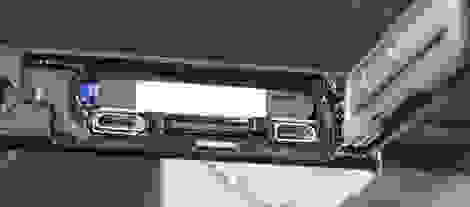 In the same compartment as the USB and HDMI terminal, you'll find the TX200V's battery slot. The camera ships with a rechargeable NP-BN battery pack that goes in this slot and the camera also comes with a battery charging station and an AC-adaptor so you can recharge the battery.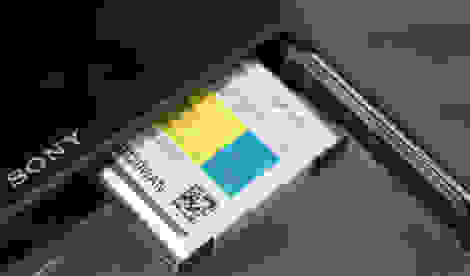 The Sony Cyber-shot TX200V has a Micro memory card slot, which is something we're not a fan of in any way shape or form. Instead of having a regular-sized media slot that works with normal Memory Sticks or SD cards, the TX200V has a tiny card slot that only fits Memory Stick Micro or Micro SD/SDHC cards. Micro cards are harder to find in stores, more expensive, and much easier to lose than their slightly larger cousins—and all you save is maybe a quarter-inch of size. Really, Sony? You couldn't find a way to make a slightly larger card slot to make consumer's lives easier? Maybe Sony just wanted to be consistent on the TX200V, as the camera also has a Micro USB and Micro HDMI terminal. It's all-Micro or nothing on the TX200V.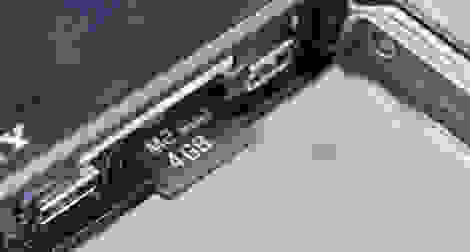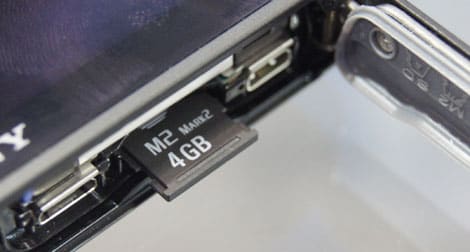 The TX200 is Sony's new waterproof Cyber-shot, but we wouldn't call the camera a tank-like adventure-cam. Sony makes no mention of it being shockproof, freezeproof, or crushproof—three things that the new rugged cams from Canon (D20), Pentax (WG-2), and Olympus (TG-820) all advertise. Plus, the Sony can only travel to a depth of 16 feet underwater, while most of the competition can be submerged more than 30 feet below the surface of the sea.
What really surprises us, however, is that the TX200V's waterproof predecessor, the TX10, was both shockproof and freezeproof. So with the TX200, Sony actually cranked things back a notch in terms of rugged design. Sony did add GPS to the TX200V, which is a feature it took from the non-waterproof TX100 camera from 2011.
Calling the Cyber-shot TX200V a "tough-cam" is certainly a misnomer. Sure, the camera is waterproof up to 16 feet, but that doesn't make it tough. Instead of giving the TX200V a hardy, armor-like shell, Sony made the TX200V stylish and slim. Coated with a glossy casing to keep out dust and liquid, the TX200 is the sleekest waterproof camera we've ever seen. To top it all off, the camera has an 18-megapixel image sensor and an impressive 3.3-inch LCD with a resolution that leaves most point-and-shoot screens in the dust. If you've been shying away from buying a waterproof camera because you don't want a model that looks like a toy or feels like a tank, then the TX200V might just be the camera you've been waiting for.
But if you want style and waterproofing, then you'll have to pay for it. The TX200 is available for pre-order for $499, which places it at the very high-end of the price range for waterproof cameras. In 2012 it also has a lot of stiff competition. Canon released a new waterproof model, the PowerShot D20, for the first time in three years, while Pentax (Optio WG-2), Olympus (TG-820), and Panasonic (Lumix TS20) all have new updates to their popular waterproof lines. Sony's Cyber-shot TX200V is certainly the most unique among them, but we're not sure if the decision to go with pricey style over durability is the right one.
Meet the tester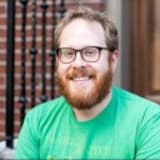 Jeremy Stamas
Managing Editor, Video
@nematode9
Jeremy is the video expert of our imaging team and Reviewed.com's head of video production. Originally from Pennsylvania and upstate NY, he graduated from Bard college with a degree in film and electronic media. He has been living and working in New England since 2005.
Checking our work.
We use standardized and scientific testing methods to scrutinize every product and provide you with objectively accurate results. If you've found different results in your own research, email us and we'll compare notes. If it looks substantial, we'll gladly re-test a product to try and reproduce these results. After all, peer reviews are a critical part of any scientific process.
Shoot us an email