Want a bit of color on your new Cyber-shot? The DSC-W650, which should be available mid-February, comes with red, black, or silver paint jobs.
The Sony DSC-W650 is a budget camcorder that doesn't have a flashy design or unique body features. It does come in three different colors, though, so if you're planning on buying a W650 you may want to start thinking about your color choices now. The options include black, red, and silver (the silver model is the one we have photos of throughout this review).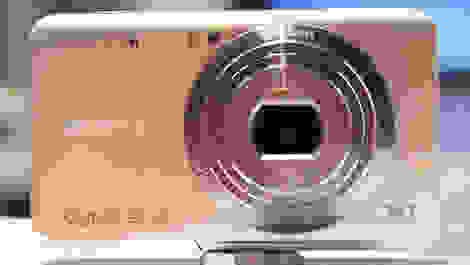 Sony's menu on the W650 is a combination of descriptive text and icons that usually make sense, but are occasionally difficult to decipher. The menu navigation works, but the cramped design of the directional pad can make things a bit difficult. We noticed ourselves pressing the wrong part of the d-pad on more than one occasion, and that always ended with us making an unwanted selection on the camera's menu system. As for the menu design itself, however, we can't ask for much more from a budget camera: it's simple, easy to read, has a help option, and isn't loaded with options.
With its focus on auto modes and lack of any extensive manual controls, the Cyber-shot W650 seems like a perfect fit for someone who wants an easy-to-use camera. But we weren't entirely sold on the camera in some aspects. The cramped buttons were often hard to work with, the zoom toggle wouldn't let us adjust zoom gradually, and even the shutter button gave us some trouble. Most of these problems were handling issues, and once you get past the W650's quirks we're sure it's an easy camera to use, but those quirks and frustrations are there nonetheless. But that's really par for the course with budget cameras—they're never perfect and they always cut corners somewhere (be it with design or performance).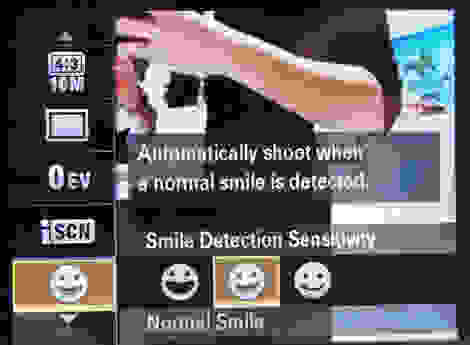 Let's see... according to Sony, the DSC-W650 tipped the scales at around 124g and measures 94 x 56 x 19mm. This makes it a very compact camera, although there are slimmer models available. But the W650 is slim enough for us, and it's a camera that you'll have no problem slipping in your pants pocket when you're done shooting.
As for handling, the camera felt cramped in our hands and it was nearly impossible for us to hold it without covering up at least part of the LCD. We have big hands, though, so someone with smaller hands may not have this much of a problem. The directional pad on the back of the W650 was the most frustrating button setup on the camera for us, and we noticed ourselves needing to use the tip of our fingernail to hit the button in the center of the d-pad to make menu selections. We also weren't big fans of the flat shutter button on the top of the camera. Give us something more substantial that we can push down with more force and we'd be happier.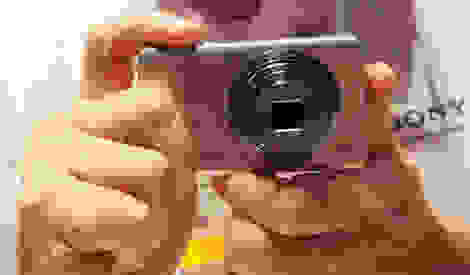 The DSC-W650 isn't loaded with shooting modes and his no manual mode options. You can set the camera to entirely automated controls with the iAuto (intelligent auto) mode, or you can use the Program mode that gives you a bit more control (but still sets aperture and shutter speed automatically). The camera has a number of scene modes and a new Sweep Panorama setting that Sony borrowed from some of its higher-end Cyber-shots and interchangeable lens cameras.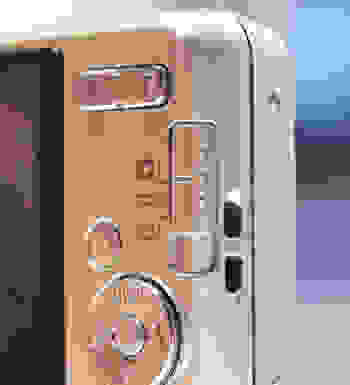 We mainly looked at focus when we were on the show floor with the W650 at CES, and we found the camera was a bit slow to get focus correct under mixed lighting. Part of the problem was the camera's shutter button, which was hard to press down half-way in order to get the autofocus to work. A larger button with more haptic feedback would have been better here. In addition to the dedicated auto mode, and program auto mode, the W650 has the following scene modes: High Sensitivity, Soft snap, Soft Skin, Landscape, Night Portrait, Night Scene, Gourmet, Beach, Snow, Fireworks, and Pet mode.
You can't shoot Full HD video with the W650, but you can shoot 720p HD or standard definition video with the camera. Just switch the mode slider on the right side of the camera to the film strip icon and you're ready to shoot video. In the menu system you can still make a few selections and adjustments (like basic exposure and white balance), just like you can for shooting still images.
The burst mode on the camera, according to Sony, can shoot roughly one photo per second for a duration of up to 100 shots (at maximum resolution). That's not super fast, but it's decent for a budget camera.
Sony equipped the W650 with a handful of picture size options, topping out with the 16-megapixel setting that is advertised all over the cameras body. Following the 16-megapixel size option is a 12-megapixel mode, which shoots a 4608 x 2592 image. 10-megapixel, 5-megapixel, 2-megapixel, and VGA photo options are also available on the camera.
The Sweep Panorama setting is a new feature for Sony's budget cameras this year, but its something we've seen before on other Cyber-shots. The function is easy to use, it can produce some really cool shots, and you can sweep up to 360-degrees for the photo. There are a few different size options for the panorama: 360° (11520 x 1080), Wide (7152 x 1080 or 4912 x 1920), and Standard (4912 x 1080 or 3424 x 1920).
The camera doesn't have a manual focus option, but there are a few different autofocus modes available: multi-point, center weight, spot, and face tracking.
If you're looking for full aperture or shutter speed control, you should look beyond the DSC-W650. The camera does have a basic exposure adjustment option that can be set manually, but it's just for setting EV values (not for aperture or shutter).
Like aperture and shutter speed, there's no full ISO control on the DSC-W650 either. The camera's auto ISO range goes from ISO 80 to ISO 3200.
The camera has six white balance presets, as well as two custom options, one auto setting, and a flash preset. Here's a whole list of the white balance modes on the camera: Auto, Daylight, Cloudy, Fluorescent 1, Fluorescent 2, Fluorescent 3, Incandescent, Flash, Manual 1, Manual 2.
Even though it's a budget camera, the W650 comes with an optical image stabilization feature (SteadyShot) that has an additional stabilization mode for more active photography (active mode). It's very hard to get a good feel for stabilization on the floor at CES, so we're excited to bring this camera into our labs for an extensive stabilization test.
Fan of picture effects? Well, Sony included a few on the W650 that may pique your interest. Toy Camera, Pop Color, Partial Color, and Soft High-key are the options you can choose from. Remember, most of these "effects" are things you can do in post production using Photoshop or other photo editing programs.
The dynamic range optimizer (D-Range Optimizer) is probably the most noteworthy other control on the DSC-W650, but the camera has a couple goofy selections as well. There's the smile shutter feature, which, just like it sounds, will snap a photo when a smile is detected within the frame. Smile shutter uses face detection to make this happen, and the camera has a number of controls to fine-tune your face detection priorities. There's also a blink detection feature that gives you a handy warning if your subject blinked during the photo capture.
The DSC-W650 is a compact zoom camera, so you shouldn't be expecting an outrageous zoom ratio with this model. What it has is a 5x optical zoom, which really isn't bad for such a small device. Besides, 5x zoom does suffice for most shooting situations (especially portraits).
The sensor is a 1/2.3-inch Super HAD CCD imager with a gross pixel count of 16.4 megapixels and an effective resolution of 16.1 megapixels. Not bad for a compact camera with a sub-$150 price tag.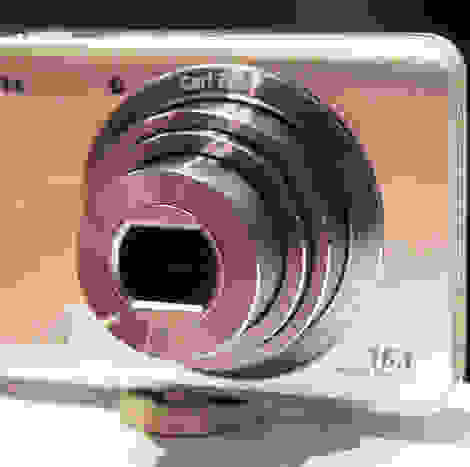 On the back of the camera is a 3-inch LCD with a limited resolution of 230,000 pixels. We like the size of this screen, but we want more pixels for better image quality when reviewing your photos. A 230k screen is simply not detailed enough to see if your photos are in focus, for example. At least Sony does include some brightness control for the screen, however, so that should help when shooting under various lighting environments.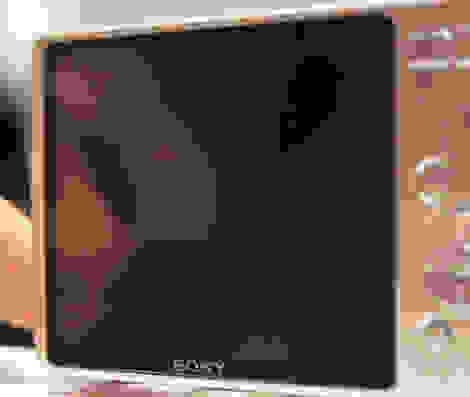 The built-in flash offers red-eye reduction and a Slow Synchro setting, as well as regular on/off options. According to Sony, the flash coverage ranges from 0.3m to 7.3m depending on the ISO settings and zoom ratios used when you're shooting.
There's just one output on the DSC-W650, but the port doubles as both a USB port, an AV-ouput, and a Composite output. You'll need a special cable from Sony to connect to the terminal, but the camera does come with one Multi USB cable.
The camera comes with a removable lithium ion NP-BN 3.6-volt battery pack. The battery fits into the bottom of the camera and the camera comes with a battery charger.
There is no internal memory on the W650 (as is the norm for digital cameras), so you have to insert a memory card into the camera before you can start snapping photos. The card slot works with both SD/SDHC/SDXC cards and Sony Memory Stick Duo cards.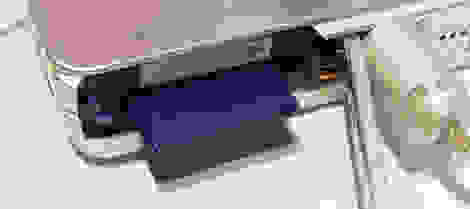 The Cyber-shot DSC-W650 is priced competitively with its $139 MSRP, but the real question is what does this camera offer that you can't get with your cell phone camera? There are a number of extra features on the W650 worth talking about, including its 5x optical zoom lens, 720p HD video mode, and 360° Sweep Panorama setting that stitches multiple photos together into one wide image. There's also face detection, optical image stabilization, a 3-inch LCD, and the ability to capture 16-megapixel still images.
If your cellphone camera can do all that, then there's no reason you should shell out the cash for a budget camera like the W650. However, if those features are things that interest you as a budding photographer, then maybe the DSC-W650 is a good place to start. It's a camera that won't break the bank, is very easy to use, and, while it does have some handling flaws, it's small enough to take almost anywhere without weighing you down.
The camera is expected to hit stores mid-February 2012 and will be available in red, black, and silver. The DSC-W650, along with its sibling models the DSC-W620 and DSC-W610, is one of three new Cyber-shots Sony has unveiled this year at CES.
Meet the tester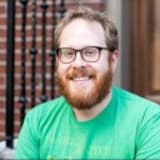 Jeremy Stamas
Managing Editor, Video
@nematode9
Jeremy is the video expert of our imaging team and Reviewed.com's head of video production. Originally from Pennsylvania and upstate NY, he graduated from Bard college with a degree in film and electronic media. He has been living and working in New England since 2005.
See all of Jeremy Stamas's reviews
Checking our work.
We use standardized and scientific testing methods to scrutinize every product and provide you with objectively accurate results. If you've found different results in your own research, email us and we'll compare notes. If it looks substantial, we'll gladly re-test a product to try and reproduce these results. After all, peer reviews are a critical part of any scientific process.
Shoot us an email