Today, Sony is kicking off the next chapter with the A9. Though Sony has turned out several "professional-grade" cameras in the past few years, the A9 is designed from the ground up to appeal to professionals who need a flexible, fast, agile, and adaptable system camera that can handle any situation.
The A9 is one of the few cameras that can truly handle those "You've got to be kidding me" moments.
What does that mean? It means the A9 is one of the few cameras that can truly handle the "You've got to be kidding me" moments that every pro photographer fears. Sudden bursts of weather, unpredictable wildlife, rowdy wedding guests, failing light. There are plenty of cameras that can perform well enough in a studio, but like the Canon 1D and Nikon D5, the Sony A9 gives photographers all the tools they need to excel when everything goes pear-shaped.
The Sony A9 is a full-frame DSLR with a stacked CMOS 24.2-megapixel sensor, a fast Bionz X processor, and a stunning maximum burst speed of 20 fps. That not only puts it squarely in the range of other pro-grade options such as the Canon 1D X II and the Nikon D5, it exceeds them in terms of sheer speed. That's clearly Sony's target market, especially given the camera's reported $4,500 price point.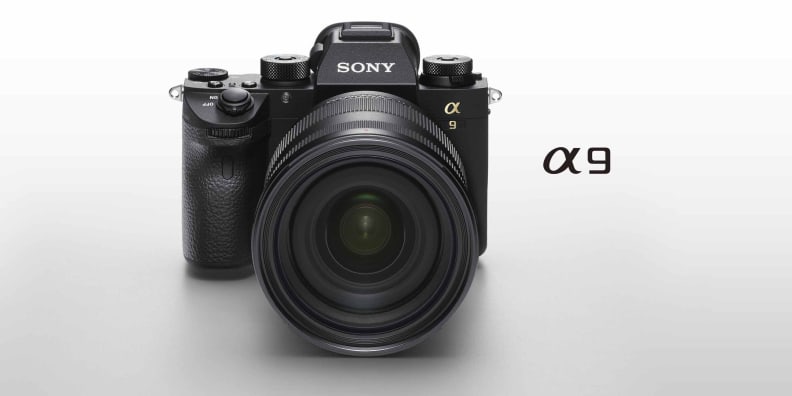 Here are the rest of the specification as provided by Sony:
Sensor: 24.2-megapixel stacked CMOS image sensor w/ 14-bit RAW
Processor: Bionz X Processor
Burst Speed: 20fps w/ continuous AF/AE
Autofocus System: 693 on-sensor phase-detection points
Image Stabilization: 5-axis OIS with 5-stop performance (CIPA)
Video: 4K/UHD at 30fps, 1080p at up to 100fps at 100Mbps
Viewfinder: Quad-VGA OLED Tru-Finder with approximately 3,686k dots
Battery: NP-FZ100 battery
Ports: Ethernet, USB, mic, headphone, flash sync
Shutter: All-electronic shutter, 1/32,000th max shutter speed
Memory: Dual SD card slots with one UHS-II compatible slot
Price: $4,500 USD ($5,600 CAN), body-only
Built for speed, built for professionals
Though not all professional photographers are obsessed with speed, many need it to do their jobs. The obvious candidates are people who primarily shoot wildlife, news, and sports, where going from 10 frames per second to 12 can be the difference between getting a shot and not.
With the Sony A9 you're looking at an incredible 20 (!!) frames per second, at full 24-megapixel resolution. Compare that to the Canon 1D X II and the Nikon D5, which top out at 16fps and 12fps, respectively. The edge clearly goes to Sony here, as all three have roughly equivalent resolution. It can just process the data quicker than those rivals.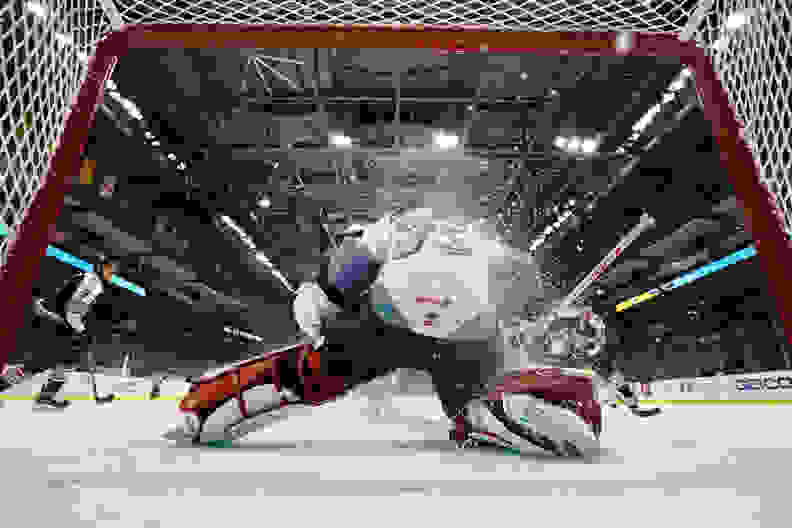 Of course, there are some cameras that can shoot at up to 30fps and 60fps with focus locked on the first frame. Where Sony has these cameras beat is that it's using a much larger full-frame CMOS sensor that outputs 14-bit data, whereas most of those use smaller 1-inch or Micro Four Thirds sensors. Sony also allows for continuous focus tracking during those bursts, which is necessary for moving subjects.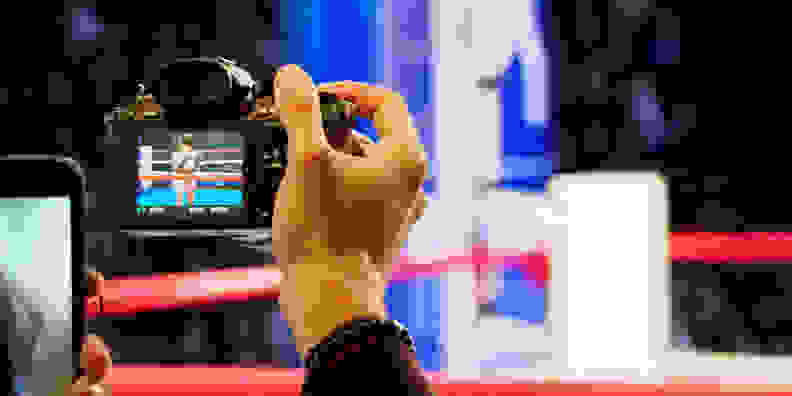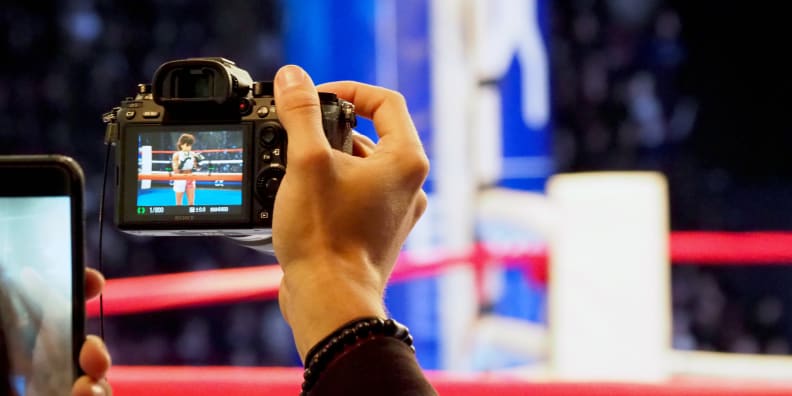 It's worth noting that getting that kind of speed requires using the electronic shutter. Though there is indeed a mechanical shutter in the A9, Sony's reps said it tops out at 5fps. Given the shutter shock issues Sony has had with previous cameras, Sony playing up the silent, fast shooting abilities of the A9's electronic shutter is equal parts good advice and good PR.
Near instantaneous response time
Nothing drives me nuts more than having to wait on a camera to finish a task. Especially if I'm shooting sports or wildlife, I can't wait for a camera to finish writing one batch of photos before it lets me shoot again or see what I've shot. Even high-end cameras like the Olympus OM-D E-M1 II have this issue, especially when capturing RAW photos.
Now, the Sony A9 doesn't feature the 50-megapixel sensors of some of its contemporaries, so each shot isn't as large as it is with some other cameras. But handling 20+ 20-megapixel RAW photos every second is impressive, and the A9 helpfully shows a nice progress bar in the upper left as it's writing photos to the card. In my brief hands-on time with the camera there was literally nothing I could do to choke it up. After shooting with the E-M1 II for the past few months, it was a welcome change.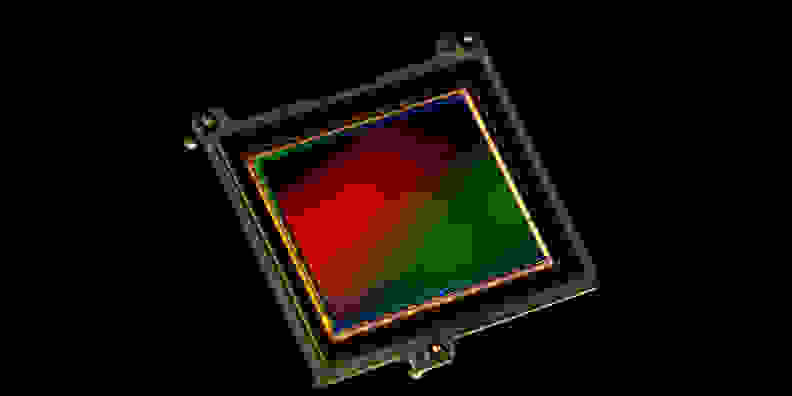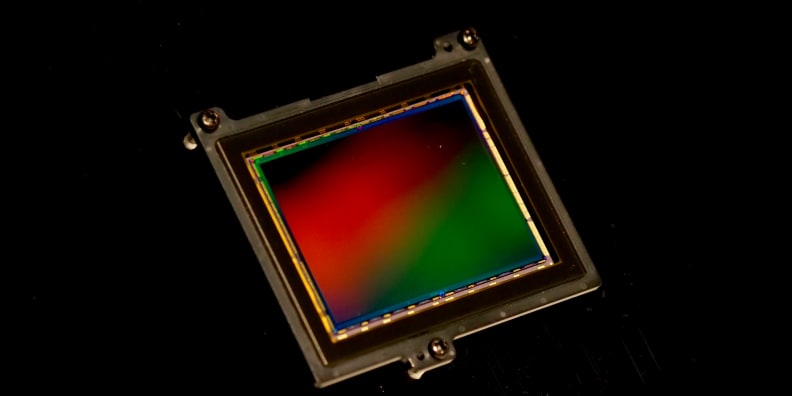 That speed extends beyond just shot-to-shot capture, too; navigating the menus, accessing playback, adjusting focus points—everything I asked the A9 to do it accomplished in near-record speed. Even the control scheme is designed to let you make changes as swiftly as possible by customizing it to your liking, with the inclusion of a joystick control for quickly shifting focus points on the fly.
The viewfinder underlines this, since it doesn't black out at all when you take photos. The viewfinder does visibly change when capturing bursts, though; a white box flashes with every frame you capture and the finder's playback speed drops to match the 20fps of the sensor, giving it a choppy look that is akin to viewing a flipbook. It's still easy to track the action, though, so you can keep your subject where you want them.
Sony's autofocus woes are a thing of the past
Whether it was the original RX1 or the early A7 cameras, I've had issues with Sony's generally sluggish autofocus over the years. I used the A7R on Christmas morning several years ago and the camera's poor response time meant I missed over a dozen shots of my family, and even shots that I did get always seemed slightly backfocused until I gave up and focused manually instead.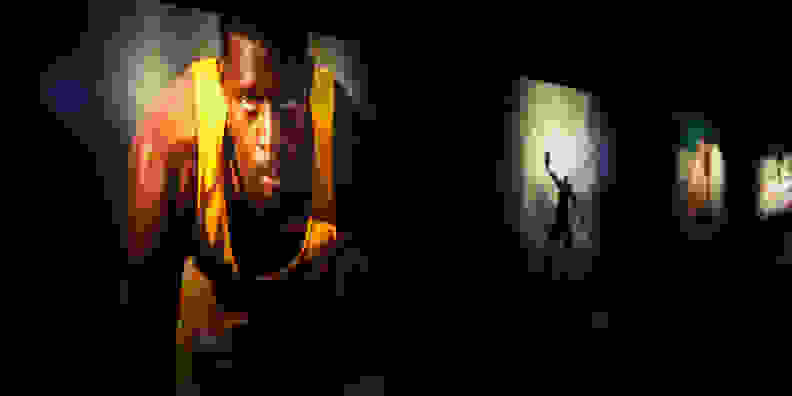 After spending time shooting with the A9, though, I'm officially putting my bias about Sony autofocus systems in the past. Though Sony has made some incredible progress already in this regard, the A9 is on another level. The focus system features 693 on-sensor phase-detection autofocus points, with cross-type sensors that cover nearly the entire frame. It tracks motion exceptionally well, confidently locks onto subjects, and isn't tripped up by complex scenes or rogue elements in the background.
Though you never truly know an autofocus system until it screws up, the one in the Sony A9 seems like it will stand up to the rigors of professional use.
Enough with the tiny batteries, Sony
With a portfolio as robust and varied as Sony's, it's no surprise that the company's digital imaging division would rely on Sony's internal component division to supply batteries for its cameras. But while this used to be a strength (since the company re-used the same batteries for years, meaning you could buy a new camera and use all your old batteries), it's been a massive weakness with the A7-series cameras.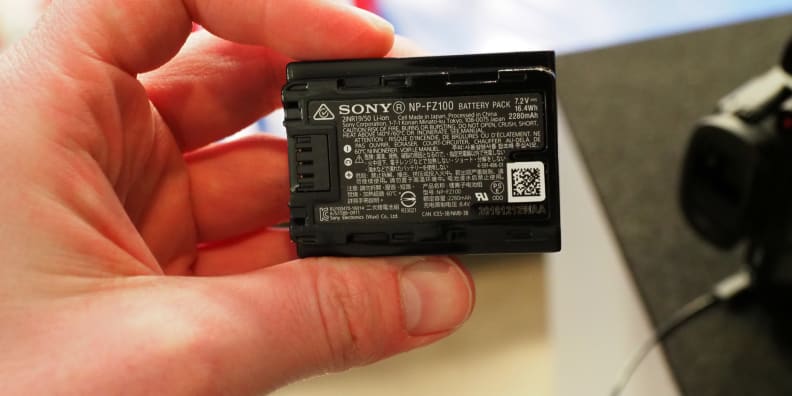 Part of the issue there has been the A7-series cameras' designs, which never leave enough room for a giant battery. While smaller cameras appeal to the mass market, pros need battery life. While the A9 and it's new Z-series battery is a bit larger, it's not as massive as the ones in Canon and Nikon bodies and is only rated at around 480 shots.
Sony is still claiming that's about 2.2x more than with the A7, but that's still not quite on par with other pro cameras. It's less of an issue than it was before, but it'll still be a headache.
File management could be an issue for certain pros
Though it may seem a bit indulgent to some professionals, the integrated file management on both the Canon 1D X II and the Nikon D5 is a crucial aspect for certain types of shooters. The Sony A9 does include an Ethernet port for FTP access, same as the D5/1D X II, but those cameras also have dedicated rear LCDs that are almost entirely dedicated to managing your files.
While I didn't get a chance to check out the A9's file management via Ethernet in person, there at least appears to be slightly less control than what you get with other models.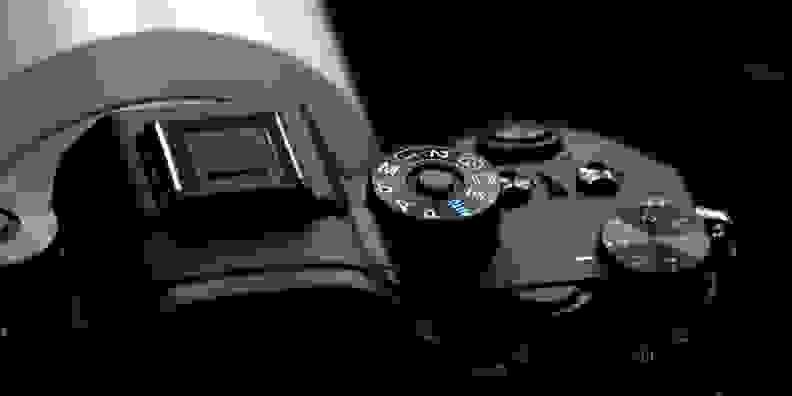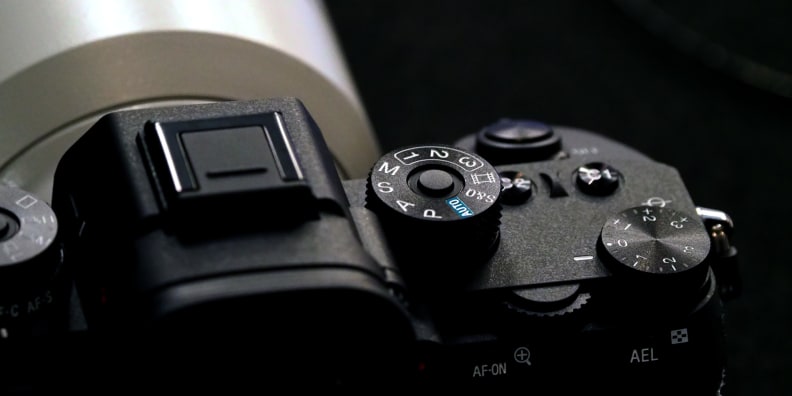 The high price puts it into "professionals only" territory
The initial announcement of the A9 has the price starting at approximately $4,500 body-only. It's expensive, to be sure. If you were hoping for this kind of pro-grade speed at a more approachable price point, you may need to wait for some of these innovations to trickle down to lesser bodies. This is a pro's camera, and Sony knows it.
Durability could be a concern
The Sony A9 is positioning itself as an alternative to the kinds of cameras that pros have been taking to war for years. Sony didn't make any mention of the A9's increased durability over the A7, and reps at the event where I tried it only pointed out that it is dust- and water-resistant, with an all-metal bayonet mount and a few increased screws for stability.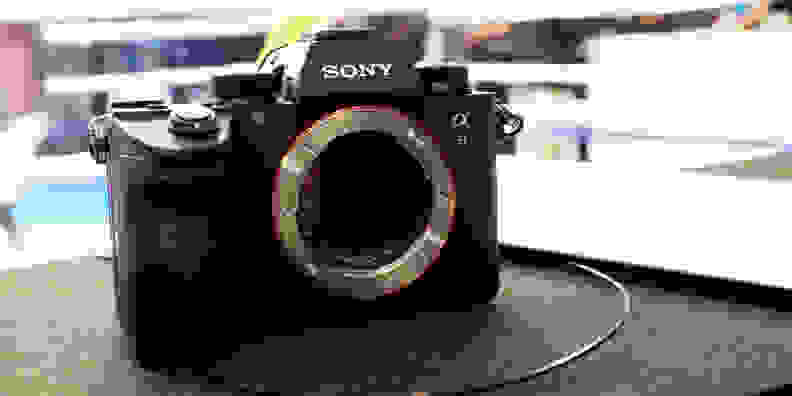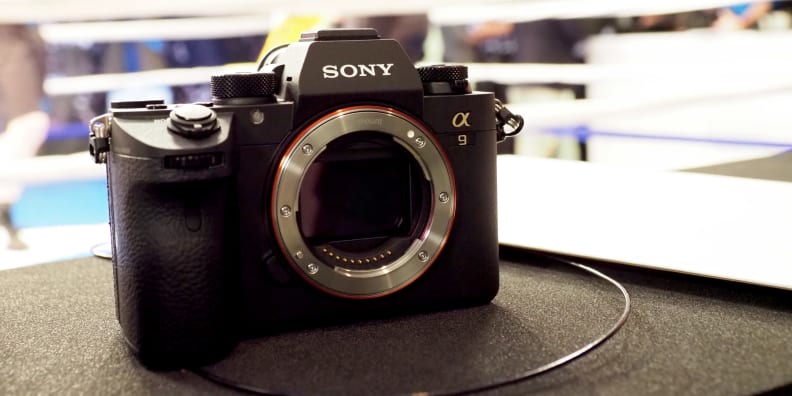 The fact that Sony isn't focusing on the durability doesn't mean the A9 isn't just as durable as the best Nikon and Canon bodies, but it's a question mark. In my time with it the only thing that seemed questionable were the plastic port covers, which clicked firmly into place but didn't have the same rubberized feel and thickness of the ones on other pro-grade cameras.
Lack of 10-bit video is a missed opportunity
The A9 features a mic jack, headphone jack, 4K/30p recording, 1080/120p recording, and a host of video-friendly features and controls. It's going to be a very good camera for shooting video with, but according to Sony reps I spoke with its internal recording tops out to 8-bit 4:2:0. Listings for the product do point to 4:2:2 uncompressed output from the HDMI, but it doesn't seem like that is 10-bit.
Again, I didn't a chance to hook it up to an external monitor to confirm, let alone see how the video actually looks, but 10-bit output would've made this a slam dunk for video shooters looking for one do-it-all body.
The A9 is the best camera Sony has ever made, and it could make a real dent in Canon and Nikon's bottom line
There's no other way to spin it: the A9 is an overwhelming technical achievement. It features irresistible speed, incredible processing power, a steady and snappy autofocus system, and a physical design that should satisfy nearly all professional photographers. It's easily the best camera Sony has ever made, and it might just be the best new camera in years. It's that good.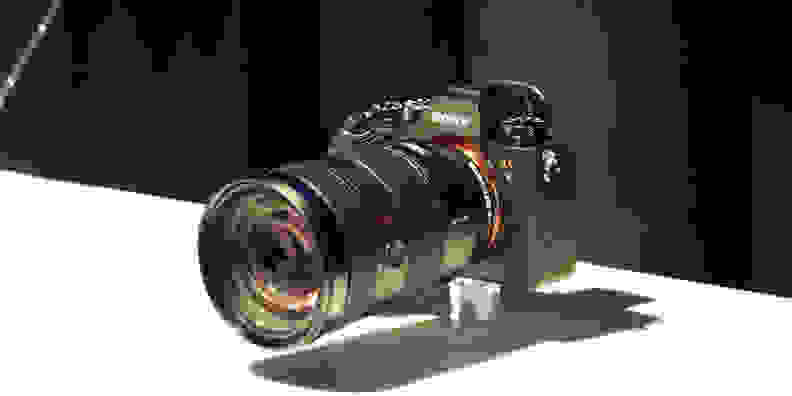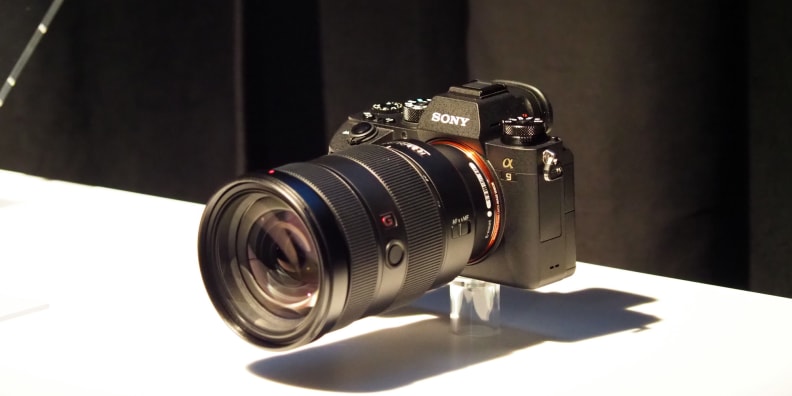 And while the existing A7s could certainly be used for professional work, the A9 is the first Sony mirrorless camera to feel like a no-nonsense professional camera—no excuses, required. It's likely the first mirrorless camera that can credibly stand toe-to-toe with the Canon 1D X II and D5, which is no small feat.
There are some areas where it badly lags behind those cameras—such as battery life—but there are ways in which is it more convenient. It is smaller, lighter, and faster than either of those bodies, and its autofocus system seems stubbornly good at its job; I spent several minutes trying to trip it up and it had no real issues to speak of. The choice of dual SD card slots is especially great, as opposed to larger CF, CFast, or XQD cards that cost more and aren't much faster these days.
It's clear Sony set out to make a camera that would, without question, keep up with the best of Canon and Nikon.
In the end, it's clear Sony set out to make a camera that would, without question, keep up with the best of Canon and Nikon. With the A9, the company seems to have done that, and then some. We'll have to see how it holds up in our labs, but it's not out of the question that the best camera Sony's ever made might just be the best camera anyone's made, period.
Meet the tester TJ Donegan
Executive Editor
@TJDonegan
TJ is the Executive Editor of Reviewed.com. He is a Massachusetts native and has covered electronics, cameras, TVs, smartphones, parenting, and more for Reviewed. He is from the self-styled "Cranberry Capitol of the World," which is, in fact, a real thing.
Checking our work.
We use standardized and scientific testing methods to scrutinize every product and provide you with objectively accurate results. If you've found different results in your own research, email us and we'll compare notes. If it looks substantial, we'll gladly re-test a product to try and reproduce these results. After all, peer reviews are a critical part of any scientific process.
Shoot us an email