Cameras
These Are 12 of the Best Super Bowl Photos of All Time
The Super Bowl is one of the hardest places to take stand-out images, but these guys made it happen.

Credit:
Sports are often great theater, and perhaps no game better encapsulates that fact than the Super Bowl. From the thousands of flash bulbs at kickoff, to the light show at halftime, to the confetti dropping after the final whistle, the entire game is designed to manufacture spectacle. And yet, it's also an event seen by millions and photographed by hundreds of professionals at once.
With Super Bowl XLVIII coming up this weekend, we thought we'd take a look back at some of the most compelling photos of Super Bowls past, along with a quick explanation of why they work. While sports photography can often seem like a simple combination of great gear and lucky timing to outsiders, it's actually one of the most difficult disciplines for a photographer to master. These professionals not only had the fortune to be in the right place at the right time, but they had the skill to capture the moment.
Super Bowl II: Vince Lombardi and the Super Bowl are practically synonymous—so much so that they named the winning team's trophy after him. Here he is, being carried off by Jerry Kramer and Forrest Gregg after winning the second Super Bowl, which was Lombardi's final game. The photo was taken by Neil Leifer, one of the best sports photographers of all time, for Sports Illustrated.
Super Bowl XII: Butch Johnson's diving 45-yard catch in Super Bowl XII is one of the defining great moments in Super Bowl history. Though the play has been seen countless times, this shot captures Johnson's strained expression as he leaps after the (slightly overthrown) ball. We're not sure exactly who shot this (it's credited to Wireimage, which is owned by Getty after a recent acquisition), but please let us know in the comments!
Super Bowl III: Joe Namath rubbed a lot of people the wrong way by guaranteeing a Jets victory heading into Super Bowl III, but his relaxed demeanor set him apart from the rest of the pro football world. This photo, taken by famous sports photographer Walter Iooss Jr. for Sports Illustrated, captured Joe Namath in his element, relaxing during the leadup to the big game far from the football field.
Super Bowl XV: Gene Upshaw is best known to modern NFL fans as the former Executive Director of the NFL Players' Association, a role he held until his death in 2008. But for those who never saw him play live, it's easy to forget just how intimidating he was on the field. This shot by Sylvia Allen shows Upshaw leading running back Arthur Whittington during Super Bowl XV, wielding his taped-up left arm like a club.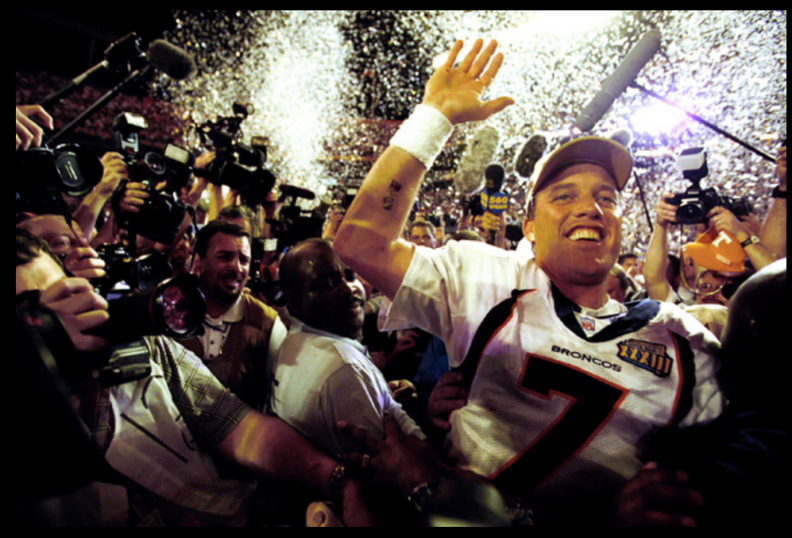 Super Bowl XXXIII: For the first 15 years of John Elway's career, he seemed destined to be remembered as one of the best athletes to never win a championship. That all changed in the late 1990s, when he captured two consecutive titles. This shot by Allen Kee for the NFL shows Elway celebrating after winning his second Super Bowl title. Elway was named MVP of the game and retired the following spring.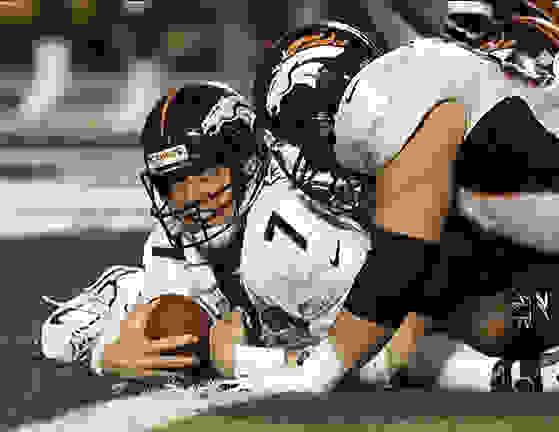 Also Super Bowl XXXIII: John Elway's 3-yard rushing touchdown in Super Bowl XXXIII was the last of his career, captured here by Paul Morse for the LA Times. The shot isolates Elway's eyes as he awaits the referee's decision after he was driven in by his teammates.
Super Bowl XXIII: Jerry Rice is undoubtedly the greatest receiver of all time, with over 22,000 career yards. He was so dominant in his day that the WR with the second-highest total yardage (Terrell Owens) is closer to 57th all-time (Mark Clayton) in than he is to catching Rice. In this shot by Lennox McLendon for the Associated Press, Rice's extreme focus is captured in his eyes, locked onto the ball in midair. This was taken during Super Bowl XXIII, a game in which Rice had 215 yards and was named MVP.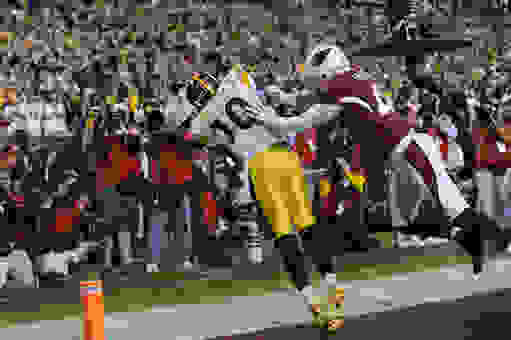 Super Bowl XLIII: With modern broadcast cameras and lenses, it's usually easy to tell with instant replay whether a player was in bounds or not. Not so with this Santonio Holmes catch during Super Bowl XLIII, as even with modern cameras it wasn't entirely clear if he got his toes down. This shot by Robert Deutsch for USA Today captures the exact moment Holmes touched his toe to the turf, flanked on all sides by photographers and cameras.
Super Bowl XLII: This catch in Super Bowl XLII was the last of David Tyree's short career, pinning the ball to his helmet in mid-air to bring it down, along with New England's bid at a perfect 19-0 season. While this catch was photographed by countless professionals at the game, this shot by Gene Parker for the Associated Press captures the mid-air struggle between Tyree and Patriots safety Rodney Harrison.
[Ed. Note: As much as it pains us as good Bostonians, we had to include this one.]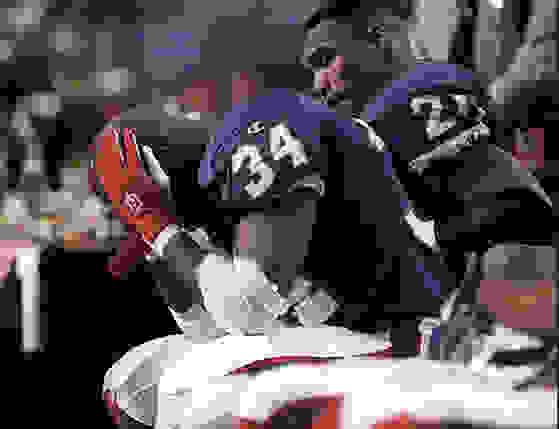 Super Bowl XXVIII: While most of the Super Bowl's finest images capture the winners, this shot by Steve Dykes for the LA Times turns the lens toward an eventual loser. Hall-of-Famer Thurman Thomas and the Buffalo Bills played in (and lost) four consecutive Super Bowls from 1991-1994. Despite taking a lead into halftime of Super Bowl XXVIII, Thomas fumbled less than a minute into the second half. The Dallas Cowboys returned the fumble for a touchdown and never looked back, handing Buffalo a fourth Super Bowl loss in a row.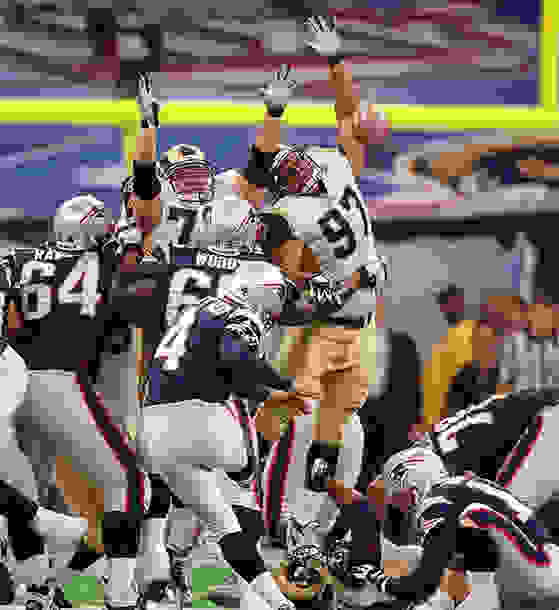 Super Bowl XXXV: It may be difficult to remember now, but not that long ago the Patriots were merely plucky underdogs led by their backup quarterback, Tom Brady. Heading into Super Bowl XXXV, the high-flying Rams were favored by 14 points and it seemed the Patriots would suffer their third Super Bowl loss in franchise history. The Patriots went on to win the game thanks to an Adam Vinatieri field goal in the closing seconds. That kick is captured by John Biever for Sports Illustrated in this shot, showing defensive lineman Tyoka Jackson's (97) attempt to block the game-winning kick.
[Ed. Note: This one still doesn't make up for the helmet catch.]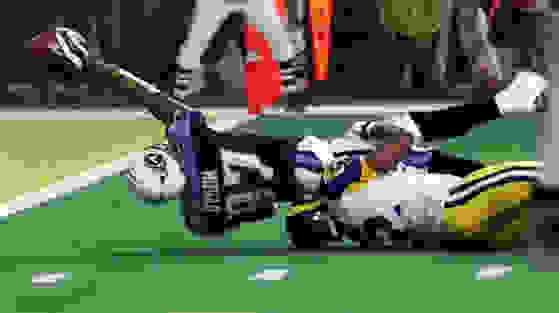 Super Bowl XXXIV: No Super Bowl has been closer than Super Bowl XXXIV, in which the Rams defeated the Tennessee Titans. Down seven points in the closing seconds, Titans receiver Kevin Dyson made a last ditch stretch for the end zone. Rams linebacker Mike Jones tackled Dyson a foot short of tying the score, ending the game and giving the Rams the victory.
Like many great sports photos, this shot by John Gaps III for the Associated Press is about being at the right place at the right time and being prepared to capture the moment when it comes your way. In the dying seconds of the game, there's no time to prepare a shot, and getting focus, exposure, and composition this good without thinking shows a photographer at the height of his craft. Of course, given that John is a world-class news, war, and sports photographer, this was just another day at the office.
Up next
Get Reviewed email alerts.
Sign up for our newsletter to get real advice from real experts.