Cameras
2013 Best of Year Camera Awards
After putting dozens of cameras through our labs, we're here to tell you which are the very best.
Credit:
While 2012 saw a host of excellent new full-frame and flagship cameras hit the market, 2013 brought plenty of innovation as the camera industry adapts to changing times. From more affordable full-frame cameras, to a slew of new incredible fixed-lens cameras aimed at enthusiasts, and even pod-like lens-cameras for your smartphone, the camera industry has been quick to try new things.
Still, with two new excellent flagships from Micro Four Thirds and improving performance across the board, it's hard to look at 2013 as anything other than the year of mirrorless cameras. Every camera manufacturer now has a mirrorless lineup, with options for casual shooters and professionals alike. After taking the entire field into account and putting more than 100 cameras through our rigorous lab tests, we've culled down the list to give you the best cameras of 2013.
Editor's Note: Looking for more great cameras? We've reviewed plenty since the turn of the year. Head right here to see all of our latest camera reviews.
Camera of the Year - Olympus OM-D E-M1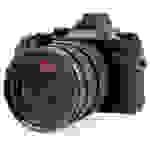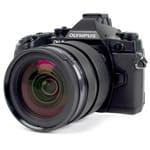 For 2013, no camera performed as well in our labs as the Olympus OM-D E-M1. The E-M1 combines the gorgeous retro looks of the 1970s OM line of film cameras with a brand new image sensor. With oodles of manual, customizable control, fantastic image quality, a superb new EVF, and full weather sealing, the E-M1 is a true, professional-caliber mirrorless camera. Paired with Olympus' new 12-40mm f/2.8 PRO lens, the E-M1 was our favorite camera of all that we tested in 2013. (MSRP $1,399.99 body-only)
Read our full review of the Olympus OM-D E-M1 here
Runner-up - Panasonic GX7
The Panasonic GX7 wowed us with an improved design, superlative handling, and a great new EVF. Slightly smaller and cheaper than the E-M1, the GX7 still delivered excellent performance, proving that there's plenty of room for two stellar cameras in the Micro Four Thirds system. While we feel the E-M1's build quality, integrated phase-detect autofocus, and customizable control earns it the award here, the GX7 is also deserving of recognition. (MSRP $999.99 body-only. $1,099.99 w/ 14-42mm II lens)
Read our full review of the Panasonic GX7 here
Best Innovation in Cameras - Sony QX Series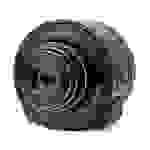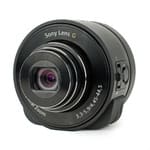 It's no secret that smartphones are quickly making the cheap point-and-shoot a thing of the past. With the QX10 and the QX100, Sony is imagining a world where your camera is a separate, symbiotic device. Clamping onto your smartphone or working as a standalone accessory, the QX-series is a wild reimagining of what a point-and-shoot might be in the future. (MSRP $249.99-599.99)
Read our full review of the Sony QX10 here
Best Enthusiast Camera - Sony RX1
On paper, the RX1 seems like either a happy accident or an outrageous bar bet. What if Sony were to take the phenomenal 24-megapixel full-frame sensor from Sony's A99, stash it in a point-and-shoot body, and pair it up with a superb 35mm f/2.0 Zeiss lens? In reality, the RX1 is a dream for anyone looking for truly professional-quality images from a camera that can be taken anywhere. While its price keeps the RX1 firmly as an aspirational buy for mere mortals, if you're a camera enthusiast you can't help but love the future that the RX1 promises. (MSRP $2,799.99)
Read our full review of the Sony RX1 here
Runner-up - Fujifilm X100S
While the RX1 represents a future where we may all carry full-frame cameras in our bags, the Fujifilm X100S is the perfect marriage of present and past. Styled after traditional rangefinders with digital filters simulating the look of classic film stocks, the X100S is a paean to retro camera lovers. In pure performance terms, the X100S improved dramatically on the X100—winner of this award last year—with faster autofocus and a superb hybrid viewfinder that follows in the footsteps of rangefinders past. (MSRP $1,299.99)
Read our full review of the Fujifilm X100S here
Best Professional Camera - Canon 1D X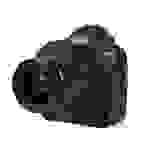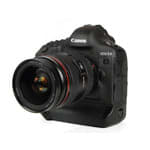 Officially announced back in 2011, finally released in 2012, and continually updated in 2013, the Canon 1D X is the professional camera of choice for many professional news and sports photographers. For those who make their living behind a viewfinder, no camera represents the current ideal of multimedia integration and immediate connectivity than the 1D X; there simply aren't many cameras that can justify having an Ethernet port. When it comes to capturing action, the autofocus control and customization that the 1D X offers simply can't be matched. This is the second year in a row Canon's flagship claims this award, but with firmware updates that continue to enhance the AF control available on the 1D X, it's an easy choice again this year. Canon won a massive part of the news and sports camera market by getting autofocus right in the early 90s, a legacy that the 1D X continues to live up to. (MSRP $6,799.99 body-only)
Read our full review of the Canon EOS-1D X here
Runner-up - Nikon D4
While the 1D X may be our winner as the best camera for the working professional, in truth there is little that elevates it above the Nikon D4. The D4 offers roughly equivalent performance, with an excellent sensor, superb build quality, and some unique video features. We're especially impressed with the performance of the new XQD memory cards that the D4 can take advantage of, and we don't know why every pro DSLR doesn't come with backlit keys. The 1D X's superior autofocus is tough to ignore, but the D4 presents an excellent alternative for Nikon shooters. (MSRP $5,999.95)
Read our full review of the Nikon D4 here
Best Prosumer Camera - Nikon D600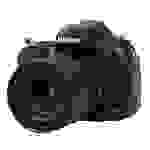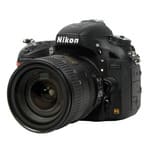 Photokina 2012 saw the launch of two new, relatively affordable full-frame cameras. Competing directly with the $1,899.99 Canon 6D, the 24.3-megapixel Nikon D600 simply offers more bang for your buck. With dual card slots, both headphone and microphone jacks, better dynamic range, and faster shot-to-shot speed, the Nikon D600 is the affordable full-frame camera that we've been waiting years to see. Recently replaced by the nearly identical D610, the Nikon D600 should be available at a bargain. (MSRP $1,899.95)
Read our full review of the Nikon D600 here
Runner-up - Canon EOS 6D
The Canon 6D is by no means a bad camera—in fact, it's an excellent one—but it simply trails in the D600's wake here. The lack of a headphone jack is a puzzling omission from the so-called king of DSLR video and the inclusion of built-in WiFi simply doesn't make up for the loss of features elsewhere. Those invested in Canon's lens system will find the EOS 6D to be an excellent budget-friendly full-frame alternative, but as brand agnostics we have to hand it to the D600 here. (MSRP $1,899.00)
Read our full review of the Canon EOS 6D here
Best High-End DSLR - Canon 70D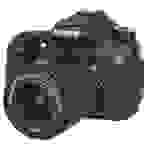 While the Canon EOS 70D also lacks a headphone jack—something alternatives from Nikon and Pentax both provide—it does make up for it with a revolutionary new tech, Dual Pixel AF. For the first time providing camcorder-like autofocus capabilities in a DSLR, the 70D delivers on the promise of a do-everything DSLR for consumers. With plenty of manual control, excellent build quality, built-in WiFi, and an excellent AF system, the Canon 70D is an excellent value for those not willing to step up to a full-frame body just yet. (MSRP $1,199.00)
Read our full review of the Canon EOS 70D here
Runner-up - Nikon D7100
The Nikon D7100 goes toe-to-toe with the Canon EOS 70D and comes up just shy of the mark. The D7100's 24.3-megapixel APS-C sensor gives it a slight advantage in low light, its 51-point AF system is much more robust than the 70D's 19-point system, and the inclusion of a drive motor in the body gives it compatibility with dozens of legacy Nikon lenses. That said, the 70D's improved video quality and slick new autofocus capability gave it a slight edge over its rival, though both cameras are worthy additions to any kit. (MSRP $1,199.95)
Read our full review of the Nikon D7100 here
Best Mid-Range DSLR - Pentax K-50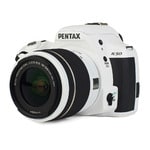 While Canon and Nikon certainly dominate the high-end DSLR game, Pentax has quietly been churning out excellent consumer-grade DSLRs at affordable prices for years. The K-50 is the culmination of those efforts, showing a vast improvement over older affordable Pentax models like the K-r or the K-x. Available in dozens of fetching colors and designs, the K-50 still offers serious performance, excellent control, and is fully weather-sealed—a feature far too many consumers overlook when shopping for a DSLR. (MSRP $699.95)
Read our full review of the Pentax K-50 here
Runner-up - Nikon D5200
One area where the Pentax K-50 does struggle is in video features—it doesn't even have an HDMI jack, something practically every point-and-shoot under the sun now has. The D5200 picks up the slack there with full manual control for video, a microphone jack, and, yes, an HDMI port. The D5200 backs that up with excellent video quality, as well as excellent all-around performance. Nikon has just refreshed this line with the D5300—adding WiFi, GPS, 1080/60p shooting, and a slightly larger screen—but the D5200 should be available as a steal as stocks dwindle. (MSRP $799.95)
Read our full review of the Nikon D5200 here
Best Value DSLR - Sony A58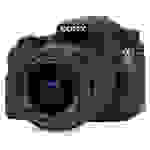 While entry-level mirrorless cameras are generally more affordable, there are still budget-friendly options for those who prefer traditional DSLRs. The A58 has a 20.1-megapixel sensor, captures shots at up to six frames per second, and features an EVF and a tilting screen. While its initial MSRP was $599.99 with the standard 18-55mm kit lens, you can now find A58 kits for $499.99 everywhere, with prices likely to drop even more. (MSRP $599.99)
Read our full review of the Sony A58 here
Runner-up - Nikon D3200
Buying a DSLR means committing to a lens system, and for those looking at Nikon there's no more affordable option than the D3200. We don't feel the D3200 quite outdoes the A58, but it was an excellent performer in our labs and is an easy camera to learn and grow with. Its MSRP still stands at $699.95 with a kit lens, but the kit can be found almost everywhere at retail for $549.99. (MSRP $699.95)
Read our full review of the Nikon D3200 here
Best High-End Mirrorless Camera
Olympus OM-D E-M1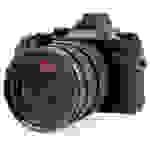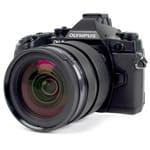 As we wrote above, the Olympus OM-D E-M1 is simply the best camera that we tested this year. While the sensor still can't quite match up with the (more expensive) full-frame options from Canon and Nikon, it comes close enough for most professionals. What's more, those with older Four Thirds lenses will find drastically improved compatibility with the E-M1 thanks to its integrated phase-detection autofocus. Paired with the weather-sealed body of the E-M1, these larger, more durable Four Thirds lenses can finally come off the shelf. (MSRP $1,499.99 body-only)
Read our full review of the Olympus OM-D E-M1 here
Runner-up - Panasonic GX7
With last year's GH3, Panasonic proved that they could produce an excellent flagship Micro Four Thirds camera that could appeal to professionals. This year, the company is focusing on the design game, with its slick, compact GX7. The GX7 is an expertly crafted camera that manages to fit a hot shoe, EVF, tilting screen, and superb grip in a travel-friendly package. The GX7 may sit in the E-M1's shadow, but it's a spectacular camera and a worthy alternative for Micro Four Thirds shooters looking to save a few hundred dollars. (MSRP $999.99 body-only, $1,099.99 w/ 14-42mm II lens)
Read our full review of the Panasonic GX7 here
Best Mid-Range Mirrorless Camera
Samsung NX300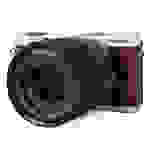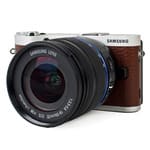 Samsung's line of NX mirrorless cameras have generally been overlooked in the last few years, despite offering consistently improving performance. The NX300 is the company's best model yet, with superb performance from its 20.3-megapixel APS-C sensor. Unsurprisingly, the smartphone-maker also has outfitted the NX300 with the best touch interface we tested all year. Easily found for less than $700 with a kit lens, the Samsung NX300 is an appealing option thanks to its improved burst shooting, simple and approachable menu system, and access to some of the most underrated prime lenses on the market. (MSRP $749.99)
Read our full review of the Samsung NX300 here
Runner-up - Panasonic GM1
The Panasonic GM1 is one of the most intriguing cameras to come through our labs in recent memory. Though it is just coming to market, the GM1 features an excellent Micro Four Thirds sensor, interchangeable lenses, and a body that is the same size as the so-called best point-and-shoot ever, the Sony RX100 II. Oh, and it costs the same as the RX100 II, with a $749.99 MSRP. While the NX300 narrowly beats it out, there's no better pound-for-pound option in this part of the market than the Panasonic GM1. (MSRP $749.99)
Read our full review of the Panasonic GM1 here
Best Value Mirrorless Camera - Sony NEX-5T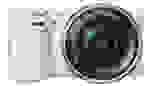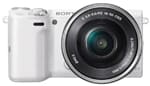 While the advantage of mirrorless cameras is commonly assumed to be more compact bodies and lenses, the lack of a traditional viewfinder and mirror box also lets companies engineer cheaper products that are simpler to manufacture. As a result, mirrorless cameras have been getting cheaper and cheaper. While Sony's NEX-3N and A3000 are both cheaper than the NEX-5T, we feel the 5T's improved performance and video quality is worth stepping up. Given that the 5T is easily found for $549.99 body-only and the price is likely to drop further, it's one of the best values on the market. (MSRP $549.99 body-only)
Read our first impressions review of the Sony NEX-5T here
Runner-up - Fujifilm X-A1
Few associate Fujifilm's superb line of X-series cameras with the word "value." Fuji has built its name as a camera maker in the last two years by producing attractive, well-built bodies that appeal to more advanced shooters. With the X-A1, Fuji has produced a body that looks like the higher-end X-series cameras, but is built of much cheaper stuff. While we aren't fans of that particular trade-off, there's no cheaper way to get into Fuji's excellent X series. At $599.99 with a kit lens, the X-A1 is a bargain buy that's hard to ignore. (MSRP $599.99)
Read our full review of the Fujifilm X-A1 here
Best Prosumer Compact Camera - Ricoh GR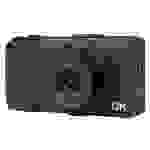 There were several fixed-lens cameras that hit the market this year with DSLR-sized, APS-C image sensors and built-in lenses. Between the Ricoh GR, the Nikon Coolpix A, and the Fujifilm X100S, advanced shooters looking for a compact body with uncompromising image quality had plenty to choose from. With apologies to the excellent X100S and Nikon's A, the Ricoh GR provided the best performance and the most finely-tuned control of the three. That it also costs several hundred dollars less doesn't hurt, either. (MSRP $749.99)
Read our full review of the Ricoh GR here
Runner-up - Fujifilm X100S
While the Ricoh GR outperforms it slightly, the Fujifilm X100S does have one major trump card: its hybrid optical/electronic viewfinder. It costs a pretty penny, but there's no better way to experience the classic feel of shooting with a rangefinder on a modern camera than with the X100S. Add to that the improvements Fuji made in autofocus speed, image quality, and general operation over the X100, and the X100S is hard to pass up. (MSRP $1,299.00)
Read our full review of the Fujifilm X100S here
Best High-End Point-and-Shoot
Sony RX100 II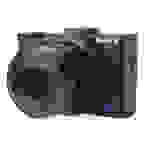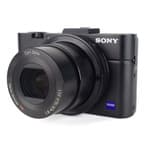 While the Coolpix A, Ricoh GR, and Fujifilm X100S are all phenomenal fixed-lens cameras, they certainly appeal to seasoned photographers. For those looking for a simpler experience who still want image quality on par with many DSLRs, the RX100 II is the way to go. Following up on the RX100—widely considered one of the best point-and-shoots last year—the RX100 II adds a tilting screen and a hot shoe, while preserving the compact size that made the original such a phenomenal camera.
Read our full review of the Sony RX100 II here
Runner-up - Canon G16
Death, taxes, and Canon's annual G-series update. Some things are truly dependable. Canon's G16 is the latest iteration of the company's long-running series, offering excellent video quality, improved low light performance, and plenty of manual control. The chintzy tunnel-vision viewfinder is firmly in the "better than nothing" category, but the G16 is still one of the best point-and-shoot cameras you can buy. (MSRP $549.99)
Read our full review of the Canon G16 here
Best Mid-Range Point-and-Shoot
Canon S120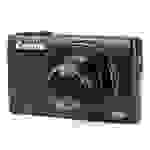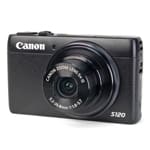 When shopping for a point-and-shoot, there isn't an appreciable difference in image quality between cameras under $350. Among 2013 models, the Canon S120 is where performance really begins to improve, thanks to its larger 1/1.7-inch image sensor. With a gorgeous screen, improved operability, and pocketable form factor, the Canon S120 is the best point-and-shoot for those who want great image quality under $500. (MSRP $449.99)
Read our full review of the Canon PowerShot S120 here
Runner-up - Sony HX50V
Sony's HX50V doesn't quite offer the same level of performance as the higher-end point-and-shoots, but it does manage to fit a 30x optical zoom range into a compact body that easily fits in your jacket pocket. Of course, such a lens requires sacrifices, and Sony makes up the gap with a heavy dose of processing tricks. These aren't great, but if your shots primarily land on Facebook or in small prints, you'll hardly notice the difference, while still enjoying the expansive zoom range. (MSRP $449.99)
Read our full review of the Sony HX50V here
Best Value Point-and-Shoot
Canon 330 HS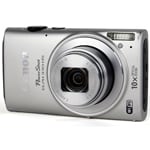 While most people these days rely on their smartphones for daily snapshots, there's still plenty of room for a dedicated point-and-shoot. For those on a budget, the WiFi-packing Canon 330 HS represents a great value, with performance that outdoes most smartphones and a 10x optical zoom that no phone will match anytime soon. Though the MSRP currently stands at $179.99, the Canon 330 HS should be available for a steal throughout the rest of 2013. (MSRP $179.99)
Read our full review of the Canon 330 HS here
Runner-up - Sony WX80
The Canon 330 HS is the best performing sub-$200 camera we tested this year, but the Sony WX80 comes close. The WX80 has just a 7x optical zoom, but it has slightly better styling, is a little more compact, and also comes with Wi-Fi. The WX80's street price has dropped to $159.99, and it should also be very affordable throughout the holiday season. (MSRP $169.99)
Read our full review of the Sony WX80 here
Best Superzoom Camera - Canon SX50 HS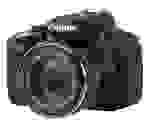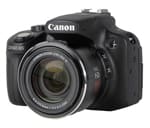 The one real advantage of having a smaller image sensor is the ability to produce a large amount of magnification with relatively compact lenses. Superzoom cameras are built on this idea, with the current crop capable of ridiculous 60x optical zooms. The Canon SX50 HS came out last year, but it's still Canon's current model, and we still feel it's the best the category has to offer. The Panasonic FZ70 offered a better zoom range, but with a 50x optical zoom and much better performance, the SX50 HS is still the best superzoom you can buy right now. (MSRP $429.99)
Read our full review of the Canon SX50 HS
Runner-up - Nikon P520
The Nikon P520 was the best superzoom we tested this calendar year, even though it lags behind the SX50 HS in overall performance. Side-by-side there's not much differentiating the P520 from the SX50 as both have a DSLR body style, comfortable grip, flip-out LCD screen, and included EVF. The P520's 42x optical zoom range doesn't quite measure up to the competition, but the overall performance is enough for us to give it the nod here. (MSRP $449.95)
Read our full review of the Nikon P520 here
Best Travel Zoom Camera - Sony HX50V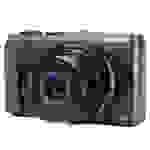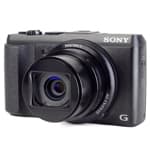 For those who want a great deal of optical zoom but still want something that is relatively compact, travel zooms are the way to go. The HX50V's 30x zoom covers a great deal of range, with solid image quality, an easy-to-use menu system, and plenty of automatic and creative modes that anyone can enjoy. (MSRP $449.99)
Read our full review of the Sony HX50V here
Runner-up - Canon SX280 HS
Canon's PowerShot line of point-and-shoots aren't always the best in their respective category, but they're almost always well-designed, easy-to-use cameras. The SX280 is no exception, following up on last year's SX260 with a 20x optical zoom and a compact body that easily fits in a jacket pocket. At full zoom the image quality takes a big hit, but the the SX280 is otherwise a good all-around camera. (MSRP $279.99)
Read our full review of the Canon SX280 HS
Best Pocket Camera - Canon S120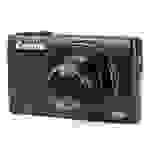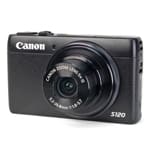 As fixed-lens cameras have gotten better, they've almost invariably gotten bigger. The Sony RX100 II, the Nikon Coolpix A, the Ricoh GR: all great fixed-lens cameras, all too big to fit in your pocket. The Canon S120 is a little more svelte than the competition, but still offers great image quality with a bright lens and bigger-than-average image sensor. (MSRP $449.99)
Read our full review of the Canon PowerShot S120 here
Runner-up - Olympus XZ-10
The Canon S-series established a pretty clear blueprint for a great pocket camera, calling for a telescoping lens, 1/1.7-inch image sensor, and a control ring around front. While the original is still our pick, the Olympus XZ-10 has a lens that is better in low light, with more customizable control that advanced shooters will enjoy. The XZ-10 isn't quite as good as its big brother, the XZ-2, but it holds its own in a competitive category. (MSRP $399.00)
Read our first impressions review of the Olympus XZ-10 here
Best Waterproof Camera
Olympus Tough TG-2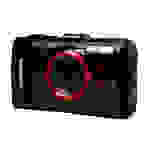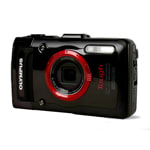 We settled this debate back in June with our 2013 waterproof roundup, looking at all the best waterproof point-and-shoots on the market. The Olympus Tough TG-2 came out on top then and nothing has truly changed in the interim. The TG-2 still offers great all-around image quality, has a bright f/2.0 lens, has a built-in GPS, and is still shockproof, freezeproof, and waterproof to 50 feet. While the image quality in low light certainly isn't on par with a DSLR, the TG-2 would be an excellent point-and-shoot even without its tough credentials. (MSRP $379.00)
Read our full review of the Olympus TG-2
Runner-up - Nikon AW110
Even though the TG-2 retains its throne as the best waterproof camera of 2013, the Nikon AW110 is a perfectly good alternative. The AW110 is just as tough as the TG-2 in everyday use, offers similar image quality, and has a fantastic mapping interface (with points of interest) that is the best use of an in-camera GPS on the market. The TG-2 may take home top honors here, but we wouldn't fault anyone for opting for the Nikon based on personal preference. (MSRP $349.95)